This Panda Express Kung Pao Chicken is easy to make with chicken, stir-fry veggies, peanuts, and a sweet and spicy kung pao sauce. This restaurant copycat is a favorite when craving takeout!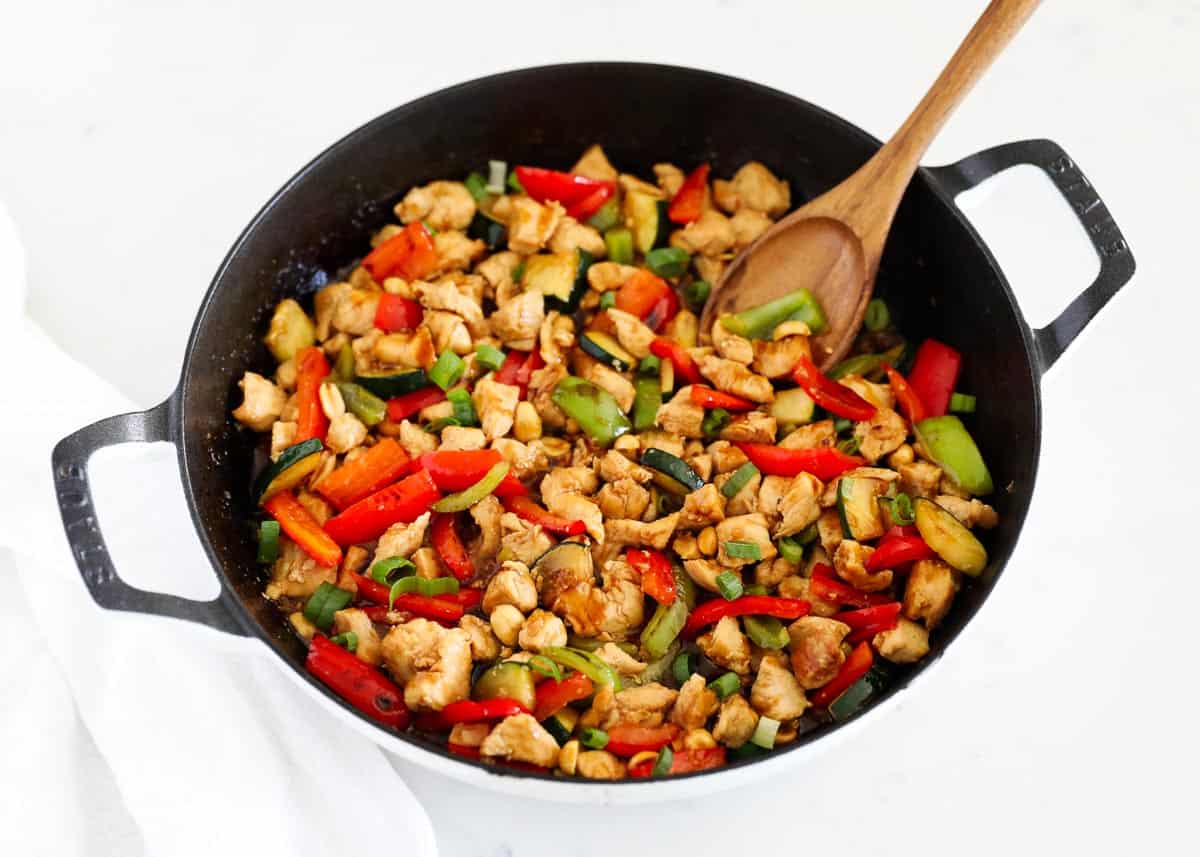 One-Pan Kung Pao Chicken
This kung pao chicken recipe is the ultimate skillet dinner that has everything you want in Chinese kung pao chicken. Tender pieces of chicken, crispy tender veggies, and salty crunchy peanuts all stir-fried in a sweet, salty, and spicy homemade kung pao sauce.
It has all of the flavors of the famous Panda Express kung pao chicken without the added sodium and is made with ingredients you've already got at home. Another Chinese takeout favorite we love to make at home is chicken chow mein, it's so easy!
There is no need to run out to specialty food stores, unless you want to. It's a healthy, delicious, easy one-pot dinner you can make in the comforts of your own home, saving you time and money!
What is Kung Pao Chicken?
Even if you've never had it before, you've probably heard of it. So, what exactly is it? Get excited because it's amazing! It's a stir fry spicy dish made with chicken, vegetables, peanuts, and chili peppers, in an extremely flavorful saucy combination that can only be described as sweet, tangy, salty, and pleasantly spicy.
Kung Pao chicken is a dish that, despite the Americanized version we've all come to know and love, originated in the Sichuan province of China which then took off in popularity in various regions, each adding its flare. It's still quite as popular in Chinese restaurants as much as it is on American takeout menus and soon you'll know why.
Ingredients Needed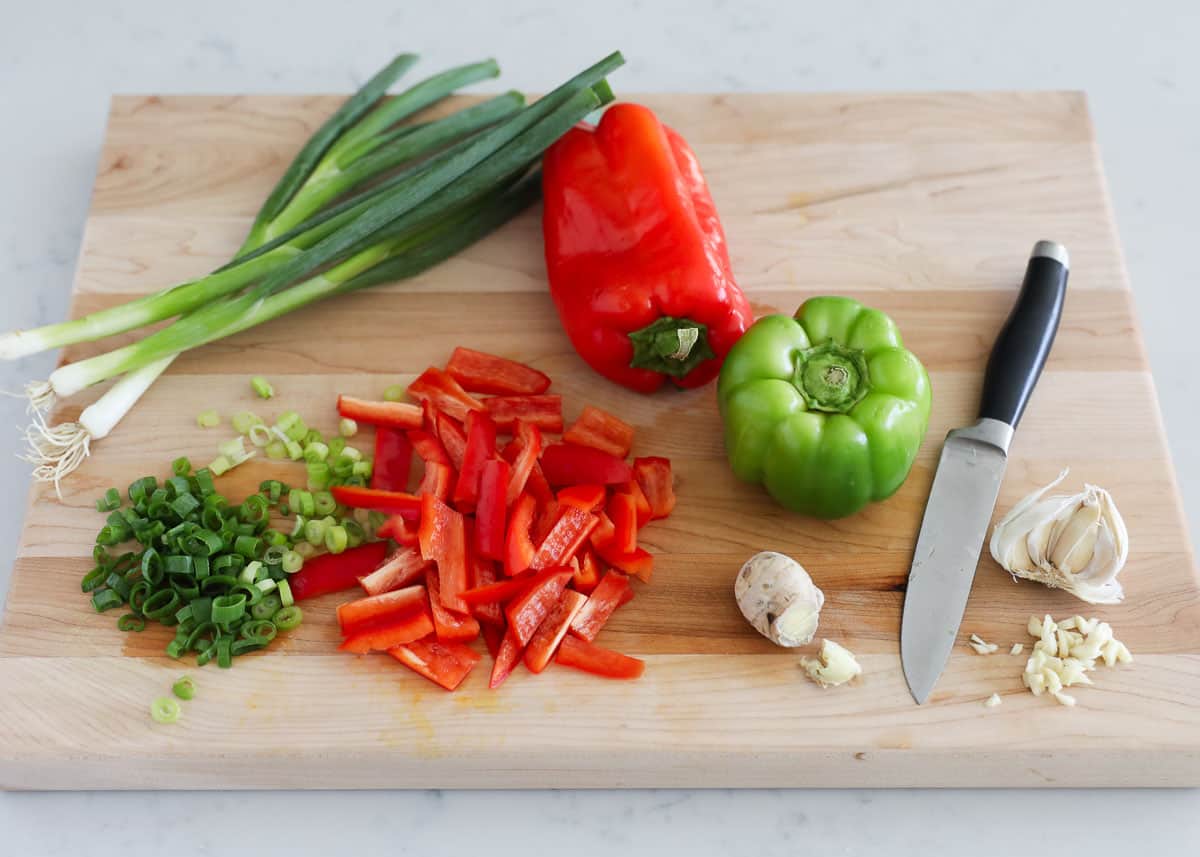 Find the full printable recipe with specific measurements below.
Chicken: I'm using boneless skinless chicken breast, but you can easily swap for chicken thighs.
Soy sauce: I like to use a low sodium soy sauce. You can also swap for coconut aminos.
Kosher Salt: I love using kosher salt with meats. It really helps bring out the flavor.
Cornstarch: This is used as a thickening agent for the sauce.
Rice Vinegar: I love the flavor this vinegar adds to the sauce. If you don't have any on hand you can always swap with distilled vinegar.
Oil for cooking: I typical use vegetable oil for frying, but you can swap for peanut or olive oil.
Sesame oil: This honestly makes the dish. It adds the best flavor. Don't skip.
Bell peppers: These add the perfect amount of color and crunch.
Zucchini: We love adding this in the summer time. If it's not in season, you can omit.
Green onions: I love adding these or scallions on top of the dish for flavor and color.
Garlic: 4 garlic cloves will add the perfect amount of flavor to the chicken. You can use fresh or the minced garlic from the jar. We also like to use the frozen cubes.
Ginger: The fresh ginger adds the perfect freshness to this dish.
Chili Peppers: If you'd like a little bit of heat add in some peppers or red pepper flakes. If you want to take up the heat add in a 1-2 teaspoons sichuan peppercorns.
Roasted peanuts: The nuts add the perfect saltiness and crunch. If you have an allergy, you can definitely omit or swap for a cashew.
How to Make Panda Express Kung Pao Chicken Copycat
It's super easy to recreate this take-out dish in a few easy steps.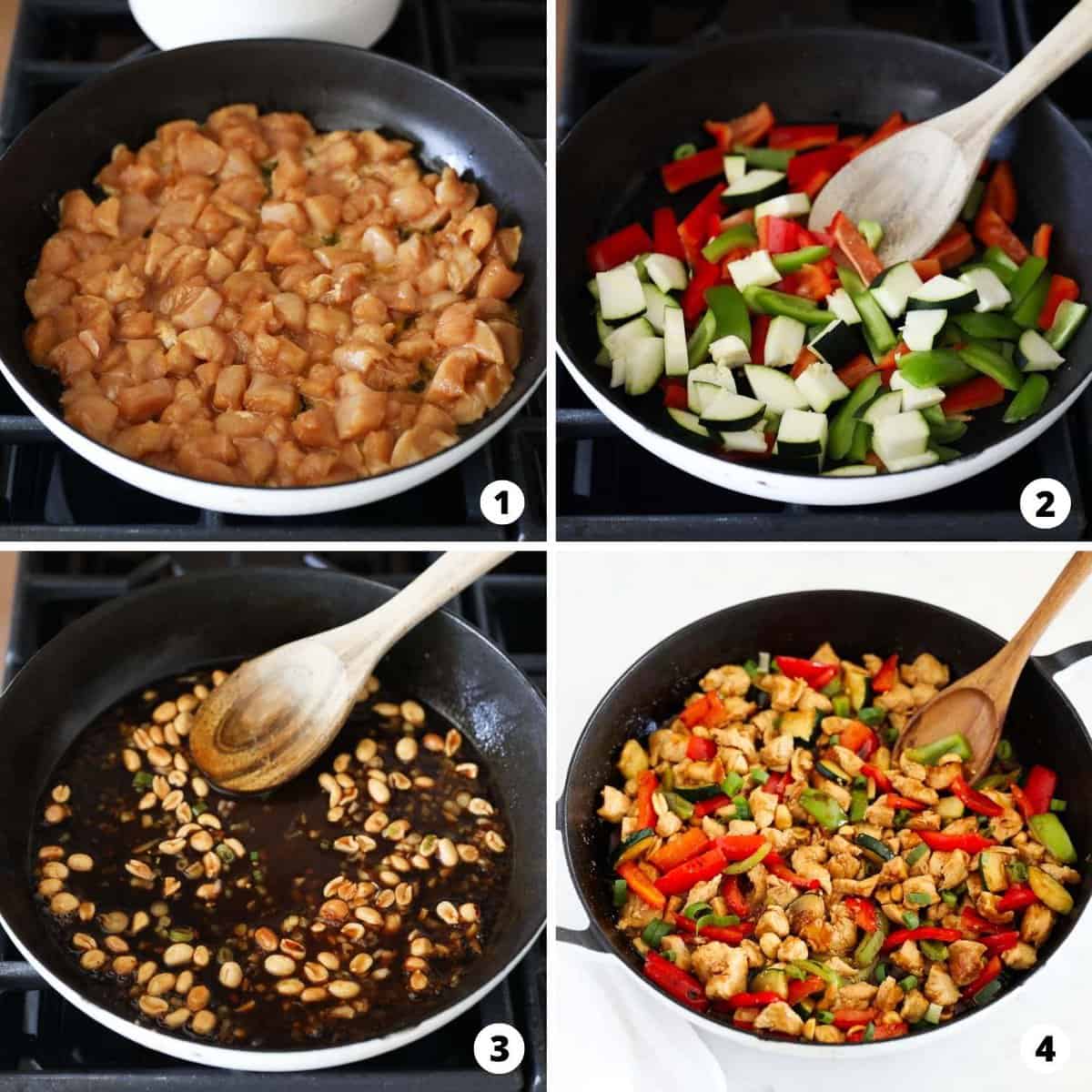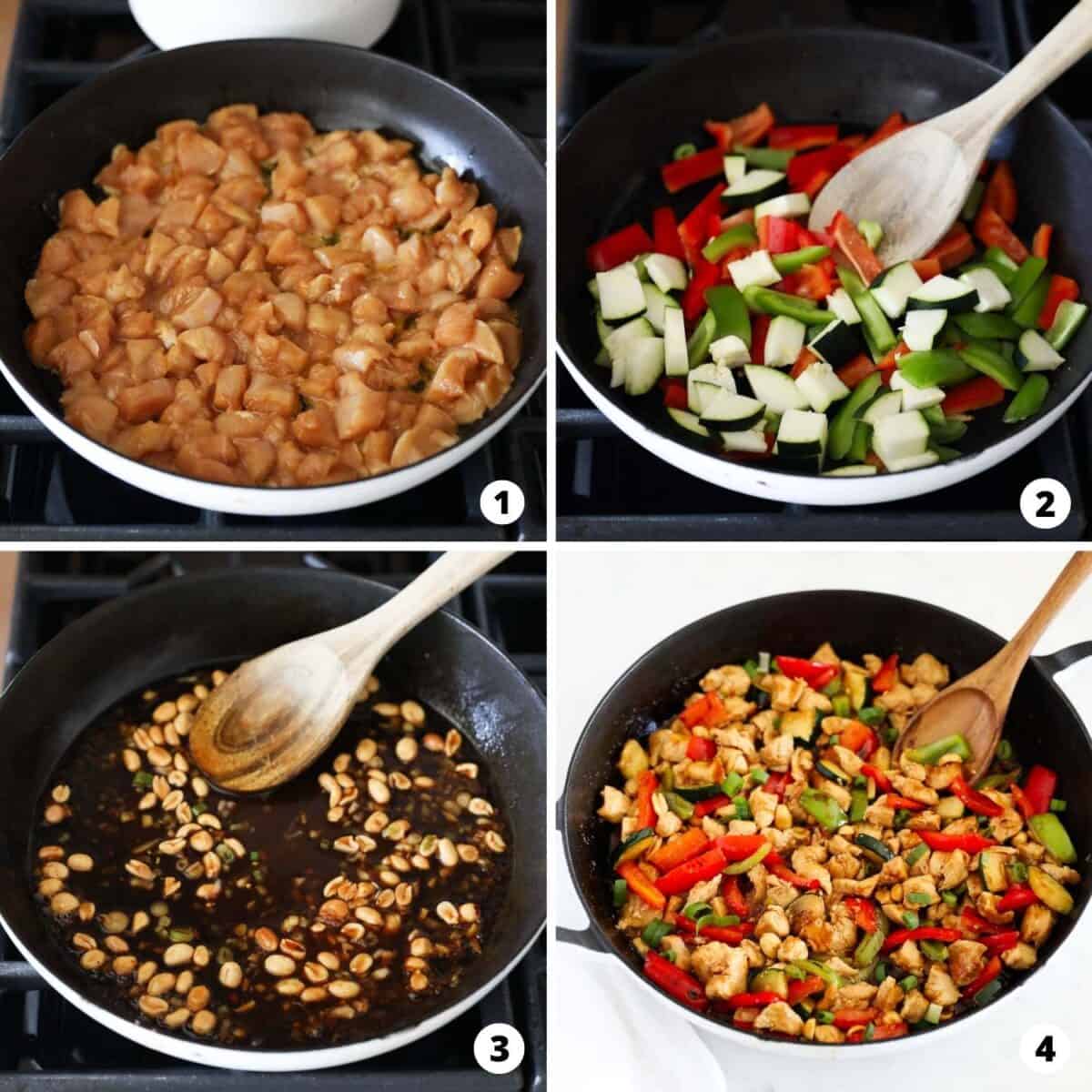 Marinate: You'll do a quick marinate of the chicken, known as velveting. In traditional Chinese cooking, using this type of marinade is a way to protect the chicken's moisture from the high heat.
Saute: Then you'll sauté the chicken in a hot wok with oil. Next up is to saute the vegetables, just until tender.
Make the sauce: Whisk the sauce ingredients until combined. You'll add the nuts right in with the sauce. Once you combine everything together it's other worldly.
Combine: The last step is to combine the chicken, veggies and sauce.
This recipe is easily adaptable to whatever your taste preferences are. It's made even easier by taking a few shortcuts as mentioned below. Serve on a bed of white rice or chow mein noodles and you've got a scrumptious dinner that everyone will want more of!
Tips & Variations
While your chicken is marinating, prep your veggies and your sauce. A stir fry moves quickly, so having things ready to go early on makes it much easier to move through the recipe.
Roast the nuts ahead of time, even before you marinate the chicken. It will add a deeper nuttier flavor as well as a crunchier bite. Just a bonus!
Use 1/2 cup of pre-made Kung Pao or stir fry sauce for a shortcut.
Used pre-chopped stir fry vegetables. If you have them available, for convenience you can add them.
Swap the fresh garlic or ginger for 1 teaspoon of ground if that's what you have.
Add in extra vegetables. I also love to add in sliced mushrooms.
Play around with the level of heat. The chili peppers are optional if you don't love spice.
Nut allergy? Omit the nuts if you're concerned about a peanut allergy and make sure not to use peanut oil. You could also add in cashews.
If you have leftover chicken breast or rotisserie chicken, add the cooked chicken in at the end.
Swap the chicken for shrimp to make a delicious version of kung pao shrimp.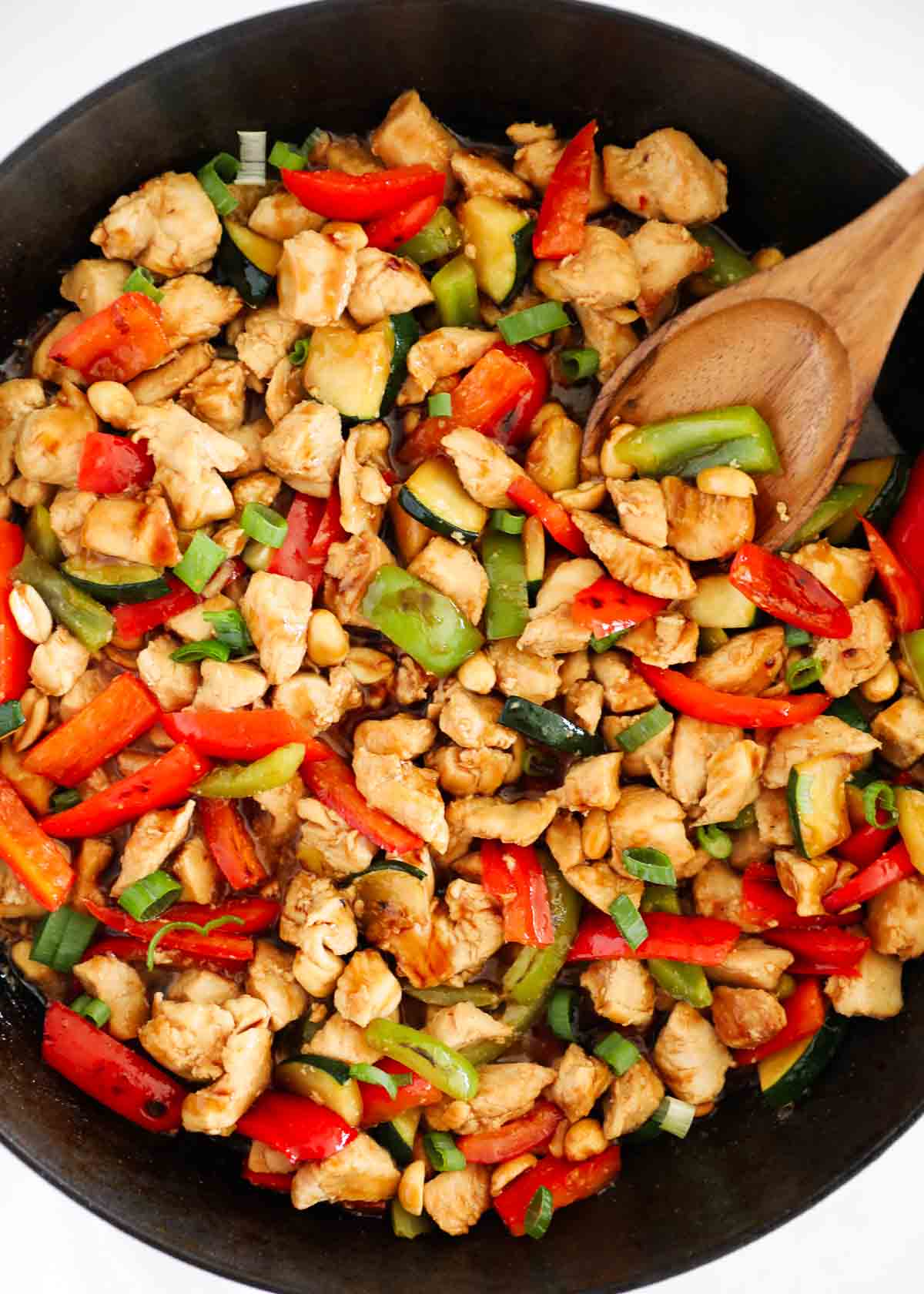 Recipe FAQs
Is kung pao chicken spicy?
Kung Pao Chicken is a little spicier dish due to the added dried chili peppers and red pepper flakes, however you can easily adjust the heat to your preference. Add more or less to taste, depending on just how hot you like it!

If you like more spice add in some sichuan peppercorns and dried red chilies.
Does kung pao chicken use white meat?
Yes, we're using chicken breast in this recipe which is leaner and a bit less fatty than chicken thighs. Thighs will give you a richer taste, but I prefer using the breasts since the sauce is already so flavorful and delicious!
Is this dish low carb?
This dinner is lower in carbs than most, however there is a small amount of sugar included that could easily be swapped for a low-carb sweetener. Then serve over lettuce wraps or cauliflower rice to stick with the low-carb theme!
What is the difference between General TSO and Kung Pao chicken?
General TSO chicken is deep friend and has a sweeter sauce. Kung Pao Chicken has more of stir fry sauce and is mixed in with vegetables.
Serving Suggestions
A quick guide on how to cook rice on the stove will allow you to have some ready by the time you're stir fry is done. Brown or white rice is traditional as are chow mein noodles which the kids find especially fun to eat.
Pick up some take-out containers and some chopsticks and make a fun night of celebrating Chinese cuisine. And don't forget the homemade egg rolls or cream cheese wontons, too!
5 star review
This was delicious! The veggies make it so fresh and tasty. Definitely a staple for me.

– Kimberly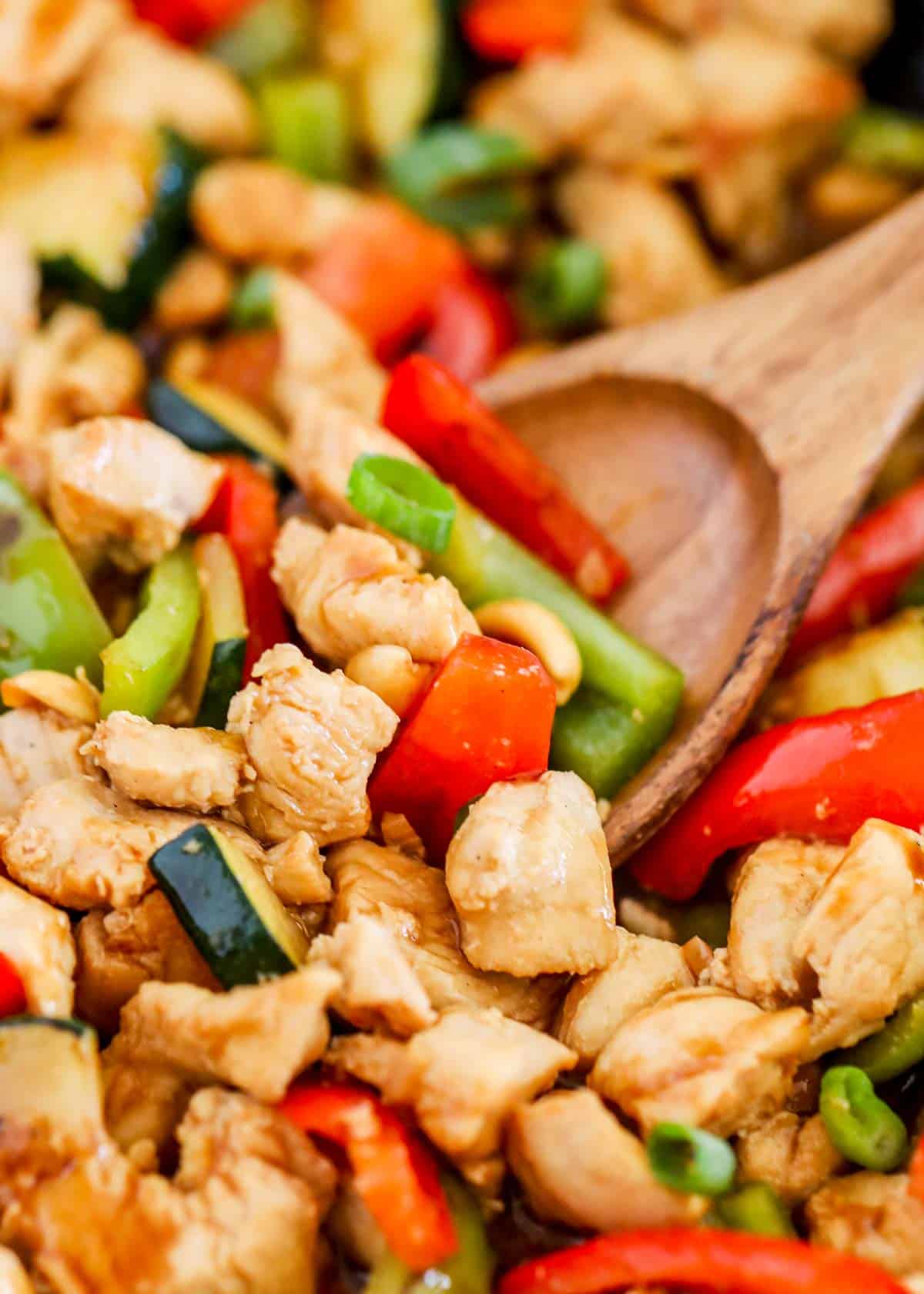 More Easy Asian Dinners:
HUNGRY FOR MORE? Subscribe to my newsletter and follow on Facebook, Pinterest and Instagram for all the newest recipes!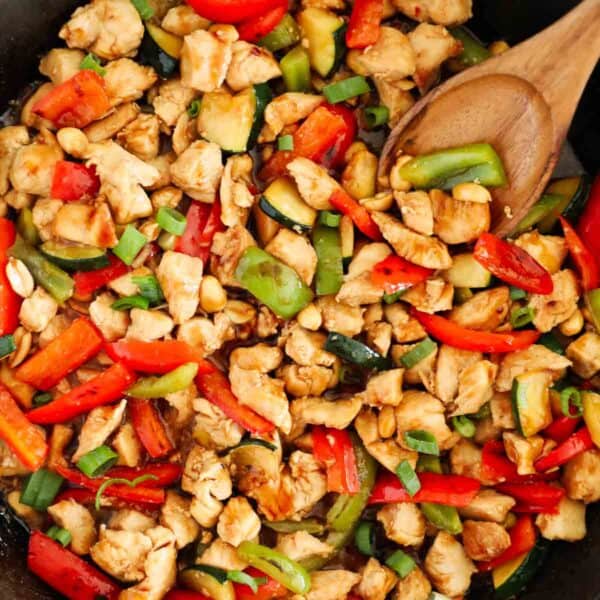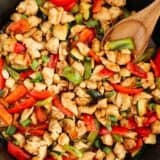 Kung Pao Chicken
Kung Pao Chicken is a one-skillet dish made of stir fry chicken, veggies, peanuts, and a flavorful heat. It's coated in a delicious sweet and spicy sauce that gives us every reason to skip the line at Panda Express. Make an even better, quick, and budget-friendly version at home!
Ingredients
Chicken Marinade
1 ½ pounds chicken breast , cut into 1/2" pieces
2 Tablespoons low sodium soy sauce
1 teaspoon Kosher salt
1 teaspoon cornstarch
Kung Pao Sauce
¼ cup low sodium soy sauce
¼ cup rice vinegar
1 to 2 Tablespoons granulated sugar
2 Tablespoons water
1 teaspoon cornstarch
Stir Fry
2 to 3 Tablespoons oil , you can use vegetable, peanut or olive
1 Tablespoon sesame oil , can sub for another oil if needed
2 bell peppers , sliced into bite sized pieces
1 small zucchini , cut unto bite sized pieces
1 bunch green onions , sliced thin
1 Tablespoon minced garlic , about 4 cloves
½ Tablespoon minced ginger
8 dried chili peppers , optional
red pepper flakes or sichuan peppercorns , to taste
½ cup dry roasted peanuts
For serving (optional): Rice or noodles
Instructions
Combine the chicken, soy sauce, salt and corn starch in a large bowl. Set aside.

Prep the vegetables and then prep the Kung Pao Sauce. For the sauce combine the soy sauce, rice vinegar, sugar, water and cornstarch in a small bowl. Whisk until smooth.

Next heat a large skillet or wok over medium-high heat. Add 2 Tablespoons oil and allow to heat up for 30 seconds. Then add the chicken to the skillet in a single layer. Allow to cook for 1 to 2 minutes and then flip. Cook an additional 1 to 2 minutes or until edges are lightly browned and the center is cooked through (160°F). Then remove chicken and place on a large plate. Quickly run the pan under hot water and carefully wipe down with a paper towel.

Next add another Tablespoon of oil to the pan. Cook the bell peppers and zucchini over medium high heat for 3 to 4 minutes, or until tender. Then remove the vegetables onto the plate.

Add a Tablespoon of sesame oil to the pan if needed. Then add the garlic, ginger, red pepper flakes (I start with about 1/2 teaspoon), green onions, peanuts and chili peppers if desired. Cook for 1 to 2 minutes or until fragrant. Then pour in the Kung Pao Sauce and simmer until thickened.

Add the chicken and vegetables back to the sauce. Toss until combined. Taste and add more salt and red pepper flakes to taste. Serve while hot.
---
Notes
Shortcuts: If you're looking to save time, you can use one or more of these shortcuts.
Use 1/2 cup of a pre-made Kung Pao or Stir Fry Sauce.
You could also use pre chopped stir fry vegetables.
If you don't have fresh garlic or ginger you can use 1 teaspoon ground.
If you want to use leftover or rotisserie chicken, you can skip step 1 and 3. Then just add the chicken in at the end.
Storage: Store leftovers in a covered container in the refrigerator up to 3 days.
Nutrition
Calories: 287kcal | Carbohydrates: 11g | Protein: 29g | Fat: 14g | Saturated Fat: 2g | Polyunsaturated Fat: 4g | Monounsaturated Fat: 7g | Trans Fat: 1g | Cholesterol: 73mg | Sodium: 1142mg | Potassium: 723mg | Fiber: 3g | Sugar: 6g | Vitamin A: 1538IU | Vitamin C: 59mg | Calcium: 28mg | Iron: 1mg
Nutrition provided is an estimate. It will vary based on specific ingredients used.
Did you make this recipe? Don't forget to give it a star rating below!