Jump to Recipe⌄
Baked Teriyaki Chicken Bowls
By Jen of Yummy Healthy Easy for I Heart Nap Time.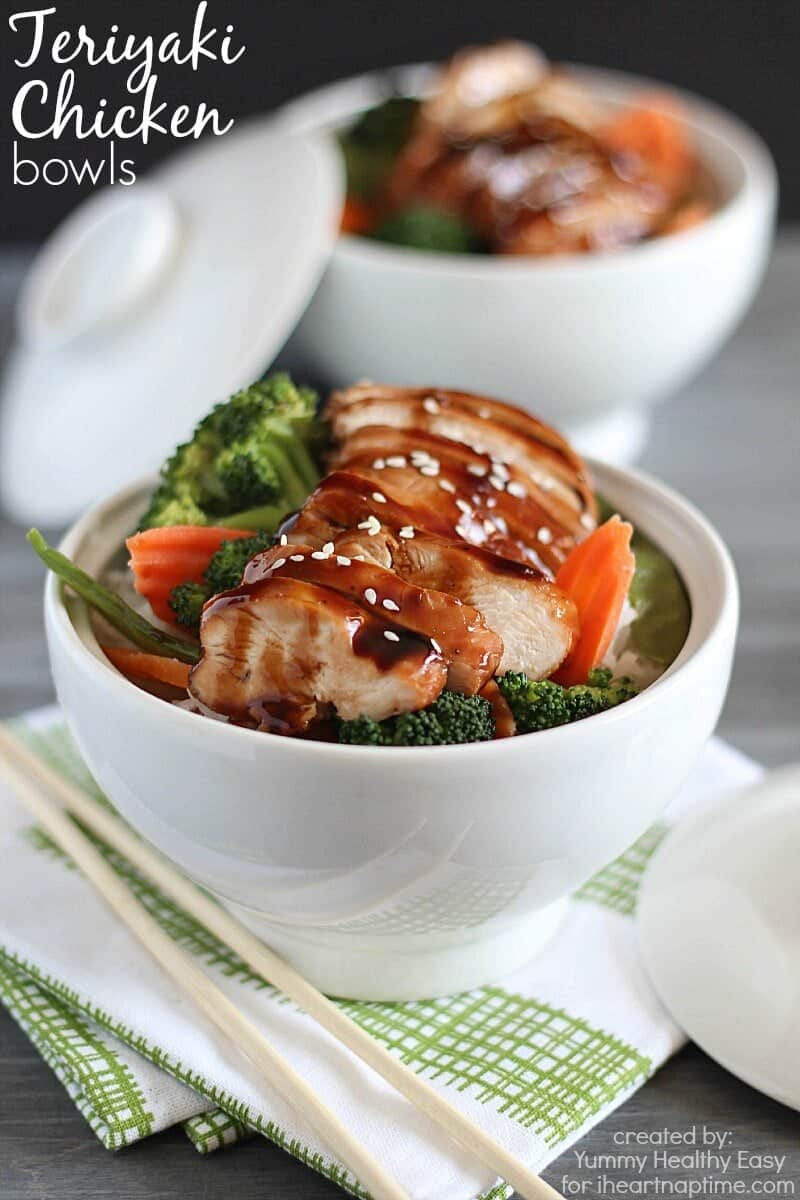 Hi everyone! I'm Jen from Yummy Healthy Easy. I can't even begin to tell you how excited I am to be here today! I've been a huge fan of I Heart Nap Time for just about forever and now I get to be a contributor! Oh, be still my beating heart! :)
I live in beautiful Southern California with my husband and our four wild and crazy boys. Basically, I'm surrounded by testosterone all day, ha! You'll usually find me blogging about healthier budget & family friendly dishes, but I also enjoy sharing yummy desserts, too!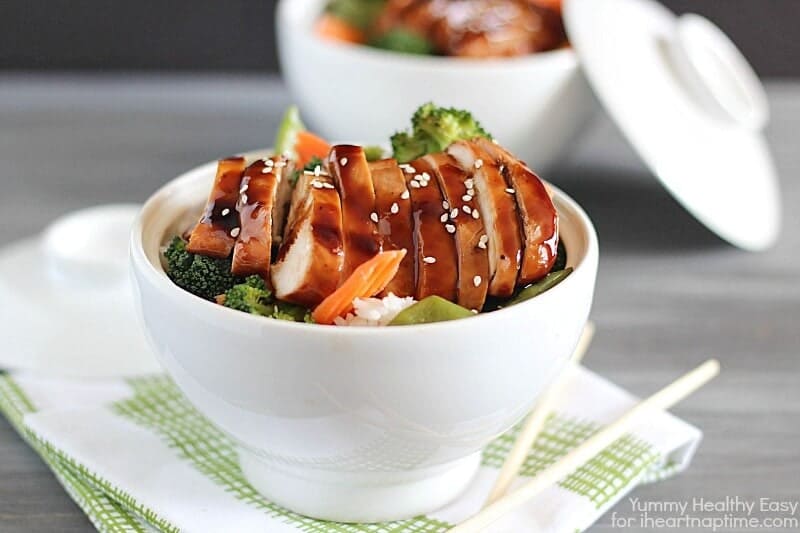 I cook dinner most nights, but my favorite night of the week is Friday when we usually grab take-out. One of my boys' favorite take-out dinners are Teriyaki Chicken Bowls. We love getting it at our favorite nearby restaurant but honestly, it's pretty expensive for what you get!
I decided to try making my own at home, and holy cow. It's way better than the take-out version! My boys beg me to make it at home now instead of going out! It's super simple to make, too. You cook a quick teriyaki sauce with a few ingredients and then pour it over some chicken breasts. Cover and bake it. When it's done, slice up the chicken and serve it over rice and steamed vegetables.
You get much more bang for your buck and it tastes absolutely amazing! If you're looking to impress a certain someone for a certain upcoming holiday, this is the prefect recipe for you. This makes an easy yet impressive dish!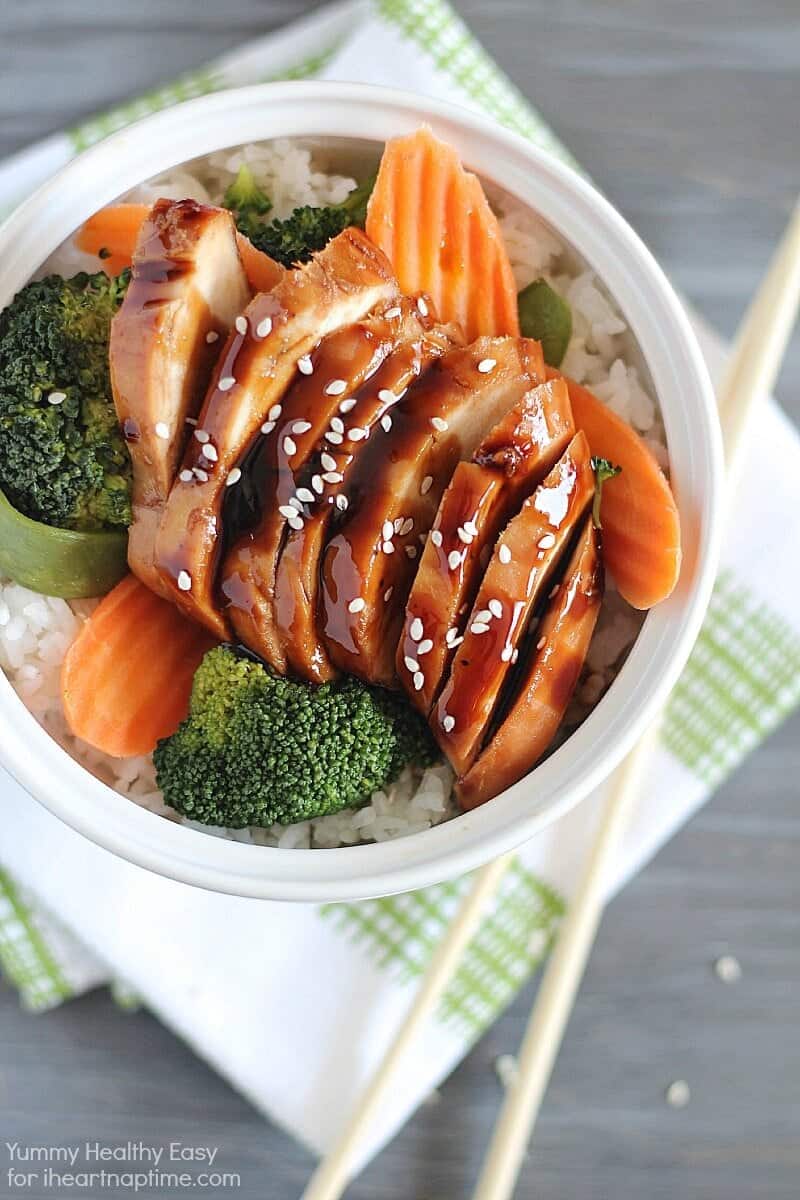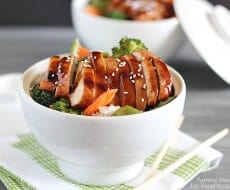 Baked Teriyaki Chicken Bowls
Ingredients:
2 Tbsp. cornstarch
2 Tbsp. cold water
1 cup sugar (or 1/2 cup truvia sweetener)
1 cup lite soy sauce
1/2 cup apple cider vinegar
1-2 garlic cloves, minced or put through a garlic press
1/2 tsp. ground ginger
1/4 tsp. black pepper
5-6 boneless, skinless chicken breasts (or more because this recipe makes a lot of sauce!)
1 bag pre-cut fresh stir-fry vegetables (frozen would work too), steamed
steamed rice, white or brown
sesame seeds, optional
Directions:
Preheat oven to 425º F. In a small saucepan over low heat, mix the cornstarch, water, sugar (or Truvia), soy sauce, vinegar, garlic, ginger and pepper. Let simmer for a few minutes, stirring until thickened.
Spray the bottom of a 9×13 pan with cooking spray. Place chicken breasts in the bottom of pan and pour teriyaki sauce over chicken. Cover pan with foil.
Baked covered for 25 minutes and then take the foil off and continue cooking for about 15 minutes, or until chicken is cooked through and no longer pink inside (165 degrees).
Meanwhile, have your rice steaming in a rice cooker and cook your stir fry vegetables. Take chicken out and let cool while you prepare the bowls: add rice to the bottom of the bowls, then a layer of vegetables. Slice up your chicken and layer on top. Drizzle with remaining teriyaki sauce and sprinkle with sesame seeds. Enjoy!
All images and text ©
If you're looking for more yummy and easy recipes, check these out: