If you sometimes get a craving for PF Chang's Mongolian beef like I do, this incredibly easy 30-minute copycat recipe is even better than takeout. The homemade sweet, savory and sticky sauce will make this a family favorite.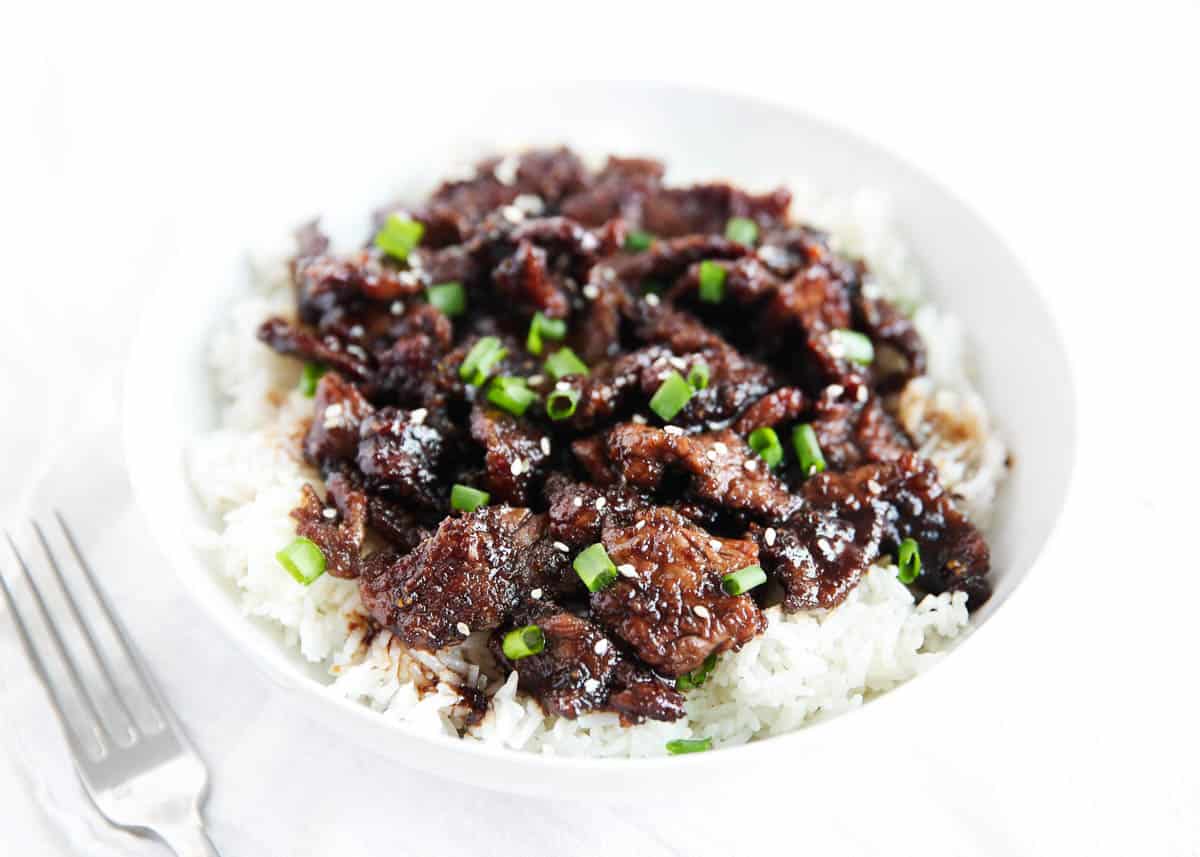 Copycat Mongolian Beef Recipe
Asian cuisine has so much flavor and tastes even better when simple fresh ingredients are involved. This is why I enjoy making this dish from scratch because I can control the amount of sodium and sugar I use and still make it with the signature sweet and salty Mongolian beef sauce.
In the time it would take you to drive to the restaurant and wait to pick up your PF Chang's Mongolian beef, you can have this copycat recipe ready and on your table! This dish is made with very thin strips of tender flank steak, coated in an incredible sauce made from soy sauce, brown sugar, garlic, and ginger.
It is the perfect quick and easy dinner idea the whole family will love. We love to serve it with our favorite fried rice recipe or a simple white rice. Sometimes we even make PF Chang's lettuce wraps or cream cheese wontons to serve as appetizers!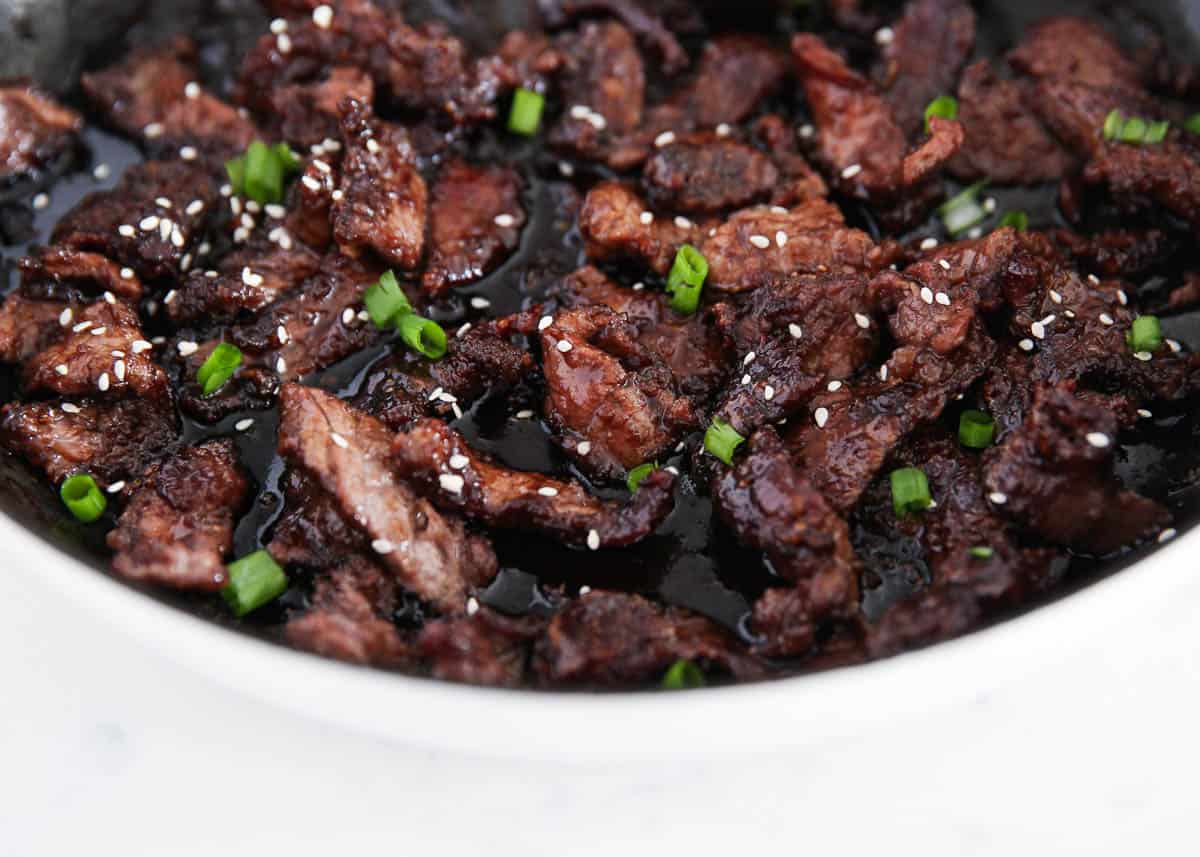 What is Mongolian Beef?
First thing's first, despite the name, it does not come from the country of Mongolia! It's a popular dish originating in Taiwan but very popular in Chinese restaurants here in the United States. It's made from thinly sliced beef usually from flank steak and cooked until brown then combined with a mouthwatering sauce. The restaurant version is quite sweet, so it's nice to be able to play with the amount of sugar you add to it for those that would like a little less.
Ingredients Needed
Find the full printable recipe with specific measurements below.
Flank steak: Either purchase a 1 pound steak and then thinly slice against the grain or purchase steak already cut into strips.
Cornstarch: This helps thicken the sauce.
Vegetable: For pan frying your beef.
Soy sauce: I prefer light soy sauce (lower in sodium) but regular could be used or tamari.
Brown sugar: Gives the sauce it's sweeter taste.
Garlic and ginger: Gives the sauce wonderful flavor.
For serving: Cooked rice, green onions, sesame seeds
How to Make Mongolian Beef
Crispy fried strips of beef coated in a homemade sauce is so easy to make!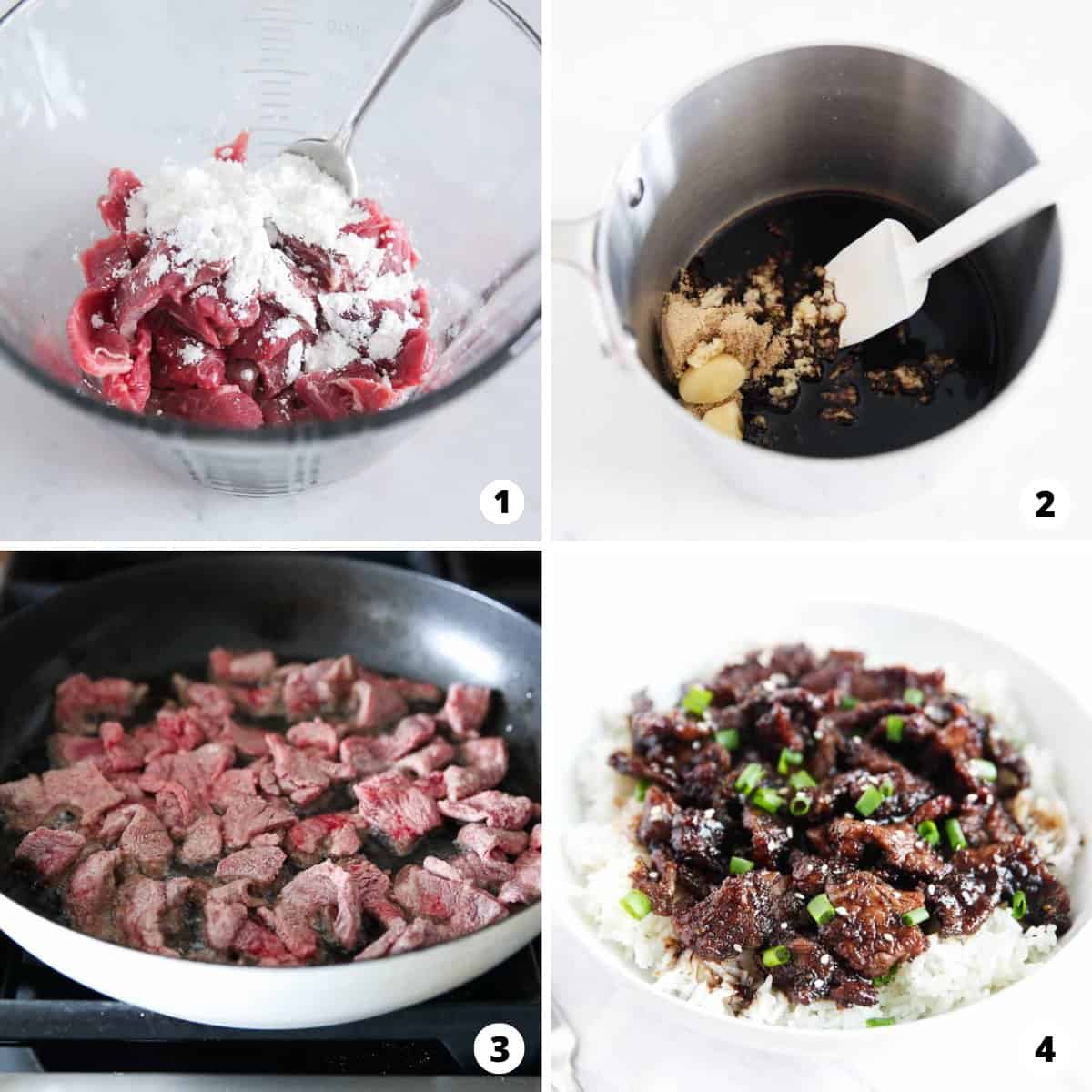 Coat beef in cornstarch and set it aside.
Combine sauce ingredients (soy sauce, brown sugar, garlic, ginger) in a medium saucepan. Cook for about 5 minutes until thick. Whisk occasionally.
Brown the beef in a heated skillet with a bit of oil. Transfer the beef to a paper-lined plate to drain the fat using a large slotted spoon or tongs. Combine the beef and sauce.
Serve over rice, and garnish with green onions and sesame seeds.
Expert Tips
Cut thin strips of beef against the grain. What this does is shortens the fibers crosswise to get your beef tender to a melt-in-your-mouth texture.
Don't skip the cornstarch! It helps to dry out the meat for a better browning but it also helps to thicken the sauce.
Be sure to remove extra fat from the beef strips.
Flank steak cut this thin doesn't take long at all to cook. Keep an eye on it!
Knowing how to cook rice on the stove or how to make Instant Pot rice will come in handy for this recipe as it's the traditional way to complete this meal.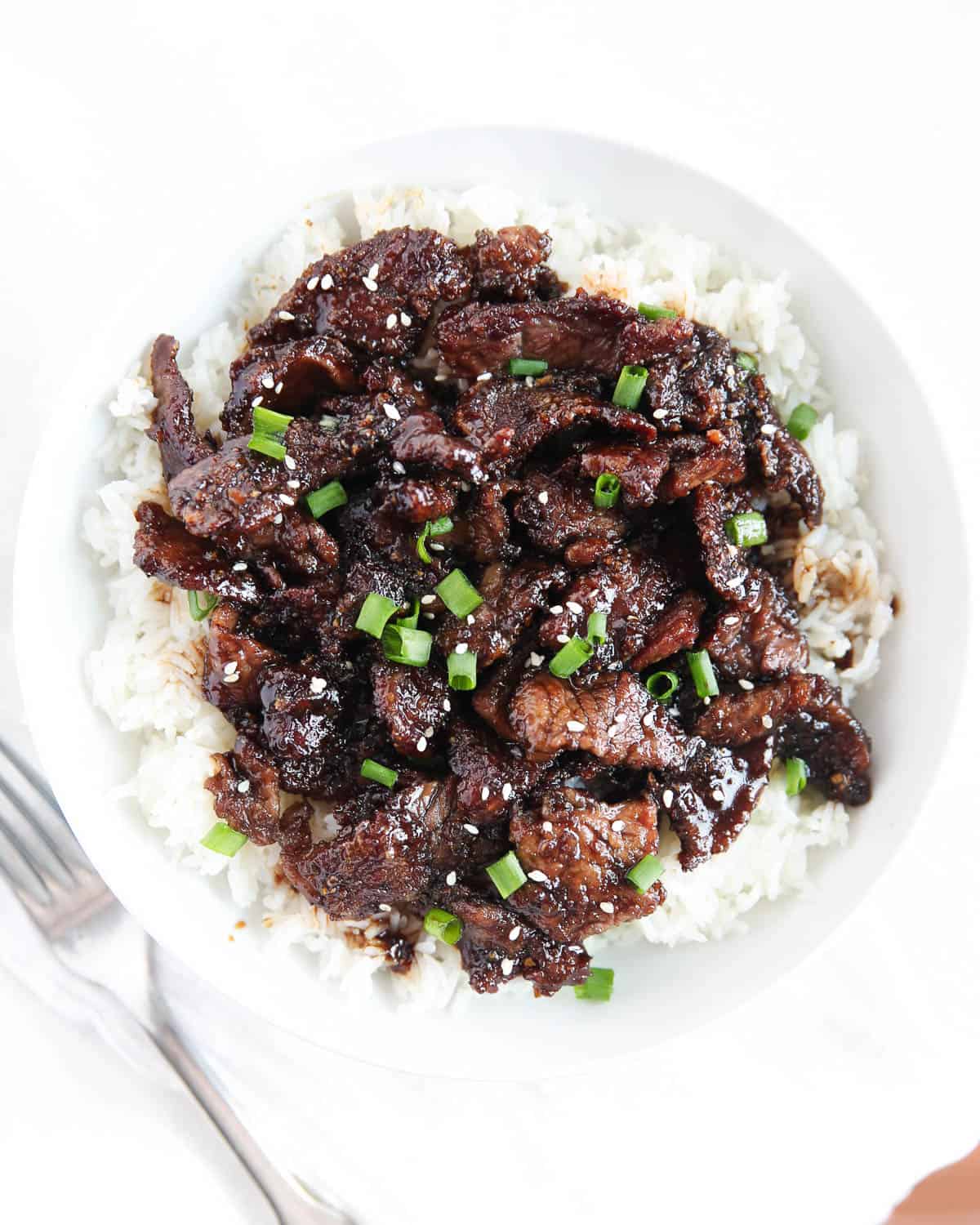 FAQs
Can I use another type of meat?
Absolutely. As you can imagine it won't be a replica of the famous dish, but the delicious sauce pairs well with thin strips of chicken and pork too!
What cut of beef of is best to use?
For this recipe I use flank steak. You could use sirloin steak, too. Both of these cuts of meat are tender and when will cook quickly when sliced thin. NY strip steak or ribeye steak could be used as well.
What makes this Mongolian beef different?
It is a dish originating from Taiwan made with thinly sliced steak and a sweet, sticky sauce. It's not spicy and often paired with scallions and served over steamed rice or crispy cellophane noodles.
What is the difference between this beef and ginger beef?
The sauce! This sauce is much sweeter than a stir-fry beef with ginger.
Serving Suggestions
You may be wondering if you can serve this PF Chang's copycat over something different than just white rice! The answer is yes. Brown rice, quinoa, noodles, or rice cauliflower are all delicious possibilities. Think about veggies to add as a side like steamed veggies with broccoli, carrots, and cauliflower or green beans.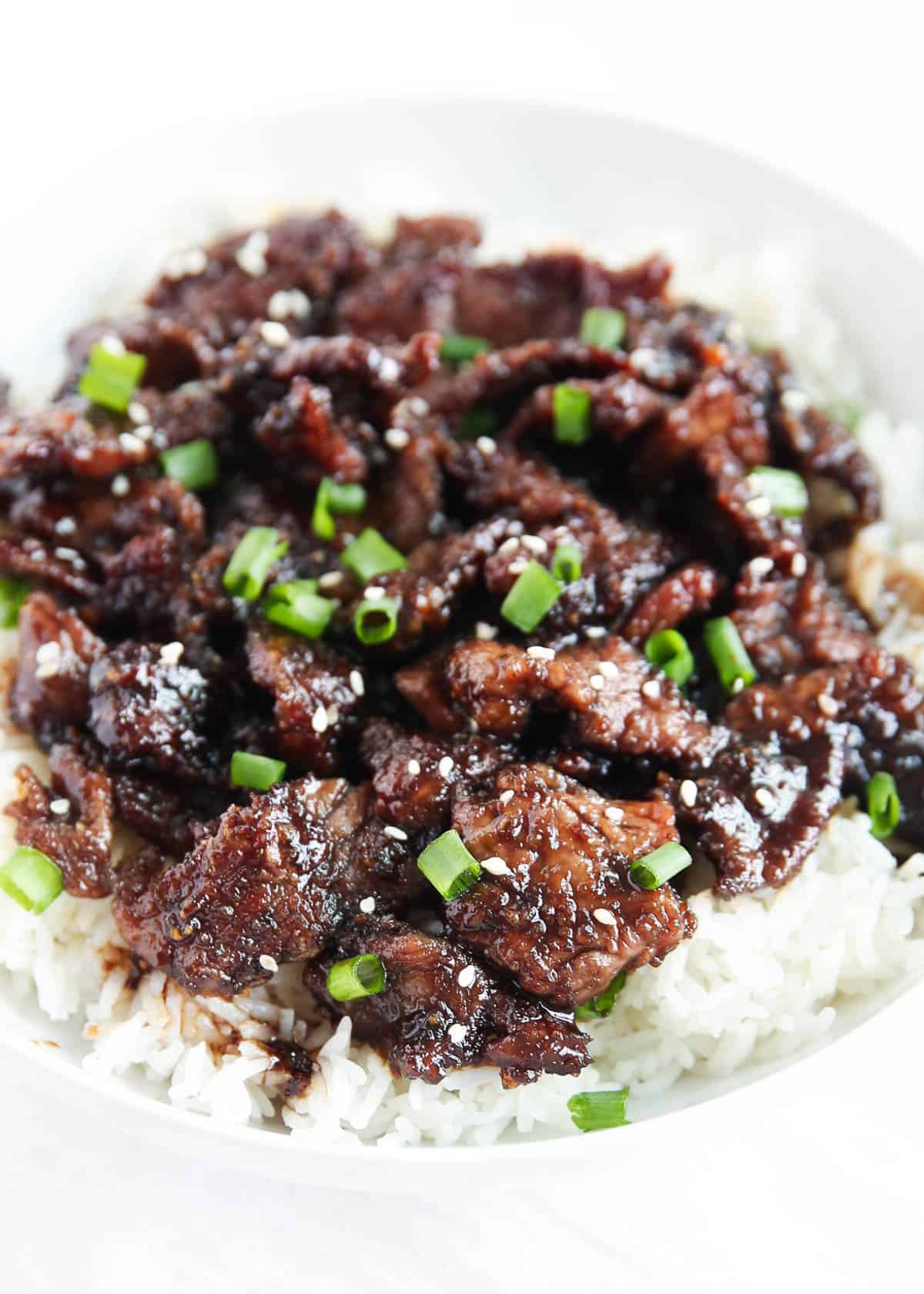 Storage
Store leftovers in an airtight container in the refrigerator for 3-4 days. You can also meal prep the sauce in advance and store for 3-4 days. When ready to cook your beef just reheat sauce in a small saucepan, pour over cooked steak and enjoy.
More Asian-Inspired Recipes
HUNGRY FOR MORE? Subscribe to my newsletter and follow on Facebook, Pinterest and Instagram for all the newest recipes!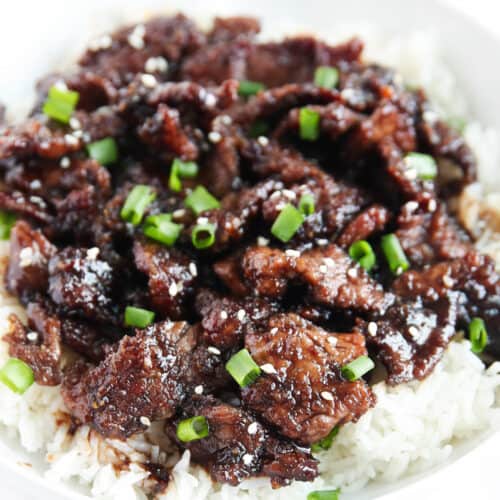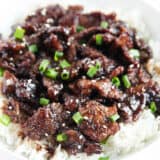 PF Chang's Mongolian Beef Recipe
If you sometimes get a craving for PF Chang's Mongolian beef like I do, this incredibly easy 30-minute copycat recipe is even better than takeout. The homemade sweet, savory and sticky sauce will make this a family favorite.
Ingredients
1 pound flank steak , thinly sliced against grain
3 Tablespoons cornstarch
½ cup vegetable oil
Sauce
¼ cup light soy sauce
½ cup brown sugar , packed
2 teaspoons minced garlic
2 teaspoons minced ginger
For serving: Cooked rice, Green Onions, Sesame Seeds
Instructions
In a large bowl, combine the sliced flank steak (make sure to remove extra fat) and cornstarch. Stir until the beef is coated.

In a medium size pot or pan, combine the soy sauce, brown sugar, garlic and ginger. Cook over medium heat until it has thickened, about 5 minutes. Whisk occasionally.

Place about 1/2 cup oil in a large skillet and heat over medium-high heat. Add the beef and fry until the edges are browned and the meat is cooked through, about 2 minutes. Then place beef on a plate lined with paper towels to drain any fat.

Once sauce has thickened, add the beef and stir together until coated. Then serve over rice. Top with green onions and sesame seeds if desired.
---
Nutrition
Calories: 535kcal | Carbohydrates: 34g | Protein: 26g | Fat: 33g | Saturated Fat: 7g | Polyunsaturated Fat: 16g | Monounsaturated Fat: 8g | Trans Fat: 1g | Cholesterol: 68mg | Sodium: 879mg | Potassium: 464mg | Fiber: 1g | Sugar: 27g | Vitamin A: 1IU | Vitamin C: 1mg | Calcium: 53mg | Iron: 2mg
Nutrition provided is an estimate. It will vary based on specific ingredients used.
Did you make this recipe? Don't forget to give it a star rating below!