EASY homemade popsicles made with just 3 simple ingredients and 10 minutes of prep. The creamy layers of fresh fruit and yogurt make this frozen dessert the perfect healthy and refreshing treat to cool off with this summer.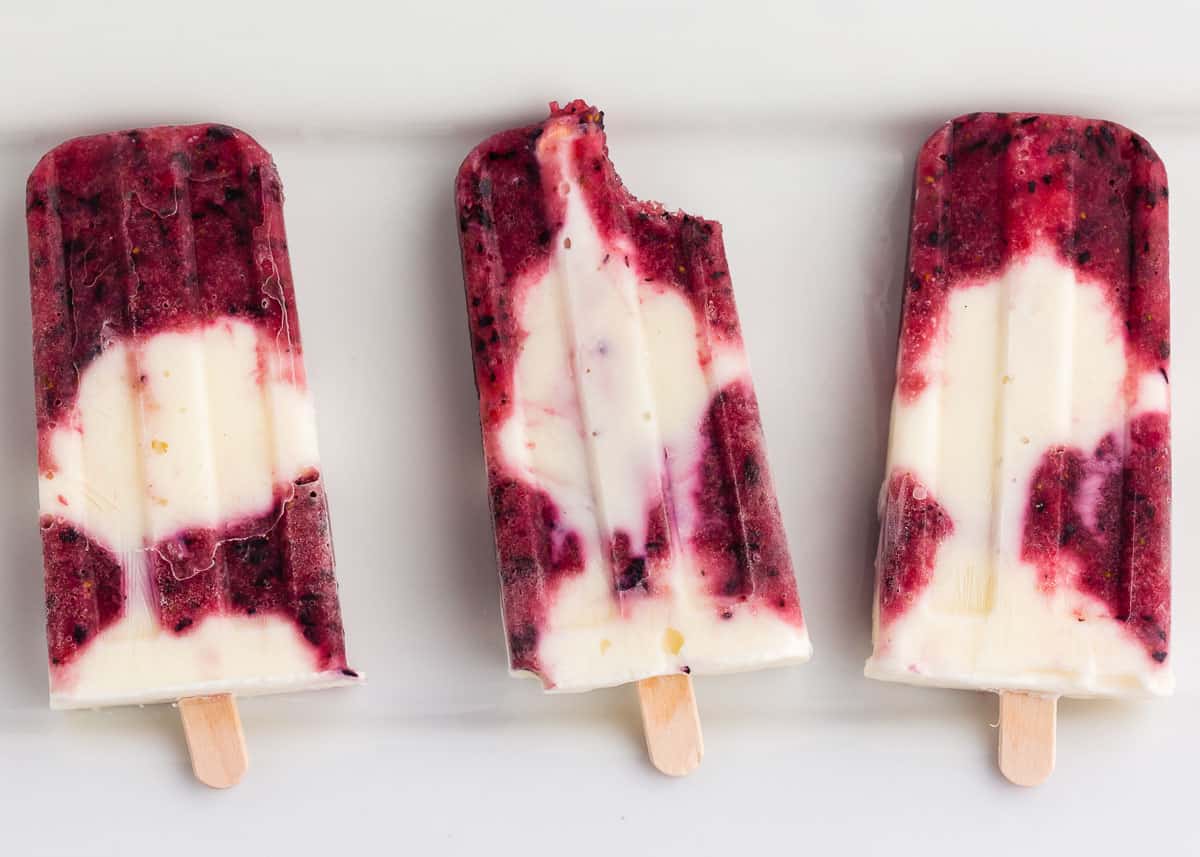 Healthy Summer Treat
I don't know about your kids, but my kids eat popsicles like they are going out of style! And after taking one look at the ingredients in the store-bought varieties, I realized they were pure sugar. That's when I decided we would start making our own homemade popsicles. My kids have loved making them and they are SO much healthier.
Basically, all you need is fresh fruit, yogurt, and a little bit of honey. I love using fresh mixed berries (give me ALL the summer berry recipes), but feel free to use other types like peaches, mangoes, or cherries. Then all you do is purée the fruit, mix together the honey and yogurt, and then layer them into the popsicle mold, and freeze. Easy peasy!
These are the perfect treat or healthy snacks for your little ones to enjoy all summer long. There's just something about fruit desserts that taste extra refreshing and delicious in the hot summer heat. I like to send my kids outside to eat them, so there are no messes inside.
Favorite Flavor Combinations
The beauty of this recipe is that there are so many different flavor combinations that taste delicious. Start by choosing your favorite fruit and blend it into a purée. Then use a mixture of Greek yogurt and honey for the creamy base. Vanilla Greek yogurt tastes delicious with just about anything, but you can also use other flavors like coconut. Then layer the fruit and yogurt into the molds.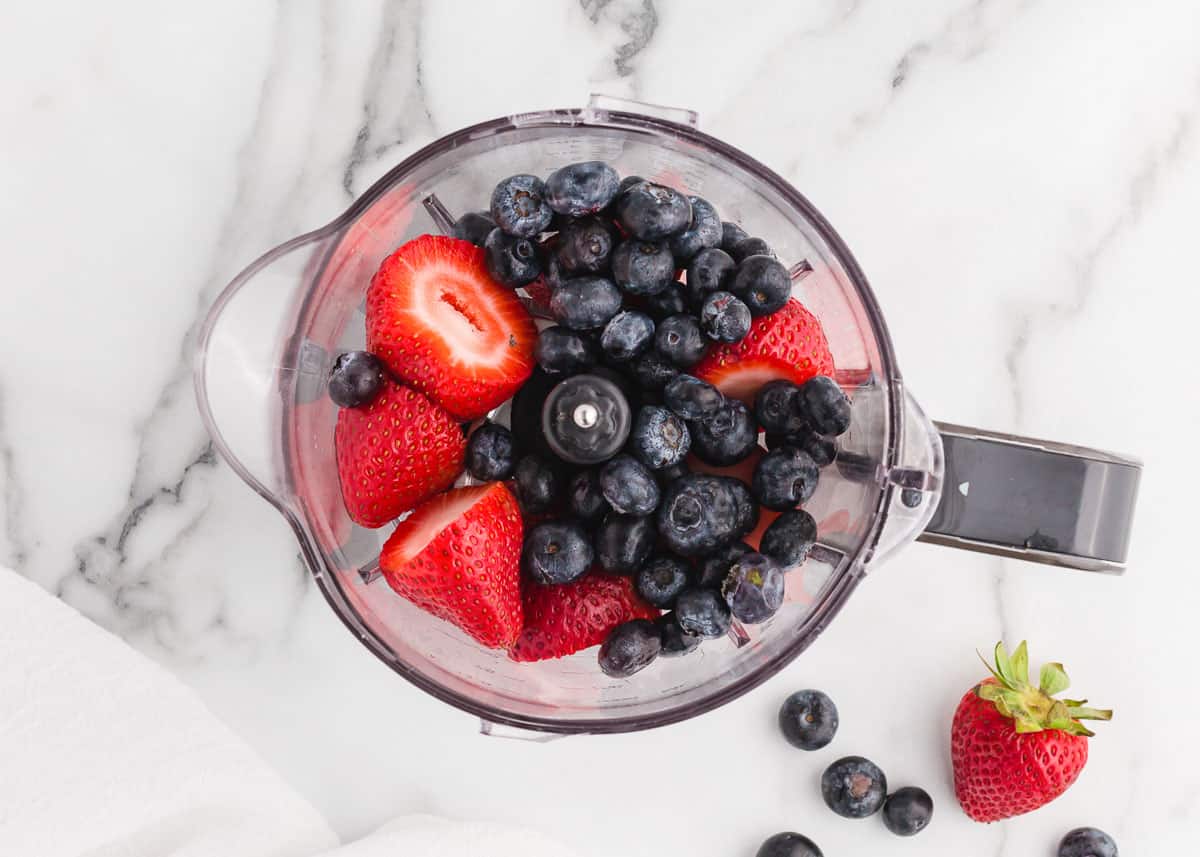 Find the full printable recipe with specific measurements below.
Berry: Mixed berries (or choose your favorite berry) + vanilla Greek yogurt + honey.
Tropical: Pineapple (or mangoes or both) + coconut Greek yogurt + honey.
Peach: Peaches + vanilla Greek yogurt + honey.
Kiwi: Kiwi + vanilla Greek yogurt (or coconut yogurt) + honey.
Cherry: Cherries + vanilla Greek yogurt + honey.
Variation: You can also make another fun version without using Greek yogurt. Add fresh sliced fruit (instead of puréed) to the molds. Then mix together coconut water and honey and pour into the molds over the fruit and freeze.
Because the coconut water is clear, you'll be able to see the different colors of sliced fruit through the popsicles. They are so pretty!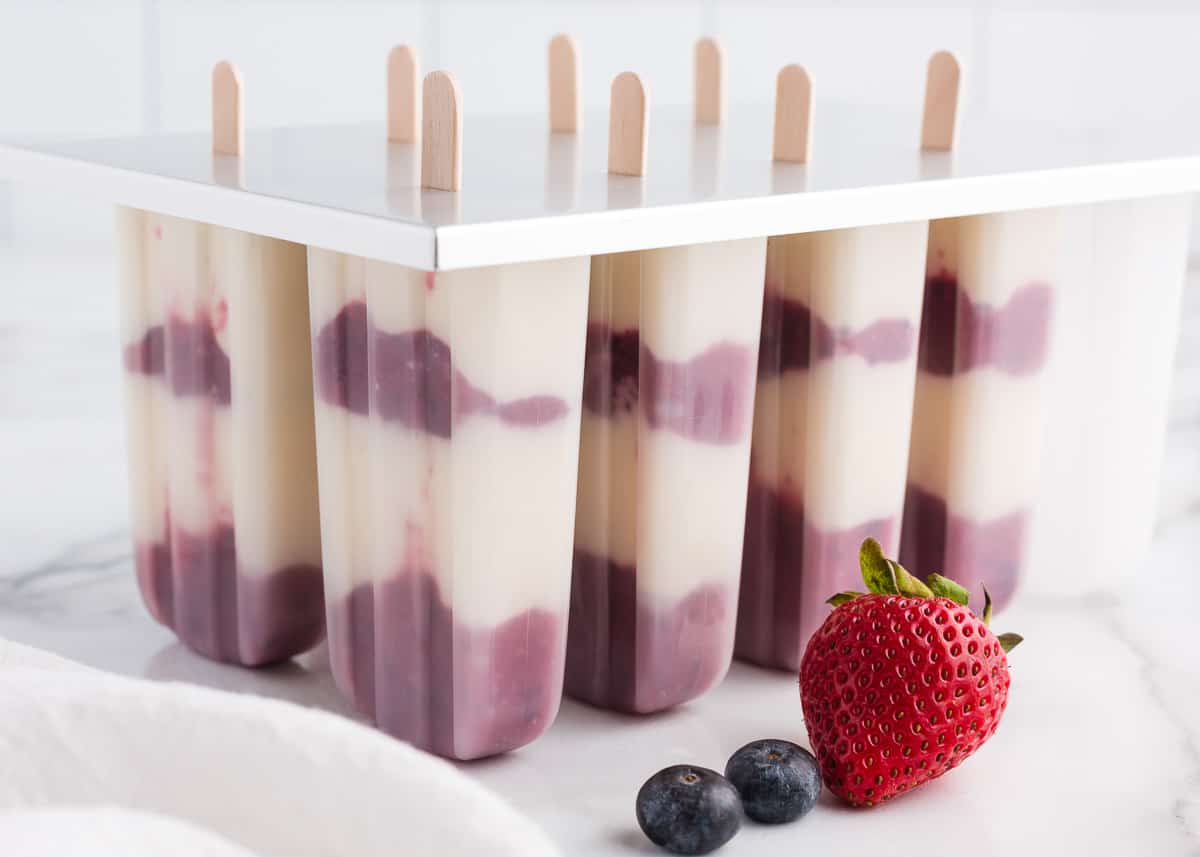 How to get Homemade Popsicles out of the Mold
Popsicles can sometimes be a little bit tricky to get out of the mold…but have no fear! This easy trick saves the day each and every time. Simply run the popsicle mold under warm (but not hot) water for a few seconds.
The frozen treats should easily slide right out after that. If they are still stuck, run under the water for a few more seconds and try again. You can also fill a container that's about the same height as your mold with warm water. Then let the mold sit in the water for about 30 seconds to loosen the popsicles.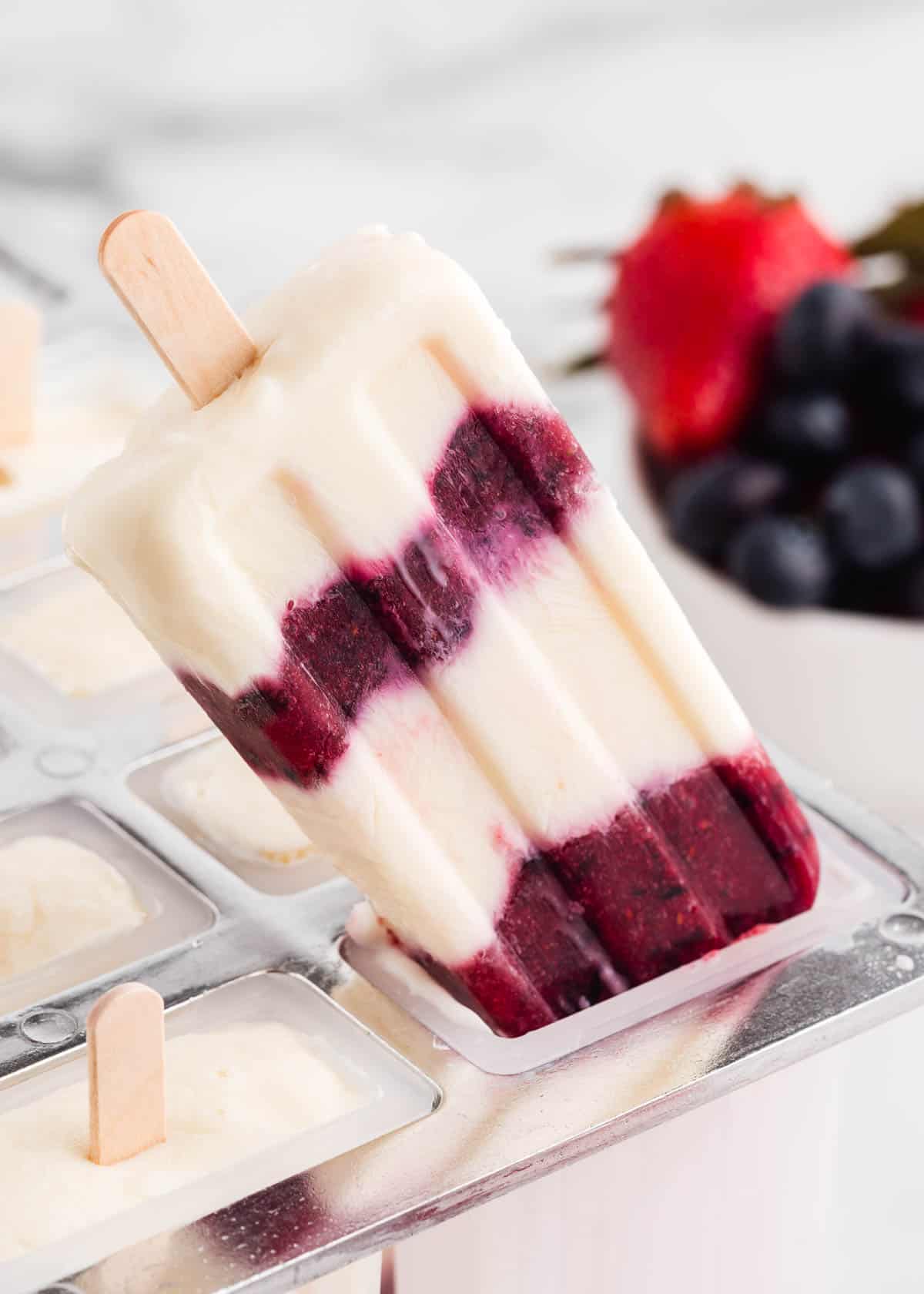 5-star review
"Great recipe! loved it sooooo much!! Very fun, easy, and delicious!"

-Elena
Tip for Success
Make the perfect homemade popsicles using these simple and helpful tips. Ice pops are the best summer treats and using these tips you will have perfect popsicles every time. These tips will make for the best popsicle recipes this summer!
Layer. Not only does layering the fruit and yogurt make the popsicles look extra pretty, but it makes each bite unique. Some bites may have more fruit flavor, while others taste extra creamy and sweet. When filling the molds, I like to add the fruit layer first.
Fresh fruit. Use fruit that is ripe and in season for the best result. Raspberries, strawberries, blueberries, and tropical fruits like pineapples and mangoes taste especially juicy and delicious in the summertime.
Creamy consistency. Some popsicles have an overly icy texture, but not these! The Greek yogurt helps make them super smooth and creamy, so this isn't an ingredient I would skip.
Popsicle mold. This recipe is definitely easier with a popsicle mold. But if you don't have one on hand, you can make DIY molds at home too. Use a muffin tin and fill each cup with the fruit and yogurt. Then place a popsicle stick in the center of each one and freeze until hard. If the popsicle sticks fall over when you add them, wrap the pan with foil and then poke the sticks through the center of each cup to help stand upright.
Recipe FAQs
How do you make homemade popsicles less icy?
For a more creamy-based popsicle add a couple teaspoons of cornstarch. This will help the popsicles from becoming too icy and give them more of a creamy texture.

How do you make popsicles freeze soft?
The Greek yogurt will help keep the popsicles soft. You can also use full-fat coconut milk. Before serving them, let the popsicles sit out for about 10 minutes to help soften them slightly.
What can I use as a popsicle mold?
Ice cube trays, small plastic cups, muffin tins that are lined, or silicone molds.

How do you make popsicles out of plastic cups?
Fill the small cups with your yogurt and berries to keep the natural sweeteners. You can also use juices like orange juice, lemon juice, apple juice, or grape juice for a thinner consistency. You can use fruit puree for an easier filling. Stir or layer the berries then place in the freeze.
Are homemade fruit popsicles healthy?
Yes! These have a natural sweetener for a low-calorie popsicle. If you add in artificial sweeteners then the popsicles may not be as healthy.
How long are homemade popsicles good for?
Homemade popsicles are good for one month in the freezer. Seel the frozen popsicles in an airtight container. They may become icy and not as soft if kept for too long in the freezer.
How to Store Homemade Popsicles
Once you have filled the molds, insert a popsicle stick into the tops and then place it in the freezer to harden. It usually takes about 4 hours for the popsicles to freeze completely (it may be a little more or a little less depending on your particular freezer). This is a great summer activity to make with your little ones in the afternoon and then enjoy the fruits of your labor for dessert.
More Frozen Treats for Summer
HUNGRY FOR MORE? Subscribe to my newsletter and follow on Facebook, Pinterest and Instagram for all the newest recipes!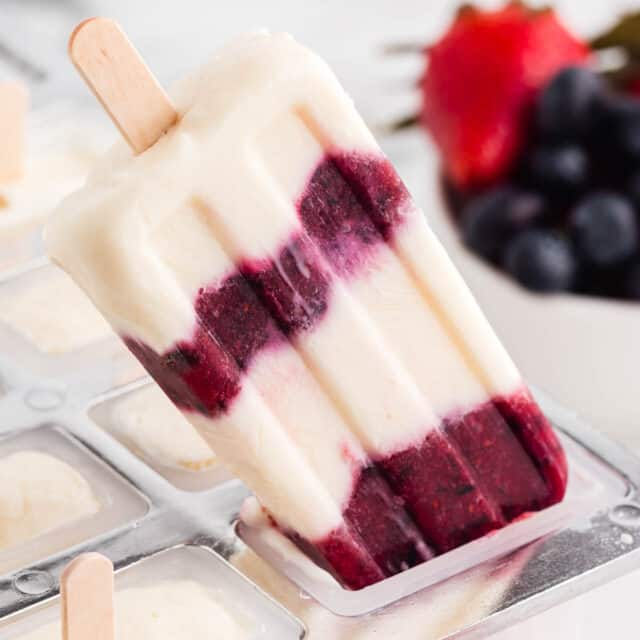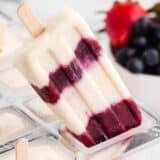 EASY Homemade Popsicles
EASY homemade popsicles made with just 3 simple ingredients and 10 minutes of prep. The creamy layers of fresh fruit and yogurt make this frozen dessert the perfect healthy and refreshing treat to cool off with this summer.
Ingredients
2 cups fresh berries
1 cup vanilla greek yogurt , or your favorite flavor
3 Tablespoons honey , add more for desired sweetness
Optional: 1 to 2 Tablespoons sugar
Instructions
Purée the berries in a blender. You can add in 1 to 2 Tablespoons of sugar if you'd prefer the popsicles a little sweeter.

Combine the yogurt and honey in a small bowl.

Layer the popsicle mold by alternating pouring in the berries and yogurt until it reaches the top (I like to add the berries first).

Insert popsicle stick into the top and then place into the freezer. Freeze for four hours, or until hard.

Run mold under warm water for a few seconds and then remove popsicles. Serve while cold.
---
Notes
Variation: Another fun version is to simply place your fresh fruit into the molds (without puréeing). Then mix together coconut water and sugar and pour into the molds. Freeze as directed.
2 cups fresh fruit (such as berries, sliced kiwi, etc.)
1 1/2 cups coconut water or fruit juice
1/4 cup sugar
Nutrition
Calories: 66kcal | Carbohydrates: 15g | Protein: 2g | Fat: 1g | Saturated Fat: 1g | Polyunsaturated Fat: 1g | Monounsaturated Fat: 1g | Cholesterol: 1mg | Sodium: 9mg | Potassium: 51mg | Fiber: 1g | Sugar: 13g | Vitamin A: 18IU | Vitamin C: 1mg | Calcium: 4mg | Iron: 1mg
Nutrition provided is an estimate. It will vary based on specific ingredients used.
Did you make this recipe? Don't forget to give it a star rating below!