Lemon ice cream is the perfect summer combination of two favorite summertime treats – ice cream and lemonade all in one! So refreshing, bright and delicious.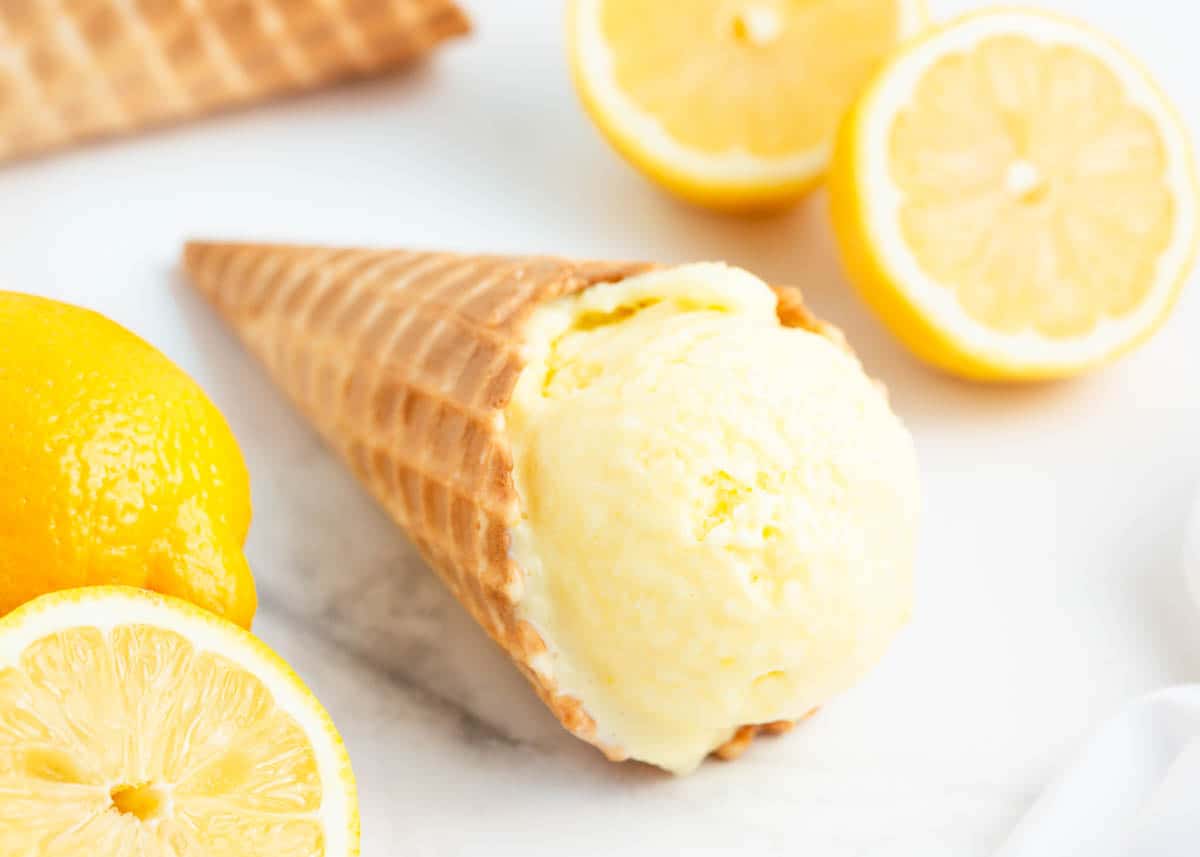 Homemade Lemon Ice Cream
Summer came early this year and so did my summer ice cream cravings. Besides ice cream, another one of my favorite summer treats is lemonade so I decided to combine the two together today with this easy homemade lemon ice cream.
It has a similar texture to Italian ice or sorbet, making it super refreshing and perfect for beating the summer heat. It's lighter than a traditional vanilla ice cream and has the best lemon flavor that tastes bright, tangy and sweet.
Though it requires a few dishes and a bit of time, it is worth the extra effort for a cool treat to indulge in this summer. My family loved it and has already requested that we make this lemon custard ice cream again next weekend. I am happy to oblige! :)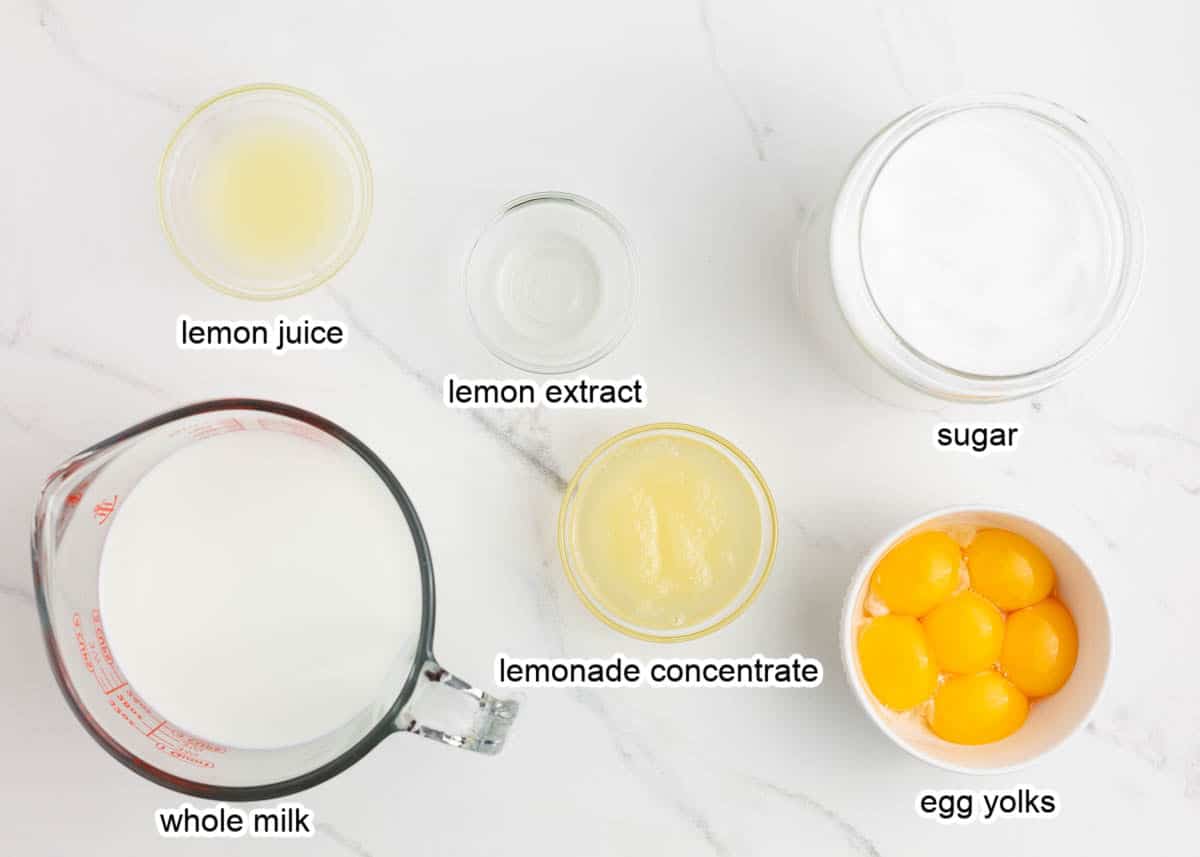 Ingredients Needed
Milk: Using full fat whole milk will result in a creamier texture and a richer flavor.
Egg yolks: Only the yolks are needed – no whites! Egg yolks add a richness to the dessert, as well as a smooth and soft consistency. I've included ways to use the leftover egg whites below, so don't throw them out!
Sugar: Granulated sugar is the preferred sweetener in this lemon ice cream recipe.
Lemon juice: Fresh is best! Squeeze the juice from a medium-sized lemon to add fresh lemon flavor.
Lemon extract: To help boost the lemon flavor even more.
Lemon concentrate: Look for undiluted frozen lemon concentrate. Use the best-quality lemonade concentrate for best flavor.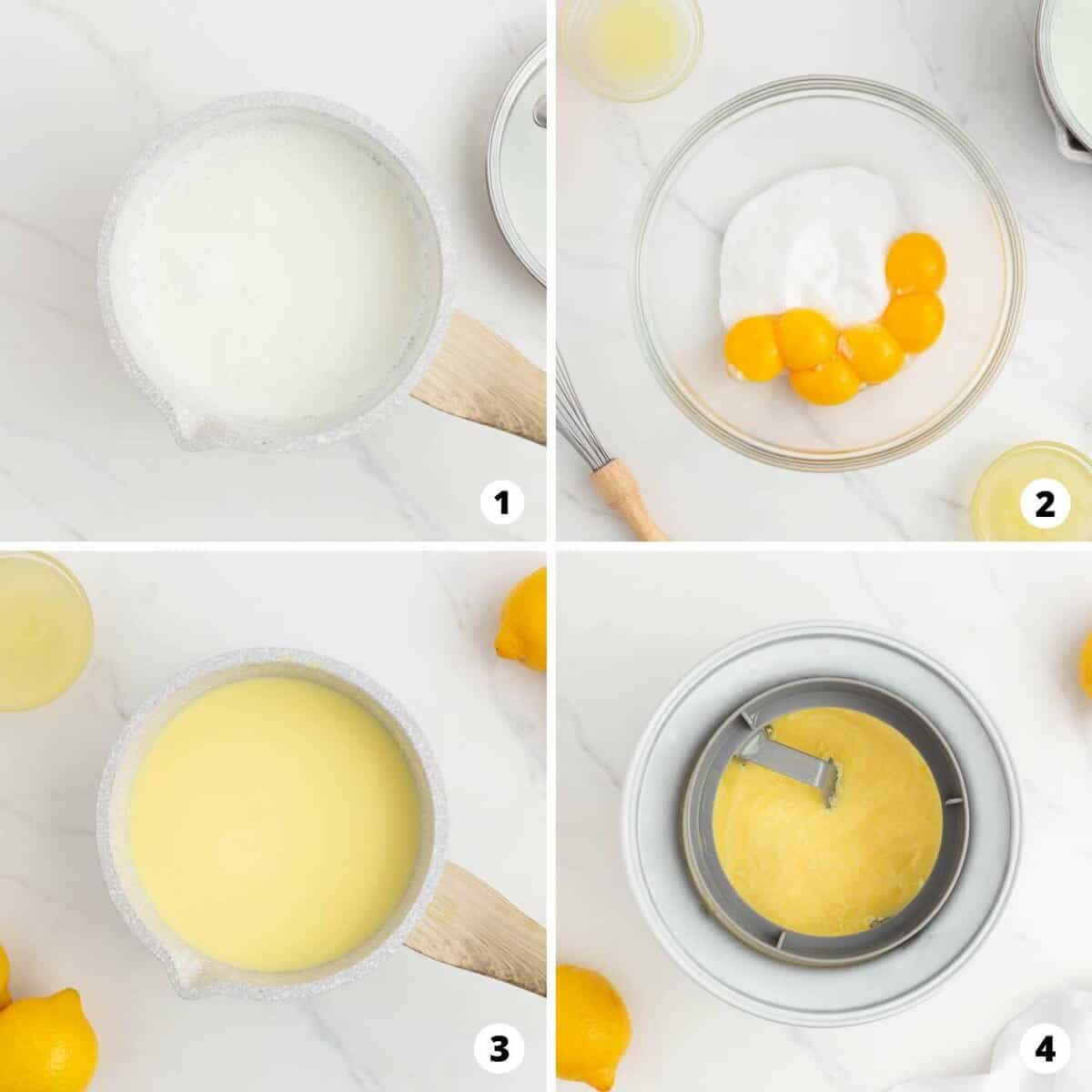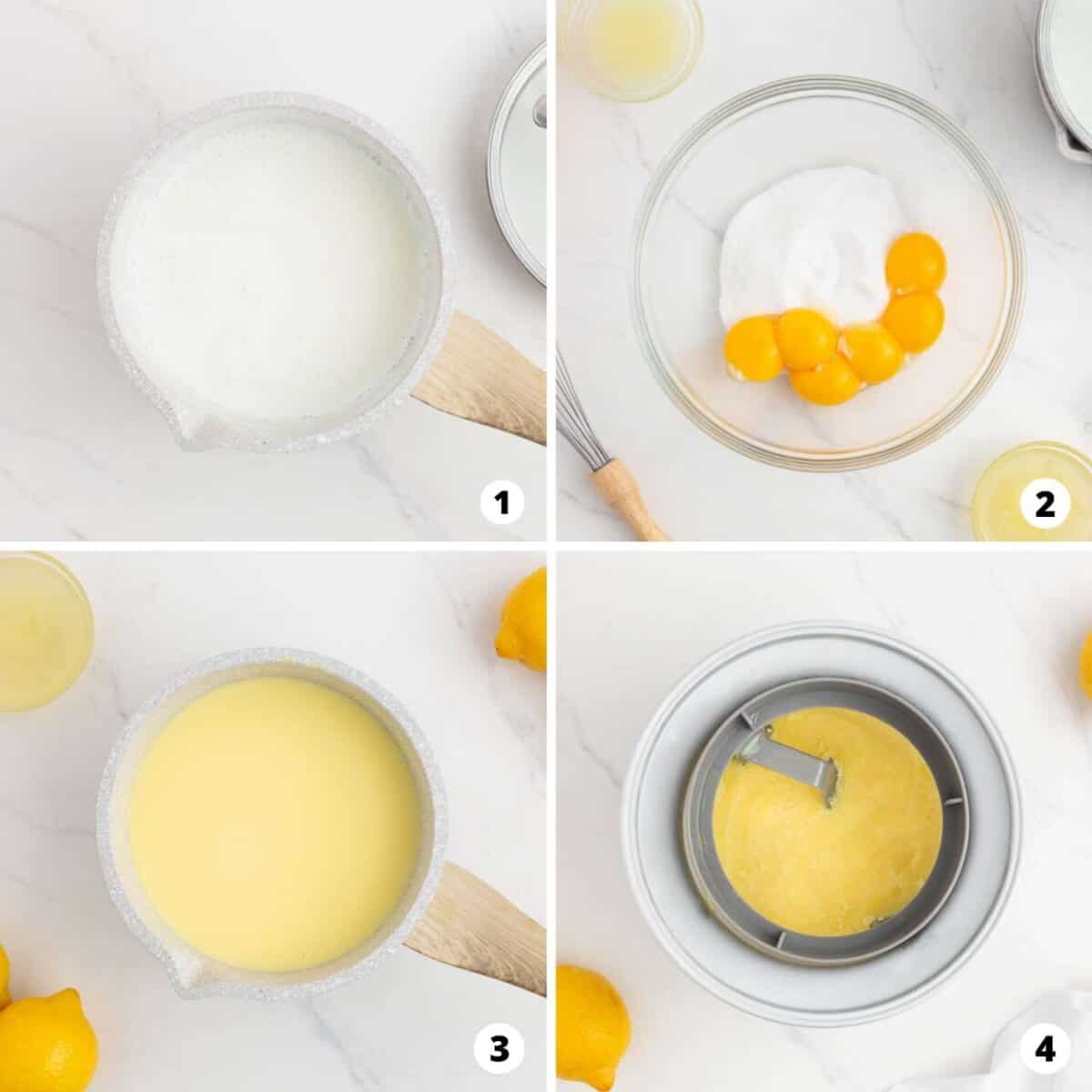 How to Make Lemon Ice Cream
Heat milk. Pour the milk into a large saucepan and heat on the stovetop until bubbles begin to form around the edges of the pan. Cover with the lid and then remove the pan from the heat.
Beat yolks. Next beat the egg yolks and granulated sugar together until the mixture looks pale and has thickened in consistency.
Temper. Slowly pour the hot milk over the bowl of egg yolks and continue to whisk constantly while doing so. Then transfer the mixture back to the saucepan and simmer over low heat until thick enough to coat the back of a spoon. Remove from the heat and stir in the lemon extract and juice. Let cool, then cover and refrigerate for at least 3 hours (or overnight).
Churn. Pour the mixture into your ice cream maker and churn until it begins to thicken. Add in the lemon concentrate and continue churning until it has a thick and creamy consistency. Then place in the freezer in an airtight container to become firm.
Ways to Serve
Once the ice cream is firm, it's time to enjoy! Scoop and serve in a bowl or a cone. You can even add a drizzle of blueberry sauce on top or a spoonful of lemon curd for an extra boost of flavor. Learn how to zest a lemon for a simple finishing touch that looks so decadent!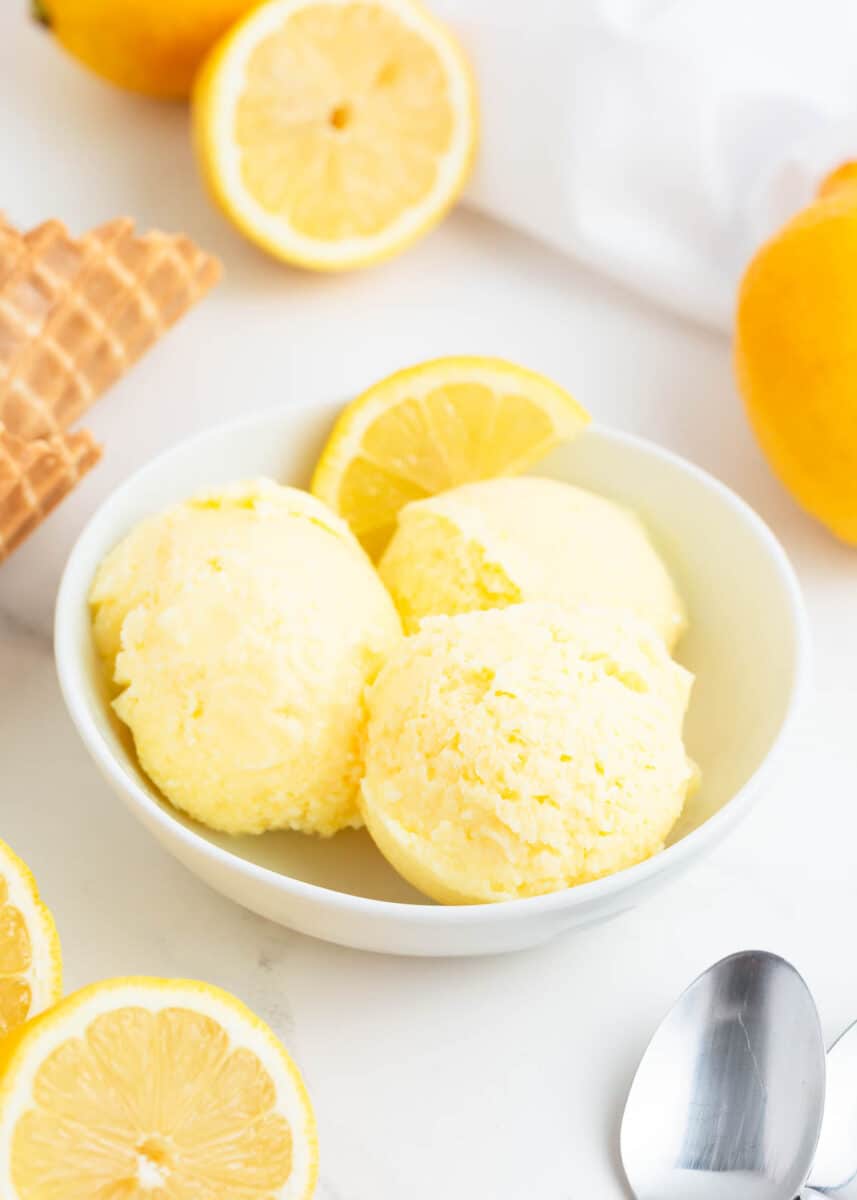 Tips for the Best Results
Plan ahead. This recipe requires a little cooking and cooling, so plan ahead. Because there are eggs in the recipe, you must cook the custard and then temper the eggs. It's simple to do, however it just takes a bit of time. Then you have to let the cream mixture chill for at least 3 hours before putting it in your ice cream maker.
Freeze the bowl. A requirement of many ice cream machines before using is to place the bowl in the freezer the night before so that it's super cold while churning. So don't forget to do this if needed!
Lemonade. The majority of the lemon flavor comes from the lemon concentrate, so make sure to use the best-quality kind you can find.
Tempering the eggs. It's important to whisk the mixture constantly when tempering the yolks so that the eggs don't curdle. Pour the hot milk over the eggs slowly, a little at a time. Also make sure not to let the mixture boil when simmering on the stove.
Let cool. The ice cream mixture must cool completely before churning. Let it sit at room temperature until cool, then cover and chill in the refrigerator for at least 3 hours and up to overnight.
FAQs
Is the consistency creamy?
It's not as creamy as traditional ice cream. The texture is more similar to Italian ice or lemon sorbet or gelato. It's not too heavy, making it the perfect refreshing treat to enjoy on a hot summer day.
Can I make this recipe without an ice cream machine?
An ice cream maker is needed to make this recipe for best results. If you don't have one, try making this easy no churn ice cream instead. Mix in some lemon curd or lemon juice and lemon zest to add that tangy lemon flavor.
Does it need to chill after churning?
If you prefer a soft serve consistency, you can serve immediately after churning. For a more firm and scoopable consistency, let chill in the freezer until the mixture hardens.
What is the best way to scoop?
Before serving, let the container sit on the counter for about 10 minutes to soften. Then run your ice cream scoop under hot water before scooping out of the container.
Storage Instructions
This lemon ice cream will stay fresh in the freezer for up to 2 weeks. I'd recommend storing the mixture in a shallow container, so that it stays creamier. When covering with plastic wrap, make sure the entire surface is tightly covered to keep ice crystals from forming.
When ready to serve, allow to sit for about 5-10 minutes before serving, so that is has time to soften.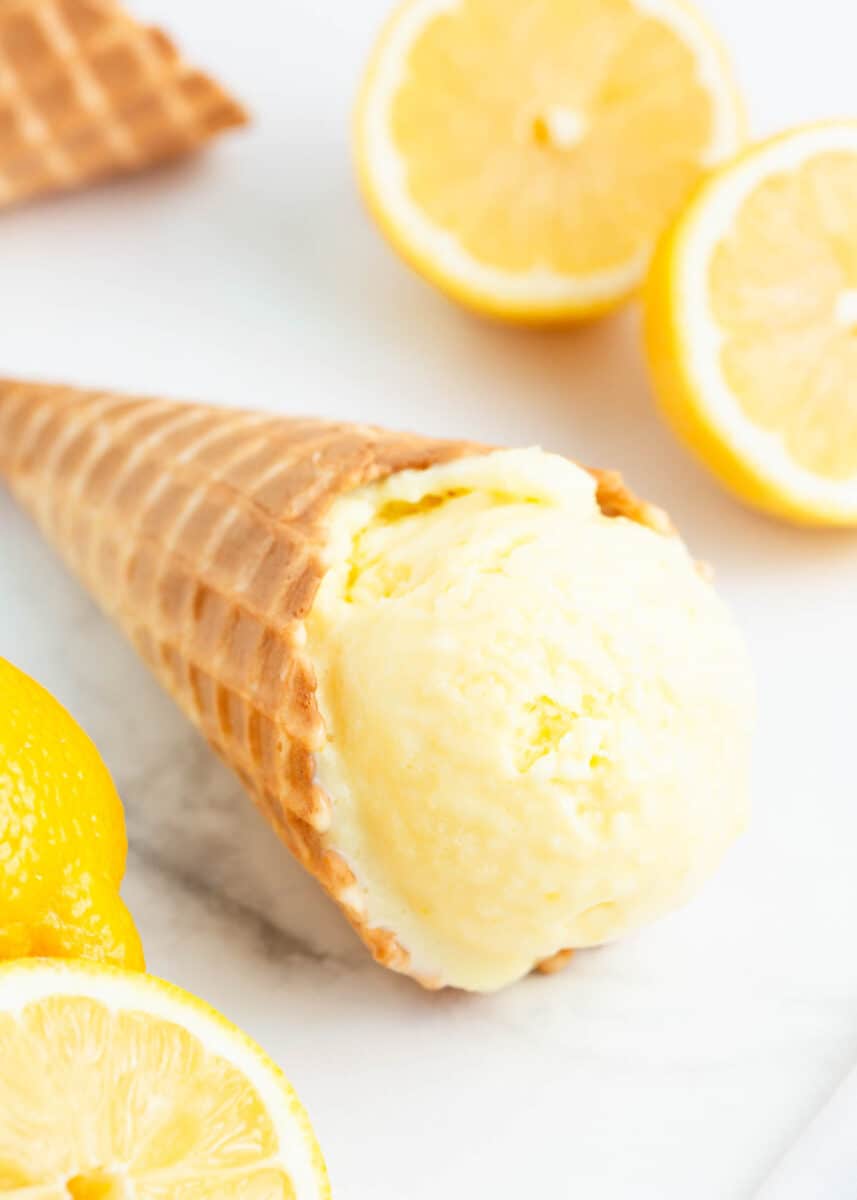 HUNGRY FOR MORE? Subscribe to my newsletter and follow on Facebook, Pinterest and Instagram for all the newest recipes!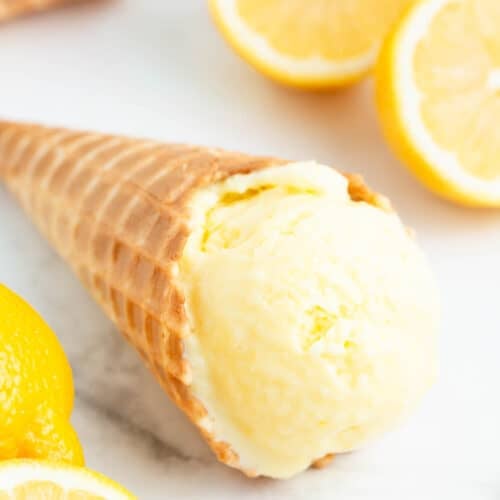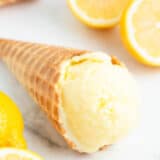 Lemon Ice Cream
Lemon ice cream is the perfect summer combination of two favorite summertime treats – ice cream and lemonade all in one! So refreshing, bright and delicious.
Ingredients
3 cups whole milk
6 egg yolks
⅔ cup granulated sugar
1 teaspoon lemon extract
2 Tablespoons fresh lemon juice
⅓ cup undiluted frozen lemonade concentrate
Instructions
In a heavy saucepan, heat milk until bubbles form around sides of pan. Cover and remove from heat.

In a medium bowl, beat the egg yolks and sugar together until pale and thickened.

While whisking constantly, slowly pour the hot milk into the egg mixture. Return the mixture to the sauce pan. Stirring with a wooden spoon, simmer over low heat, until thick enough to coat the back of the spoon. Do not allow it to come to a boil or it will curdle.

Remove from heat, and stir in lemon extract and lemon juice.

Let cool to room temperature. Loosely cover with plastic wrap and chill in the refrigerator at least 3 hours and up to overnight.

Using an ice cream maker, churn the mixture until it starts to thicken. Add the lemonade concentrate and continue churning until thick and creamy. Place in freezer until hard and set.
---
Notes
Lemonade: Since the flavor of this ice cream depends heavily on the lemonade concentrate, use the very best kind you can find.
Storage: Ice cream tends to stay creamier when you store it in a shallow container. Be sure to also tightly cover the surface of the ice cream with plastic wrap to keep ice crystals from forming. The ice cream is best eaten within 2 weeks.
Ways to serve: Try this tart ice cream drizzled with blueberry sauce for a true summer treat.
Nutrition
Calories: 267kcal | Carbohydrates: 41g | Protein: 6g | Fat: 8g | Saturated Fat: 4g | Cholesterol: 207mg | Sodium: 63mg | Potassium: 198mg | Sugar: 39g | Vitamin A: 455IU | Vitamin C: 5.1mg | Calcium: 163mg | Iron: 0.5mg
Nutrition provided is an estimate. It will vary based on specific ingredients used.
Did you make this recipe? Don't forget to give it a star rating below!