Lemonade Ice Cream is the perfect summer combination of two favorite summertime treats – ice cream and lemonade all in one.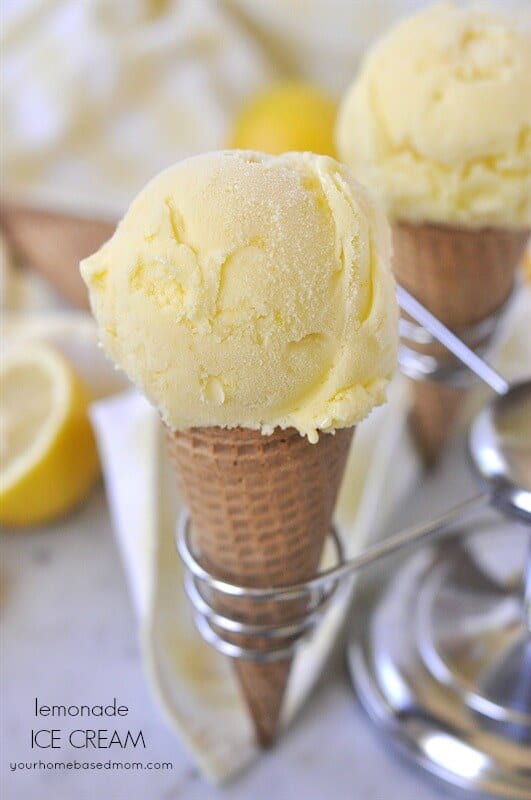 I'm excited to be back here at I Heart Naptime this summer to help out while Jamielyn cuddles that cute little baby!! I am Leigh Anne from Your Homebased Mom where we are all about pretty and delicious. I love sharing hundreds of delicious, family friendly recipes and entertaining ideas that everyone will love. I hope you'll stop by for a visit.
Summer came early to the Northwest this year and so my summer ice cream cravings kicked in early. Besides ice cream, another one of my favorite summer treats is lemonade so I decided to combine the two together today with lemonade ice cream. My lemonade cravings have been going strong so far this season. It started with this yummy Chick -fil-a frosted lemonade and then continued on to Frosted Freckled Lemonade. I get on a kick with something and I have a hard time stopping, this summer it is lemonade flavored things!!
You will need an ice cream maker for this one and I love using my favorite Cusinart Ice Cream Maker.
This recipe requires a little cooking and cooling so plan ahead. Because there are eggs in the recipe you must cook the custard and then temper the eggs. This basically means is that you have to add some of the hot milk mixture into the egg yolks, just a little at the time so that the eggs don't cook. No one wants scrambled eggs in their ice cream. It's easy to do, just takes a bit of time. Then you have to let the ice cream mixture chill before putting it in your ice cream maker.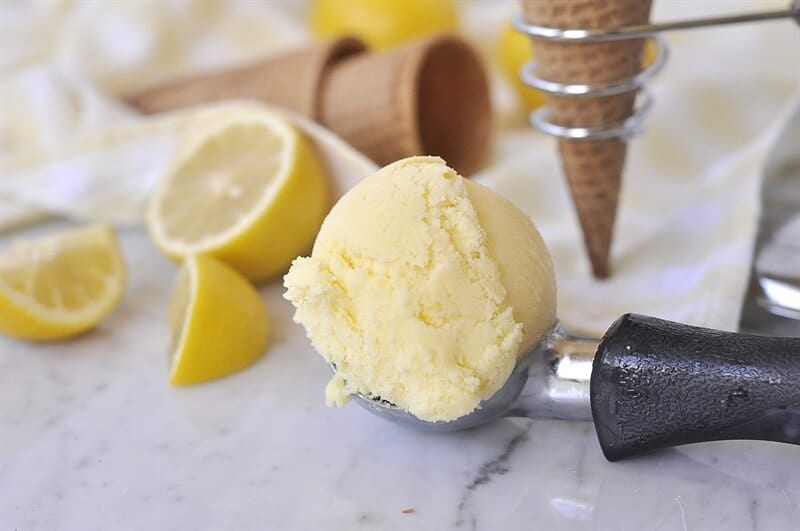 Ones the mixture has cooled, it's ready to add to your ice cream maker and let it process. Then, you're ready to enjoy, whether in a dish or in a cone! I'm a cone girl.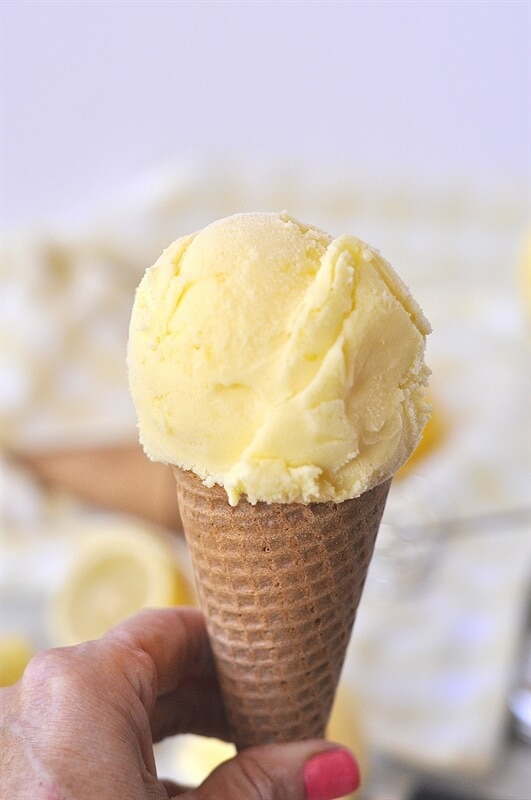 Lemonade Ice Cream
Yummy! This lemonade ice cream is a unique and sweet tasting treat for your summer!
Ingredients
3 cups whole milk
6 egg yolks
2/3 cup granulated sugar
1 teaspoon lemon extract
zest of 3 lemons
2 tablespoons fresh lemon juice
1/3 cup undiluted frozen lemonade concentrate
Instructions
Heat the milk to a boil in a heavy pan. Cover and remove from heat.

Beat the egg yolks and sugar together in a bowl until light and thick.

Slow pour the hot milk into the egg mixture, whisking constantly. Turn the mixture to the sauce pan and cook over low heat, stirring with a wooden spoon until it thickens slightly and coats the back of the spoon.

Do not allow it to come to a boil or it will curdle.

Add in lemon extract, zest, and juice.

Allow the mixture to cool to room temperature and then refrigerate it, loosely covered with plastic wrap until chilled. At least 3 hours.

Freeze in the mixture in your ice cream maker.

Once it starts to set and thicken, add in the lemonade concentrate and continue mixing until set up.

Place in freezer to set up further.
---
Calories: 267kcal | Carbohydrates: 41g | Protein: 6g | Fat: 8g | Saturated Fat: 4g | Cholesterol: 207mg | Sodium: 63mg | Potassium: 198mg | Sugar: 39g | Vitamin A: 455IU | Vitamin C: 5.1mg | Calcium: 163mg | Iron: 0.5mg
Nutrition provided is an estimate. It will vary based on specific ingredients used.
Did you make this recipe? Don't forget to give it a star rating below!

Leigh Anne Wilkes
Your Homebased Mom
finding the pretty and delicious
You can also visit me on Facebook, Pinterest, Twitter, Instagram and Google+
Huge THANKS to Leigh Anne for sharing this yummy ice cream recipe during our Hello Summer Event!
If you enjoyed this ice cream recipe, then you'll love these:
Reeses PB Cup Homemade Ice Cream