This no churn ice cream recipe makes the creamiest ice cream and is made with only 3 ingredients. You won't believe how easy it is to make without a machine!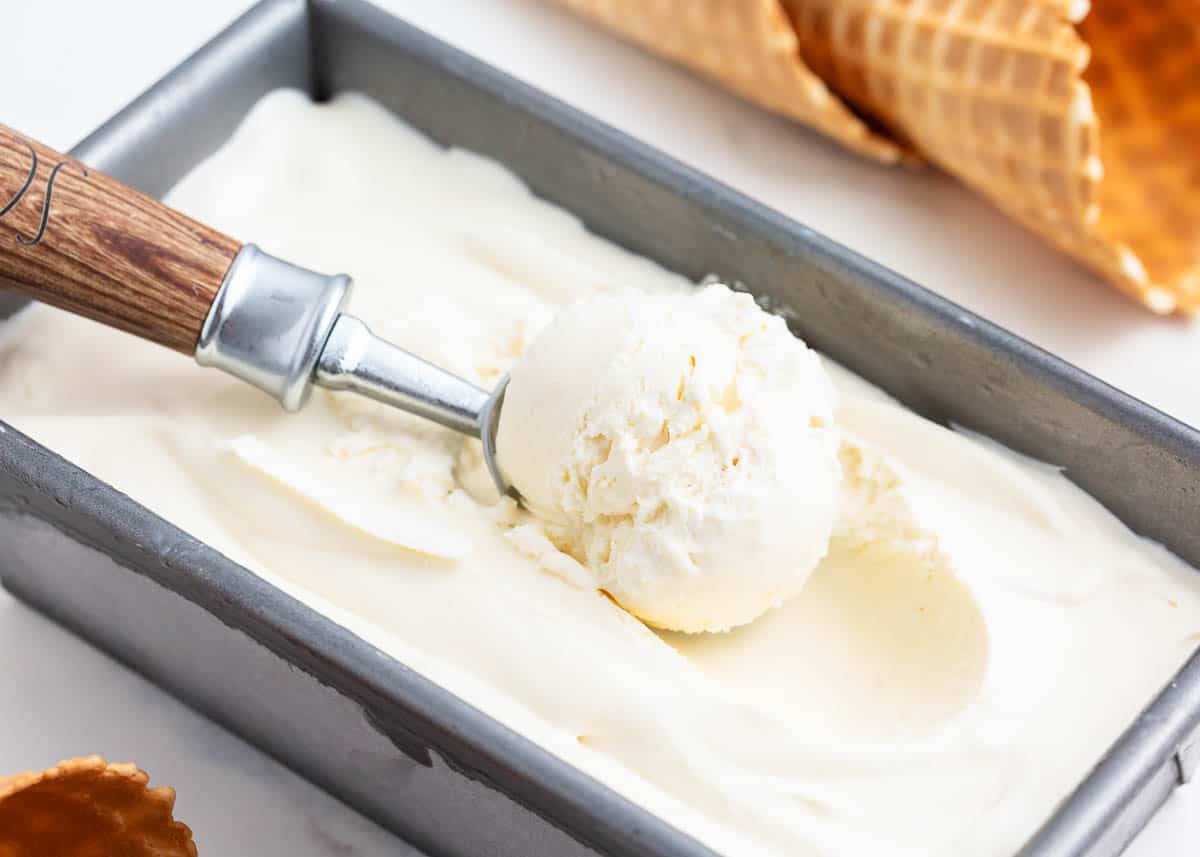 No Churn Vanilla Ice Cream
Homemade ice cream is fun to make, but sometimes I don't feel like getting out the ice cream machine. That's why I love this easy no churn option. It tastes just as delicious and the consistency is spot on. No one will know you didn't use a machine to make it!
One of my favorite things about summer is homemade ice cream. It has to be my all time favorite dessert and it's always a toss up whether I'm going to go fruity or chocolate. :)
This recipe is perfect for when you need a sweet treat and don't want to pull out your machine and then run to the store for salt and ice. There's no special equipment needed and you can make it right in your own freezer with just a hand mixer. It's just as smooth and creamy as the traditional version, too!
Difference Between Churn and No Churn Ice Cream
The main difference between the two is that you don't need to use an ice cream machine when making this simple no churn version. Many recipes for homemade ice cream start with a cooked custard base that's made with a mixture of eggs, milk and/or heavy cream and sugar. The custard is then churned through an ice cream maker to give it that smooth and creamy consistency.
With this easy no churn recipe, there's absolutely no eggs required and no precooking needed. Just mix the ingredients together, pour into a pan and freeze until hard. You'll still achieve that same delicious and creamy consistency, with less time and work involved!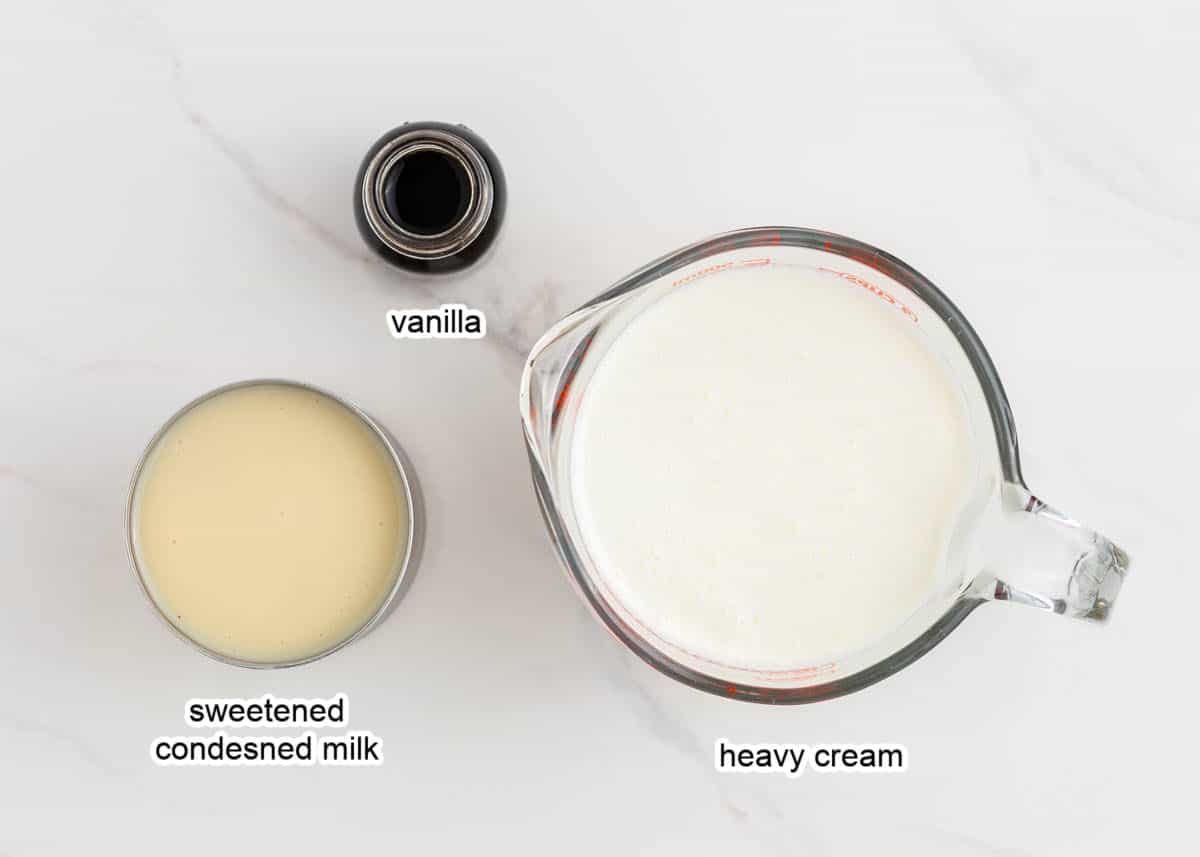 Only 3 Ingredients
Heavy cream: It has a higher fat content than milk, which results in a creamier and richer consistency.
Sweetened condensed milk: Instead of granulated sugar, we use sweetened condensed milk to add to the creamy texture, while also offering a rich and sweet flavor.
Vanilla: A high quality pure vanilla extract will give you the best vanilla flavor.
How to Make No Churn Ice Cream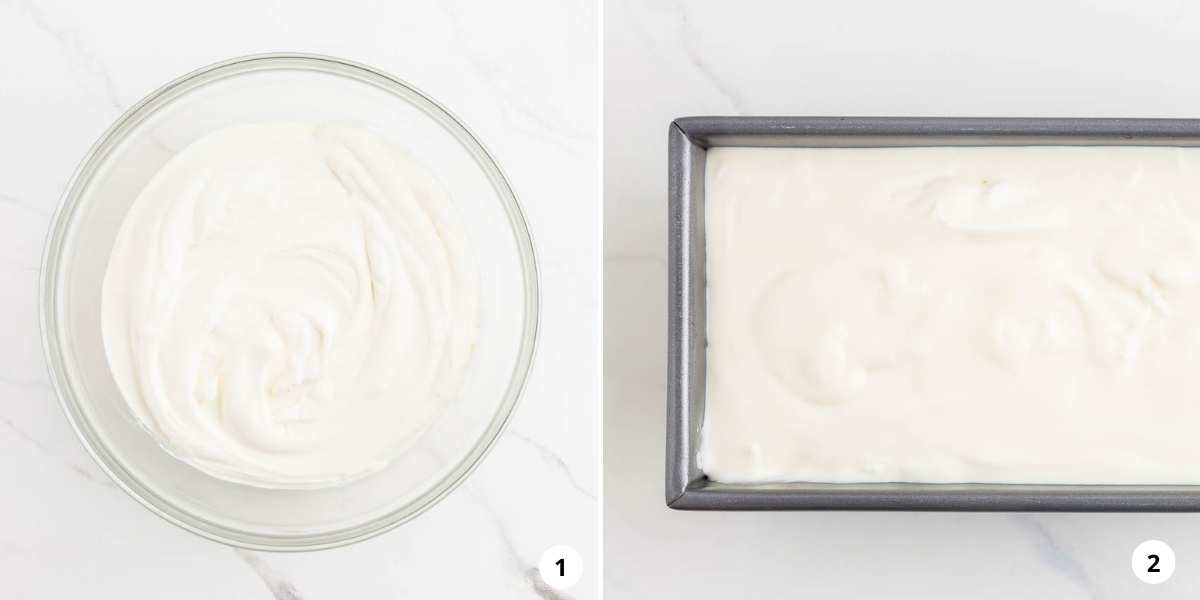 Beat the cream. To get started, all you need to do is beat the heavy cream for 5 minutes, or until stiff peaks form. Then stir in the sweetened condensed milk and vanilla.
Pour and freeze. Pour the cream mixture into a 9×5″ loaf pan or 9×9″ pan. Place in the freezer for 4 to 5 hours, or until firm. Try to resist eating this yummy treat right away!
Favorite Mix-in's
This recipe could be made with any of your favorite mix-in's. Just mix 1 cup crushed toppings right in the batter. So many possibilities! Here are a few ideas below:
Mixed berries
Crushed Oreo's
Chopped Reese's
Chocolate chips
Lemon juice and zest or fresh lemon curd
Peppermint extract and mini chocolate chips
Caramel swirls and sea salt
Toasted or candied pecans
Toppings
You can skip the mix-in's all together and simply add your favorite toppings before serving. A drizzle of hot fudge, caramel sauce or blueberry sauce is an easy way to add a little more extra flavor to your no churn vanilla ice cream. Another favorite way to serve it over a fruity dessert like warm peach cobbler!
Tips for Success
Chill the bowl and beaters. To speed up the whipping process, I like to freeze my mixing bowl and beaters for about 10 minutes before mixing. This helps the cream peak faster.
Let soften. The consistency is going to be hard after freezing for 4 to 5 hours. Let it soften a bit on the counter before scooping any out.
Run scoop under hot water. Run your scoop under hot water before using. The mixture will scoop out so much easier this way.
More Delicious Flavors
Chocolate: Omit the vanilla and add in 1 cup chocolate milk with 1/3 cup unsweetened cocoa powder, similar to this no churn chocolate ice cream recipe.
Strawberry: Mix in 1 cup mashed strawberries (or any berry of choice). You could also add a spoonful of strawberry jam for more flavor.
Caramel: Drizzle 1 cup caramel sauce throughout the mixture, along with a sprinkle of flake sea salt.
Cookies and cream: Mix in 1 cup crushed Oreo's.
Chocolate chip cookie dough: Mix in 1/2 cup chocolate chips and 1/2 cup cookie dough pieces.
FAQs
Why is my no churn ice cream icy?
I've noticed that ice crystals will form more easily if the ice cream is not stored properly. It's important to cover the ENTIRE surface area of the mixture with plastic wrap (with no air in between). This will help prevent ice crystals from forming as it freezes, resulting in a creamy (and not icy) texture.

It will also stay creamier if stored in a shallow container.
Can I use milk instead of heavy cream?
For the best flavor and texture, you really should use heavy whipping cream to make this recipe. It has a higher fat content than regular milk, which results in a creamier texture and richer flavor. This is one of those instances that using full fat ingredients is worth the extra indulgence!
How long does it take to make?
Prep time only takes about 10 minutes! After that, all that's left is chill time. It will take the mixture about 4 to 5 hours in the freezer to harden (or a little less time if you prefer soft serve consistency).
Storage Homemade Ice Cream
Tightly cover the pan with plastic wrap and store in the freezer for up to 3 months. Make sure to cover the entire surface area (so that there's no air in between) to help prevent ice crystals from forming while it freezes.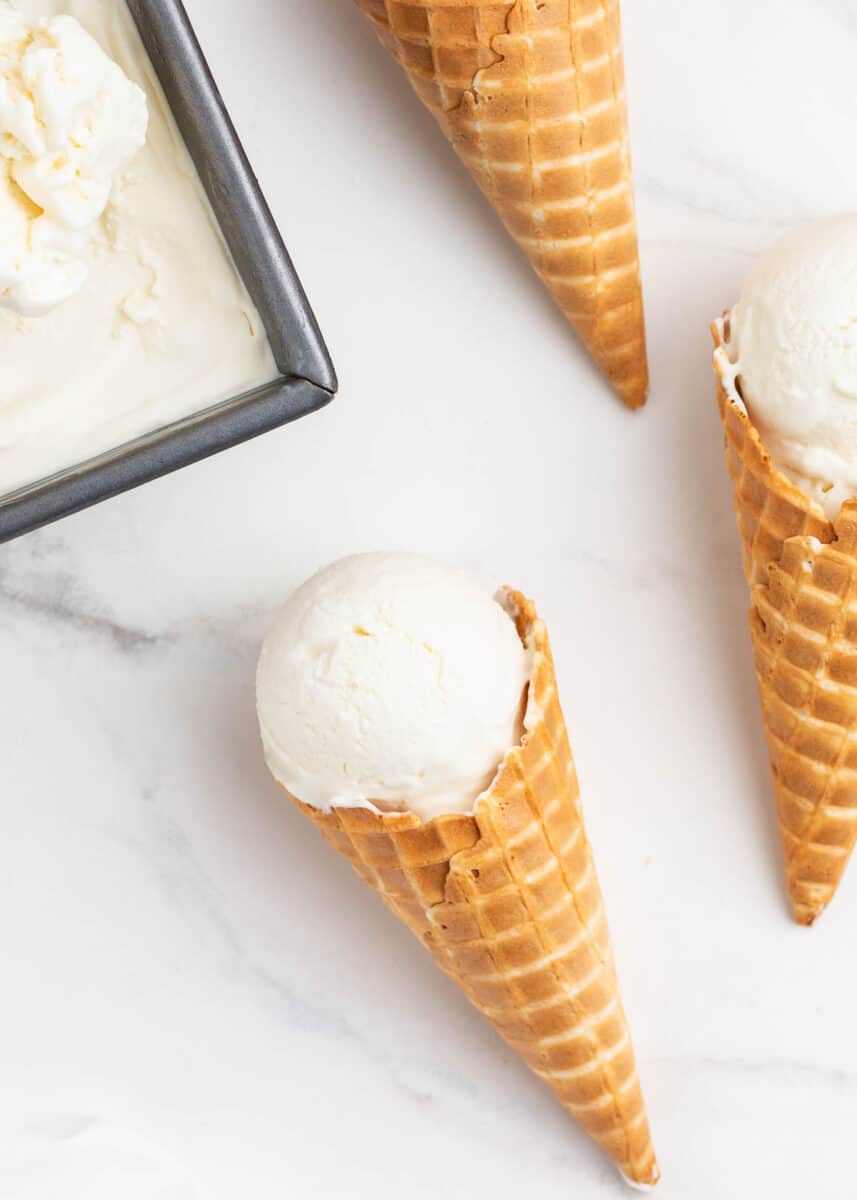 HUNGRY FOR MORE? Subscribe to my newsletter and follow on Facebook, Pinterest and Instagram for all the newest recipes!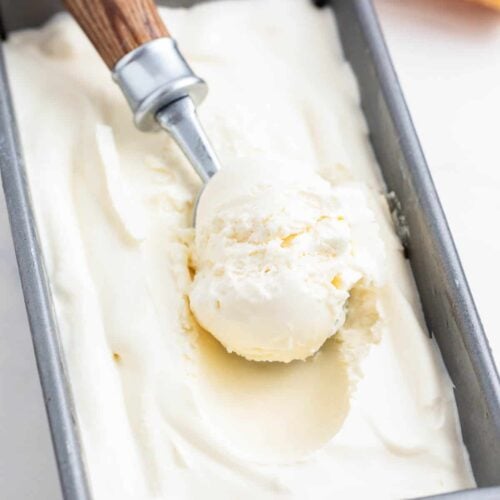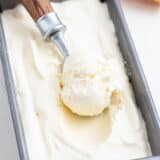 No Churn Ice Cream
This no churn ice cream recipe makes the creamiest ice cream and is made with only 3 ingredients. You won't believe how easy it is to make without a machine!
Ingredients
Optional mix-in's: Mixed berries, Crushed Oreos, Chopped Reese's
Instructions
In a stand mixer fitted with a paddle attachment, whip the cream on medium-high 5 minutes, or until a nice peak has formed. You can also use a handheld mixer. Add the sweetened condensed milk and vanilla.

Using a rubber spatula, fold in any desired mix-ins.

Pour mixture into a 9×5-inch loaf pan or a 9×9-inch baking dish. Cover with plastic wrap and place in the freezer 4 to 5 hours, or until firm.

Let soften slightly on the counter before scooping to serve.
---
Notes
Optional Mix-in's: Feel free to mix in 1 cup of your favorite candy bar or fruit. Here are some of our favorites:
Toppings: Or you can add your favorite topping on the top, such as:
Storage: Store in a covered container in the freezer for up to 3 months.
Nutrition
Calories: 241kcal | Carbohydrates: 19g | Protein: 4g | Fat: 17g | Saturated Fat: 11g | Polyunsaturated Fat: 1g | Monounsaturated Fat: 4g | Cholesterol: 56mg | Sodium: 53mg | Potassium: 161mg | Sugar: 19g | Vitamin A: 668IU | Vitamin C: 1mg | Calcium: 120mg | Iron: 1mg
Nutrition provided is an estimate. It will vary based on specific ingredients used.
Did you make this recipe? Don't forget to give it a star rating below!