Skip the takeout and make this delicious General Tso's chicken at home! You'll fall in love with the sweet and spicy sauce poured over the crispy, juicy chicken. This is truly a restaurant-style recipe!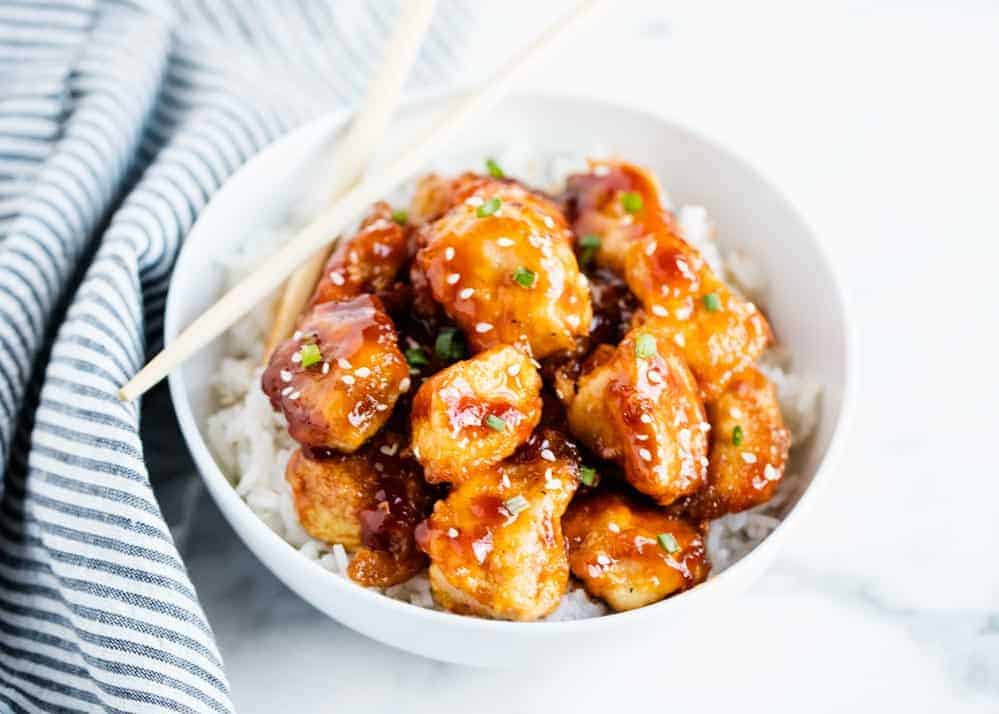 The Best General Tso's Chicken
I love to recreate Chinese takeout dishes at home. They are less expensive, healthier and just as delicious! This recipe is one of my favorites, as well as cashew chicken, veggie beef ramen and chicken and vegetable stir fry.
Next time you're craving General Tso chicken, skip the takeout and make it at home! It's one of those classic Chinese dishes that is super popular and has tons of flavor. And the good news?? It's surprisingly really simple to make yourself!
The sweet and spicy sauce poured over the crispy, juicy chicken is what makes this dish so amazing. It's caramelized to perfection and has just the right amount of ginger flavor. It tastes similar to my famous sweet and sour chicken recipe, however the sauce is a little less sweet and has more of a kick.
This dish tastes great over rice and served with broccoli and carrots. I'm telling you…it has so much delicious flavor and definitely tastes like it's restaurant-style. Love copycat recipes? Try my Panda Express honey sesame chicken, next, it's so good!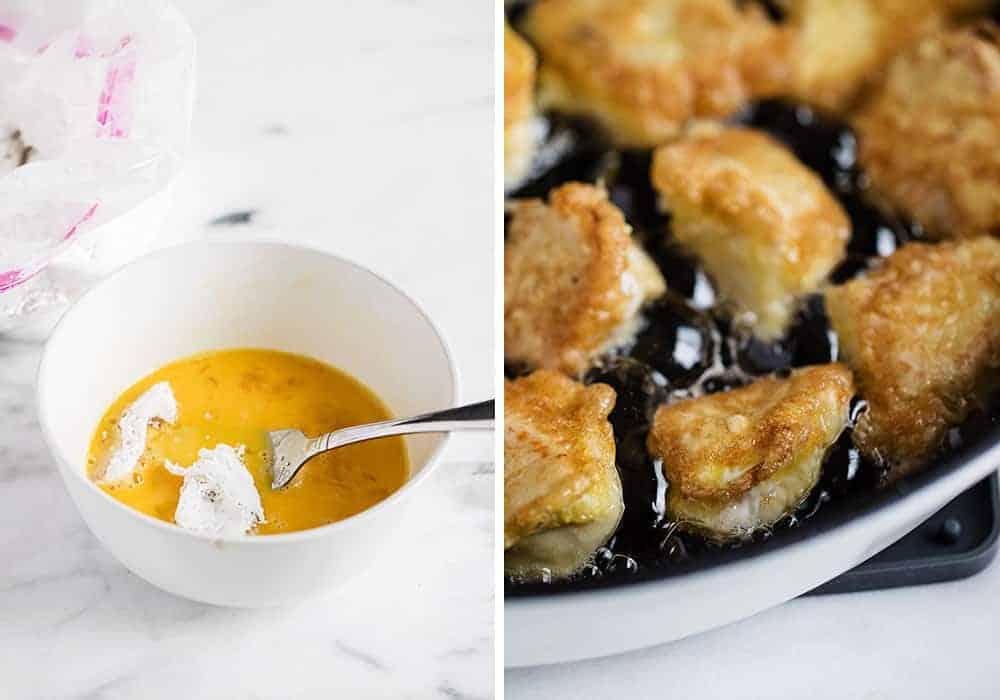 Difference Between General Tso and other Chinese Dishes
There are several Chinese dishes that have somewhat of a similar taste, which makes it easy to confuse them. I've listed out their main difference below to make it a little more clear.
Sweet and sour chicken: The two are super similar. The main difference is that General Tso sauce has more ginger flavor, as well as a little more heat from the hot sauce or chili flakes.
Kung pao chicken: The main difference between the two is how the meat is cooked. General Tso is fried in a crispy coating, however kung pao chicken is seared on the stove. Both are coated in a similar sauce, but dishes kung pao shrimp recipe or chicken typically always has veggies and peanuts mixed in.
Orange chicken: The main difference is the sauce. The meat is prepared the same way, however the orange sauce is a little more sweet. It usually doesn't include the spice factor (hot sauce/chili flakes) and contains a combination of orange juice/zest/peel.
Sesame chicken: These two dishes are very similar. The main difference is the oil used in the sauce. Sesame chicken calls for sesame oil, which adds a salty and nutty taste, making it a little less sweet than General Tso. It is also always topped with sesame seeds.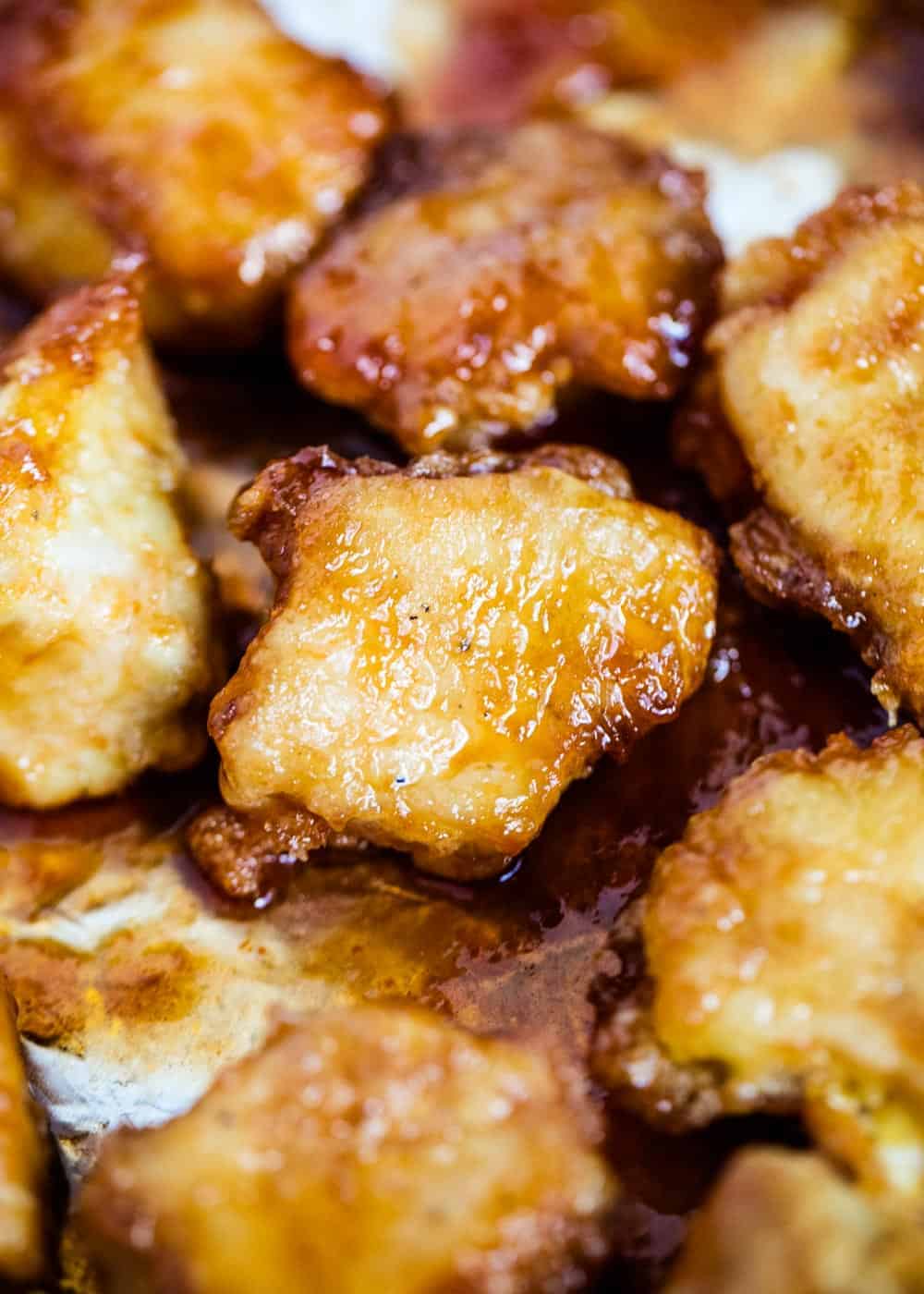 How to make General Tso Chicken
CHICKEN. Add the diced meat, corn starch, salt, pepper and garlic salt into a large ziplock bag. Shake until the meat is well coated. Next heat the oil over medium heat in large frying pan. Dip the chicken pieces in the egg mixture, then add to frying pan using a fork. Fry both sides for about 2 minutes each, then move to a foil-lined baking sheet.
SAUCE. Whisk together all of the sauce ingredients in a medium size bowl. Pour the sauce over the meat and bake at 375°F for 20-25 minutes (stirring halfway through), or until it's crispy.
SERVE. Serve with rice and steamed vegetables and garnish with sesame seeds and sliced green onions if preferred.
Cooking Tips
This recipe does have a kick, so feel free to adjust the spice level depending on preference. I like using sriracha for heat, but red chili pepper flakes work as well.
Don't overcrowd the frying pan! If you add too many pieces of meat at once, it will clump together and they won't evenly cook.
You can skip frying the meat all-together and just bake it instead. To get it crispy in the oven, broil each side for a few minutes. It won't get quite as crispy as frying, but still delicious and healthier.
Double the sauce if you want extra for dipping.
More Delicious Chinese Dishes
HUNGRY FOR MORE? Subscribe to my newsletter and follow on Facebook, Pinterest and Instagram for all the newest recipes!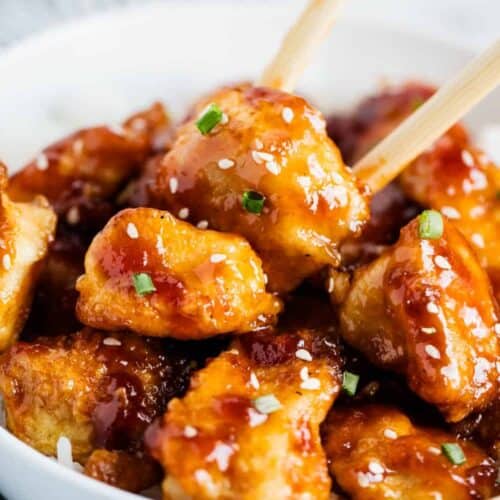 General Tso Chicken Recipe
Skip the takeout and make this delicious General Tso's chicken at home! You'll fall in love with the sweet and spicy sauce poured over the crispy, juicy chicken. This is truly a restaurant-style recipe!
Ingredients
For the Chicken:
1 ¼ pounds chicken (cut into bite size pieces)
½ cup corn starch
½ teaspoon Kosher salt
¼ teaspoon pepper
¼ teaspoon garlic salt
½ cup canola oil
2 large eggs (whisked)
General Tso Sauce:
½ cup granulated sugar
½ cup rice vinegar (distilled vinegar will work too)
⅓ cup ketchup
1 Tablespoon soy sauce
1 Tablespoon freshly grated ginger (or 1 teaspoon ground ginger)
1-2 teaspoons sriracha hot sauce (can sub with 1/2 teaspoon red chili pepper flakes)
For serving: Cooked rice and broccoli and/or carrots
Instructions
Preheat oven to 375°F. Line a rimmed baking sheet with foil. Set aside.

Place the chicken, corn starch, salt, pepper and garlic salt in a large ziplock bag and shake until the chicken is evenly coated.

Heat oil in a large frying pan over medium heat. Dip the chicken in the egg mixture and place in the frying pan with a fork. Fry both sides of the chicken for about 2 minutes each and the move chicken to the baking sheet.

In a medium size bowl, whisk together all of the ingredients for the sauce. Next, pour the sauce over the chicken and bake for 20-25 minutes, or until the chicken is crispy. Stir halfway.

Serve with steamed rice and vegetables. Enjoy!
---
Nutrition
Calories: 338kcal | Carbohydrates: 17g | Protein: 19g | Fat: 20g | Saturated Fat: 4g | Cholesterol: 125mg | Sodium: 684mg | Potassium: 247mg | Sugar: 11g | Vitamin A: 280IU | Vitamin C: 2.6mg | Calcium: 21mg | Iron: 1.2mg
Nutrition provided is an estimate. It will vary based on specific ingredients used.
Did you make this recipe? Don't forget to give it a star rating below!