This honey sesame chicken is made with crispy golden chicken pieces coated in a sticky sweet and savory sauce made with honey, sesame oil and sesame seeds. It's better than takeout and ready in 30 minutes!
Other Asian recipes we love to make at home include sweet and sour chicken, cashew chicken lettuce wraps and this recipe for orange chicken!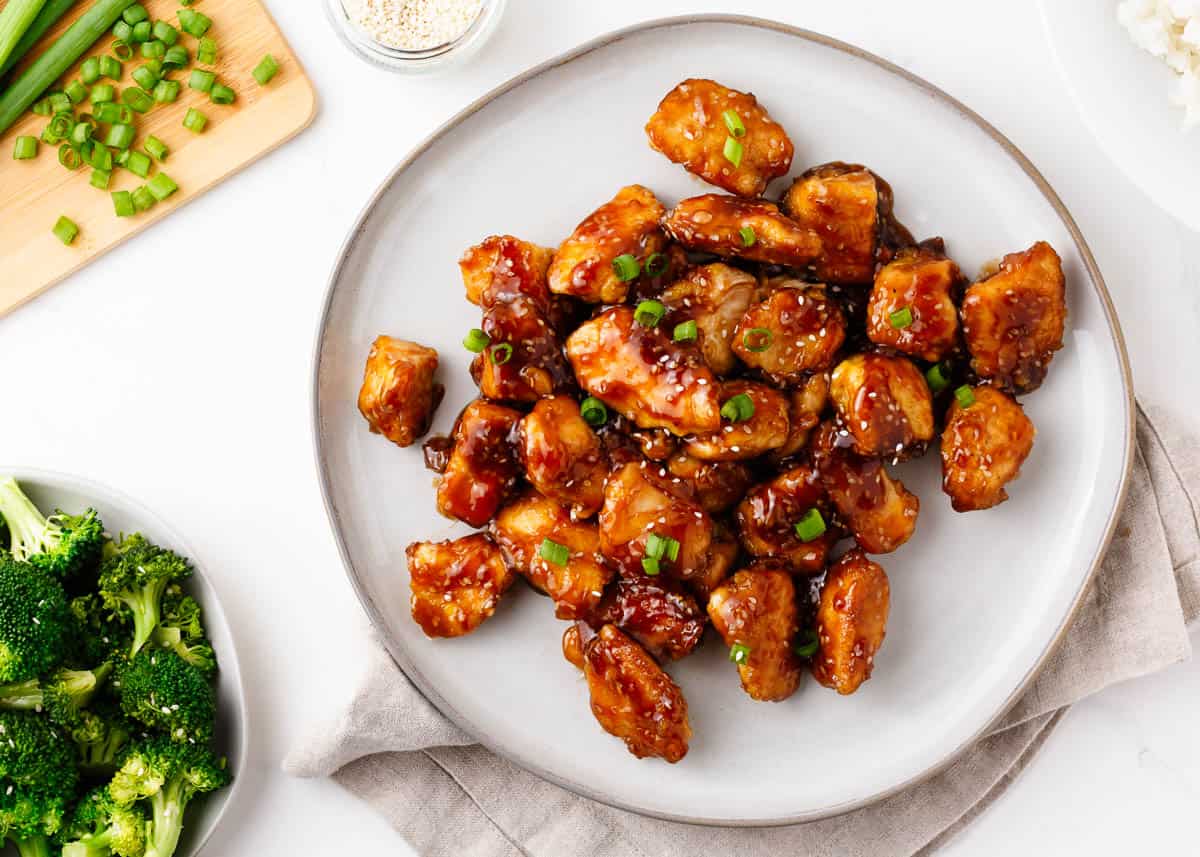 Easy Takeout Copycat
Honey sesame chicken is a sticky, sweet, and savory delight! It's an easy chicken dish made with crispy shallow-fried chicken chunks of chicken breast, smothered in a glossy and mouth-watering honey sesame sauce.
It comes together in 30 minutes which is great for busy weeknights. When paired with fried rice and steamed vegetables it's a satisfying meal for anyone who loves Chinese food!
I love recreating restaurant favorites at home like this copycat Kung Pao chicken and Instant Pot orange chicken. I know you're going to love this most recent honey sesame chicken just as much as we do.
Why This Recipe Works
Less sodium. Most recently this Panda Express honey sesame chicken, which is also widely known at PF Chang's, has become our new favorite. My version is healthier with far less sodium.
No deep frying. We do use oil for shallow frying the chicken, however, you can use a healthier oil like avocado oil. This recipe can also be made in the air fryer.
Better than the original. No need to leave your house for crispy chicken coated in a dreamy sweet and savory sauce. It's easy to make yourself and is just as delicious.
Recipe Ingredients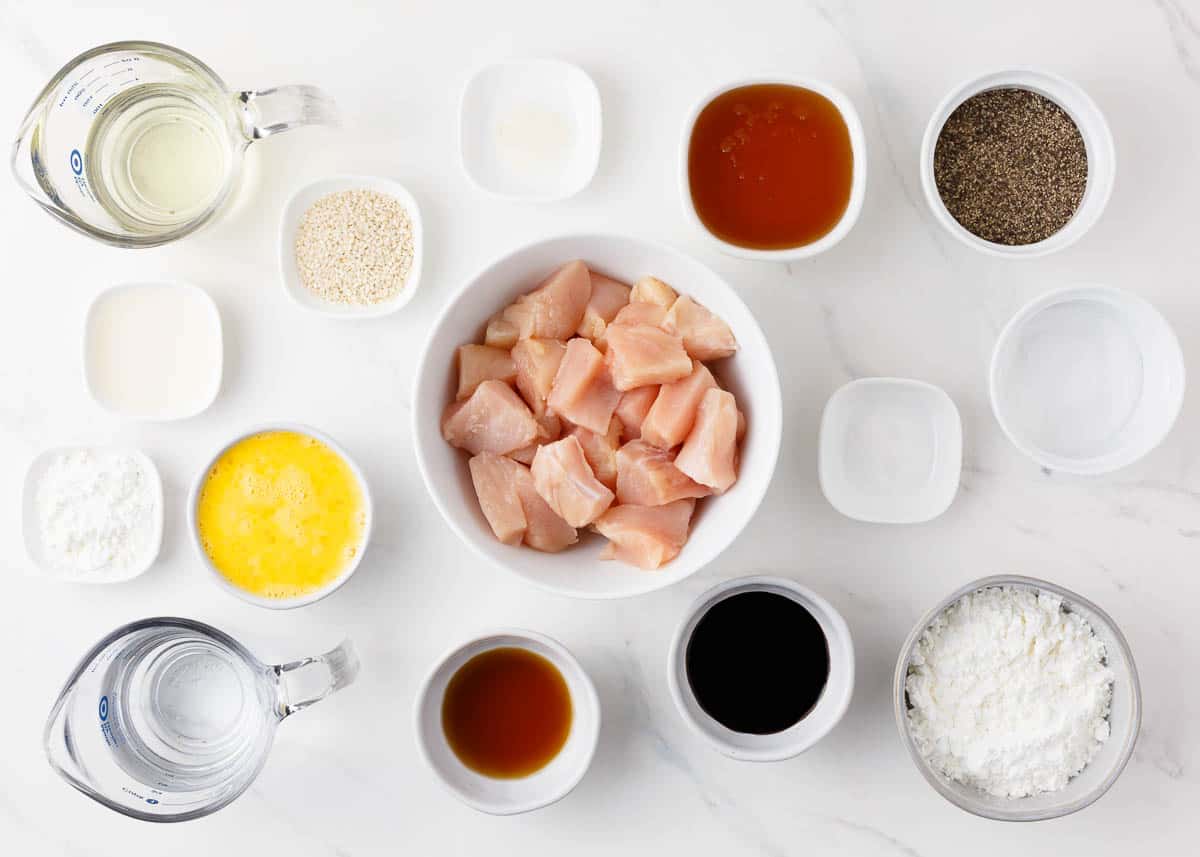 Find the full printable recipe with specific measurements below.
For the Sauce
Honey, sugar, soy sauce, sesame oil, sesame seeds, rice vinegar, cornstarch, and water are combined to make a thick sweet, and sticky sauce.
The sesame seeds and sesame oil give the sauce an earthy nutty flavor that elevates the flavor. The rice vinegar which can be substituted for white vinegar or apple cider vinegar cuts through the sweetness to give it a nice tangy balance.
For the Chicken
I tend to use skinless boneless chicken breasts but you can use chicken thighs if preferred. Cut them into bite-sized pieces.
The cornstarch is used to dredge the chicken and help the egg coating stick. We use a bit of salt, pepper, and garlic salt to season the chicken and canola or avocado oil for pan frying.
Variations
For a darker color and added sweetness, you can also use ketchup and brown sugar in your sauce.
For a bit of spice, sprinkle in red pepper flakes.
Using cornstarch makes this gluten-free, but if you prefer to use flour, go right ahead.
To elevate the sesame flavor even more, use toasted sesame oil rather than regular sesame oil.
How to Make Honey Sesame Chicken Recipe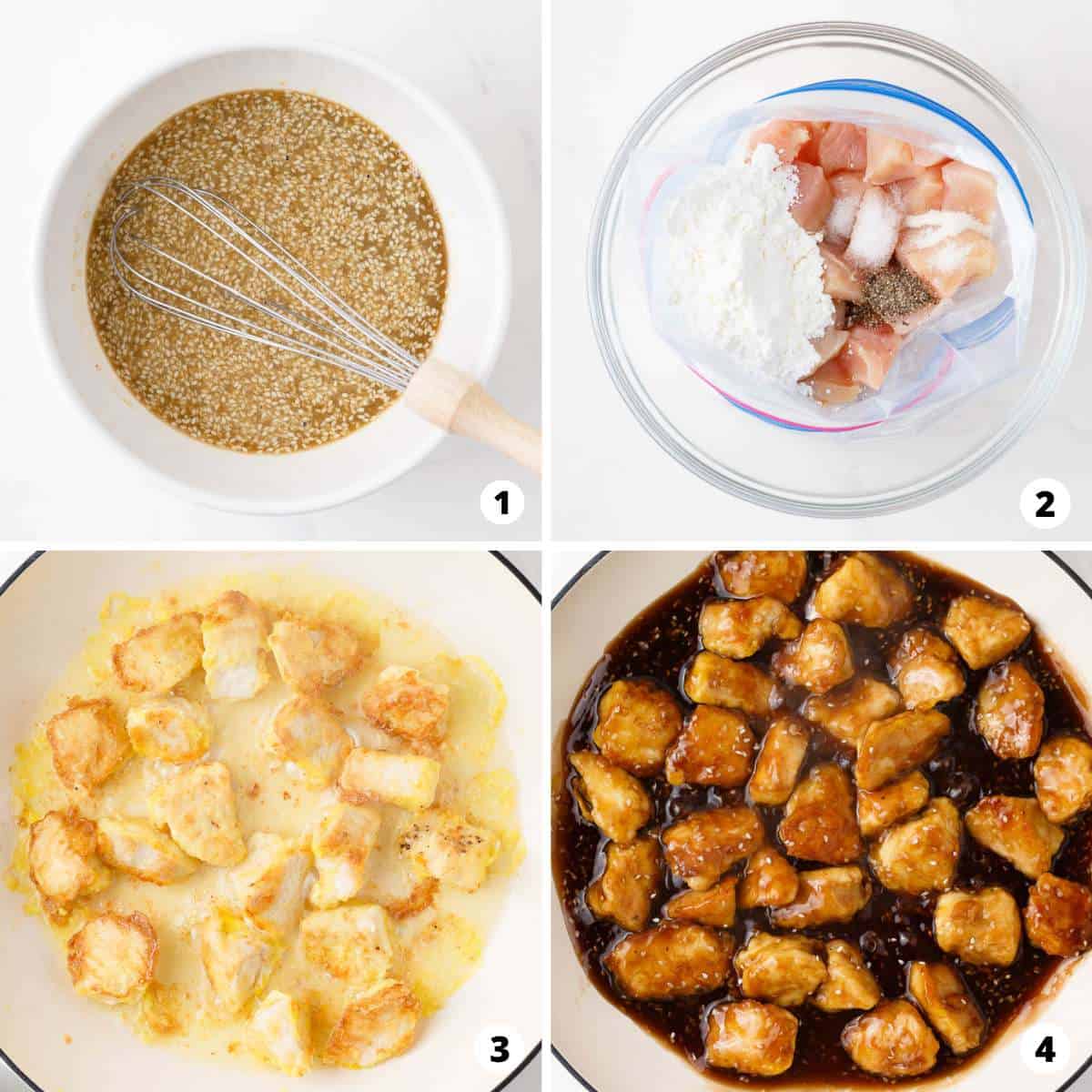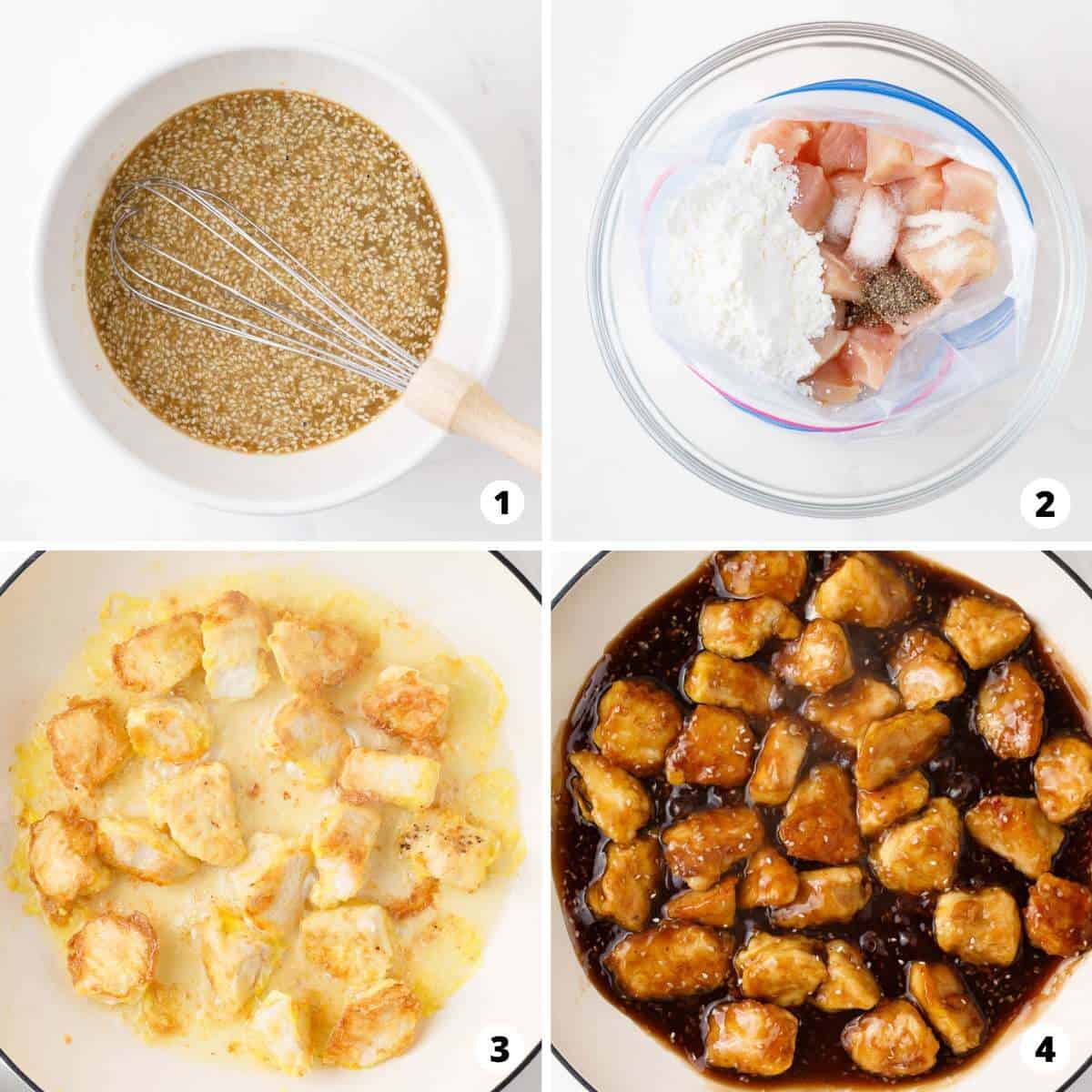 Combine the sauce. In a medium bowl, whisk together the ingredients for the sauce until well combined. Set it aside.
Coat the meat. Trim any excess fat off the skinless chicken breasts or thighs and cut them into bite-sized pieces. Place them in a large zip-top bag with cornstarch, salt, pepper, and garlic salt. Shake until each piece is evenly coated.
Dredge in egg and pan fry. Heat 1/4 cup of oil in a large nonstick frying pan over medium heat. While the oil is heating up, prepare a shallow bowl with the whisked egg. Use a fork to dip the coated chicken pieces into the egg mixture. Then transfer them to the pan of hot oil and fry for 6-8 minutes. Work in batches so you're not overcrowding the pan and add fresh oil as needed. Remove chicken as it gets done to a paper towel lined plate.
Heat the sauce and combine. Drain the oil and add the sauce to the pan. Simmer until it starts to thicken then add back the meat. Toss evenly to coat everything in the sauce. Serve with white rice or brown rice, and garnish with green onions and extra sesame seeds if desired.
Expert Tips
Cut even pieces. For even cooking, all the chicken bites must be the same size.
Wait until the oil is hot. To test the oil, splash a little water in the oil. If it pops, it's ready. If you add the meat too early, it will start to absorb way too much oil as it sits and waits for it to heat up.
Do not overcrowd the pan. Doing so will lower the temperature of the oil and prevent all pieces from crisping up evenly.
Simmer sauce. Simmer your sauce until it is thick and glossy before adding your chicken back to the pan. This allows the water to evaporate a bit and helps the sauce stick to the chicken better.
Serve immediately. This dish is best served immediately before it gets soggy. However, you can reheat it the next day and it'll taste just as good!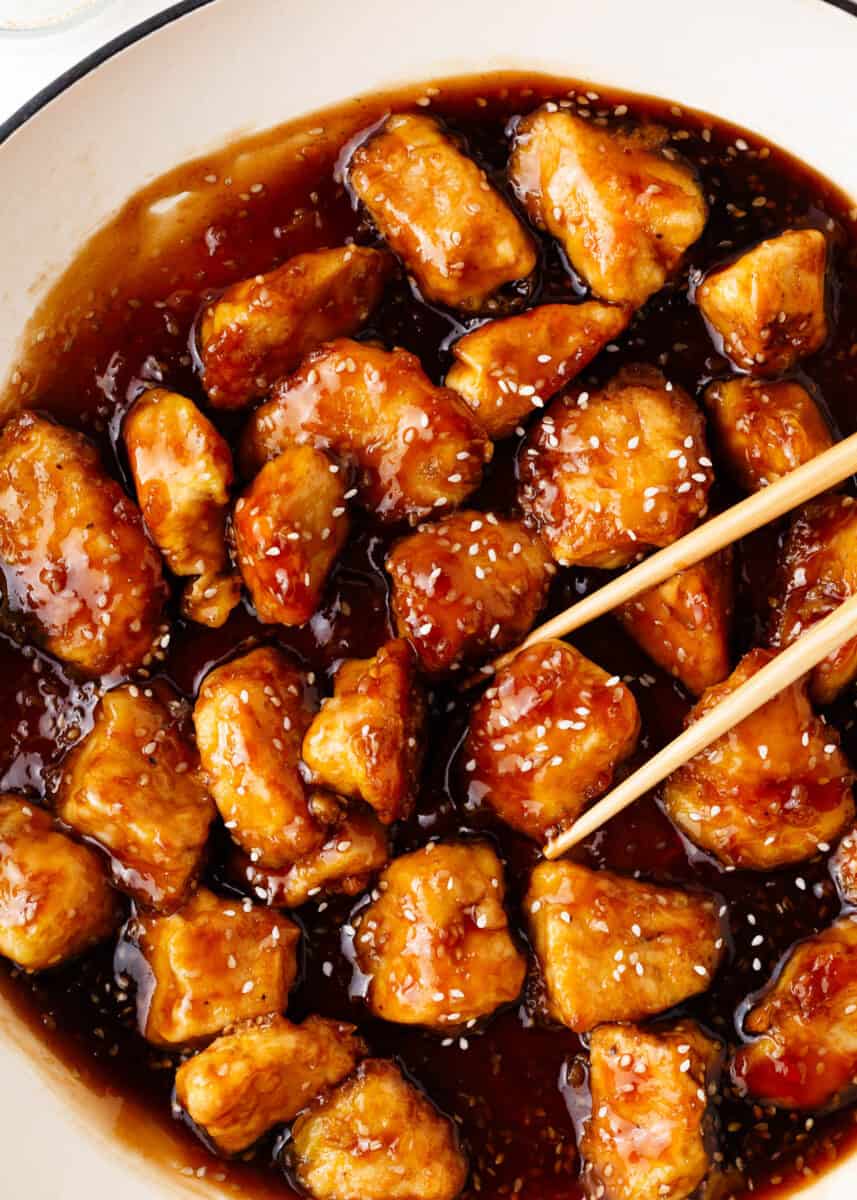 Recipe FAQs
What is the best cut of chicken to use?
Chicken thighs are dark meat that is harder to overcook and tends to have more flavor. However, chicken breast is lean meat, and if you're looking for something lighter, that would be a good choice.

Or just go with whatever's on sale this week!

Can I make this in the air fryer?
You can! You can do it by skipping the egg mixture too. Once coated in seasoning and cornstarch, add the pieces to the air fryer basket (again, work in batches if necessary), then spray with cooking oil. Air fry at 400°F until golden and crispy and in the meantime simmer the sauce. Once cooked, combine the nuggets with the sauce.
What about the oven?
Absolutely! Very similar to General Tso's chicken, which is spicy and without sesame seeds, once the chicken is coated in the egg, we coat it once more in cornstarch and then brown the chicken in oil. Place the browned pieces on a baking sheet, pour the combined sauce overtop and bake in a preheated 325°F oven for 45 minutes.
What is the difference between honey sesame chicken and teriyaki chicken?
The main difference is the coating on the chicken. Teriyaki chicken is usually grilled or cooked without any coating and is then tossed in teriyaki sauce. There are also no sesame seeds in the teriyaki sauce.
Serving Suggestions
If you're interested in making some Asian-inspired appetizers, you're going to want to make another Panda Express copycat recipe, these cream cheese wontons. A side of egg rolls is always a must-have on our table.
Honey sesame chicken is great on its own, but to make it a complete meal, we'll usually have it with rice and steamed vegetables.
Storing
Keep honey sesame chicken leftovers stored in an airtight container for up to 3 days in the fridge.
Reheat in the microwave or the stovetop. You won't crisp it back up again because of the sauce, but the flavors will have only gotten better!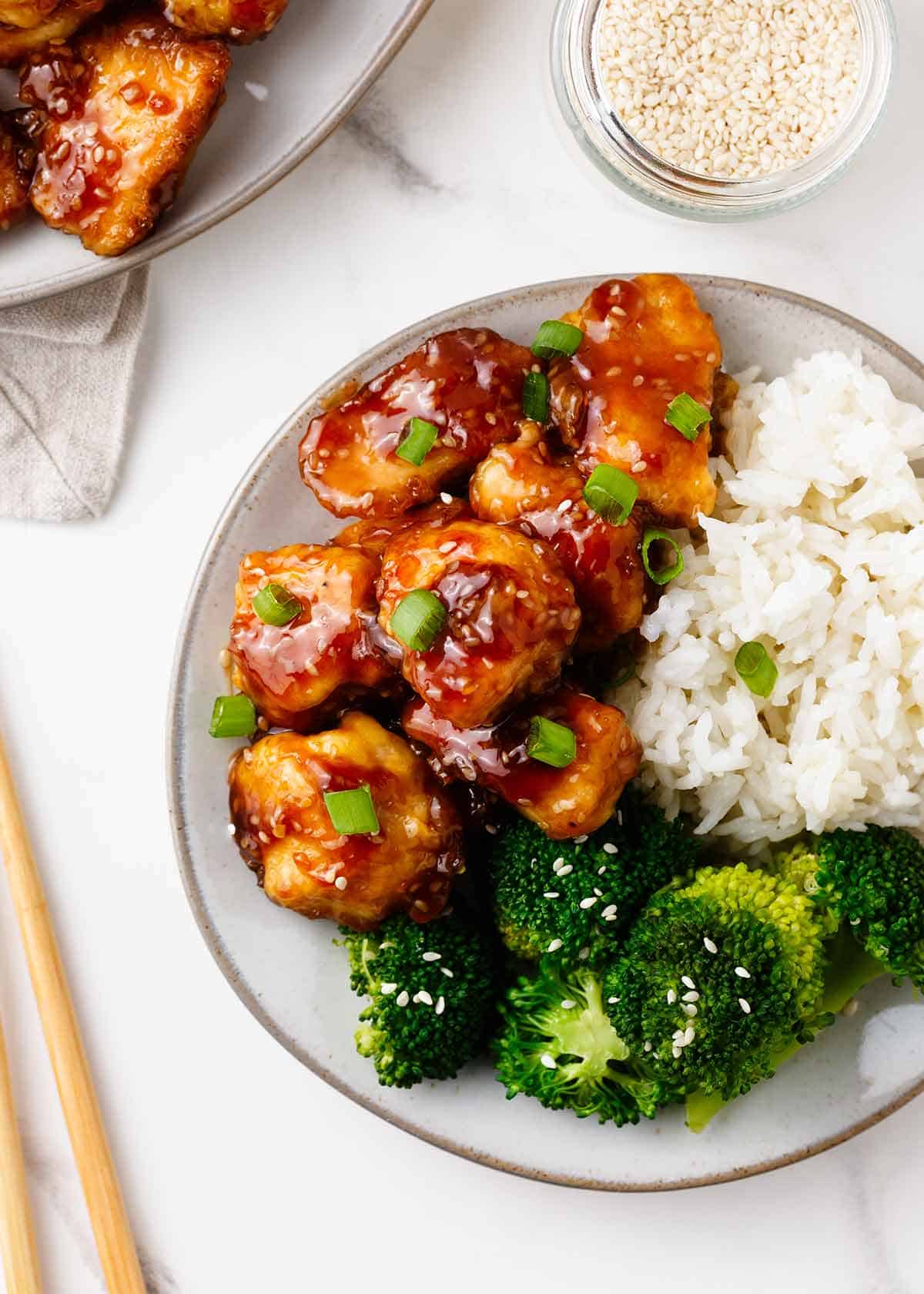 HUNGRY FOR MORE? Subscribe to my newsletter and follow on Facebook, Pinterest and Instagram for all the newest recipes!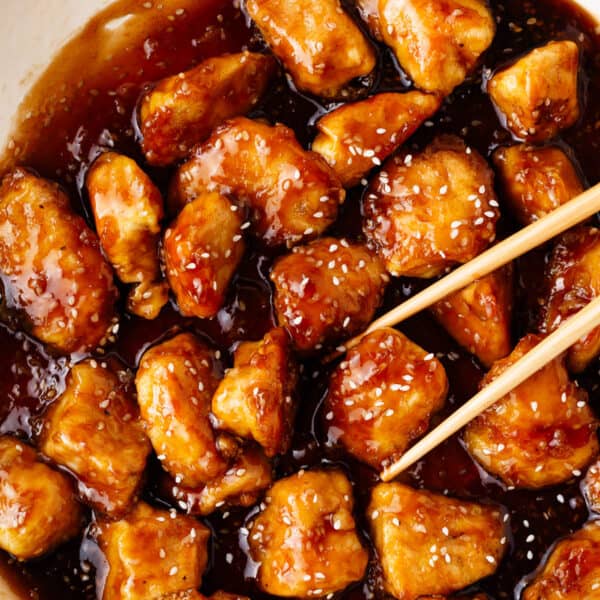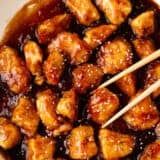 Honey Sesame Chicken
Crispy golden chicken bites coated in a glossy sweet and savory sauce made with honey, sesame oil, sesame seeds, and a tangy sauce. This honey sesame chicken comes together quickly any night of the week for a delicious family-friendly meal worth skipping takeout for!
Ingredients
Honey Sesame Sauce
½ cup honey
½ Tablespoon granulated sugar
3 Tablespoons regular soy sauce (not light)
2 Tablespoons sesame oil
1 Tablespoon sesame seeds
1 Tablespoon rice vinegar (distilled white vinegar or apple cider vinegar will work too)
1 Tablespoon cornstarch
¾ cups water
Chicken
1 ¼ pounds skinless, boneless chicken breasts or thighs , cut into bite-sized pieces
¾ cup cornstarch
½ teaspoon Kosher salt
¼ teaspoon pepper
¼ teaspoon garlic salt
½ cup canola oil , divided (avocado oil will work too)
2 large eggs , whisked
For serving: Cooked rice, Broccoli and/or carrots, Sliced green onions
Instructions
Honey Sesame Sauce
In a medium bowl, whisk together honey, sugar, soy sauce, sesame oil, sesame seeds, rice vinegar, cornstarch, and water until well combined.
Chicken
In a large zip-top bag, add the chicken, cornstarch, salt, pepper, and garlic salt and shake until evenly coated.

In a large wok or nonstick frying pan, heat 1/4 cup oil over medium heat. In a shallow bowl, add the egg. Using a fork, dip the chicken in the egg and place in the pan, working in batches. Fry chicken 6 to 8 minutes, or until cooked through and crispy. Transfer to a paper towel-lined plate. Dispose of the burnt oil. Heat the remaining 1/4 cup oil before frying the remaining chicken. Dispose of oil.

Add the sauce to the wok and simmer until it starts to thicken. Stir in the fried chicken and toss to evenly coat each piece in sauce.

Serve with steamed rice and vegetables. Sprinkle with green onions, if desired. Enjoy!
---
Notes
Oil for frying: To test if the oil is hot enough, splash a little water on the oil. If it pops, it's ready. Air Fryer Instructions: Skip dipping the coated chicken in egg. Place coated chicken the basket, allowing space between each piece (fry in batches, if needed). Spray with cooking oil. Air fry at 400°F for 12 to 14 minutes, or until golden and crispy. Simmer the sauce and add the chicken as instructed.
Nutrition
Calories: 397kcal | Carbohydrates: 41g | Protein: 23g | Fat: 16g | Saturated Fat: 4g | Polyunsaturated Fat: 4g | Monounsaturated Fat: 6g | Trans Fat: 0.1g | Cholesterol: 122mg | Sodium: 881mg | Potassium: 273mg | Fiber: 0.5g | Sugar: 24g | Vitamin A: 169IU | Vitamin C: 0.1mg | Calcium: 38mg | Iron: 2mg
Nutrition provided is an estimate. It will vary based on specific ingredients used.
Did you make this recipe? Don't forget to give it a star rating below!