Homemade egg rolls are made in under 30 minutes and taste even better than your favorite Chinese takeout! They're filled with juicy seasoned meat, crispy veggies, and deep-fried until golden and delicious. Serve warm with a sweet and sour sauce!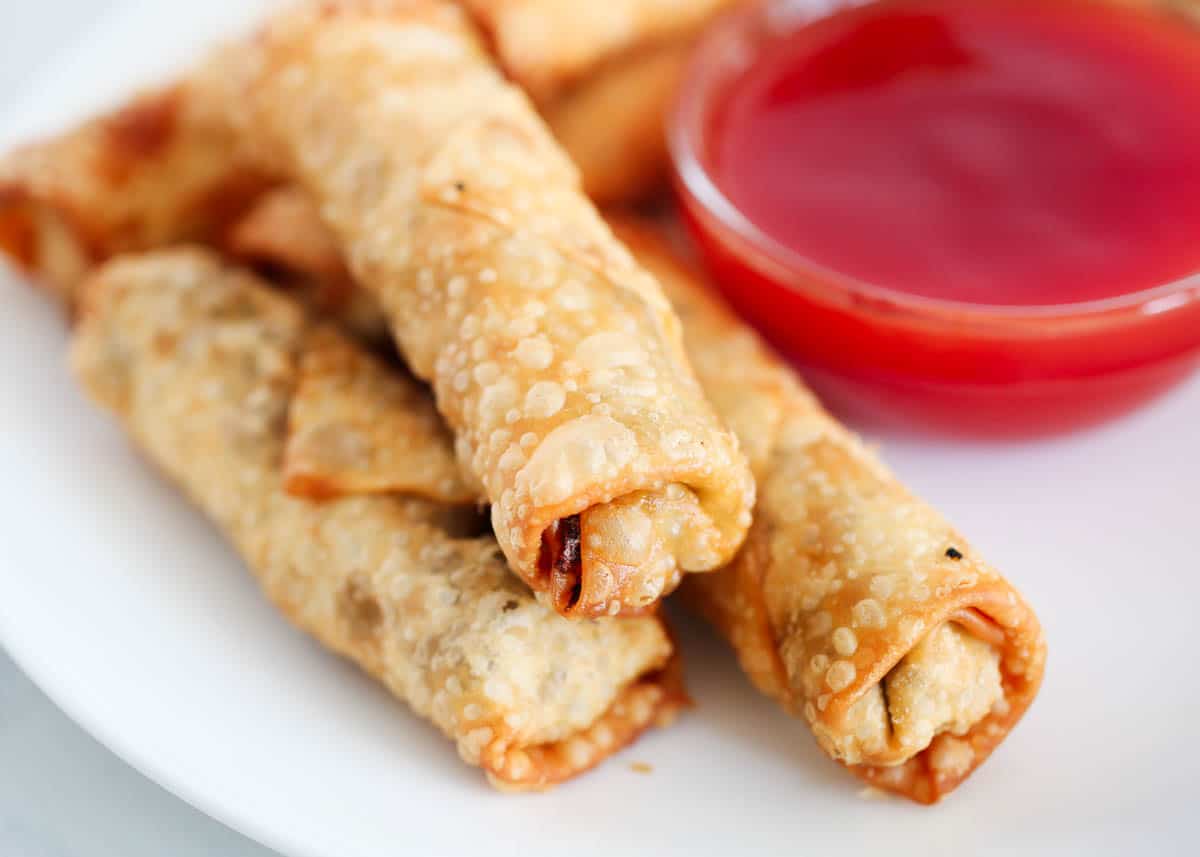 Crispy-Fried Chinese Egg Rolls
Egg rolls have always been a staple part of Chinese take-out, and why wouldn't they? They're amazing! Crispy rolls stuffed with seasoned pork and crunchy cabbage then fried until golden brown.
They make the best snacks especially with a little sweet and sour dipping sauce on the side. Anytime I add them to a party platter of appetizers you can bet they're the first to go.
Learning how to make eggs rolls from scratch is so easy and I'm going to show you how to make them in under 30 minutes without skimping on authentic flavors and textures. They're exactly what you want in an egg roll recipe and the bonus is that it ends up being faster than delivery anyway. And cheaper!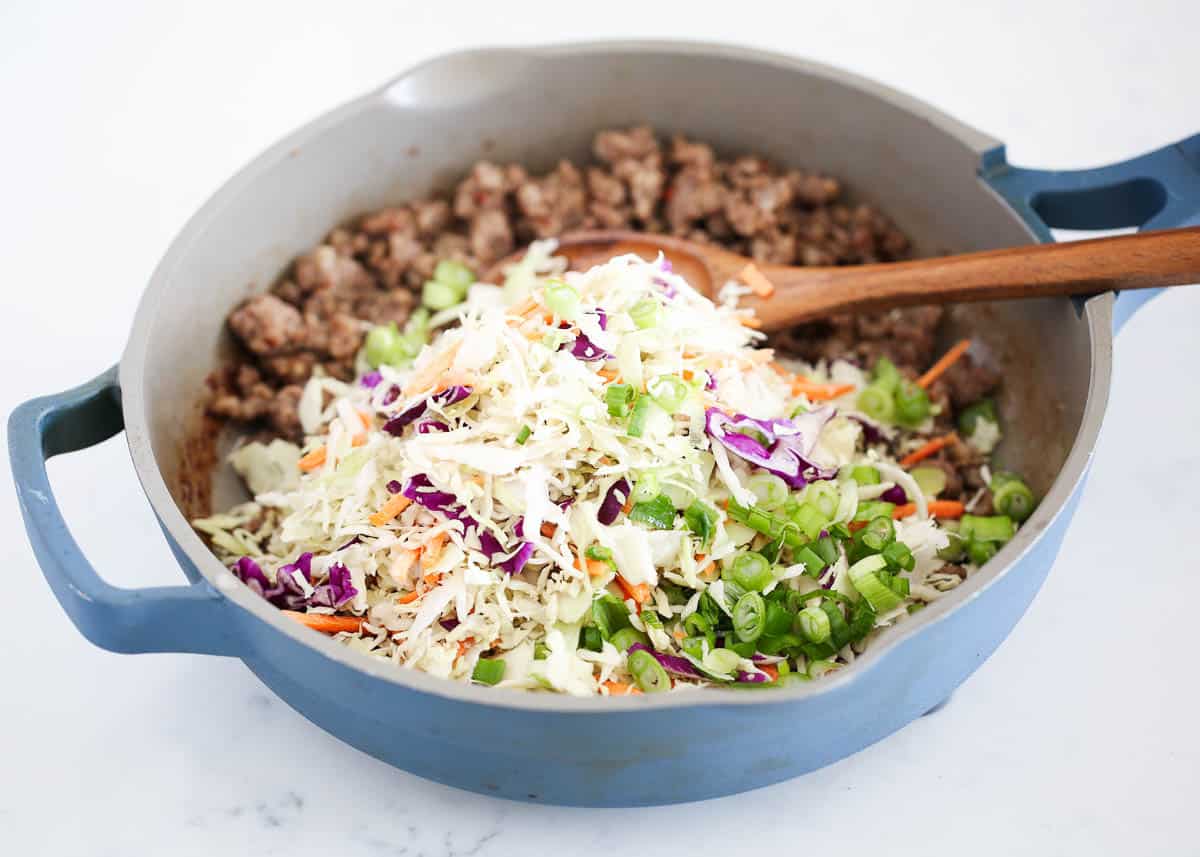 How to Roll Egg Rolls
Place the square egg roll wrappers on a diamond slant. That way one point is facing up and the other point is facing down.
Spoon 1/4 of the filling mixture onto the bottom corner of the wrapper.
Fold up the bottom corner over top the filling, then fold in the two side corners so they meet in the middle (like an envelope).
Brush the top triangle with egg wash and continue rolling up the egg roll through the center of the wrapper to the top corner. Seal it with the egg wash.
Variations
Use ground chicken or ground beef in place of the pork.
Omit the meat or protein altogether and double the veggies or add in rice noodles.
Additional veggie options are mushrooms, bean sprouts, carrots, or slivered bell pepper.
For extra flavor, add a drizzle of sesame oil to the filling.
For a low-carb version of an egg roll, don't miss my egg roll in a bowl. The filling is customizable and you can turn it into a lettuce wrap instead!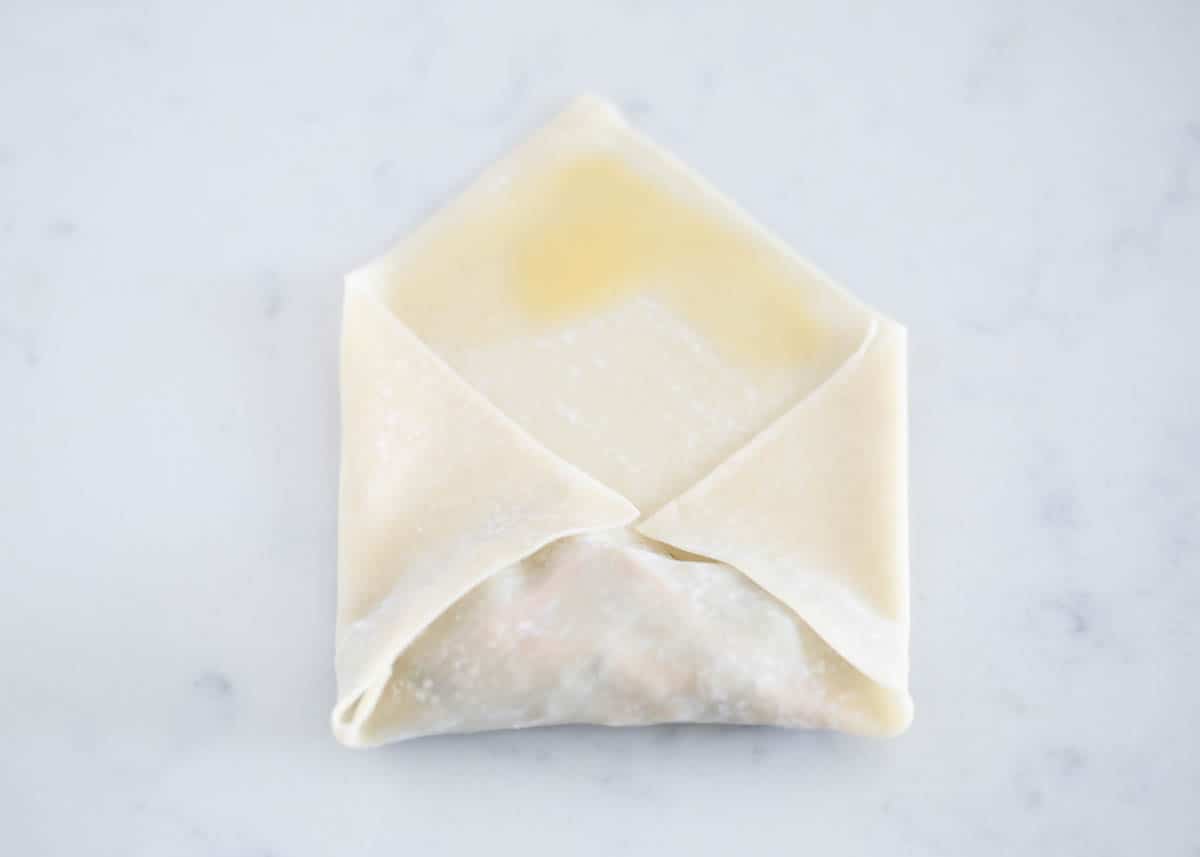 Tips for the Best Egg Rolls
Make sure the filling isn't too hot when you add it to the wrapper. Placing it in the fridge for 10 minutes first helps. Otherwise, it'll make the wrappers too soft.
Placing a damp paper towel over the wrappers helps keep them from drying out while rolling.
Maintain temperature at 350 degrees. What happens when the temperature drops is it takes longer for the egg rolls to cook which means it has a longer time for the wrappers to soak up the oil. Soggy egg rolls are the pits. Then, if the oil is too hot, well then they just burn!
If you're making a vegetarian version, cook the veggies in 1 Tbsp of oil since there will be no meat to produce extra grease.
Use an oil that has a high smoke point for frying. Vegetable oil, peanut oil, canola oil, olive oil, and avocado oil will work.
Work in batches. Adding any more than 5 at a time will lower the temperature, which is what we don't want.
If you find yours are browning too quickly, turn down the heat.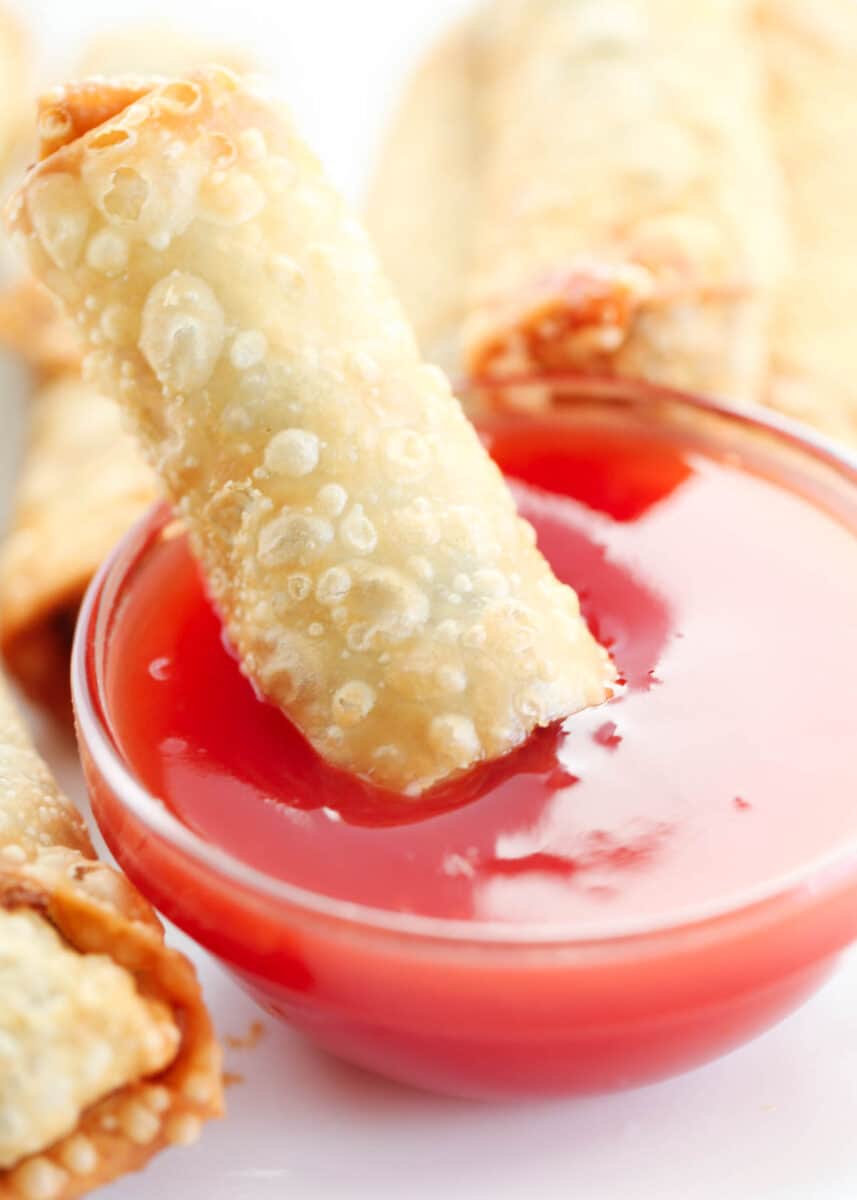 FAQ's
Can I bake these in the oven?

If you don't want to deep fry egg rolls, bake them instead. Lay them out in a single layer on a baking sheet, brush with oil, and bake for 20 minutes, flipping halfway. Keep an eye on them turning golden brown. No need to drain any excess oil with this method!
Can I use the Air Fryer instead?

You bet. Once you've wrapped all of your egg rolls, spray the air fryer basket with cooking spray, place them inside, give them another spray, and air fry at 400 degrees for 12 minutes, and flip halfway.
Can I freeze homemade egg rolls?

These are very freezer-friendly. Once completely cooled, transfer them to a freezer-friendly bag or container and keep them frozen for up to 2 months. Thaw, and then reheat in the oven at 300 until warmed through. About 5-10 minutes.
Where can I find egg roll wrappers?

You can find egg roll wrappers in most grocery stores. If you live near Asian food markets, you're bound to find some there. Just be aware that egg roll wrappers and wonton wrappers are not the same things!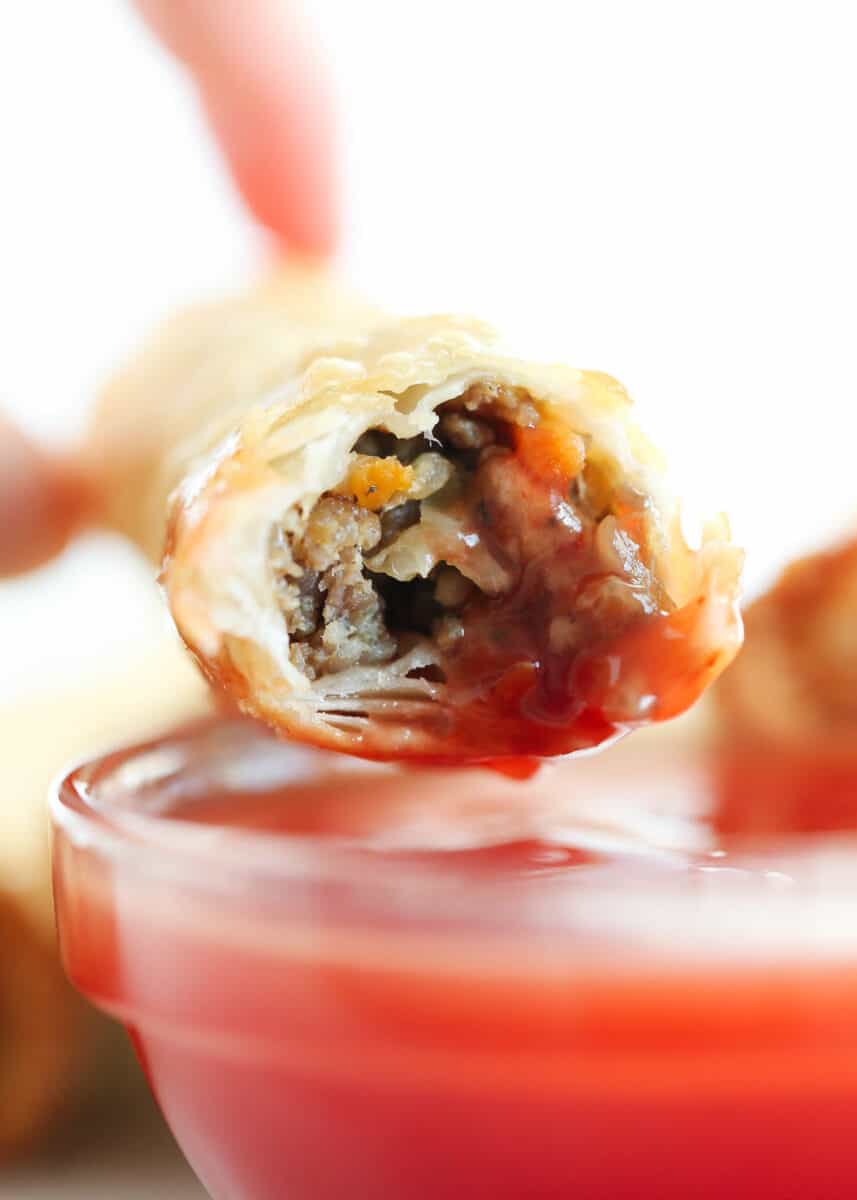 Favorite Ways to Enjoy Them!
If you're thinking of skipping the take out and staying home to cook up a storm of Asian cuisine, think about serving egg rolls with any of the following:
HUNGRY FOR MORE? Subscribe to my newsletter and follow on Facebook, Pinterest and Instagram for all the newest recipes!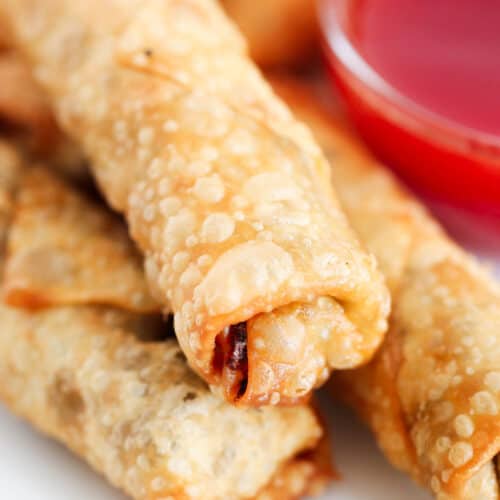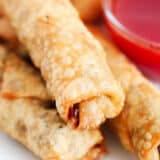 Homemade Egg Rolls
Homemade egg rolls are made in under 30 minutes and taste even better than your favorite Chinese takeout! They're filled with juicy seasoned meat, crispy veggies, and deep-fried until golden and delicious.
Ingredients
¾ pound ground pork , could use 1 lb
2 teaspoons freshly minced ginger
1 teaspoon freshly minced garlic
3-4 cups coleslaw mix
3-4 green onions , sliced
1 Tablespoon soy sauce
12 egg roll wrappers
1 egg , beaten
oil , for frying
sweet and sour sauce , for serving
Instructions
Place the pork in a large skillet and cook over medium heat. Break the pork with a spoon and cook until lightly browned and cooked through.

Add the ginger and garlic. Stir together and then add in the coleslaw and green onions. Cook for about 3 minutes, or until cabbage is wilted.

Stir in the soy sauce and then remove from heat. Transfer to a bowl and allow to cool. I like to refrigerate about 10 minutes, so the meat doesn't make the wrappers too soft when rolling. Then spoon about 1/4 cup of the filling onto the bottom corner of an egg roll wrapper.

Fold in the 2 corners and then roll like a burrito, until it looks like an envelope. Then brush the top triangle with the egg. Continue rolling and seal. Repeat with remaining filling and wrappers. I like to keep a damp paper towel over the top of the wrappers while rolling, so they don't dry out.

Place 1" of oil in a skillet and heat to 350°F. Then place 4-5 egg rolls in the oil at a time. Cook until browned, flipping occasionally. Turn down the heat if they are browning too fast.

Place egg rolls on a plate lined with paper towels. Allow to cool slightly.

Enjoy warm with sweet and sour sauce.
---
Notes
Substitutions:
You can use ground chicken or beef in place of pork.
You may also omit the beef and double the amount of vegetables or add rice noodles. If taking out the meat, cook vegetables in 1 Tablespoon oil.
Optional veggies to add: mushrooms, bean sprouts, carrots.
For extra flavor add a teaspoon or two of sesame oil.
Freezer instructions: Allow to cool and then place in a freezer bag or container. Freeze up to 2 months. Allow to thaw and then reheat in the oven at 300°F for 5-10 minutes, or until hot.
Nutrition
Calories: 124kcal | Carbohydrates: 9g | Protein: 7g | Fat: 7g | Saturated Fat: 2g | Polyunsaturated Fat: 1g | Monounsaturated Fat: 3g | Trans Fat: 1g | Cholesterol: 35mg | Sodium: 183mg | Potassium: 139mg | Fiber: 1g | Sugar: 1g | Vitamin A: 71IU | Vitamin C: 7mg | Calcium: 22mg | Iron: 1mg
Nutrition provided is an estimate. It will vary based on specific ingredients used.
Did you make this recipe? Don't forget to give it a star rating below!