Greek potatoes are bathed in a Greek seasoned herb and lemon broth and then oven-roasted, making them tender and creamy on the inside, golden crispy on the outside, and super flavorful!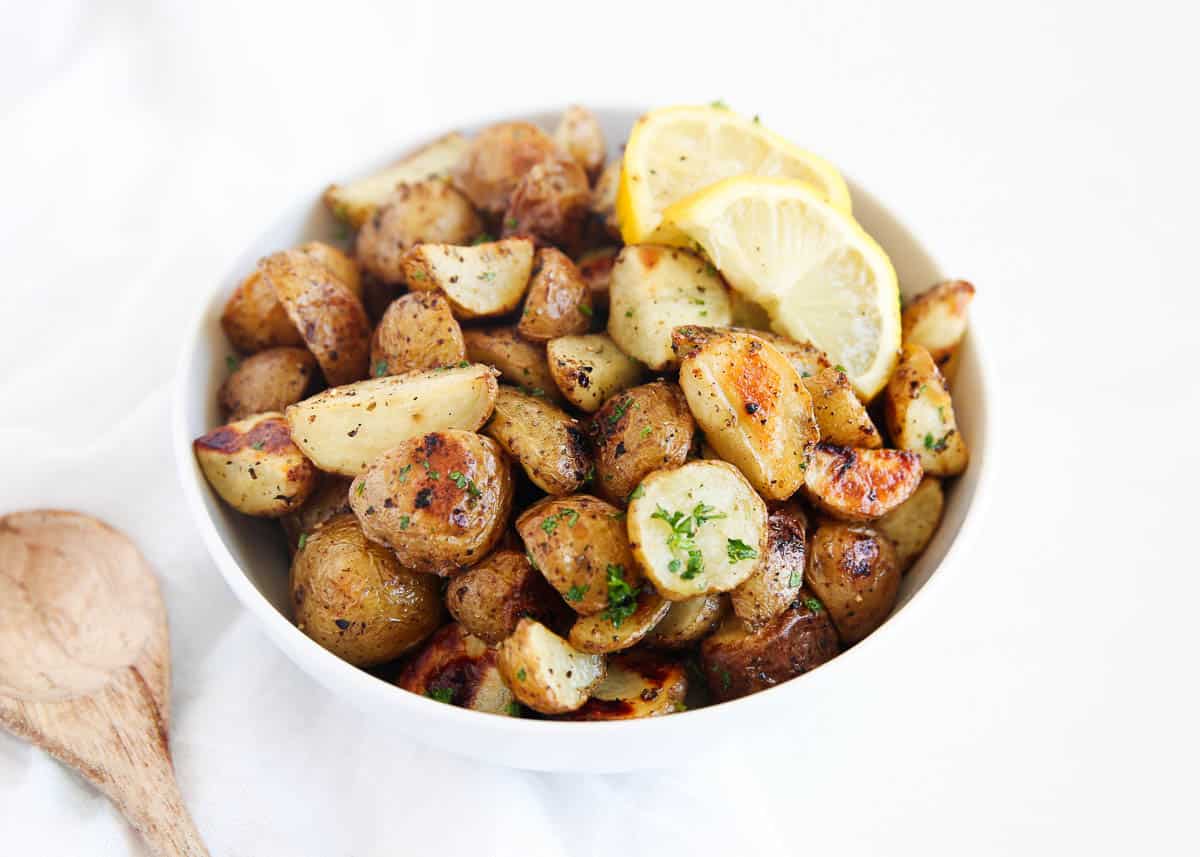 The Best Greek Side Dish
These might be my new favorite side dish. Greek roasted potatoes are well seasoned and infused with so much flavor. They're the perfect side dish for all your Greek-inspired meals and so much more!
They are coated in oil, lemon juice, chicken broth, and plenty of seasoning, including a homemade Greek seasoning for that touch of Mediterranean flavor. All of that gets absorbed into the Greek potatoes as they bake ensuring the insides are tender and creamy while the outside is golden and slightly crispy!
These crave-worthy taters are utterly addicting and irresistible right off the tray. If I have managed to avoid eating them all, I pair them with Greek chicken kabobs or Greek sheet pan chicken for a complete Greek restaurant-style dinner.
Don't get me wrong, I love any type of roasted potatoes, namely roasted red potatoes, but these Greek lemon potatoes just hit different!
Why We Love this Greek Potato Recipe
Easy to make. These Greek potatoes are done in 45 minutes, with 5 of those minutes being prep time!
Not just your average potatoes. They turn out looking like they're straight from a fine dining restaurant. Everyone will wonder what your secret is.
So much flavor. There is no need for any marinating ahead of time. The mixture penetrates the flavor as the Greek potatoes are roasting.
Versatile. Of course, I love them with all my Greek recipes, but they really do pair well with so many other dishes. Protein like chicken, fish, beef, lamb, and pork could always use well-seasoned potatoes.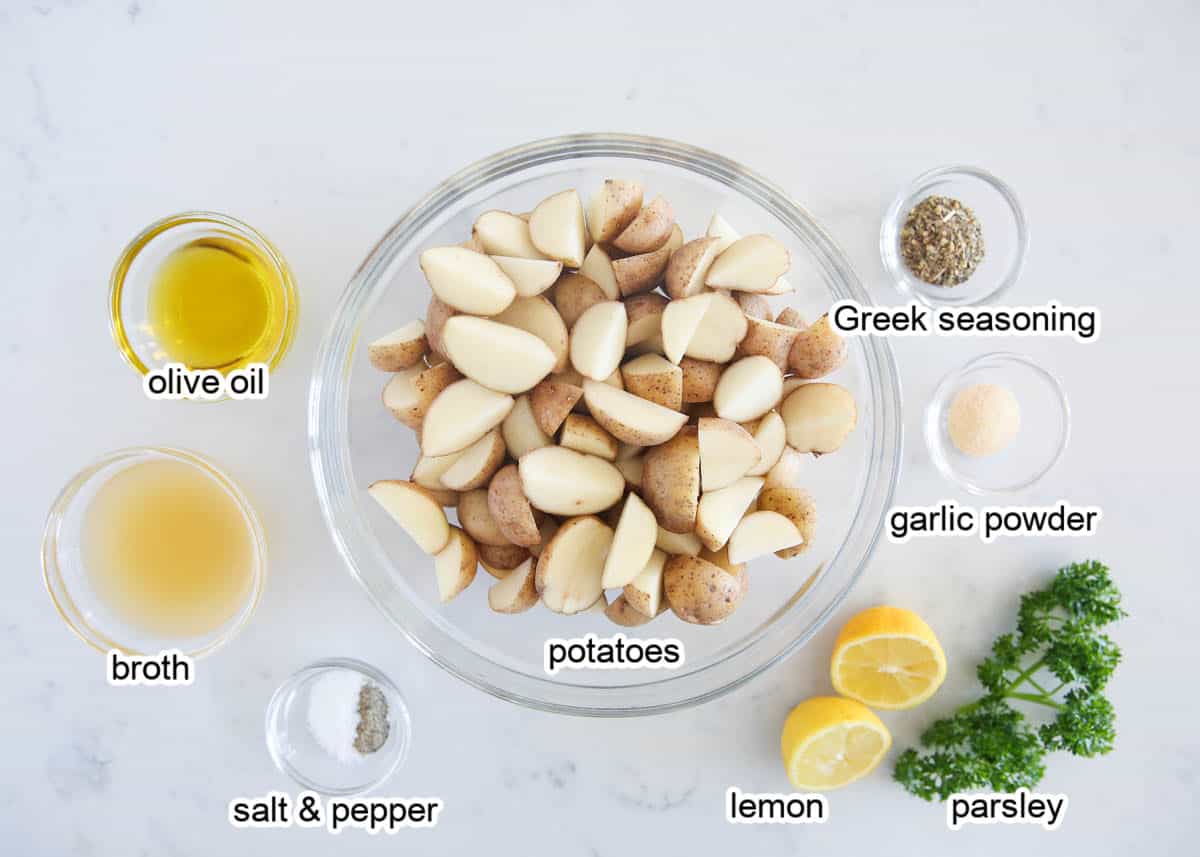 Ingredients Needed
This is a quick, no-fuss recipe with ingredients you may already have! Check out the full recipe below.
Baby gold potatoes: You can also use baby red or Yukon gold potatoes. They are a nice combination of starchy and waxy potato which will result in a creamier bite. Russet potatoes can be used but they are fluffier.
Low sodium chicken broth or chicken stock: Gives the same amazing flavor as you would get if you were to roast them with chicken. Those flavorful juices are delicious!
Extra virgin olive oil: Used to help coat the Greek potatoes with all of the seasonings and to get them nice and crispy.
Lemon juice and zest: Lemon is a signature addition to brighten up these Greek lemony potatoes. Learn how to zest a lemon the easy way.
Greek seasoning: A combination of herbs like oregano, basil, and parsley, to name a few. You can swap this with Italian seasoning if you prefer.
Kosher salt, ground black pepper, & garlic powder: Just a bit of extra seasoning to enhance the taste. If you don't have garlic powder, minced garlic cloves will work too.
Chopped fresh parsley, for garnish: A finishing touch of herbs adds a pop of color and freshness. If you don't have parsley, you can use Rosemary or basil instead.
Tip for Using Fresh Garlic
Mince it, don't chop it. This way, the pieces will be small enough to absorb into the liquid. Larger chunks of garlic will burn quickly and easily. Learn how to mince garlic using a few different techniques.
How to Make Roasted Greek Potatoes
They bake in liquid making them deliciously creamy inside! Here's how it's done with 5 minutes of prep time:
Wash and cut the potatoes in half or quarters. Add them to a large mixing bowl, preheat the oven, and grab a baking sheet.
Add the seasoning. Pour in the olive oil, broth, fresh lemon juice and zest, seasoning, salt, garlic powder, and pepper to the potatoes. Toss to combine, ensuring all pieces are evenly coated.
Transfer everything to your baking sheet and spread them out in an even single layer.
Bake for 40 minutes, flipping halfway. Once the edges are crispy and golden brown and the center is fork-tender, remove them from the oven and squeeze the remaining lemon juice overtop. Sprinkle with chopped parsley and season with salt and pepper to taste.
Top with Cheese!
Toss some grated parmesan or feta crumbles on top of the Greek potatoes for the last few minutes of roasting to take this dish over the top.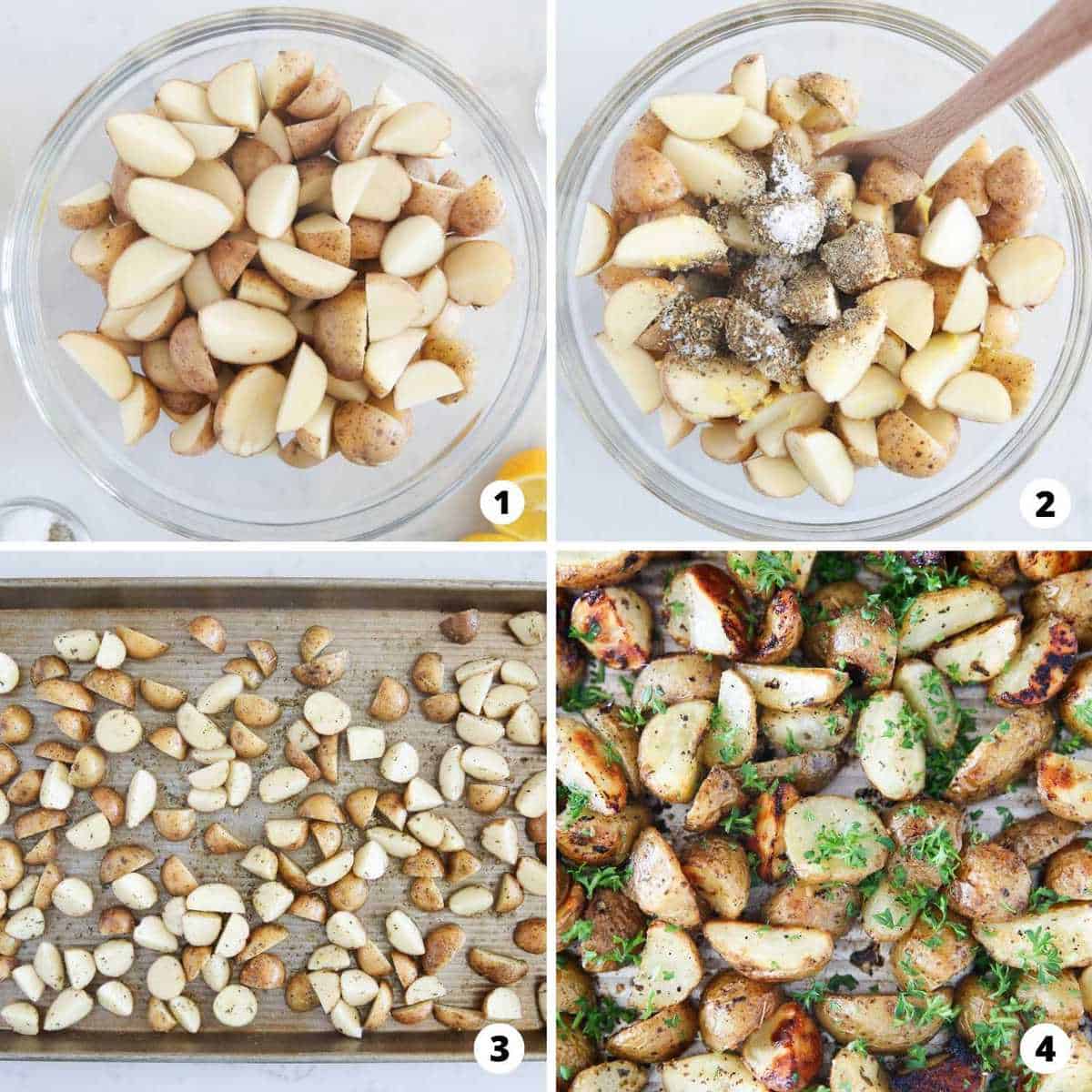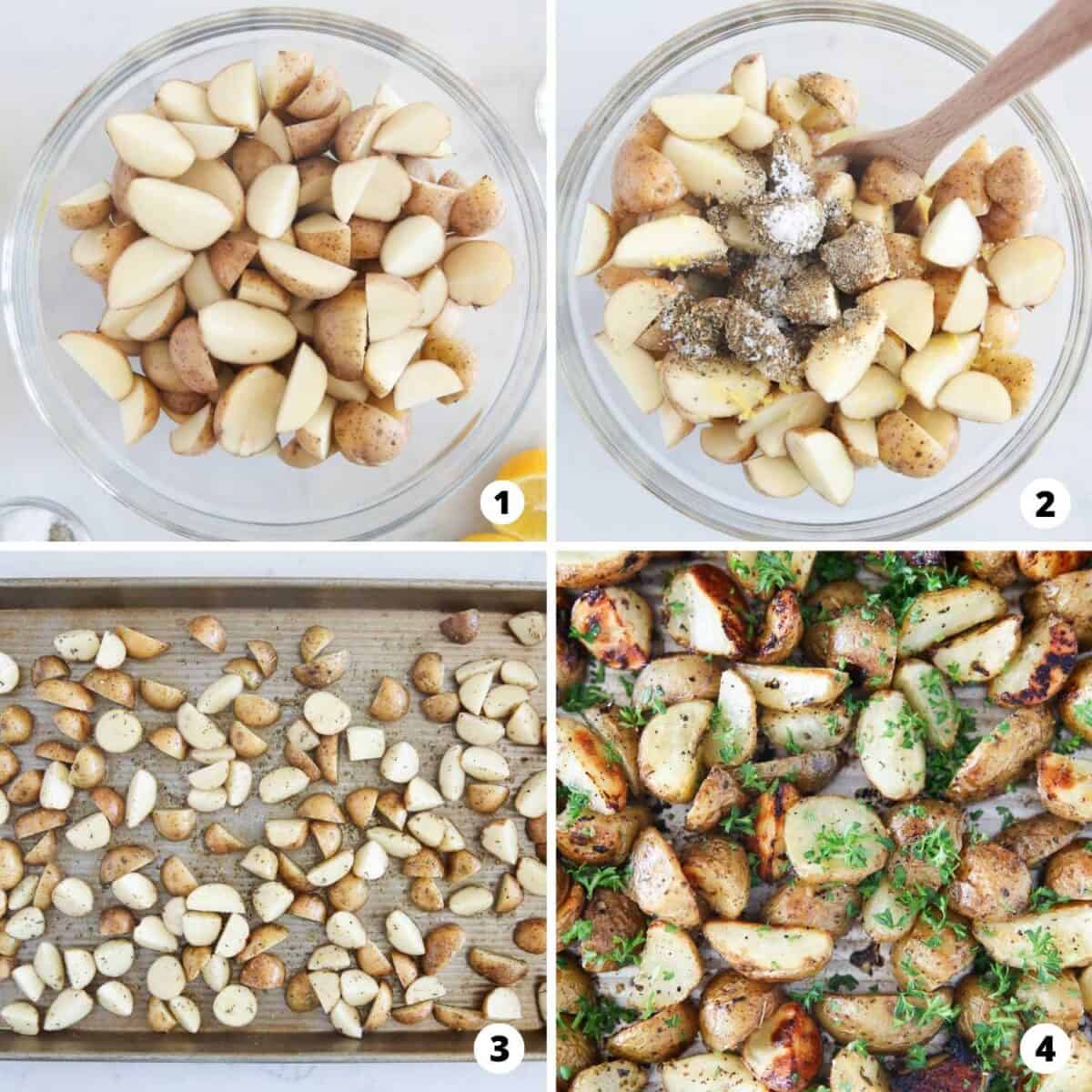 Recipe Tips
Maximum crisp. Try to use a rimmed baking sheet or roasting pan rather than a baking dish. Dishes with higher sides tend to create more steam. If you find there's too much liquid, you can pour some liquid off the last 5 minutes of cooking and broil for a minute (be careful not to burn them).
Wash and dry the potatoes. Wait until they are completely dry to toss them in their coating that way they won't become soggy.
Cut pieces evenly. You want every bite to be as perfect as the next. Whether they are baby potatoes or bigger potato wedges, underdone or overdone Greek potatoes in the same batch is not a good time.
What to Serve with Greek Potatoes
In keeping with a Greek-inspired theme for dinner, these potatoes make a great side dish for a Greek chicken burger or grilled chicken tzatziki salad.
You can also pair them with another side like an easy Greek salad with a homemade dressing to go along with grilled salmon.
They make the perfect side to roast lamb, herb crusted pork tenderloin, and beef like a steak or homemade meatloaf.
My kids love to dip these Greek potatoes in tzatziki sauce and eat them on their own as a pre-dinner snack.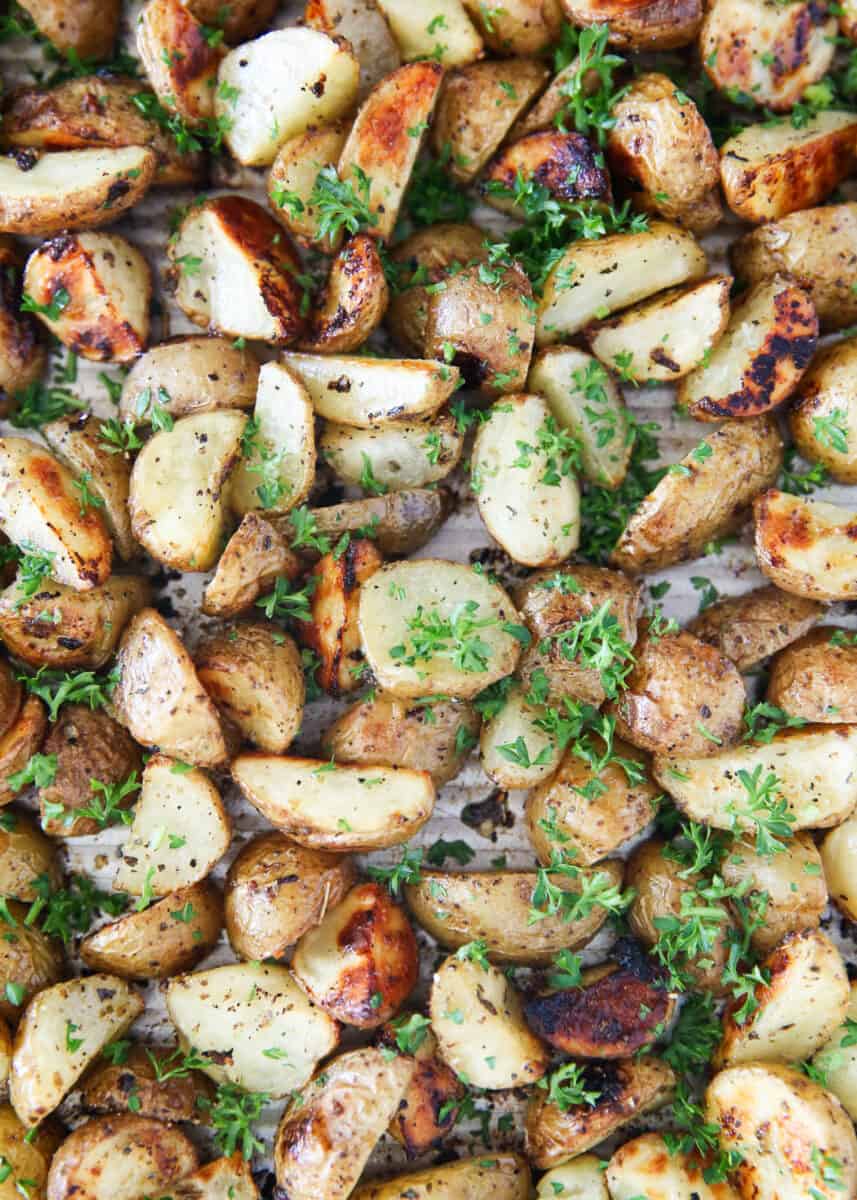 FAQs
Should I peel potatoes first?

That's not necessary with Yukons or reds. The skin is delicate and edible which gives them a more rustic appearance. It's also a bit harder to peel such small potatoes as baby potatoes.

If you like to peel them first, you certainly can.
How to store leftover Greek potatoes?

Any leftovers can be kept in an airtight container for up to 3 days in the fridge.
Is this a vegetarian side dish?

It can be if you use a vegetable broth or vegetable stock instead of the chicken broth. Both will create delicious juices!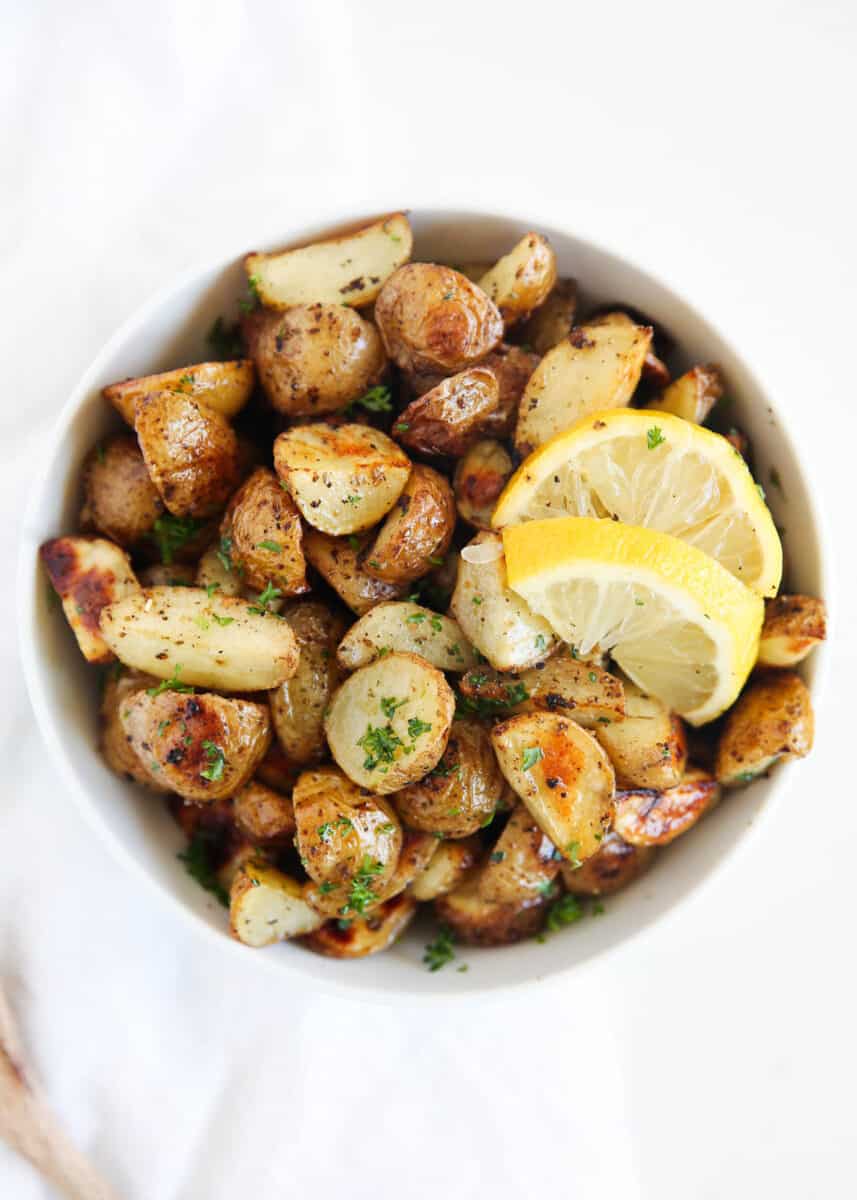 Below are a few more side dish recipes that will be a hit with your family!
HUNGRY FOR MORE? Subscribe to my newsletter and follow on Facebook, Pinterest and Instagram for all the newest recipes!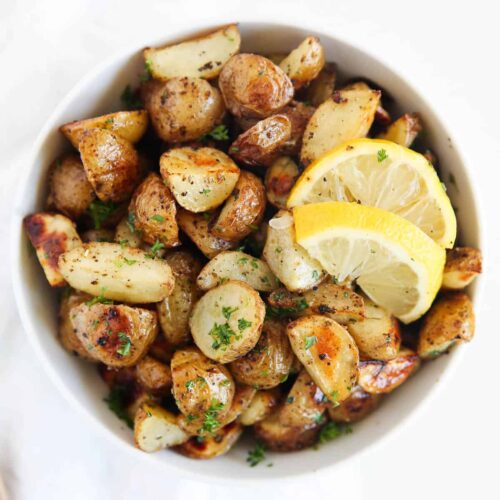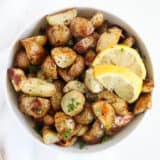 Greek Potatoes
Greek potatoes are bathed in a Greek seasoned herb and lemon broth and then oven-roasted, making them tender and creamy on the inside, golden crispy on the outside, and super flavorful!
Ingredients
1 ½ pounds baby gold potatoes
¼ cup low-sodium chicken broth
2 Tablespoons extra virgin olive oil
1 lemon , juiced and zested
1 teaspoon Greek seasoning , or Italian seasoning
1 teaspoon Kosher salt , more to taste
½ teaspoon garlic powder
¼ teaspoon ground black pepper
2 Tablespoons chopped parsley , for topping
Instructions
Preheat the oven to 425°F. Then cut the red potatoes into 4 (about 1 1/2-inch pieces).

Combine the potatoes, olive oil, broth, 1/2 lemon (juiced and zested), Italian seasoning, salt, garlic powder and pepper in a large bowl. Toss until combined.

Spread evenly onto a baking sheet. Bake in preheated oven for 40 minutes, or until edges are crispy and golden brown. Flip half way through.

Remove from oven and squeeze the remaining half the lemon over top. Sprinkle the chopped parsley over top. Season with salt and pepper to tase. Serve while warm.
---
Notes
Storage: Store leftovers in a covered container up to 3 days. Potatoes: You may also use baby red or Yukon gold potatoes. Herbs: If you don't have fresh parsley you can use rosemary or basil. Cheese: If you'd like to add cheese, you can sprinkle some shredded or grated feta or parmesan cheese the last few minutes of cooking.
Nutrition
Calories: 124kcal | Carbohydrates: 19g | Protein: 2g | Fat: 5g | Saturated Fat: 1g | Sodium: 409mg | Potassium: 529mg | Fiber: 2g | Sugar: 1g | Vitamin A: 28IU | Vitamin C: 10mg | Calcium: 15mg | Iron: 1mg
Nutrition provided is an estimate. It will vary based on specific ingredients used.
Did you make this recipe? Don't forget to give it a star rating below!