Perfectly creamy and fluffy mashed red potatoes bursting with garlic flavor. Made with just 5 ingredients in 30 minutes. These are the perfect easy side dish to serve at your next holiday gathering or Sunday dinner!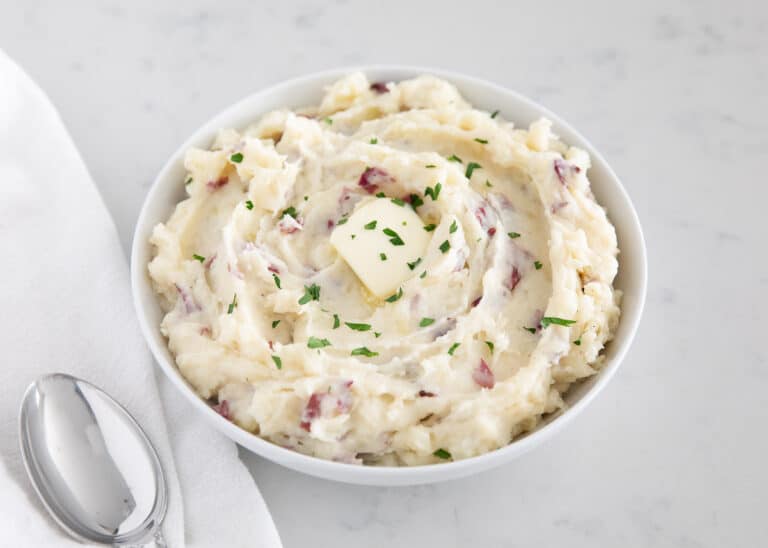 Red Skin Mashed Potatoes
If you know me, you know I love any type of potato dish. Russets have always been my favorite, but I think red potatoes may have a new place in my heart. The skin adds the perfect texture and they taste amazing mashed or when making roasted red potatoes.
Mashed potatoes are one of my favorite parts about Thanksgiving dinner. I could fill half my plate with potatoes drizzled with turkey gravy and be completely happy. While I love my creamy mashed potatoes, these garlic mashed red potatoes come in tie for a close second.
I love that you don't have to peel the potatoes if you don't want to. The garlic cloves that cook with the potatoes also make them SO delicious! If you aren't a huge fan of garlic you can skip adding it in, but I think it is the perfect addition and it isn't overwhelming. You can make the consistency of the mashed potatoes creamy or chunky – I like mine somewhere in the middle.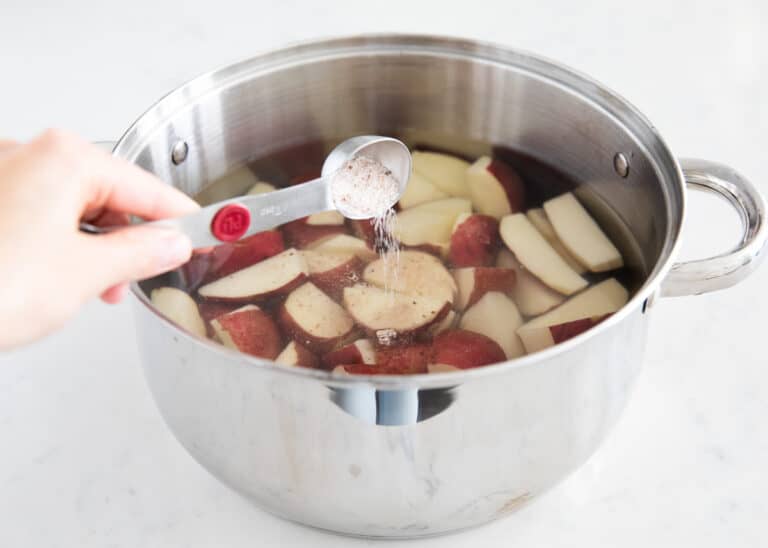 Ingredients
Red potatoes: Make sure to wash them well before using. You can peel them or keep the skins on if preferred. I like the texture that the red skins add to the dish.
Butter: Melt the salted butter before using. If using unsalted butter, add a pinch of salt to taste. I also like to add a slice of butter on top before serving.
Sour cream: This gives them that super creamy texture, with a hint of tang. If you don't usually add sour cream to your mashed potatoes, you will after trying this recipe!
Milk: This also adds to the creaminess. For an even richer flavor, you can use heavy cream instead.
Garlic: Fresh garlic cloves add the best flavor. They whole cloves cook in the same pot as the potatoes, making them super easy to mash. You can use as much or as little garlic as you'd like. My sweet spot is usually 2-3 cloves.
How to Make Mashed Red Potatoes
BOIL. Add the diced potatoes and garlic cloves into a pot of boiling water and cook until they are fork tender (about 20 to 30 minutes). Drain and then place back into the pan.
MASH. Pour in the melted butter, milk and sour cream. Mash everything together using a potato masher or electric mixer. For an even creamier consistency, mix in 1-2 spoonful's of heavy cream.
SERVE. Enjoy plain, with homemade gravy or your favorite cheese melted on top.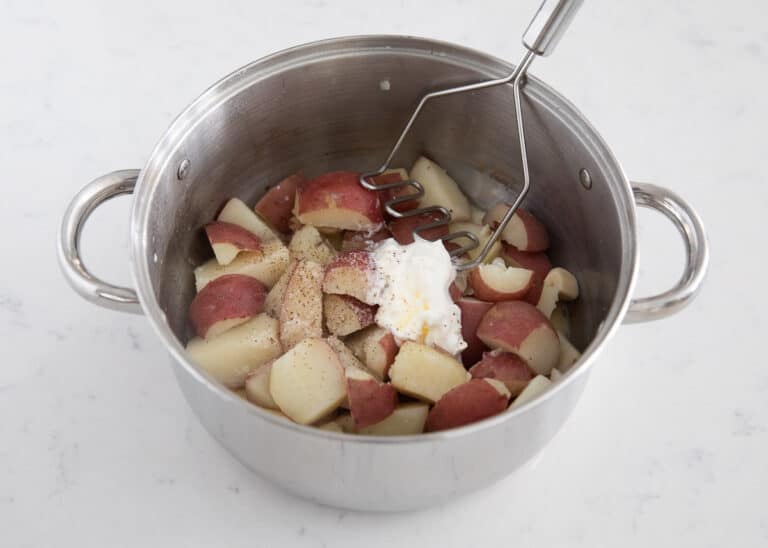 Cooking Tips
Make sure to scrub your potatoes clean and cut off any brown spots before cooking.
Add a Tablespoon of salt to the pot of water. It will add a nice depth of flavor to the potatoes while they cook.
Add the garlic cloves to the water as well so they can cook and mash very easily. You could also roast the garlic in the oven if you prefer a more caramelized flavor.
Use a potato masher for chunkier potatoes and an electric mixer for extra creamy potatoes.
To take them up a notch, try using heavy cream and mixing in fresh grated parmesan cheese.
Favorite Dishes to Serve With:
This is a great side dish to serve at a holiday dinner, alongside your favorite comfort meal or with a big juicy steak. Below are some of our favorites to serve with: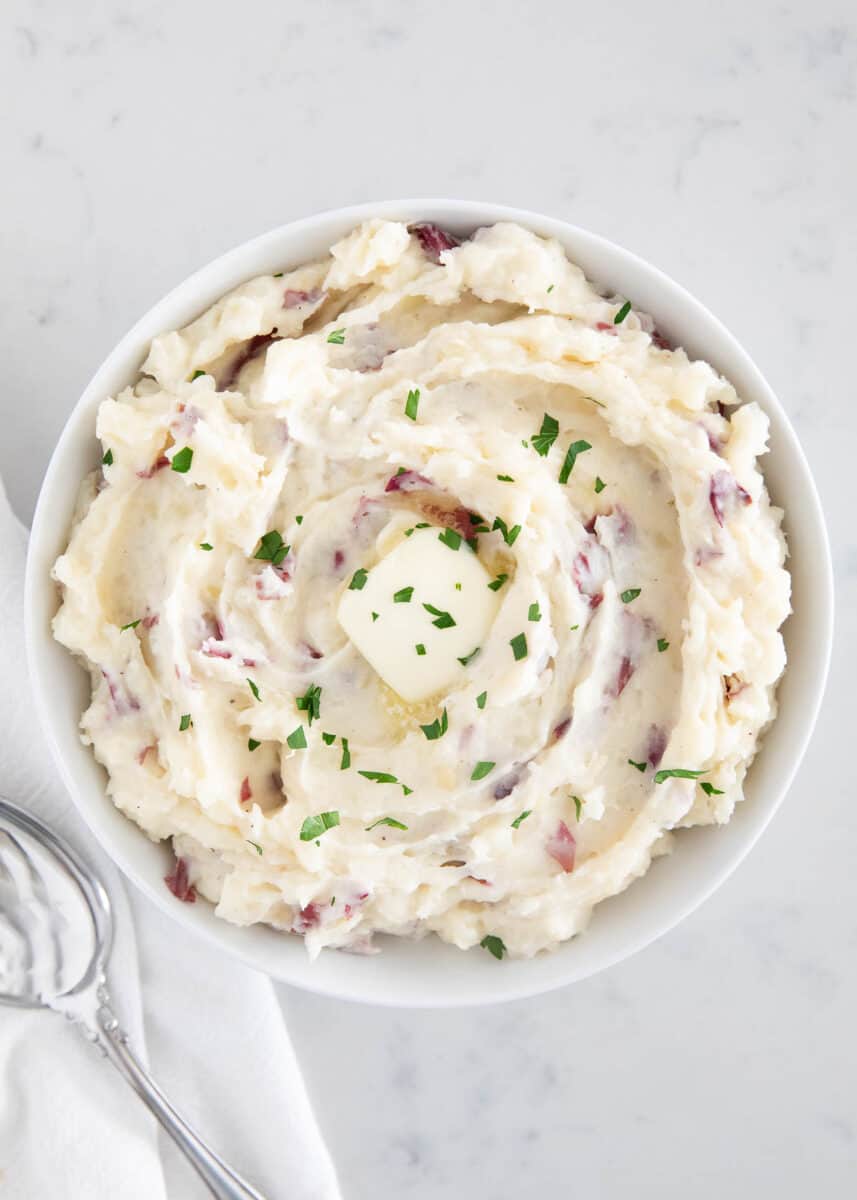 More Potato Side Dishes You'll Love: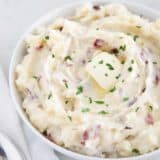 Garlic Red Mashed Potatoes
Perfectly creamy and fluffy mashed red potatoes bursting with garlic flavor. Made with just 5 ingredients in 30 minutes. These are the perfect easy side dish to serve at your next holiday gathering or Sunday dinner!
Ingredients
2 1/2 pounds red potatoes , quartered
1/4 cup salted butter , melted
1/4 cup sour cream
1/4 cup warm milk , or heavy cream
2-3 garlic cloves, peeled , more or less as desired
Instructions
Fill a large pot of water and bring water to a boil with 1 Tablespoon salt. Place potatoes and garlic cloves in the pot and cook for 20-30 minutes, or until a fork inserts easily. Drain and place back in pan. Let steam evaporate.

Add the melted butter, sour cream and milk. Mash with a potato masher. If you want them extra creamy, use an electric mixer. Add a Tablespoon or two more heavy creamy if you'd like them even creamier.

Salt and pepper to taste. Serve while warm. Enjoy plain, with gravy or melted cheese on top.
---
Notes
You can leave the skins on the potatoes if preferred.
Calories: 169kcal | Carbohydrates: 23g | Protein: 3g | Fat: 8g | Saturated Fat: 5g | Cholesterol: 20mg | Sodium: 85mg | Potassium: 665mg | Fiber: 2g | Sugar: 2g | Vitamin A: 244IU | Vitamin C: 12mg | Calcium: 32mg | Iron: 1mg
Nutrition provided is an estimate. It will vary based on specific ingredients used.
Did you make this recipe? Don't forget to give it a star rating below!