Homemade Italian seasoning made in just 5 minutes with only 6 ingredients! Perfect to add to sauces, marinades, pasta, soups and more.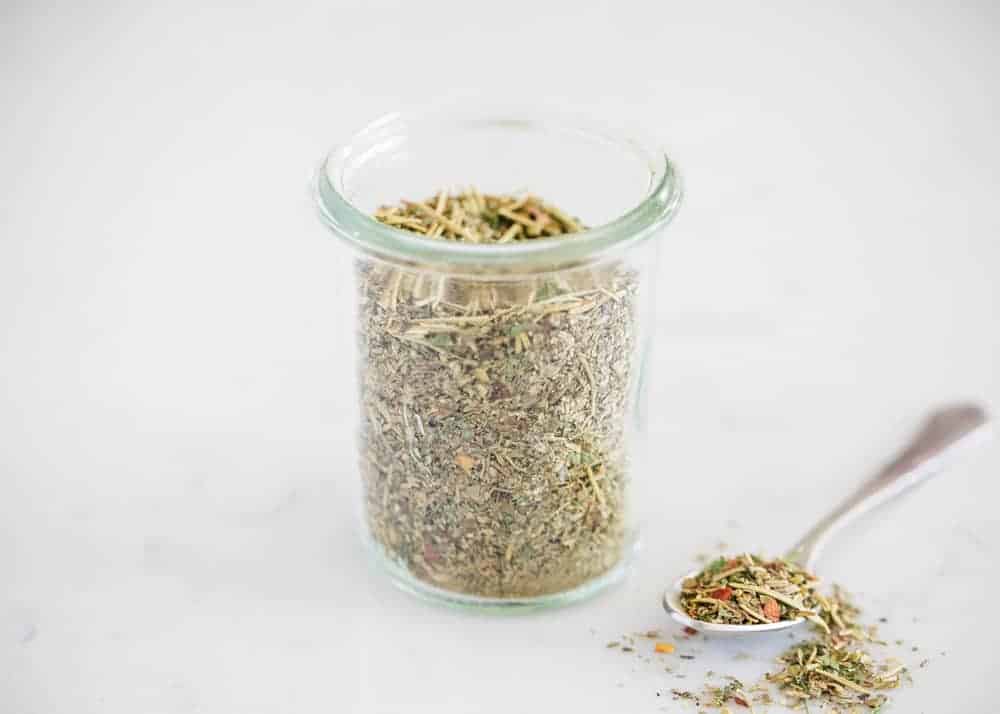 Homemade Italian Seasoning
I love to make my own seasonings and condiments at home. It's cost effective and you know exactly what's going into them. Some of my other favorites to make are homemade taco seasoning, chili seasoning, steak rub and balsamic glaze.
If you need to make Italian seasoning mix in a pinch, this is a simple and flavorful recipe. It takes only 5 minutes to whip up and is great for storing in the pantry. I like to keep it on hand for whenever a recipe calls for Italian seasoning.
The nice thing about making you're own seasoning is that you don't have to worry about preservatives and other fillers. You know exactly what goes into it and can bypass any strange ingredients!
This is a basic blend, but you are welcome to add in more seasonings such as garlic powder, onion powder and red pepper flakes. I added about a teaspoon of red pepper flakes for a little heat.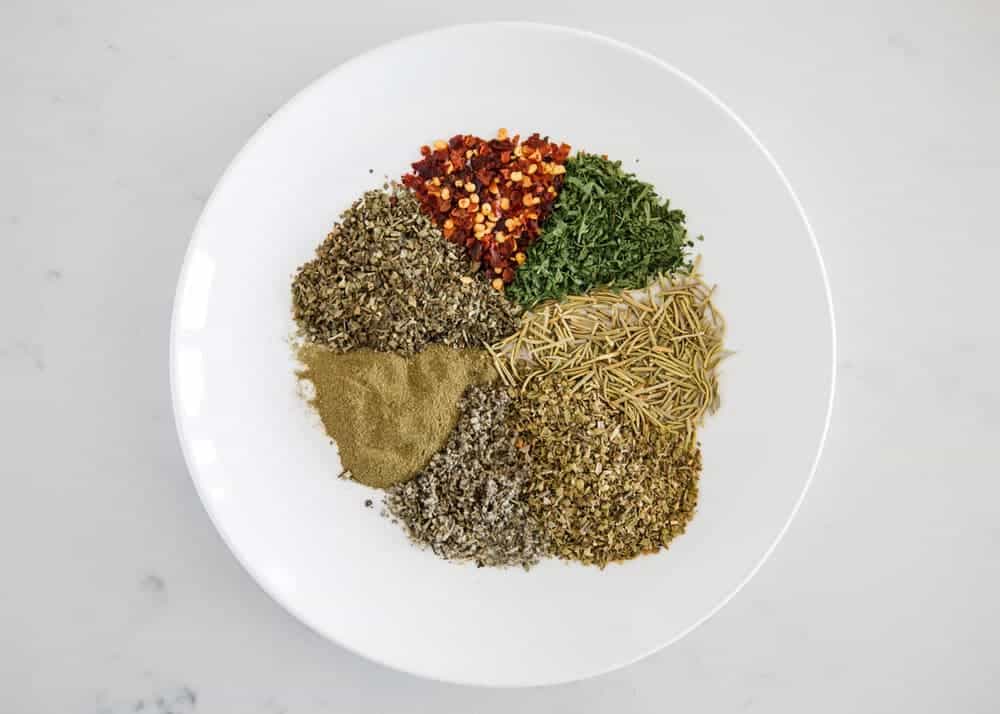 What's in it?
Making your own Italian seasoning is actually really simple! You only need 6 herbs, most of which you likely have on hand. Make sure to use the dried version of each spice (although you can use ground thyme if preferred). For a little heat, feel free to add in some red pepper flakes as well.
Oregano
Basil
Thyme
Rosemary
Sage
Parsley
How to Make Italian Seasoning
To make your own from scratch, simply add all dried herbs to a small bowl. Whisk together until well combined, then store in a sealed container.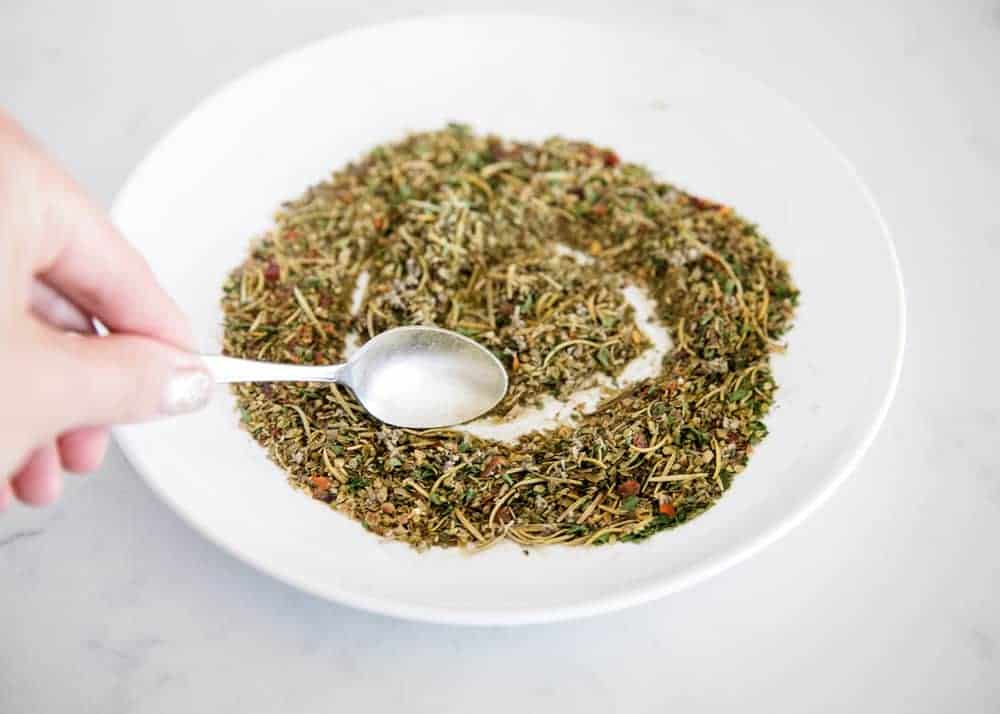 Storage and Shelf Life
I like to store mine in a seal tight jar for optimal freshness. The herbs stay the most fragrant this way, giving your dishes amazing flavor. This seasoning will keep for 6 months to a year if stored in a seal tight jar.
Favorite Ways to Use it
Marinades: You can add this to an olive oil with some balsamic vinegar for a quick and easy marinade.
Sauces: It adds great flavor to Italian sauces like red pizza sauce, alfredo sauce and bolognese.
Pasta: Some of my favorite pasta dishes that call for this seasoning are creamy rigatoni, lasagna and caprese pasta.
Soup: Add it to soups like minestrone, pasta e fagioli, lasagna soup and tortellini sausage soup.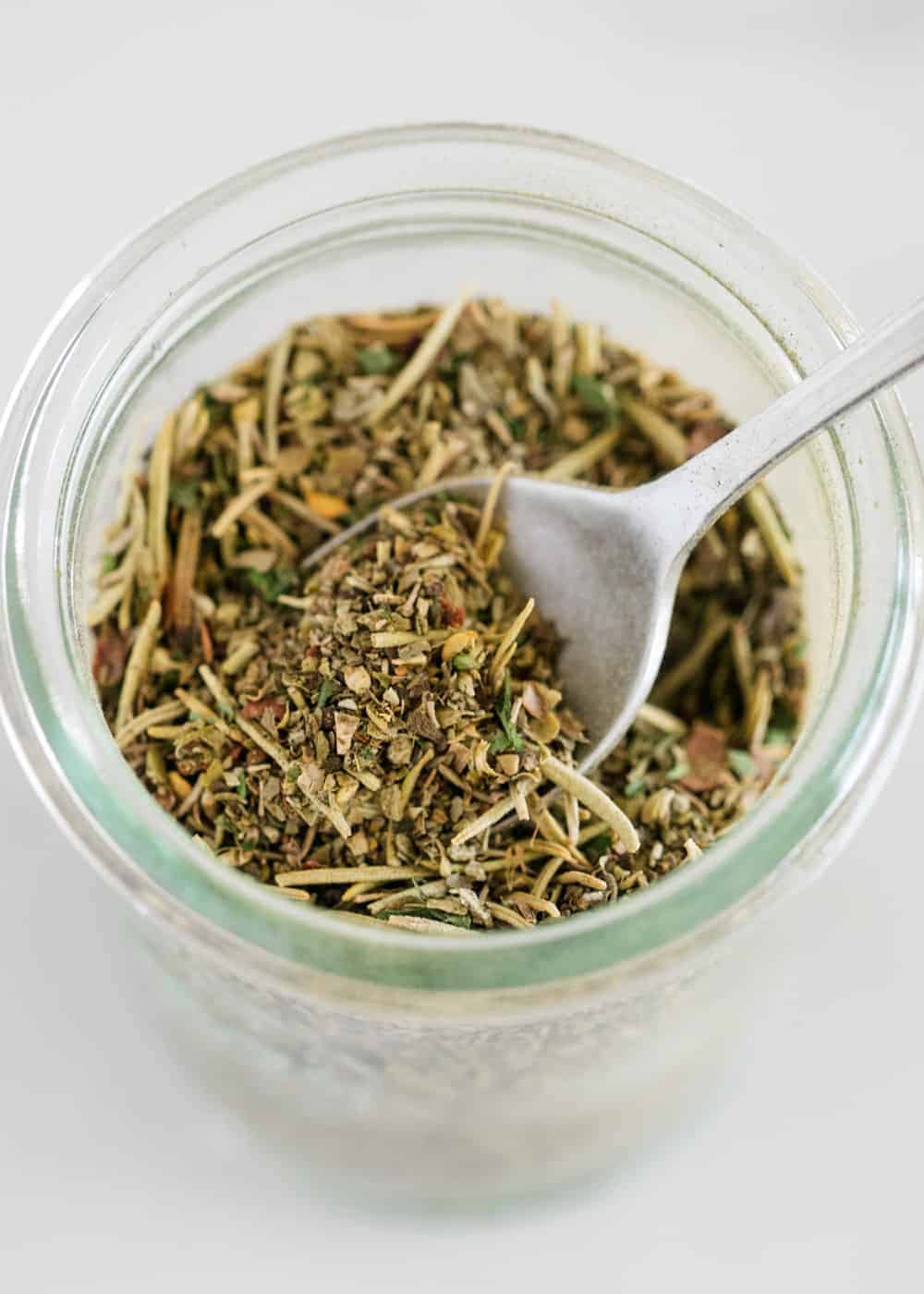 This Seasoning Taste Great in
HUNGRY FOR MORE? Subscribe to my newsletter and follow on Facebook, Pinterest and Instagram for all the newest recipes!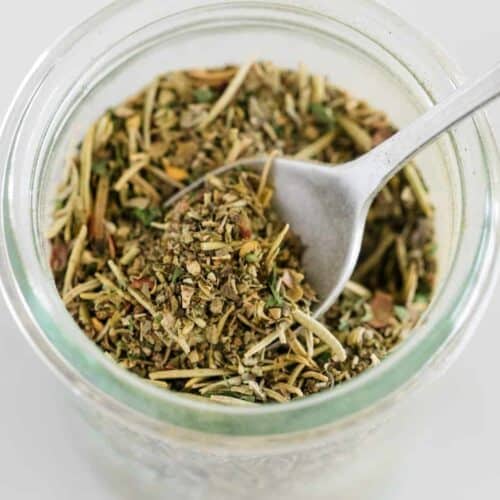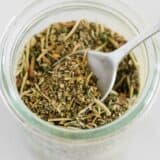 Italian Seasoning
Homemade Italian seasoning made in just 5 minutes with only 6 ingredients! Perfect to add to sauces, marinades, pasta, soups and more.
Ingredients
1 Tablespoon dried oregano
1 Tablespoon dried basil
1 teaspoon dried thyme , or ground
1 teaspoon dried rosemary
1 teaspoon dried sage
1 teaspoon dried parsley
Optional: 1 teaspoon red pepper flakes
Instructions
Mix together all of the seasonings in a small bowl until well combined.

Once combined, store in a sealed container until ready to use.
---
Notes
Doubling: This recipe is super easy to double. Adjust the ratio to make whatever size batch you would like. Storage: Store in a sealed container in a cool place up to 3 months.
Nutrition
Calories: 2kcal | Carbohydrates: 1g | Protein: 1g | Fat: 1g | Saturated Fat: 1g | Polyunsaturated Fat: 1g | Monounsaturated Fat: 1g | Sodium: 1mg | Potassium: 15mg | Fiber: 1g | Sugar: 1g | Vitamin A: 14IU | Vitamin C: 1mg | Calcium: 16mg | Iron: 1mg
Nutrition provided is an estimate. It will vary based on specific ingredients used.
Did you make this recipe? Don't forget to give it a star rating below!