Balsamic roasted carrots are possibly the easiest way to jazz up your carrot side dish with just 4 ingredients and 5 minutes of prep. They're beautifully caramelized carrots with a delicate balsamic flavor!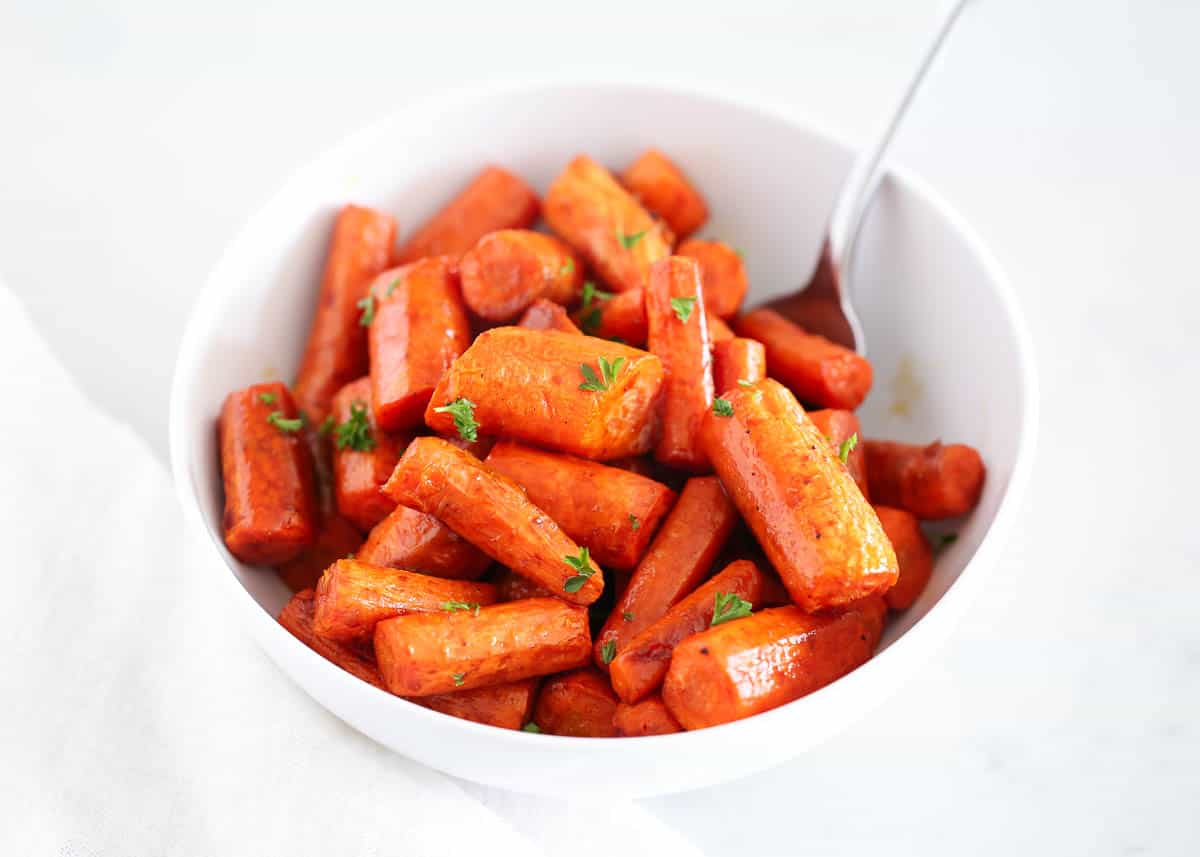 Easy Roasted Balsamic Carrots
Roasted carrots with a balsamic glaze sounds fancy doesn't it? You won't believe how easy they are to make! They're a bit like my glazed carrots, except without a sweet and sticky glaze.
Instead, we're using a drizzle of balsamic that gets cooked with the carrots after they've been roasted. I love how acidity disappears but the balsamic flavor stays and they become irresistible, just like my balsamic glazed salmon and balsamic chicken and veggies!
Balsamic glazed carrots are incredibly simple to pull together with just 4 ingredients. They're a tasty and impressive side dish for Thanksgiving, Christmas, and Easter but easy enough for a casual weeknight meal. Pair these carrots with scalloped potatoes and green beans for a complete holiday meal.
You might even find yourself snacking on a couple right off the pan! Roasting vegetables adds so much flavor and I can't get enough of these and other favorites like roasted broccoli and cauliflower and roasted asparagus.
Why This Recipe Works
Flavorful. Roasting carrots enhances their natural sweetness and brings out their best flavor! If you only think carrots are for snacking on raw, these balsamic glazed carrots will have you think otherwise.
Budget friendly. Carrots are relatively inexpensive and last for weeks in the fridge!
Simple. There is nothing complicated about this recipe! It contains only 4 ingredients, and yet their taste will blow you away.
Ingredient Notes
With so few ingredients, these balsamic roasted carrots are easy to whip up and you may already have on hand what you need for this side dish.
Large carrots: Two large carrots that are peeled and cut into 2 inch pieces. Most often I will use the medium sized carrots purchased in a bag. You can also use young thin carrots, most likely you will not need to cut these or adjust the roasting time if you do.
Olive oil: Extra virgin olive oil is what I use, but grape seed or avocado oil work as well.
Salt: Enhances the taste.
Balsamic vinegar: I love a good quality aged balsamic vinegar. Use a brand you know and love.
How to Make Balsamic Roasted Carrots
How to cook your balsamic roasted carrots is simple as can be with just a few steps!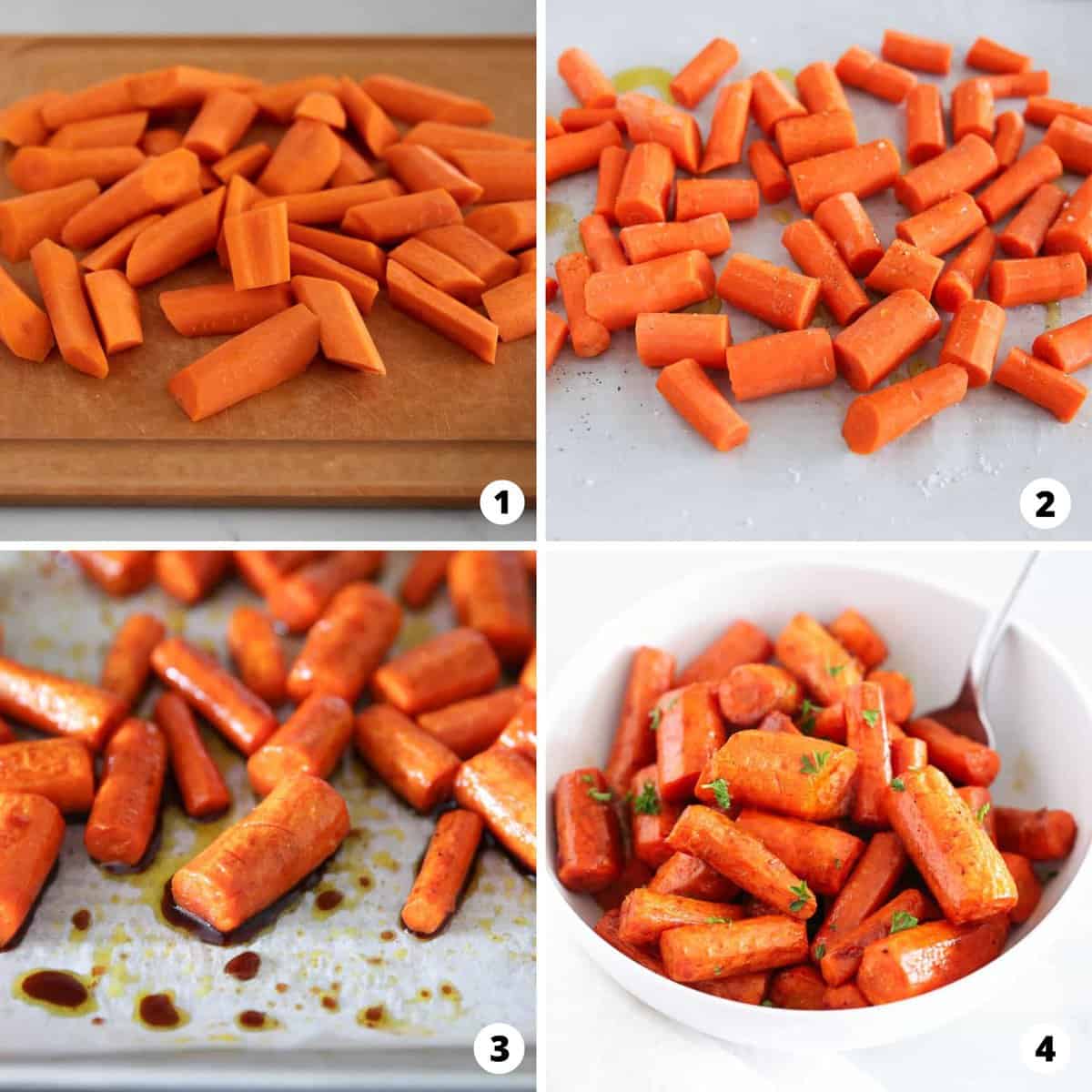 Prep. Preheat your oven to 400 degrees F and spray a large baking sheet or cover with parchment paper. Peel and cut carrots into two inch pieces.
Drizzle with oil. Place your cut carrots either into a large bowl or directly onto the baking sheet. Drizzle with olive oil and sprinkle with salt then gently mix to combine.
Roast carrots. Roast carrots for 15 minutes, or until they begin to soften. Flip and then bake an additional 15 minutes or until fork tender.
Expert Tips for Oven Roasted Carrots
High heat. Making oven roasted vegetables requires high heat to caramelize the exterior and bring out their natural sweetness. 400 degrees is perfect.
Non-stick. Use parchment paper on your prepared baking sheet for a nonstick surface. The sugars that get released can get a little sticky.
Uniform-sized pieces. Cut thicker pieces in half for even roasting.
Fork-tender. You'll know the veggies are done when you can pierce them with a fork with little to no resistance. Avoid overcooking, unless you like a softer texture.
Enjoy immediately. Best served warm with a sprinkling of salt and pepper.
Variations
Add extra glaze. The vinegar will evaporate leaving behind the taste of the balsamic. If you want a little more of that, make a separate balsamic glaze on the stovetop. Drizzle that lovely reduction over top just before serving.
For a shortcut use a bag of baby carrots instead, although I do prefer ones you peel and cut for best taste.
Keep it simple and serve your roasted carrots with a pat of melted butter and some salt and pepper. The roasting brings out so much flavor anyway!
A sprinkling of fresh herbs like rosemary or parsley would add a lovely finish.
If you like yours a little sweeter, you could add in a tbsp honey with the balsamic for honey balsamic carrots.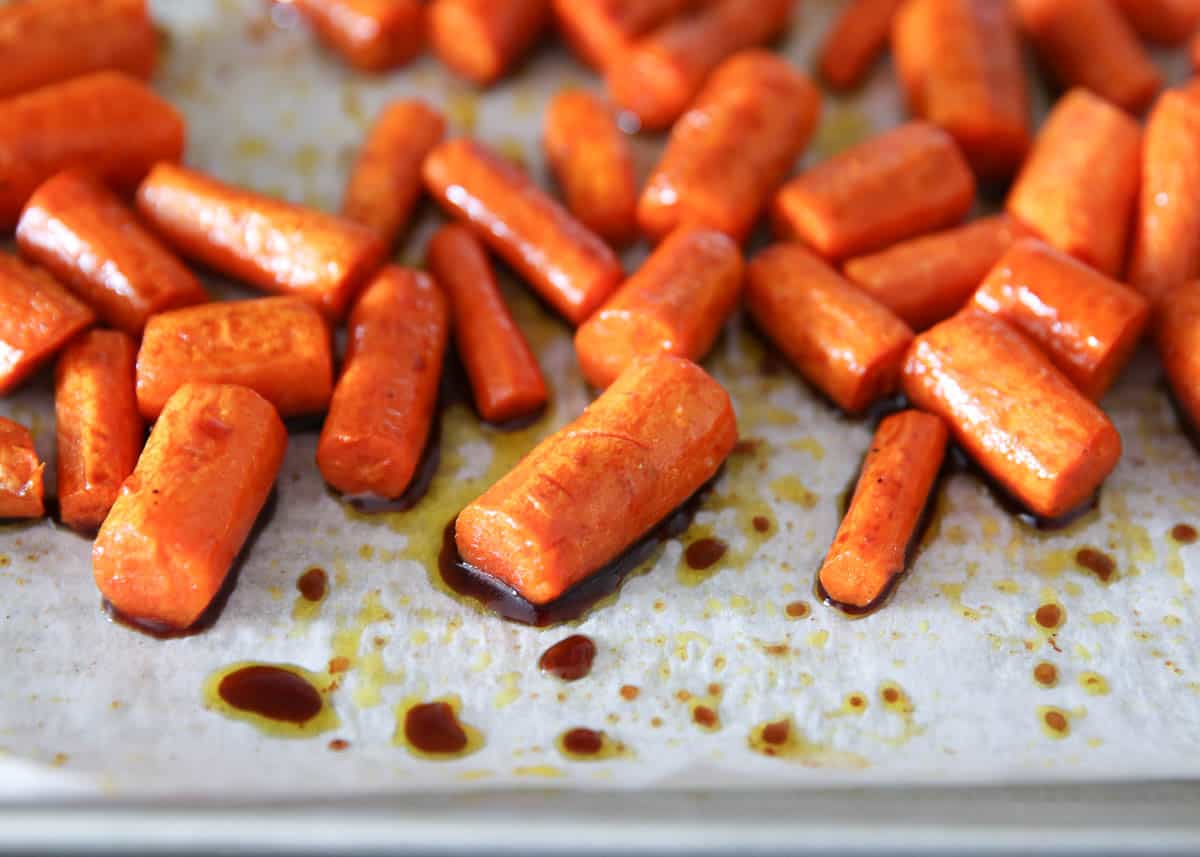 FAQs
Can I make this recipe with baby carrots?
While you technically could use baby-cut carrots, I would save those for your raw crudites platter! They will be bland in comparison to medium sized carrots when roasted. If that is all you have though, I would roast them for a shorter time of 20 – 25 minutes.
Do I need to cut my oven roasted carrots?
For this recipe, I cut my carrots into 2 inch pieces. Unless you are using young thin carrots, you will need to cut them so they roast evenly.
Can I roast other veggies with the carrots?
Sure! Just cube any other root vegetable such as potatoes, sweet potatoes, parsnips, or winter squash into 1 inch pieces and roast along with the carrots. You will need to increase your oil, salt and vinegar.
Can I make balsamic roasted carrots ahead of time?
While these are best hot out of the oven, there are a few ways to save even more time with this recipe. Prep your carrots by peeling and cutting them then storing in the fridge. You could also go ahead and toss them with olive oil and salt and then store them on the baking pan that you will be roasting them on.
What to Serve with Balsamic Roasted Carrots
This roasted carrot recipe is a great side dish for any of the following mains no matter the occasion:
How to Store and Reheat
Store any leftover carrots in an airtight container. They'll keep fresh in the fridge for up to 3 days. Although they are delicious when served warm, they're also great as cold leftovers in salads.
To reheat just warm in the microwave in 30 second intervals until warmed through. You could reheat covered over low-medium heat in skillet with a little olive oil and water, stir occasionally to prevent burning.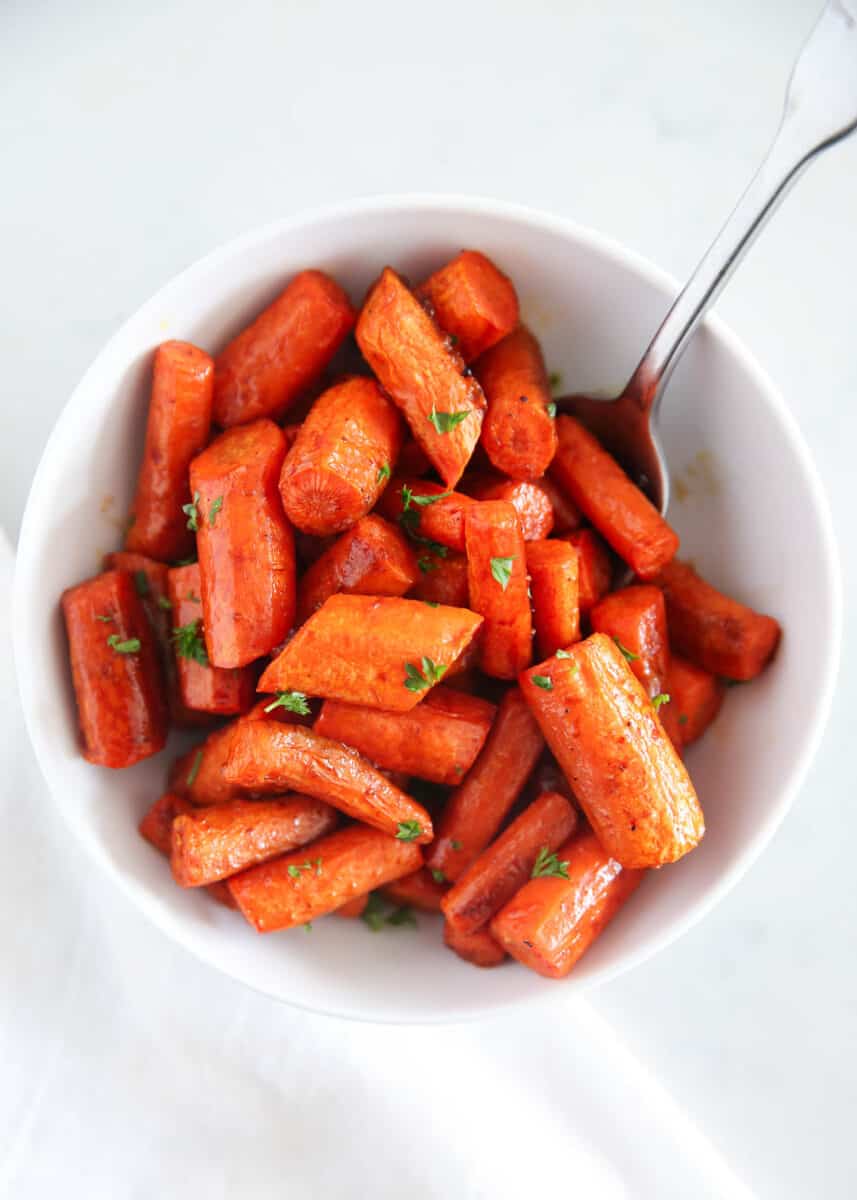 More Roasted Vegetables:
HUNGRY FOR MORE? Subscribe to my newsletter and follow on Facebook, Pinterest and Instagram for all the newest recipes!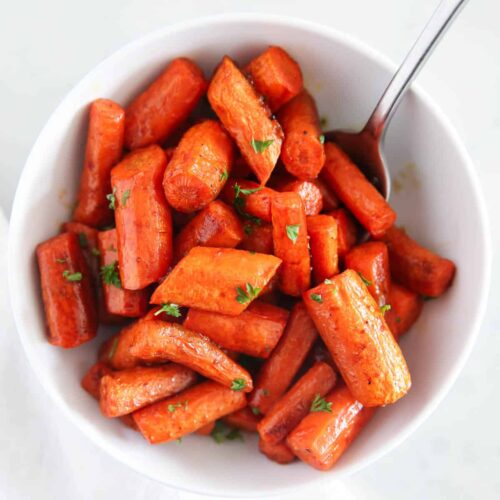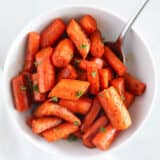 Balsamic Roasted Carrots
Balsamic roasted carrots are possibly the easiest way to jazz up your carrot side dish with just 4 ingredients and 5 minutes of prep. They're beautifully caramelized carrots with a delicate balsamic flavor!
Ingredients
2 pounds large carrots , peeled
1 ½ Tablespoons olive oil
¾ teaspoon fine sea salt , more to taste
2 Tablespoons balsamic vinegar , more to taste
Instructions
Preheat the oven to 400°F and spray a large baking pan with nonstick spray. Cut the carrots into 2-inch pieces. If they are thicker carrots, cut in half again.

Place the vegetables into a bowl or directly onto the baking sheet. Drizzle the olive oil and sprinkle the salt evenly over top. Then toss to evenly combine. Add an extra Tablespoon of oil if needed.

Place vegetables on pan and bake for about 15 minutes, or until they begin to soften. Flip vegetables and then bake an additional 15 minutes or until fork tender. During the last 5 minutes, drizzle the balsamic over top and toss together. Roast carrots until most of the vinegar has evaporated, about 2-3 minutes.

Serve while warm. Salt and pepper to taste.
---
Notes
Storage: Store leftovers in a covered container in the refrigerator or up to 3 days.
Nutrition
Calories: 73kcal | Carbohydrates: 12g | Protein: 1g | Fat: 3g | Saturated Fat: 1g | Polyunsaturated Fat: 1g | Monounsaturated Fat: 2g | Sodium: 297mg | Potassium: 367mg | Fiber: 3g | Sugar: 6g | Vitamin A: 18944IU | Vitamin C: 7mg | Calcium: 39mg | Iron: 1mg
Nutrition provided is an estimate. It will vary based on specific ingredients used.
Did you make this recipe? Don't forget to give it a star rating below!