Holiday Sangria Mocktail- the perfect drink for any holiday party!
The holiday season is right around the corner, and that means a ton of fun is probably in store for you! Delicious dinners, festive parties, and all things sparkly and pretty! I can't wait to share with you this Holiday Sangria Mocktail recipe in case it will come in handy for you this year!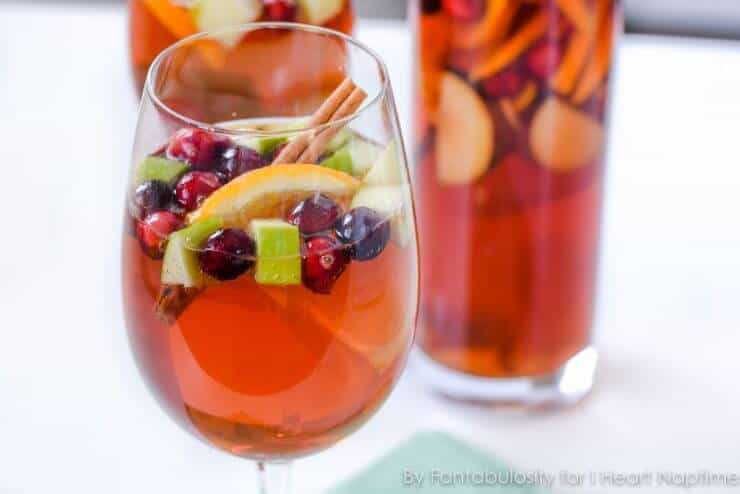 Each year when the holidays roll around, it's like I get the urge to add a little "umph" to the every day things to embrace the season. Things like:

MY OTHER RECIPES
• adding a little peppermint to chocolate chip cookies
• chocolate melts on top of my hot chocolate
• and the list goes on!
So when I had an abundance amount of fruit on hand the other day, I decided to whip up a sangria "mocktail" for my family that screamed "holiday drink idea!"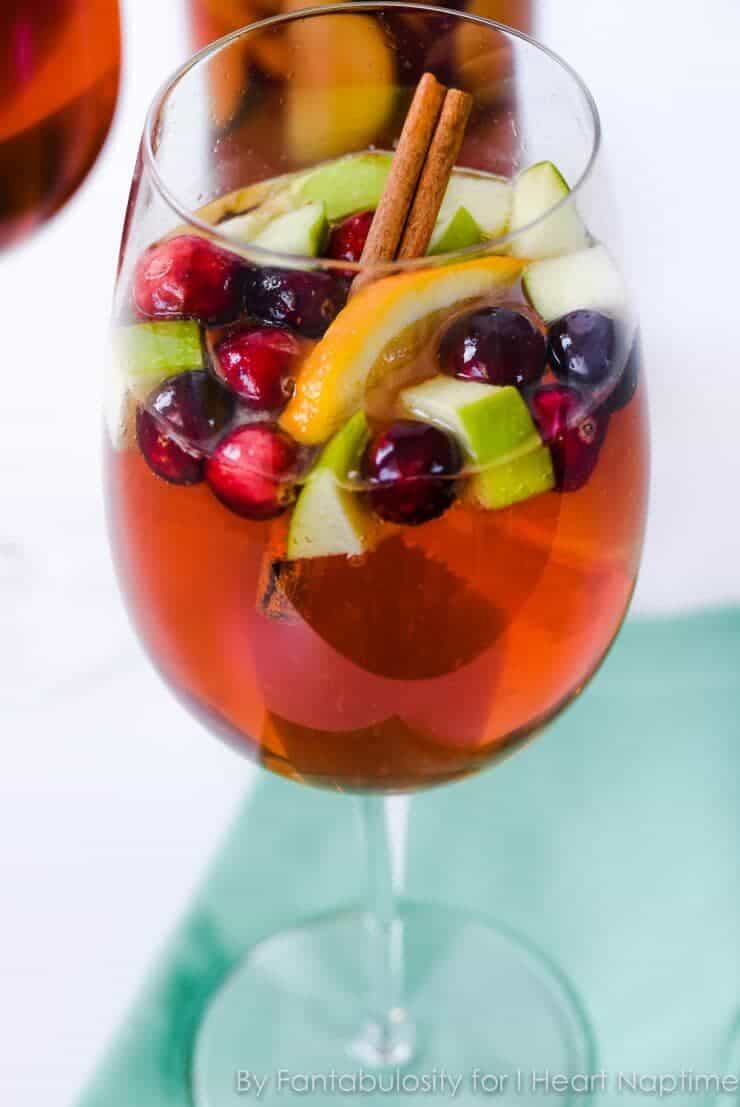 "Mocktail" – Kid + Party Approved
The combination of cranberry juice, sparkling grape juice, and an assortment of fruits turned out to be delicious and something my family LOVED. (Although they didn't get the pretty wine glasses I snapped the photos of here, they still loved the "fruit" juice surprise that afternoon for snack.)
It's also a beautiful drink idea for those who prefer to opt out of the alcoholic beverages at the holiday parties, but would love to sip on a gorgeous drink while they visit! I know this would have went over like crazy at my Favorite Things Party a couple of years ago. I so wish that I would have thought to create it then!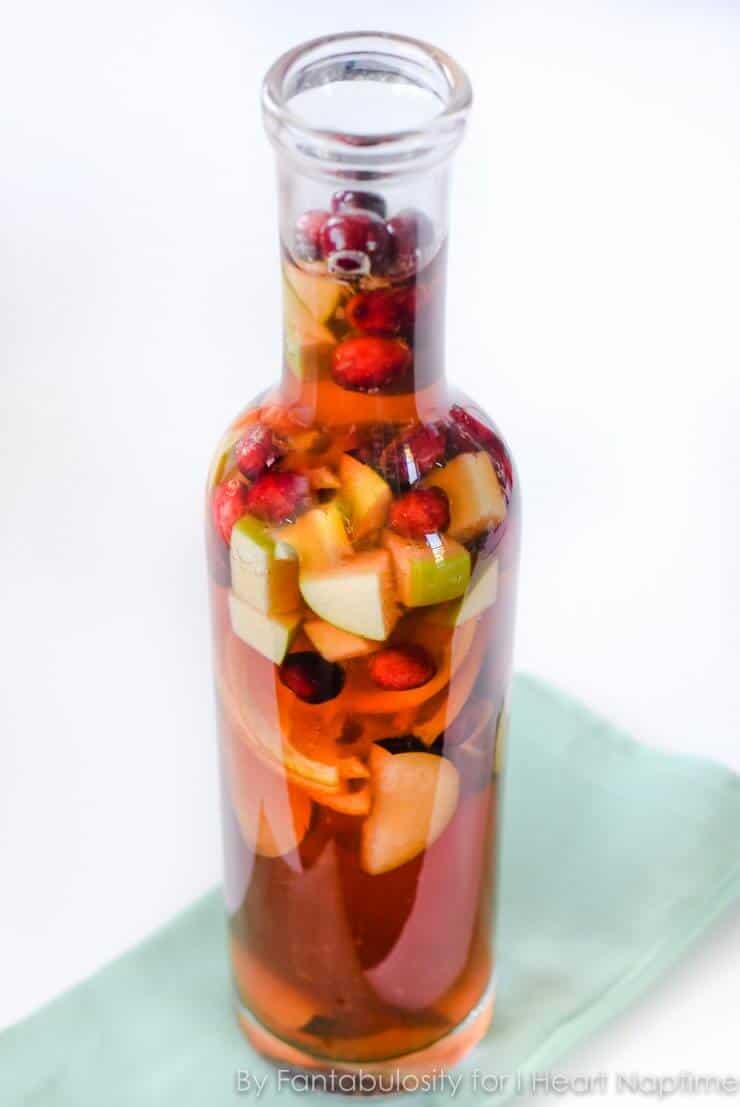 Wouldn't this look gorgeous for the drink station at your party?
It's incredibly easy to make too! Promise. Here's how…
Holiday Sangria Mocktail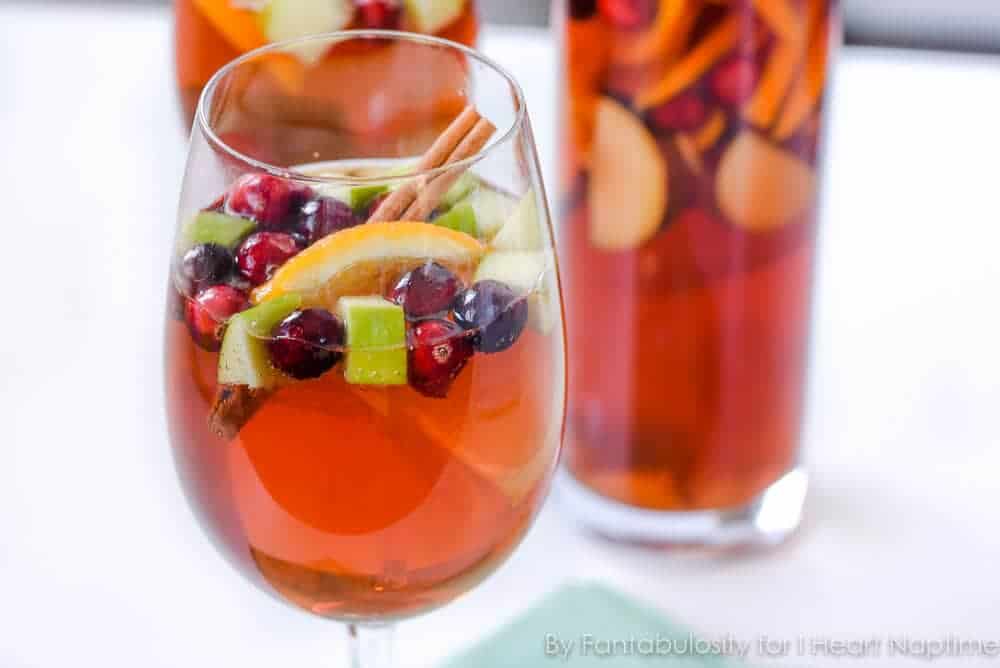 Holiday Sangria Mocktail
Holiday Sangria Mocktail- the perfect drink for any holiday party!
Ingredients
24

ounces

Cranberry Juice

24

ounces

Sparkling Grape Juice

Optional garnishes: Cranberries

Sliced plums, Sliced green apples, Sliced oranges, Cinnamon sticks
Instructions
Combine all ingredients into a large punch bowl. Serve chilled.
Recipe Notes
Can be doubled, tripled, etc. for large batches!
Nutrition Facts
Holiday Sangria Mocktail
Amount Per Serving
Calories 60
% Daily Value*
Sodium 3mg 0%
Potassium 102mg 3%
Total Carbohydrates 15g 5%
* Percent Daily Values are based on a 2000 calorie diet.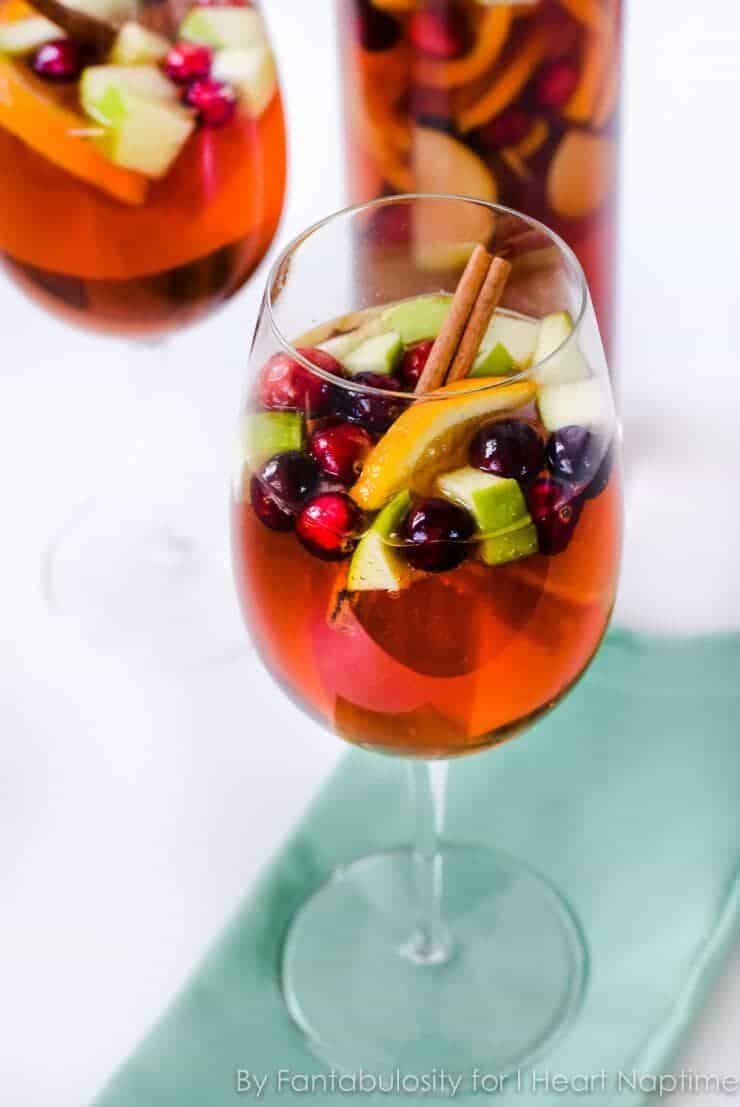 I'd LOVE to Have You Visit!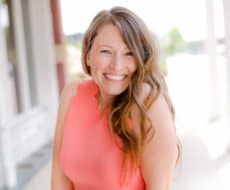 Thank you SO much for taking a peek at the Holiday Sangria Mocktail recipe that I have created. I love cooking slightly homemade recipes, and styling festive parties! If you haven't visited my blog, I'd LOVE for you to! My name is Jessica, and I'm the creator of Fantabulosity.com, where we believe in real, honest, down-to-earth goodness. We know life isn't perfect, so let's embrace it and enjoy it!
You can also find me almost daily on Fantabulosity's Facebook page HERE, swoon with me over all sorts of pretty things on Pinterest HERE, and sharing other special goodies on Instagram!
Thanks so much for sharing in our Crazy Christmas Event!
Looking for more holiday drinks? You'll love these too: