This easy, fall beverage favorite will be a delicious option this Thanksgiving when entertaining your family and friends! Enjoy all the best flavors of fall with this amazing Thanksgiving punch for a crowd!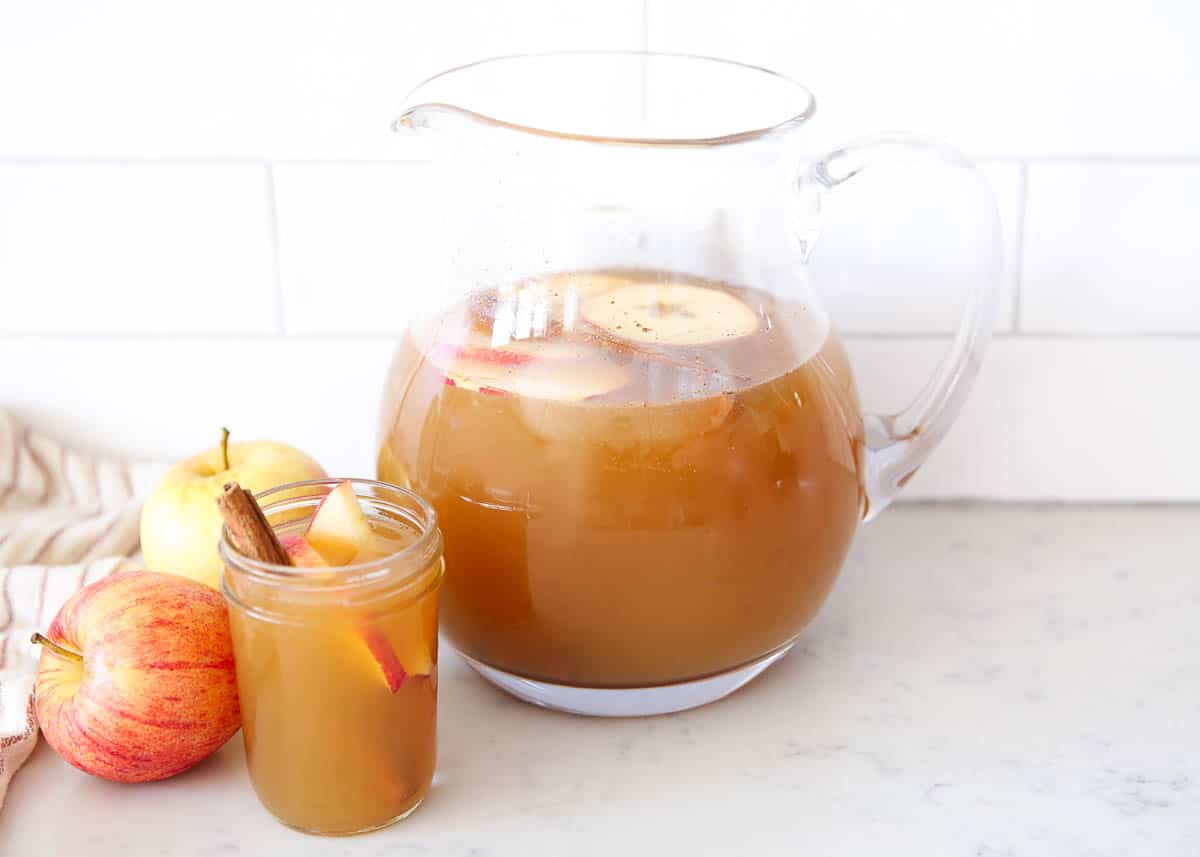 Favorite Fall Punch
If you need an easy fall punch to round out your Thanksgiving menu, this is the perfect recipe. It's made with only 3 ingredients and takes only 5 minutes to prep. It tastes similar to apple cider, but with a caramel twist. It's so delicious!
This Thanksgiving punch is perfect for serving a crowd during the holiday season. It has such great fall flavors and is so simple to make. Literally, you can't mess it up! Serve it alongside your roasted turkey, funeral potatoes, green bean casserole and other holiday favorites to round out your meal.
You simply just mix together apple cider, caramel syrup and pumpkin pie spice. Then add in any extras like cinnamon sticks or sliced apples. It can be served cold, at room temperature or warm. So many ways to make this recipe for Thanksgiving punch your own!
Why This Recipe Works
Serves a crowd. If you're hosting a large get together for Thanksgiving dinner, this is a great party punch to whip up. It makes about 32 servings total, which is perfect for accommodating a large amount of guests.
Non-alcoholic. A cocktail for guests of all ages! Both kids and adults can enjoy this delicious non-alcoholic Thanksgiving punch.
5 minutes to make. It literally couldn't be easier to prepare, taking only 5 minutes from start to finish. Not to mention it only requires 3 ingredients too!
3 Simple Ingredients
You only need 3 base ingredients to get started. The beauty behind this fall punch recipe is that you can play with the ingredients to reach a level of flavor that you prefer. Or mix in sliced apples or fresh cranberries. So easy and delicious!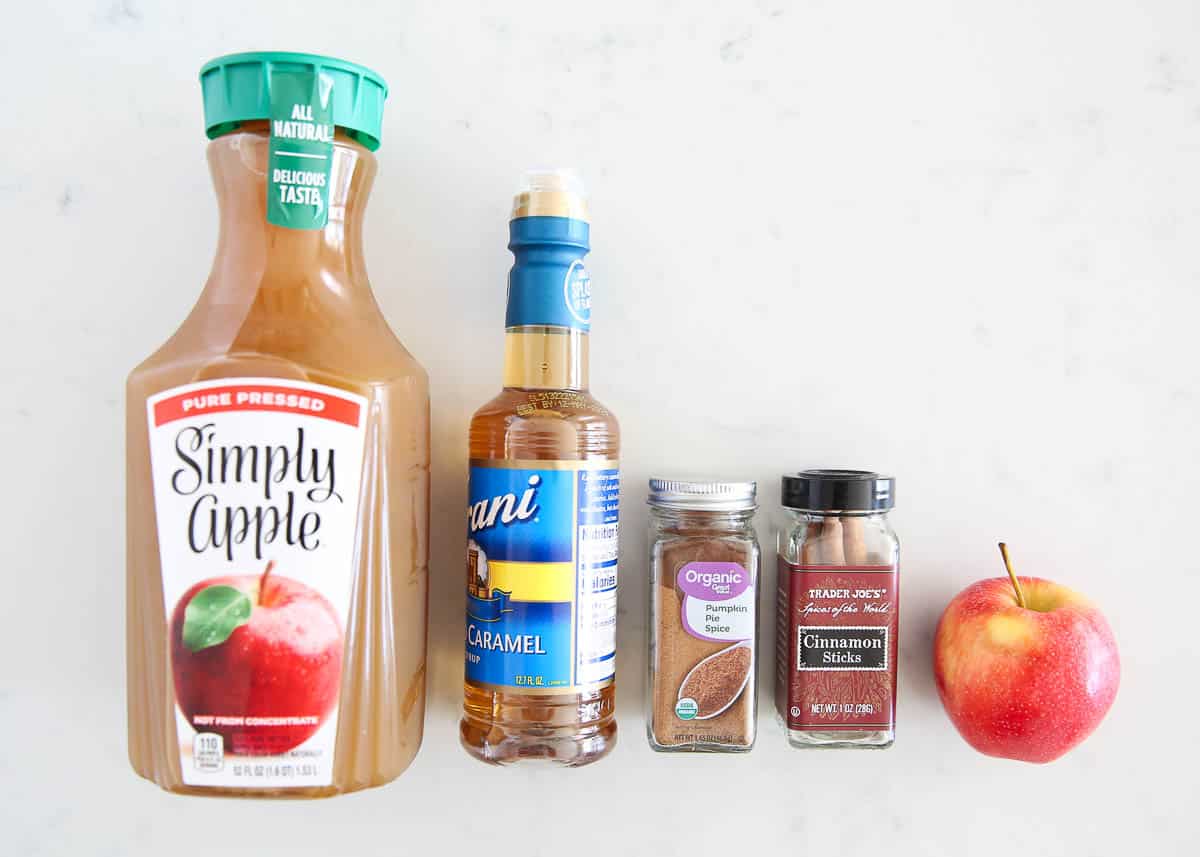 Find the full printable recipe with specific measurements below.
Apple cider: This is the base of the punch. You can make homemade apple cider or buy it premade. You'll need 2 gallons.
Caramel syrup: Gives it a rich, caramel flavor. The punch will taste like a caramel apple in drink form!
Pumpkin pie spice: Adds those warm and comforting fall spices. You can make your own pumpkin pie spice at home with a mixture of cinnamon, nutmeg, ginger and cloves.
Variations
It's so easy to adapt this Thanksgiving punch recipe to your taste. Add in a few cinnamon sticks, a sprinkle of apple pie spice or some freshly sliced apples or oranges for more fresh flavor and decoration. Fresh cranberries always look pretty floating on top too!
How to Make Thanksgiving Punch
It only takes 5 minutes to make this recipe for Thanksgiving punch, leaving you plenty of time to focus on the smoked turkey and all your favorite Thanksgiving side dishes.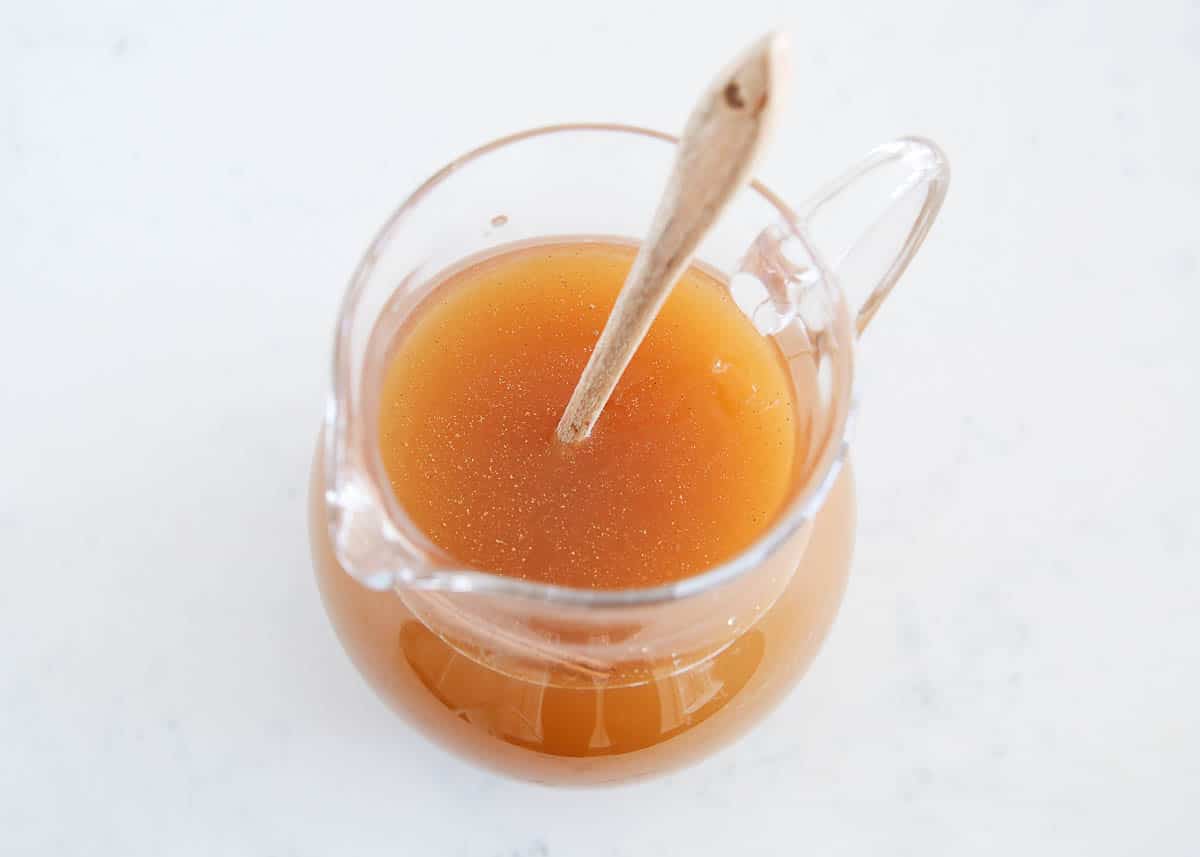 Pour the apple cider into the drink dispenser or large pitcher (all but 1/4 of the 2 gallons). Next pour in the caramel syrup.
Stir in the pumpkin pie spice. You can add as much or as little as you want. I'm usually a little heavy handed. :) The spice has a tendency to float to the top, so just make sure to give it a good stir again before serving.
Serve the punch chilled, at room temperature or warm.
Serving Suggestions
If you're serving this Thanksgiving punch at home or in a location where you can "play," you can have a LOT of fun dressing up the beverage station. Consider filling the beverage space with:
Sliced apples, orange slices or cranberries (as a garnish, in the punch)
Cinnamon sticks (as a garnish/drink stirrer)
Drink dispenser, or fun pitcher or punch bowl
Whole apples or rosemary sprigs, for décor, staggered around outside of the drink dispenser
Fall color-coordinated napkins/towels/tablecloth
Peck/bushel baskets to hold drink accessories
Mason jars, milk bottles, or any fun/stylish glasses
Festive drink stirrers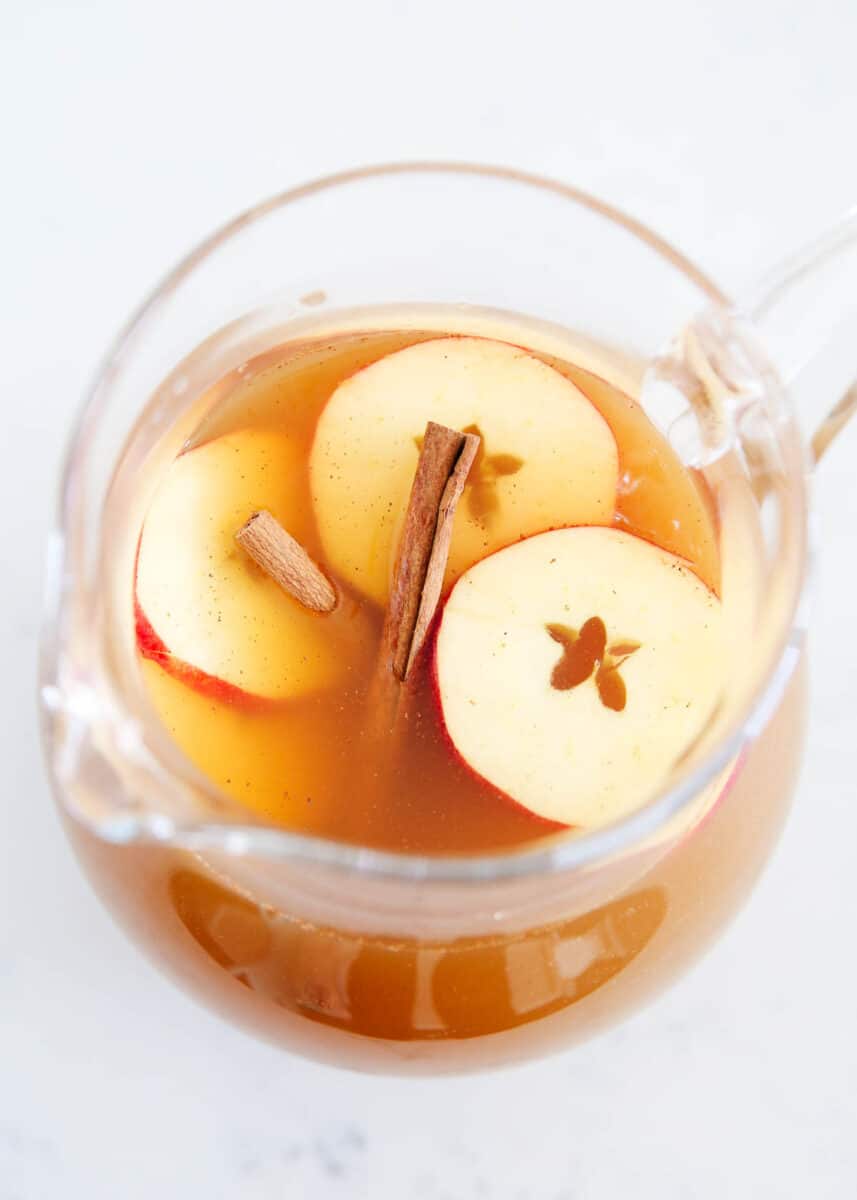 5 star review
"Delicious! I'm making this again for our Thanksgiving gathering. The caramel syrup takes this cider, next level! Thanks for sharing the recipe!"

Glenda
Expert Tips
Stir well. Don't be alarmed if you notice small specks of pumpkin spice floating at the top of the pitcher. It has a tendency to do this, but just give it a good stir before serving and it will mix into the punch again.
Adding fruit. If you're adding apple slices or cinnamon sticks on top for decoration, don't add them in until just before serving. This way the apples will stay crisp and won't brown, which is never as pretty for decoration!
Serve hot or cold. What I love about this Thanksgiving punch is that it can be served so many different ways! Whether it's at room temperature over ice, chilled in the refrigerator ahead of time or warm in a crockpot, it tastes delicious each way. Just remember to stir it often in order to keep the flavors blended.
Recipe FAQs
Can I make Thanksgiving punch ahead of time?
Absolutely! You can easily make it 1 day ahead if desired. Prepare as directed, then store covered in the fridge until ready to serve the next day. Make sure to give it a big stir before serving so that the spices and flavors combine together again.
Can I cut the recipe in half?
Definitely. If you have a smaller crowd, feel free to make a half batch. Simply use 1 gallon of apple cider, 2-4 ounces caramel syrup and 1/2 to 1 teaspoon of pumpkin spice. It will make about 16 servings.
Is there a way to make it a spiked punch for adults?
Although we don't drink alcohol, others have had success adding in spiced rum, caramel flavored vodka or cinnamon whiskey. I'd also not add it directly as some people prefer more or less, plus you don't run the risk of someone drinking it who is not supposed to be drinking.
Can this Thanksgiving fall punch be made hot?
Yes, that is a great option! You can heat it up on the stove or in the crockpot. Sometimes we top it off with some ginger ale to add a little fizz to it when serving!
How long will it keep in the fridge?
This Thanksgiving punch will stay fresh in the fridge for about a week.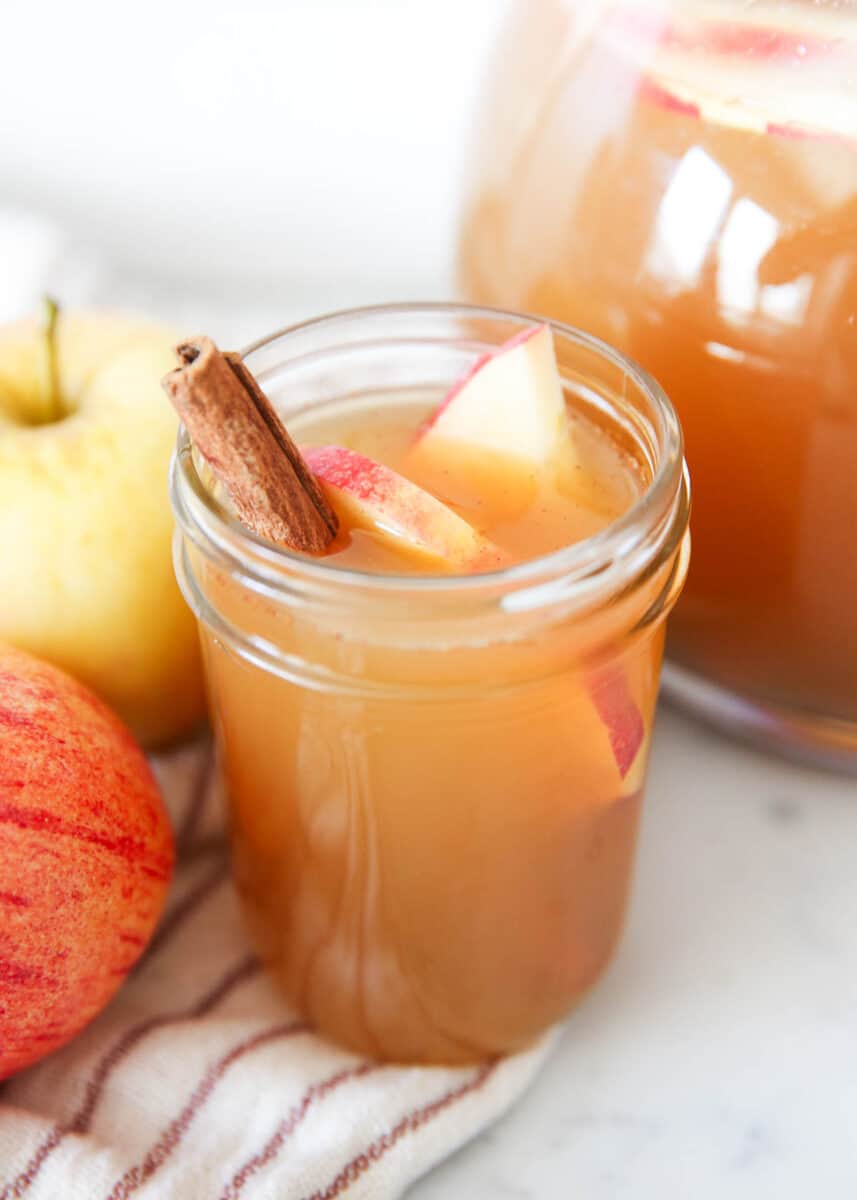 HUNGRY FOR MORE? Subscribe to my newsletter and follow on Facebook, Pinterest and Instagram for all the newest recipes!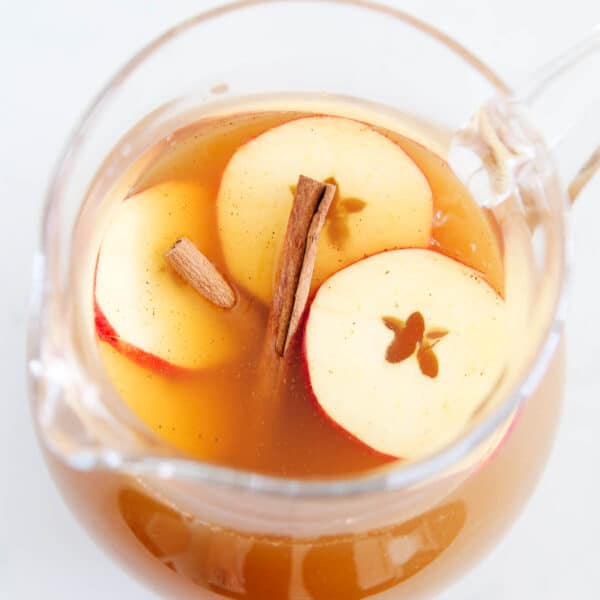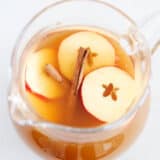 Thanksgiving Punch
This easy, fall beverage favorite will be a delicious option this Thanksgiving when entertaining your family and friends! Enjoy all the best flavors of fall with this amazing Thanksgiving punch for a crowd!
Ingredients
2 gallons apple cider (not spiced)
6-12 ounces caramel flavoring syrup (I like Torani), add more to taste
1-2 teaspoons pumpkin pie spice
Optional: Cinnamon sticks, Sliced apple circles
Instructions
Pour apple cider (all but 1/4 of the 2 gallons) into a drink dispenser. Add the caramel syrup.

Whisk in pumpkin pie spice. Some of the spice may float to the top, but whisk again right before serving. Taste and add more pumpkin spice, if desired.

Serve chilled, at room temperature, or warm. Stir occasionally to keep the flavors equally distributed. Add cinnamon sticks and sliced apples to the punch just before serving, if using.
---
Notes
Make-ahead: This punch is easy to make 1 day in advance and serve chilled right from the fridge. Give it a good whisk and garnish with cinnamon sticks or apple slices just before serving.
Nutrition
Calories: 109kcal | Carbohydrates: 27g | Protein: 0.2g | Fat: 0.3g | Saturated Fat: 0.1g | Polyunsaturated Fat: 0.1g | Monounsaturated Fat: 0.01g | Sodium: 9mg | Potassium: 239mg | Fiber: 0.5g | Sugar: 23g | Vitamin A: 3IU | Vitamin C: 2mg | Calcium: 19mg | Iron: 0.3mg
Nutrition provided is an estimate. It will vary based on specific ingredients used.
Did you make this recipe? Don't forget to give it a star rating below!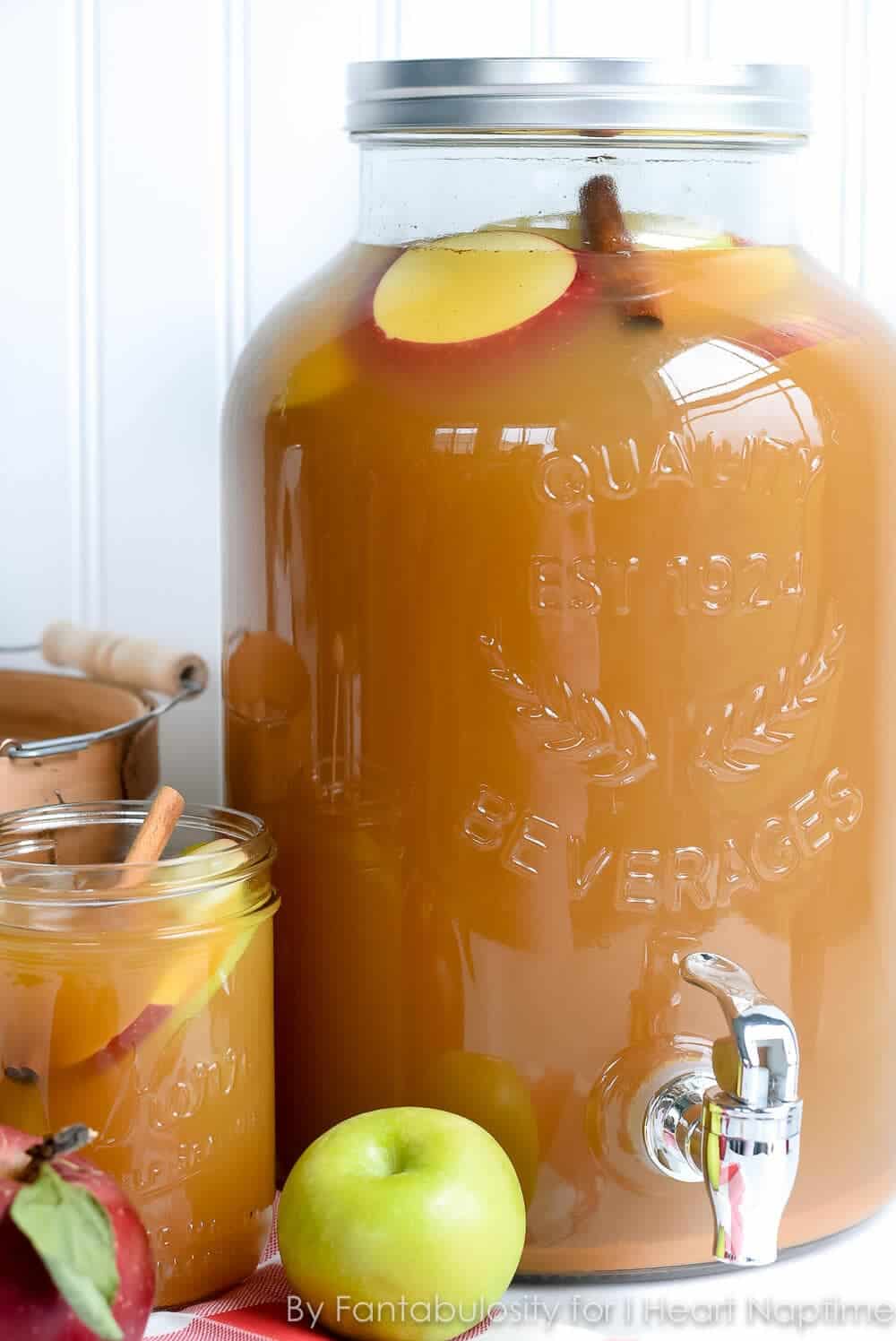 Recipe contributed by Jessica from Fantabulosity.