A rich and creamy homemade hot chocolate that tastes heavenly on a cold winter day. Only takes 5 ingredients and 10 minutes to make!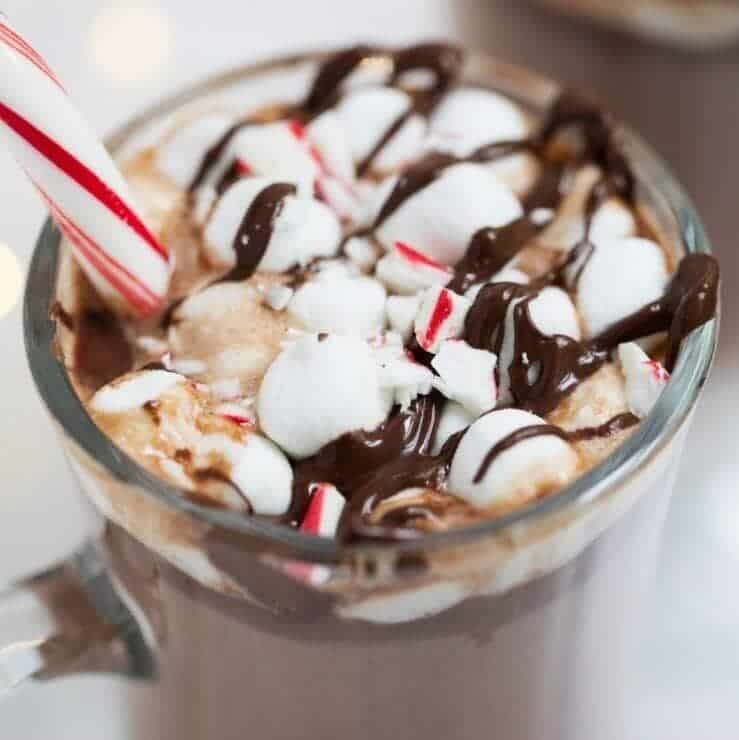 Festive Holiday Beverage
There's nothing more cozy and comforting during the holidays than homemade hot cocoa. It's such a nostalgic drink and is perfect for Christmas Eve. My family loves adding in their favorite toppings, like hot fudge, whipped cream, mini marshmallows and crushed peppermint. Seriously there is nothing more delicious!
This easy homemade hot chocolate is quite possibly the best out there! My family LOVES it. It's super rich and creamy, just the way we like it. Plus, it's way better than the packaged stuff.
The best part about this recipe is that it only requires 5 ingredients and can be ready in just 10 minutes! It can be made on the stovetop, as well as the crockpot, too. When hosting a holiday party, I'll even double (or triple) the recipe and set out the toppings for a hot chocolate bar. So fun and absolutely amazing!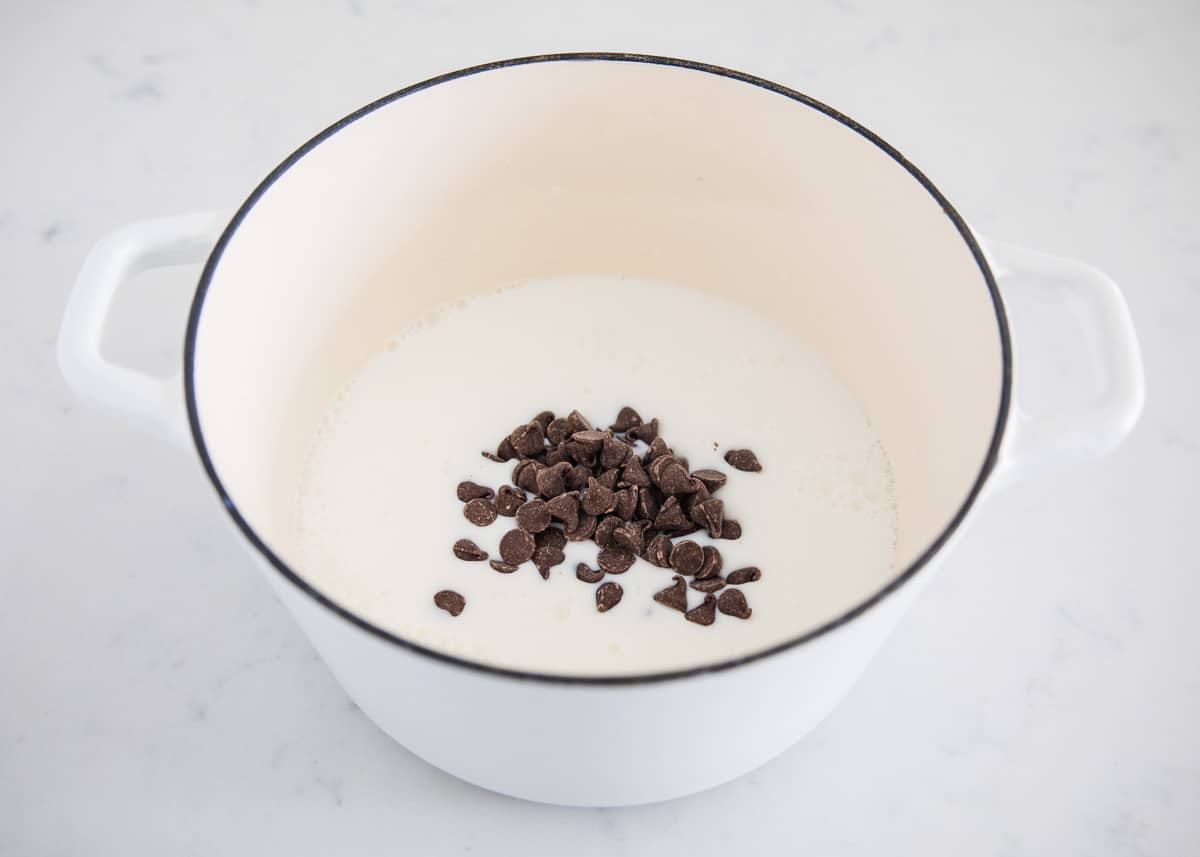 5 Simple Ingredients
Cream: Heavy cream helps give it a rich, creamy flavor. You can sub the cream with milk for a thinner cocoa if preferred.
Milk: I use low fat milk since the cream is on the heavier side.
Chocolate: Semi-sweet chocolate chips are my favorite. You can add more or less depending on how rich you want the chocolate flavor to be. For a more bitter version, try using a mix of dark cocoa powder and dark or bittersweet chocolate.
Sugar: This adds the perfect balance of sweetness. Granulated sugar works best.
Vanilla: For an extra boost of flavor.
How to Make Hot Chocolate on Stove
You'll cook the milk, cream and chocolate together on low heat until it has melted. Then you'll dissolve the sugar and heat just until warmed. I like to add the vanilla at the very end so that the flavor really comes through. At this point, I love to taste it and add a pinch of salt or cinnamon if I think it needs it. If it's too rich for your taste, you can always add more milk too. We love it nice and chocolatey though! :)
Crockpot Version
If serving for a crowd, feel free to double (or even triple) the recipe to make crockpot hot chocolate. You can easily move to the slow cooker to keep warm. Just make sure to stir right before serving. The chocolate tends to rise to the top, so giving it a good stir will mix it all together.
To cook the hot chocolate in the crockpot from start to finish, simply add all ingredients to the bottom of the slow cooker and stir. Cover and cook on low for about 2-3 hours, whisking every 45 minutes. All of the ingredients should be melted and hot. Then reduce heat to warm and serve.
Tips + Variations
Vanilla. Wait to add in the vanilla extract until the very end. If you add it in the beginning, the vanilla flavor will cook off from the heat.
Chocolate. If you want a more bitter hot chocolate, try using 1/4 cup dark cocoa powder and 1/2 cup dark or bittersweet chocolate. Or use white chocolate to make white hot chocolate.
More liquid. Add an extra 1/2 cup milk or water if the hot chocolate is too sweet for your taste.
Peppermint. To add a peppermint twist, simply add about 1 teaspoon of peppermint extract when stirring in the vanilla. You can add a little more or a little less depending on preference. It gives the hot cocoa such a delicious mint chocolate taste!
Frozen. If you're craving the nostalgic flavors of hot cocoa in the summer time, try making this frozen hot chocolate.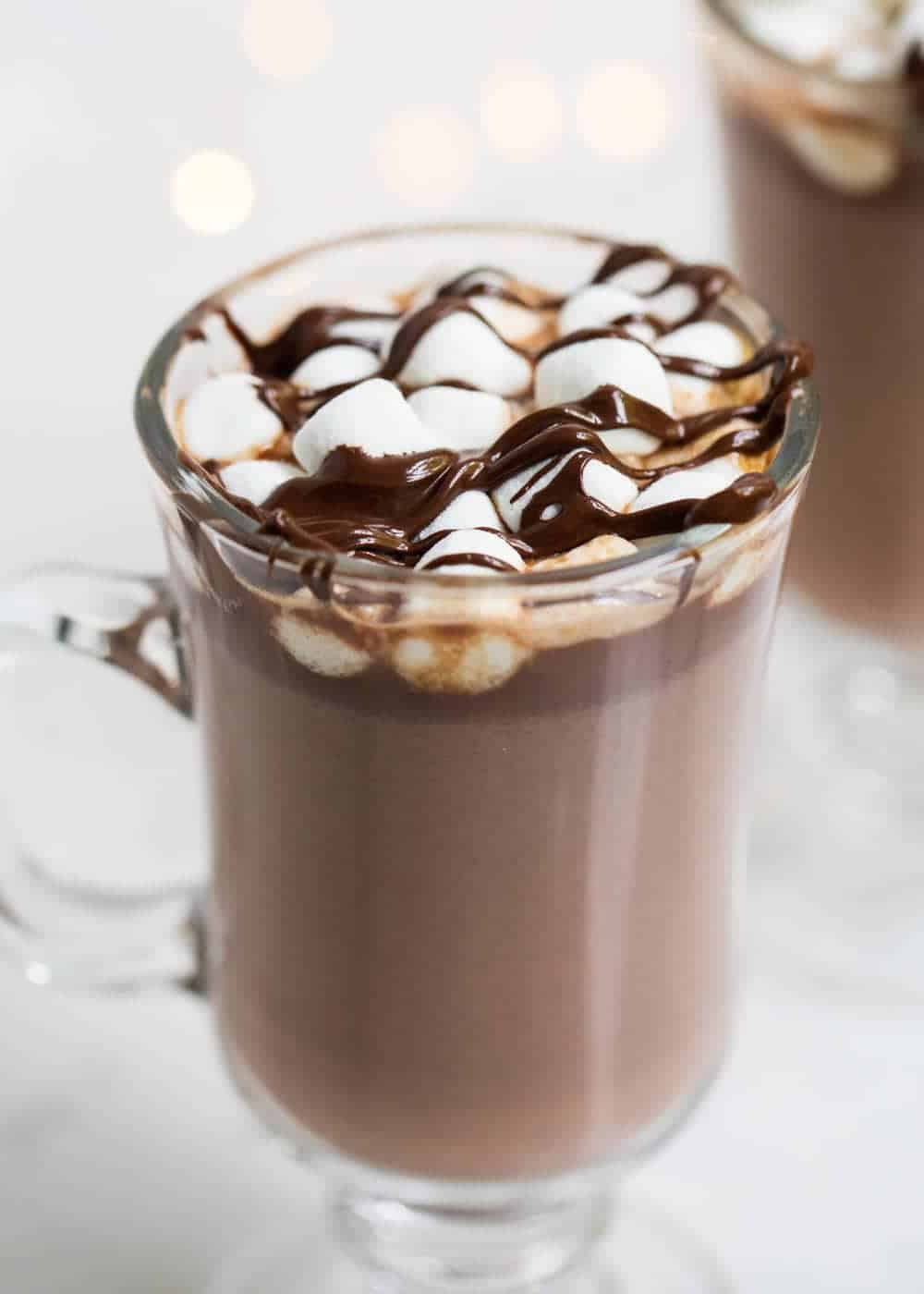 Favorite Toppings
Around Christmas, we love to top our hot chocolate with mini marshmallows and crushed candy canes. You can even add in a candy cane stick to make it look festive and taste a tad minty. Adding an Andes mint to the bottom of the cup tastes amazing too ;)
Cinnamon
Pinch of salt
Mini marshmallows
Crushed peppermint
Chocolate shavings
Sprinkles
Serving a Crowd?
Set up a hot chocolate charcuterie board with an arrangement of all your favorite toppings! This is a fun and interactive way for your guests to prepare their own mug of hot chocolate, while also including a few holiday treats for them to nibble on!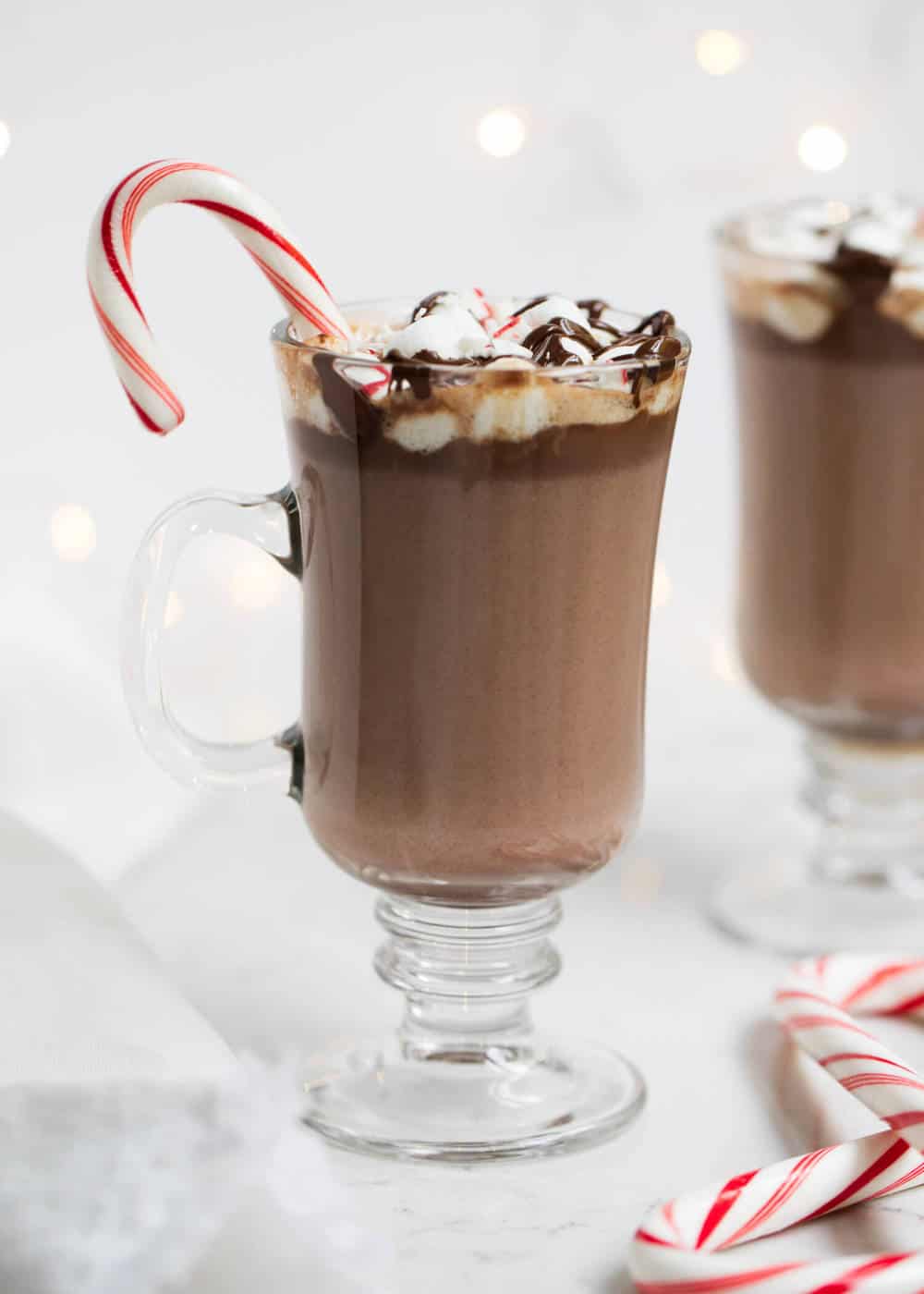 More Holiday Drinks to Try
HUNGRY FOR MORE? Subscribe to my newsletter and follow on Facebook, Pinterest and Instagram for all the newest recipes!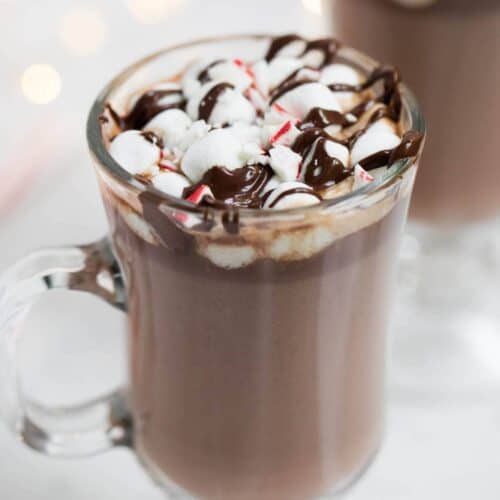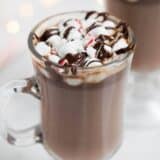 Homemade Hot Chocolate
A rich and creamy homemade hot chocolate that tastes heavenly on a cold winter day. Only takes 5 ingredients and 10 minutes to make!
Ingredients
3 ½ cups low-fat milk (more to taste)
½ cup heavy cream (can sub with milk for a thinner cocoa)
¾ cup semi-sweet chocolate chips (use 1 cup for rich chocolate flavor)
¼ cup granulated sugar
1 teaspoon vanilla extract
Optional: Pinch of salt, pinch of cinnamon, mini marshmallows, crushed candy canes, whipped cream
Instructions
Combine the milk, cream and chocolate chips in a saucepan over medium low heat. Cook until the chocolate has melted, whisking frequently.

Whisk in the sugar and cook an additional 2 minutes. Taste and add more milk or sugar if desired. Once warm, remove from heat and stir in vanilla. Add a pinch of salt and cinnamon if desired.

Pour into glasses. Top with mini marshmallows or whipped cream if desired. Serve while warm.
---
Notes
If you find the hot chocolate too sweet, add an extra 1/2 cup milk or water. If you want a more bitter hot chocolate, try using 1/4 cup dark cocoa powder and 1/2 cup dark or bittersweet chocolate.
Nutrition
Calories: 453kcal | Carbohydrates: 41g | Protein: 9g | Fat: 28g | Saturated Fat: 17g | Cholesterol: 59mg | Sodium: 112mg | Potassium: 503mg | Fiber: 3g | Sugar: 35g | Vitamin A: 665IU | Vitamin C: 1mg | Calcium: 288mg | Iron: 2mg
Nutrition provided is an estimate. It will vary based on specific ingredients used.
Did you make this recipe? Don't forget to give it a star rating below!