Crockpot applesauce made with only four simple ingredients and SO delicious! Once you've made this homemade version, you'll never go back to store-bought. It's an easy and fresh fall treat!
If you have an abundance of apples, you will also love this crockpot apple butter and homemade apple cider also made in the slow cooker!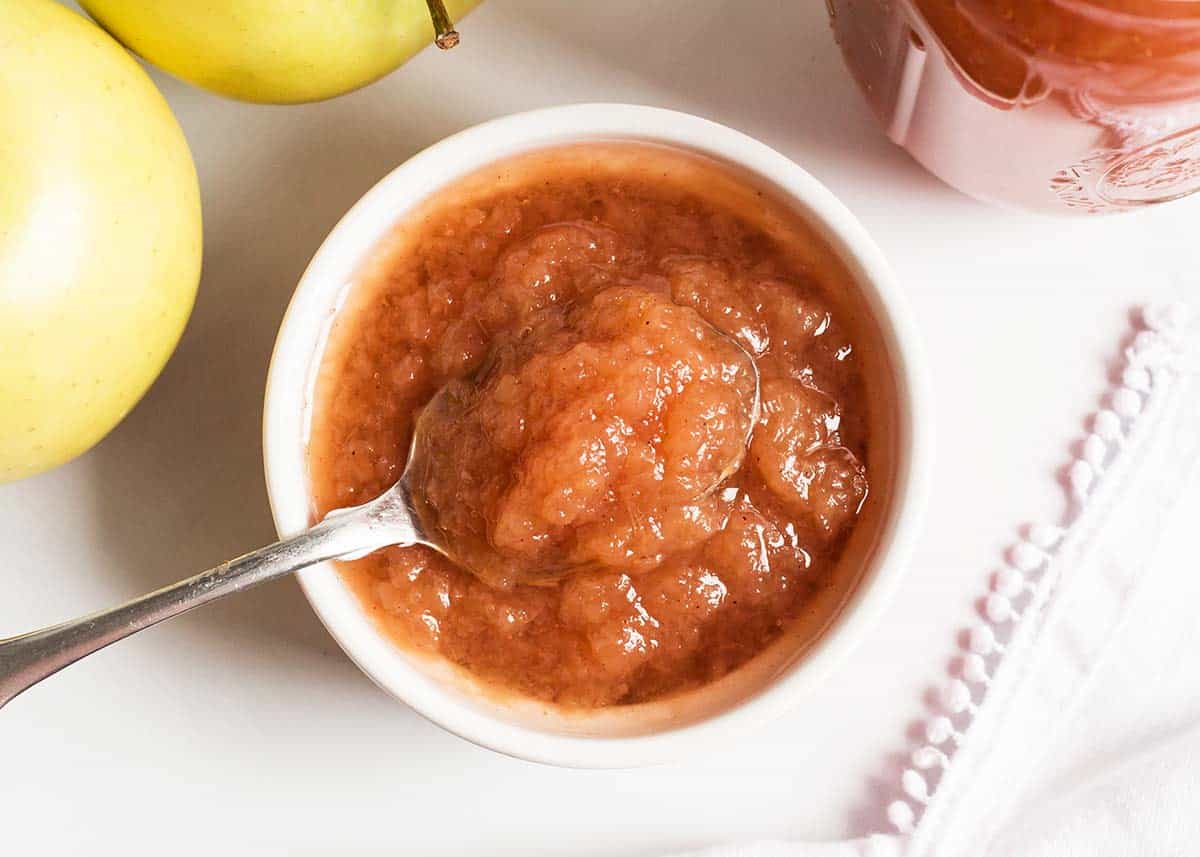 Crockpot Cinnamon Applesauce
I love all things fall, especially all the delicious apple desserts. You just can't beat a slice of Dutch apple pie, a plate full of apple cobbler, or simply an applesauce muffin!
One great way to use apples is by making homemade applesauce. Applesauce in the slow cooker is so easy to do! Stick it all in the crockpot and a few short hours later, the most flavorful, delicious homemade applesauce you could ever imagine.
Recipe Ingredients
Simple ingredients make the best applesauce using this crockpot recipe!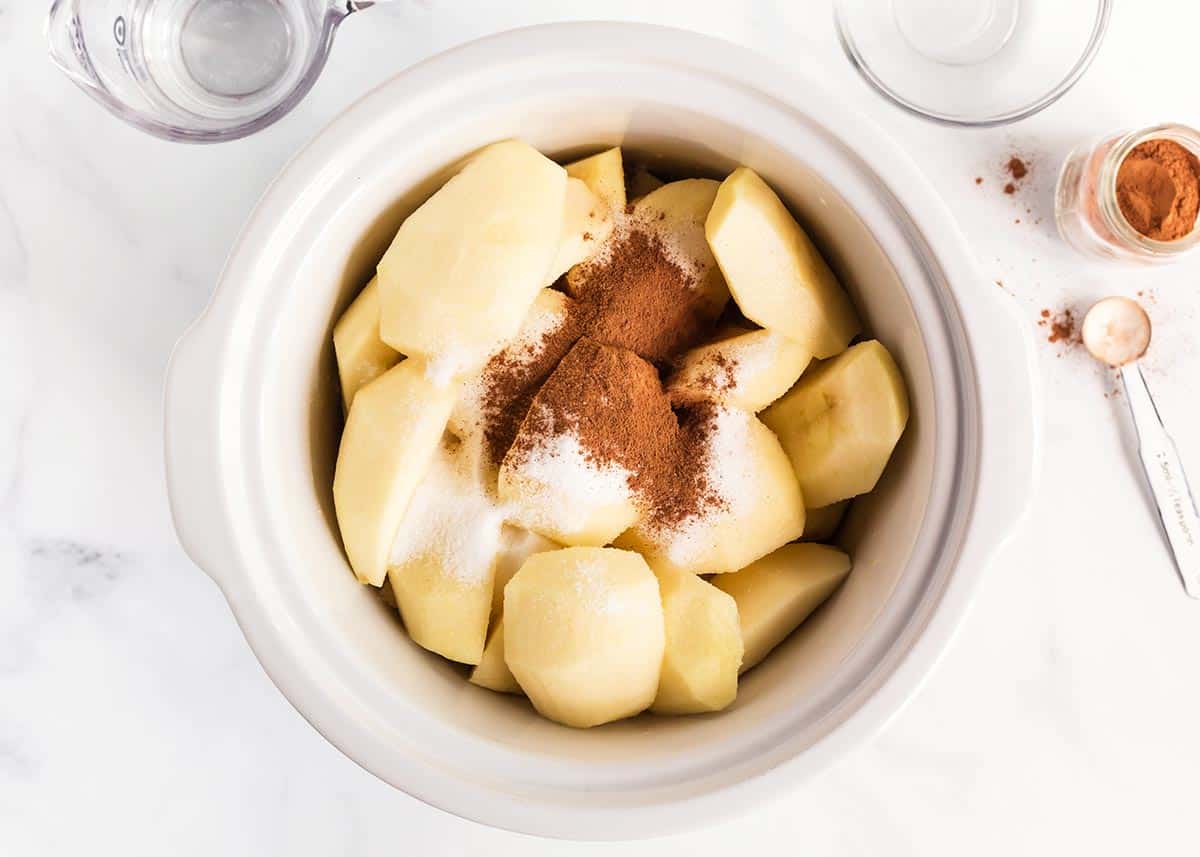 Find the full printable recipe with specific measurements below.
Apples: In my opinion, the best apples to use are golden and delicious. They are sweet, firm, and crisp, which makes them perfect for applesauce.
Sugar: Although the applesauce is naturally sweet, I like to add in a small amount of sugar for an extra boost of sweetness. Feel free to add as much or as little sugar as you prefer.
Water: This is added to help give it the perfect consistency. The juices from the apples will also create some liquid, so you don't need to add a lot of water.
Lemon juice: This helps to brighten and balance out the flavors.
Cinnamon: Mixing in spice is optional, but I love the flavor it adds. Cinnamon is my favorite, but feel free to mix in others like nutmeg, allspice, apple pie spice, pumpkin pie spice, cloves, or cardamom.
How to Make Homemade Crockpot Applesauce
You will love how easy this crock pot applesauce is to make! Skip the store-bought and make this special crockpot applesauce, your family will love it!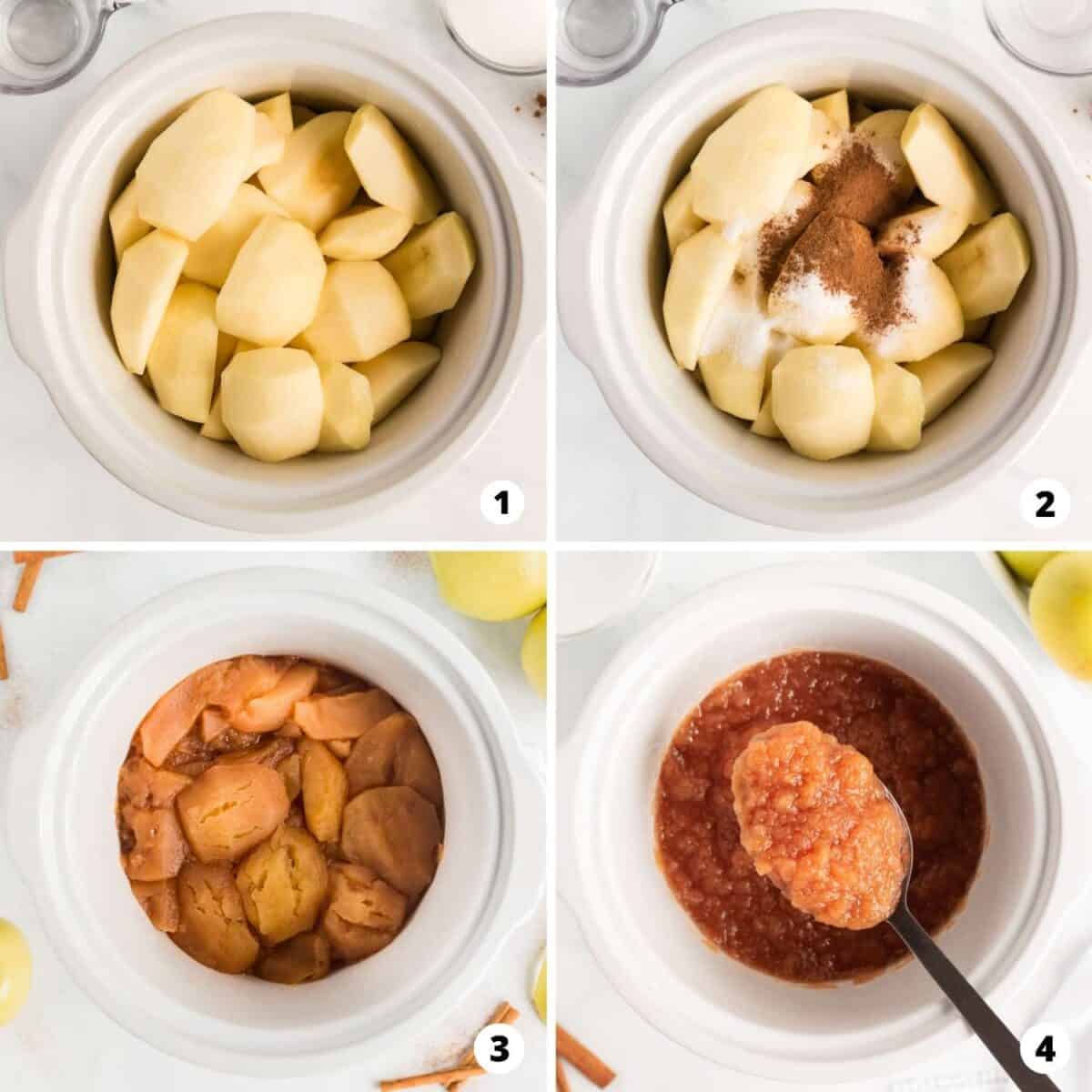 Slice. Peel and core the apples. Then slice them into fourths and place them in the crockpot.
Mix. Toss the apples in lemon juice and then add in sugar and cinnamon (if desired), stirring to combine. Pour in the water and then cover with the lid.
Cook. Cook on HIGH for 3 to 4 hours, or until apples are very soft.
Blend. Allow to cool slightly and then mash with a potato masher or put in the blender for a smoother texture.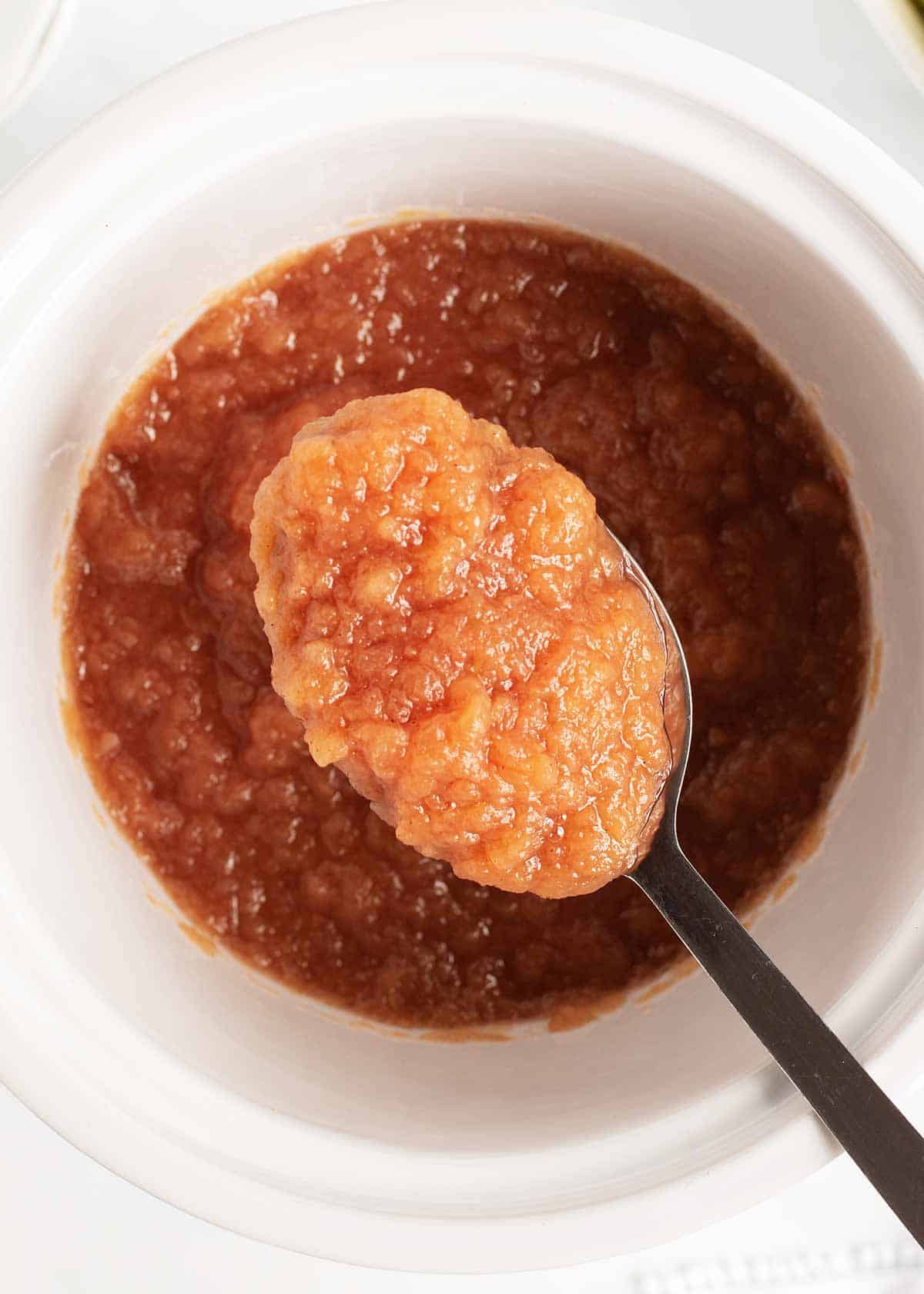 Helpful Tips
Here are a few of your favorite tips to make this crockpot apple sauce even better! It is loaded with flavor and simple ingredients. This slow cooker applesauce recipe is the perfect combination!
Size of apples. I used 12 medium apples, which weighed about 4 to 5 pounds in total. Because the size of each apple can differ so greatly, you may want to weigh your apples to ensure you have enough. You should be able to make about 6 cups of applesauce with this amount.
Consistency. For a smoother consistency, transfer the apples to a blender (or use an immersion blender in the crockpot). For a chunkier consistency, mash the apples with a potato masher.
Sweetness. I like to add in a small amount of sugar to give it the perfect sweet taste. Start with about 1/4 cup, then taste and adjust as needed. If you add too much at first, it could be overly sweet for your taste and then you can't fix it. You could also omit the sugar altogether for a sugar-free version.
Favorite Ways to Use Applesauce
Follow these great ways to use crockpot applesauce! This is a great snack time, when baking try applesauce in place of oil, or make them into a delicious breakfast! The variations are endless with this homemade applesauce.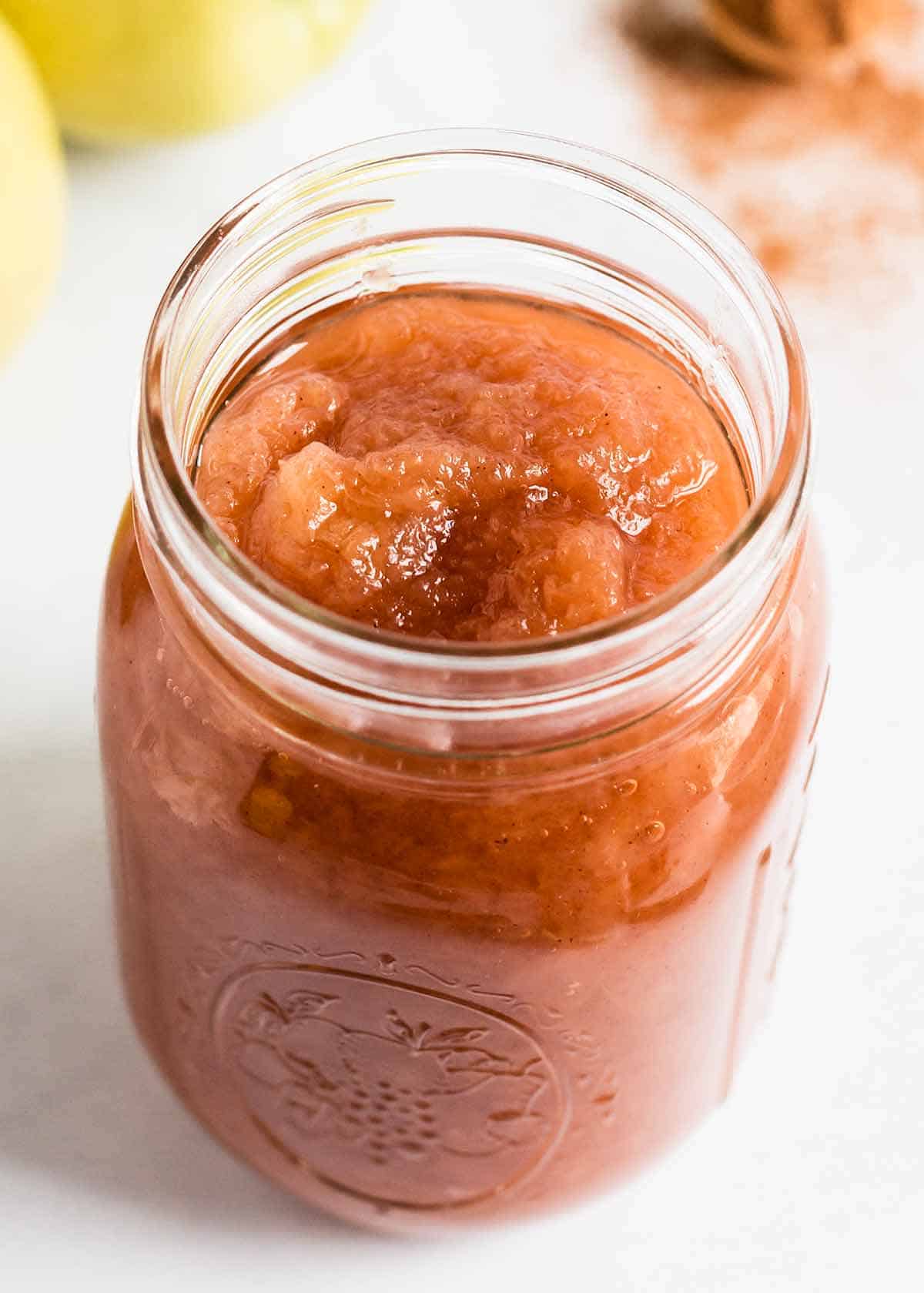 Recipe FAQs
What else can I add to this applesauce?
There are so many ways to make this recipe your own. Try it with maple syrup, dried fruit (like apricots or cranberries), cayenne pepper, or browned butter.
What is the difference between apple sauce and apple butter?
The two are made from the same ingredients, but apple butter is cooked longer, which removes water content and leads to a richer, creamier product.
Could you use apple juice instead of water?
You could, although it will make it a lot sweeter. If you do, I would cut out the sugar.
What kind of apples are best for applesauce?
The best apples for crockpot applesauce are fuji, red delicious, granny smith, pink lady, gala, or Honeycrisp apples. You can even mix two or three of the types of apples together for a sweet and savory flavor!
Can you overcook applesauce?
This applesauce recipe shouldn't overcook. You don't want to cook the applesauce too long in the slow cooker. It is a simple recipe that is 3 to 4 hours then mash the softened apples to form the applesauce consistency.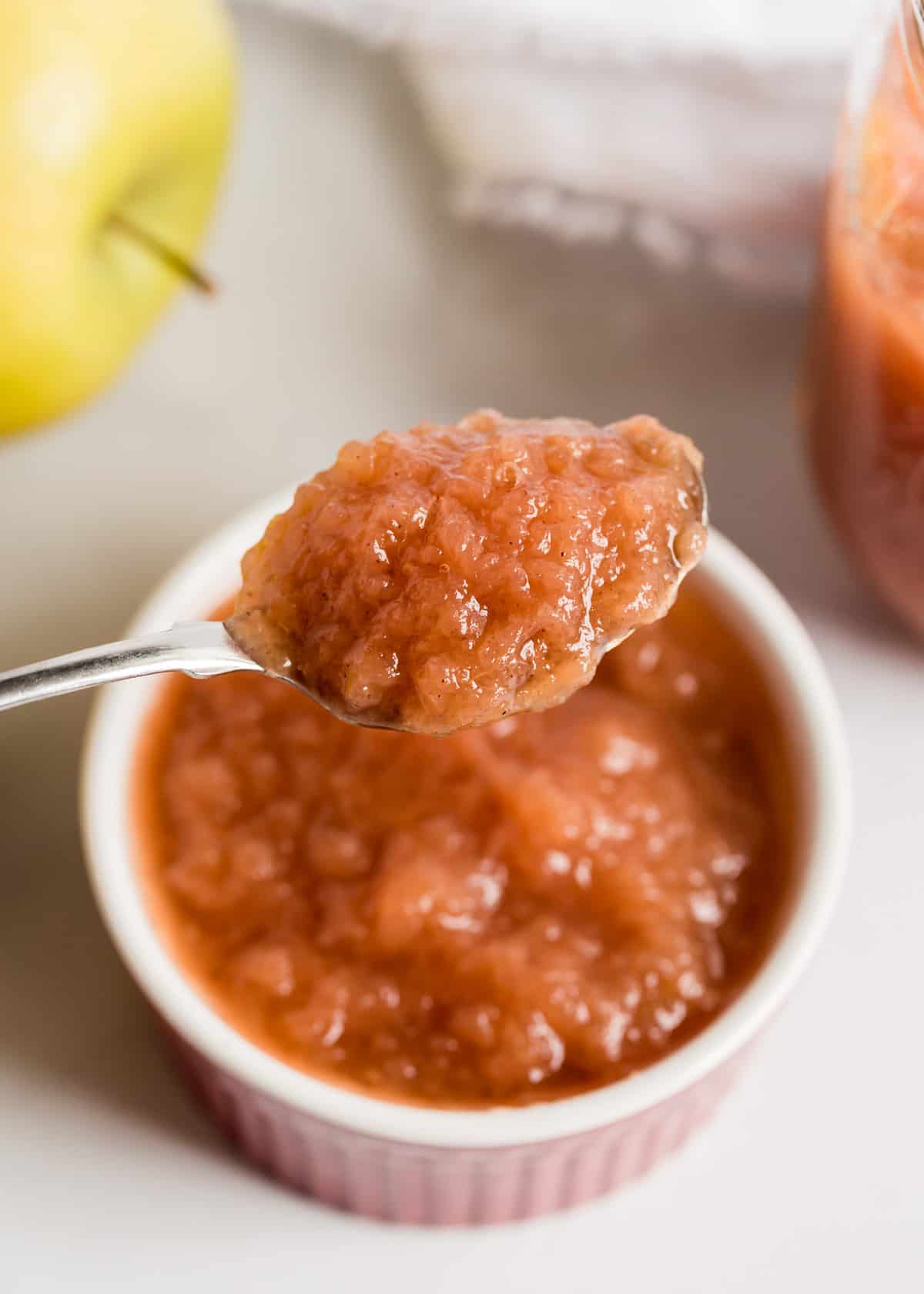 5 star review
"I love apples! And this is the best applesauce I have ever tasted. They are so fresh and easy to make."

-Sharina
Storing
This applesauce will stay fresh in the fridge for up to two weeks. Store in an airtight container or a mason jar that is sealed. I like to write the date on the lid so that I know how long it will keep, although my family usually eats it right up in a couple of days!
This apple sauce can also be frozen in a freezer-safe container or bag for up to three months. Both these options are great for storing homemade crockpot applesauce.
More Fresh Apple Recipes
HUNGRY FOR MORE? Subscribe to my newsletter and follow on Facebook, Pinterest and Instagram for all the newest recipes!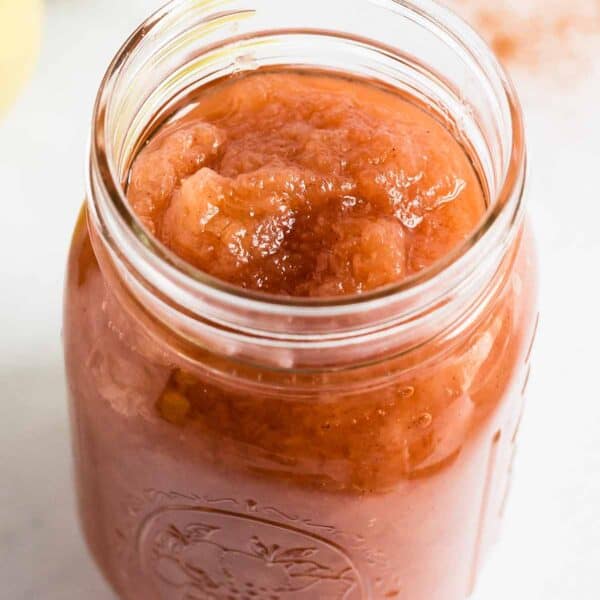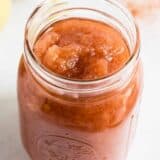 Crockpot Applesauce
Crockpot applesauce made with only a few ingredients and SO delicious! Once you've made this homemade version, you'll never go back to store bought. So easy and fresh!
Ingredients
12 medium golden delicious apples (about 4-5 pounds)
1 Tablespoon lemon juice
1/4-1/2 cup granulated sugar (more if you prefer sweeter)
½ cup water
½ teaspoon ground cinnamon , optional
Instructions
Peel and core apples. Cut into quarters and place in crockpot. Toss apples in lemon juice. Stir in sugar and cinnamon, if using, until combined. Add water and cover with the lid.

Cook on high for 3 to 4 hours, or until apples are very soft.

Let cool slightly and mash with a potato masher to reach the desired consistency or blend in the blender for a smoother texture. Store in a sealed container in the refrigerator. Enjoy!
---
Notes
Puree: You can also use a food mill or food processor to puree the apples, if you prefer. Quantity: Makes about 6 cups. Storage: This applesauce will stay fresh in the fridge for up to 2 weeks if stored in a sealed container (I prefer mason jars).
Nutrition
Calories: 111kcal | Carbohydrates: 29g | Protein: 0.5g | Fat: 0.3g | Saturated Fat: 0.1g | Polyunsaturated Fat: 0.1g | Monounsaturated Fat: 0.01g | Sodium: 2mg | Potassium: 196mg | Fiber: 4g | Sugar: 23g | Vitamin A: 99IU | Vitamin C: 9mg | Calcium: 12mg | Iron: 0.2mg
Nutrition provided is an estimate. It will vary based on specific ingredients used.
Did you make this recipe? Don't forget to give it a star rating below!