Crunchy, buttery, and bursting with apples and cinnamon, this Dutch apple pie is a must-try Fall dessert. The step-by-step instructions are easy to follow, and your family and friends will be wowed by how delicious this pie is!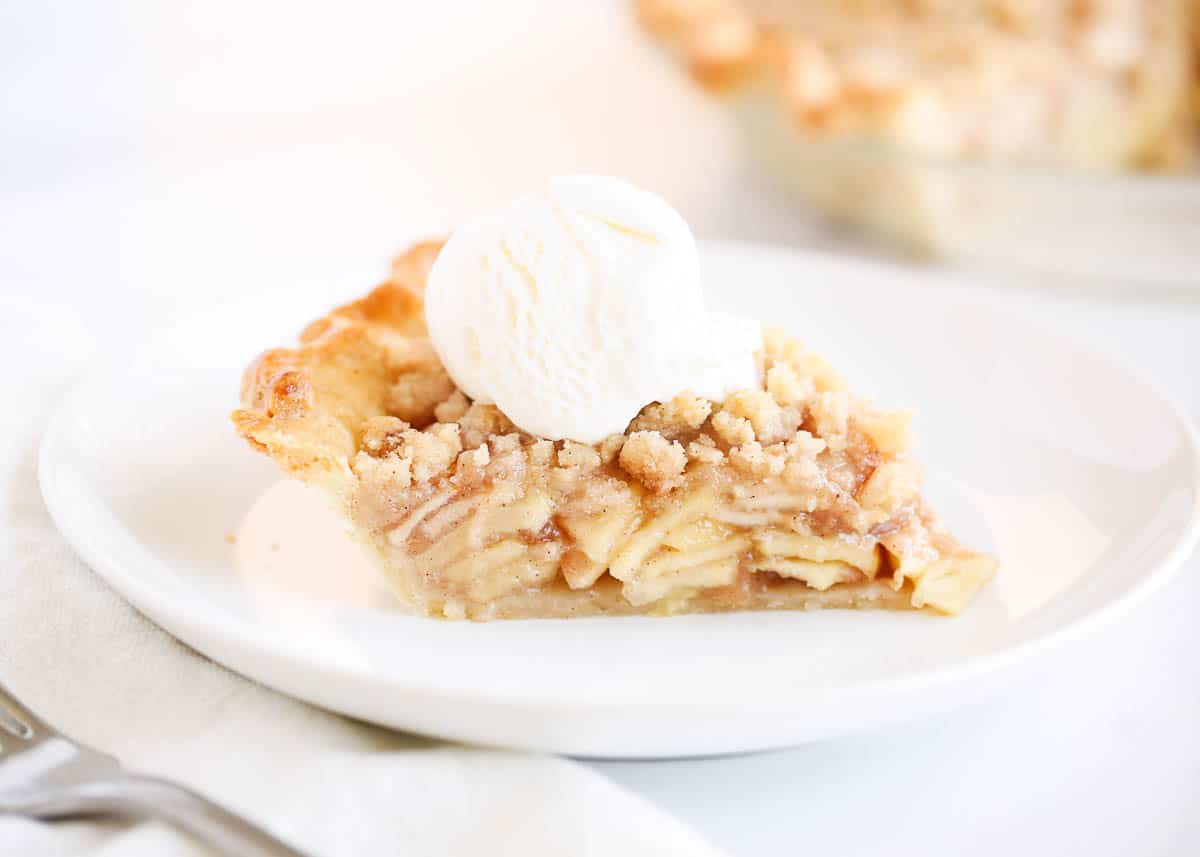 A Classic Fall Dessert
Baking apples scented with cinnamon is one of the best smells in the world, don't you agree? I'm not just saying it when I declare that this is one of the best Dutch apple pie recipes I've tasted. It's apple crumble meets pie in the best way!
The apple filling is also super simple to make and cooks right in the shell. If you'd prefer to cook your filling first, you can make my homemade apple pie filling and swap it out for the uncooked apples in this recipe.
Serve this classic dessert alongside my apple cheesecake pie on your next Fall dessert table. Your tastebuds will be glad you did! It's one of the absolute most delicious apple desserts.
Dutch Apple Pie vs Apple Pie
So, what makes it Dutch? Unlike American pies which have a traditional lattice pie crust, Dutch apple pie recipes have a regular crust on the bottom and a sweet crumble topping.
It's a little bit easier to make this type of topping rather than a lattice top and the added sweet crunch goes so well with the baked apples.
Ingredient Notes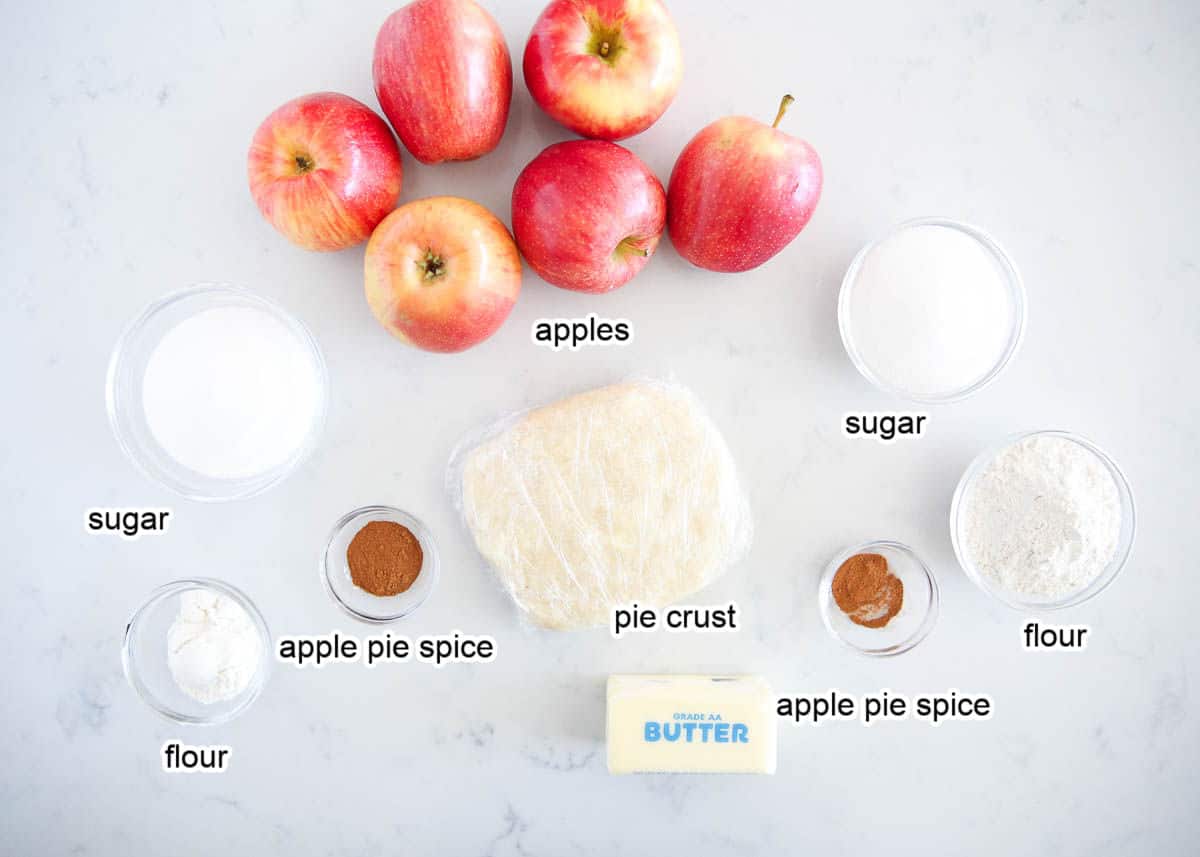 Find the full printable recipe below.
Crust: You can keep it simple by using a store-bought crust or make your own using my easy pie crust recipe or my all-butter pie crust recipe.
Apples: I prefer to use Honeycrisp, Fuji, Braeburn, Golden Delicious, or Granny Smith apples because they don't turn to mush when they are baked. You can use just one kind or a mix to add a variety of apple flavors. Make sure to slice the apple pieces to the same thickness so they bake evenly. I cut ¼" thick bite-sized pieces from the shorter edge.
Apple pie spice: You can use store-bought or it's really simple to make your own apple pie spice by mixing cinnamon, ground nutmeg, and allspice.
Crumb topping: Mix butter, flour, sugar, and pie spice. You can also add oats to make it a streusel topping. If you'd like to make it even crunchier, add some chopped walnuts or pecans. If you don't have white sugar, brown sugar can be used in its place.
How to Make Dutch Apple Pie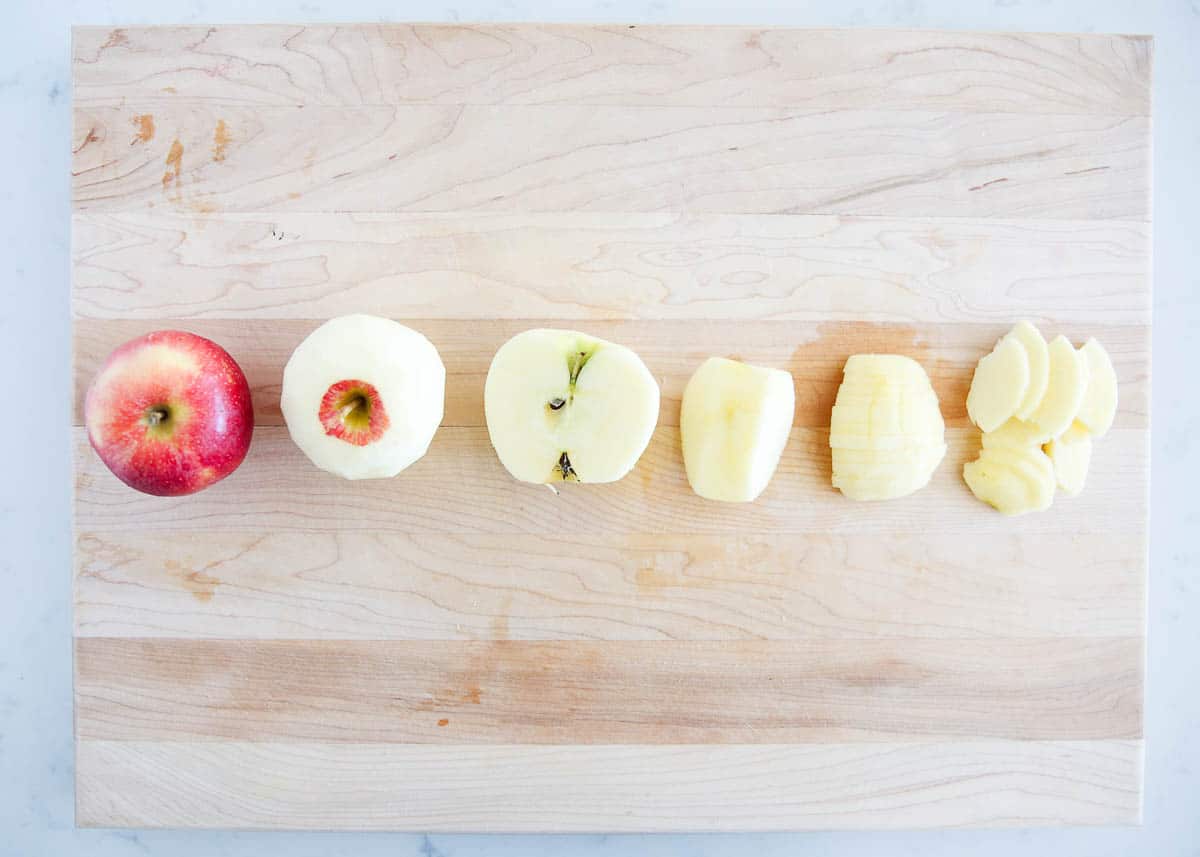 Prep Apples. Wash, peel, and core the apples before chopping them into bite-sized pieces about ¼" thick. Add them to a medium bowl and toss them with the butter, flour, sugar, and apple pie spice (or use cinnamon sugar) and let the apples sit for 5 minutes. The apples will release some juice into the bowl.
Roll out the Crust. If you're using a frozen store-bought crust, allow it to come to room temperature in the fridge before rolling. Using a rolling pin, roll out your store-bought or homemade crust into a circle a bit larger than your pie plate (about 12" round).
Transfer to a pie pan. Carefully transfer the crust to the pie plate. Fold the dough in half and then in half again and transfer it to the dish. Flute the edges of the crust for a decorative look and place it into the refrigerator until the apples are ready.
Fill crust. Pour the apples into the prepared crust in even layers and leave some of the juice in the bowl. Press the apples flat if you need to so that you have an even layer.
Sprinkle crumb topping. Sprinkle the crumb topping evenly over the apples and refrigerate for 10 minutes to let the butter firm up a bit so the crumb will bake up crunchy.
Bake. Put the pie dish on a baking sheet and cover the pie with a piece of foil. Bake at 400°F for 25 minutes then turn the temperature to 375°F and bake for another 30 minutes without the foil. Keep an eye on the crust and if it looks like it's getting too brown, cover it with foil or a pie shield.
Now here comes the hard part. I recommend letting the pie cool completely for 2 – 3 hours on a wire rack before digging in. The apple filling will thicken as it cools which will give you nice slices. Believe me, it's worth the wait!
Expert Tips
I have a few tips that will make baking even easier so your Dutch apple pie will turn out amazing every time.
Use a glass dish. Glass dishes are great because they let you see the bottom of your crust as it bakes so you can see if it's browning nicely. If you don't have a glass dish, that's ok. Use what you have and follow the timing in the recipe for the best results.
Make the crumb topping first. You want the butter in the topping to be cold when it goes into the oven. This will ensure that it is crunchy after it bakes. Make the topping before you start anything else and pop it into the fridge until you need it.
Slice apples evenly. Slice the apples into even-sized pieces so that they all cook evenly.
Add a bit of lemon juice. For a bit of extra tart apple filling, a squeeze of citrus is just the thing.
Test apples for doneness. Use a small paring knife to pierce the apples to see if they are baked. They should be soft, and the knife should go through them easily.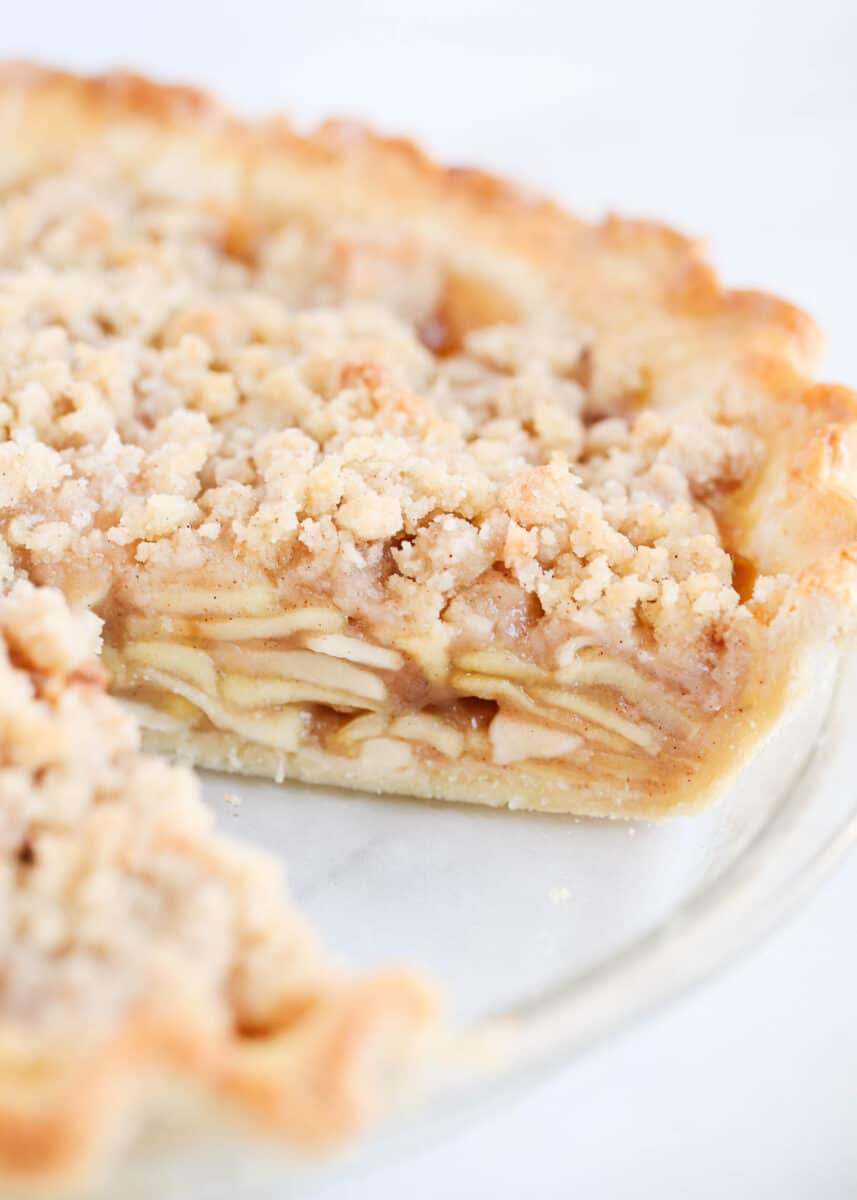 Serving Suggestions
You can serve each slice as is or dress it up with:
Make Ahead Tips
You can prepare some of the pieces in advance so they're ready to use when you're planning to bake.
Crust: If you make a homemade crust, you can prepare it in advance and store it in the freezer, wrapped tightly in plastic wrap and stored in a freezer bag for up to 3 months. Thaw your crust in the refrigerator before rolling it out.
Topping: Mix the topping the day before and keep it covered in an airtight container in the fridge until you're ready to sprinkle it over the top of your Dutch apple pie.
Recipe FAQs
How do I know when my pie is done?
Follow the timing in the recipe and check to see that your apple filling is starting to bubble at the edges of the crust. The apples should be soft when pierced with a knife and the crust and topping should be golden brown.
How do you keep it from getting soggy?
Letting the apples sit in the flour, sugar, and spice for a few minutes helps to draw out some of the juices from the apples, so don't skip this step! Discard most of the juice before adding the apples to the crust.
Does it need to be refrigerated?
Due to the filling containing sugar that helps to preserve the apples, it's not necessary to refrigerate it if you're planning on eating it within the next day or two. Any longer than that, you will want to store it in the fridge.
Storage Instructions
This classic treat never sticks around long in our house, but when we do have leftovers, they store beautifully.
To store: It will hold up at room temperature after baking for 24 – 48 hours before you serve it. Make sure you wrap it tightly in plastic wrap to keep it fresh. If you want to store it for longer, keep it tightly wrapped in the refrigerator for up to 4 days.
To freeze: Flash freeze the apple crumble pie on a baking sheet until solid. Once it is, wrap it tightly in plastic wrap and a layer of foil. This helps to avoid freezer burn. Store it in a freezer-friendly bag for up to 3 months.
To reheat: The best way to reheat Dutch apple pie is in the oven. Place the whole pie or slices onto a baking sheet lined with parchment and heat in an oven at 350°F for 15 minutes. Heating in the oven keeps the crust crispy.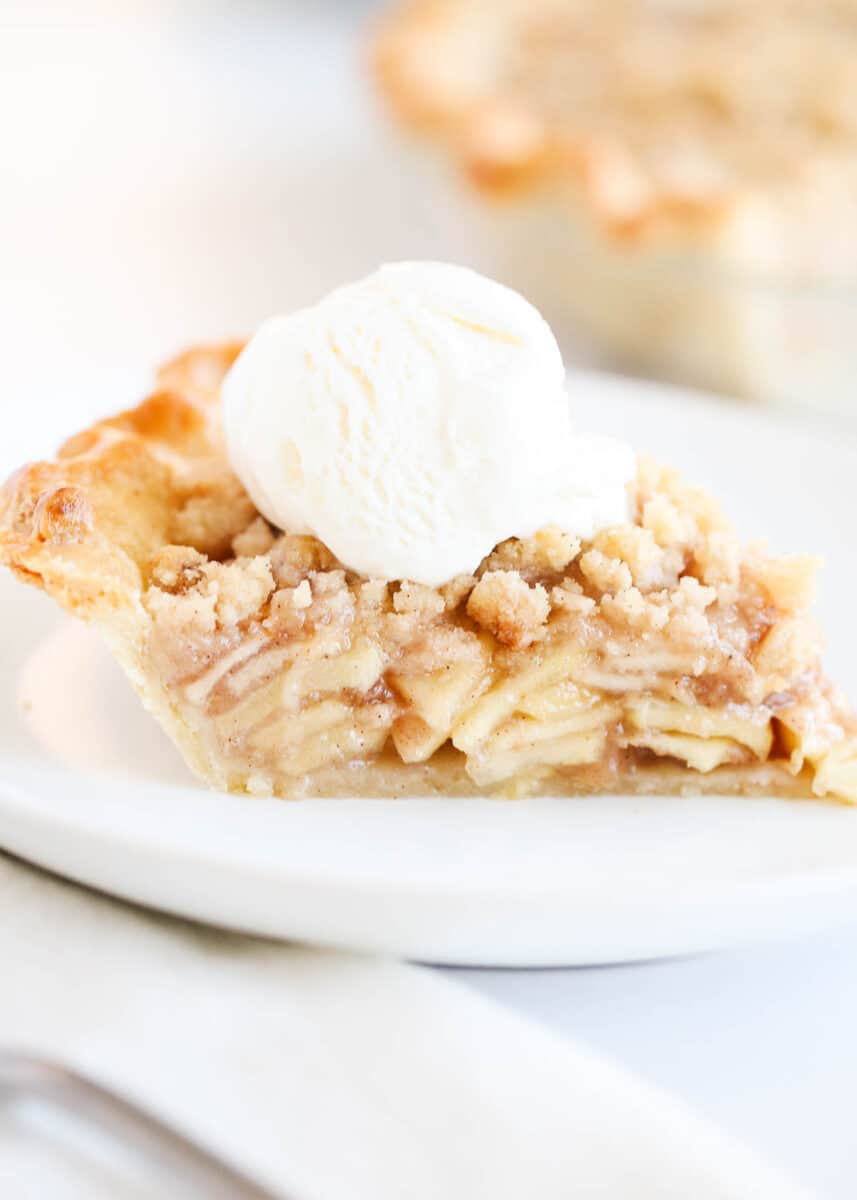 HUNGRY FOR MORE? Subscribe to my newsletter and follow on Facebook, Pinterest and Instagram for all the newest recipes!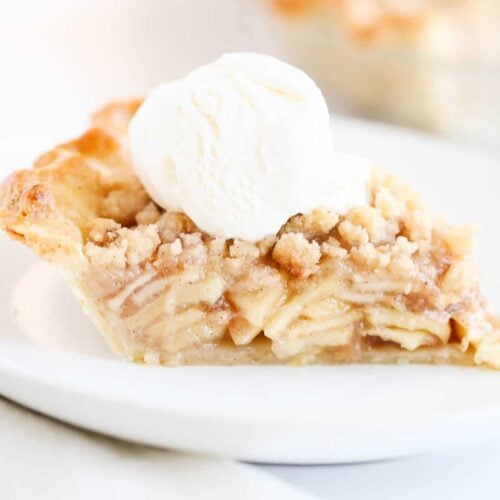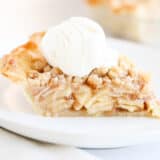 Dutch Apple Pie
Crunchy, buttery, and bursting with apples and cinnamon, this Dutch apple pie is a must-try Fall dessert. The step-by-step instructions are easy to follow, and your family and friends will be wowed by how delicious this pie is!
Ingredients
Crust
1 store-bought or homemade pie crust
Filling
½ cup (100 grams) granulated sugar
¼ cup (32 grams) all-purpose flour
2 teaspoons apple pie spice (see notes)
6 apples , peeled and sliced 1/4-inch thick (about 600 grams cut)
Crumb Topping
½ cup (65 grams) all-purpose flour
4 Tablespoons (57 grams) salted butter , melted
½ cup (100 grams) granulated sugar
½ teaspoon apple pie spice
For serving: Vanilla ice cream
Instructions
Preheat the oven to 400°F. Place a baking sheet on the middle rack.
Crust
Roll out pie crust on a floured surface to about 12 inches round. Fold in half and then into a quarter and transfer to your pie dish. Flute edges, if desired. Place in the refrigerator until ready to fill.
Filling
In a large bowl, combine sugar, flour, and apple pie spice. Add apples and toss lightly with spice mixture. Let sit 5 minutes.
Crumb Topping
In a small bowl, mix together flour, butter, sugar, and apple spice with fingers or a fork until crumbly (do not overmix).

Add the apples in even layers into the pie crust, leaving some of the juice in the bowl. Turn apples and press flat, if needed. Sprinkle the crumb topping evenly over the apples. Refrigerate 10 minutes to allow the butter to firm up a bit.

Place the pie dish on top of the baking sheet in oven. Lightly place a piece of foil over the top. Bake 25 minutes and turn the temperature down to 375°F. Remove the foil. Cook an additional 30 to 35 minutes, or until the apples are fork tender and the topping is golden brown. Cover the crust with foil or a pie shield if the crust is browning too fast before the apples are done.

Remove pie from oven and let cool completely on a cooling rack to thicken (about 2 to 3 hours). Serve the pie with vanilla ice cream, if desired.
---
Notes
Apples: I prefer to use Honey Crisp, Granny Smith, Fuji, or Golden Delicious. You can also do a mix to add more flavors. Make sure to slice them all the same thickness (or they won't bake properly). I like to cut them from the shorter edge so the pieces are bite-sized. Apple pie spice: If you don't have apple pie spice, mix together 1 1/2 teaspoons cinnamon, 1/4 teaspoon ground nutmeg, and 1/4 teaspoon allspice. Variation: If you'd like to add nuts, you can add chopped walnuts or pecans in with the crumble topping before baking. Make-ahead: This pie can be baked 24 to 48 hours in advance.
Nutrition
Serving: 1g | Calories: 334kcal | Carbohydrates: 61g | Protein: 3g | Fat: 10g | Saturated Fat: 5g | Polyunsaturated Fat: 1g | Monounsaturated Fat: 3g | Trans Fat: 0.2g | Cholesterol: 13mg | Sodium: 110mg | Potassium: 158mg | Fiber: 4g | Sugar: 35g | Vitamin A: 208IU | Vitamin C: 5mg | Calcium: 18mg | Iron: 2mg
Nutrition provided is an estimate. It will vary based on specific ingredients used.
Did you make this recipe? Don't forget to give it a star rating below!