Loaded with chunks of apples and rolled in buttery cinnamon sugar, these cinnamon apple muffins are easy to make for breakfast or snack and are a family favorite during the fall!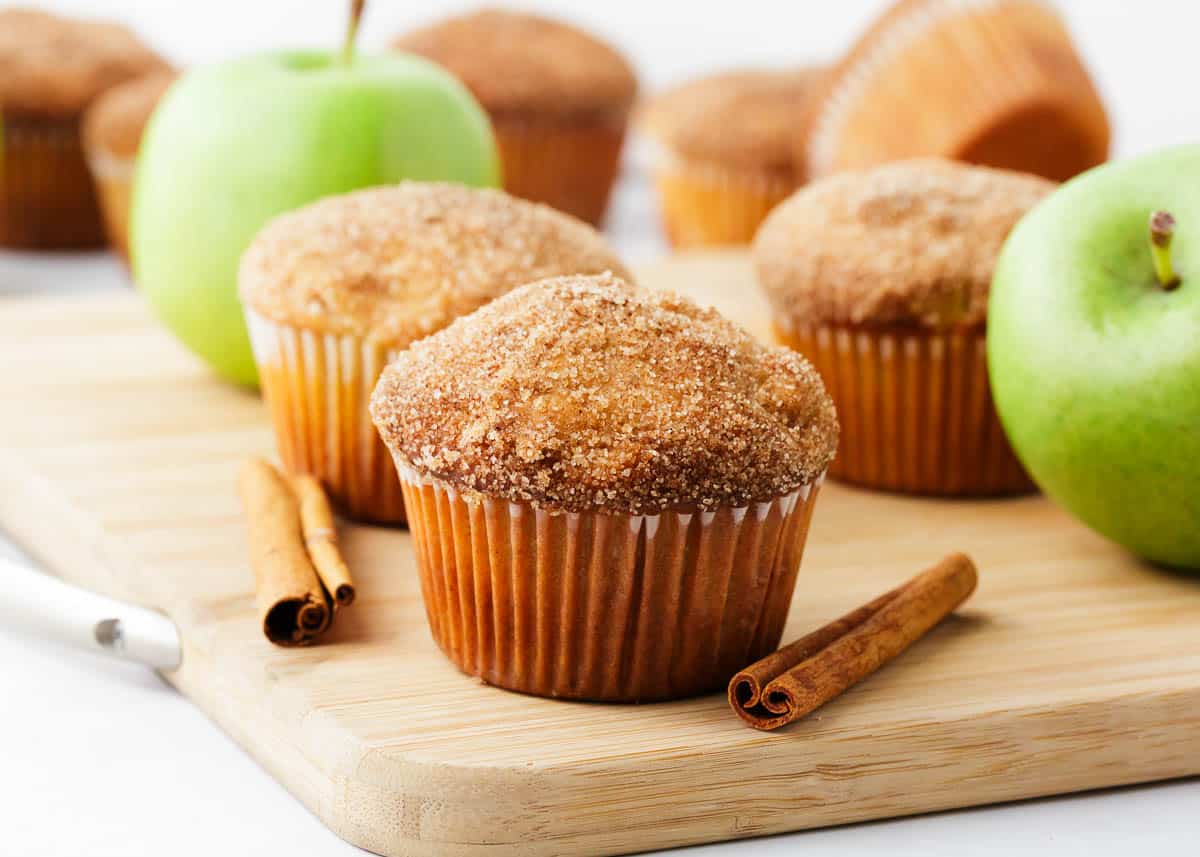 Apple Cinnamon Muffins
Kids and adults love these tasty cinnamon apple muffins. They are delicious can be prepped in just 15 minutes. During the fall we love making these and apple crepes for snack or breakfast!
These apple muffins are perfectly moist and fluffy with sweet chunks of freshly chopped apples mixed throughout. They're finished off with a buttery cinnamon sugar topping that adds a rich sweet flavor. The flavors and textures are so delicious!
I love to make a big batch of these and my applesauce muffins then freeze half for an easy on-the-go option. They reheat nicely and are a treat my whole family loves to reach for. These are definitely some of my new favorite fall snacks, along with these easy pumpkin muffins with a cake mix and pumpkin banana bread.
Enjoy as an easy breakfast along with a cup of hot chocolate, a snack for the road, or as an indulgent apple dessert (along with my apple cobbler or apple dump cake) to curb your sweet tooth. These apple cinnamon muffins are so versatile!
Why This Recipe Works
Making muffins is simple and flavorful with this cinnamon apple muffin recipe! The texture is moist and soft, easy to store, and under 15 minutes of prep. They are a quick and easy muffin mix that is perfect for on the go or enjoying gathered around a table!
Texture. Soft and moist from the oil and buttermilk with chunks of fresh apples and a sandy topping of cinnamon sugar. These apple muffins have multiple layers of textures and flavors that make each bite anything but boring!
15 minutes prep. The batter is mixed together in 15 minutes or less and the muffins are then baked and ready to enjoy in just about 45 minutes from start to finish. Talk about easy.
Freezer friendly. Double the batch and freeze half of these cinnamon apple muffins for a quick grab-and-go breakfast, snack, or dessert. Add a slab of peanut butter for more protein or some apple butter to sweeten it up even more.
This apple muffin recipe comes together with a few baking staples and some popular fall ingredients and spices. Create a delicious and desirable muffin that kids to adults will love. Cinnamon apple muffins are going to be on your weekly menu plan after one try!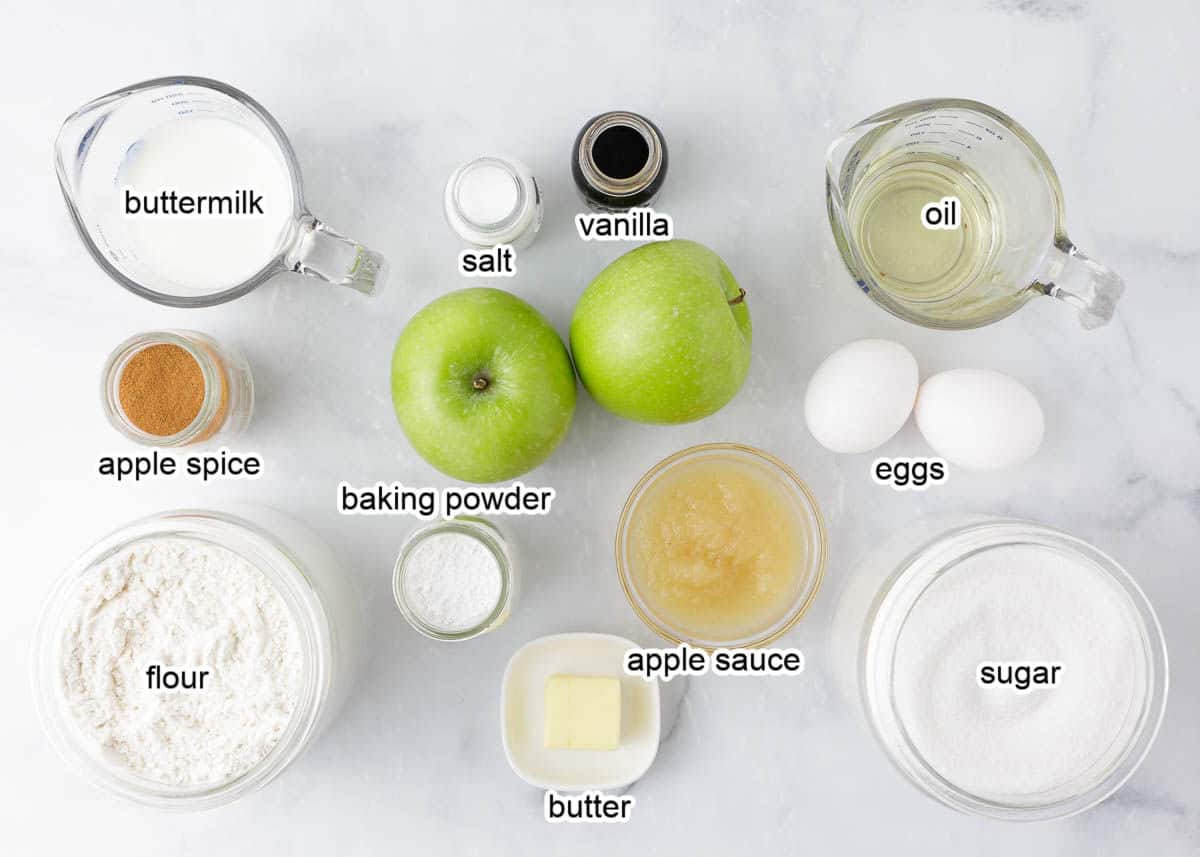 Find the full printable recipe with specific measurements below.
Apples: I love to use Granny Smith apples when making these muffins. They're sweet, and crisp and will hold their shape when baking. Peel and dice them first before using, so there isn't any tough skin included.
Baking staples: All-purpose flour, granulated sugar, eggs, vanilla, baking powder, and salt.
Spices: Add warm fall flavor by using a combination of apple pie spice and ground cinnamon.
Oil: This makes the muffins super moist and tender. Vegetable oil is my preference, but canola oil or coconut oil would also work.
Apple sauce: For even more apple flavor and a moist texture.
Buttermilk: Made with a simple mixture of milk and vinegar, buttermilk helps to make these muffins super light and soft.
Topping: Similar to my favorite Snickerdoodle muffins, melted butter, cinnamon, and sugar are added on top to give these apple muffins the ultimate finishing touch!
Substitutions and Variations
These apple muffins would taste delicious with chopped pecans or walnuts added in. You can also add more fall spices for a bolder flavor, such as nutmeg, all-spice, or cardamom.
Instead of a simple cinnamon sugar topping, feel free to use a chewier streusel topping or make an easy crumb topping. You could also leave off the topping altogether and drizzle with a sweet maple glaze instead.
How to Make Apple Muffins
Only 15 minutes of prep time is needed to whip up this recipe for apple muffins. The rest is just baking and cooling time. Follow the simple steps to make the best apple muffins with cinnamon!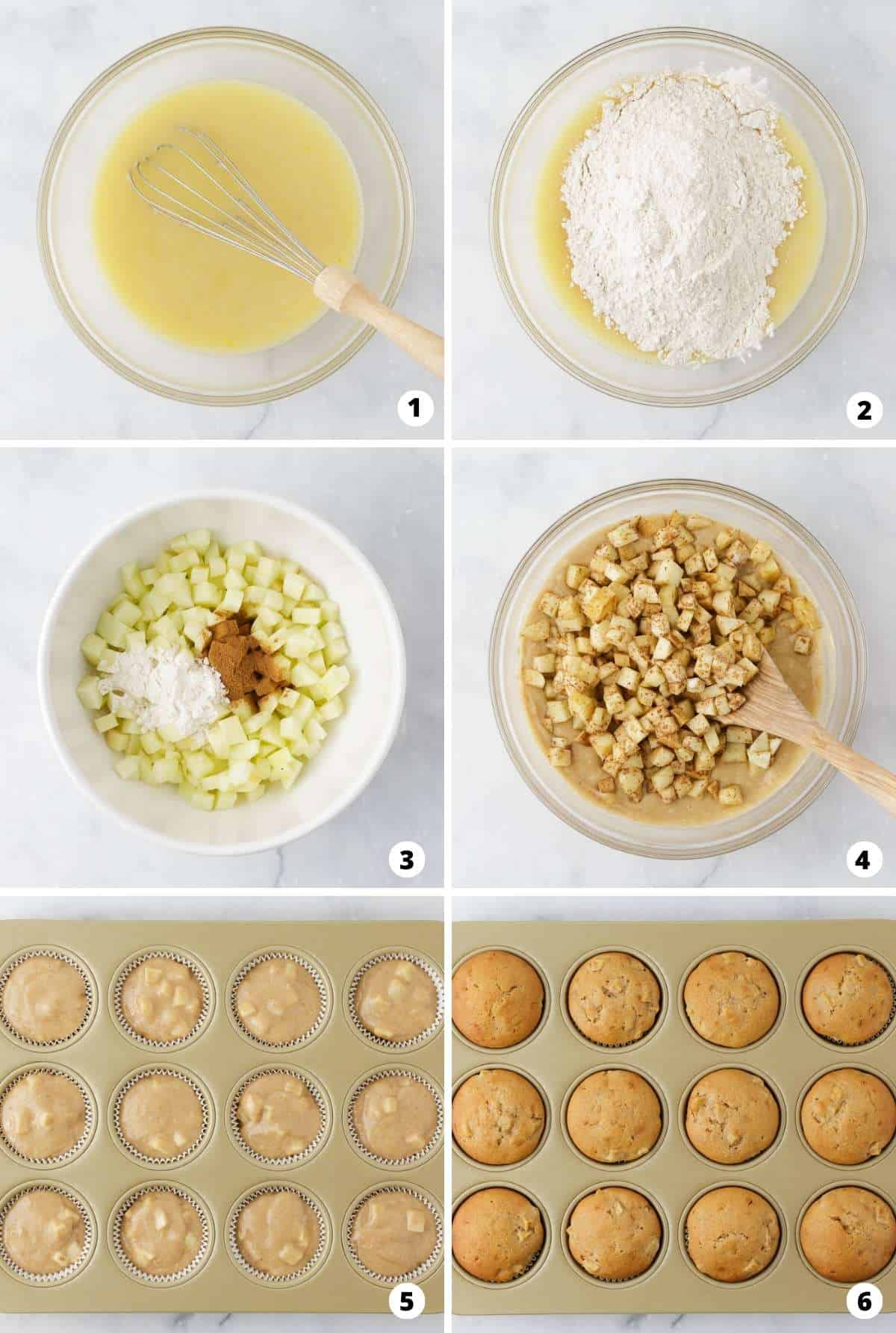 Wet ingredients. Whisk together the vegetable oil, apple sauce, and sugar in a large bowl. Add the eggs, vanilla, and buttermilk and whisk or beat until well combined.
Dry ingredients. In a small bowl, whisk together the flour, baking powder, salt, apple pie spice, and cinnamon. Pour the flour mixture into the bowl with the wet ingredients and stir until just combined. Do not over-mix.
Toss. Add the diced apples into a separate bowl and toss with a little bit of flour and cinnamon. This gives them more flavor, as well as prevents them from sinking to the bottom of the muffin pan.
Fold. Gently fold the diced apples into the batter until combined.
Fill and bake. Divide the batter evenly between the paper liners and 12-cup muffin tin and bake at 375°F for about 30 minutes. The muffins will be ready when the edges are lightly golden and a toothpick comes out clean. Then remove to a cooling rack.
Roll in cinnamon sugar. Combine the sugar and cinnamon in a small bowl. Brush the tops of the muffins with melted butter, then roll into the cinnamon sugar mixture until well coated.
Mini Muffins
You can also make these into mini apple muffins for a smaller bite. Simply bake in a mini muffin pan at 375°F for about 16 to 18 minutes. This recipe will make about 48 mini muffins.
I don't know about you, but there is just something about mini muffins that I just can't resist. They are just so fun. I have to be careful, or I can pop half a dozen in my mouth without even thinking about it!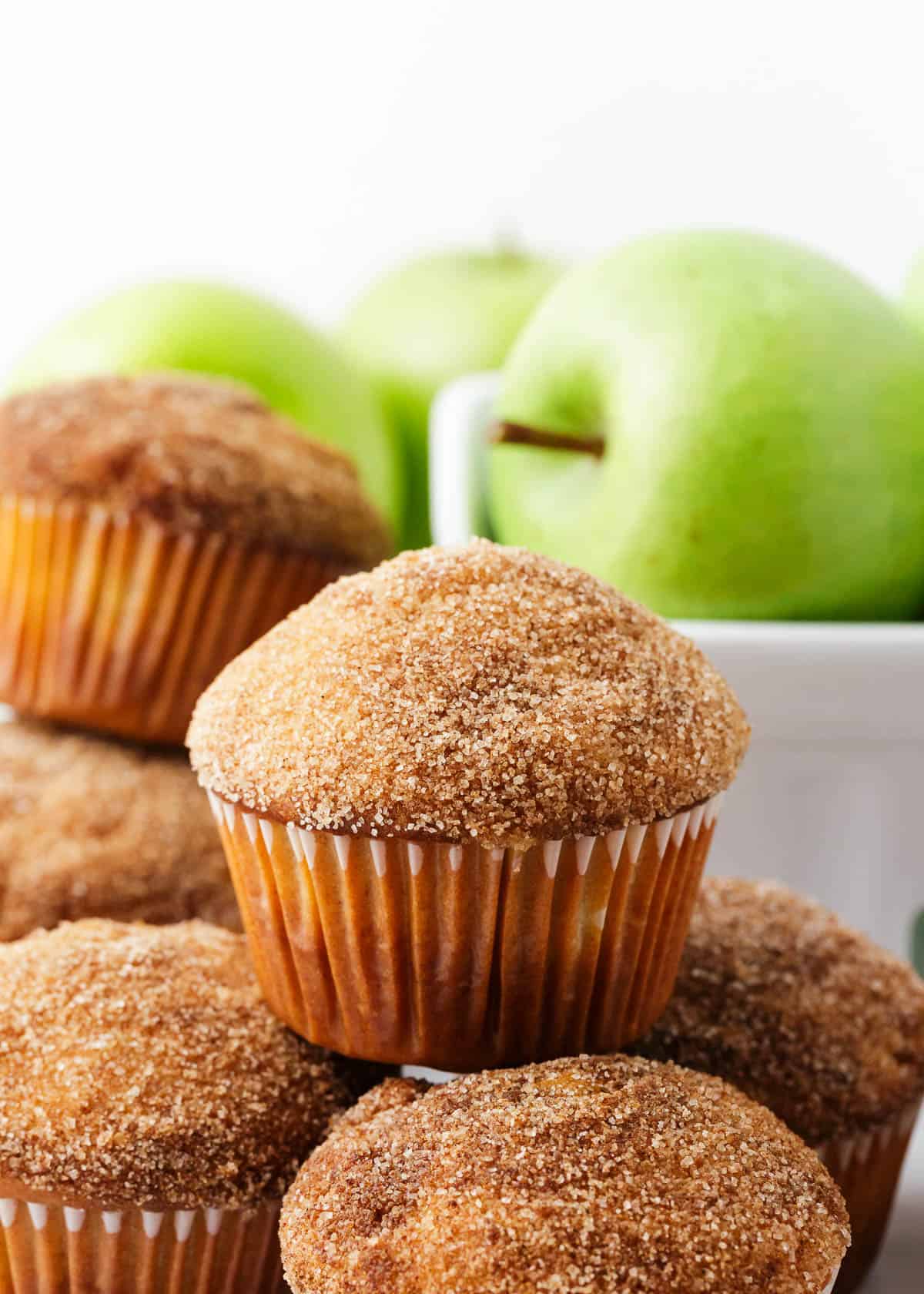 Expert Tips
These helpful tips will give you the ultimate cinnamon apple muffin recipe! Using the right apples, a hint to making your own buttermilk, or even the way you sprinkle your topping are all great tips to take these muffins to the next level!
Grating apples. For one of my trial batches, I grated the apples. We prefer the diced apples because the flavor is more pronounced. But if you have kids who don't like fruit in their muffins, go ahead and grate them. The apple muffins will be a little more dense, but still delicious!
Buttermilk. If you don't have any on hand, make your own buttermilk with a simple mixture of milk and distilled vinegar or lemon juice.
Topping. The first time I made these, I just sprinkled the tops with cinnamon sugar. They were good, but rolling them in the buttery cinnamon sugar mixture after they bake made them extra scrumptious.
Recipe FAQs
What is the secret to moist muffins?
In this case, there are a few key ingredients included in this recipe that make these easy apple muffins so moist and delicious. The apple sauce, vegetable oil, and buttermilk all contribute to the perfectly moist texture, so I wouldn't recommend making substitutions that could alter the consistency.
What are the best apples for baking muffins?
The best apples to bake with are varieties that are crisp with a sweet flavor. You want them to be able to hold their shape when baking. No one likes mushy apples!

I prefer to use Granny Smith apples in this apple muffin recipe, although Honeycrisp is another great option.
How much sugar is in apple cinnamon muffins?
Each apple muffin is going to vary due to the amount of ingredients in each cup and how full each muffin cup is filled. On average a single cinnamon apple muffin will have about 17 grams of sugar.
Will muffins rise without baking soda?
No, baking soda is a leavening agent that creates air bubbles in the batter while it is warming up. Without the baking soda, baked goods may not rise or have that airy texture.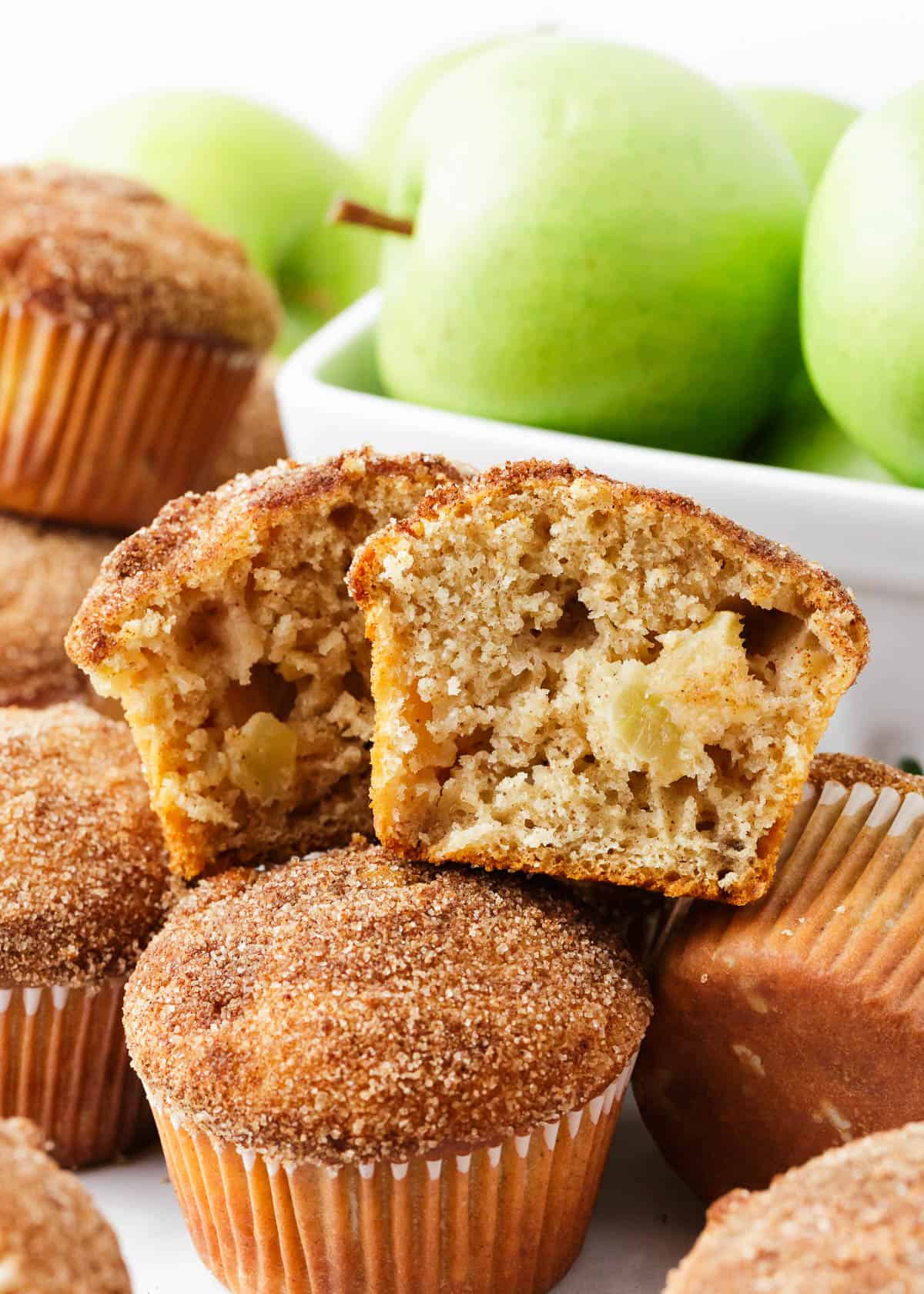 5 star review
"Great combination of flavors in these muffins. They were so good so I made a second batch and froze them for quick breakfasts during the holiday rush."

-Kristina
Making Ahead and Storing Apple Muffins
These cinnamon apple muffins are made to perfection and ready to go within 15 minutes. Serve muffins warm or the next day! These are great to share with friends and family now and even freeze for a later time. These are the best apple muffins!
Room temperature. These muffins do taste best served the first day (especially warm!) but will stay fresh at room temperature in an airtight container for up to 3 days.
Freezing. Yes, you may freeze them for up to 3 months. Let thaw at room temperature for about 1 hour prior to enjoying, or thaw in the microwave until warm.
More Delicious Fall Recipes
HUNGRY FOR MORE? Subscribe to my newsletter and follow on Facebook, Pinterest and Instagram for all the newest recipes!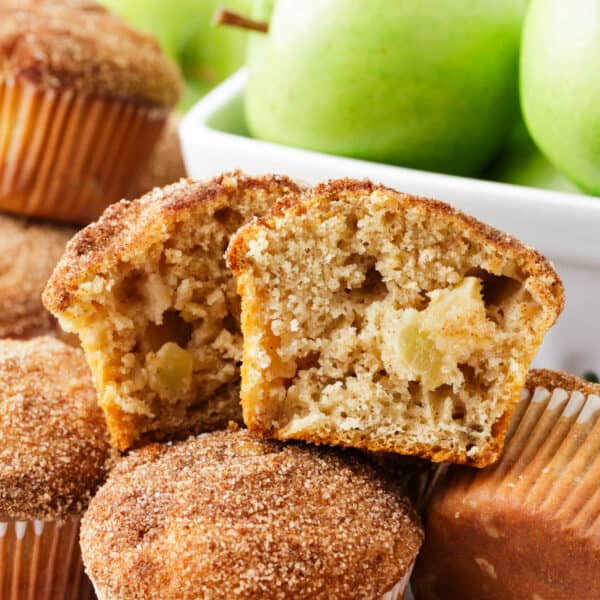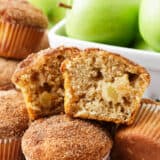 Apple Cinnamon Muffins
Loaded with chunks of apples and rolled in buttery cinnamon sugar, these easy cinnamon apple muffins are sure to become a family favorite this fall!
Ingredients
Muffins
2 Granny Smith apples , peeled and finely diced (about 2 cups)
2 cups + 2 teaspoons all-purpose flour , divided
2 teaspoons apple pie spice , see notes
1 teaspoon ground cinnamon , divided
¼ cup vegetable oil
¼ cup apple sauce
1 cup granulated sugar
2 large eggs
2 teaspoons vanilla extract
½ cup buttermilk
1 ½ teaspoons baking powder
¾ teaspoon fine sea salt or table salt
Topping
2 Tablespoons granulated sugar
1 Tablespoon ground cinnamon
2-3 Tablespoons melted unsalted butter
Instructions
Muffins
Preheat the oven to 375°F. Generously grease or line with muffin cups a 12-cup muffin tin.

In a medium bowl, toss apples, 2 teaspoons flour, and 1/2 teaspoon cinnamon.

In a large bowl, whisk together the oil, apple sauce, and sugar until combined. Beat in eggs, vanilla, and buttermilk until well combined.

In a small bowl, whisk together the remaining 2 cups flour, baking powder, salt, apple pie spice and remaining cinnamon. Stir flour mixture into wet ingredients. Fold in the apples.

Divide batter evenly between the tin cups. Bake 30 minutes, or until a toothpick inserted in the center comes out clean and the edges are golden. Remove pan from oven and place on a cooling rack.
Topping
In a small bowl, stir together the sugar and cinnamon. Brush the tops of the muffins with butter, then roll in the cinnamon-sugar mixture. Serve warm.
---
Notes
Apples: While I prefer granny smith, honey crisp also works great. If you prefer a softer apple, you can grate the apples instead of having bigger pieces. Mini muffins: You can also bake in a mini muffin pan (makes about 48 mini muffins). For mini muffins bake about 16 to 18 minutes. Apple pie spice: If you don't have apple spice you can use 1 1/4 teaspoon cinnamon, 1/2 teaspoon nutmeg and 1/4 teaspoon all-spice. Storage: Best served warm the first day. Store leftovers in a covered container up to 3 days. Freeze up to 3 months. Recipe updated 8/22
Nutrition
Serving: 1g | Calories: 315kcal | Carbohydrates: 55g | Protein: 6g | Fat: 8g | Saturated Fat: 2g | Polyunsaturated Fat: 3g | Monounsaturated Fat: 2g | Trans Fat: 0.1g | Cholesterol: 37mg | Sodium: 121mg | Potassium: 159mg | Fiber: 2g | Sugar: 23g | Vitamin A: 139IU | Vitamin C: 1mg | Calcium: 53mg | Iron: 2mg
Nutrition provided is an estimate. It will vary based on specific ingredients used.
Did you make this recipe? Don't forget to give it a star rating below!