Making your own honey baked ham recipe at home is easy to do! Juicy ham is roasted with a honey butter glaze then coated in a sugar rub and caramelized to candy-like perfection. It's perfect for the holidays!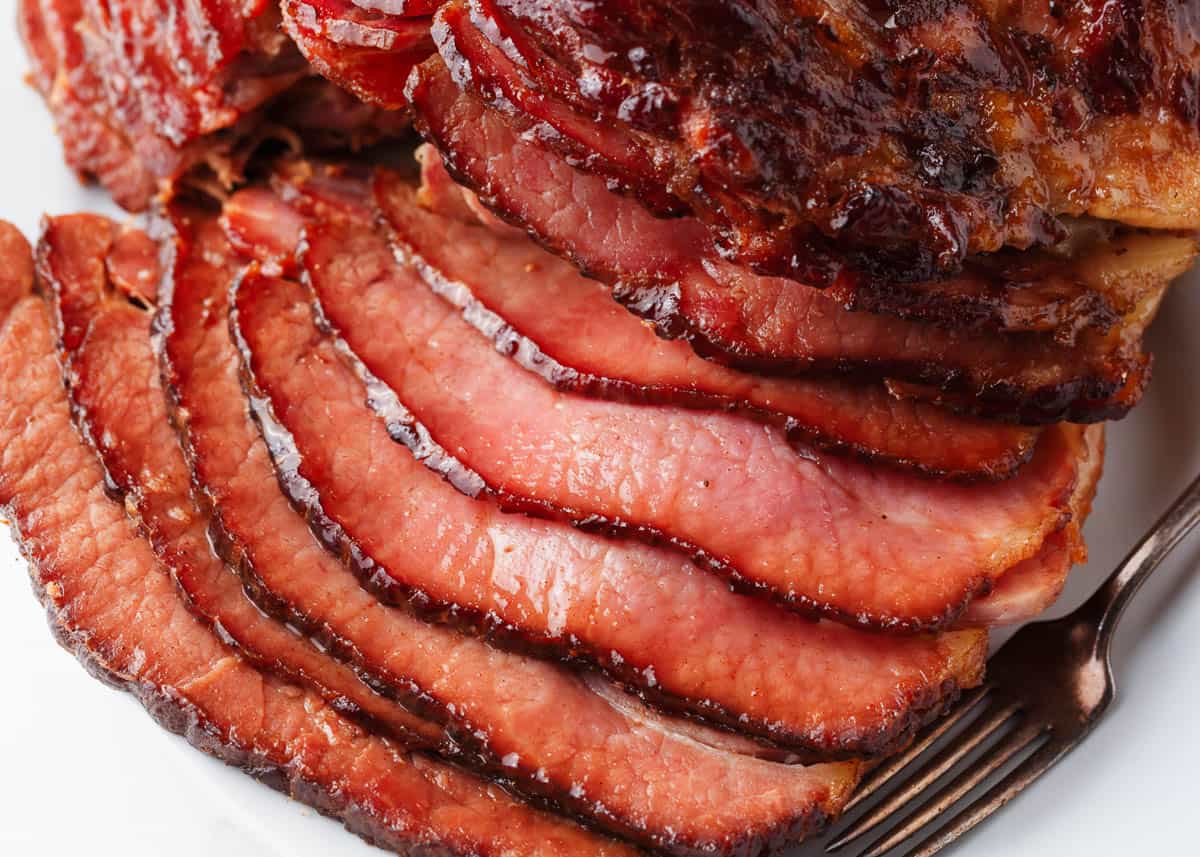 Copycat Honey Baked Ham
This honey baked ham recipe is what I'll be adding to my Easter dinner menu this year! Normally, I'd do my crockpot spiral ham or easy baked ham but this year I thought I'd try something a little different.
It's still made with a sweet honey ham glaze that coats the meat making each bite so tender and juicy. However, this time, after we slow cook it in the oven for a couple of hours we roll the spiraled ham in a sugar mixture and either broil it or torch it so that it forms a caramelized sugary crust.
When sliced, every piece will have a crystallized ring around it that crackles like candy!
This sweet, juicy homemade honey ham is an impressive showstopper of a dish. It's easy to make and so full of delicious flavor! Pair it with tasty side dishes like twice baked potatoes, glazed carrots and broccoli salad, and you've got a fuss-free feast for Easter, Thanksgiving, Christmas, or Sunday dinner!
Recipe Ingredients
Find the full printable recipe with specific measurements below.
Ham: To serve about 15 people I use a bone-in spiral-cut ham of about 7-10 lbs in weight. It comes cooked and spiraled for you, so you don't have to worry about that. The bone in the center holds it together.
Salted butter: Melted butter helps to distribute the honey mustard in an even coating overtop, in, and around the meat.
Honey: It complements the natural sweetness of the ham itself.
Dijon mustard: A tangy pungent mustard that gives the glaze a depth of flavor and balances the sweetness nicely.
Pineapple juice: We add the juice to the bottom of the pan so that the pineapple flavor infuses the meat as it creates steam keeping it flavorful and moist.
For the sugar rub: Granulated sugar, cinnamon, nutmeg, cloves, paprika, and ginger come together to make a sweet, smokey, warm sugary coating that caramelizes under high heat to form a lovely crust.
Best Type of Ham for Honey Baked Ham
The best honey baked ham recipes allow the glaze to coat the pork between the slices and not just on the surface. You can only achieve that with a spiraled ham, so that's definitely the way to go.
My recommendation is to use a bone-in ham that is spiraled and pre-cooked. Pick it up when it's on sale, even if it's frozen, and thaw the night before.
This way, using a pre-spiraled, fully cooked (whether smoked, baked, or boiled) makes things easier for you.
Variations
If you are serving a smaller crowd, you can purchase half hams if you don't want leftovers. Although, there are plenty of ways to use them, should you have some left!
Technically, if you want a boneless ham you can use it, just keep in mind the texture will be different because it's a little more processed in the way they put it back together to hold its shape.
You can also buy a non-spiraled ham and just coat the outside. Remember to remove the rind first. It won't be your classic honey ham because the flavor won't reach as far into the meat, but it'll still be nicely cooked with a caramelized outer layer.
Some alternative ingredients to use could be swapping the pineapple juice for orange juice or water and the honey for maple syrup or brown sugar.
How to Cook Honey Baked Ham
Before you begin, remove the wrapper off the ham and discard the glaze packet that it comes with. The best glazes are always better from scratch!
It's also a good idea to pat it dry with a paper towel and allow it to sit out for a bit just to get rid of any excess moisture on the surface.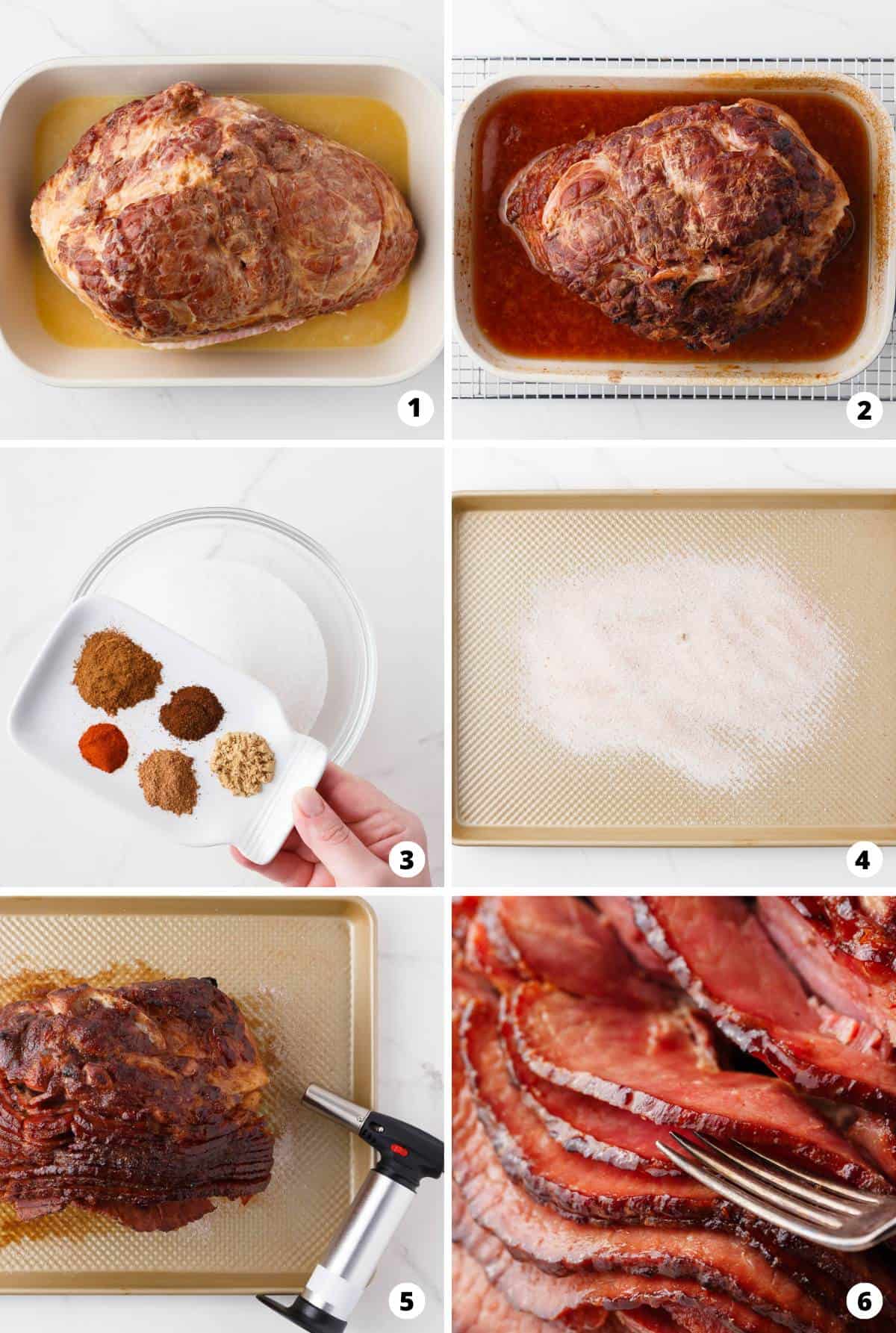 Honey ham glaze. Mix melted butter, honey, and mustard and with your hands, rub it all over and in between the spirals if desired. Place it cut-side down in a shallow roasting pan and pour the pineapple juice around it. Cover tightly with foil and bake in a preheated 325°F oven for 2 hours and 20 minutes.
Remove the ham from the oven. Keep it covered and allow it to cool for 15 minutes.
Make the sugar rub. Meanwhile, in a small bowl combine the ingredients for the sugar rub then pour 1/2 of it onto a rimmed baking sheet.
Coat the meat. Remove the foil from the ham and transfer it to the baking sheet with the sugar rub. Leave the flat part alone, however, rub the rest of the ham around in the sugar mix until it is well coated.
Caramelize the sugar crust. If you have a kitchen torch light it up. If not, turn the oven to broil and place it under the broiler instead. Do not get too close to the ham, about 1" is good, otherwise, it may burn. Move continuously in small circles until the sugar starts to bubble and turn into a hard shiny shell. Keep an eye on it, sugar can go from sweet to burnt pretty fast.
Serve it! Boil the rest of the sugar mixture on the stove until thick and serve it with the honey baked ham as a sauce. Enjoy!
Expert Tips
Bring meat to room temperature. Let sit out 30 minutes before cooking. It helps with even cooking.
How much ham to buy: For planning purposes, if you are serving honey baked ham with a few sides, plan around 3/4 pound per person of a bone-in-ham.
Remember to add liquid to the pan! It not only adds flavor but it helps keep the meat moist. Since it's already cooked, we don't want it to dry out.
Don't discard the bone! Once you've enjoyed your honey baked ham, keep the bone for homemade stock or broth to make ham and bean soup.
If your guests aren't quite ready to eat yet, keep it warm at 170°F, covered until it's served.
Let it rest. As with any meat, you want to allow it to rest once out of the oven. The juices will have a chance to settle and redistribute.
The dipping sauce mixture will harden once cooled. Reheat as needed.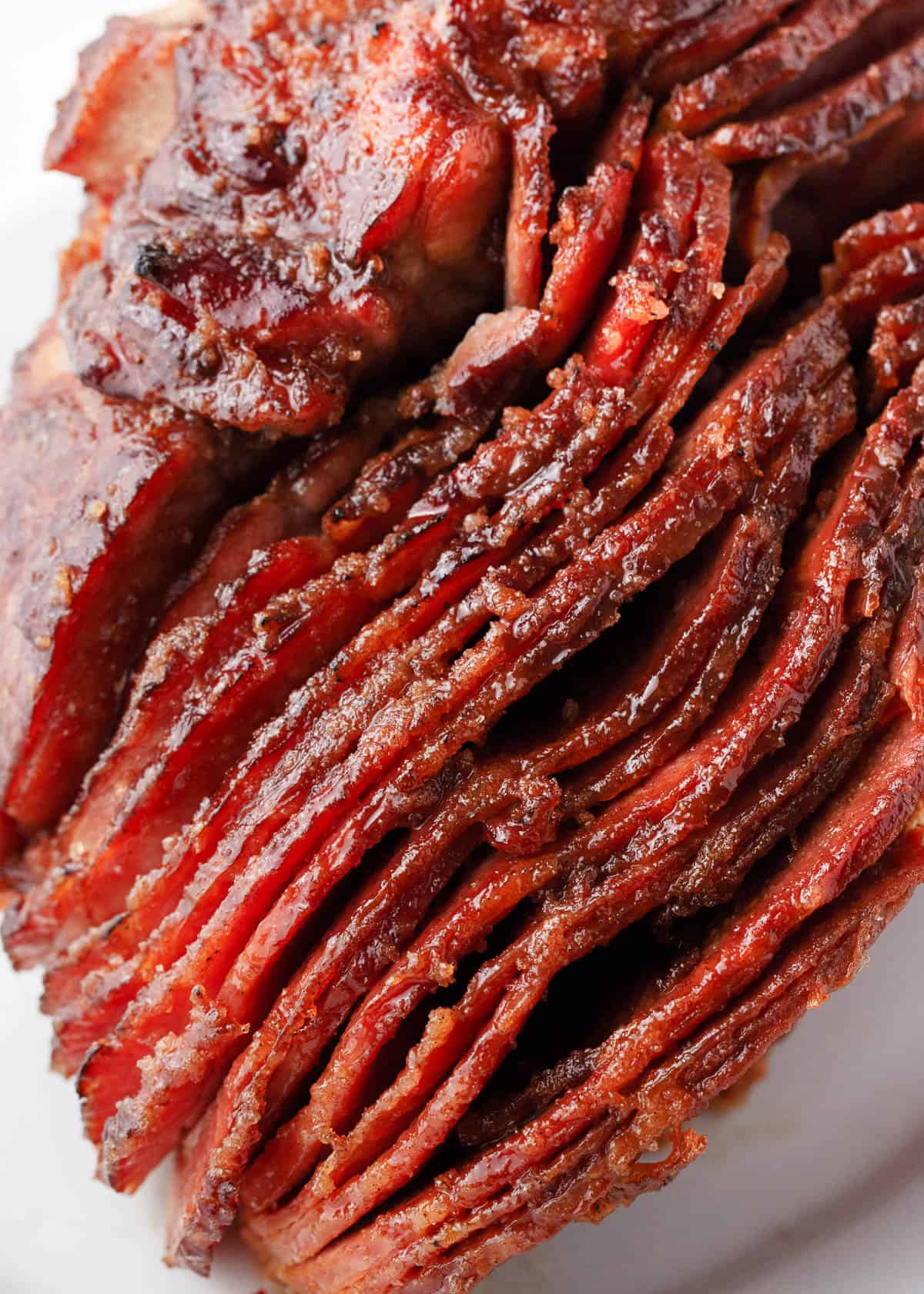 Recipe FAQs
How long should I bake honey ham?
The rule of thumb is to cook it for 20 minutes per pound. If you're unsure, always use a meat thermometer to test. The internal temperature should read 140°F when it's ready to be taken out of the oven.
What temperature is best for baking ham?
Since we are not cooking it, but merely adding flavor to it and heating it through we want to make sure we keep it low at 325°F so we don't overcook it and dry it out.
Can I make it in slow cooker?
Yes! Place your honey baked ham flat-side down in the slow cooker. Brush or rub the butter mixture all over it. Cook on low for 4 to 5 hours, or until heated to 140°F on a digital thermometer. Follow the directions from there.

Since the moisture gets trapped in the crockpot, there is no need to add liquid to the bottom. The honey glaze and ham drippings will create their own liquid.
What if I don't own a torch?
That's ok! Place it under the broiler for 10-20 minutes (give or take, since all ovens are different). Keep an eye on it so that it doesn't burn.
It may not give you the most even crust just because of the way the ham is shaped, the top may form a crust before the sides catch up, but it will still taste amazing.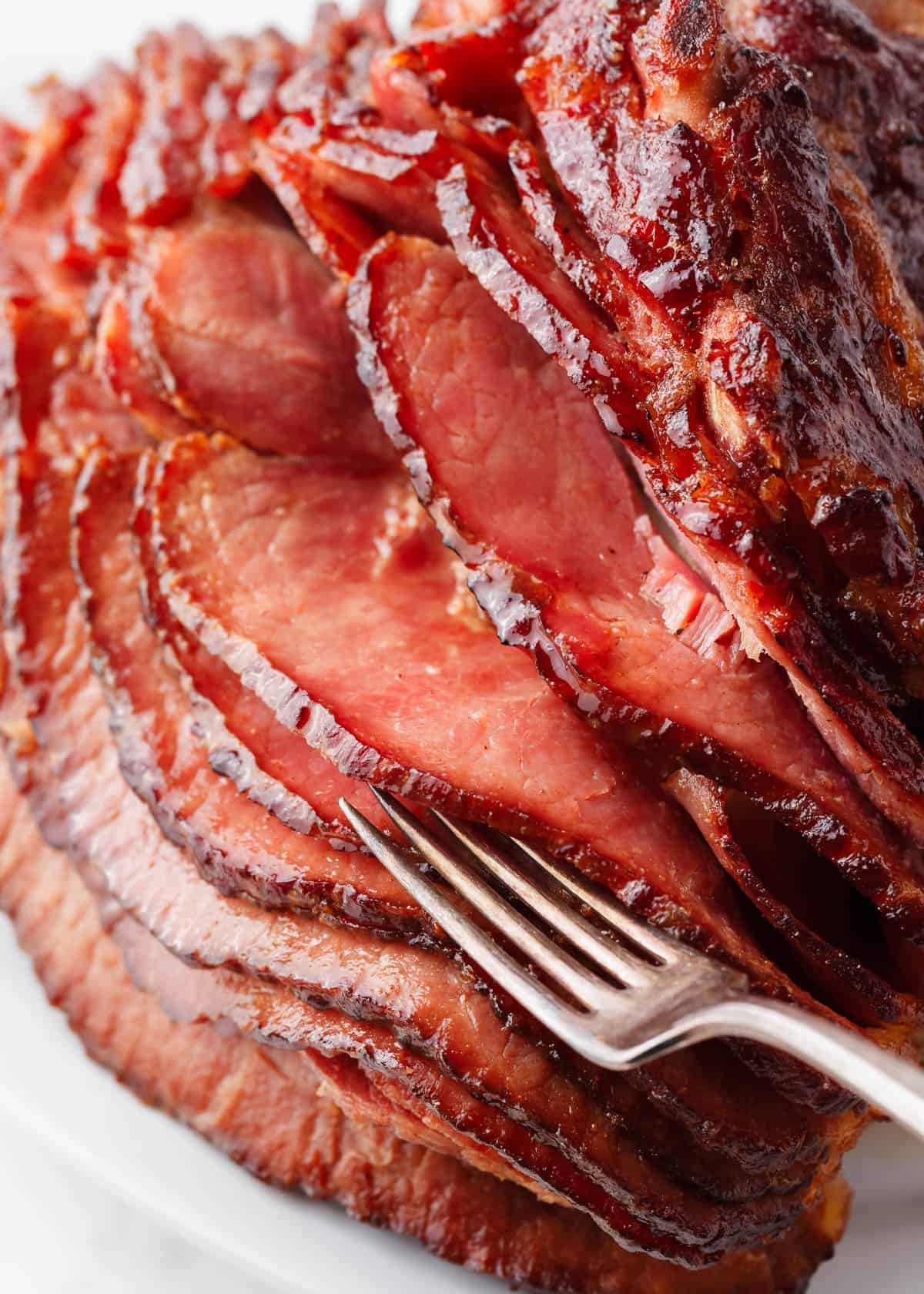 Storing
Leftovers will stay fresh and stored in an airtight container in the refrigerator for up to 1 week. The sugars will help to preserve it so you've got plenty of time for leftovers!
Reheat any slices in the microwave or in the oven on low.
Leftover Baked Ham Ideas
Ham can be added to so many dishes! Here are just a few ideas: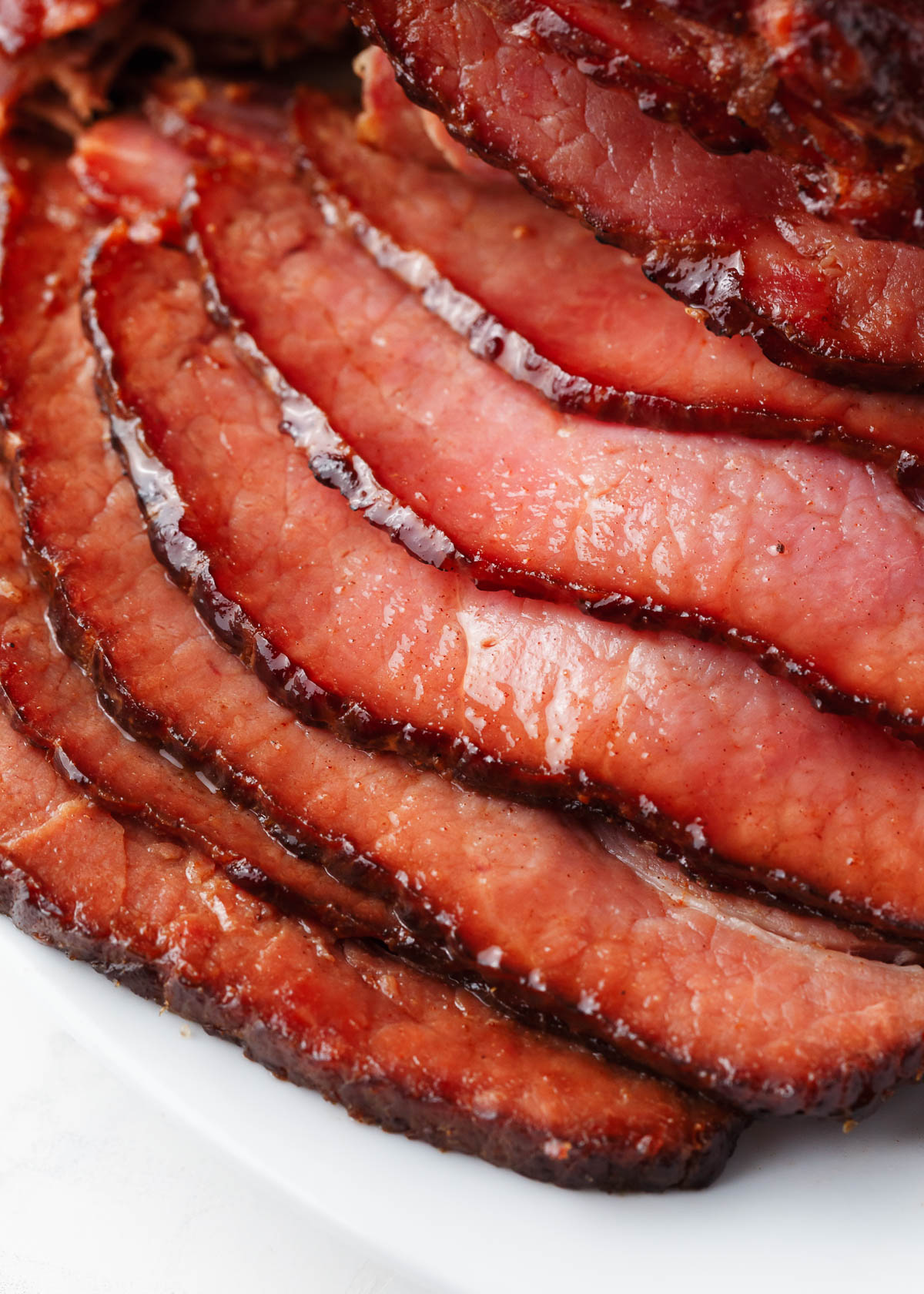 More Recipes with Ham
HUNGRY FOR MORE? Subscribe to my newsletter and follow on Facebook, Pinterest and Instagram for all the newest recipes!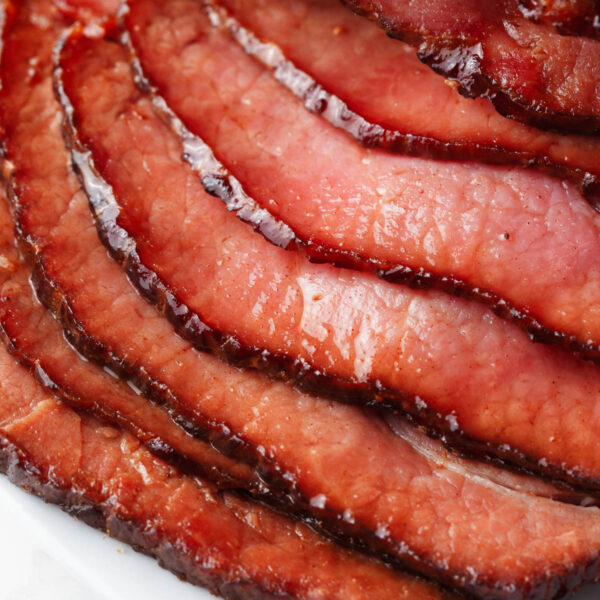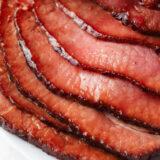 Honey Baked Ham
Tender, moist, and smothered in a sweet and tangy glaze, this honey baked ham with a candy-like caramelized outer crust is a must-try for your next special gathering. This unforgettable recipe is easy to make with a few simple ingredients and just a bit of prep time!
Ingredients
7-10 pounds bone-in, spiral-cut ham
2 Tablespoons salted butter
¼ cup honey (or pure maple syrup)
1 Tablespoon dijon mustard
1 cup pineapple juice (or orange juice or water)
Sugar Rub
1 cup granulated sugar
1 teaspoon ground cinnamon
½ teaspoon ground nutmeg
½ teaspoon cloves
¼ teaspoon paprika
½ teaspoon ginger
Instructions
Preheat the oven to 325°F. Remove the ham from the wrapper and discard glaze packet.

In a small saucepan, melt the butter. Stir in the honey and mustard. Using your hands, rub the honey mixture all over the ham, including in-between the spiral cuts, if desired. Place cut-side down in a shallow roasting pan or Dutch oven. Pour the pineapple juice around the ham. Cover tightly with foil.

Bake 2 hours 20 minutes (20 minutes per pound), or until the internal temperatures reaches 140°F on a digital thermometer. Remove from oven and let cool, covered, 15 minutes.

In a small bowl, stir together sugar, cinnamon, nutmeg, cloves, paprika, and ginger. Pour 1/2 onto a rimmed baking sheet.

Transfer the ham to the baking sheet with the sugar rub. Roll the ham, except the flat side, in the sugar mixture. Use your hands to pat any extra sugar mixture on the ham until it is well coated.

Light a kitchen torch (or turn the oven to broil – see notes). Keeping flame about 1 inch from the ham, move continually in small circles until the sugar mixture is bubbly. The liquid should harden into a shiny shell. Continue until all of the sugar mixture is melted. If not serving right away, cover and return the ham to the oven on at 170°F.

In a small saucepan, add the remaining 1/2 sugar mixture with 2 Tablespoons of water and bring to a boil over medium heat. Simmer 2 to 5 minutes, or until thickened. Serve with the ham as a sauce. Reheat if the sauce starts to harden.
---
Notes
Broil: If you don't have a kitchen torch, you can broil the ham after coating in the sugar mixture. You will want to watch it closely to avoid burning. Turn during broiling, if necessary, to get an even cook. Slow cooker: Place your ham flat side down in the slow cooker. Rub the butter mixture all over the ham. Cook on low 4 to 5 hours, or until heated to140°F on a digital thermometer. Follow the directions from there.
Nutrition
Calories: 606kcal | Carbohydrates: 20g | Protein: 46g | Fat: 37g | Saturated Fat: 14g | Polyunsaturated Fat: 4g | Monounsaturated Fat: 17g | Trans Fat: 0.1g | Cholesterol: 135mg | Sodium: 2536mg | Potassium: 633mg | Fiber: 0.2g | Sugar: 20g | Vitamin A: 65IU | Vitamin C: 2mg | Calcium: 20mg | Iron: 2mg
Nutrition provided is an estimate. It will vary based on specific ingredients used.
Did you make this recipe? Don't forget to give it a star rating below!