This easy ham and broccoli frittata with chunks of cheddar cheese is a perfect (and fast) low carb breakfast or brunch option. Great for serving a crowd!
I make mini egg frittatas or egg white muffins for my breakfast almost weekly, but sometimes it's nice to make a big version for the whole family to enjoy. It's perfect for using up any leftover meat and veggies laying around in the fridge. And super easy, too!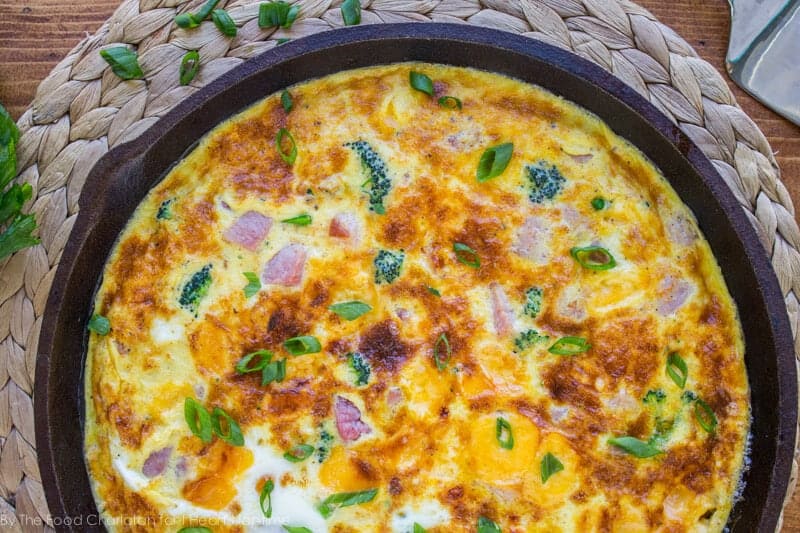 Today I've got a tasty breakfast idea for you…a cheesy ham and broccoli frittata! This recipe would actually be great for breakfast, dinner, brunch, Easter, Christmas or Mother's Day, to name a few. Frittatas are such an easy, cheap and fast way to serve a crowd. No slaving in the kitchen making 7 omelettes, and no waiting an hour for a casserole to bake.
You can add whichever veggie/meat combo you'd like, but I am particularly fond of this ham-broccoli-cheese version. Instead of shredding the cheese, cut it into chunks so you get little pockets of oozy goodness. Yes please!
Difference between omelettes and frittatas
Although frittatas and omelettes are pretty similar, the main difference between the two is how the eggs are finished off. They both start with an egg, meat and veggie filling and are typically cooked on the stove top.
An omelette is typically made for 1 person and is flipped and finished off on the stove. A frittata is made for a crowd and is first cooked on the stove top, then finished off in the oven. You do not flip frittatas…you let them cook all the way through in the oven.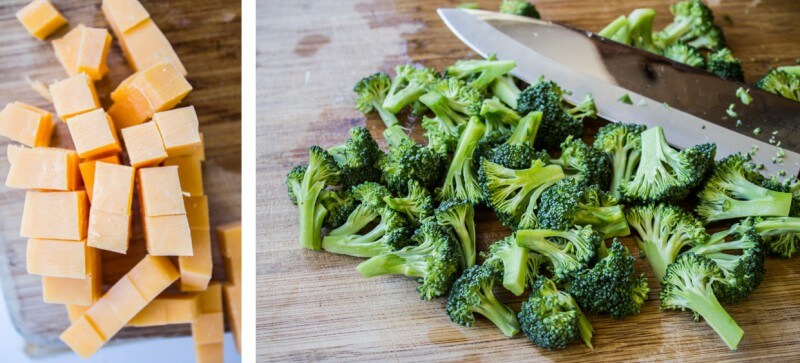 Ingredients
Below are the ingredients used. Feel free to adjust based on preference and what you have on hand!
Eggs: You need a lot of eggs to make a whole frittata. This recipe calls for 9 whole eggs (both the yolks and whites).
Ham: I always make this recipe around the holidays whenever we have leftover baked ham or crockpot spiral ham. It's the perfect way to use it up!
Cheese: The secret to an amazing frittata is to use cubed cheese so you get pockets of oozy cheesy goodness.
Onion: I love adding in a small diced onion for extra flavor.
Broccoli: Broccoli is my favorite veggie to add. It has tons of fiber and holds up well after being baked in with the eggs.
Milk: We use whole milk, but you can use whatever milk you have in your fridge.
Olive oil: You need a small amount of oil to saute the onions.
Spices: I used a mix of cayenne, salt and black pepper to give it an extra boost of flavor.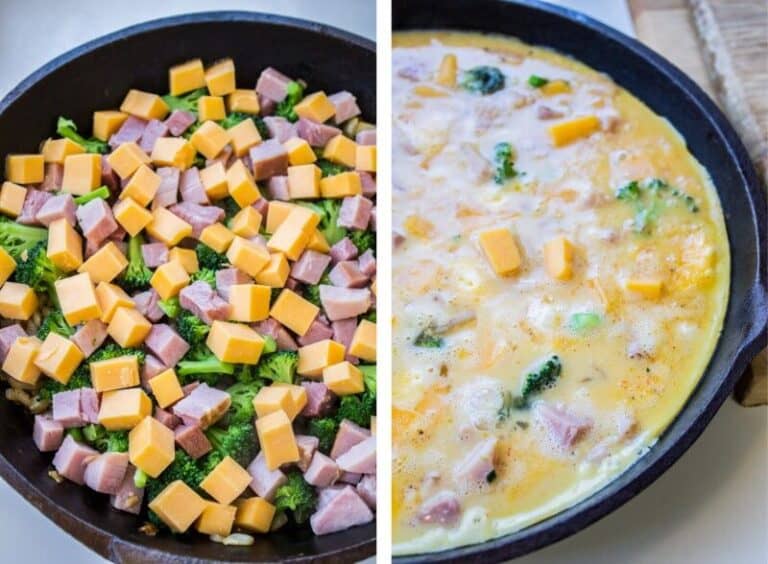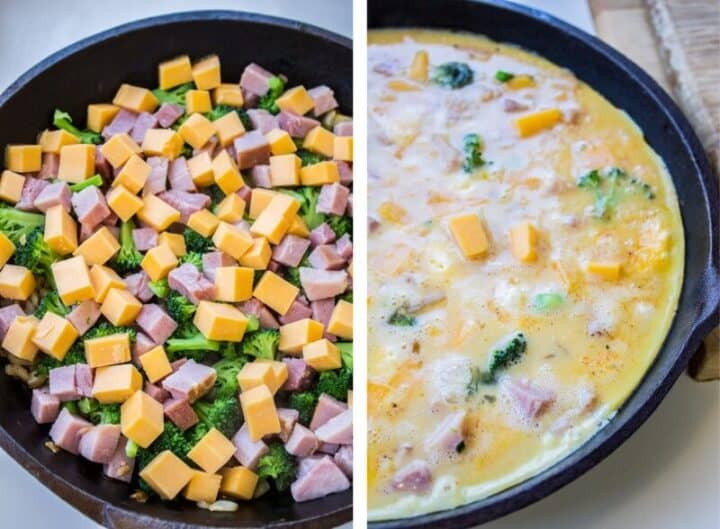 How to make a broccoli frittata
SAUTE. Cook onions over medium-high heat in a large cast iron skillet until translucent.
COMBINE. In a separate bowl, whisk together the eggs, milk and spices.
COOK. Once onions are cooked, add in the broccoli, ham and cheese. Make sure there are even amounts of each spread throughout the pan. Then pour the egg mixture on top (don't stir) and cook until the edges begin to set, about 7-9 minutes.
BROIL. Finish the dish off in the broiler until the top is brown and the eggs are set. This usually takes about 2 to 5 minutes, but be sure to check every minute so it doesn't burn.
Sides to serve with
We love serving this broccoli frittata with any of the below sides:

Storing + freezing
This ham frittata will keep in the fridge for about 3 to 4 days. Just be sure to store the leftovers in an airtight container. To reheat, either place in the microwave, oven or toaster oven and warm back up for a few minutes.
To freeze, I would recommend cutting the frittata into 4 pieces and then wrapping each piece individually with foil. Once wrapped, place all pieces in a freezer bag and store in freezer. It will last in the freezer for a couple of months. When ready to eat, thaw in the fridge overnight. Reheat the next day in the microwave or oven until warm.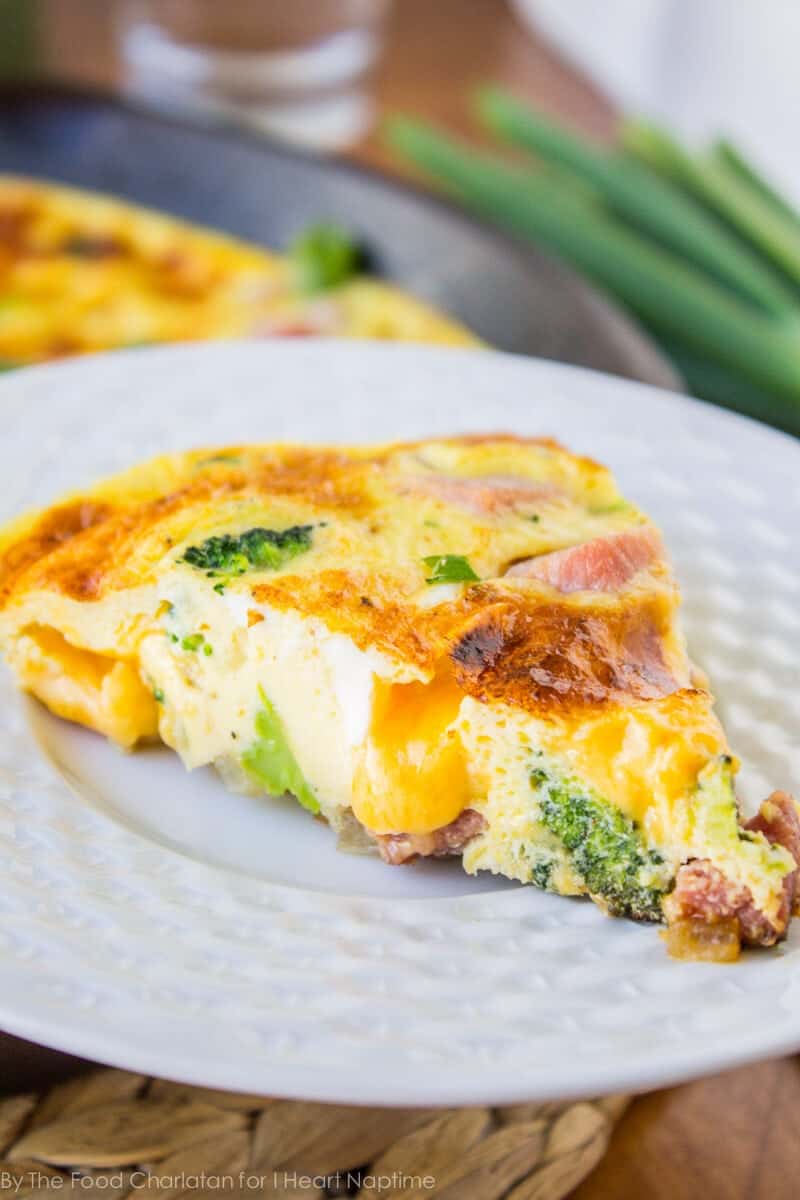 More delicious egg dishes: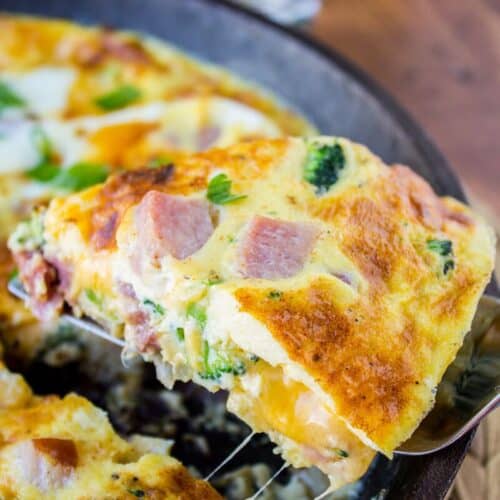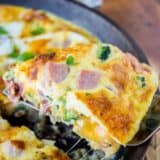 Cheesy Ham and Broccoli Frittata
This easy ham and broccoli frittata with chunks of cheddar cheese is a perfect (and fast) low carb breakfast or brunch option. Great for serving a crowd!
Ingredients
1 teaspoon olive oil
1 small onion (or half a large onion, chopped)
9 eggs
1/2 cup whole milk
3/4 teaspoon salt
1/4 teaspoon cayenne pepper
1/8 pepper (or to taste)
2 cups broccoli florets (cooked)
1.5 cups cooked ham (chopped, I used a ham steak)
6 ounces cheddar cheese (cut into chunks)
Instructions
In a large cast iron skillet, heat the olive oil over medium heat. Add the chopped onions and cook until translucent, 5-8 minutes.

In a mixing bowl, whisk together eggs, milk, salt, cayenne pepper, and black pepper.

Preheat your broiler. Move the rack to about 5 inches from the flame.

When the onions are cooked, spread the broccoli in the pan. Top with the chopped ham. Sprinkle the chunks of cheese over the top.

Pour the egg mixture over the top. Don't stir. Cook for 7-9 minutes, or until the edges are starting to set.

Transfer the pan to the broiler. Broil for 2-5 minutes. Don't walk away! Check it every 1 minute. The frittata is done when the top is brown and the eggs are set (not wiggly).
---
Calories: 372kcal | Carbohydrates: 7g | Protein: 26g | Fat: 26g | Saturated Fat: 12g | Cholesterol: 420mg | Sodium: 943mg | Potassium: 405mg | Fiber: 1g | Sugar: 3g | Vitamin A: 1345IU | Vitamin C: 43.4mg | Calcium: 422mg | Iron: 2.4mg
Nutrition provided is an estimate. It will vary based on specific ingredients used.
Did you make this recipe? Don't forget to give it a star rating below!
Recipe and photography contributed by Karen from The Food Charlaton for I Heart Naptime.