Ham and cheese crepes are made with slices of delicious ham and melted cheese and served with the option of juicy cherry tomatoes. A delicious savory crepe that's so simply made, it's perfect for breakfast, lunch, dinner, and everything in between!
Busy mornings don't have to mean you're stuck with a bowl of cereal! This simple crepe recipe makes having a quick and easy yet totally satisfying breakfast a breeze. One bowl microwave scrambled eggs and easy homemade hashbrowns are a couple of other recipes to keep on hand for busy mornings. In fact, you could have all three!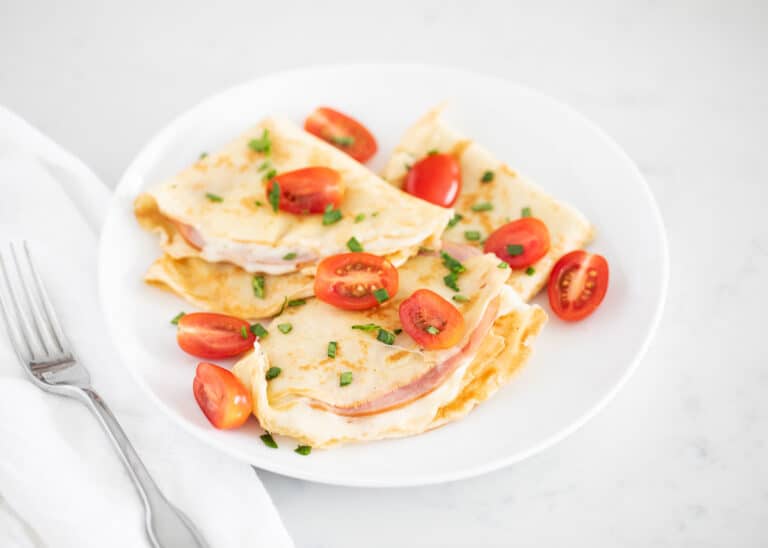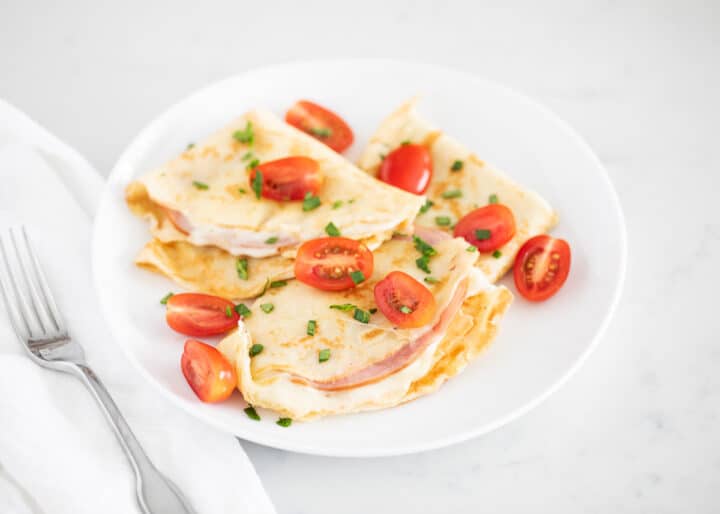 If you're just joining us on the crepes bandwagon or have only had sweet crepes up until now, you're about to find out just how amazing savory breakfast crepes can be! Made with the same original crepe recipe batter, minus the sugar and vanilla, prepared in a blender, this ham and cheese crepe recipe is crazy easy and so delicious. Don't let anyone ever tell you crepes are too hard to make at home. They're not!
They might remind you of a panini or a Croque monsieur, or maybe even an omelette. You get the idea. They're a thin French-style pancake folded over a delicious slice of leftover baked ham and melty cheese served warm and ready to take on the go!
They present fancy enough to enjoy with a knife and fork at brunch, or casual enough to eat with your hands for lunch. They're perfectly foldable to fit in a lunch box to take for school lunches. When you make enough, ham and cheese savory crepes are a great platter food for parties!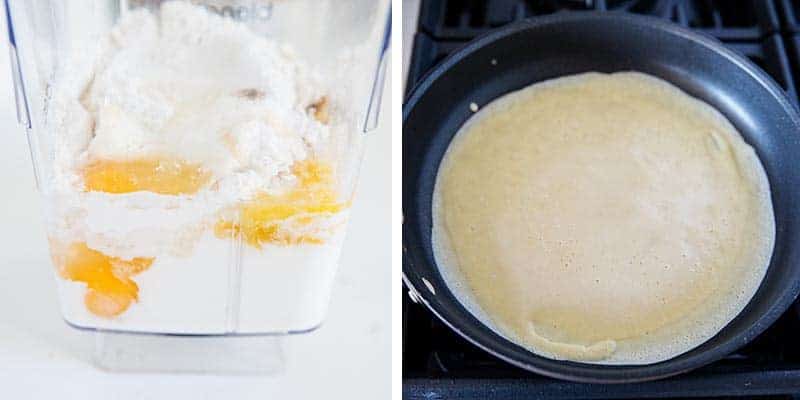 Sweet vs savory crepes
The difference between a sweet and savory crepe is as simple as whether or not the batter has sugar as an ingredient, and what types of fillings or toppings you use. Sweet crepes are usually reserved for desserts, and savory crepes are usually reserved for dinner. Both, however, can be enjoyed as a special breakfast or brunch.
Toppings for sweet crepes can include apple pie filling, cinnamon sugar, strawberry jam and cream cheese crepe filling. Whereas, savory toppings can include meat and cheese, sautéed or steamed veggies, bacon and scrambled eggs, and pesto. It's a simple swap that takes you straight from dinner to dessert.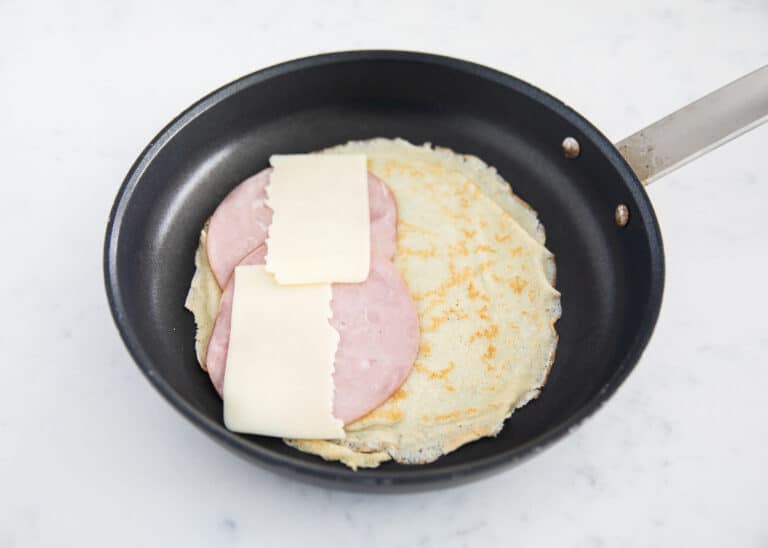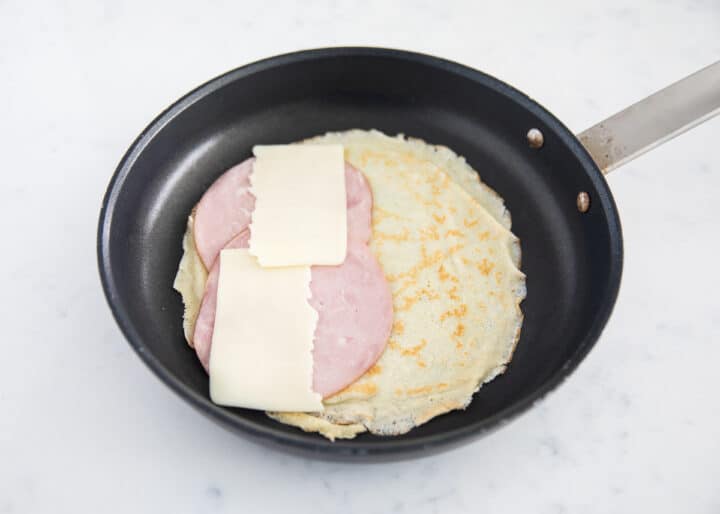 Savory Variations
You can easily substitute the ham for sliced turkey or any of your favorite meat.
Cheddar and mozzarella are great, but you could use gruyere, swiss, or provolone. Or use a cheesy béchamel sauce instead, like I did in these chicken crepes.
Add in some sautéed mushrooms, peppers, and spinach along with the ham and cheese.
Cooking Tips
Use a cooking spray even if your pan is truly nonstick. You can do without the spray but the underside of the crepe will be a solid golden brown color. It won't be a nice light color speckled with golden brown spots, which is signature in crepes!
Use a silicone spatula for easy flipping without tearing.
Allow the batter to sit in the fridge for at least 30 minutes before using it. This helps create a nice sturdy batter.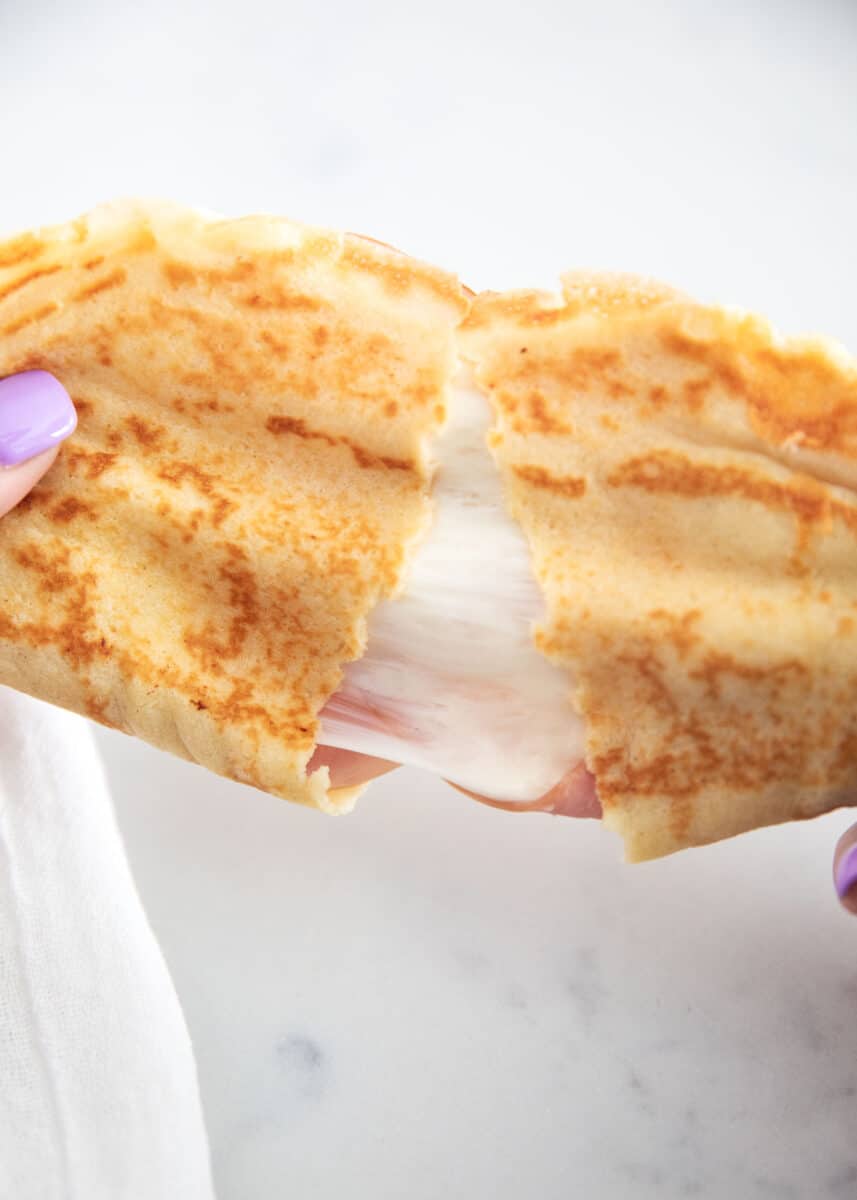 Make ahead, storing, & reheating
To make ahead: You can make both the batter and the assembled crepe ahead of time. The batter will keep for up to 24 hours in the fridge. In fact, the longer you keep it chilling, the better. Once crepes are complete, you can keep them stored for 3 days prior to assembling with the ham and cheese filling.
To store: Keep each crepe separated by a layer of parchment paper and store it in the fridge in a freezer-friendly plastic bag for up to 3 days or frozen for up to 3 months.
To reheat: If you are reheating crepes with a ham and cheese filling, toss them in a skillet or microwave to warm through. If you're reheating unfilled crepes, use a skillet, fill the crepe, fold it over and heat through.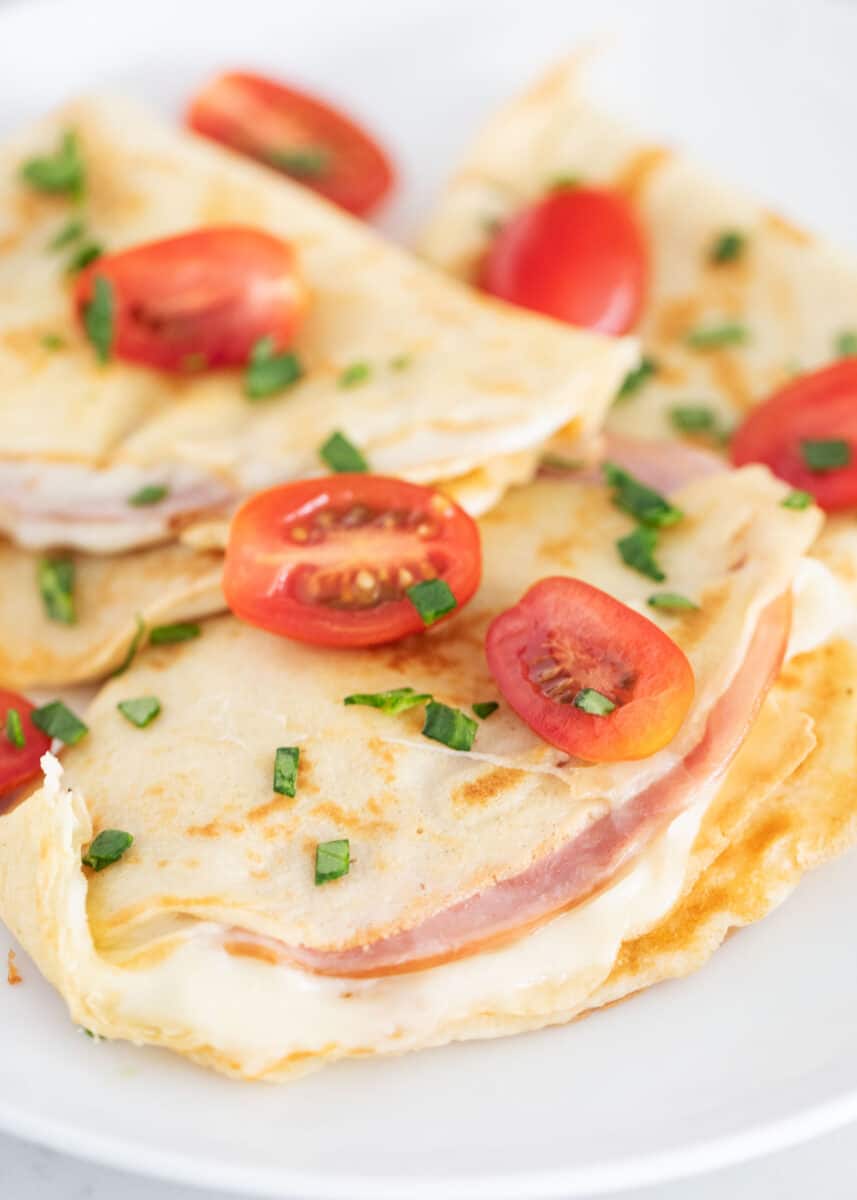 Other types of crepes: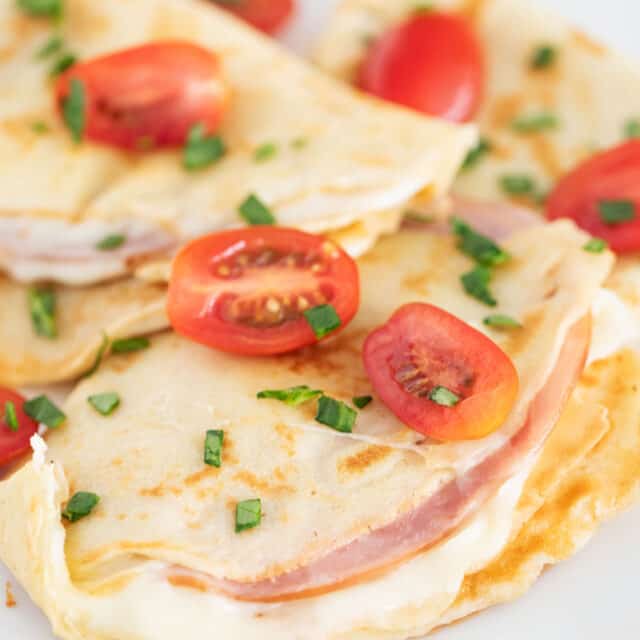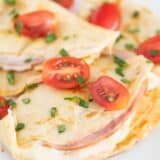 Ham and Cheese Crepes
Ham and cheese crepes are made with slices of delicious ham and melted cheese and served with the option of juicy cherry tomatoes. A delicious savory crepe that's so simply made, it's perfect for breakfast, lunch, dinner, and everything in between!
Ingredients
Crepe Batter:
1 cup milk
2 large eggs
2 Tablespoons butter , melted and slightly cooled
1/4 teaspoon Kosher salt
3/4 cups all-purpose flour
Crepe Filling:
16 slices of deli ham
8 ounces sliced cheese , I use mozzarella or cheddar
Optional fillings and toppings: chopped basil, tomatoes, spinach
Instructions
In a blender, combine all of the crepe ingredients and mix until batter is smooth (about 15-20 seconds). Refrigerate batter for 30 minutes, or overnight.

Spray non-stick cooking spray onto an 8-inch frying pan. Pour about 1/4 cup batter into the pan and cook over medium-low heat. Turn pan immediately from side to side to form an even circle. Cook for about 1-2 minutes per side, or until lightly browned. Remove from heat and stack on a plate

Over low heat, add 1 crepe back to the pan with 2 slices of ham and cheese. Add any other desired filling. Allow to cook for 1 minute, then fold the other half over the top (like an omelette). Cook until the cheese has melted, flip as needed to prevent burning.

Serve while hot. Add fresh tomatoes on top if desired.
---
Notes
Substitute: You can substitute the ham for sliced turkey, prosciutto or your favorite meat. For the cheese, I prefer sliced mozzarella or cheddar but you could also use gruyere. To keep warm: You can keep your cooked crepes warm by placing them on a baking sheet in the oven at 175°F until ready to serve. Leftovers: Add cooked crepes to a container or zip top bag and layer parchment or wax paper in between each crepe. Place in fridge until ready to enjoy. Reheating: Heat in microwave or skillet on low until warm.
Serving: 1crepe | Calories: 346kcal | Carbohydrates: 11g | Protein: 23g | Fat: 23g | Saturated Fat: 12g | Trans Fat: 1g | Cholesterol: 114mg | Sodium: 967mg | Potassium: 261mg | Fiber: 1g | Sugar: 2g | Vitamin A: 489IU | Calcium: 254mg | Iron: 1mg
Nutrition provided is an estimate. It will vary based on specific ingredients used.
Did you make this recipe? Don't forget to give it a star rating below!