Have you signed registered at The Inspiration Board? Don't forget to enter your board into the contest (here) to win $500 cash, a canon rebel, a CAMEO or a kitchen aid!
Hello All!
It's Melissa from Bless this Mess and I'm back to share another great recipe with you. In my mind lots of you are going to be heading out to dinner tomorrow night, so I thought a breakfast recipe would be awesome to help you spoil your Valentine. And if you don't have dinner plans you can make breakfast for dinner; always a favorite in my house.
This easy ham and cheese breakfast pie is a meal in a dish. You can't go wrong with green onions, ham, and cheese nestled in a warm bready egg mixture. The texture of this is different from probably anything you've had. It falls somewhere between a quiche (very eggy) and a strata (very bready). My family went crazy for it and it reheats like a dream. Add a fruit salad on the side and a cold glass of milk and you've got yourself one satisfying meal.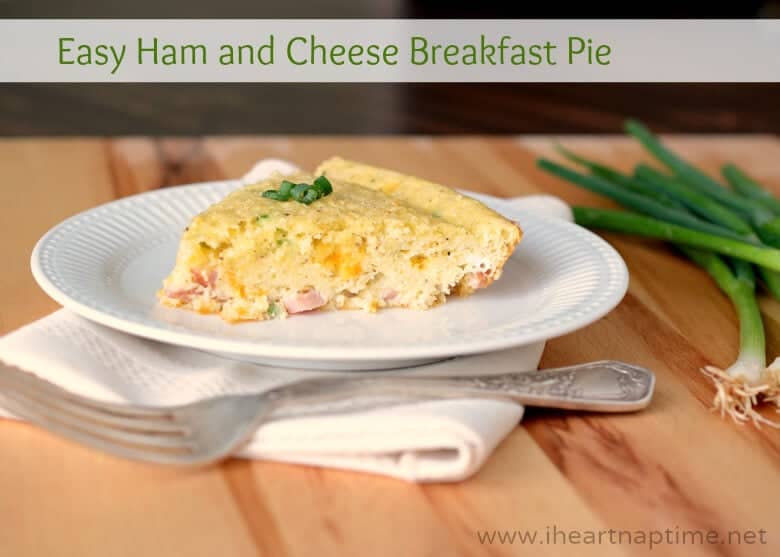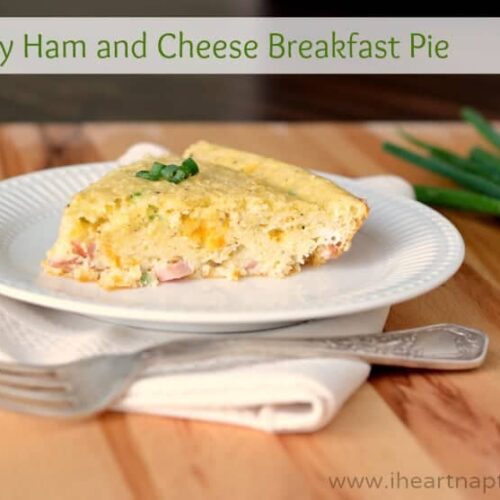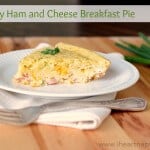 Easy Ham and Cheese Breakfast Pie
This easy ham and cheese breakfast pie is a meal in a dish. You can't go wrong with green onions, ham, and cheese nestled in a warm bready egg mixture!
Ingredients
1

tbsp

butter

(softened)

3

tbsp

parmesan cheese

(finely shredded)

1

cup

cheddar cheese

(shredded)

4

oz

deli ham

(thickly sliced, chopped)

4

green onions

(minced)

1/2

cup

all-purpose flour

3/4

tsp

baking powder

1/2

tsp

pepper

1/4

tsp

salt

1

cup

half and half

4

eggs

2

tsp

dijon mustard
Instructions
Adjust the rack in your oven to a low position and heat the oven to 350 degrees. Grease a 9-inch pie plate with the soften butter. Sprinkle the Parmesan cheese over the butter evenly so that it coats the pie plate evenly.

In a medium bowl add the cheese, ham, and green onions and stir to combine. Sprinkle the cheese mixture evenly over the bottom of the pie plate.

In that same bowl, that is now empty, add the flour, baking powder, pepper, and salt. Whisk to combine the dry ingredients. Make a well in the center of the dry ingredients and add the half-and-half, eggs, and mustard. Whisk to combine the wet and dry ingredient. Continue to whisk until the mixture is smooth. Pour the flour and egg mixture over the cheese, ham, and onions in the pie plate.

Bake for 30 to 35 minutes until the filling is set (no giggle to it) and the top is light golden brown. Let it cool on a wire rack for 15 minutes before serving. Slice into wedges and serve warm.
Notes
Half-and-half adds a lot of richness and flavor to the pie and I don't think substituting milk would work nearly as well.
Don't be nervous about adding the mustard. It adds a nice little kick but no one will be able to tell just where that kick came from.
An 8-inch square baking dish can be used instead of a pie plate
Nutrition
Calories:
214
kcal
|
Carbohydrates:
8
g
|
Protein:
11
g
|
Fat:
14
g
|
Saturated Fat:
7
g
|
Cholesterol:
121
mg
|
Sodium:
430
mg
|
Potassium:
196
mg
|
Vitamin A:
485
IU
|
Vitamin C:
1.4
mg
|
Calcium:
193
mg
|
Iron:
1.1
mg
PIN THIS RECIPE
This recipe is adapted from Cook's Country Magazine the February/March 2013 issue, page 8. I love this magazine and always pick up a copy from the library when I can.
I thought that I could give you a few more recipes that you could make if you aren't in the mood for breakfast. Making food for people is definitely a major way I show love, just ask my friends and neighbors! If you were to make any of these recipes, the recipient of your food would definitely feel loved too because these are keepers! Enjoy and Happy Valentine's Day to you.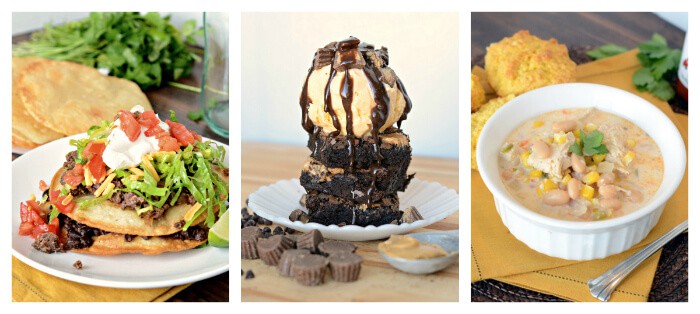 1. Steak Tostadas (and the meat is made in the crock pot!)
2. The Ultimate Chocolate Peanut Butter Brownies – To. Die. For.
3. Lightened-Up White Chicken Chili – the secrets in using cornmeal to thicken instead of cream and you'll need some lighter recipes after those brownies
Mmm. There you have it. Some really delicious recipes that are fit for a holiday. Enjoy!
Feel free to stay connected with me during the month. You can find me at my blog Bless this Mess, Facebook, and Pinterest the most. Say hello if you do stop by!
Thanks so much, Melissa