This savory breakfast pie starts with a flaky pie crust and is filled with a mixture of eggs, ham, cheese, veggies and spices. It's an easy-to-make breakfast idea that's always a crowd favorite!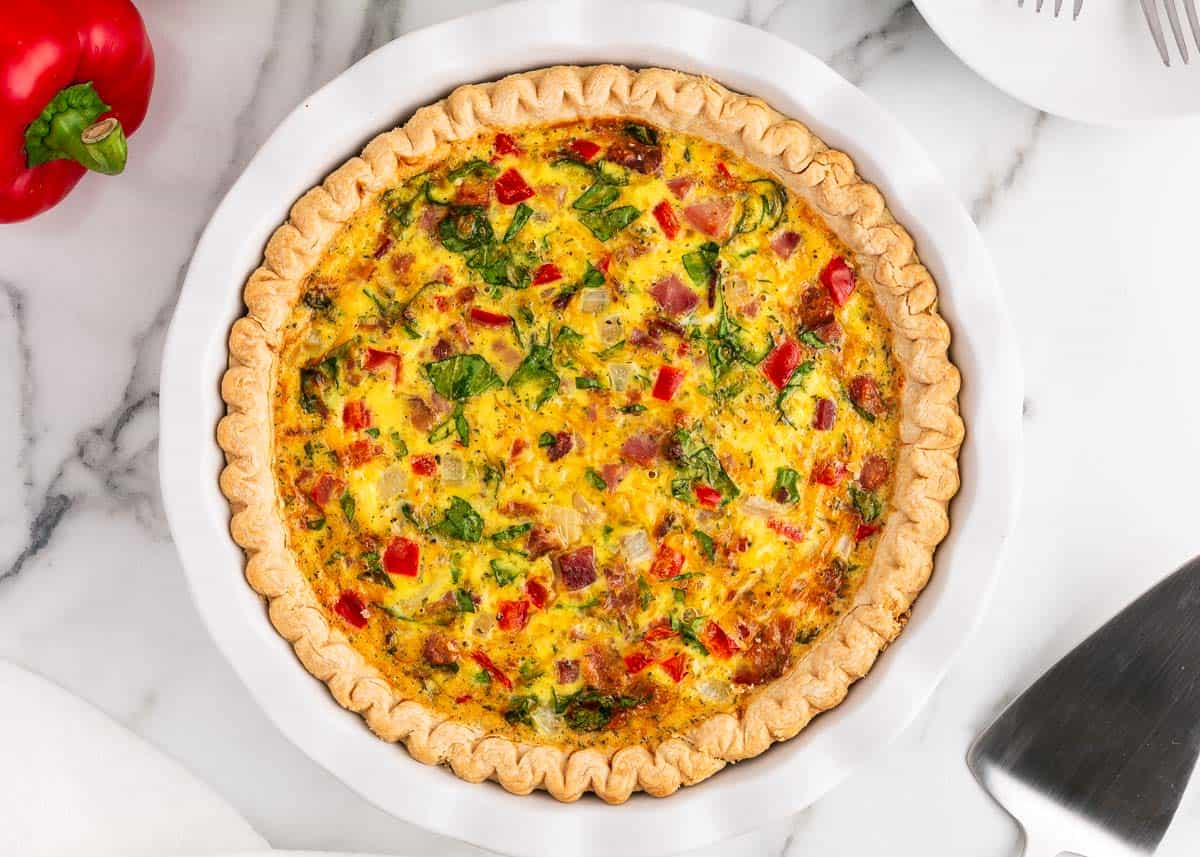 Pie for Breakfast
As much as I love to enjoy a piece of fresh fruit pie as a sweet breakfast, this savory breakfast pie might be my new favorite. It tastes similar to a ham and cheese quiche and is made with veggies, ham and cheese nestled in a warm egg mixture over a flaky pie crust.
It's the perfect recipe to make whenever you have leftover baked ham that you need to use up and is very easy to customize based on what you have on hand. Use other types of meat like breakfast sausage like I do in my easy breakfast casserole and your favorite veggies sitting in the fridge. It tastes delicious with any combination!
My family went crazy over this breakfast pie and sometimes even requests it for dinner. Add a berry fruit salad or a side of hash browns and you've got yourself one satisfying meal that's ready in no time.
Key Ingredients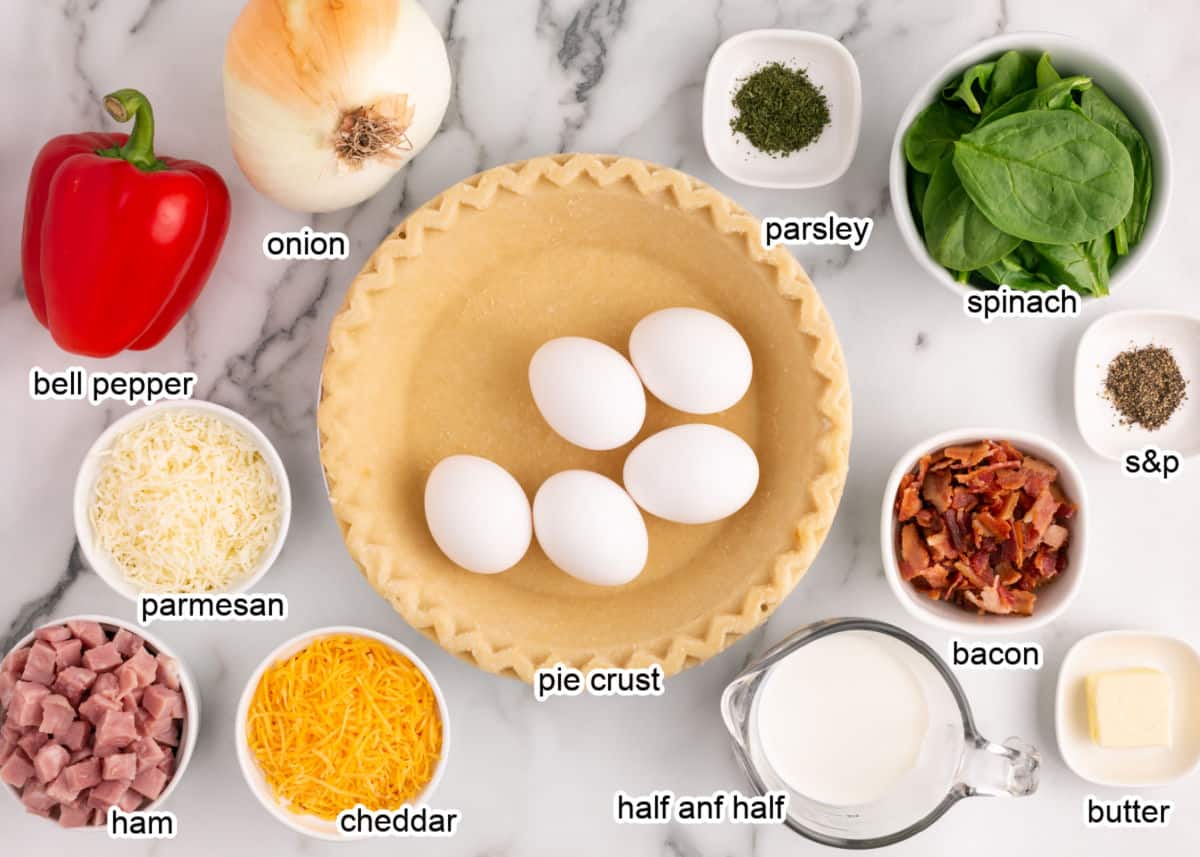 Find the full printable recipe with measurement below.
Pie Crust. Homemade pie crust or store-bought, a butter pie crust gives a flakey backdrop to this well-rounded breakfast.
Salted butter. The saltiness of the butter enhances the flavor of the onions and peppers.
Large eggs. The eggs add protein and act as a binder to bring all of the other ingredients together.
Half-and-half. I like to use half-and-half for extra creaminess.
Meat. I prefer to use a combination of ham and bacon because I like the texture from the bacon and the richness of the ham.
Veggies. Spinach, bell pepper, and onion add a great crunch and a nice freshness to this morning dish.
Cheese. A mixture of cheddar and parmesan elevate this breakfast pie from ordinary to extraordinary.
Seasoning. Along with salt and pepper, I like to add dried parsley for a little extra flavor.
Simple Swaps to Make
Veggies. Use what you have on hand! Leftover steamed vegetables, mushrooms, peppers, squash or cherry tomatoes all make great additions. I save potatoes for this Spanish omelette!
Crustless version. Similar to a crustless quiche or frittata, you can easily omit the pie crust if preferred. Just pour the egg filling directly into the pan and bake until the eggs have set and the top is golden.
Meat. I used a mix of both ham and bacon, but feel free to use all of one or the other. Breakfast sausage or even leftover roasted turkey would also taste delicious.
Pie crust. There is no shame in using premade pie crust! Pillsbury or Marie Calendar's are my favorite brands. Making a homemade pie crust is great if you have the time.
Spices. Feel free to mix these up. A dash of red pepper flakes for some heat or a sprinkle of garlic powder is a great way to add more flavor.
Half and half. Swap the half and half with milk to lighten it up a bit if you'd like. For an extra creamy texture use heavy cream like I do in my quiche lorraine recipe.
How to Make Ham and Cheese Breakfast Pie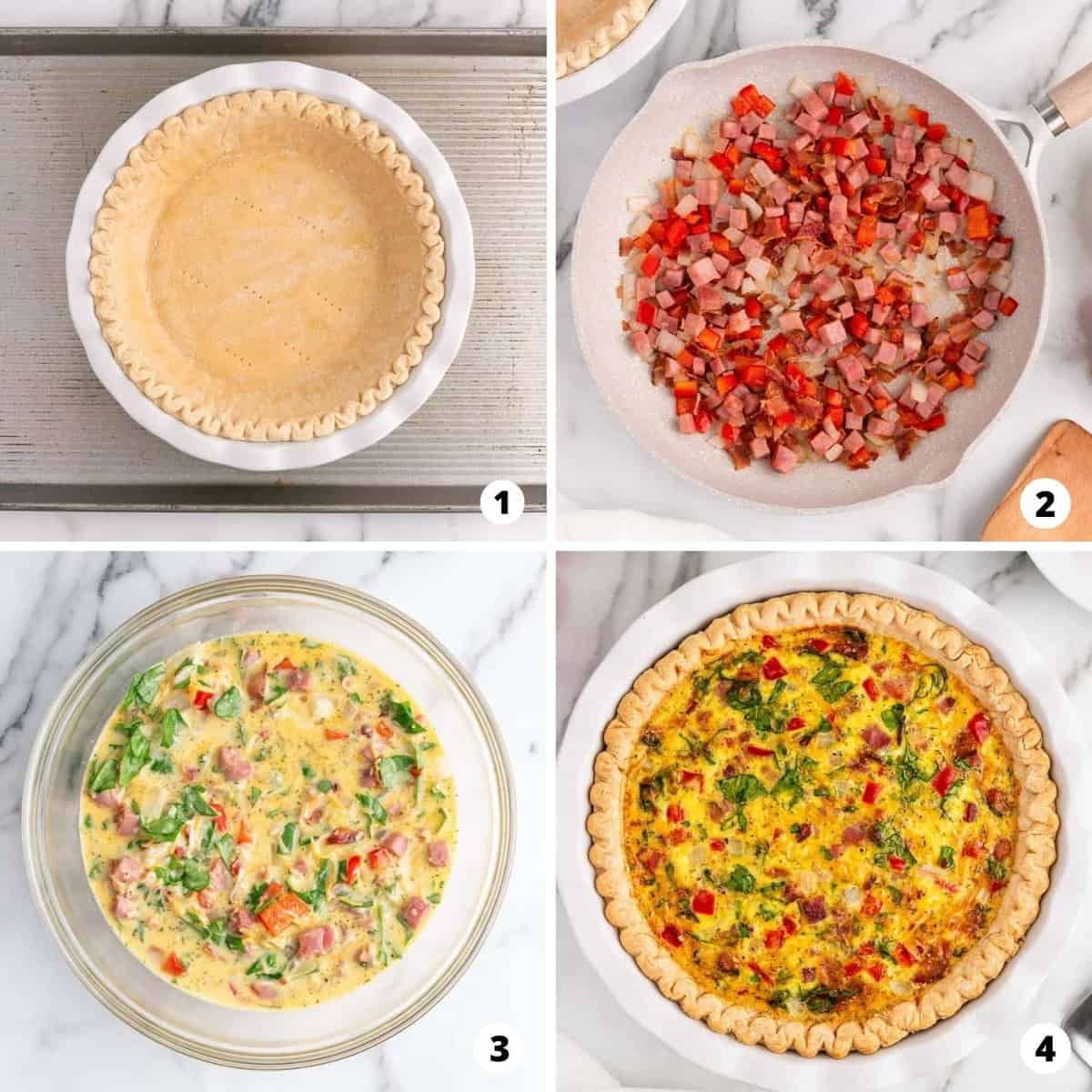 Bake Crust. Using a tart pan or a pie dish, press the dough on the bottom and up around the edges until the pan is covered. Pierce the bottom of the dough with a fork. Cook on a baking sheet for 5 minutes at 400 degrees Fahrenheit. Remove from the oven and let cool.
Sauté. Add butter to a frying pan and melt. Cook onions for about 2 minutes then add in ham and bacon pieces and cook until the onions have caramelized.
Whisk ingredients. Whisk together the eggs and half and half in a large bowl. Stir in cheese, parsley flakes, pepper, spinach, and the ham mixture. Pour all together in to the pie pan.
Bake. Pour the whisked ingredients together into the bake pie crust. Bake for 40 to 45 minutes or until the edges are browning and a toothpick comes out clean from the middle. Remove from the oven and allow the breakfast pie to cool.
Expert Tips for Breakfast Pie
Pre-bake the crust. Nobody wants soggy crust, so make sure to bake it in the oven for about 5 minutes before pouring in the egg filling. It needs to bake just enough so that the crust is sturdy when the filling goes in.
Tent the crust. If the edges of the crust begin to brown too fast, it's helpful to tent the crust with foil to slow it down. So cover the edges with foil, but make sure to cut out a large center hole so that the egg filling continues to cook.
Test when done. When the pie is ready to remove from the oven, the top should be a light golden color and the filling should have puffed up a bit. A simple wiggle of the pan is a good way to test if the filling is cooked through (there should be no liquid and the eggs shouldn't move). I also like to test the center with a toothpick and make sure it comes out clean.
Let cool. Wait a few minutes before slicing the pie once out of the oven. The eggs need about 5 minutes to set so that the pie keeps its shape when slicing into pieces.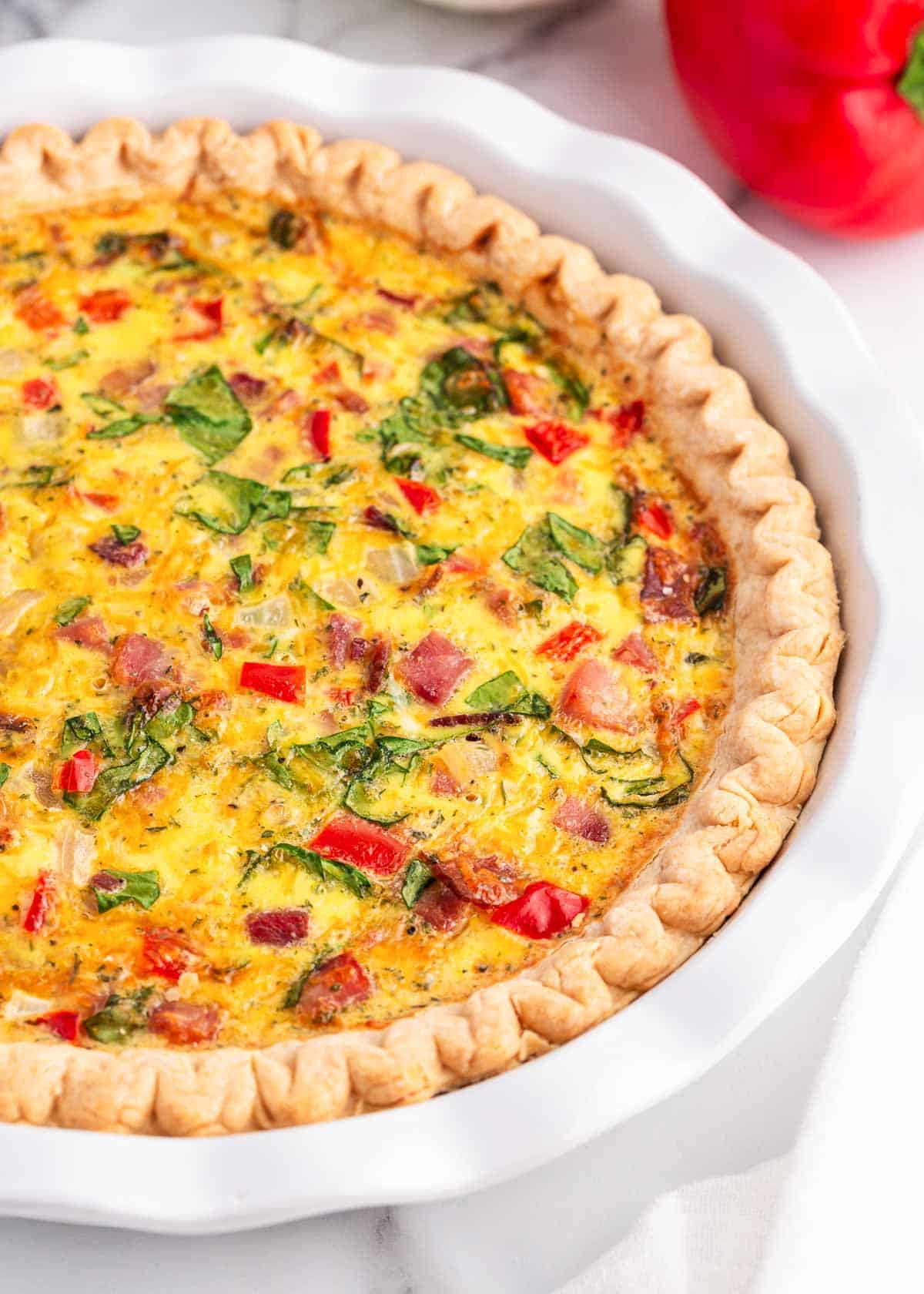 Recipe FAQs
Can I use a frozen pie crust?
Absolutely! Simply remove it from the package and thaw 15 minutes before baking. Pierce the bottom with a fork and place in the oven at 375°F for 12 to 15 minutes.
How far in advance can I make this breakfast pie?
This is a perfect brunch dish, but there is no need to make it the morning of your get-together. It will stay fresh in the fridge up to 3 days and then just requires a quick warm up in the oven.
How long can I leave this out at room temperature?
Since there is a lot of egg and dairy in the pie, I wouldn't leave it out for longer than 3 hours.
Can I reheat the pie more than once?
It is best to reheat the pie only one time to avoid an upset stomach, but you can reheat individual pieces instead of the full pie.
Storing, Freezing & Reheating
To store: Once it has cooled completely, wrap tightly with foil or saran wrap. It will stay fresh in the fridge for up to 3 days.
To freeze: Wrap tightly and then store in the freezer for up to 2 months.
To reheat: The beauty of this dish is that it reheats like a dream. Simply use foil to cover the top of the pie, then bake in the oven at 400°F until it is warm throughout.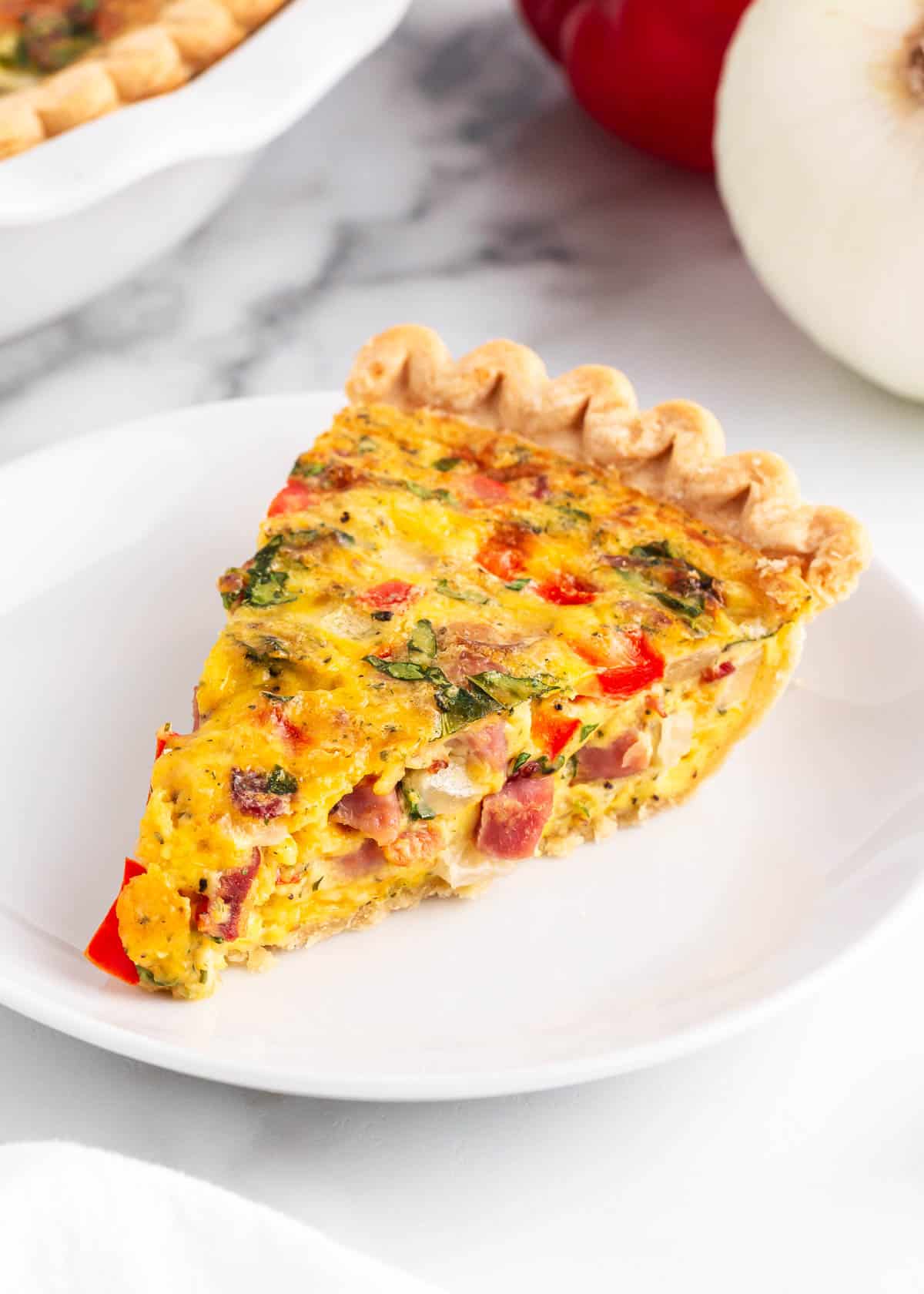 HUNGRY FOR MORE? Subscribe to my newsletter and follow on Facebook, Pinterest and Instagram for all the newest recipes!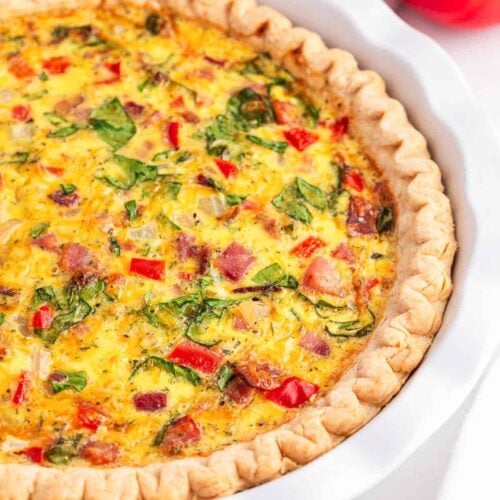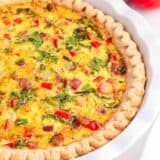 Breakfast Pie
This savory breakfast pie starts with a flaky pie crust and is filled with a mixture of eggs, ham, cheese, veggies and spices. It's an easy-to-make breakfast idea that's always a crowd favorite!
Ingredients
1 10-inch homemade or store-bought pie crust
1 Tablespoon salted butter
½ cup chopped yellow onion
1 red bell pepper , chopped
1 cup ham , cubed (use a ham steak or leftover ham)
4-6 slices bacon , cooked and crumbled
5 large eggs
½ cup half-and-half , or milk
½ cup sharp or mild cheddar cheese , finely shredded
½ cup parmesan or mozzarella cheese , finely shredded
½ teaspoon dried parsley flakes
¼ teaspoon ground black pepper
1/2-1 cup spinach , chopped
Instructions
Preheat the oven to 400°F. Press the dough around the edges of a 9-inch tart pan or pie dish. Place on a baking sheet. Pierce the bottom of the pie crust with a fork. Cook 5 minutes and remove from oven. Set aside.

In a small frying pan, melt the butter over medium heat. Add onions and peppers and cook 2 minutes. Stir in ham and bacon and cook an additional 3 minutes, or until the onions have caramelized. Remove from heat and let cool.

In a large bowl, whisk together the eggs and half-and-half. Stir in cheese, parsley flakes, pepper, spinach, and the ham mixture. Pour into the pie pan.

Bake 40 to 45 minutes, or until the top is golden brown and a toothpick inserted in the center comes out clean. If the edges are browning too fast, you can place a sheet of foil over the top, with a large center hole cut out. Remove from oven and let cool 5 minutes to set.

Slice into 8 pieces. Enjoy while warm!
---
Notes
Pie crust: I like to use a Pillsbury crust or the Marie Callendar's frozen crust. If you have time make my homemade pie crust.
Substitutions: Feel free to add in extra veggies like mushrooms or peppers. You may also use milk in place of half and half.
Storing and freezing: Let cool completely, then wrap the pan tightly with aluminum foil or plastic wrap. Place in fridge for up to 3 days. You can also freeze for up to 2 months.
Reheating: Cover with foil and bake at 400°F until warm throughout.
Nutrition
Serving: 1slice | Calories: 321kcal | Carbohydrates: 14g | Protein: 14g | Fat: 23g | Saturated Fat: 10g | Polyunsaturated Fat: 3g | Monounsaturated Fat: 9g | Trans Fat: 1g | Cholesterol: 157mg | Sodium: 521mg | Potassium: 225mg | Fiber: 1g | Sugar: 1g | Vitamin A: 1031IU | Vitamin C: 20mg | Calcium: 131mg | Iron: 2mg
Nutrition provided is an estimate. It will vary based on specific ingredients used.
Did you make this recipe? Don't forget to give it a star rating below!