Easy to make ham fried rice is better than takeout and is ready in only 20 minutes! This flavorful weeknight dinner is made with wholesome ingredients including leftover rice, frozen veggies, and bits of ham coated in a flavorful sauce!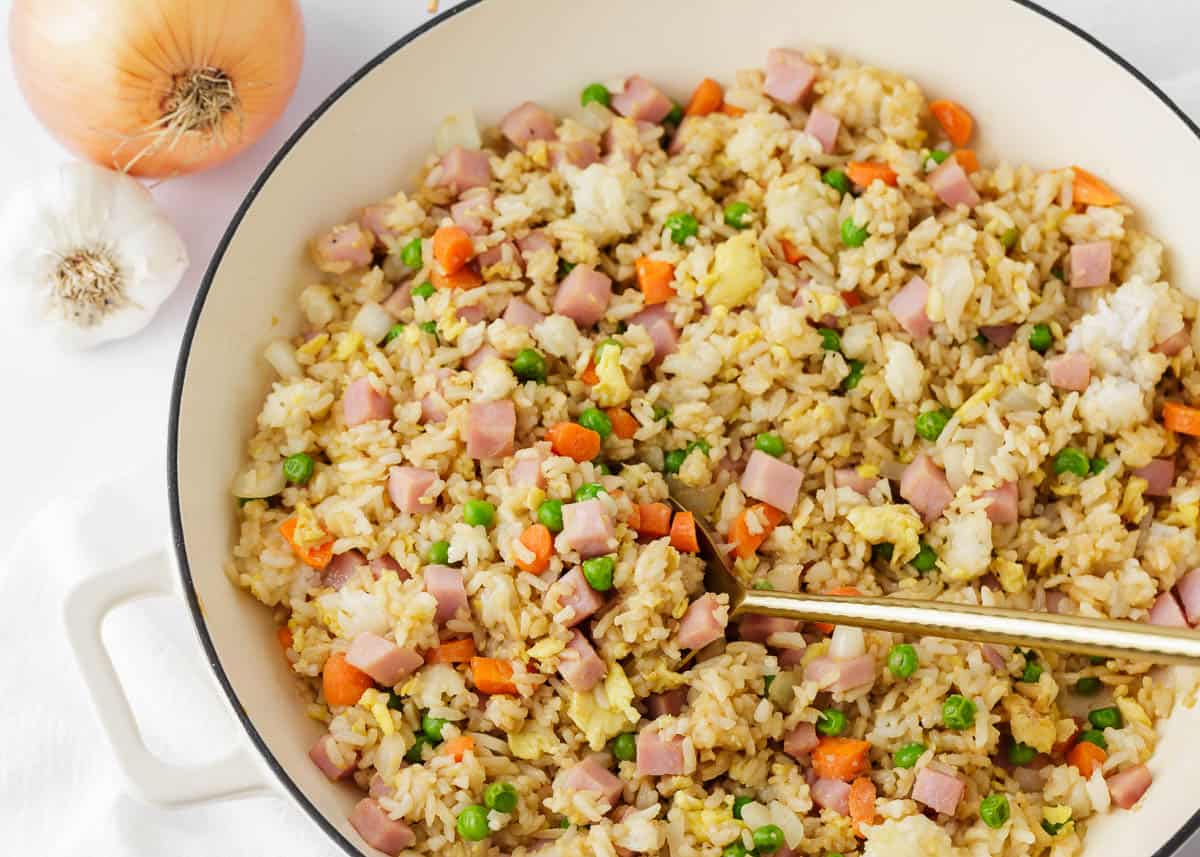 Simple, Fresh & Healthy
While classic fried rice is a family favorite, I make this easy ham fried rice recipe with leftovers (usually a holiday ham) and it gets just as many rave reviews!
Plus, it is a great way to satisfy your Chinese take-out cravings without having to leave your kitchen! Not to mention it's better for you, too. You can adjust the sodium levels and toss in extra veggies if you'd like.
It's simple to make with easy, uncomplicated ingredients. Yet it's so flavorful with the perfect texture. All you need is ham, rice, vegetables, and a simple fried rice sauce. Sometimes we add pineapple like in this pineapple fried rice!
For a weeknight dinner, it really doesn't get any easier. Serve it on its own or pair it with any of these Asian recipes for a complete meal!
Why This Recipe Works
Versatile. Serve this fried rice with ham as the main dish or a side dish alongside general Tso's chicken or kung pao chicken. Have it for an easy lunch or dinner any day of the week.
Family approved. Both kids and adults alike will devour this recipe. I've even had requests for it from my youngest!
Uses leftovers. The key to perfect fried rice is to use cold leftovers. Freshly made is not dry enough and does not fry the same way!
Recipe Ingredients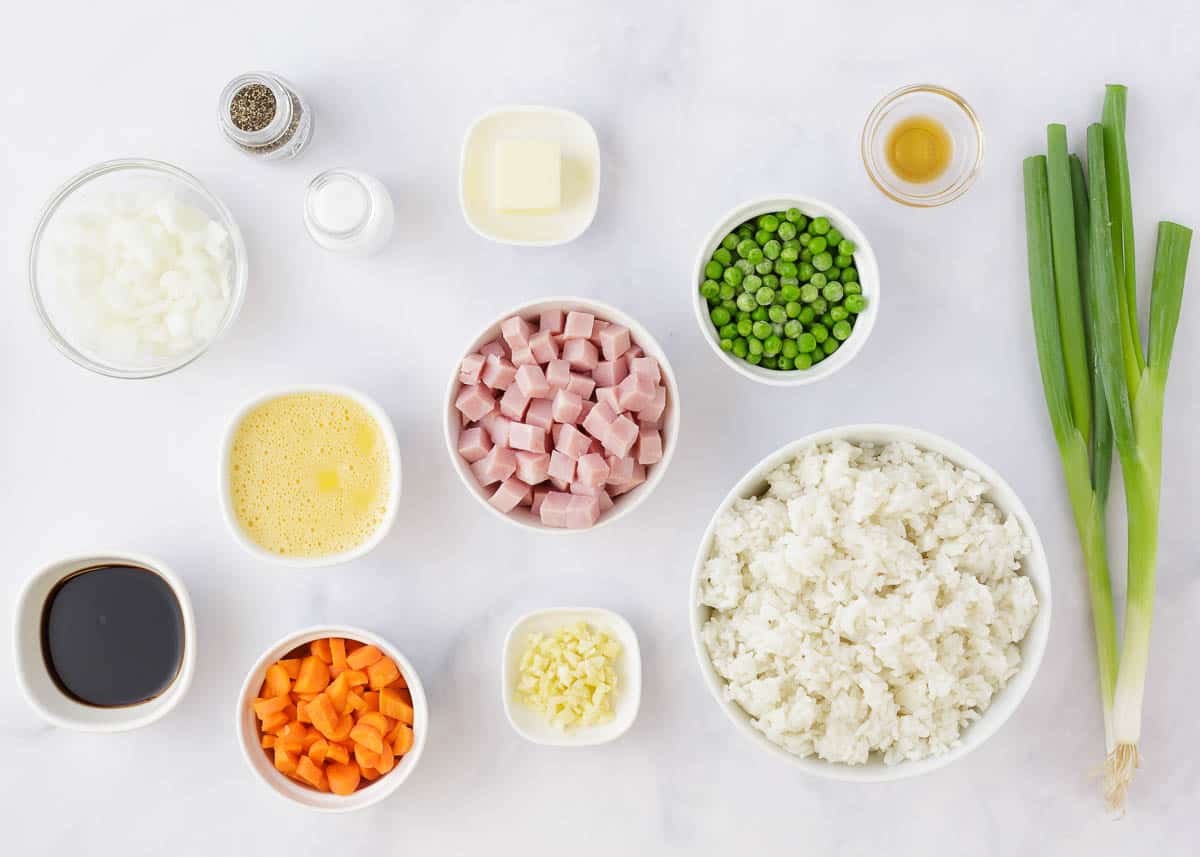 Find the full printable recipe with specific measurements below.
Cooked rice: Preferably leftover cold rice. I often double stovetop rice or Instant pot rice to have it on hand for this easy ham fried rice recipe!
Unsalted butter: Butter gives it an authentic restaurant taste! You will want to use unsalted, as ham is a saltier meat.
Vegetables: I used chopped onion, carrots, and peas. Using frozen mixed vegetables is a great timesaver!
Eggs: Two lightly whisked and scrambled eggs add great texture and flavor.
Cooked ham: This simple baked ham is my go-to favorite and adds the perfect savory taste!
Soy sauce: I prefer to use low sodium soy sauce so the dish is not overly salty.
Sesame oil: Adds another layer of toasty, savory flavor! Oyster sauce could also be used.
Variations
Gluten free. Nearly everything in this is gluten free except for the soy sauce. Many soy sauces contain gluten, but there are a few brands that do not, just check the label.
Brown rice. Can be substituted 1:1 in this easy ham fried rice recipe.
Meat. If ham is not your favorite, try cooked pork, bacon, chicken, or shrimp. You could even make this vegetarian and omit the meat.
Veggies. Additional vegetables like mushrooms, chopped broccoli, or bell pepper could be added or substituted.
Pineapple. Ham fried rice with pineapple would give this dish a delicious sweet and salty flavor.
How to Make Ham Fried Rice
In just a few simple steps you'll have a great meal that can be used as either a side dish or a main dish complete with grains, veggies, and protein.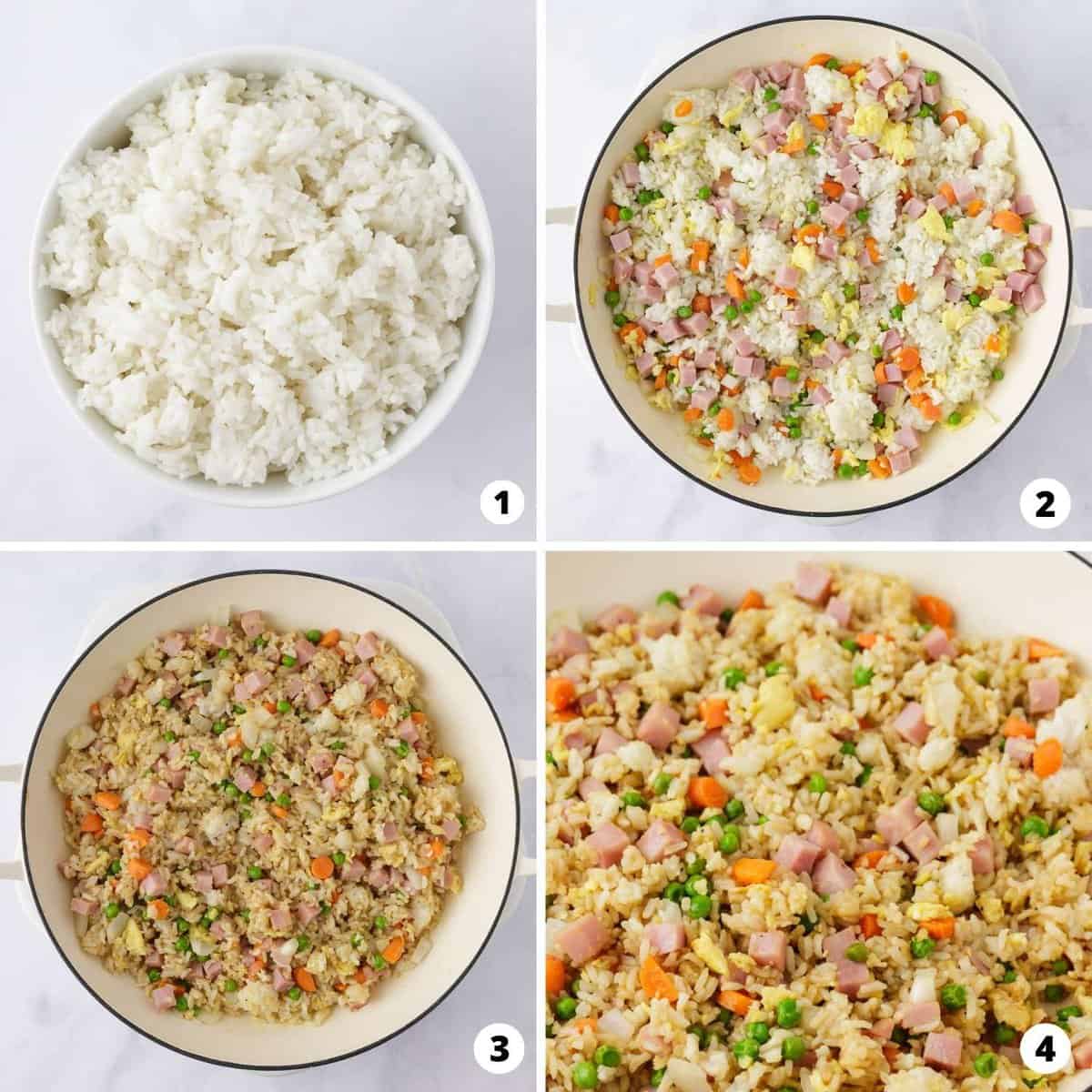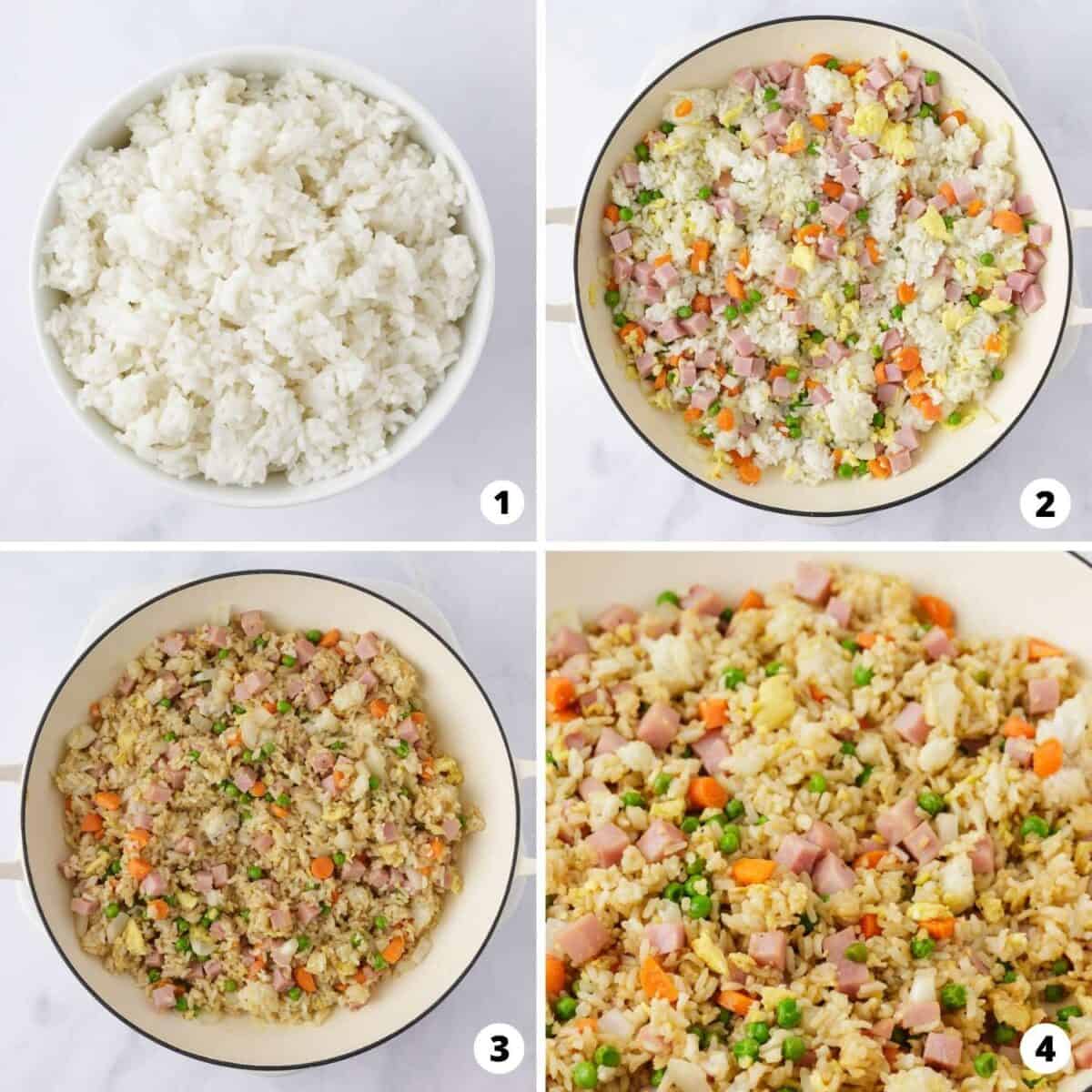 Chill rice. Prepare, then chill it in the refrigerator until ready to use. Even better, use leftovers straight out of the fridge!
Stir fry. Add butter to a hot large skillet or wok. Stir in the onion and carrots, cook for 2 minutes, then add minced garlic and peas. Push your veggies to one side, scramble eggs, and then stir everything together. Finally, gently stir in cooked rice and ham.
Add sauce. Add soy sauce, sesame oil, plus salt and pepper, then toss to coat. This is where a large skillet comes in handy as it reduces the risk of ingredients leaping out of the pan!
Serve. Sprinkle green onions over top and serve warm. Chopsticks are optional!
Expert Tips
Keep it simple. While it might be tempting to add more ingredients, the star of the dish is rice and that should be the main focus.
Cold rice. Leftovers tends to take on the shape of the container it has been stored in! To break up the clumps, wet your hands slightly and then break up the grains by pressing them between your hands.
Prep ahead. This recipe comes together quickly so have all your ingredients prepped and arranged stove-side, so they can be added to the hot pan quickly.
Large work or skillet. Use a pan that almost seems too large for the amount you're putting in it! This will allow your ingredients to heat up quickly and evenly.
Hot pan. As for temperature, your pan should be nice and hot before you start adding ingredients. Once you hear the butter sizzle, it's ready.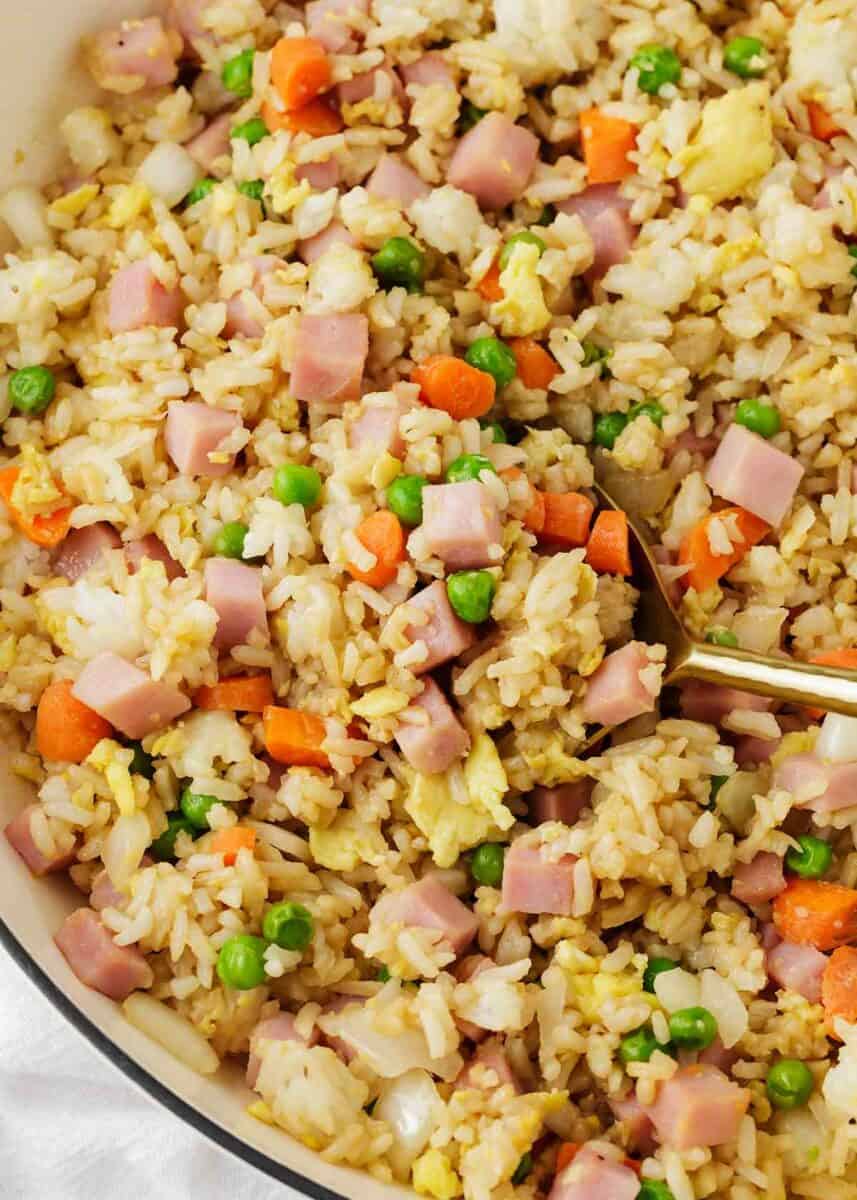 Recipe FAQs
What is the secret to good fried rice?
Leftover cold rice will make the best fried rice with ham. Using leftover rice that has sat in your fridge gives the rice grains a chance to firm up, separate and then decreases the chances that moisture will cause the rice to be mushy. If you cannot wait and do not have leftover rice, after cooking rice, air it to remove moisture and then refrigerate for a few hours before using.
What is the best rice to use for ham fried rice?
Technically any white or brown rice can be used, but I prefer long-grain like jasmine rice. It tends to be firmer without a sticky texture that prevents it from getting lumpy or mushy.
Why is my fried rice not crispy?
To prevent it from being soggy, be sure to use a large enough skillet or wok that is hot. If you add too many ingredients at once, the skillet becomes overcrowded and prevents your wok from getting hot enough.
Is it better to fry rice in butter or oil?
While oil works, the butter will give the best flavor! If it's good enough for a Hibachi chef at a Japanese restaurant, that's a good enough reason for me to use it, too.
Storing
Easy fried rice with ham leftovers will stay good in the fridge for up to 3 days. Store in an airtight container and use it for meal prep!
You can also freeze up to 1 month in an airtight container or freezer bag, just thaw and reheat in the microwave or in a skillet.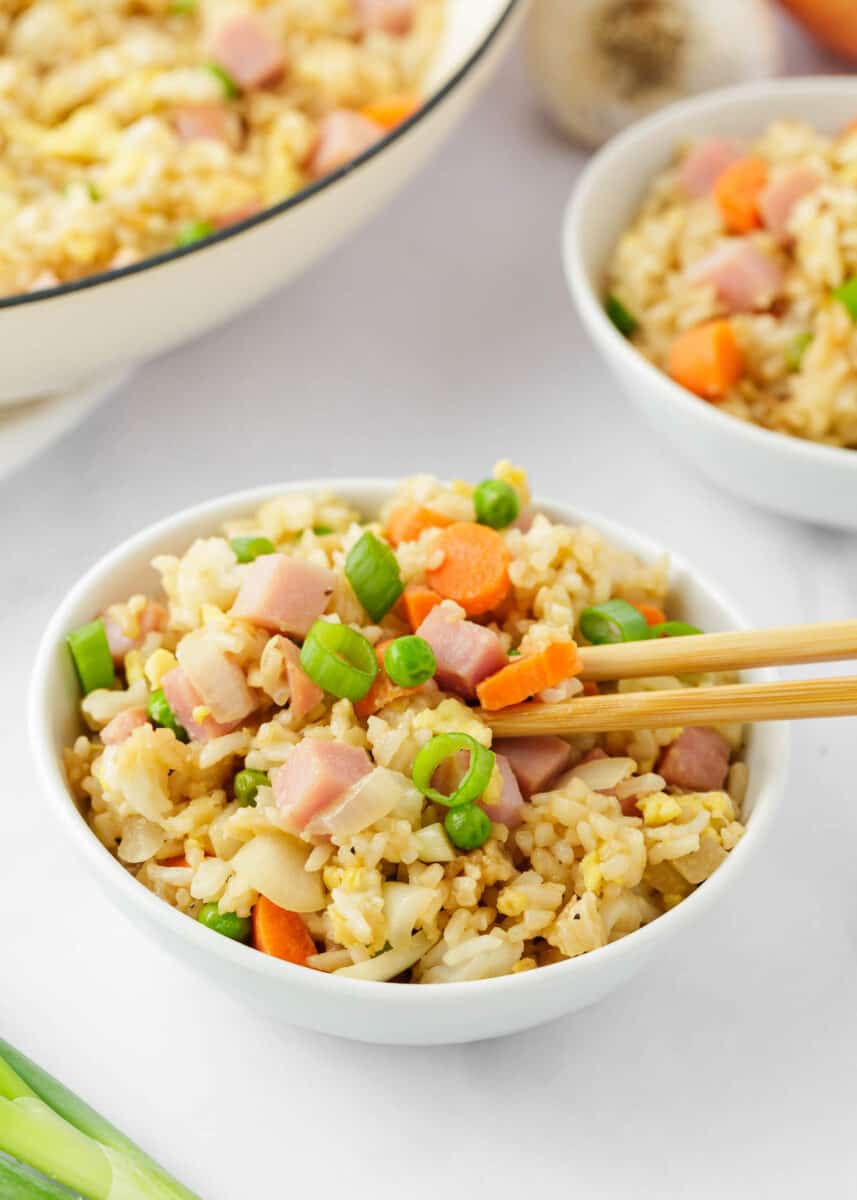 HUNGRY FOR MORE? Subscribe to my newsletter and follow on Facebook, Pinterest and Instagram for all the newest recipes!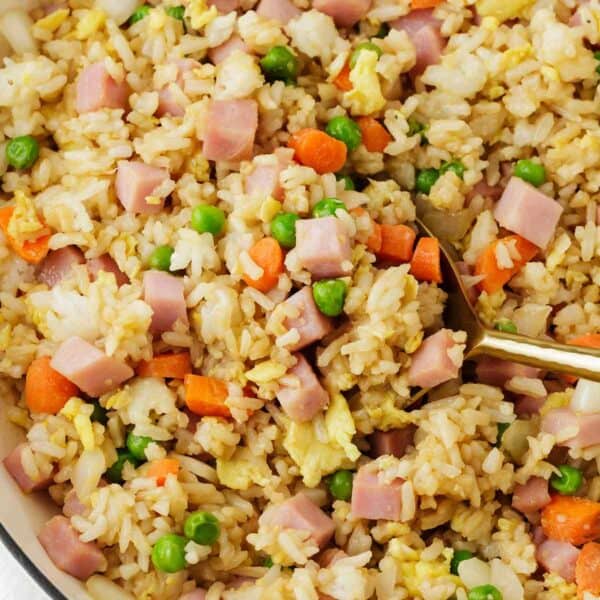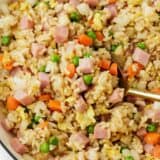 Easy Ham Fried Rice
Easy to make ham fried rice is better than takeout and is ready in only 20 minutes! This flavorful weeknight dinner is made with wholesome ingredients including leftover rice, frozen veggies, and salty bits of ham coated in a flavorful sauce!
Ingredients
3-4 cups cooked rice , preferably leftover cold rice
2 Tablespoons unsalted butter
½ cup chopped onion
½ cup chopped carrots
1-2 teaspoons minced garlic
½ cup frozen peas
2 large eggs , whisked
1 cup diced (1/2-inch pieces) cooked ham , plus more if desired
3 Tablespoons lite soy sauce , plus more if desired
½ teaspoon sesame oil , or oyster sauce
Salt , to taste
Ground black pepper , to taste
Green onions , for serving
Instructions
Chill the cooked rice until ready to use.

In a large skillet or wok, add the butter, Stir in the onion and carrots and cook 2 minutes. Add the garlic and peas. Push veggies to one side and add the eggs to the other side. Stir the eggs until scrambled and then stir together all the ingredients. Gently stir in cooked rice and ham.

Add soy sauce and sesame oil and toss to coat. Salt and pepper, to taste. Serve while warm. Sprinkle green onions over top.
---
Notes
Quantity of rice: 1 1/4 cups uncooked rice makes 4 cups cooked rice.
Additions:
Veggies: mushrooms, chopped broccoli and/or bell peppers
Storage: Store in an airtight container in the fridge up to 3 days or in the freezer up to 1 month.
Nutrition
Calories: 217kcal | Carbohydrates: 27g | Protein: 10g | Fat: 7g | Saturated Fat: 3g | Polyunsaturated Fat: 1g | Monounsaturated Fat: 2g | Trans Fat: 0.2g | Cholesterol: 86mg | Sodium: 754mg | Potassium: 209mg | Fiber: 2g | Sugar: 2g | Vitamin A: 2081IU | Vitamin C: 11mg | Calcium: 32mg | Iron: 1mg
Nutrition provided is an estimate. It will vary based on specific ingredients used.
Did you make this recipe? Don't forget to give it a star rating below!