This oven baked ham recipe is so easy to make and results in moist, tender savory meat that has the best flavor from a sweet brown sugar glaze. With 5 simple ingredients, it's the perfect dish for the holidays!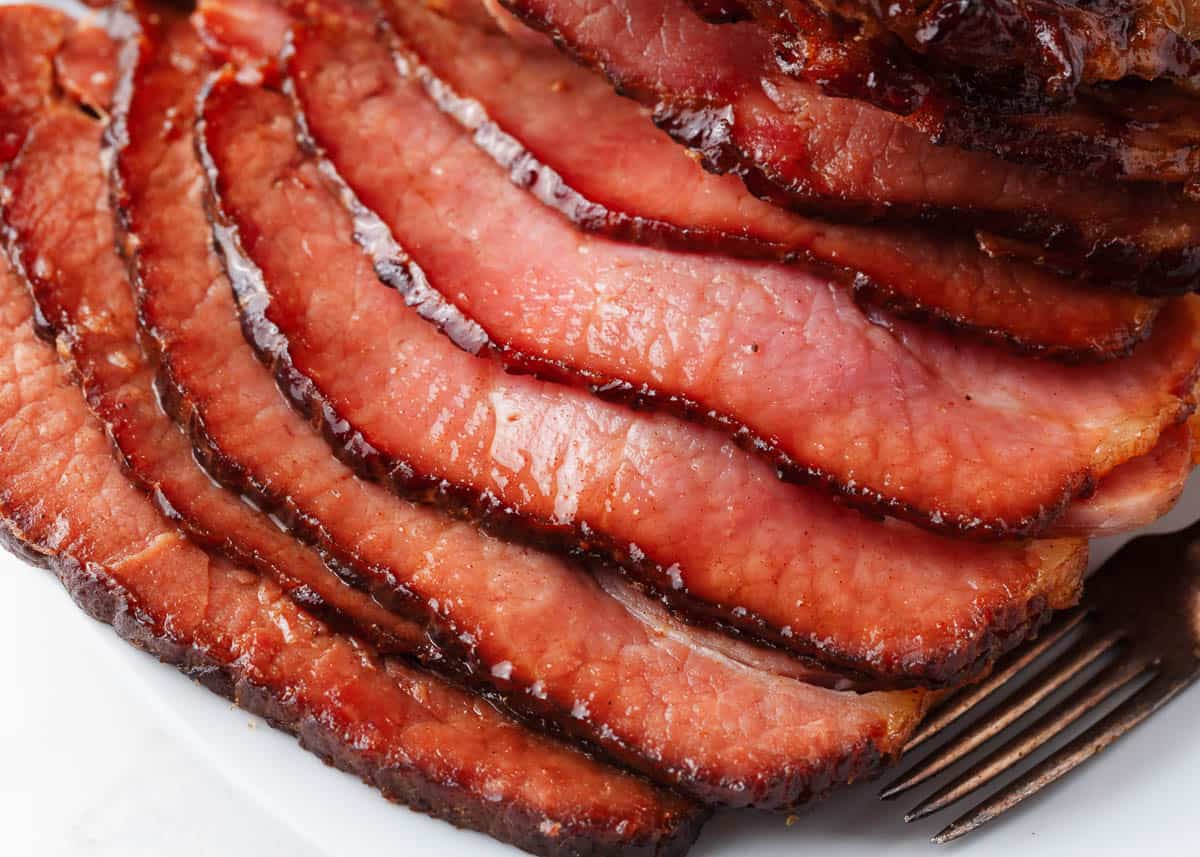 Why we love Baked Ham
Baked Ham Brown Sugar Glaze Recipe
This glaze is deliciously sweet and tangy, which compliments the ham perfectly. It caramelizes as it bakes in the oven, which adds a super delicious flavor.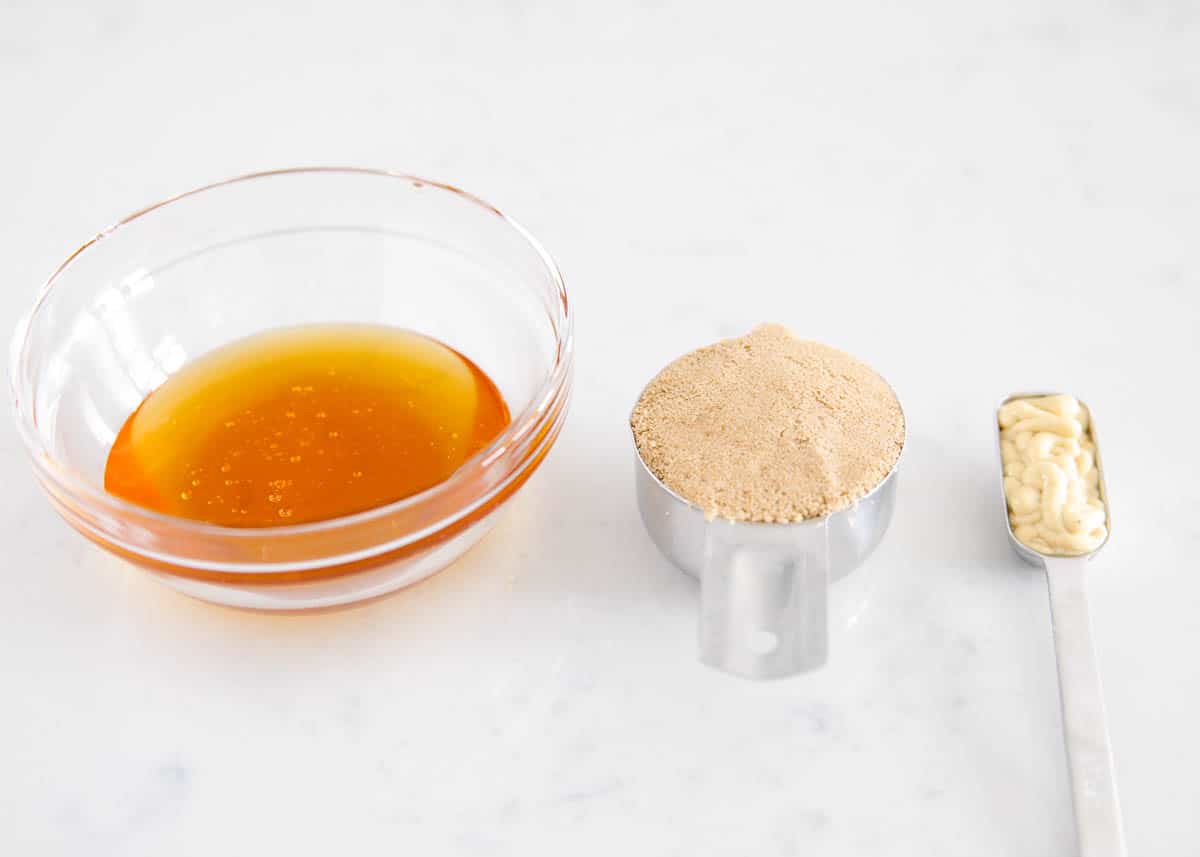 Find the full printable recipe with specific measurements below.
Honey: The honey adds to the sweetness of the glaze. You can substitute honey for maple syrup if you prefer maple flavor.
Brown sugar: Light or dark brown sugar will both work. For a more subtle flavor, use light brown sugar. For a richer flavor, use dark brown sugar.
Dijon mustard: The mustard helps balance out the sweetness with its tangy flavor. I like using dijon instead of yellow because it has a little less vinegar and adds some spice.
How to Bake a Ham
The best part about this recipe is the delicious glaze on top. It makes the meat extra juicy and flavorful. The outside gets nice and caramelized, while the inside stays moist and tender.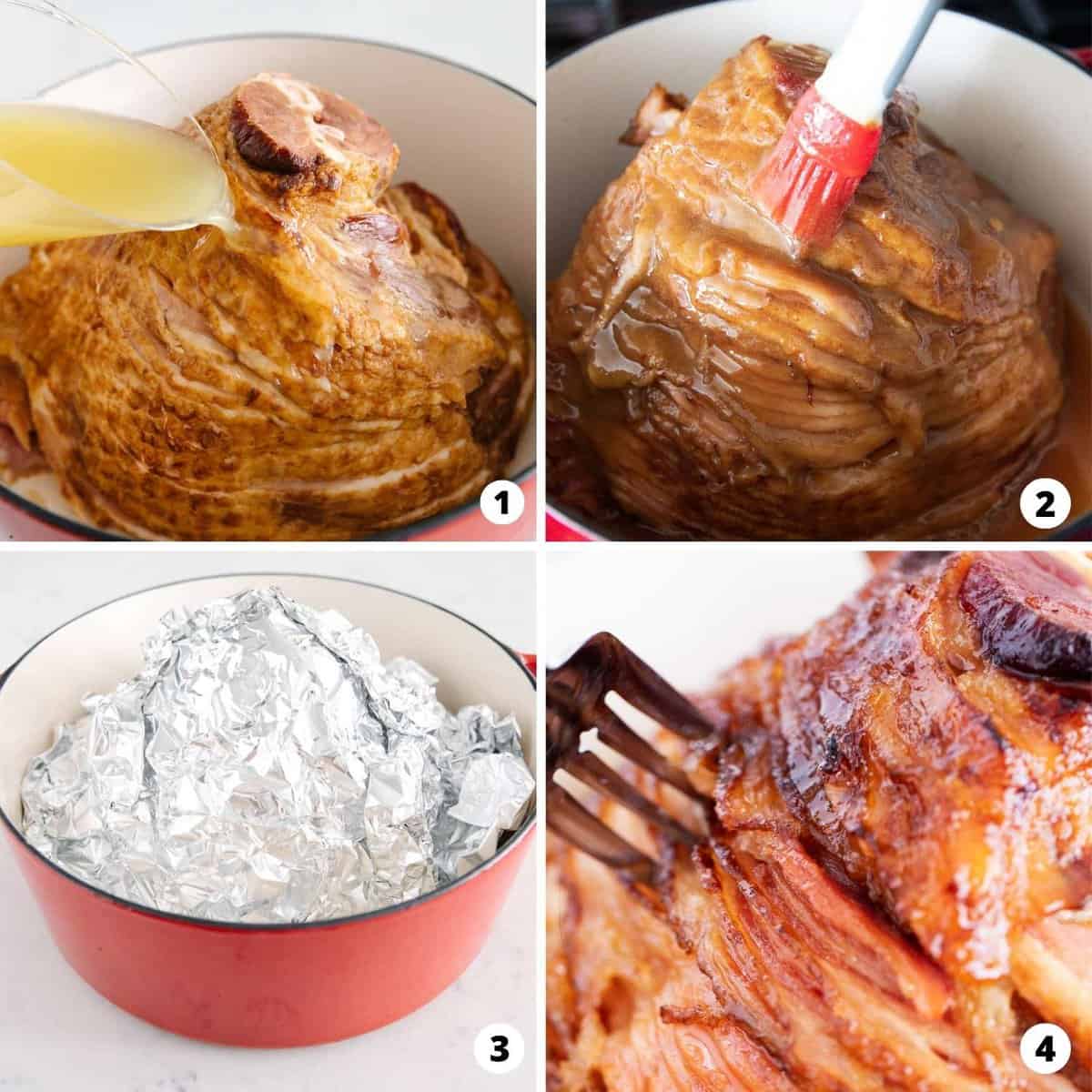 Pour. Place the ham in a roasting pan or dutch oven cut side down. Then pour the pineapple juice (or orange juice) on top and cover tightly with foil. Bake at 350°F for 30 minutes.
Glaze. While it cooks, whisk together the glaze ingredients in a small bowl.
Bake. After 30 minutes has passed, remove from the oven and brush the glaze on top. Place back in oven for 30 minutes, then baste the ham with the juices. Baste every 15 to 20 minutes, for about 90 to 100 minutes total. It will be done when the internal temperature reaches 140°F.
Slice. Remove from oven and let rest in pan for about 10 minutes. Then slice and enjoy!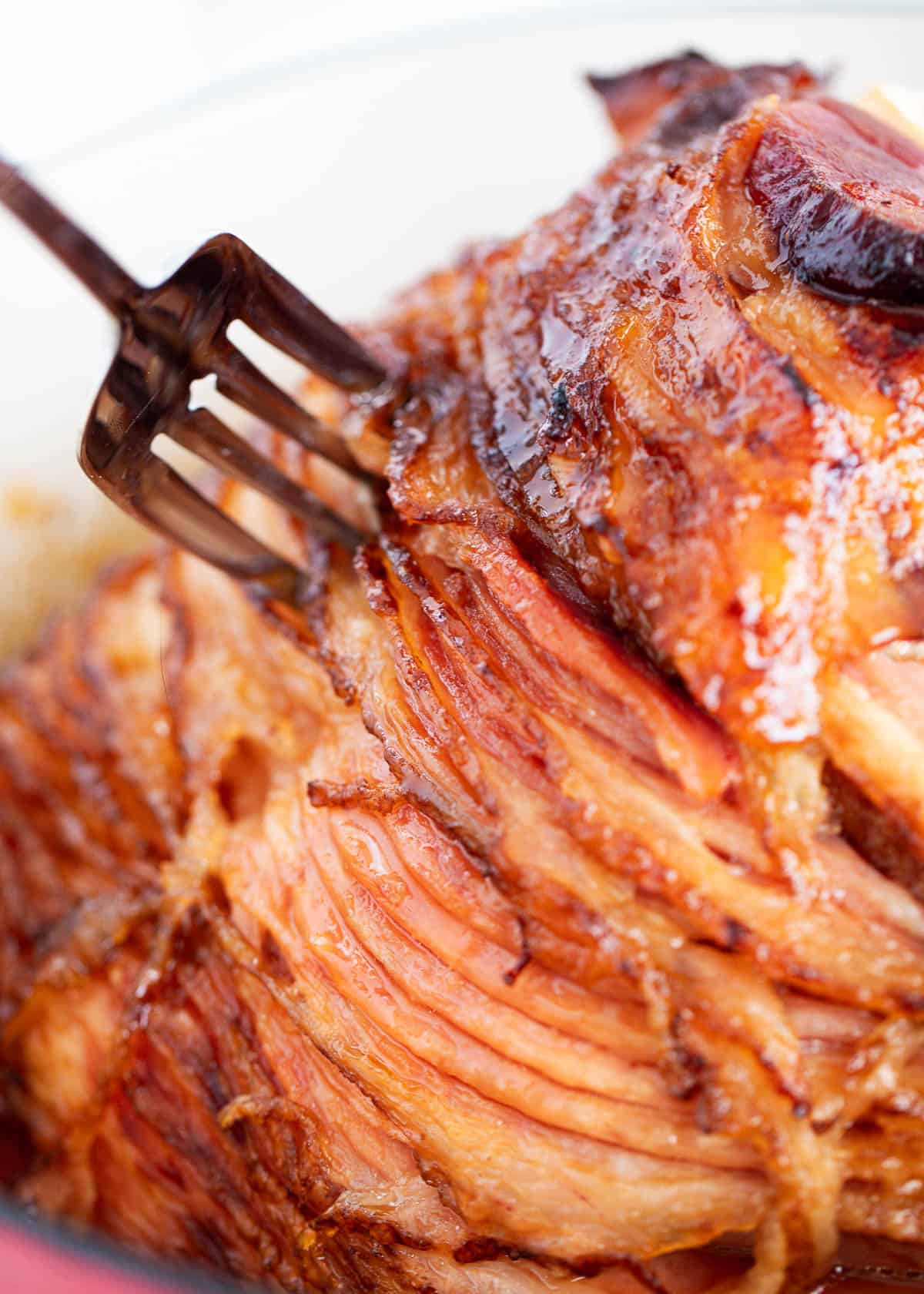 Cooking Tips
With these quick tips, your ham will be ready in no time and your family will be thanking you!
Finding a ham. I've had the best luck with purchasing a whole ham at Costco. These are always a family favorite. We usually get precooked with the bone in and a spiral ham.
Cover the ham. You will want to make sure the ham is fully covered with foil when baking. This will lock in all the juices and flavor and won't get dried out.
Glaze. Baste the ham several times while baking to ensure the meat doesn't dry out. I will use the juices from the bottom of the ham and continually brush or baste it on and through the groves of the spiral ham.
Crispy outside. Bump up the heat during the last 10 minutes of cooking if you'd like to crisp the outer edges. This gives it a caramelized texture and a rich flavor.
Resting. This is a major key! Let the ham rest for about 10 minutes before slicing to keep it moist and juicy.
Using Leftovers with the Best Ham
One of my favorite things about making a big baked ham for the holidays is having leftovers. Fill up another plate with your favorite leftover sides, make a big ham sandwich, fried rice with ham, or use it to make any of the recipes below.
Recipe FAQs
How long does it take to cook a ham in the oven?
Seasonal and holiday hams are usually already precooked. This is helpful since you are essentially warming up the ham. It is best to use an internal thermometer. A fully cooked hams internal temperature needs to be at least 145 degrees Fahrenheit.
How many pounds of ham per person?
It is estimated that 1/2 a pound per person when buying a ham. If you are hoping to have leftovers, you can add in 1 pound per person. That still seems like a lot of ham but when you start cutting into a ham, some of the meat is not edible near the bone.
How much ham do I need?
Depending on how many people you are having over will determine how much ham you are wanting to purchase. If you are hoping to have leftover ham, make sure to purchase a ham that is more than you intend to feed your family and friends.
Do you cover a ham when you bake it in the oven?
Yes! Covering your ham is a good idea when you are first baking it. This will hold in the juices and the glaze. The ham will be tender and juicy! Once the ham is about done baking, with about 10 minutes left, it is okay to remove the cover for the outside to caramelize. This combination gives the ham the best taste and flavor!
Storing and Freezing Leftovers
Before buying your ham, make sure to know how many family and friends you are having for dinner. This will help determine if you are wanting to have extra leftovers or not. Ham is easy to store and will tastes even better the next day!
To refrigerate: Once cooled, place the slices in an airtight container or in a ziplock bag for storing in the refrigerator. This will last in the fridge for 5 to 7 days.
To freeze: Lay slices flat in a ziplock bag and let all the air out. Label the bag and place flat in the freezer. Take out of the freezer and let thaw in the fridge before warming up again.
To reheat: When ready to warm up, place in the microwave or in the oven to heat until it is warm. You will want to make sure you do not over heat the meat or it will be hard and crispy to eat. Use some of our leftover links to add your ham too!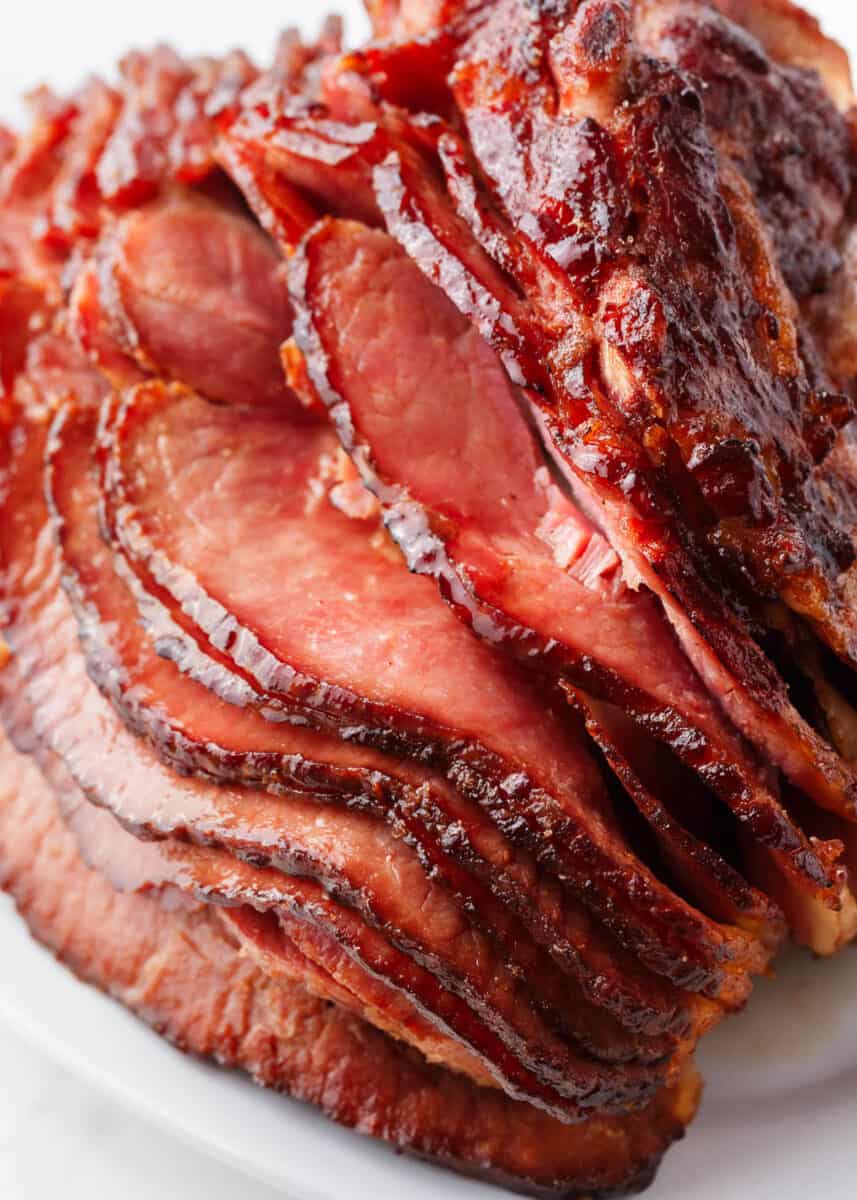 Favorite Sides for Serving
HUNGRY FOR MORE? Subscribe to my newsletter and follow on Facebook, Pinterest and Instagram for all the newest recipes!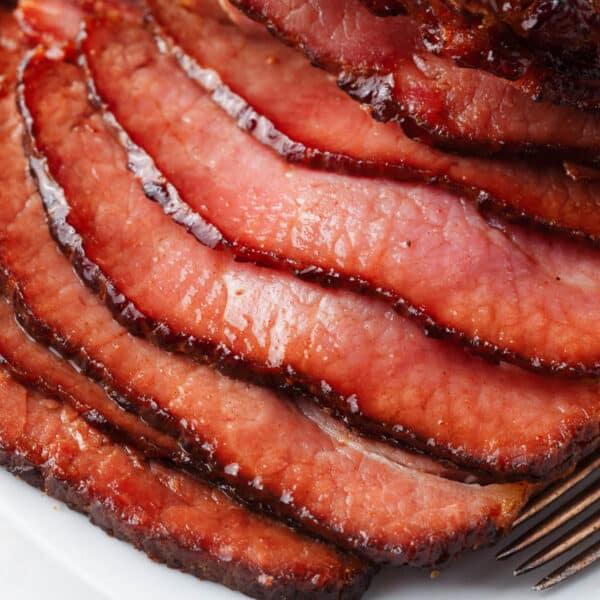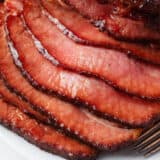 Oven Baked Ham Recipe
This oven baked ham recipe is so easy to make and is great for beginners. You only need 5 simple ingredients and about 5 minutes to prep. It's the perfect dish for the holidays!
Ingredients
7-10 pound bone-in spiral ham
½ cup pineapple juice (or orange juice)
Glaze
½ cup honey (or pure maple syrup)
½ cup light brown sugar , packed
1-2 Tablespoons dijon mustard
Instructions
Preheat oven to 350°F. Remove the ham from the wrapper and discard glaze packet. Then spray a non stick spray into shallow roasting pan or dutch oven and place the ham in cut side down.

Pour the juice over top of the ham and then cover tightly with foil. Bake for 30 minutes.

Meanwhile, combine the glaze ingredients in a small bowl and whisk until combined. After 30 minutes cooking, brush over the top of the ham.

Bake again for 30 minutes and then baste the ham with the juices. Repeat every 15-20 minutes until the internal temperature reaches 140°F. Plan for about 90-100 minutes cook time. The last 10 minutes the ham is cooking you can turn the heat to 425°F if you'd like to caramelize it a little more.

Remove from the oven and let set 10 minutes. Slice off the bone and serve warm.
---
Notes
To make in the slow cooker, check out my crockpot spiral ham recipe.
Storage: Store leftovers in a covered container in the refrigerator up to 3 days or dice and freeze in a freezer safe bag to add to a soup later.
Nutrition
Calories: 386kcal | Carbohydrates: 16g | Protein: 28g | Fat: 22g | Saturated Fat: 7g | Cholesterol: 82mg | Sodium: 1588mg | Potassium: 432mg | Sugar: 14g | Vitamin C: 2mg | Calcium: 27mg | Iron: 1.3mg
Nutrition provided is an estimate. It will vary based on specific ingredients used.
Did you make this recipe? Don't forget to give it a star rating below!