This Knorr spinach dip is what easy entertaining is all about! A thick creamy dip that comes together in minutes, is loaded with flavor, and gets better the longer it sits. Served in a beautiful bread bowl, you've got a simple yet impressive appetizer dip!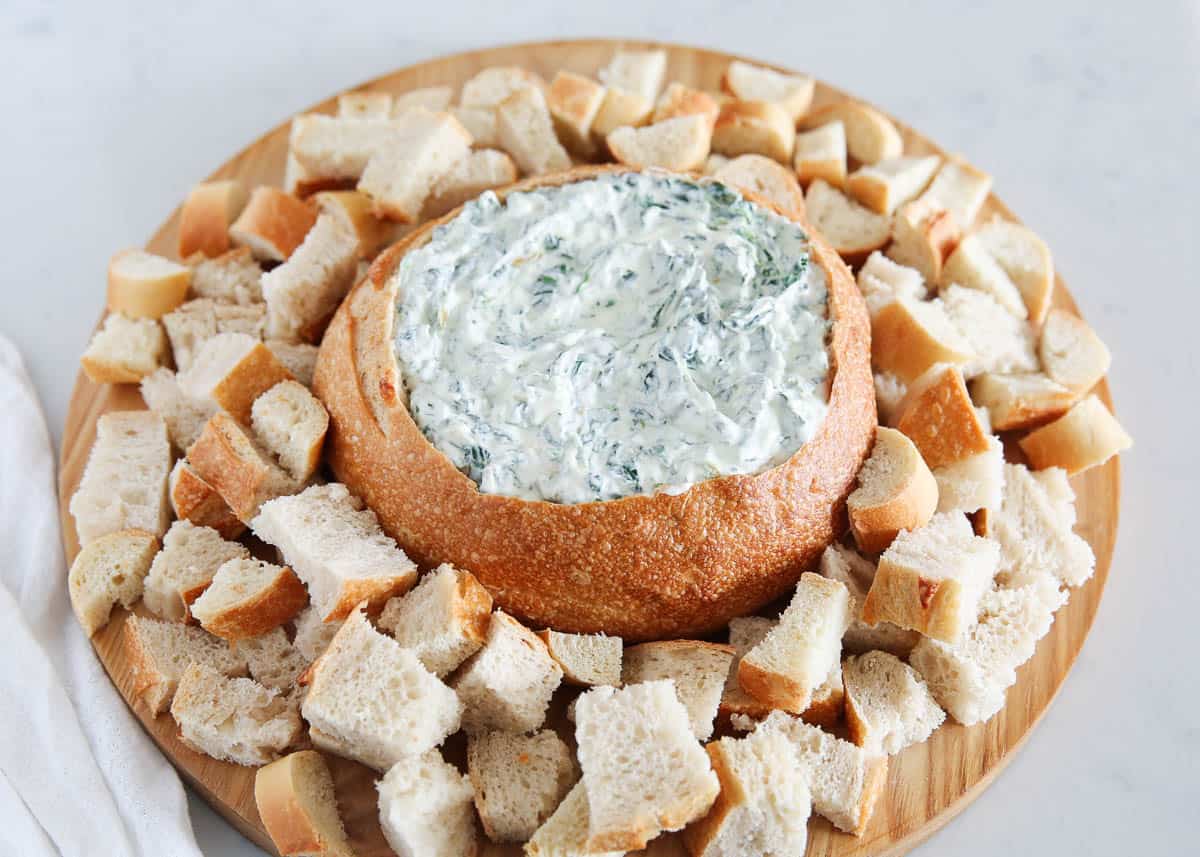 An Easy Cold Spinach Dip
You won't find an easier dip to make than this cold spinach dip recipe! It's a no-bake dip served chilled, which means no turning on the oven and just a bit of chill time! This dip is thick, creamy, cheesy, and perfect for dipping chips, pretzels, bread, crackers, and veggie sticks!
It's an easy party dip to throw together as a simple starter for company, and it's even more impressive when served in a bread bowl. Make it as part of an array of appetizers for game day or a movie night and watch how quickly it disappears!
Recipe Ingredients for Classic Spinach Dip
This spinach dip has a special ingredient that makes this dip named Knorr. Vegetable recipe mix is my go-to seasoning for this recipe as well as others to help add flavor. Make this spinach dip even better with the blend of these ingredients!
Find the full printable recipe with specific measurements below.
Spinach: Frozen spinach needs to be cooked and drained really well. This will avoid the spinach artichoke dip to become watery. Below are tips for preparing spinach.
Sour cream: Adds creaminess and taste with the spinach.
Mayo: This has a flavor and a creamy texture that blends well with other ingredients.
Knorr vegetable mix: Here is the key ingredient to making this spinach dip even better! Find this in any seasoning aisle.
Water chestnuts: Drain and chop up the chestnuts. These are an extra added texture and crunch into each bite.
Green onions: Slice thin and add to the mix for a hint of spice.
Sourdough bread bowl: I like the look and idea of coming from a bread bowl and using the extra bread to dip it in. You can place this dip in a bowl for serving too.
How to Make a Homemade Cold Spinach Dip
Some people love the taste of a warm, comforting spinach dip, but this dip will still be amazingly delicious cold. You will love the added flavor and texture this spinach dip has to offer. You can make this dip year-round and have everyone asking for more!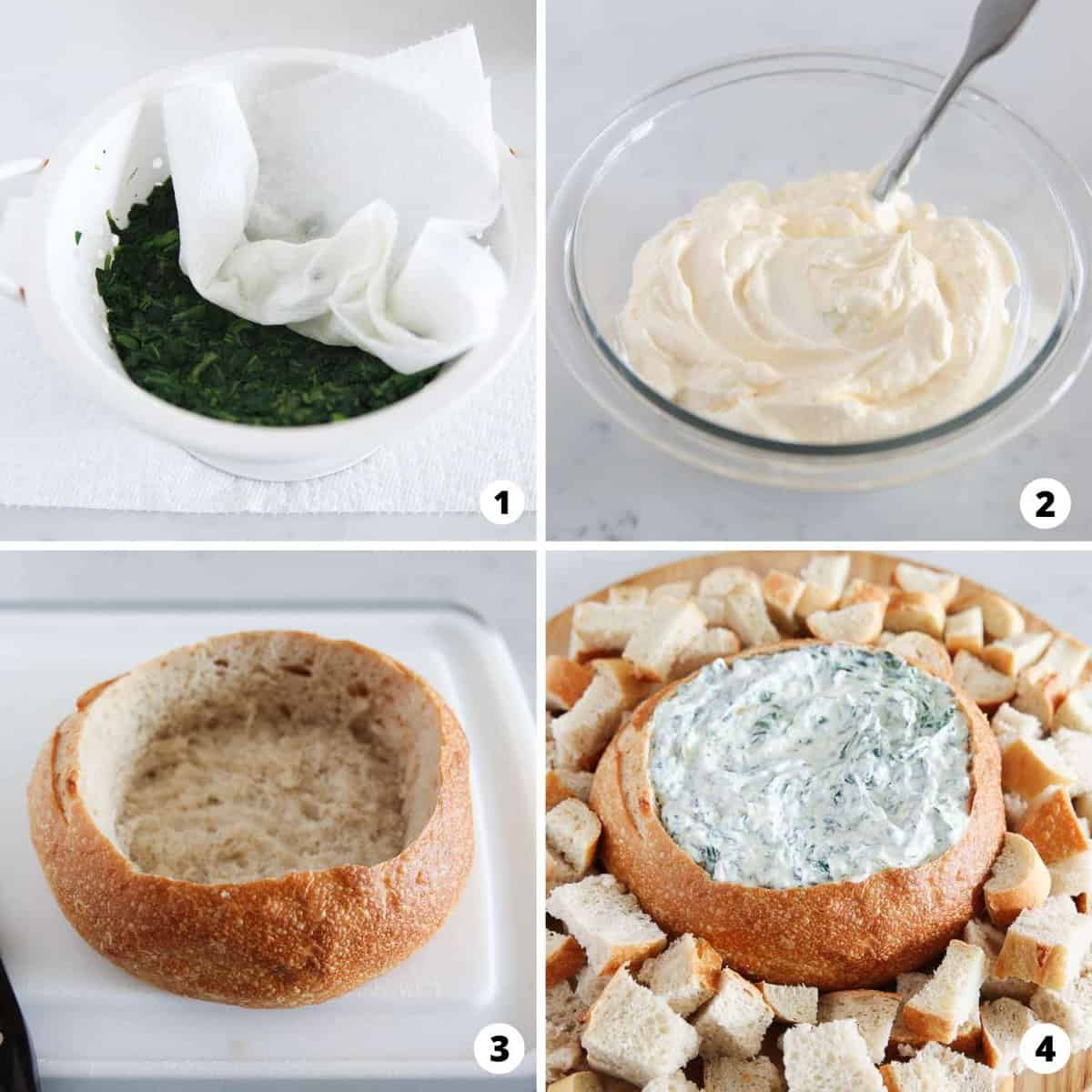 Prepare spinach. Cook the spinach according to package directions and squeeze out excess water.
Mix together. Add mayonnaise, sour cream, and chopped spinach along with all other ingredients into a medium bowl. Mix to combine and season to taste.
Chill. Place in the fridge to chill for a minimum of 1 hour.
Serve. Add spinach dip into the cutout bread bowl. Slice bread and add around the outside of the bowl.
To Serve
Hollow out a round loaf of bread, cutting a large circle around the top of the bread. I prefer to use French bread because of its thin crispy crust and soft crumb, but you use what you like. Remove the inner bread pieces and place them on the platter. Use them for dipping. Pour dip into hollowed-out loaf just before serving.
Tips for Success
Follow these tips to have an even better cold spinach dip! Here are more options, variations, and ways to be successful when making this dip. Enjoy with friends and family year round!
Fresh or frozen spinach. Whether you're using fresh or frozen (freezer section by the veggies), cooked spinach produces a lot of water. Make sure to drain it!
Squeeze out the water. Make sure to squeeze out as much water from the spinach as you can. Adding watery spinach to your dip will create a watery dip! You want to keep it as thick and creamy as possible. Use a cheesecloth or paper towel for easy draining.
Water chestnuts. They are generally found in the Asian food section. They add a nice light, crispy textural component to the dip but can be omitted if preferred.
A different seasoning mix. If you can't get your hands on Knorr vegetable mix, substitute for a dry package of leek soup mix or a ranch seasoning packet. Both are great.
No mayo? No problem! Replace it with cream cheese instead.
Turn it into a Spinach and Artichoke Dip!
Take it up a notch and make an easy spinach artichoke dip! Just stir in a can of drained and chopped artichokes. If you'd like, you can also sprinkle in freshly grated parmesan cheese.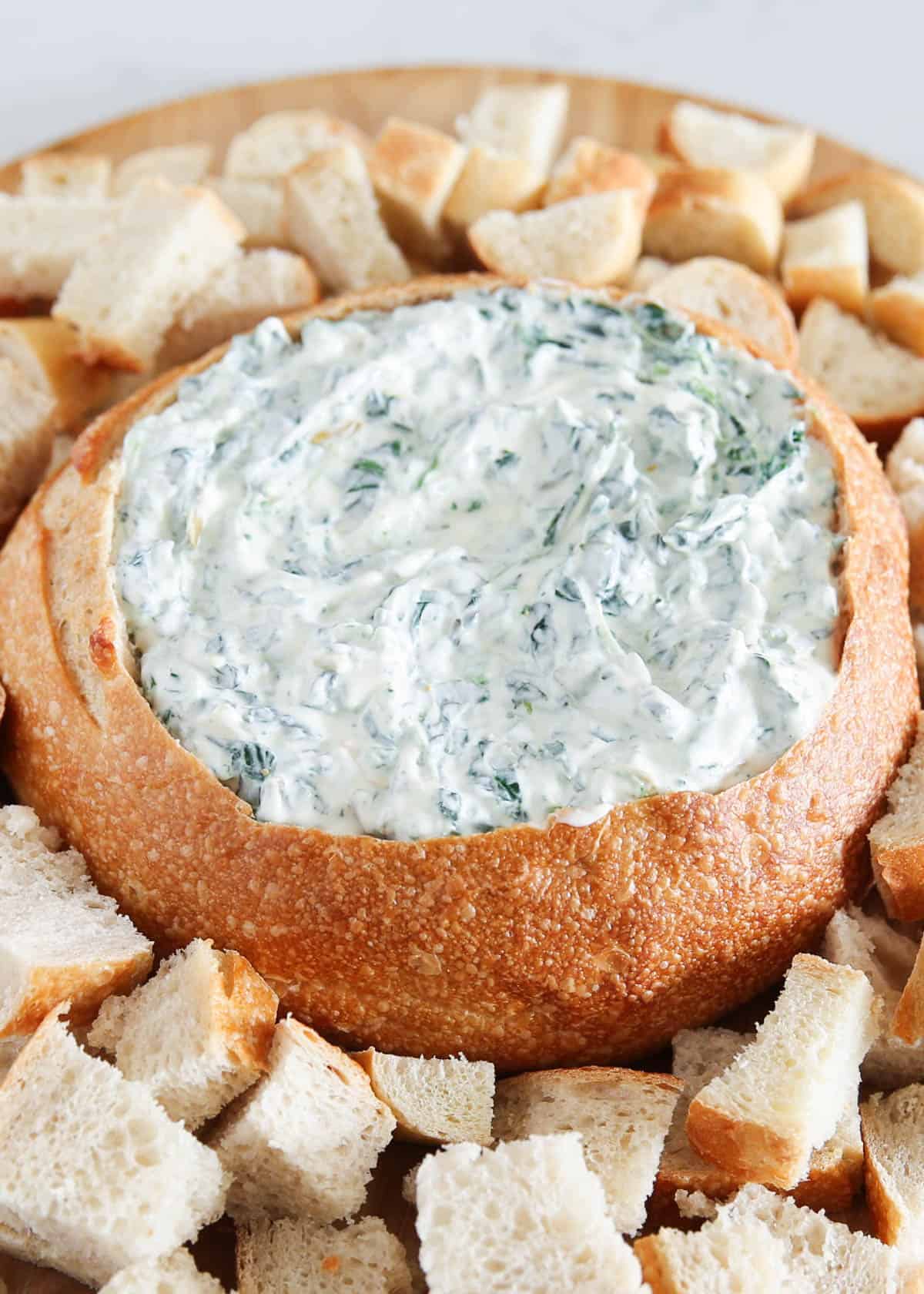 Favorite Dippers
A classic cold spinach dip is one of the easiest appetizers to prepare. It's made with simple ingredients and pairs well with so many things! See below for some of our favorite ways to enjoy it.
Make Ahead
This dip needs to be chilled for at least 1 hour before serving. The longer it sits the better the flavors marry, so even making it the night before is a great idea. Keep covered with plastic wrap in the fridge and bring it out just before serving.
Storing Tips
If you have any unused dip you can keep it in the fridge for up to 1 week. Store in an airtight container. When ready to enjoy, spoon out as needed. The spinach dip does not need to be heated up.
Recipe FAQs
How long does Knorr Spinach dip last in the fridge?
This spinach dip will last about 1 week in the refrigerator.
Is spinach dip unhealthy?
Spinach dip is not the healthiest appetizer to enjoy in great amounts. The creamy base of spinach dip is high in saturated fat. For a healthier version, you can use a nonfat greek yogurt instead.
Where can you buy Knorr spinach dip?
Most grocery stores have Knorr spinach dip down the seasoning aisle. Walmart, Fred Meyer, Kroger, and even Trader Joe's will have it.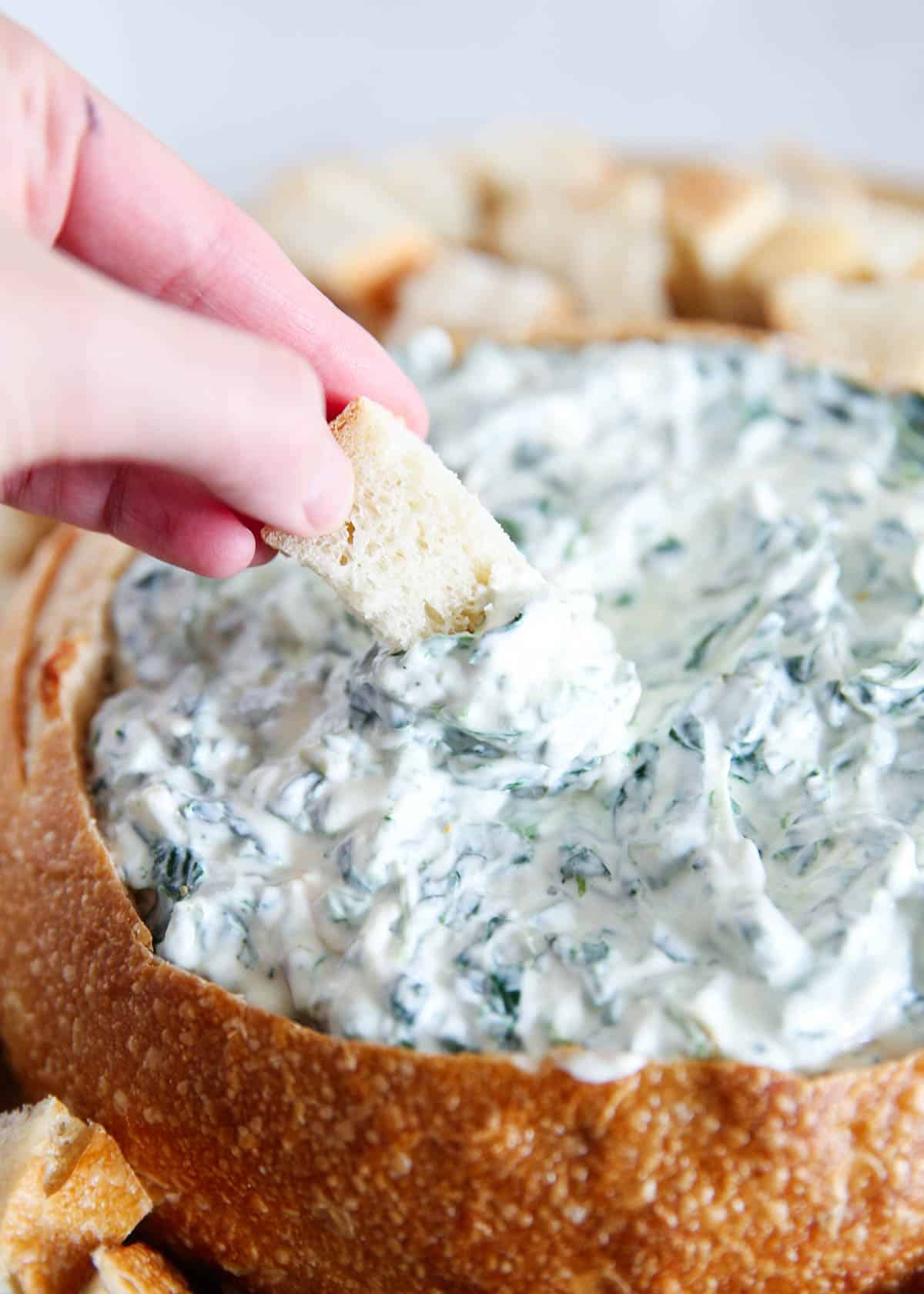 More Easy Appetizer Ideas
HUNGRY FOR MORE? Subscribe to my newsletter and follow on Facebook, Pinterest and Instagram for all the newest recipes!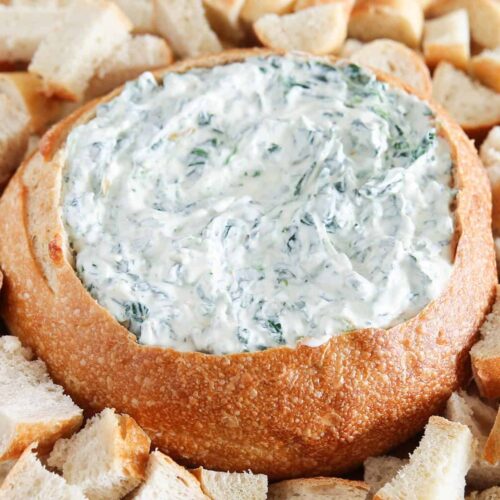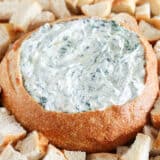 Knorr Spinach Dip
This Knorr spinach dip is what easy entertaining is all about! A thick creamy dip that comes together in minutes, is loaded with flavor and gets better the longer it sits.
Ingredients
8 ounces frozen spinach , cooked and well drained (see note)
16 ounces sour cream
1 cup mayo
1.8 ounce packet Knorr Vegetable Mix
8 ounces water chestnuts , drained and chopped (optional)
2 to 4 green onions , sliced thin
pinch salt and pepper
sourdough or bread bowl , for serving (optional)
For servings: baguette (sliced), carrots and celery
Instructions
Cook spinach according to package directions on the stove. Allow to cool and squeeze it dry in a cheese cloth or paper towel.

Combine all of the ingredients in a medium size bowl. Mix until smooth. Season to taste. Refrigerate for 1 hour (up to overnight) to allow the flavors to come out.

When ready to serve, hallow out the center of the bread bowl by cutting a large circle along the top of the bread.

Remove the bread from the center and slice into smaller pieces to use for dipping.

Place dip inside of the bread bowl when you're ready to serve.
---
Notes
Frozen spinach: You'll find this packaged in the freezer section near the vegetables. You could also use a pound of fresh spinach. Water chestnuts: These are found in the Asian food section, however can be omitted if preferred. Knorr Vegetable mix: If you cannot find this, you can also substitute for a package or dry leek soup mix or a ranch seasoning packet. Additions: If you want to take the dip up a notch, mix in a can of drained and chopped artichokes. You could also add in some freshly grated parmesan cheese. Storage: Store in a covered container in the refrigerator for up to 1 week.
Nutrition
Calories: 323kcal | Carbohydrates: 7g | Protein: 3g | Fat: 32g | Saturated Fat: 10g | Polyunsaturated Fat: 13g | Monounsaturated Fat: 8g | Trans Fat: 1g | Cholesterol: 41mg | Sodium: 247mg | Potassium: 225mg | Fiber: 2g | Sugar: 3g | Vitamin A: 3726IU | Vitamin C: 3mg | Calcium: 104mg | Iron: 1mg
Nutrition provided is an estimate. It will vary based on specific ingredients used.
Did you make this recipe? Don't forget to give it a star rating below!