Homemade French onion dip is a rich, cool, and creamy dip brimming with fresh flavors from the aromatics and herbs! It comes together in minutes and is great for serving guests or preparing snacks for a night in!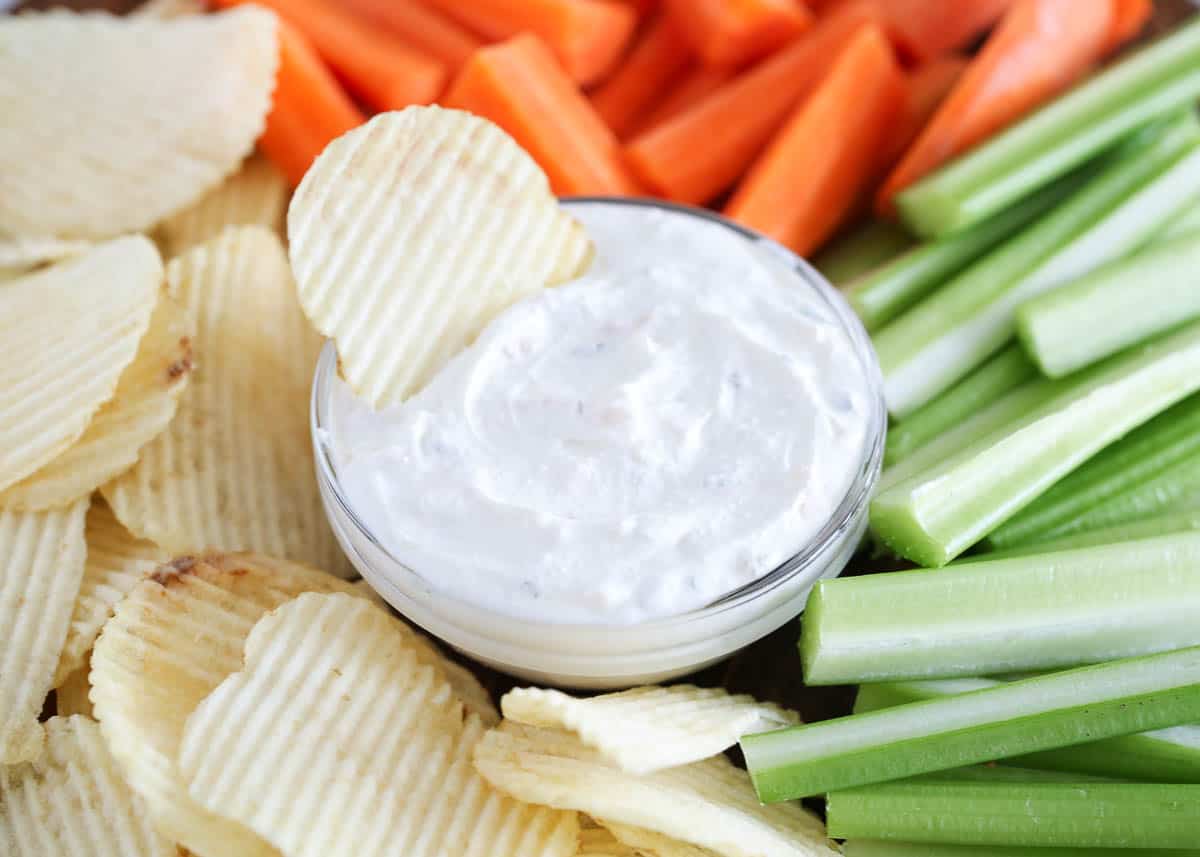 Classic French Onion Dip
This French onion dip recipe is one I make very often because it's such a hit with any crowd and so easy to whip together. I never feel the need to take a shortcut and buy a store-bought dip during even the busiest times of the year (hello, Christmas holidays!).
I like to serve it with a veggie platter when I'm on hosting duties, and on game day or movie nights, you can bet we're diving in with a big bowl of chips! Making a homemade French onion dip is so much healthier and more flavorful than anything you get from a jar. It contains far less sodium and other additives, which is apparent once you taste it.
The difference is night and day, there is no comparison to a homemade dip! This dill dip is another favorite that is fast and easy.
Recipe Ingredients
This homemade French onion dip has similar taste to the store bought version but is made from scratch! All you need are 5 ingredients plus salt and pepper and 5 minutes.
Sour cream: Your preferred brand, full fat sour cream will provide best taste.
Dried chopped onion: This might be labeled dried onion flakes in the spice aisle.
Onion powder: For additional onion taste.
Garlic powder: Another savory seasoning that tastes great in this dip.
Salt and pepper: To taste.
Parsley: Fresh parsley tastes best, but dried parsley works too.
Variations
Combine sour cream with cream cheese for a thicker consistency.
Swap the sour cream for plain Greek yogurt or mayonnaise for a lighter version.
Serve with some caramelized onions on top.
For a shortcut use onion soup mix with sour cream for a quicker version in a pinch.
Use dried herbs if fresh herbs aren't available.
A dash of Worcestershire sauce will add another layer of rich flavor.
Finish it off with a squirt of lemon juice to cut through the creaminess.
Instead of salt use granulated beef bouillon, this gives it a slight beefy taste similar to the base of French onion soup.
How to Make French Onion Dip
This homemade French onion dip recipe so easy, you'll have it memorized in no time!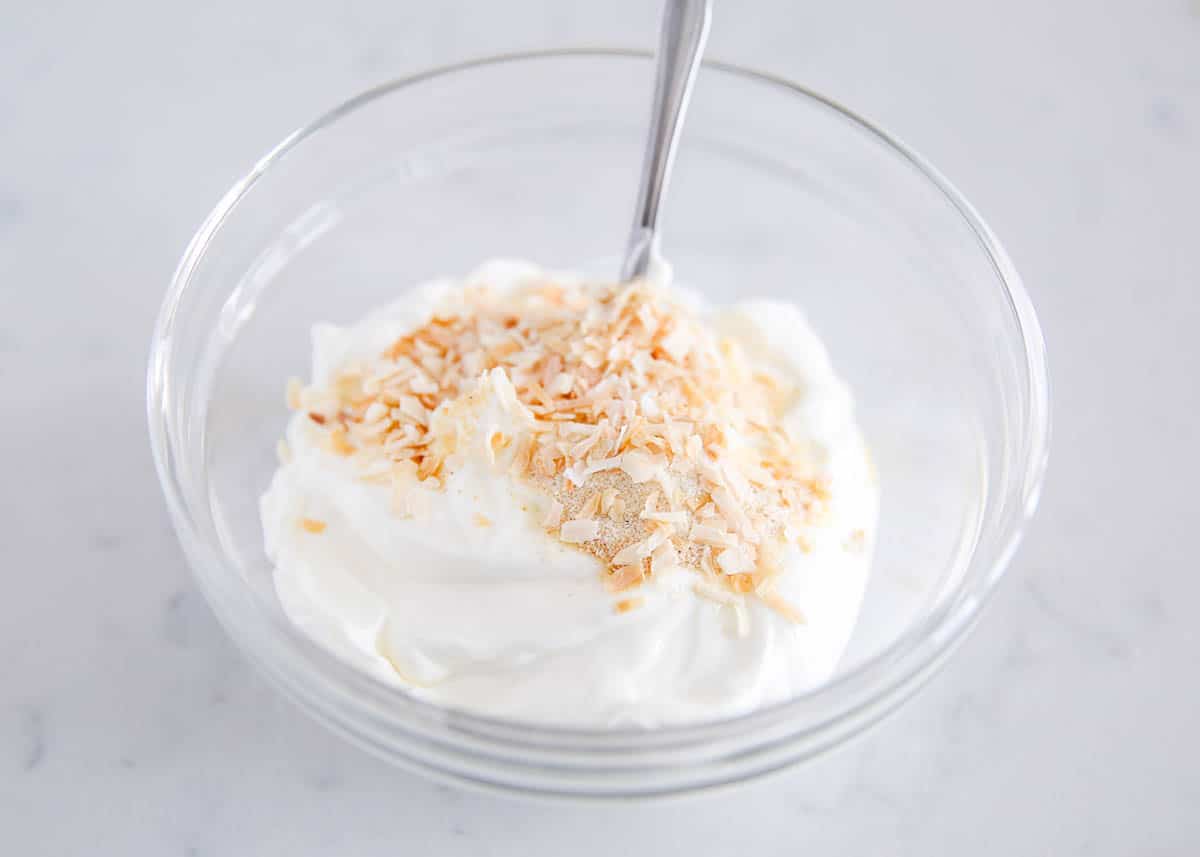 Combine: Combine ingredients into a medium bowl. For convenience, use the bowl you'll be serving from. Stir together and mix until smooth, then chill for an hour to allow flavors to develop.
Serve: Serve with your favorite chips, veggies stick and more!
Make the Dip Ahead of Time
This dip gets better the longer the flavors are given a chance to blend. Make it the day before you serve it and give it a chance to chill overnight.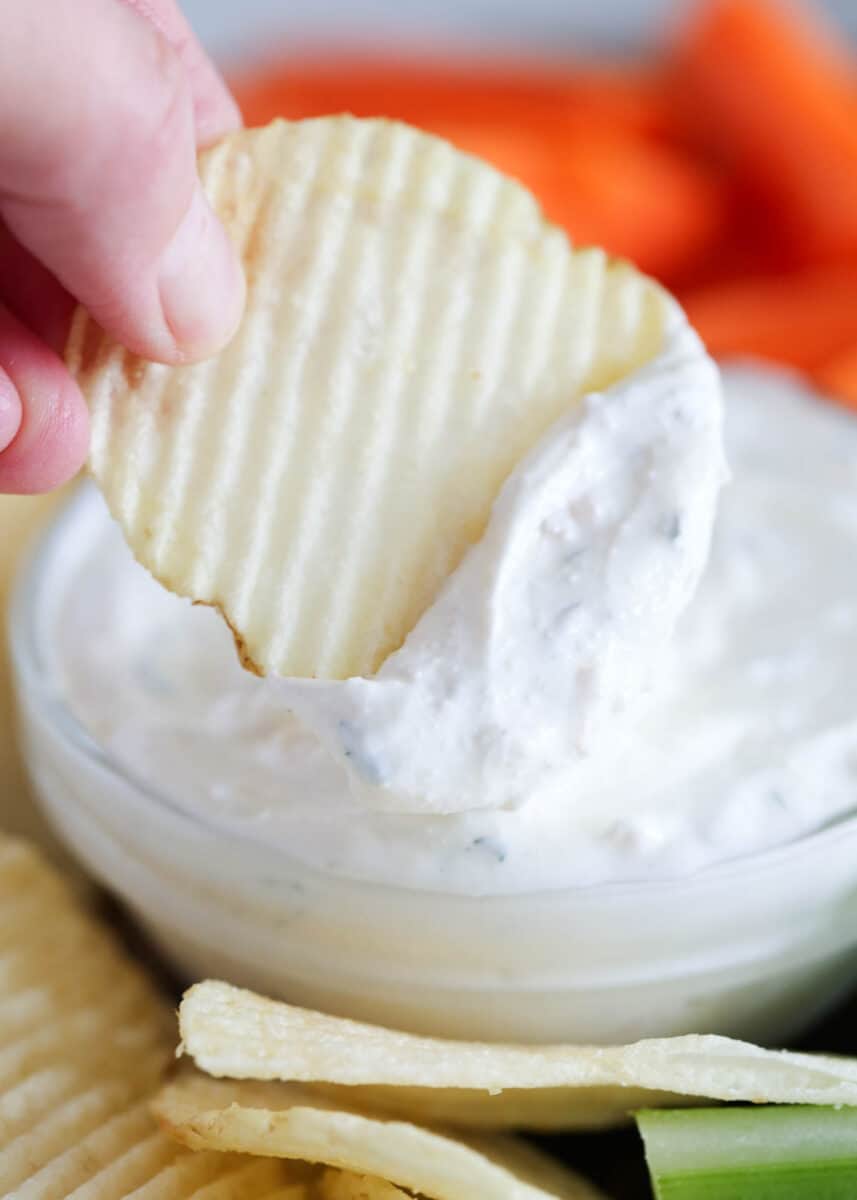 What to Serve with this Classic Dip
A veggie platter containing fresh veggies like baby carrots or carrot sticks, celery sticks, cucumber slices, broccoli florets, cauliflower florets, snow peas, sugar snap peas, etc.
Make veggie cups for individual servings at a party, kids will really enjoy this version!
Chips – Plain ruffled chips are my fave, but you use what you like.
Crackers – Wheat crackers, whole grain, gluten-free, rice crackers, and more.
Bread – We love fresh pita or breaking off pieces of French bread.
FAQs
What is French onion dip?
It's not French at all if you would believe it! This American dip is made with sour cream, dried onion and herbs and often made by just combining a packet of onion soup mix with sour cream.

You may seem some recipes get fancier and use caramelized onions, but for the sake of time and ease, my homemade version of the dip is one that resembles the chip and veggie dip you find at the store, but made from scratch in 5 minutes.
What is the difference between French onion dip and regular onion dip?
There really is not that much difference between the two although French onion dip is often made with the soup mix or a combination of dried onions with other ingredients such as beef bouillon. Onion dip is usually made with just onions, but there is a crossover between the two dips that is for sure!
Can I freeze leftover dip?
No, unfortunately not. Upon thawing sour cream separates and the texture will be very unappetizing.
Storage
How long French onion dip lasts is up to how you fast you eat it! If you have leftover dip, it actually tastes better the next day and you can keep it in the fridge for up to 1 week, covered in an airtight container.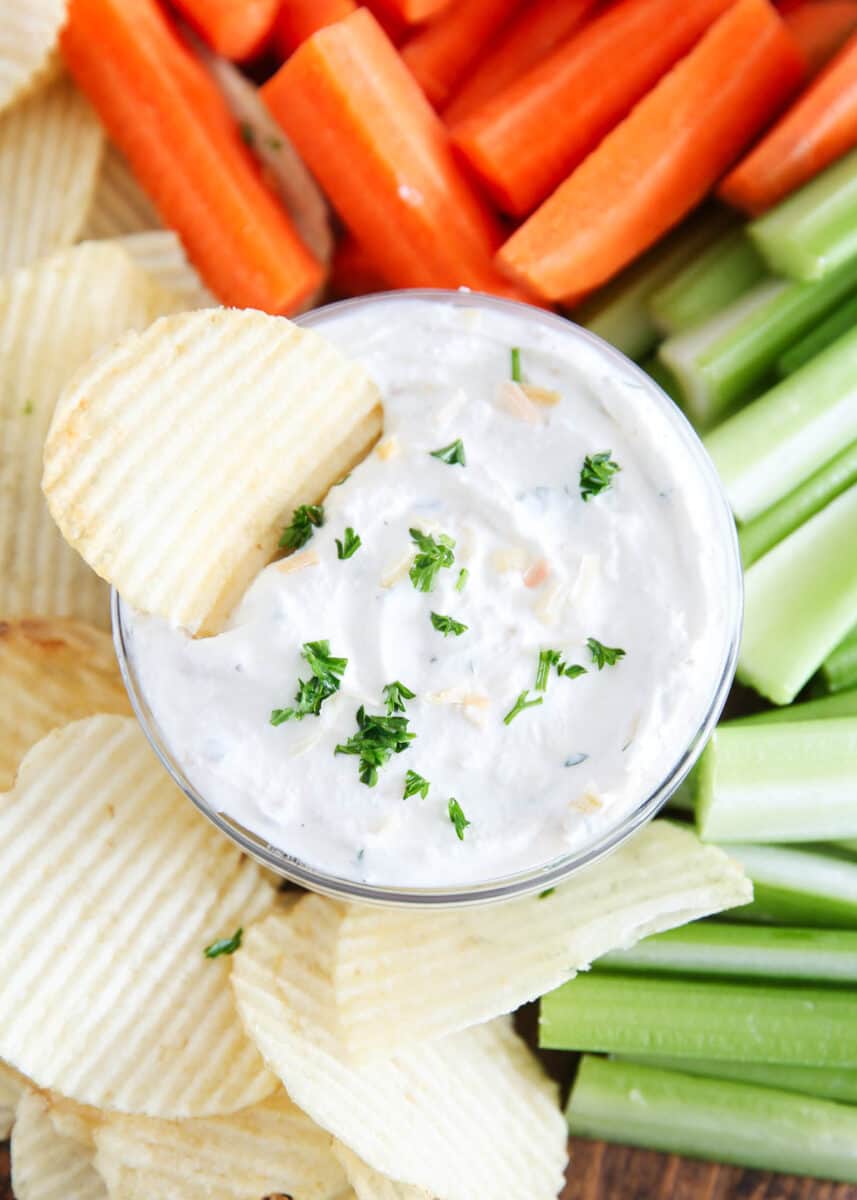 More Easy Party Dips:
HUNGRY FOR MORE? Subscribe to my newsletter and follow on Facebook, Pinterest and Instagram for all the newest recipes!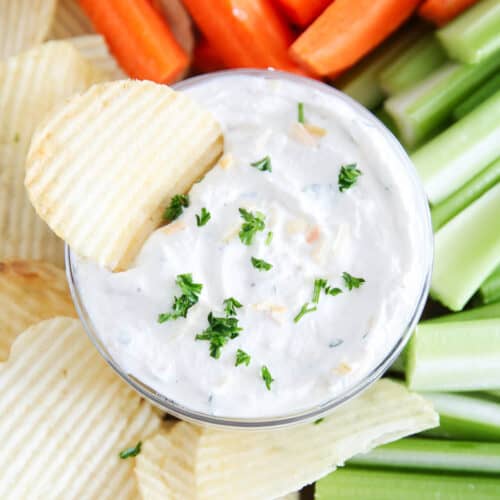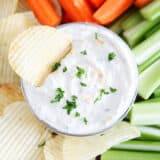 French Onion Dip
Homemade French onion dip is a rich, cool, and creamy dip brimming with fresh flavors from the aromatics and herbs! It comes together in minutes and is great for serving guests or preparing snacks for a night in!
Ingredients
1 cup sour cream
1 Tablespoon dried chopped onion , more to taste
1 teaspoon onion powder
¼ teaspoon garlic powder
¼ teaspoon fine sea salt , more to taste
1 to 2 Tablespoons finely chopped parsley , or 1 teaspoon dried
pinch ground black pepper
For servings: Potato chips, carrots and celery
Instructions
Combine the sour cream, dried onions, onion powder, garlic powder, salt, pepper and parsley in a medium size bowl. Mix until smooth. Season to taste. Refrigerate for 1 hour (up to overnight) to allow the flavors to come out.

Serve with chips and fresh vegetables.
---
Notes
Storage: Store in a covered container in the refrigerator for up to 1 week.
Nutrition
Calories: 59kcal | Carbohydrates: 2g | Protein: 1g | Fat: 6g | Saturated Fat: 3g | Polyunsaturated Fat: 1g | Monounsaturated Fat: 1g | Cholesterol: 15mg | Sodium: 96mg | Potassium: 57mg | Fiber: 1g | Sugar: 1g | Vitamin A: 221IU | Vitamin C: 1mg | Calcium: 35mg | Iron: 1mg
Nutrition provided is an estimate. It will vary based on specific ingredients used.
Did you make this recipe? Don't forget to give it a star rating below!