This lemon loaf cake recipe is a copycat of the famous Starbucks loaf that everyone loves! This homemade version is ultra moist, super lemony, cost-effective, and easy to make. Finish it with a mouthwatering sweet lemon glaze and enjoy a slice or two!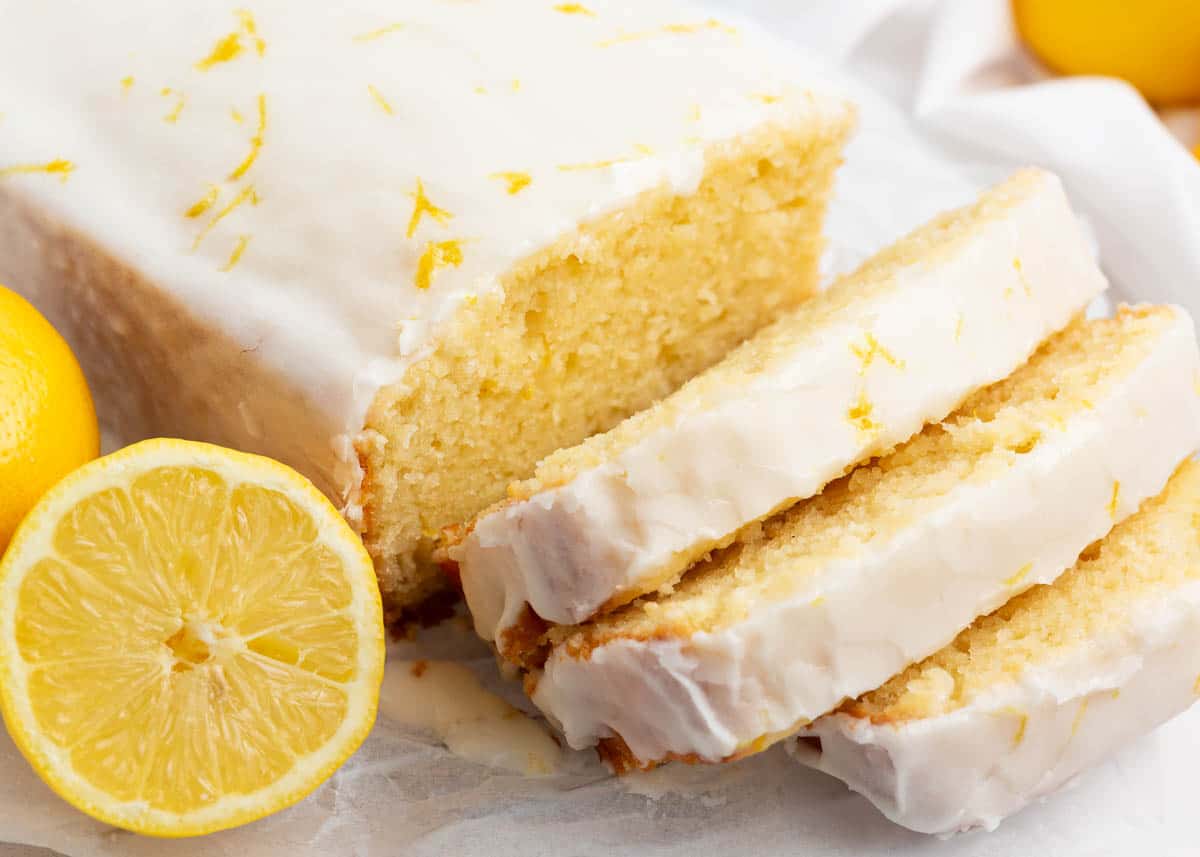 A Better-Than-Starbucks Lemon Loaf Recipe!
There may have been a time in my life when I had the time and energy to stand in a line for a slice of Starbucks lemon loaf cake, but as a busy mom of 4, that no longer makes sense! So, I've discovered that making an entire homemade loaf from scratch is ridiculously easy and even more delicious, saving me time and money!
This copycat Starbucks lemon loaf cake has a super moist crumb and is light, refreshing, and tangy. It's infused with a lemony citrus flavor made from fresh lemons and lemon extract which makes it downright addicting. It's topped with an easy, thick, and buttery lemon glaze for a sweet and tart balance, or serve it plain or switch it up with a cream cheese glaze or powdered sugar icing instead.
Why We Love This Lemon Loaf Cake
It's so easy! 10 minutes of prep time without the need for a hand mixer, 50 of hands-off time while it bakes in the oven, and voila! Then you sit and drool in anticipation as it cools.
Freezer-friendly. Often I like to make 2 loaves at once and freeze 1 for later. It's great to have on hand for last-minute guests or even just to have a quick breakfast, dessert, or snack.
An anytime dessert. It's great for the summertime of course but who doesn't love lemon all year round. If you've got fresh lemons on hand, you can make this cake!
Delicious. It is better than Starbucks and I love the original version so I don't say that lightly. It's brilliantly addicting, especially for lemon lovers!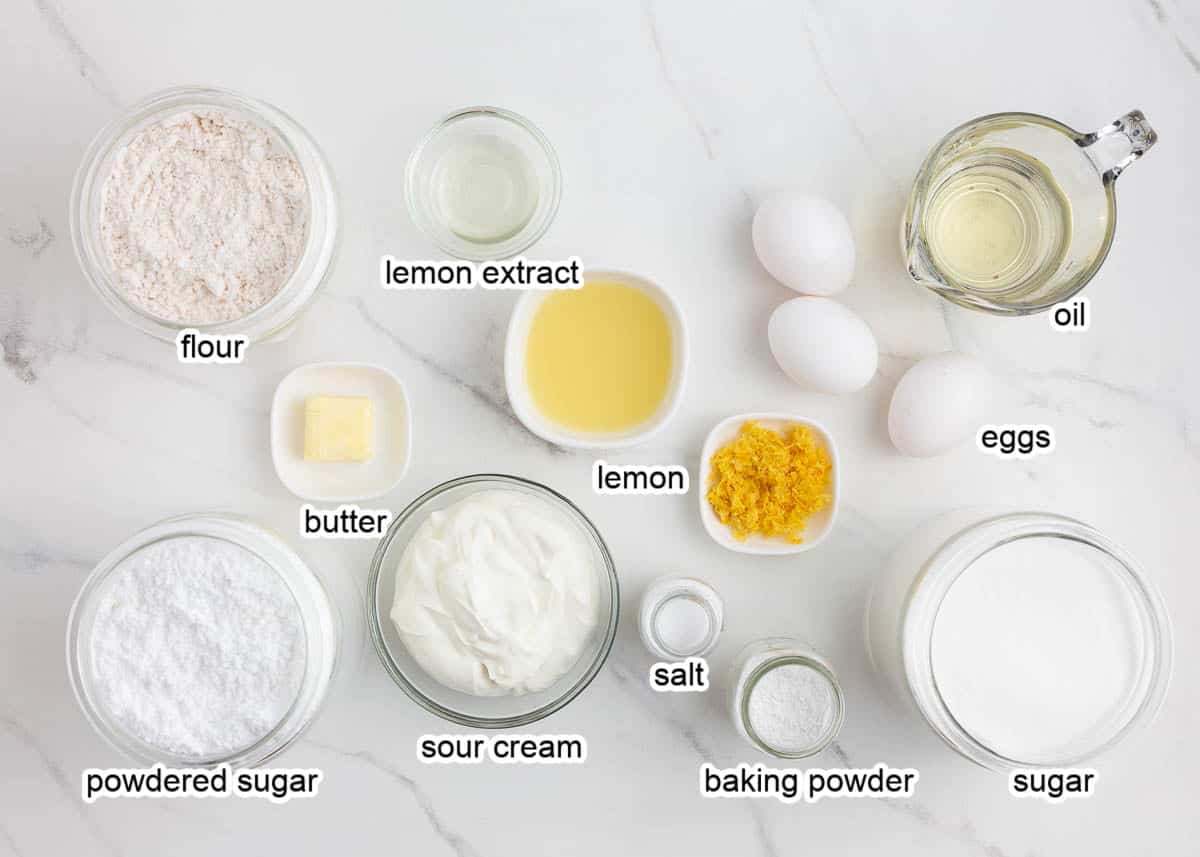 Ingredients Needed
All-purpose flour: The base of the dry ingredients that create a structure for the cake. All-purpose is a great choice for a nice light texture but only when you know how to measure flour correctly!
Baking powder: Helps to give a bit of a rise to the case, allowing it to be light and fluffy. Reacts nicely with the acidity in the citrus.
Fine sea salt: To taste, it enhances the flavor of the loaf.
Large eggs: For binding and added moisture so that every slice doesn't fall apart in your hands! Bring them to room temperature ahead of time.
Granulated sugar: Sweetness is essential in this tart loaf. It adds a delicious balance.
Sour cream: You can also use Greek yogurt if you prefer. They both add incredible moisture and a slightly tangy flavor. Greek yogurt is a bit lighter than sour cream. Bring to room temperature.
Vegetable oil: The liquid fat that typically replaces any butter. You can use any neutral-flavored oil, but I find vegetable oil to be the best in this case.
Fresh lemon juice and zest: No bottled stuff here. Using fresh lemons in this lemon loaf cake makes a huge difference in taste. Check out my post on how to zest a lemon for extra tips.
Lemon extract: This is not the same as lemon oil or even lemon juice from a bottle. Lemon extract is an essential oil and can't be substituted for either of the others mentioned.
Lemon Glaze
I use a basic recipe that includes powdered sugar and lemon juice but with the addition of room temperature unsalted butter to thicken it up so that it is spreadable and can set without becoming runny.
If you've forgotten to take your butter out of the fridge ahead of time, here are some tips on how to soften butter in a jiff.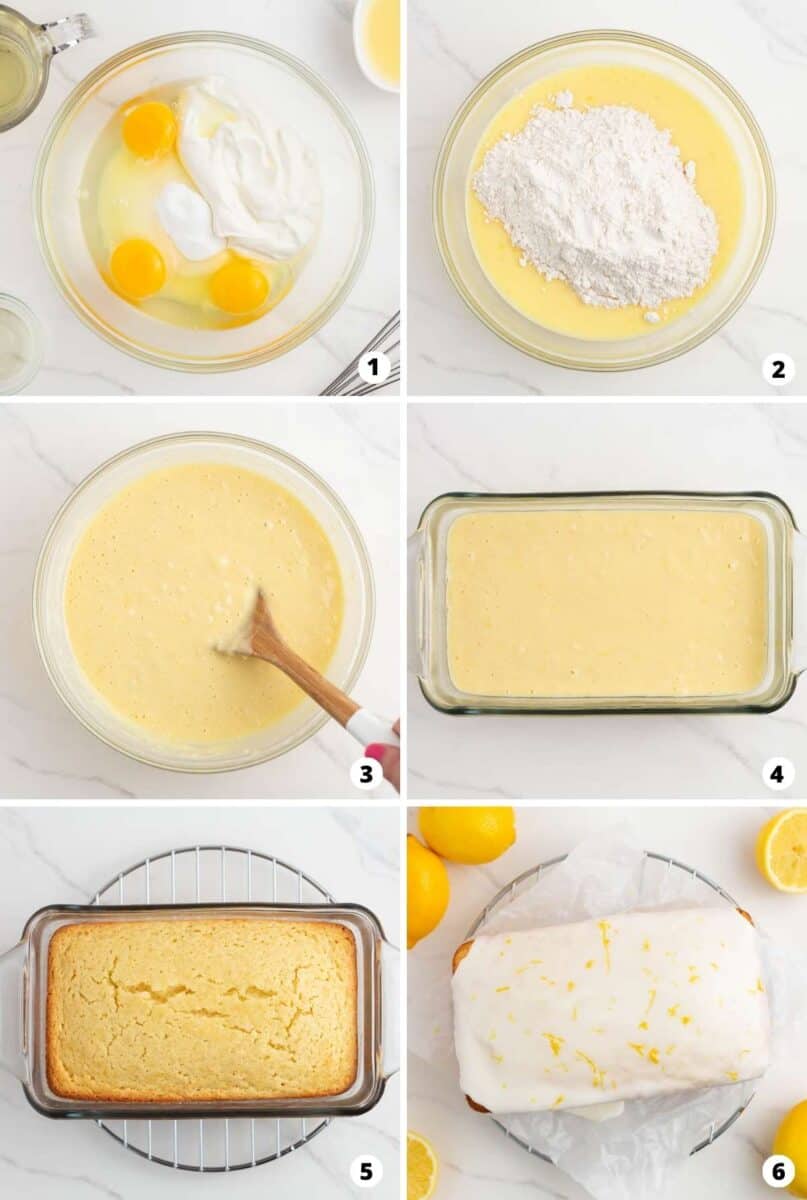 How to Make a Lemon Loaf
Mix wet ingredients. Grab a large bowl and add to it the eggs, sugar, and sour cream. Whisk vigorously until smooth and combined. Then, drizzle in the oil slowly as you continue to whisk. Follow this with the zest, juice, and extract.
Add dry ingredients. Whisk the flour, baking powder, and salt in a separate small bowl, and once combined add those dry ingredients to the wet ingredients.
Do not overmix, just fold in the flour mixture until just combined. A few remaining lumps are fine.
Pour the batter into a prepared 9 x 5-inch loaf pan and smooth the top with a rubber spatula. Scrape out the bowl to get as much from it as possible!
Bake for 40 minutes and then loosely tent the pan with foil so that it doesn't turn too dark before the inside has a chance to fully bake. Bake it for 10-12 minutes more and allow it to cool in the pan for at least 30 minutes before removing it to a wire rack to cool completely.
Top with a glaze. Combine the ingredients for the glaze into a small bowl until smooth. Adjust more sugar or lemon juice as needed to adjust the consistency so that you can drizzle it off a spoon. Evenly drizzle it over the cake before slicing and serving. Enjoy!
Getting The Most Juice From Your Lemon!
A tip is to microwave the whole fruit for 20 seconds before cutting it open. It softens it up, releasing the juices, which helps to get as much as you can out of it.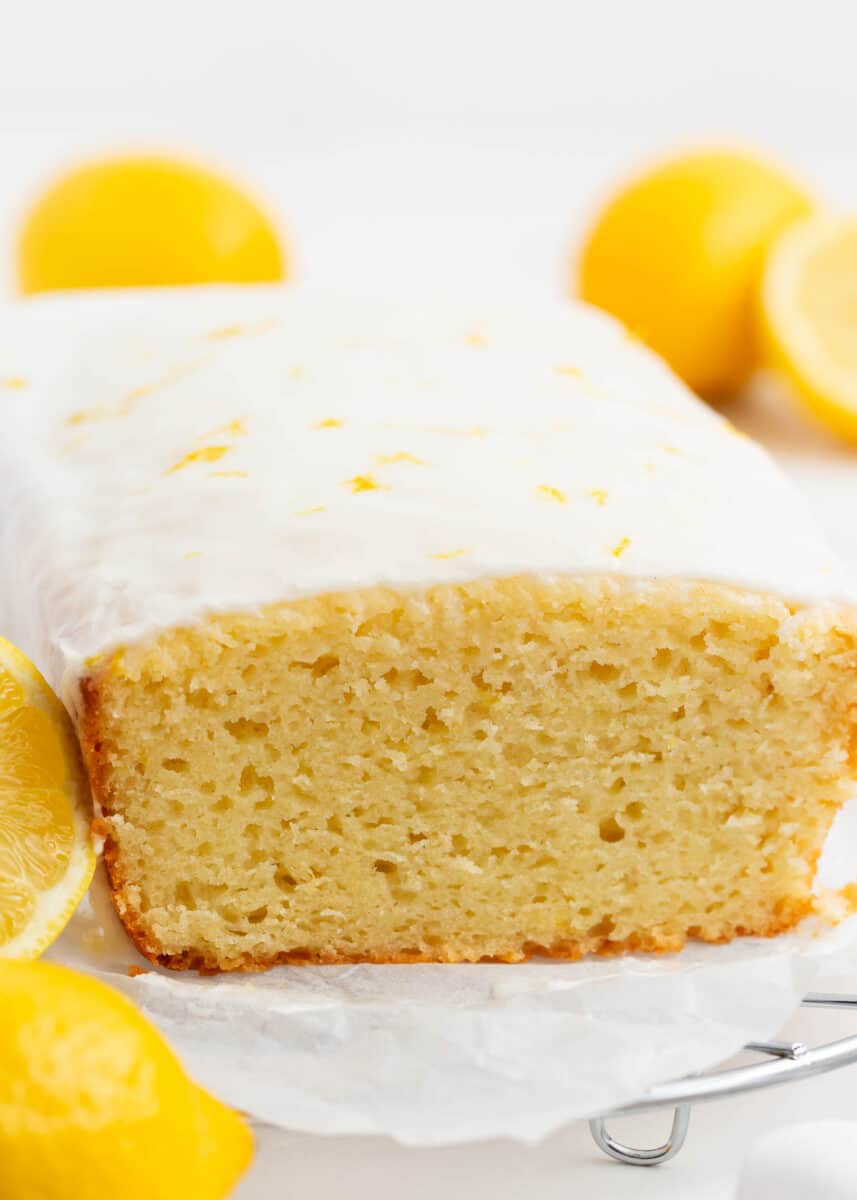 Recipe Tips
Only add glaze once the loaf has cooled. Otherwise, the butter will melt and the drizzle will become too runny.
Start with room temperature ingredients. This helps ensure even baking for perfect results.
Measure flour correctly. Using too much flour will result in a dry dense texture.
Whisk dry ingredients separately. We do this so that we can make sure there will be no pockets of flour or salt left throughout the loaf. Incorporating everything first keeps all of the ingredients evenly dispersed.
Check for doneness. Use a toothpick and insert it into the center of the loaf. If it comes out clean, it's done. Be careful not to over bake or it wont be as tender.
Say yes to fresh lemon juice! Cut the lemon in half and if you don't have a citrus juicer of any kind, use a fork to rotate around in there to get as much juice as you can out of that fruit.
Can I Make Mini Loaves?
How cute would those be?! I haven't tried yet, but I don't see why they wouldn't work. Bake at 350 degrees and then check them at the 30-minute mark and go from there.
Can I Use Just the Lemon Juice Without the Extract?
Technically you can, however, you will not get nearly enough of that beautiful citrus flavor. That's what the lemon extract provides. The juice on its own will not be strong enough, but if you're ok with that, have at it!
On the other hand, do not use lemon oil. That's a whole other thing. Way too concentrated and intense.
FAQs
Why did my lemon loaf cake collapse?
This could be because your baking powder has expired and is no longer active. Check the date. It might also be because you've opened the oven door too many times while baking and the sudden temperature change has affected the rise.

Last, you want to make sure you're following the directions accurately and baking for the right amount of time. Underbaking can also cause the middle of your loaf to sink.
How long does a lemon loaf cake last?
You can enjoy leftover slices for up to 5 days when kept moist at room temperature. If you're freezing an extra loaf or any leftovers, it'll be good for up to 6 months.
Does lemon loaf cake have to be refrigerated?
No. It's probably best that you don't refrigerate this copycat Starbucks lemon loaf recipe!

The amount of acidity from the lemons and sugar will preserve it enough to last for days out of the fridge. It will also help to maintain the moisture, as long as it's kept covered.
Storage
Store: Keep the loaf, whether whole or sliced, in an airtight container at room temperature for up to 5 days.
Freeze: Once cooled you can wrap it in plastic wrap or parchment paper then transfer it to a freezer-friendly bag to keep frozen for up to 6 months. You can freeze it with the glaze, but if you know ahead of time you won't be eating it right away, consider freezing it without it. The glaze is so quick and easy to make, that I'd suggest making it just before you use it.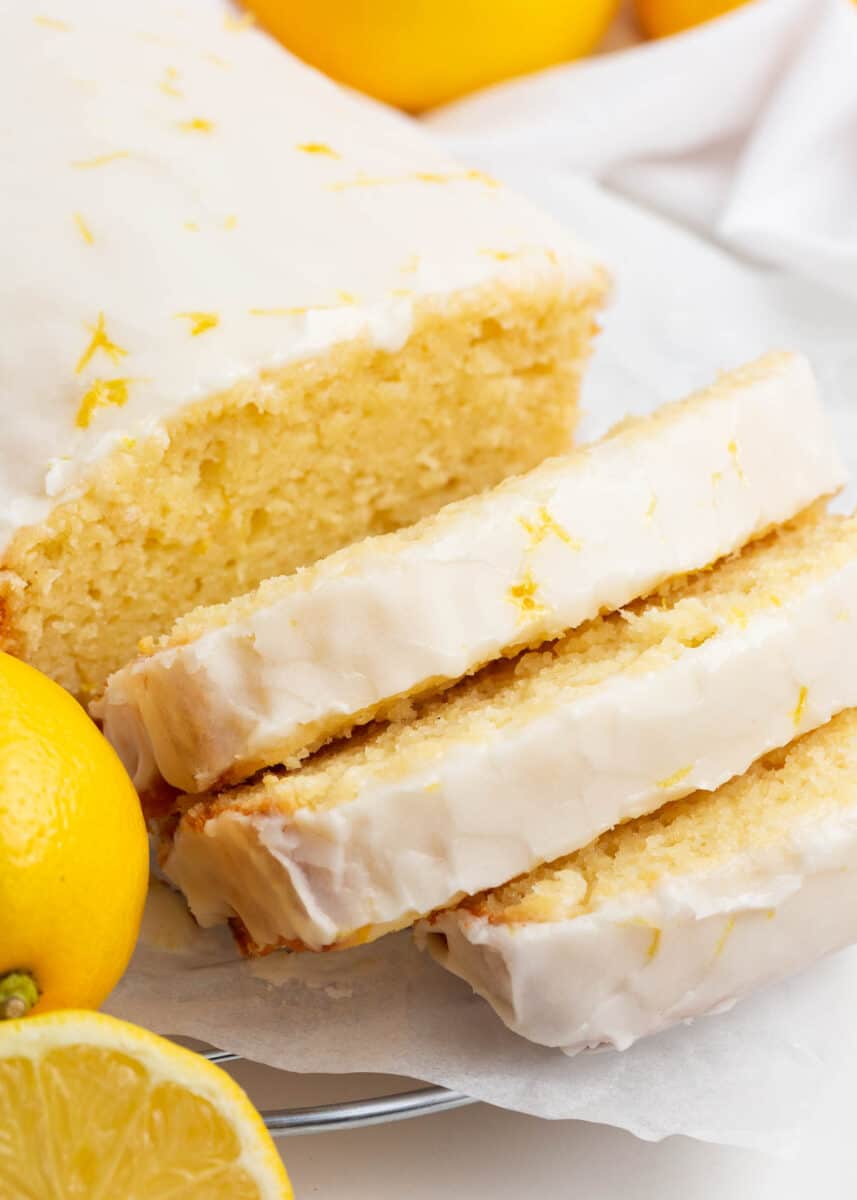 HUNGRY FOR MORE? Subscribe to my newsletter and follow on Facebook, Pinterest and Instagram for all the newest recipes!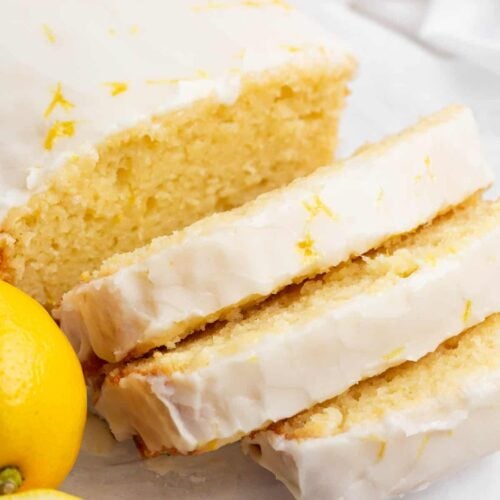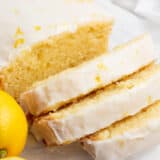 Lemon Loaf Cake Recipe
This lemon loaf cake recipe is a copycat of the famous Starbucks loaf that everyone loves! This homemade version is ultra moist, super lemony, cost-effective, and easy to make. Finish it with a mouthwatering sweet lemon glaze and enjoy a slice or two!
Ingredients
Lemon Loaf
1 ½ cups all-purpose flour
2 teaspoons baking powder
½ teaspoon fine sea salt , or to taste
3 large eggs , at room temperature
1 cup granulated sugar
1 cup (8 ounces) sour cream or Greek yogurt , at room temperature
½ cup vegetable oil
2 Tablespoons lemon zest , about 2 lemons
2 Tablespoons lemon juice , plus more to taste
1 ½ Tablespoons lemon extract , plus more to taste
Lemon Glaze
1 cup powdered sugar , plus more if needed
3 Tablespoons lemon juice , depending on consistency
1 Tablespoon unsalted butter , at room temperature
Instructions
Lemon Loaf
Preheat the oven to 350°F. Spray a 9×5-inch loaf pan with floured cooking spray, or butter and flour the pan.

In a small bowl, whisk together the flour, baking powder, and salt.

In a large bowl, whisk the eggs, sugar, and sour cream vigorously until smooth and combined. While whisking, drizzle the oil in slowly. Whisk in the lemon zest, lemon juice, and lemon extract.

Stir in the flour, baking powder, and salt until just combined, being careful to not overmix even if a few lumps remain.

Pour the batter evenly into the loaf pan. Smooth the top with a rubber spatula.

Bake 40 minutes. Loosely tent the pan with aluminum foil to prevent browning. Bake 10 to 12 minutes more, or until the cake is domed and a toothpick inserted into the center comes out clean.

On a wire rack, let cool in pan at least 30 minutes before turning out onto the rack to cool completely.
Lemon Glaze
In a small bowl, whisk together the powdered sugar, lemon juice, and butter until smooth and combined. Add more powdered sugar or lemon juice, if needed, to reach the right consistency to drizzle off a spoon.

Evenly drizzle glaze over the cooled cake before slicing.
---
Notes
Storage: The loaf will keep in an airtight container at room temperature for up to 5 days or in the freezer for up to 6 months. Storing it in the fridge may dry it out.
Lemon Flavor: Lemon oil isn't the same as the extract and is a much more intense flavor. I wouldn't recommend swapping it for the extract.
Leftover Glaze: If you have extra glaze, feel free to spread it on a slice of cake like you would toast. Or drizzle it over a batch of blueberry muffins.
Recipe credit: Recipe adapted from Averie Cooks.
Nutrition
Calories: 335kcal | Carbohydrates: 48g | Protein: 6g | Fat: 14g | Saturated Fat: 3g | Polyunsaturated Fat: 7g | Monounsaturated Fat: 3g | Trans Fat: 1g | Cholesterol: 60mg | Sodium: 147mg | Potassium: 159mg | Fiber: 1g | Sugar: 33g | Vitamin A: 118IU | Vitamin C: 4mg | Calcium: 71mg | Iron: 1mg
Nutrition provided is an estimate. It will vary based on specific ingredients used.
Did you make this recipe? Don't forget to give it a star rating below!