These lemon bars have the most delicious buttery shortbread crust and a sweet lemon filling. This is the perfect dessert for lemon lovers!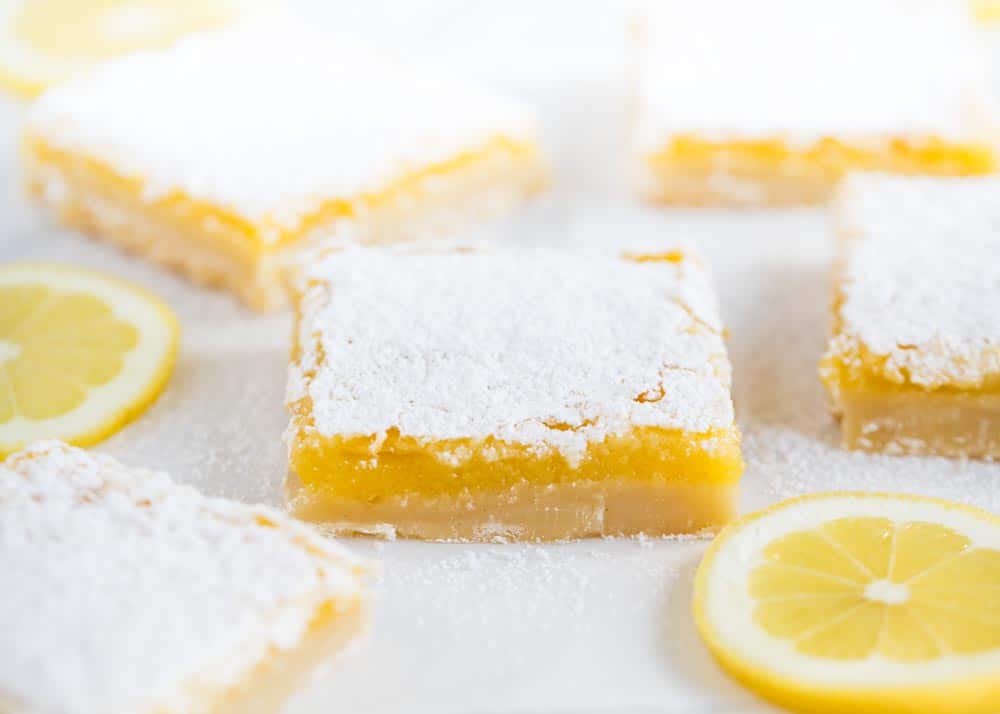 Lemon Squares
If you've been following me for awhile, you know I love desserts! I've made these easy lemon bars for several years now and they are always a huge hit. They have the perfect amount of lemon and the thick crust is so delicious. My family goes crazy over this recipe and my famous lemon brownies.
I have to admit…lemon bars are not usually the first dessert I think to make. However, whenever I make them I'm always wondering why I don't make them more often. These lemon bars always hit the spot.
These lemon squares have a rich buttery crust, a zesty lemon filling and are finished off with a dusting of sweet powdered sugar over the tops. Each bite is melt-in-your-mouth delicious!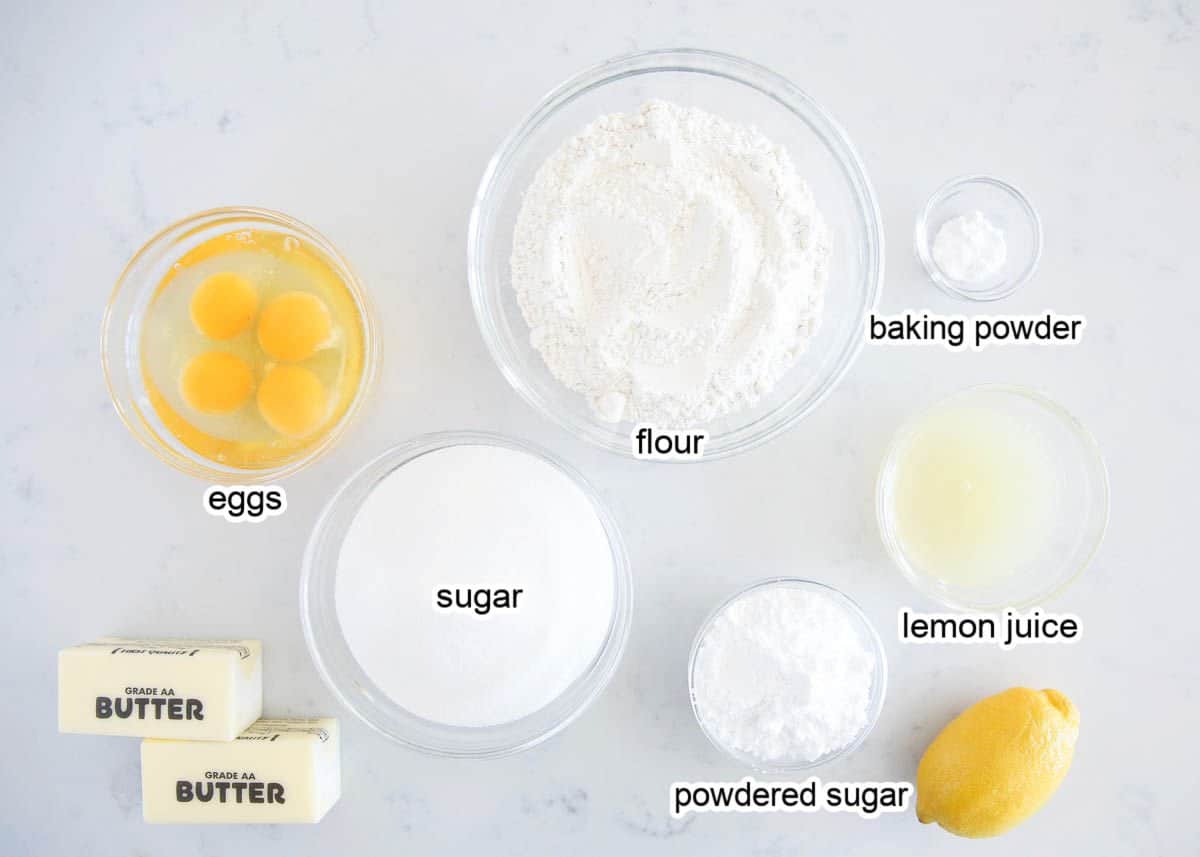 Ingredients
Here are the key 5 ingredients in this lemon bar recipe.
Butter. I love to use salted butter in this recipe to help cut the sweetness. If you use unsalted butter, feel free to add in a pinch of salt.
Powdered sugar. Also known as confectioner's sugar. You'll use it in the crust and for sprinkling over top.
Flour. I like to use all-purpose flour for this recipe.
Eggs. Make sure to use fresh eggs.
Lemon. Pick a nice ripe lemon. You'll use the fresh lemon juice and zest to give these bars delicious flavor. Learn how to zest a lemon a few different ways.
How to Make Lemon Bars
Shortbread crust: These bars start with the most perfect shortbread cookie crust. It's super soft and delicious with a rich, buttery flavor. It's made with a simple mixture of butter, powdered sugar and flour and is baked until firm (but not brown).
Lemon filling: Next comes the sweet lemon filling. It has double the lemon flavor (zest + juice) and is super bright and refreshing. It solidifies once cool, but still remains a little gooey (but not runny). If you love all things lemon, this filling will be no exception.
Powdered sugar: This layer is optional, but it definitely makes a difference in taste. It finishes the bars off with the perfect hint of sweetness. I like to use a sugar shaker (or fine mesh strainer) to sprinkle powdered sugar evenly over the top.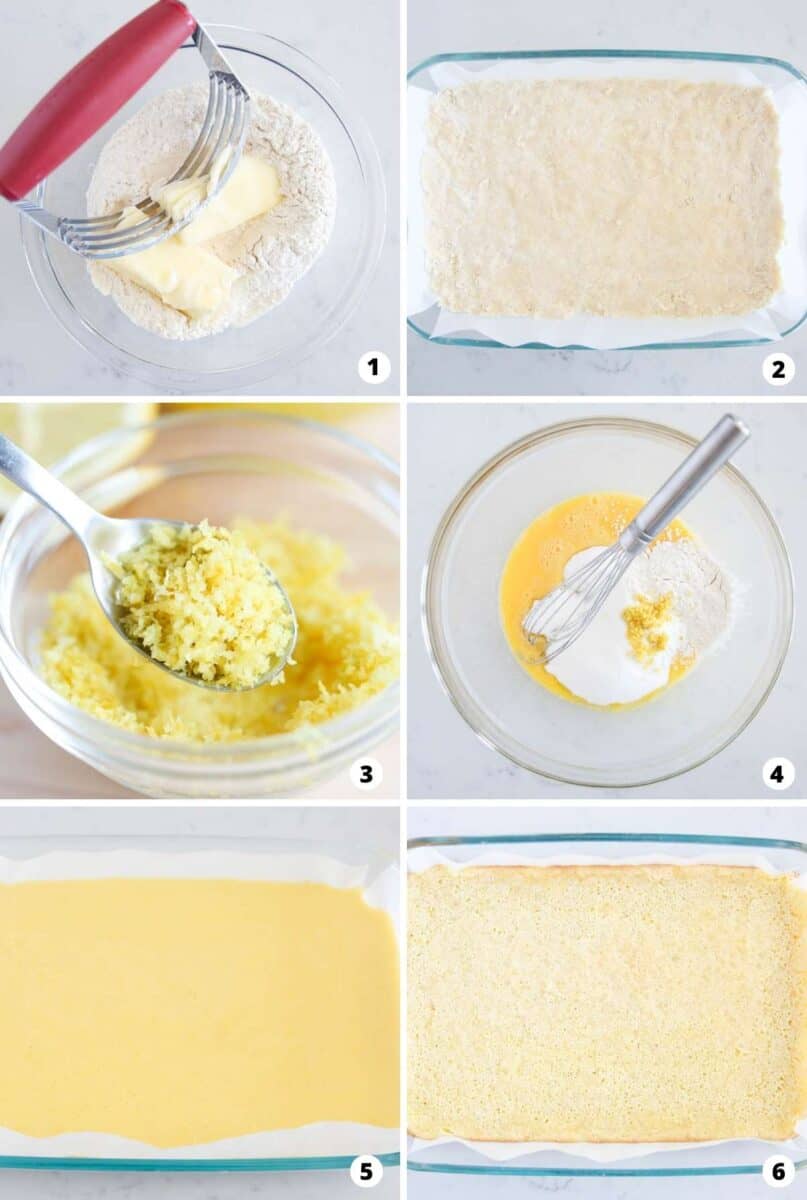 Add a Coconut Twist!
For a fun twist, add in some unsweetened shredded coconut like I did with these lemon coconut bars. You can add it into the shortbread crust, as well as on top of the lemon filling for a robust coconut flavor.
Baking Tips
Lemons. Make sure to use REAL fresh lemons for this recipe to get the best flavor. It definitely makes all the difference. If you prefer a more tart lemon flavor, add 1 Tablespoon lemon zest in the filling (instead of 1/2 Tablespoon).
Don't overbake the crust. Bake the dough until firm, but not brown. It may seem a little underdone when you take it out of the oven, but it will continue to firm up as it cools. If it browns while in the oven, it won't be as soft and tender.
Don't let the filling brown. Keep a close eye on the filling and make sure not to let it brown. The top of the filling can crack if it is overbaked. As soon as the filling is no longer jiggly, remove it from the oven. It will continue to set up as it cools.
Let cool completely. This is one of those desserts that needs to cool completely before enjoying. As tempting as it is to sneak a bite right out of the oven, don't do it! The filling needs time to set and the bars will need to chill in the fridge for a few hours. Trust me, they taste best cold!
Air bubbles. A few air bubbles on top of the filling is completely normal, so don't panic! The air from mixing the eggs rises to the surface, creating small air bubbles.
Smaller batch. You can cut the recipe in half and make the bars in a smaller 9×9″ baking pan if preferred. Use the same oven temperature, but bake both the crust and filling a few minutes less than called for. Make sure to keep an eye on both so that they don't brown.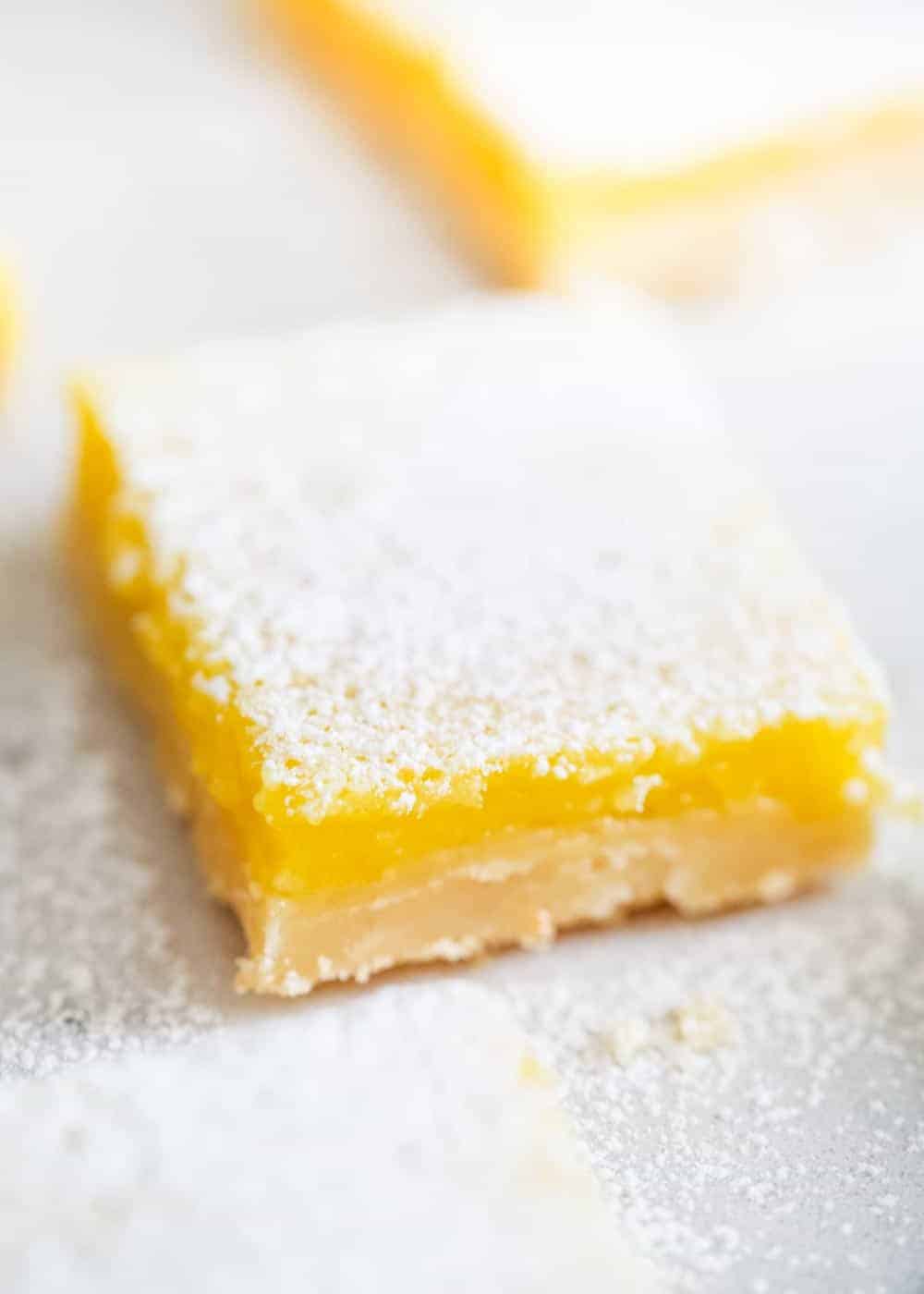 5 star review
"OMG!!! These were absolutely fabulous! I made them for my niece's birthday party. I used the full tablespoon of lemon zest. Everyone loved them. Very, very addicting!"

– Joan
Storing, Freezing + Make-Ahead
Storing: Lemon bars will taste fresh for up to 3 days in the refrigerator as long as they are stored in an airtight container.
Freezing: I usually freeze half the batch since the recipe makes quite a few. They freeze great once cut into squares and then placed in a covered Tupperware container. I like to place a piece of parchment or wax paper between the layers to avoid sticking.
Make-ahead: These lemon bars are a great make-ahead treat since they need time to chill in the fridge anyways in order to set before serving. Prepare as directed, then cover and store in the fridge until ready to serve.
FAQs
Why do the tops crack?
This is often a sign of overbaking your lemon bars. You don't want the filling to brown, so make sure to keep on eye on them as they bake.
How do you know when a lemon bar filling is set?
When you jiggle the pan from side to side, the filling should no longer jiggle in the center. If it still looks a little loose and runny, continue baking and test again.

Once you remove the bars from the oven, it's important to let them chill in the refrigerator for 1-2 hours so that the filling sets up completely after cooling. If you try to cut them too soon, the filling will still be loose.
How do you cut lemon bars perfectly?
There's nothing worse than creating a gooey mess when slicing lemon bars. For a clean cut, run a sharp knife under water, dry it off and then slice your first row. Clean the residue off the knife and repeat these steps until complete.
Can they be made gluten-free?
Although I haven't tried making a gluten-free version myself, you can substitute all-purpose flour for a gluten-free 1:1 baking flour and achieve similar results.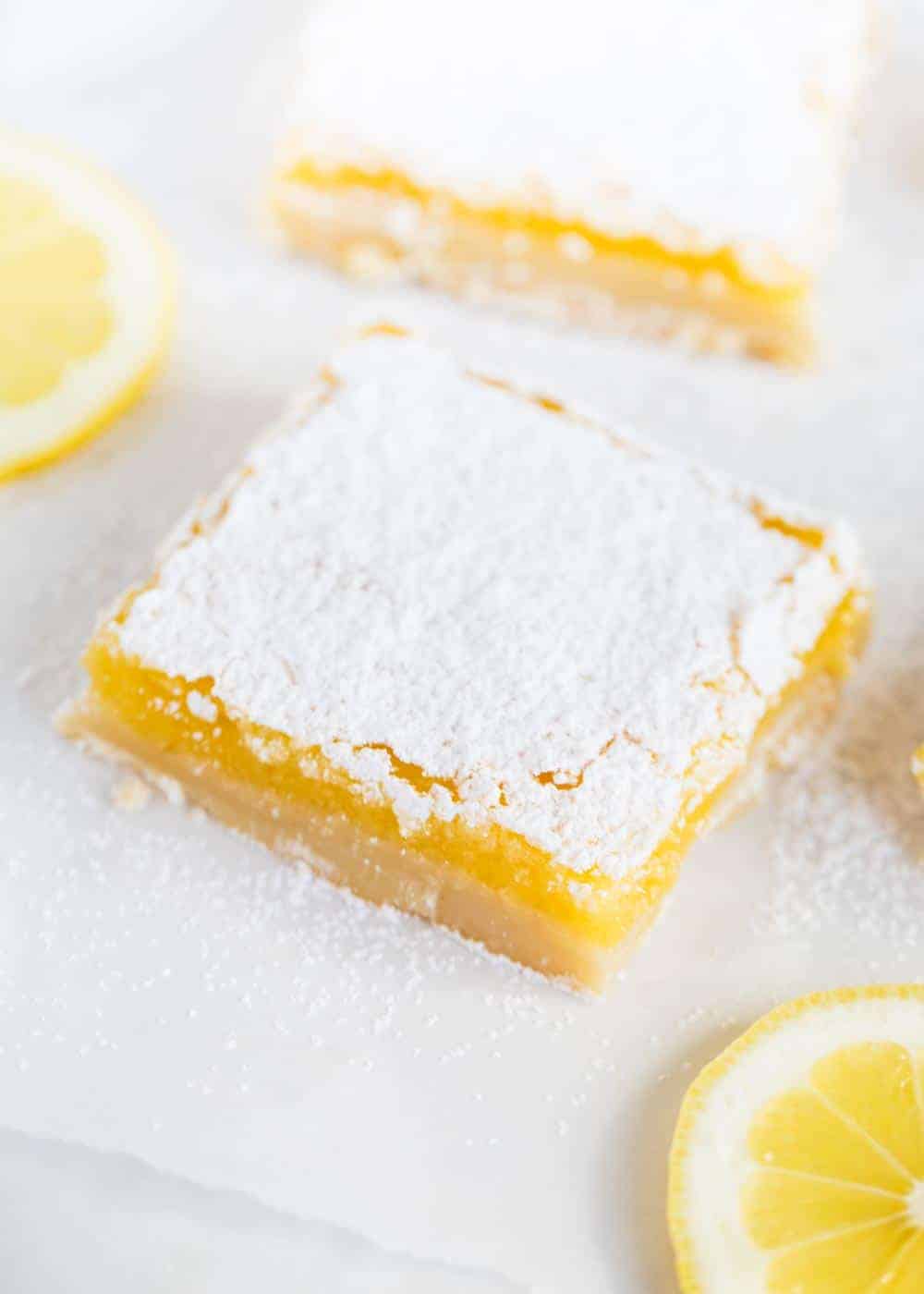 Below are a few of our other favorite Spring desserts that are so delicious and easy to make!
HUNGRY FOR MORE? Subscribe to my newsletter and follow on Facebook, Pinterest and Instagram for all the newest recipes!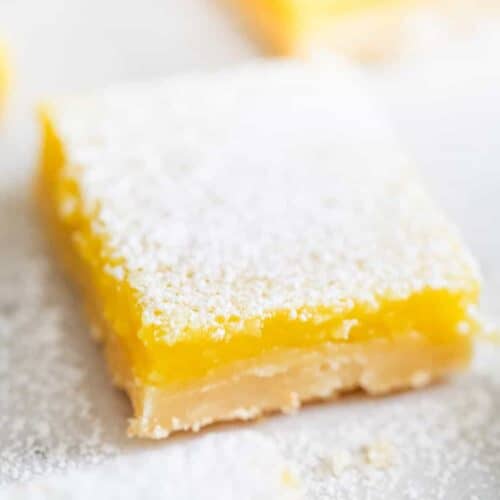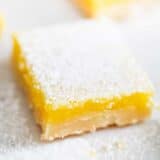 The Best Lemon Bars
These lemon bars have the most delicious buttery shortbread crust and a sweet lemon filling. This is the perfect dessert for lemon lovers!
Ingredients
Crust
1 cup (226 grams) salted butter , at room temperature
½ cup (50 grams) powdered sugar , can sub with granulated sugar
2 cups (260 grams) all-purpose flour
Lemon Filling
4 large eggs
1 ¾ cups (350 grams) granulated sugar
¼ cup (32 grams) all-purpose flour
⅓ cup fresh squeezed lemon juice , about 3 lemons
½ Tablespoon lemon zest
½ teaspoon baking powder
Powdered sugar , to sprinkle on top
Instructions
Crust
Preheat the oven to 350°F. Line a 9×13-inch glass pan with parchment paper.

In a medium sized bowl, mix together the butter, sugar, and flour with a pastry cutter or mixer.

Press evenly into the bottom of the pan. Bake 15 to 20 minutes, or a toothpick inserted into the center comes clean. Be careful not to brown.
Lemon Filling
In a medium bowl, whisk the eggs. Whisk in the sugar, flour, lemon juice, lemon zest and baking powder until smooth and combined. Pour over the baked crust.

Bake 20 minutes, or until the filling is firm and no longer jiggles, watching closely so the filling doesn't brown. Let cool. Place in the refrigerator at least 1 to 2 hours before serving.

Once cooled, sprinkle with fresh powdered sugar and cut into 24 bars.
---
Notes
Easy clean-up: Line your pan with parchment paper or foil to easily remove the bars from the pan. Up the Lemon: If you'd like a more tart lemon flavor, add in a Tablespoon of lemon zest to the filling. Storage: Store the bars in an airtight container in the refrigerator for 3 days or in the freezer for up to 3 months (I tend to freeze half of the recipe, because it makes quite a few). Halve the recipe: You can cut the recipe in half and make the bars in a smaller 9×9″ baking pan if preferred. Use the same oven temperature, but bake both the crust and filling a few minutes less than called for. Make sure to keep an eye on both so that they don't brown.
Nutrition
Calories: 250kcal | Carbohydrates: 39g | Protein: 3g | Fat: 9g | Saturated Fat: 5g | Polyunsaturated Fat: 1g | Monounsaturated Fat: 2g | Trans Fat: 1g | Cholesterol: 52mg | Sodium: 76mg | Potassium: 50mg | Fiber: 1g | Sugar: 22g | Vitamin A: 292IU | Vitamin C: 1mg | Calcium: 15mg | Iron: 1mg
Nutrition provided is an estimate. It will vary based on specific ingredients used.
Did you make this recipe? Don't forget to give it a star rating below!