This lemon blueberry zucchini bread is the best I've ever had! It's super moist and full of fresh lemon and blueberry flavor. Then topped with a sweet lemon glaze.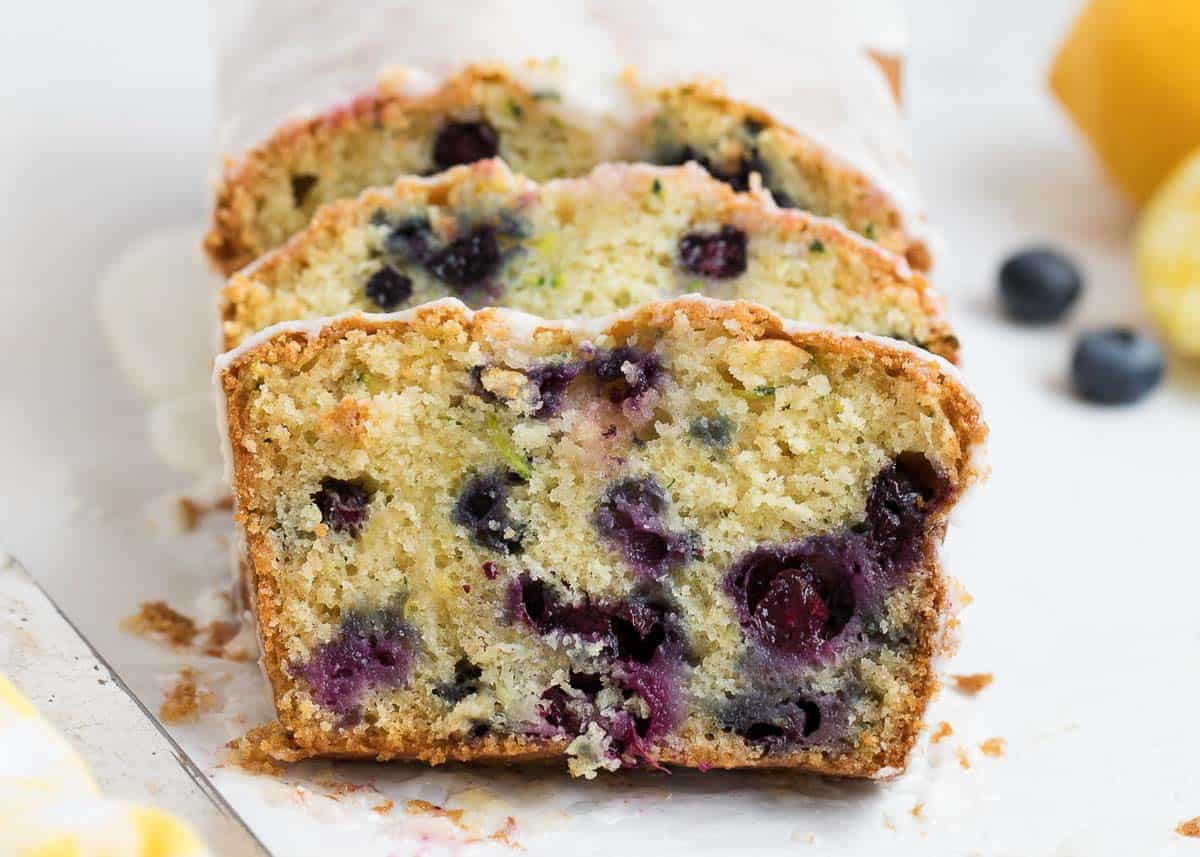 Zucchini Bread with a Twist
Lemon and blueberries are one of my favorite combos, especially when making bread or lemon blueberry muffins. I love adding fresh lemon zest to the batter because it really adds the extra punch of lemon. You won't taste the zucchini in this recipe, but it makes it super soft.
Now that Spring is here, I've been itching to get my garden going. Is anyone planting zucchini this year? I'm waiting for a warm weekend here in Ohio, but I'm thinking I'll start planting here soon.
I've been eyeing the zucchini at the store though and knew I couldn't wait any longer to get my zucchini bread fix! I also made these zucchini muffins (another favorite).
This bread has the perfect texture and is super soft. The lemon and blueberries add the perfect flavor to this zucchini bread. The powdered sugar glaze adds a sweet punch. My kids devoured this bread and begged for more. They never would have guessed there was zucchini in there!
Ingredients Needed
This blueberry zucchini bread is always a favorite quick bread to make! It is quick and easy with pantry staple ingredients. The fresh blueberries and lemon add all the flavor with a healthy twist of zucchini!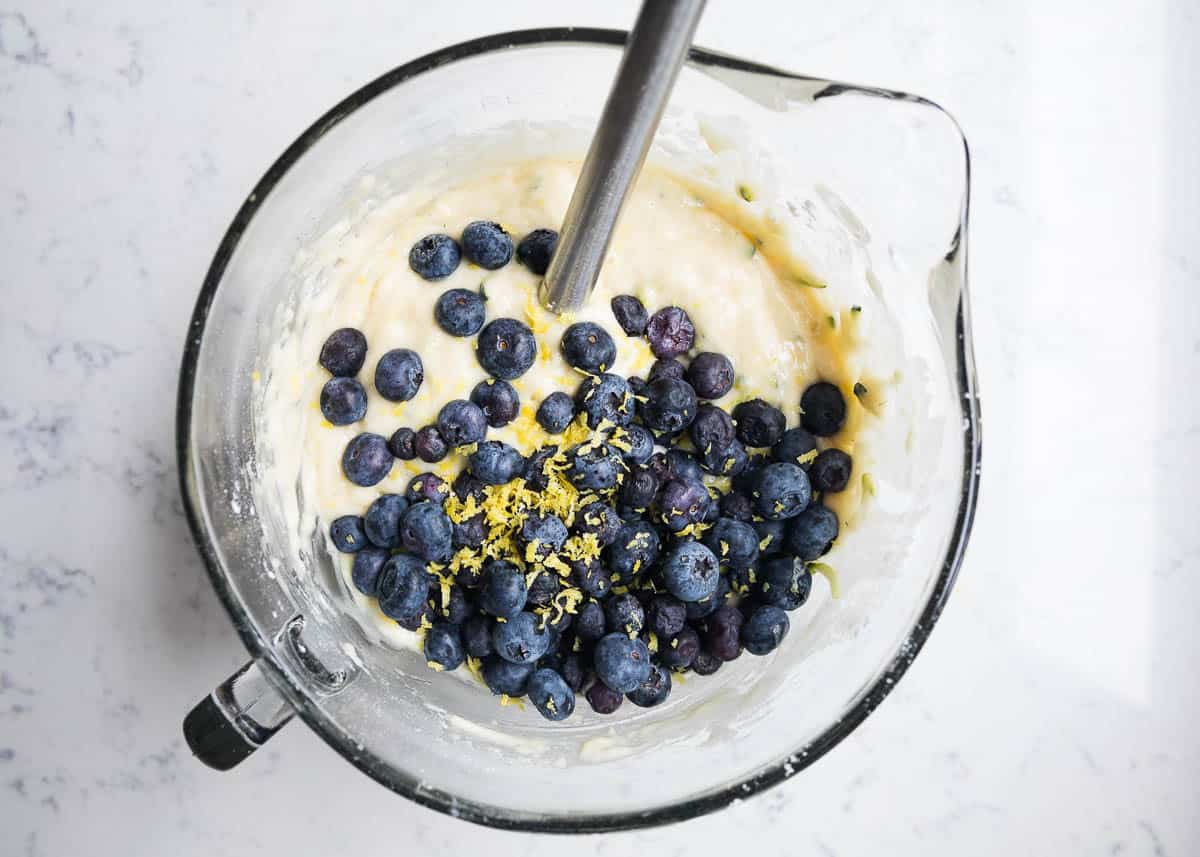 Find the full printable recipe with specific measurements below.
Sugar: Added in for sweetness and balancing flavors.
Eggs: This will help bind the bread dough together.
Vegetable oil: This enhances the texture, flavor, and moisture of the quick bread.
Buttermilk: Helps break down the strands of gluten in the lemon blueberry bread.
Vanilla: Just a pinch!
Flour: Adds texture and thickness to the bread.
Baking powder and soda: Aids in rising the dough while cutting down the proofing time.
Zucchini: Shred, grate, and prepare the zucchini before adding it to the bread mixture.
Blueberries: Fresh blueberries are best! They help add that delicious blueberry flavor. Every bite is bursting with flavor!
Lemons: Enjoy the refreshing zest of lemon juice in the bread as well as in the glaze that drizzled overtop.
Grating a Zucchini
This recipe calls for grated zucchini, which helps make the bread super moist and soft. You can see how to cut a zucchini + tips for removing the excess water here. You want to make sure to remove the water so that the bread doesn't become soggy. No one likes soggy bread!
I'll often grate multiple zucchinis from my garden all at once and freeze some. That way the "hard work" is done the next time I want to make this lemon blueberry zucchini bread recipe!
How to Make Blueberry Zucchini Bread
Combine your wet ingredients and dry ingredients to make this simple zucchini blueberry bread. Add in those juicy blueberries and savory zucchini shreds to create a flavorful bread that everyone loves!
Prepare. Preheat the oven to 350°F and spray a loaf pan with nonstick spray.
Mix. Beat together the sugar, eggs, and vegetable oil in a large bowl. Mix in buttermilk and vanilla until smooth.
Stir. Next stir in the flour, baking powder, and baking soda. Fold in the zucchini, blueberries, zest from 2 lemons, and juice from 1 lemon.
Bake. Pour the batter into the prepared pan and bake until a toothpick comes out clean, about 40-50 minutes. Let cool in pan for 15 minutes, then remove and place on a cooling rack to cool completely.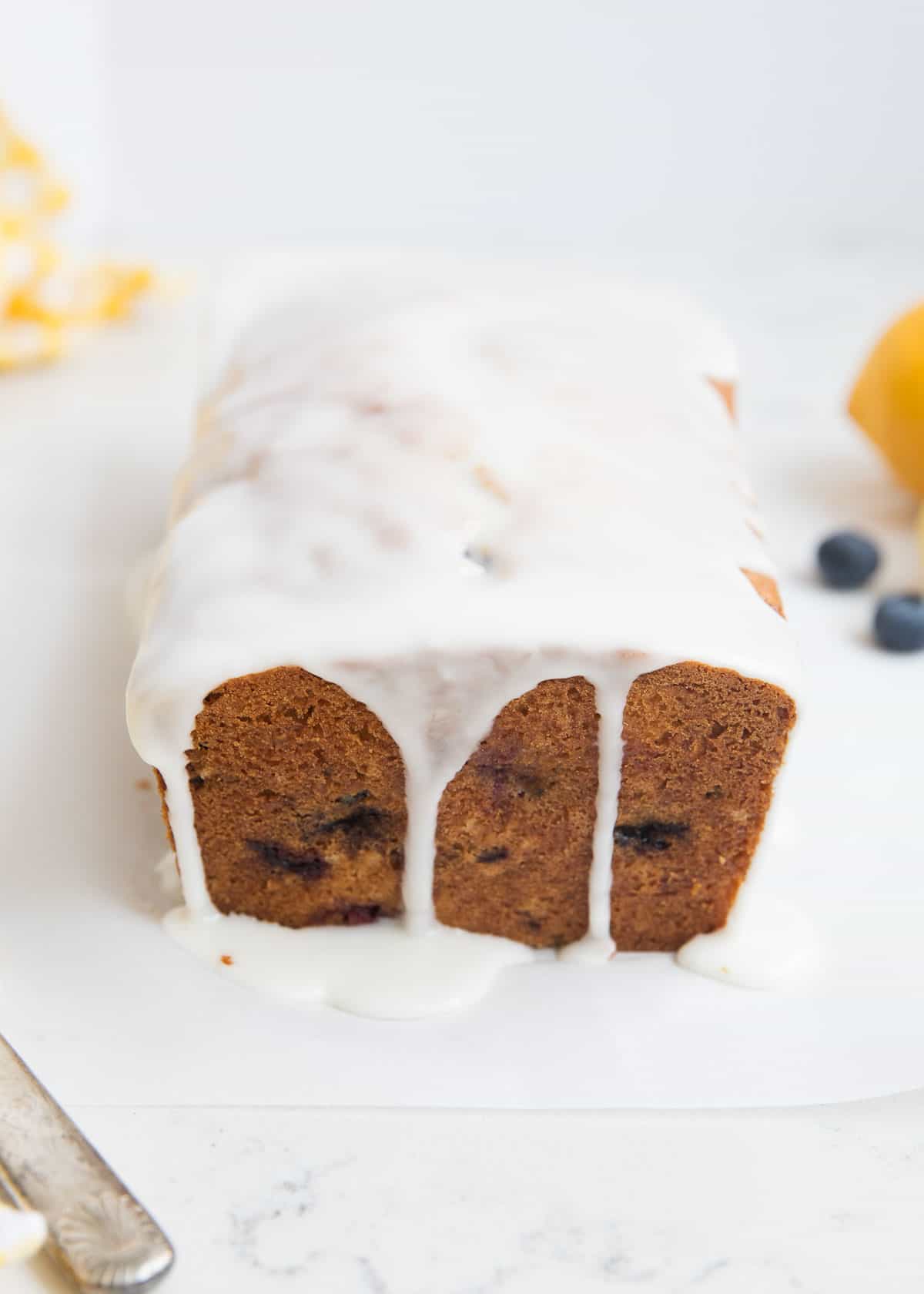 Easy Lemon Glaze
For the glaze, you'll only need about a cup of powdered sugar and fresh-squeezed lemon juice. I like the consistency to be fairly thick (similar to glue) so that it will stay on top of the bread and not run all the way down. It also hardens nicely, so you're able to slice it once it's cooled.
1 cup powdered sugar
Juice from 1 lemon
Recipe FAQs
Do you squeeze out the liquid from zucchini for bread?
Yes! The zucchini is squeezed and removes any extra moisture from the grated zucchini.
Do you take seeds out of zucchini for zucchini bread?
If the zucchini has large seeds it is best to remove the seeds. The seeds signify the age of the zucchini and can taste bitter. A medium or smaller size zucchini is best!
Why did my zucchini bread come out dense?
Zucchini blueberry bread can be dense if it is mixed too quickly.
Why is my zucchini bread falling apart?
Wait for the blueberry zucchini bread to cool before slicing. This will help the bread stay in tack. Let cool on a cooling rack before you slice to avoid it from falling apart and crumbling.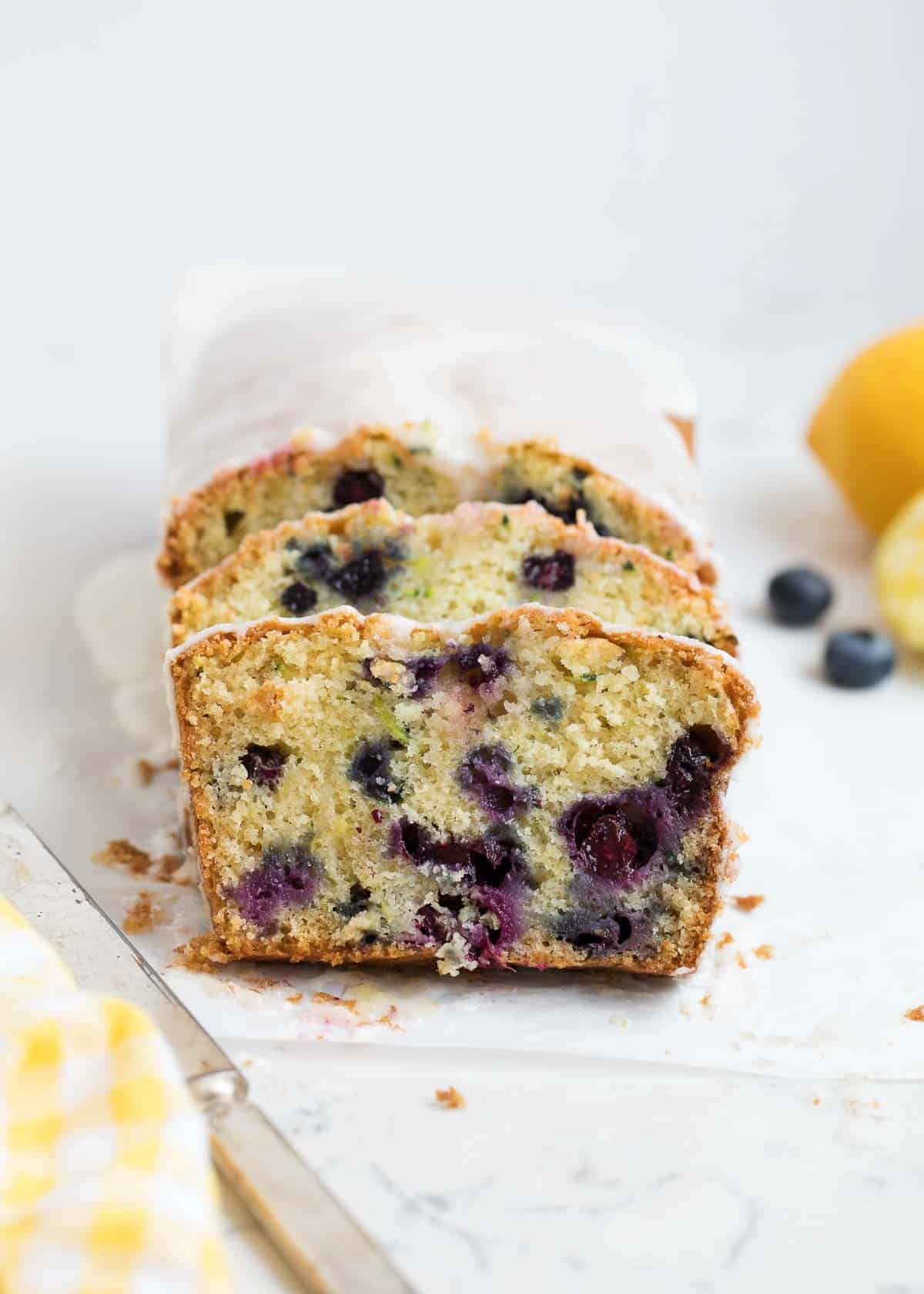 Baking Tips
This is the best quick bread recipe with all the baking tips to help make this even better! Learn to make homemade buttermilk, prepare zucchini, and enjoy the best zucchini blueberry bread. All these helpful tips will ensure a successful bread!
Make your own buttermilk! If you don't have any hand, simply mix together 1/2 cup milk and 1/2 Tablespoon distilled vinegar or lemon juice. Let it sit for 10 minutes before using.
Remove the excess water from the zucchini so your bread doesn't get soggy. Place the grated zucchini in a cheesecloth or paper towel and squeeze the water out over the sink.
Make sure the bread has cooled before adding the glaze. You don't want to add it while it's still warm or the glaze will melt.
This bread freezes great. If you're planning on freezing it, I'd wait to add the lemon glaze. Wrap in foil and place in a freezer bag. When ready to enjoy, let thaw overnight in the fridge. Then add the glaze on top before serving.
5 star review
"I made this recipe and loved it. The bread was very very moist and tasty! and the lemon is a great addition."

– Diane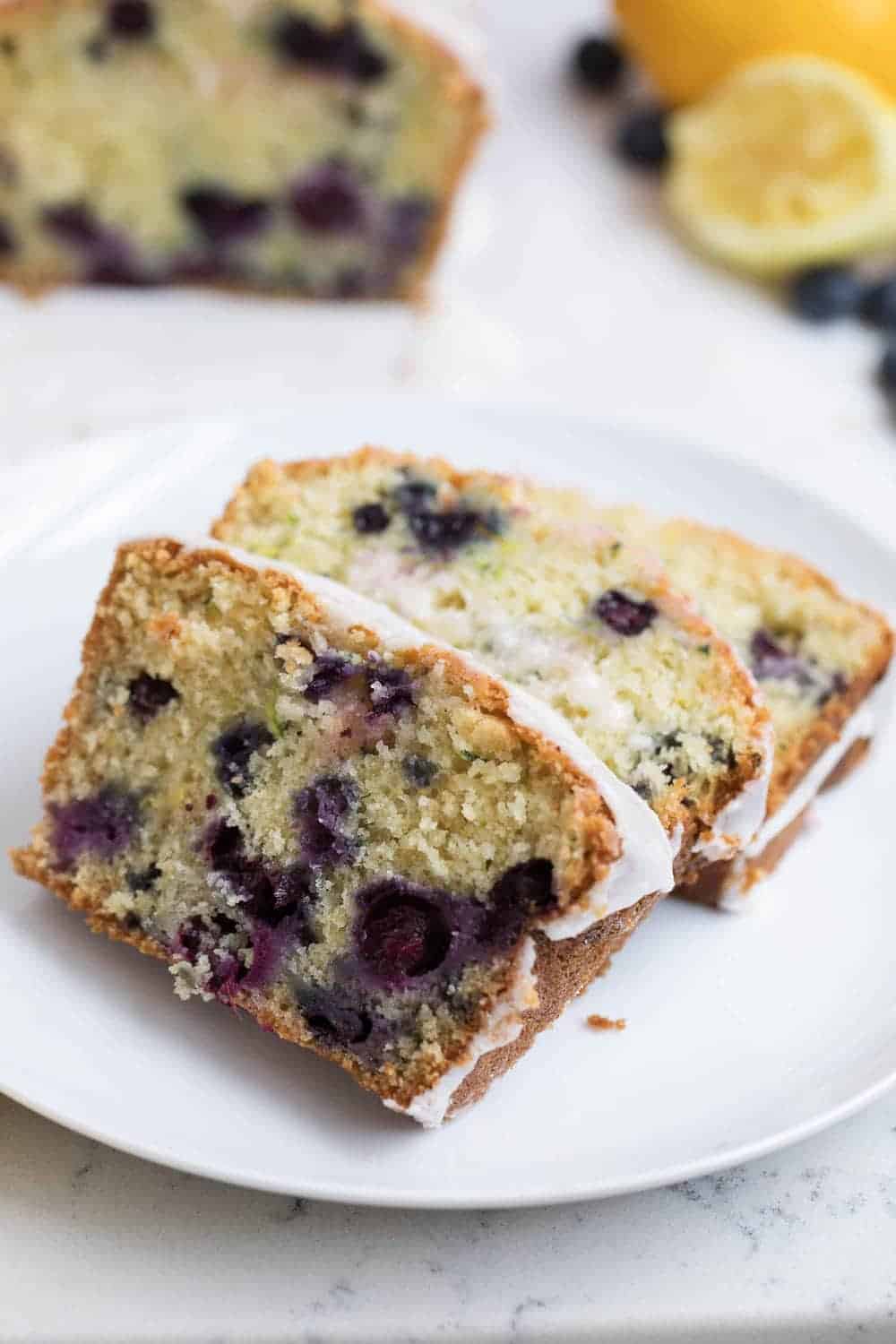 Storing Zucchini Blueberry Bread
Store leftovers in an airtight container in the refrigerator for a few days. You can even use plastic wrap and wrap individual slices for single servings. When ready to enjoy, simply eat chilled or at room temperature.
More Lemon Recipes
Now enjoy a nice big slice with a cold glass of milk! Hopefully you can do so on the front porch with the sun shining. Ah… now doesn't that sounds like the perfect summer day? I can't wait for summer!
HUNGRY FOR MORE? Subscribe to my newsletter and follow on Facebook, Pinterest and Instagram for all the newest recipes!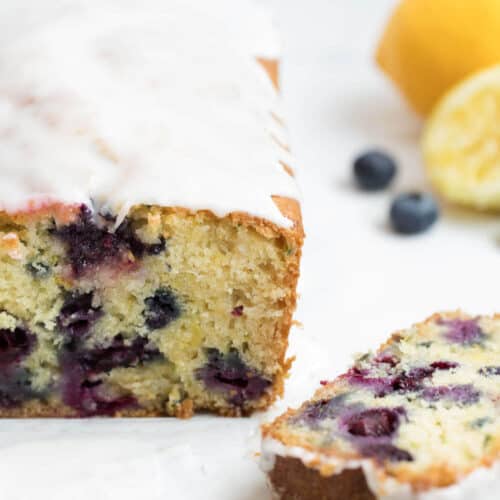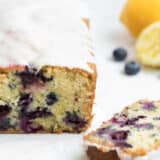 Lemon Blueberry Zucchini Bread
This is the best bread I've ever had! It's super moist and full of fresh lemon and blueberry flavor. Then topped with a sweet lemon glaze.
Ingredients
¾ cup granulated sugar
2 large eggs
½ cup vegetable oil
½ cup buttermilk
1 teaspoon vanilla extract
2 cups all-purpose flour , sifted
1 teaspoon baking powder
1 teaspoon baking soda
½ teaspoon fine sea salt or table salt
1 cup grated zucchini , water removed
3/4-1 cup blueberries
2 lemons
1 cup powdered sugar
Instructions
Preheat the oven to 350°F. Spray a 9×5″ loaf pan with non-stick cooking spray and set aside.

Place the zucchini in a cheesecloth or paper towel and squeeze out all the extra liquid from the zucchini. Let sit on a paper towel until ready to use.

In a large bowl, beat the sugar, eggs and vegetable oil. Then add the buttermilk and vanilla. Mix until smooth. Next add in the flour, baking powder, baking soda and salt. Stir until combined. Fold in the zucchini, blueberries, the zest from 2 lemons and the juice from 1 lemon.

Pour the batter into the pan and then bake for 40-50 minutes, or until a toothpick comes clean. Cool in pan for about 15 minutes and then flip over onto a cooling rack.

Once the bread has cooled, whisk together the powdered sugar and juice from 1 lemon. Then pour over the top of the bread.
---
Notes
To remove the water from the zucchini, simply place it in a cheesecloth or paper towels and squeeze the water out over a sink.
Nutrition
Calories: 217kcal | Carbohydrates: 35g | Protein: 3g | Fat: 7g | Saturated Fat: 5g | Cholesterol: 21mg | Sodium: 86mg | Potassium: 124mg | Fiber: 1g | Sugar: 20g | Vitamin A: 75IU | Vitamin C: 11.4mg | Calcium: 33mg | Iron: 1.1mg
Nutrition provided is an estimate. It will vary based on specific ingredients used.
Did you make this recipe? Don't forget to give it a star rating below!