This lemon poke cake is moist, light, airy, and exactly what you want to sink your fork into when Spring comes calling! Made with 5 ingredients, this easy-to-make cake is perfect for Easter, backyard parties, or as a weeknight dessert!
Best Lemon Poke Cake Recipe
I can't tell you how many times a quick jello poke cake has come to my rescue when needing to make an impressive dessert with little advance notice. It comes together so easily and consists of just 5 ingredients, one of them being a boxed cake mix which means I'm already ahead of the game.
The bright lemon flavor makes this cake one of the best lemon desserts along with lemon icebox pie and this lemon meringue pie recipe! It's made with a refreshing lemon cake base that is poked so that the lemon jello mixture can soak through. It is then chilled and topped with your choice of homemade whipped cream or cool whip.
I love using a cake mix to make desserts easy. Some of my other favorites to make are tres leches cake, cake pops and cake mix cookies.
Why Make This Lemon Poke Cake?
If you need a light and tasty dessert that is easy to make, then this lemon poke cake is just that! Choose the jello, cake mix, and get ready to impress your family and friends with this easy cake. It is sweet, zesty, and full of flavor!
Variations: You can use whatever flavor of jello you want! Lemon of course pairs well with lemon cake but so does blueberry, raspberry, strawberry, and orange. The color contrast looks pretty too.
Easy to make! As easy and quick as it is to make, it's a great make-ahead cake too! It's served chilled, and the longer it sits, the more the flavors get absorbed.
Everyone loves it: This light and airy cake is a crowd favorite and always a hit at parties and just as great for a weekend baking project with the kids.
What You Need to Make Lemon Jello Poke Cake
Only four simple ingredients that are easy to put together and have a dessert by dinner! It is quick and easy to use a boxed cake and jello mix. Combined is a perfectly soft and moist cake that everyone will love!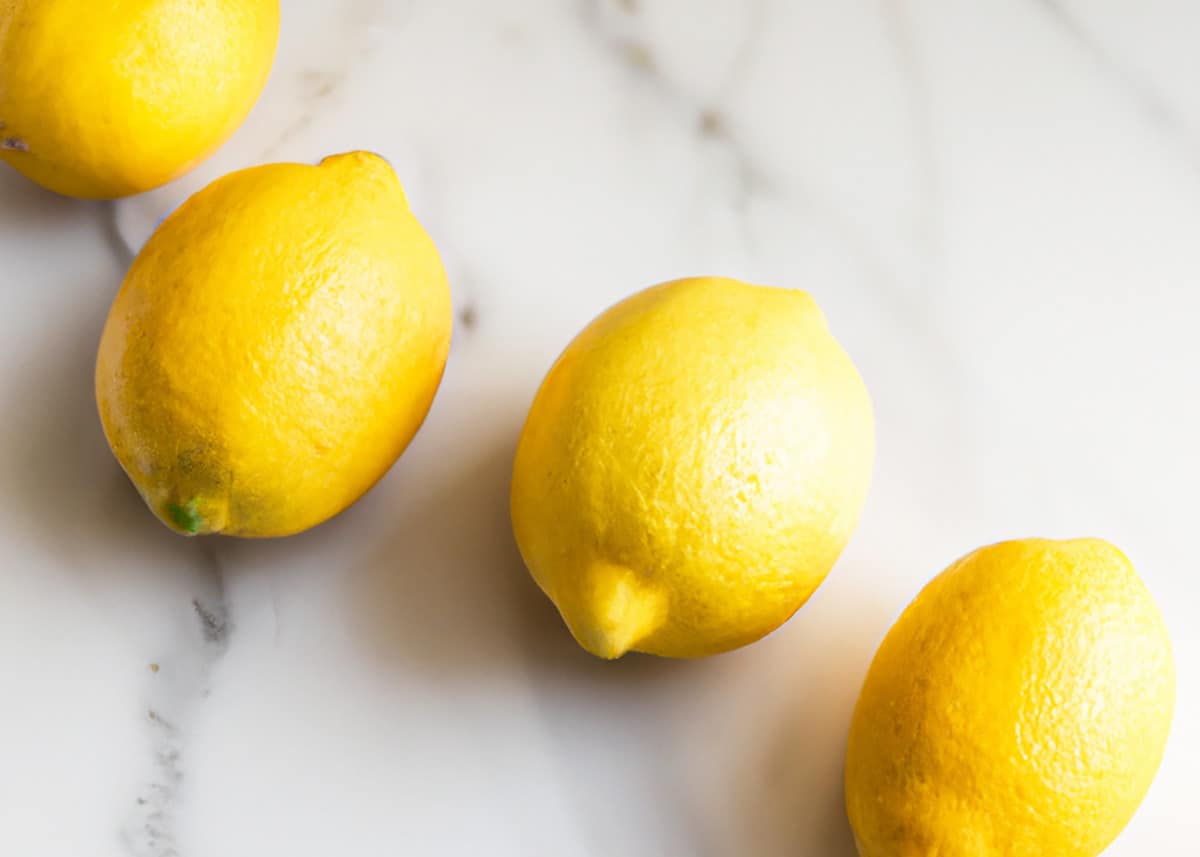 Find the full printable recipe with specific measurements below.
Lemon cake mix: Make this simple by using a lemon cake mix to start. You will need the ingredients on the back of the box to mix and bake the cake according to the package instructions.
Lemon jello: This will moisten the cake and add that sponge-like cake texture.
Hot and cold water: Combine the water to make a jello texture but let it bring moisture inside the cake.
Homemade whipped cream: A light and tasty topping that can either be whipped cream or cool whip based.
How to Make Lemon Poke Cake
Create the best cake that is bright and yellow in color plus all the deliciousness! Poke holes in the cake to allow the jello syrup to moisten the cake from the top to the bottom. It is that easy and delicious!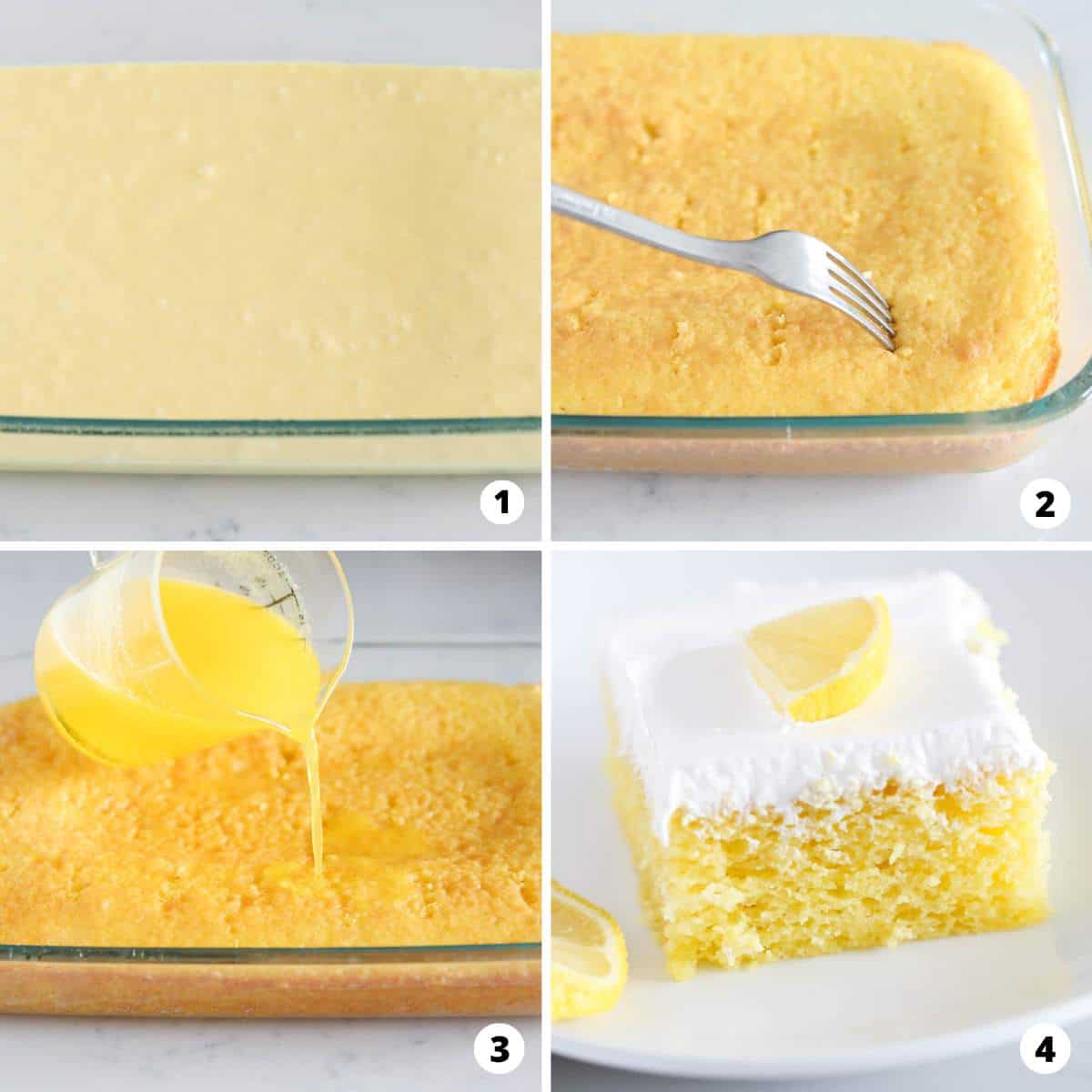 Mix the batter in a bowl and bake the cake according to the package directions. Allow it to cool.
Poke holes in the cake. For smaller holes use a fork or butter knife and for larger holes use the handle of a wooden spoon.
Whisk lemon Jell-O with hot water until it dissolves. Pour in cold water and stir. Wait 1 minute before pouring the jello mixture evenly all over the cake.
Chill in the fridge for at least an hour. Top with homemade whipped cream or cool whip and keep chilled until you're ready to slice and serve. A few slices of lemon on top is a great way to garnish it!
Top it Off!
Make it look pretty by adding a few lemon slices. You can also use candied lemon rinds or lemon zest for an extra sugary topping!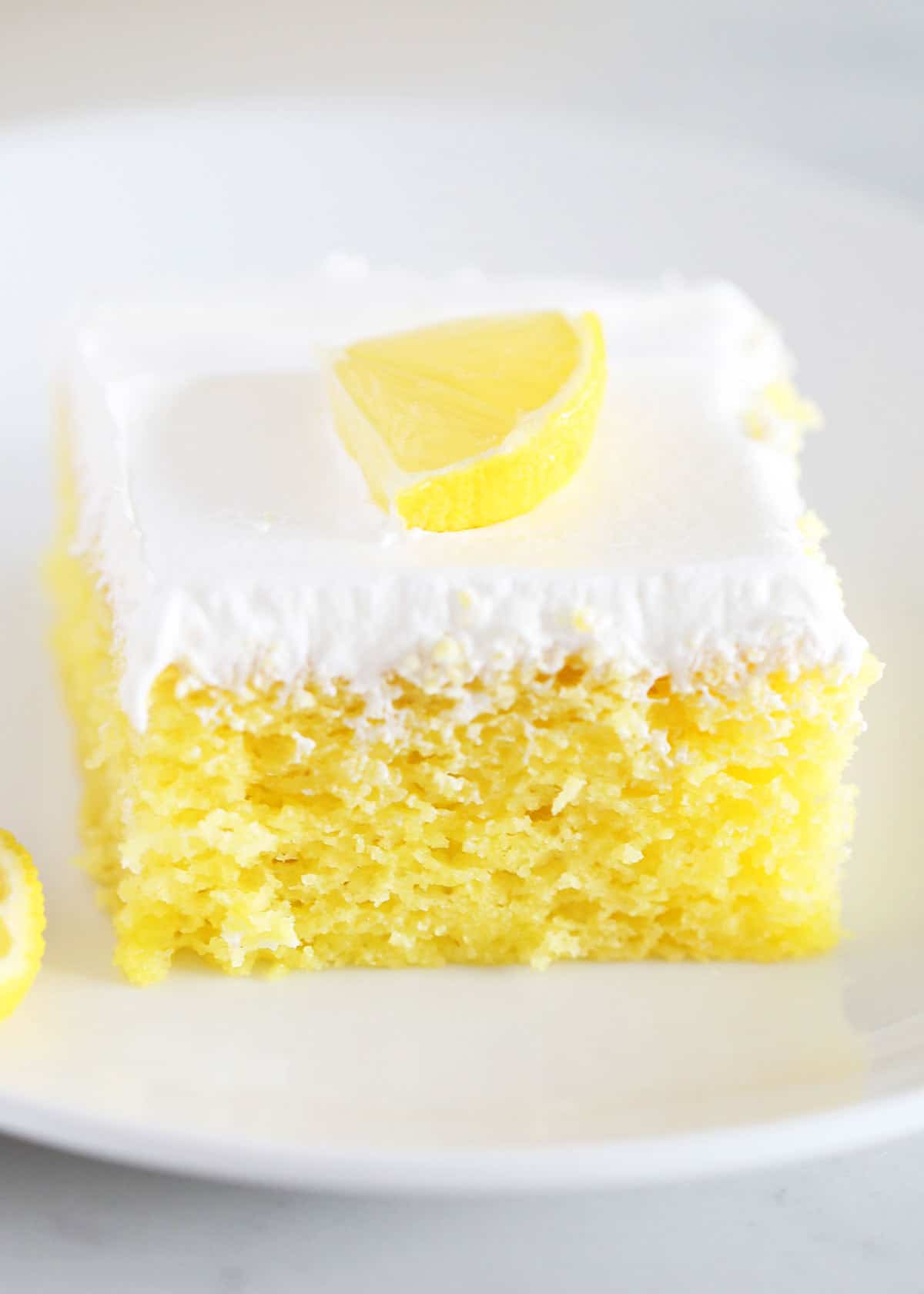 5 star review
"Oh, yum! Everyone loved this cake. This recipe is just right—light, airy, and most importantly, delicious."

-Erin
Possible Variations
Make this cake just how you like it! Pick the best cake mix, and jello flavor, and even use a different frosting. The ideas and variations are endless!
White cake mix. For a more mellow version if you want to dial down the lemon you can use a white cake mix instead. You can also make a cake from scratch if that's on your to-do list!
Yellow cake mix and lemon juice. If you're having trouble finding lemon cake, a yellow cake mix works too. Add a bit of fresh lemon juice to give it a dose of lemon flavor.
Using a store-bought whipped topping can be done if preferred.
Pudding poke cakes are also a thing, so you can easily swap the jello for instant lemon pudding mix or even homemade lemon curd.
Swap jello flavors. As mentioned above, raspberry, strawberry, blueberry, or orange all pair well with lemon.
A different frosting. Leave off the whipped topping and slather it with a lemon cream cheese frosting instead,
You could also enjoy it plain, with a dusting of powdered sugar, or a drizzle of lemon glaze or cream cheese glaze.
Recipe FAQs
Why is my poke cake soggy?
When poking holes in the cake, you will want to make sure that the holes are not too close together and that there is room in between them. Being too close together can create the cake to be soggy or too moist whereas being far apart won't have the liquid to soften the cake. A good balance of holes is needed.
Why is it called poke cake?
What Is a Poke-and-Pour Cake? Poke-and-pour cake (also called poke cake) Poke cake is just how it sounds, the cake is poked from the top to allow syrup or liquid over top and to spill into the holes allowing the cake to be infused with more flavoring.
Which lemon cake mix is the best?
This is totally up to the buyer and their preference for the cake mix and even the price of the cake mix. A couple of popular cake mix brands are known to be Duncan Hines, Pillsbury cake, and Betty Crocker. Each of these cake mixes has its own secret ingredients claiming they are the best.
What does adding Jello to the cake mix do?
Gelatin is sometimes used as a thickening agent in some desserts or moistens cakes and adds flavor at the same time. Jello is a form of gelatin that is full of color and flavor combined. In this recipe, we use it as a liquid rather than a thick substance.
What is the best way to poke holes in a cake?
There are several different ways to poke holes in a cake. Knowing the size of the cake and how much liquid is going to be poured over the top is a must before poking holes. If it is a watery liquid, smaller holes are needed using a fork. If it is a thicker, creamier liquid, then using the back of a wooden spoon is best.
Storing & Freezing
This lemon poke cake is perfect to make ahead of time or the day of. When storing leave it in the fridge or freezer depending on how long you need. This cake is irresistible and hard not to eat!
Store this cake in the fridge until you're ready to serve. Then, once people have been served put it right back.
Freeze it without any topping. Once it has chilled and set in the fridge, wrap it in plastic wrap and store it in a freezer-friendly bag for up to 1 month. When you're ready to enjoy it, thaw it in the fridge overnight then add the whipped topping.
More Easy Lemon Desserts
HUNGRY FOR MORE? Subscribe to my newsletter and follow on Facebook, Pinterest and Instagram for all the newest recipes!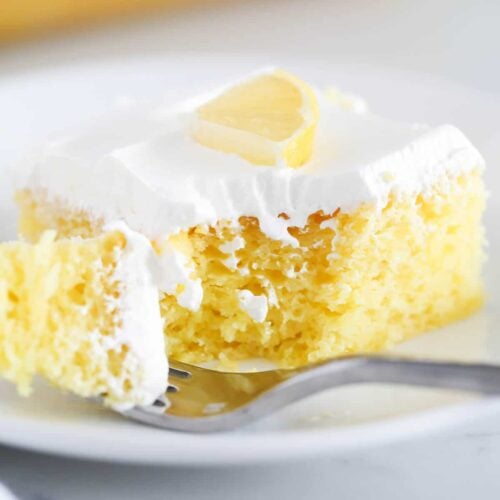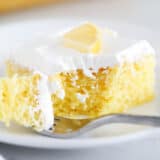 Lemon Poke Cake
This lemon poke cake is moist, light, airy, and exactly what you want to sink your fork into when Spring comes calling! Made with 5 ingredients, this easy-to-make cake is perfect for Easter, backyard parties, or as a weeknight dessert!
Ingredients
15 ounce box moist lemon cake mix , plus ingredients on box
3 ounce box lemon jello
1 cup hot water
¾ cup cold water
2-3 cups homemade whipped cream , or cool whip
Lemon for topping, optional
Instructions
Mix the batter according to package directions. Bake according to the package directions. Remove the cake from the oven and allow to cool for about 5 minutes.

Then poke holes all over the top with a meat fork or butter knife.

Next mix together the jello with the hot water. Stir for 2 minutes, or until completely dissolved. Then stir in the cold water for 1 minute. Pour evenly over cake. Then refrigerate for at least one hour.

Once it is completely cooled, spread the whipped cream over top. Top with lemon slices or grated lemon if desired. Store in the refrigerator, until serving.
---
Notes
Variations: You can use any flavor of jello for this recipe. Some of our favorites are strawberry, raspberry, blue raspberry and orange.
Make ahead: This is the perfect make-ahead dessert. Feel free to make it the day before and let it chill in the fridge overnight.
Freezing: I'd recommend freezing without the whipped topping. Simply wrap with plastic wrap then place in a freezer bag or container. Store in freezer for up to 1 month. Then when ready to enjoy, thaw and top with whipped cream or cool whip.
Nutrition
Serving: 1slice | Calories: 111kcal | Carbohydrates: 22g | Protein: 1g | Fat: 2g | Saturated Fat: 1g | Cholesterol: 5mg | Sodium: 169mg | Potassium: 22mg | Fiber: 1g | Sugar: 13g | Vitamin A: 40IU | Calcium: 53mg | Iron: 0.4mg
Nutrition provided is an estimate. It will vary based on specific ingredients used.
Did you make this recipe? Don't forget to give it a star rating below!