Jump to Recipe⌄
Glazed lemon cookies
Glazed lemon cookies recipe – a soft baked sugar cookie topped with a fresh lemon glaze. These will melt in your mouth!
These cookies are sweetened just right and bursting with lemon flavor. The freshly squeezed lemon juice and lemon zest adds the perfect touch. These are the perfect cookie for Spring. These are definitely a new favorite at my house!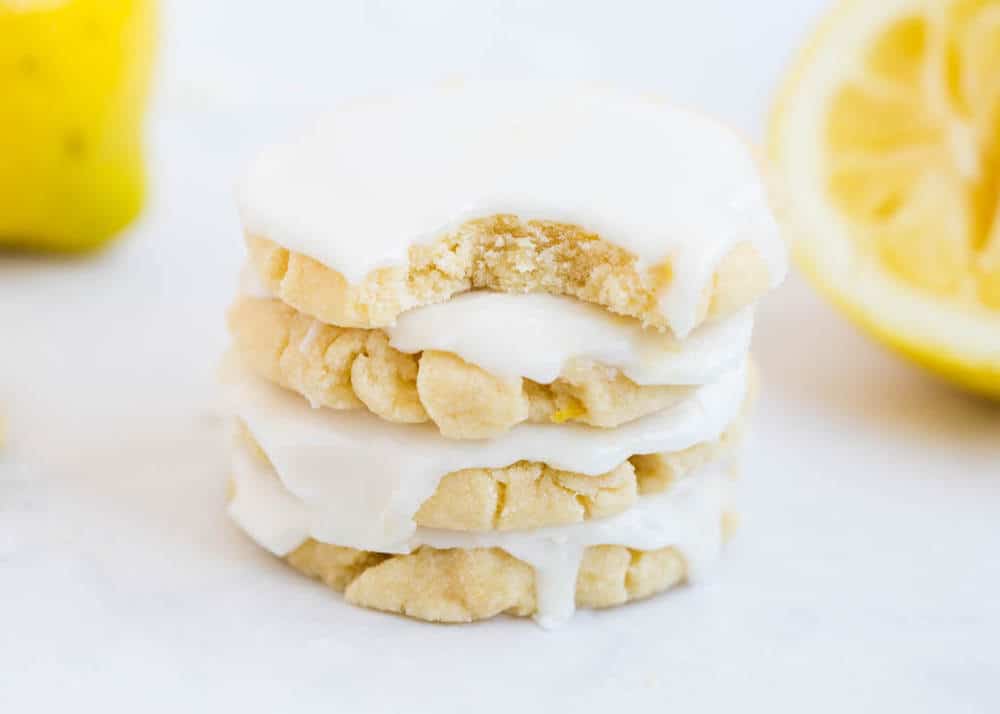 This cookie recipe comes friend my sweet friend Shelly's new cookbook: The Cookies & Cups Cookbook (psst it's on sale today… hurry and preorder it). It comes out April 12th and I was so excited to get to take a sneak peak ahead of time. Every single recipe in this book looks AMAZING. I cannot wait to try them all. So many yummy desserts, party snacks and dinner ideas.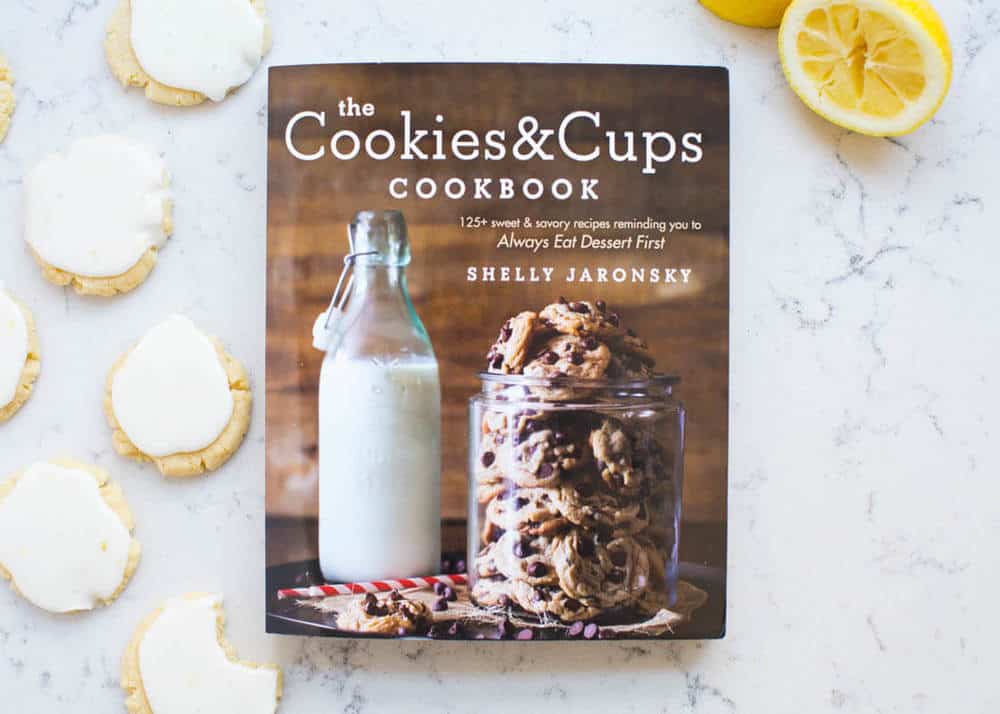 I had to try these glazed lemmies as she calls them. They were calling my name. I am a big fan of lemon in desserts!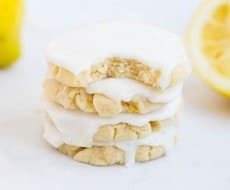 Glazed lemon cookies
Ingredients:
3/4 cup (1 1/2 sticks) salted butter, at room temp
3/4 cup sugar
2 egg yolks
1  teaspoon vanilla extract
1 to 2 teaspoons grated lemon zest
1 Tablespoon lemon juice
1/2 teaspoon kosher salt
2 cups all-purpose flour
Glaze:
1 1/2 cups powdered sugar
1 teaspoon grated lemon zest
3 Tablespoons freshly squeezed lemon juice
1-3 teaspoons water
Directions:
Combine the butter and sugar in a large mixing bowl. Mix on medium speed for 2 minutes. Add the egg yolks, vanilla, lemon zest, lemon juice and salt.  Then slowly mix in flour. Mix just until combined.
Wrap the dough in plastic wrap and refrigerate for 1 hour.
Preheat the oven to 350°F. Line a baking sheet with a silicone mat or parchment paper. Roll the cookie dough into 1 1/2 inch balls. Then press down with a cup.  Bake for 10-13 minutes, or until the bottoms are lightly golden. Transfer the cookies to a cooling rack.
For the glaze, whisk together the powdered sugar, lemon zest and lemon juice in a medium size bowl. Add a teaspoon of water at a time, until you reach a nice and smooth glaze. Then drizzle or spoon on top of the cookies. Allow the glaze to set before serving. Enjoy!
slighted adapted from The Cookies and Cups Cookbook
All images and text ©

Enjoy!! :)
Looking for more lemon cookies? You'll love these too: