These glazed lemon cookies are a soft baked sugar cookie topped with a fresh lemon glaze. The perfect light and sweet dessert for spring and summer. These are melt-in-your-mouth delicious!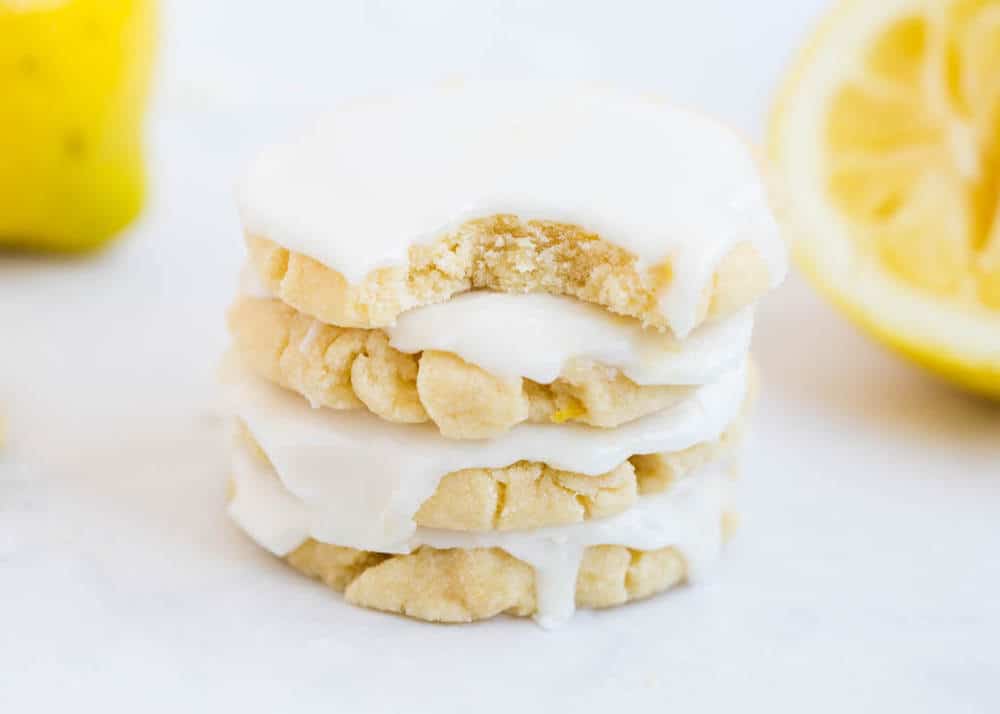 Table of Contents
Lemon Sugar Cookies
As much as I love plain soft sugar cookies, there's just something a little more special when you add the fresh lemon flavor. It gives it a bright and refreshing taste and leaves a zesty zing of citrus on the tip of your tongue.
These lemon cookies are bursting at the seams with bright Spring flavors. The freshly squeezed lemon juice adds just the right amount of tartness to nicely balance out the sweetness from the soft sugar cookie. They are so light and fluffy and the powdered sugar icing really takes them over the top. These cookies will literally melt in your mouth. They are definitely a new favorite in my house…we all absolutely LOVED them!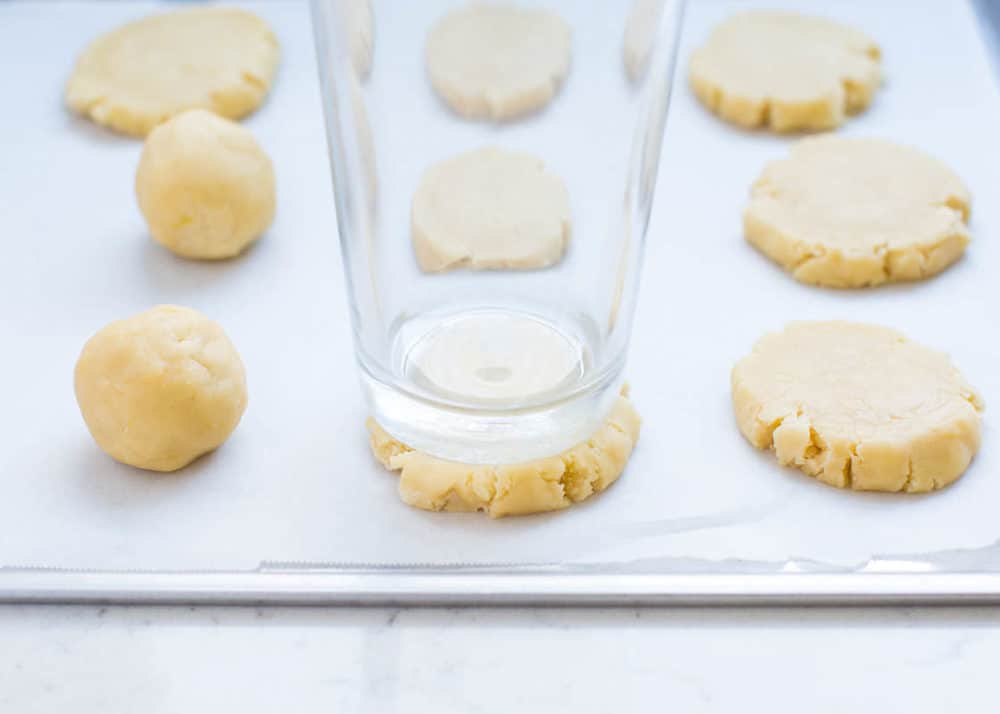 Baking Tips
Fresh lemons. Use REAL lemon juice and zest (instead of lemon extract). It makes all the difference and gives these cookies the absolute best flavor. Learn how to zest a lemon for the best flavor.
Chill the dough. It's important to chill the dough in the refrigerator for at least 1 hour. This keeps them from spreading in the oven and helps make a thick and delicious cookie.
Press the dough down. Instead of rolling out the dough, scoop it into balls and then use the bottom of a cup to press the cookies down. The edges will crack a little, but that's totally okay. Just make sure not to press down too hard…we don't want thin cookies!
Don't overbake. These are definitely not the crispy type of sugar cookies. They should be super soft and almost melt in your mouth when you take a bite. Bake them until the centers are set and the bottoms are lightly golden. They'll continue to cook and set up as they cool.
Let cool. Make sure to let the cookies cool completely before adding the glaze on top. If they are still warm, the glaze could melt.
Glaze. There are several ways to drizzle the glaze over the cookies. You can spoon it on top of the cookies, use a whisk to drizzle it over or use a piping bag (or plastic baggie with the corner snipped off). You can even dip the tops of the cookies in the bowl of glaze.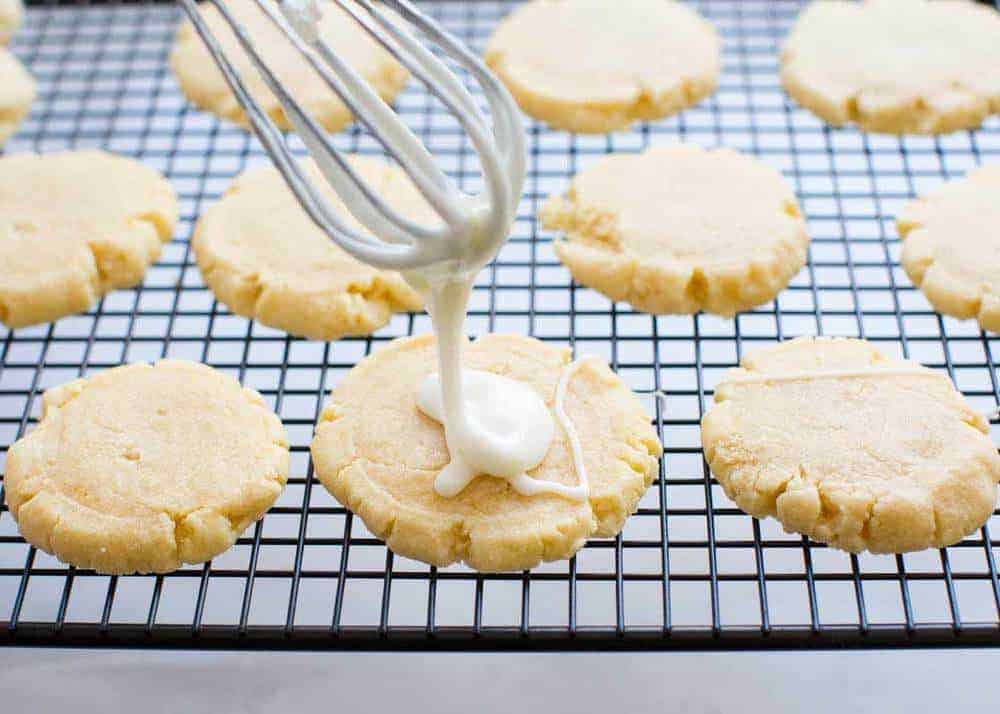 Variations
Omit the glaze for a cookie that's a little less sweet.
Mix in white chocolate chips for a fun twist.
Roll the cookies in powdered sugar before baking.
Spread a classic buttercream or lemon cream cheese frosting on top. A coconut frosting would also pair wonderfully with the bright lemon flavor!
Try substituting a different citrus such as orange juice and zest to mix up the flavor.
Storing + Freezing
Make sure the glaze has dried completely, then place in an airtight container or bag. If stacking in layers, use a piece of parchment or wax paper in between to avoid sticking. They will stay fresh at room temperature for about 5 days. If your kitchen is humid, you may want to store them in the fridge so that the glaze doesn't soften. You can also freeze the cookies for up to 3 months.
More Desserts to Try
HUNGRY FOR MORE? Subscribe to my newsletter and follow on Facebook, Pinterest and Instagram for all the newest recipes!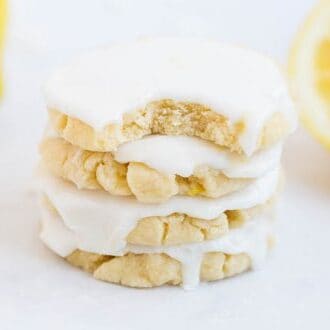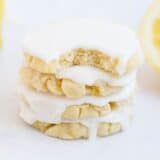 Lemon Cookies
These glazed lemon cookies are a soft baked sugar cookie topped with a fresh lemon glaze. The perfect light and sweet dessert for spring and summer. These are melt-in-your-mouth delicious!
Ingredients
¾ cup salted butter , at room temperature (1 1/2 sticks)
¾ cup granulated sugar
2 egg yolks
1 teaspoon vanilla extract
1 to 2 teaspoons grated lemon zest
1 Tablespoon lemon juice
½ teaspoon Kosher salt
2 cups all-purpose flour
Lemon glaze
1 ½ cups powdered sugar
1 tsp grated lemon zest
3 tbsp freshly squeezed lemon juice
1-3 tsp water
Instructions
Combine the butter and sugar in a large mixing bowl. Mix on medium speed for 2 minutes. Add the egg yolks, vanilla, lemon zest, lemon juice and salt. Then slowly mix in flour. Mix just until combined.

Wrap the dough in plastic wrap and refrigerate for 1 hour.

Preheat the oven to 350°F. Line a baking sheet with a silicone mat or parchment paper. Roll the cookie dough into 1 1/2 inch balls. Then press down with a cup. Bake for 10-13 minutes, or until the bottoms are lightly golden. Transfer the cookies to a cooling rack.

To make the lemon icing for cookies, whisk together the powdered sugar, lemon zest and juice in a medium size bowl. Add a teaspoon of water at a time, until you reach a nice and smooth glaze. Then drizzle or spoon on top of the cookies. Allow the glaze to set before serving. Enjoy!
---
Notes
Recipe slighted adapted from The Cookies and Cups Cookbook
Nutrition
Calories: 148kcal | Carbohydrates: 21g | Protein: 1g | Fat: 6g | Saturated Fat: 3g | Cholesterol: 31mg | Sodium: 100mg | Potassium: 18mg | Sugar: 13g | Vitamin A: 200IU | Vitamin C: 1.1mg | Calcium: 6mg | Iron: 0.5mg
Nutrition provided is an estimate. It will vary based on specific ingredients used.
Did you make this recipe? Don't forget to give it a star rating below!