Learn multiple ways how to zest a lemon! My easy-to-follow methods will have you adding an extra hint of citrus flavor to your recipes in no time!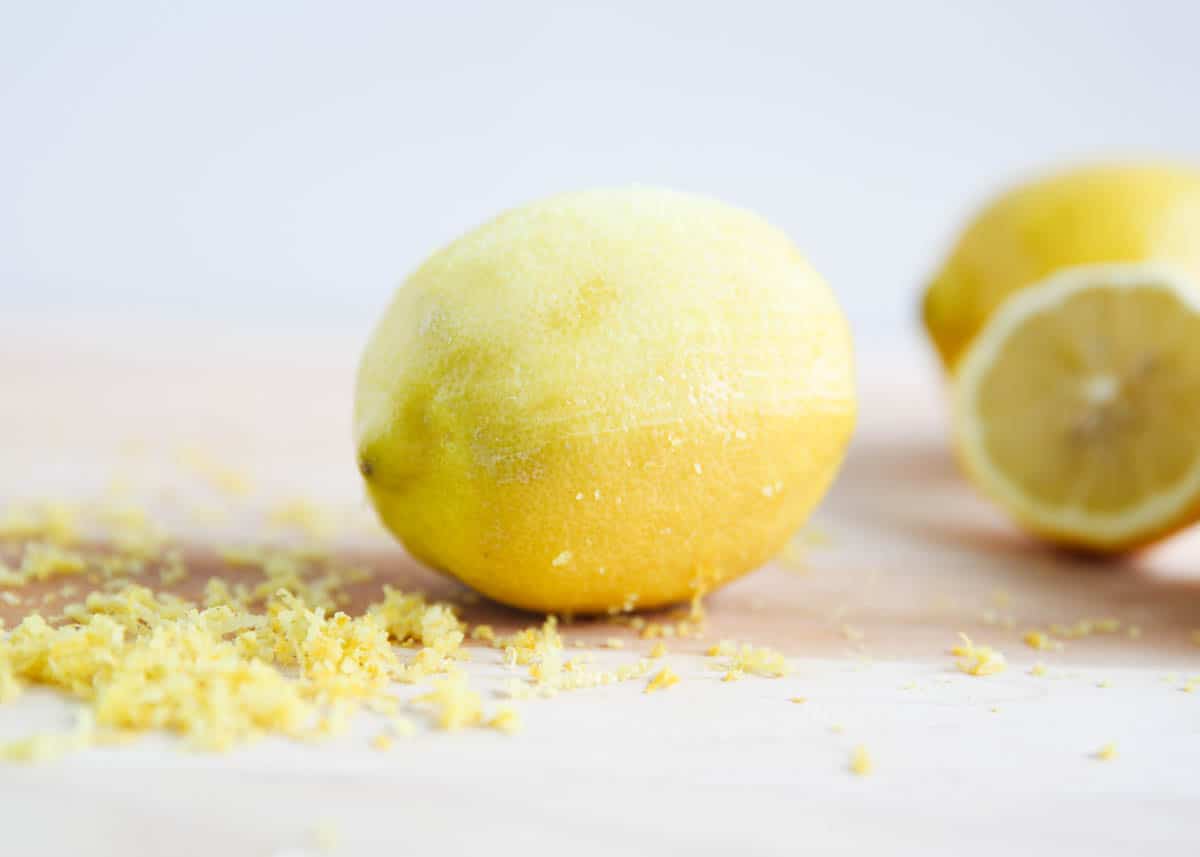 Zesting a Lemon
One of the best kitchen tricks you can have in your back pocket is how to zest a lemon. Perfect for adding a subtle lemony taste to cakes, cookies, pasta, and more, this kitchen tip is invaluable!
When I taste something that could use a hit of citrusy flavor, I'm always throwing in lemon zest. It's not overpowering like lemon juice but adds a pleasant tang to your recipes.
There are a few ways you can get that amazing zest from the peel. It doesn't matter if you zest, grate, or peel it, the outcome will be the same. Amazing fresh citrusy flavor!
Lemon zest is a great way to brighten up cakes, cookies, and frostings. I love to use it in my lemon cream cheese frosting, glazed lemon cookies, and strawberry sour cream cake. Any time you want a boost of citrus flavor, get zesting!
What is Lemon Zest?
It comes from the yellow outer layer, otherwise known as the lemon peel. The zest is bursting with flavor that's sweeter and not as acidic as the juice itself.
Using the zest in recipes is a great way to add a bright citrus taste without adding more liquid than you would if you were to use lemon juice. You'll also see many recipes that call for both the zest and the juice. This will make the flavor more pronounced.
It doesn't stop at just lemon zest. Make different types of citrus zest by using limes for lime zest, grapefruit for grapefruit zest, and oranges for orange zest!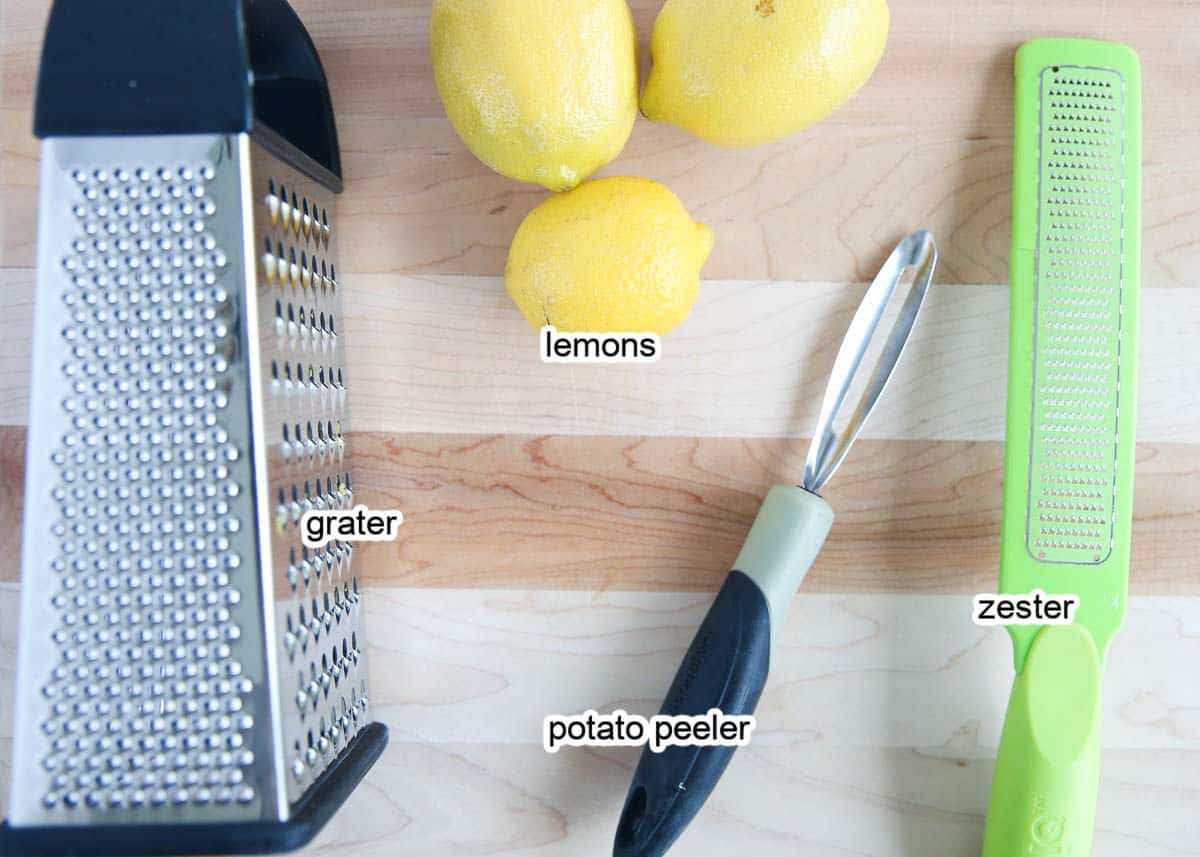 How Much Zest is in One Lemon?
It all depends on the size of the lemon. As a general guide, a regular medium-sized lemon will give you about 1 Tablespoon of zest and 2 Tablespoons of juice.
How to Zest a Lemon with a Lemon Zester
There are a few different ways that you can get the zest. The most obvious way is to use a lemon zester. A citrus zester has round holes at the top with sharpened rims that grab the zest off the lemon while you scrape it over the skin.
Hold the fruit in one hand with the zester in the other. Place the holes of the zester at the top of the lemon (with the sharp edges of the holes facing down).
Drag the zester down the length of the lemon removing small strips of zest as you go.
Continue around the entire lemon until the whole thing is zested.
Expert Tip
The most important tip for zesting lemons is to make sure you are only removing the yellow part of the peel and not the white part, otherwise known as the pith. It's very bitter and will not taste good in your dishes. Trust me, I know from experience!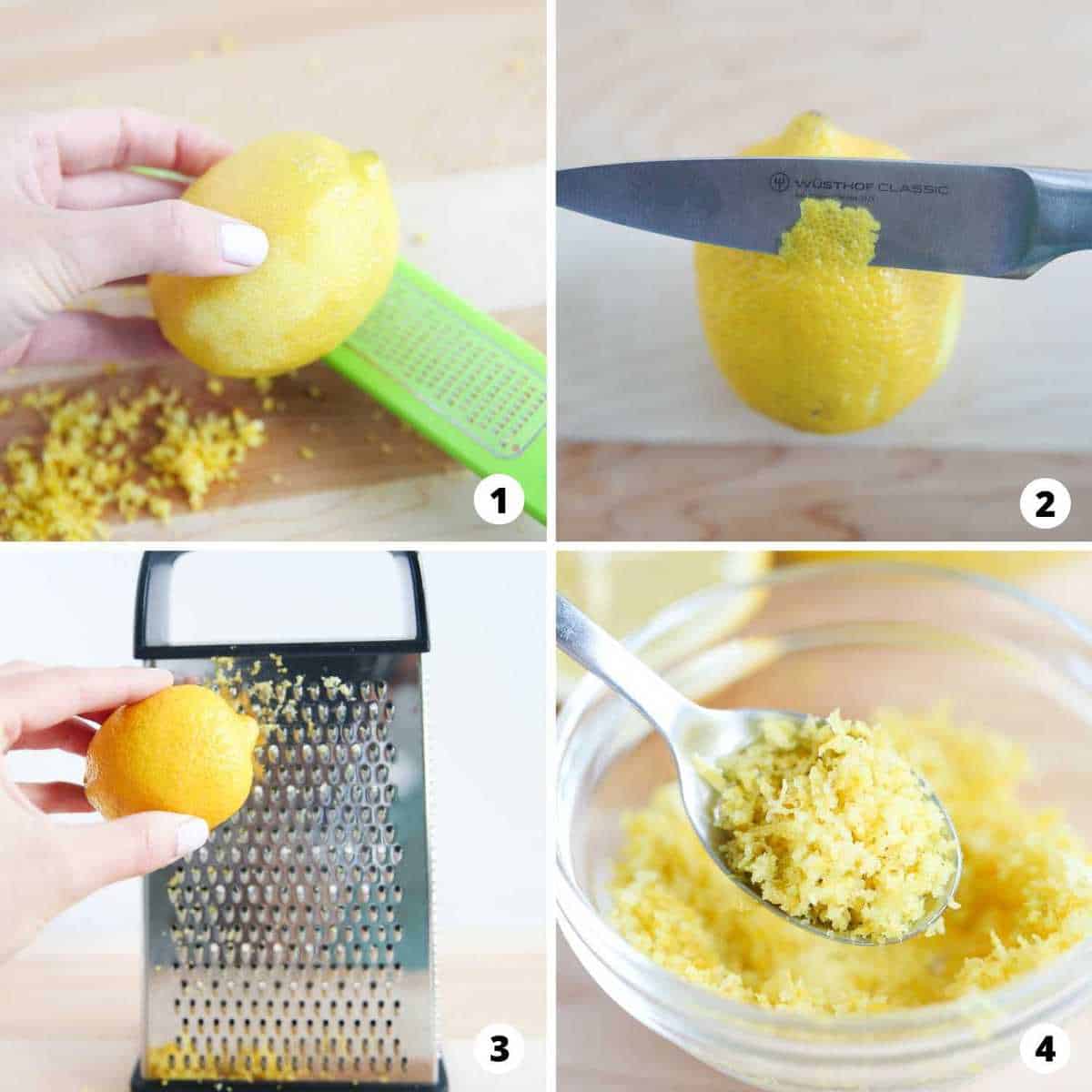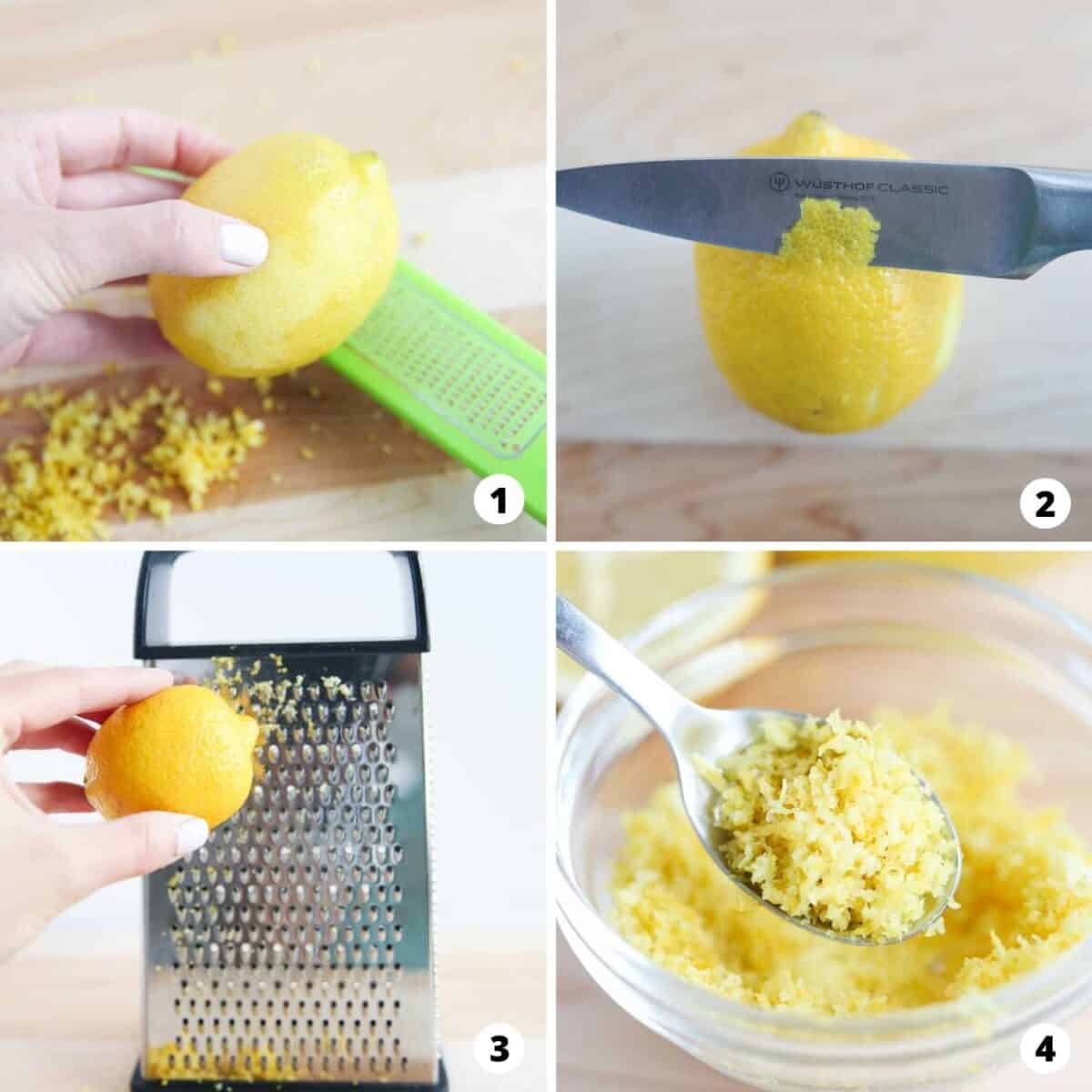 How to Zest a Lemon Without a Zester
If you don't have a zester, don't worry! There are other ways you can remove the zest. I've shared some other tried and trusted techniques below.
Microplane
A microplane grater is a rasp-like grater with multiple tiny sharp holes all along its length. Because a microplane is so sharp, watch your fingers as you grate!
Move the lemon lightly back and forth over the holes to remove the zest. Don't press too hard or you'll end up grating some of the white pith.
Box Grater
The small holes of a box cheese grater are also a great option for zesting lemons.
Gently move the fruit down over the small holes of the grater. Rotate and repeat the process until all of the zest is off.
Vegetable Peeler
A vegetable peeler (potato peeler) will also work in a pinch to remove the zest from lemons.
Hold the lemon in one hand and the peeler in the other hand. Press the sharp blade of the peeler into the skin and pull the peeler down, being careful to only remove the yellow part. This will give you wide strips of peel.
Repeat the process around the whole lemon and then finely chop the peel.
Paring Knife
If you don't have any of the other tools on hand, you can use a paring knife.
Slice the lemon in half to give yourself two stable pieces. Put the cut side down on a cutting board.
Carefully cut off the yellow part of the skin only, being careful not to cut into the white pith.
Finely chop the zest to use in your recipe.
Now that you've learned how to zest a lemon, you can use the same techniques to zest any citrus fruit!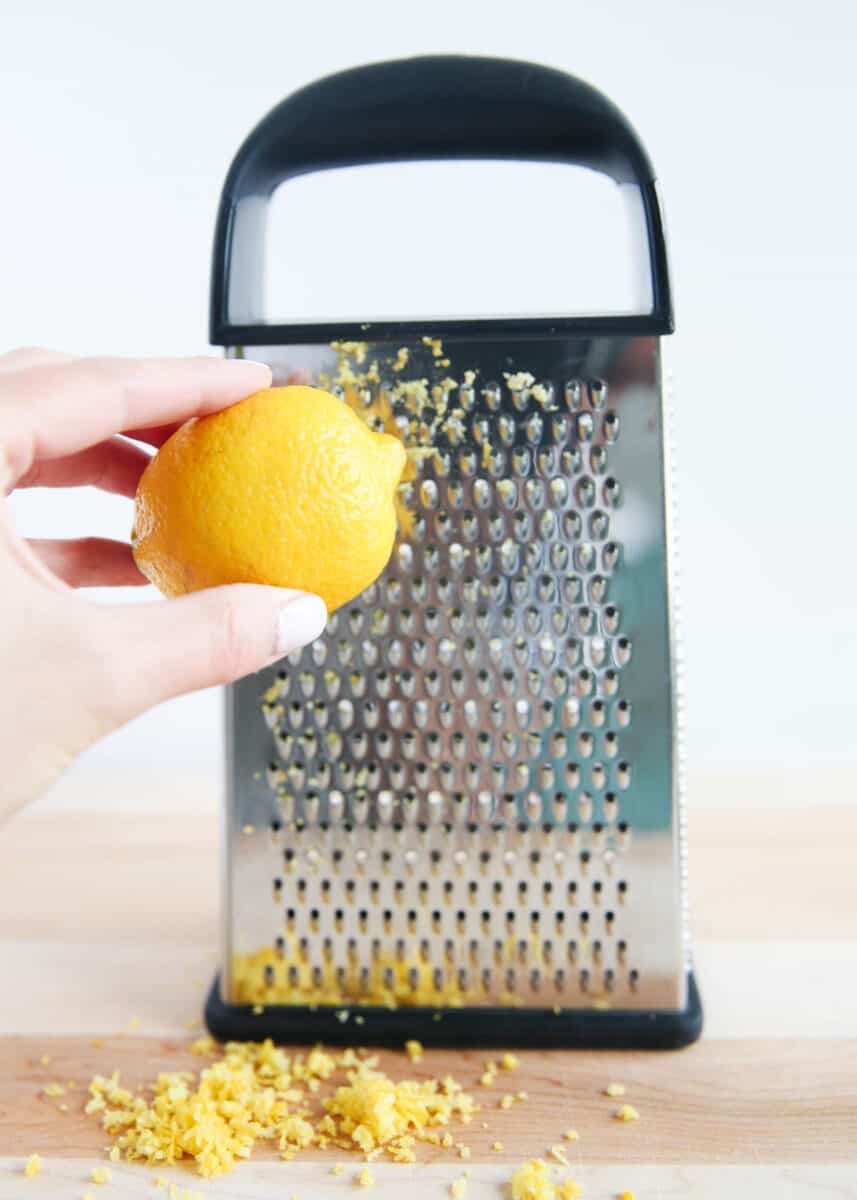 Ways to Use Lemon Zest
There are so many ways to use lemon zest in your favorite desserts both inside the recipe and as a garnish. Also in soups, sauces, and salads. Some of my favorites are:
Sometimes I like to add a sprinkle some into my morning hot water. Hot water with a ginger lemon twist is my cup of tea!
Frequently Asked Questions
Should I wash lemons before zesting them?

It's always a good idea to wash them before zesting them. They come waxed or unwaxed and while the wax is safe to eat, you may wish to remove it before zesting.

To remove the wax, boil water and pour it over the lemons. Give them a good scrub with a vegetable brush, then dry them off and zest away!
Can I zest lemons ahead of time?

Lemon zest is best used immediately after you zest it because it dries out and loses its flavor if left too long. If you want to store it for later, your best bet is to put it in the freezer and freeze the zest in an airtight container for up to 6 months. It won't be as potent, but it will still give you some lemon flavor.
What do I do with the lemon if I only need the zest?

If your recipe doesn't call for the juice, go ahead and juice it anyway. You can store the juice in the refrigerator or freeze it to use later. If you don't juice the lemon right after zesting it, it will dry out quite quickly and you won't be able to squeeze anything out of it.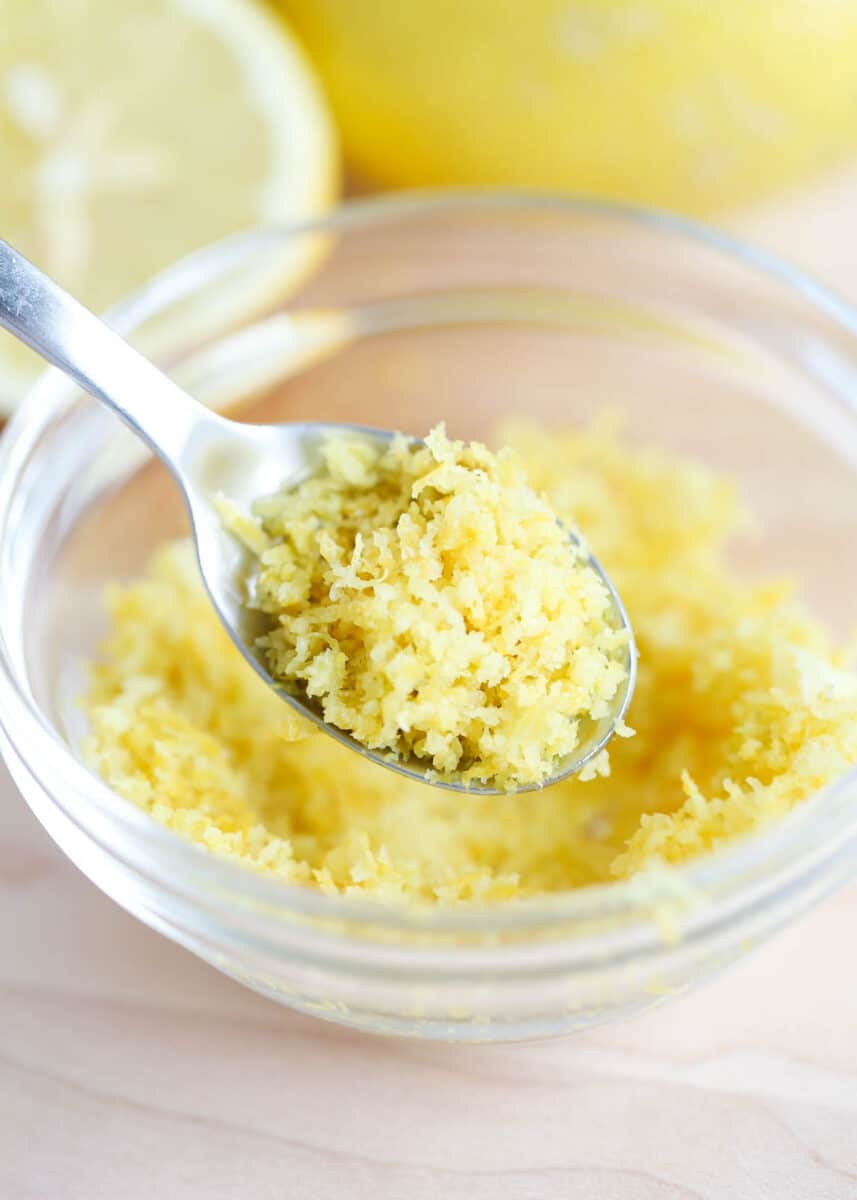 More Recipes with Lemon Zest
HUNGRY FOR MORE? Subscribe to my newsletter and follow on Facebook, Pinterest and Instagram for all the newest recipes!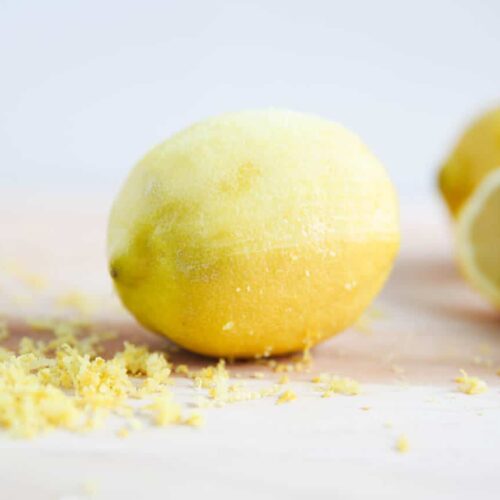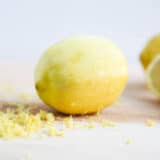 How to Zest a Lemon
Learn multiple ways how to zest a lemon! My easy-to-follow methods will have you adding an extra hint of citrus flavor to your recipes in no time!
Equipment
1 grater, microplane, or lemon zester
Ingredients
1 lemon , washed and dried
Instructions
Using a grater, a microplane, or a lemon zester, grate the lemon against the smallest holes to create fine shreds. Be sure to grate the yellow exterior and try to avoid the white interior, or pith, as it can be bitter. A little pith, however, is ok.

If you don't have any of the tools above, you can use a paring knife or vegetable peeler to carefully remove just the yellow exterior of the lemon. Once you have large pieces of lemon peel, slice them into thin strips and then mince into small pieces.
---
Notes
Amount: 1 lemon equals approximately 1 Tablespoon lemon zest. Storage: Store lemon zest in the freezer for up to 6 months.
Nutrition
Serving: 1g | Calories: 31kcal | Carbohydrates: 10g | Protein: 1g | Fat: 0.3g | Saturated Fat: 0.04g | Polyunsaturated Fat: 0.1g | Monounsaturated Fat: 0.01g | Sodium: 2mg | Potassium: 149mg | Fiber: 3g | Sugar: 3g | Vitamin A: 24IU | Vitamin C: 57mg | Calcium: 28mg | Iron: 1mg
Nutrition provided is an estimate. It will vary based on specific ingredients used.
Did you make this recipe? Don't forget to give it a star rating below!