Indulge in this irresistible homemade Liege waffle recipe with our tried and true recipe. Discover the secrets to creating golden, caramelized waffles that are crispy on the outside and soft and chewy on the inside.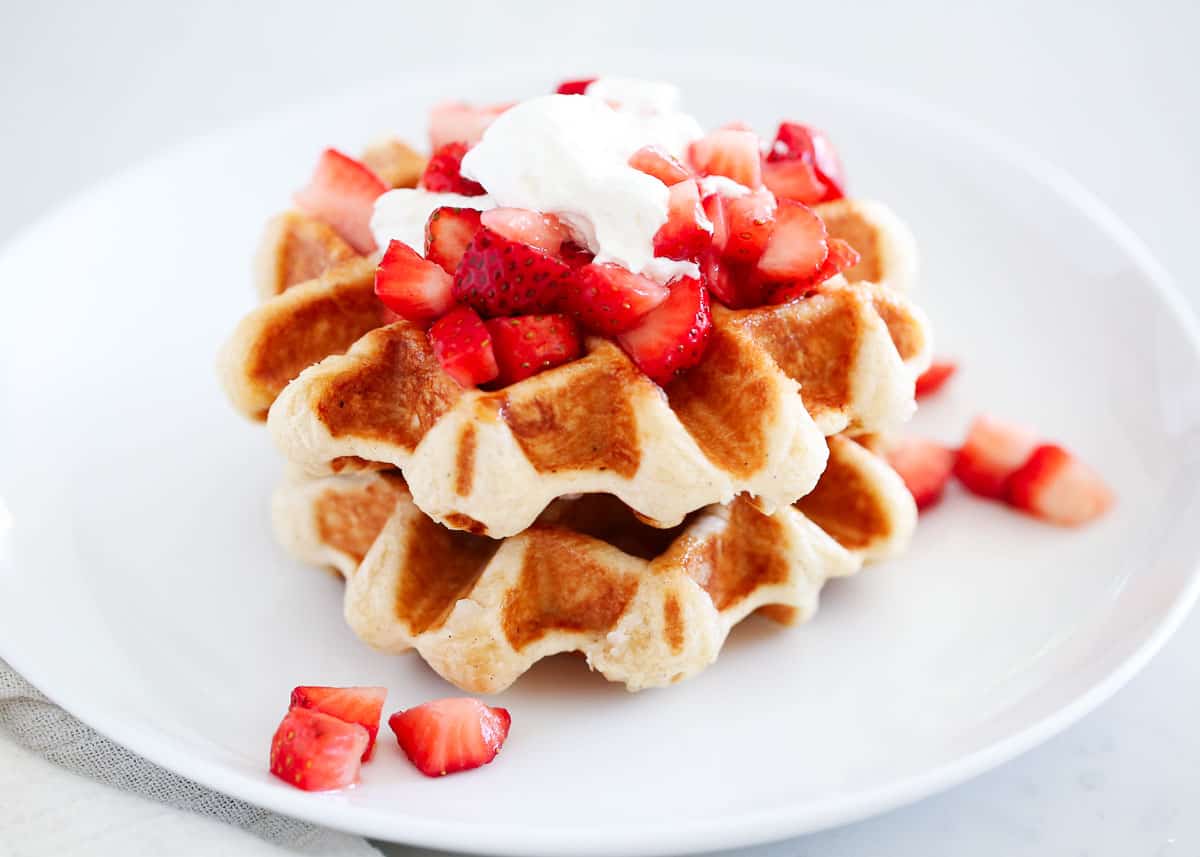 Favorite Sunday Brunch Idea
Belgian Liege waffles are not your average Belgian waffles, they're a little extra special because we're using yeast dough, but even still they're just as easy to make as fluffy buttermilk pancakes!
You can make them ahead and keep some frozen for later. Then when you're ready to serve your liege waffles, top them with something a little indulgent like hot fudge sauce or a powdered sugar glaze.
Truth be told, this is a sweeter waffle, so it's just as good on its own or with some fresh berries and fruit like strawberries and whipped cream!
This liege waffle recipe is smaller than the average waffle so it makes a great grab-and-go snack and is perfect for packing in lunchboxes as much as it's great for breakfast, brunch, or dessert!
What is a Belgian Liege Waffle?
2 main differences distinguish a Belgian liege style waffle from a traditional Belgian waffle (also known as Brussels waffles). First, liege waffles are made with yeast dough, similar to brioche dough, rather than a waffle batter.
Second, is the use of pearl sugar. This is a type of sugar widely used in Europe and it's made of clumps of granulated sugar that doesn't dissolve. Instead, the clumps melt into crispy crunchy clumps of sugar!
Pearl sugar isn't always easy to find, however, it's worth looking for online or in gourmet cooking shops. It's a crucial part of this liege waffle recipe!
A few other things to note are that liege waffles are thicker, denser, sweeter, and smaller than the average waffle. They still have the signature deep pockets perfect for holding delicious toppings, but instead of just being a breakfast food, liege waffles are popular street food in Europe and can be enjoyed as a snack just as much as they can a dessert!
Why This Recipe Works
Easy to make. Despite the need for pearl sugar, all the other ingredients are basic pantry staples. As long as you have a waffle iron you can make these waffles!
Something different. If you're a lover of homemade waffles, it's always nice to have something a little different to fall back on, especially on special occasions.
Double the recipe. Freeze half of the liege waffles for a quick breakfast recipe that you can just grab from the freezer on busy mornings.
Recipe Ingredients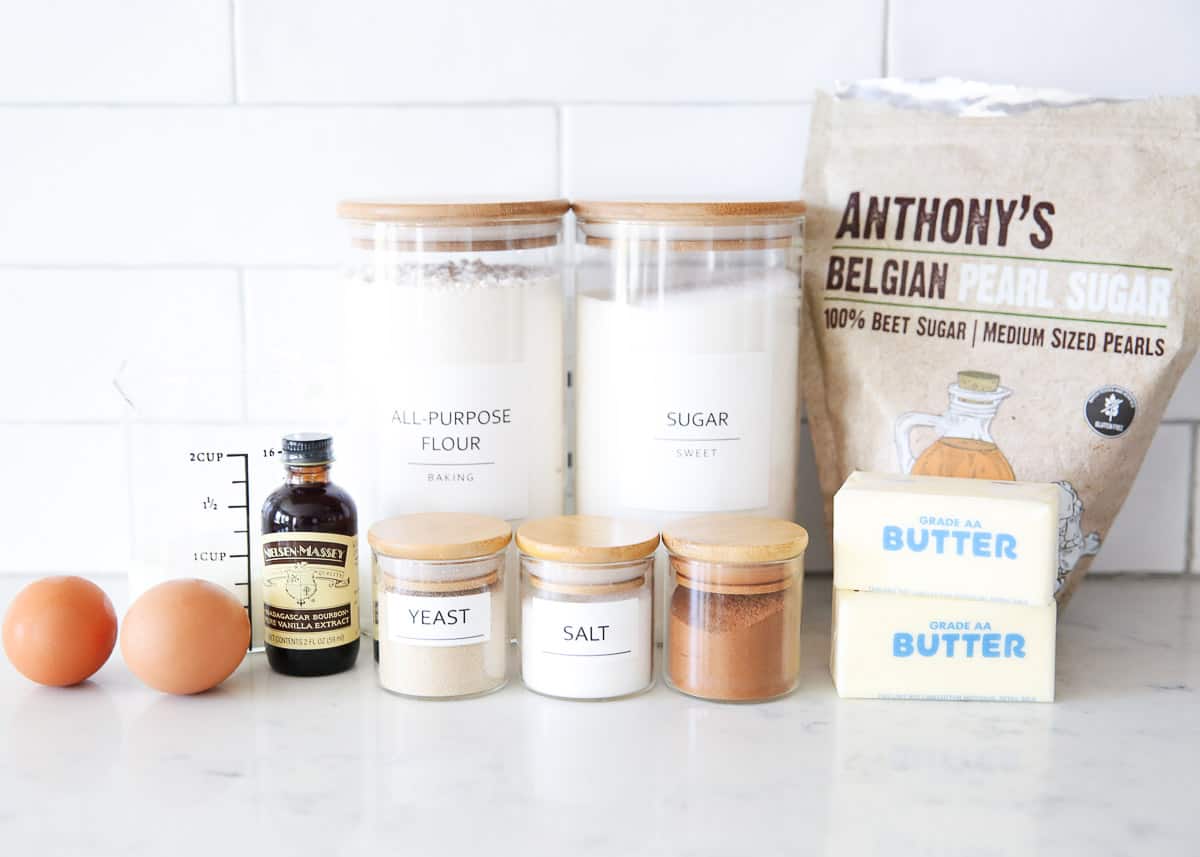 Find the full printable recipe with specific measurements below.
Whole milk, warmed: We use warm milk to help activate the yeast.
Active dry yeast: Make sure your yeast is fresh! If it's not it won't activate then you'll need to discard it and start again.
All-purpose flour: This is used as the foundation of the waffle, giving it structure and the right amount of density.
Unsalted butter, softened: Softened butter, rather than melted butter is used so that the waffles don't spread too thin, but rather stay rich and thick!
Large eggs: Needed for binding and moisture.
Pure vanilla extract & ground cinnamon: Warm vanilla flavor and cinnamon spice add so much flavor to these sugary liege waffles.
Salt: Used to bring out the flavor of the rest of the ingredients.
Belgian pearl sugar: Used throughout the dough, evenly dispersed, however, you can use more if you like yours with a bit more sweetness.
For serving: Whipped cream, fresh strawberries, or any of your favorite toppings.
Variations
This is a classic liege waffle recipe with common ingredients, however, you can make some swaps if needed.
Use brown sugar instead of granulated sugar in the dough, if preferred. You can also omit the cinnamon if you don't want that particular flavor. You can even enhance the warm spices with a little nutmeg.
To make these gluten-free, use a 1:1 gluten-free all-purpose flour. The texture will be slightly different because it won't rise as well as flour containing gluten, but it should work.
Add some chocolate chips to the batter for some bits of melted chocolate to bite into.
How to Make Liege Waffles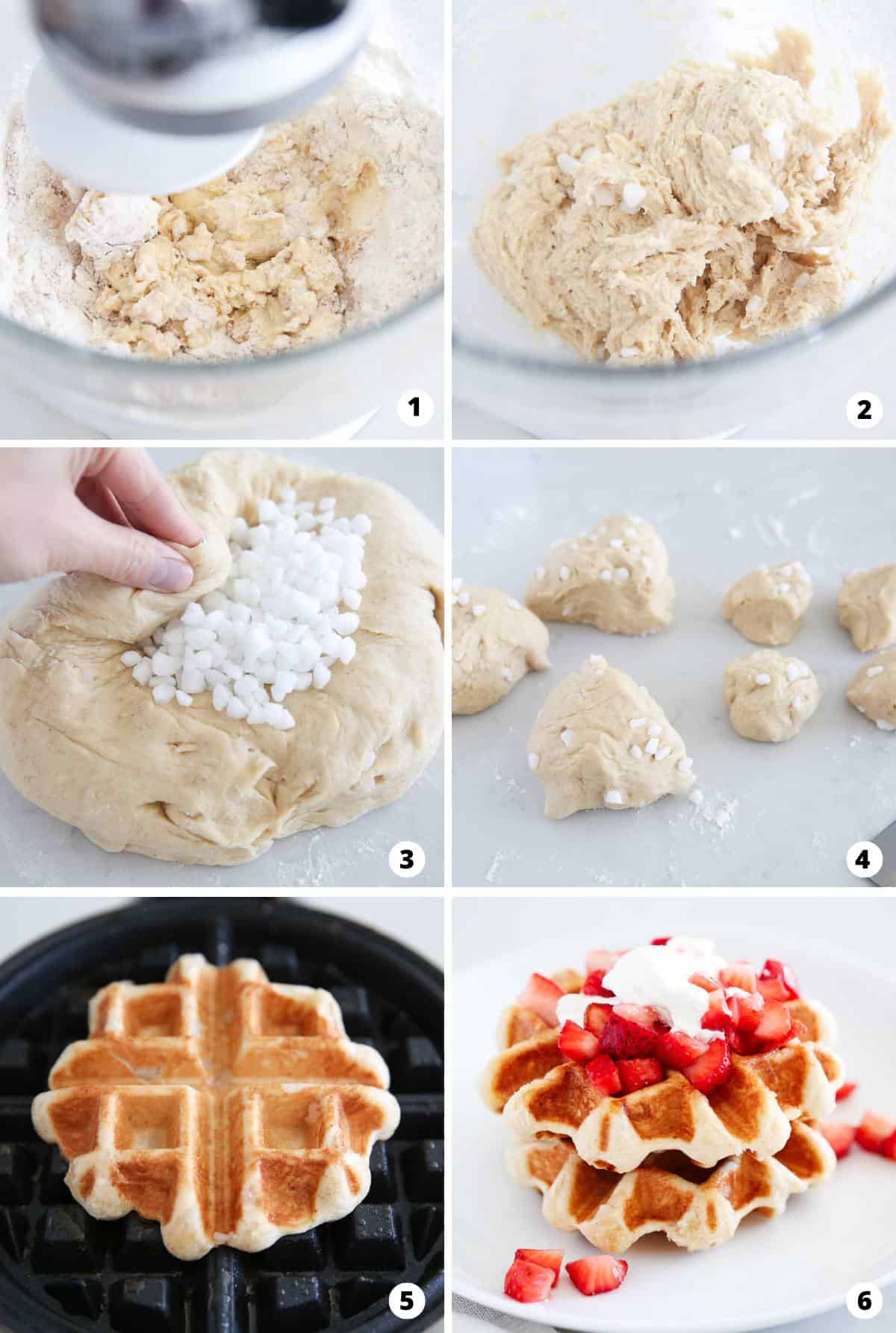 Proof the yeast. In a 2-cup measuring glass, combine milk and sugar and sprinkle in the yeast. Let it sit for 5 minutes until it starts to foam.
Make the dough. In the bowl of a stand mixer, use the bread hood (or dough hook) to mix the milk-yeast mixture with flour, butter, eggs, vanilla, cinnamon, salt, and 1/4 cup of pearl sugar. Use medium speed until well combined.
Let it rise. Cover the bowl with foil, plastic wrap, or a kitchen towel and place it in a preheated 100℉ oven on the middle rack. Let it rise for about 30 minutes or until it has doubled in size. Meanwhile, preheat a waffle iron.
Knead the dough. Transfer the dough out of the bowl onto a well-floured surface. Make a slight depression in the center and add some of the remaining 1/2 of a cup of pearl sugar to the center of the indent. Knead the dough, folding the edges over the sugar. Repeat with the remaining sugar in stages until there is no pearl sugar left.
Divide the dough. Use a dough scraper to divide the dough ball into 4 pieces, then each of those 4 pieces into 3 equal pieces. You should have a total of 12. If you have a kitchen scale, they should all weigh about 3 ounces.
Make the liege waffles. Add 1 piece of dough to the waffle iron and cook for 3 minutes and 15 seconds until golden brown. Top with strawberries and whipped cream and enjoy!
Complete your breakfast or brunch with a side of scrambled eggs and a refreshing Orange Julius!
Expert Tips for Making Liege Waffles
To prevent the sugars from sticking to the waffle maker, spray the iron plates with cooking spray.
If there are burnt bits remaining, wipe them clean while the iron is still warm. Use a damp cloth but to avoid burning your hands, place it at the end of a rubber spatula to clean.
Keep the cooked waffles warm in the oven on low while the rest are being made.
The dough can be made and proofed then kept covered in the fridge overnight. Easy waffles in the morning!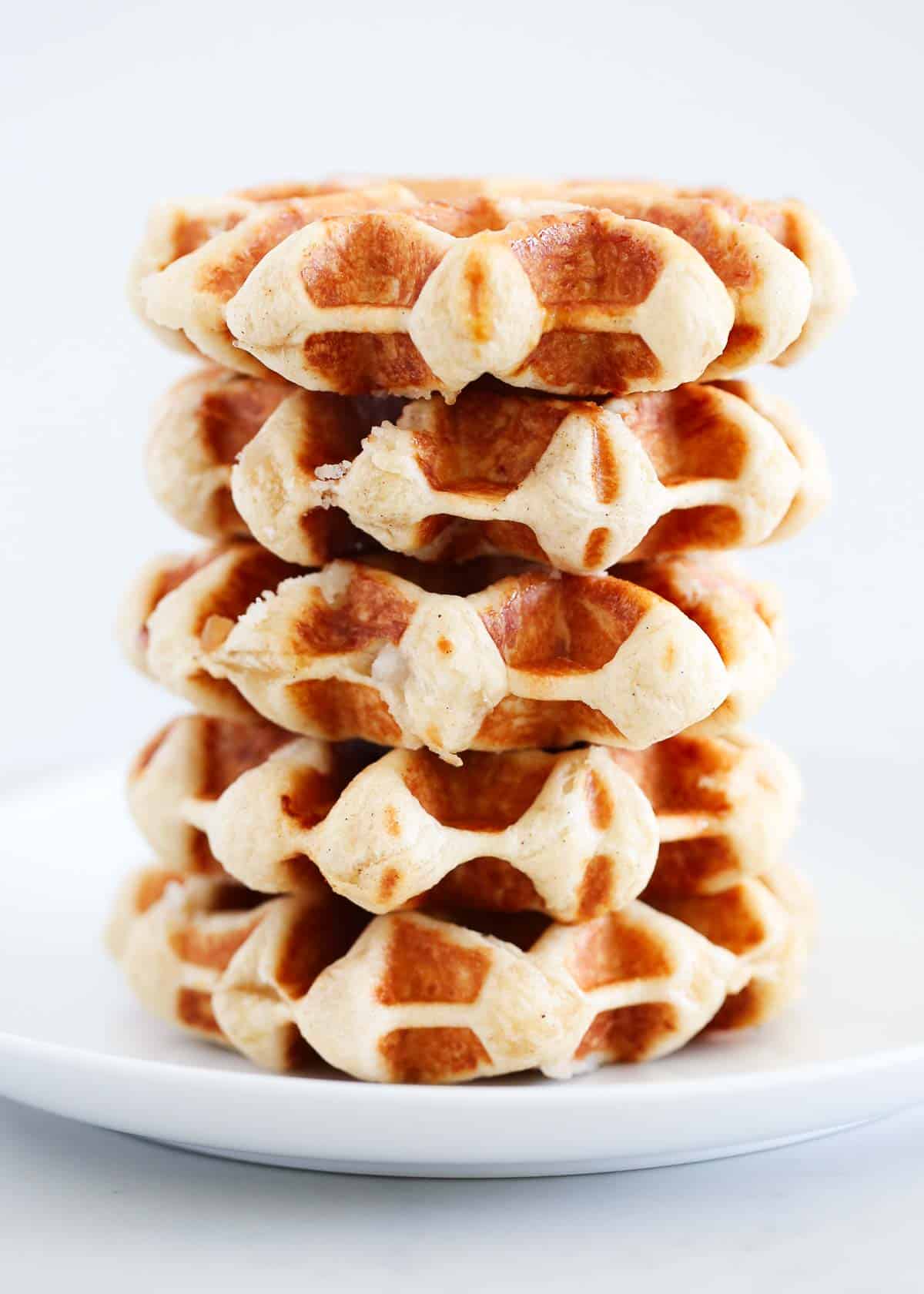 Recipe FAQs
What toppings can I put on Liege waffles?
The sky's the limit! Fresh berries such as raspberries, strawberries, and blueberries all work or try other fruit like bananas, peaches, or an apple compote.

You can serve it with spreads such as Nutella or peanut butter butter, syrup, honey, or even just a sprinkle of powdered sugar.

Why didn't my dough rise?
The culprit is usually because your yeast is no longer fresh, therefore no longer active. It could also be because the cover on the bowl wasn't quite sealed properly, or there was a draft in the area you let it rest.

Since we're placing it in the oven on low to rise, I would imagine it is probably a yeast issue.
Can I make liege waffles without pearl sugar?
Technically yes. It does play a crucial and signature role in these waffles, but you can certainly make them without it. Use crushed cubes of sugar instead!
Storing
Keep any leftover liege waffles in an airtight container at room temperature or in the fridge for up to 3 days.
To freeze, wrap them individually in plastic wrap and store them in a freezer bag for up to 1 month. You can reheat them straight from frozen.
The best way to reheat these and maintain their crispness is to use the waffle maker again to heat them through. You can also use a toaster oven or air fryer. The microwave will make your liege waffles soft and soggy.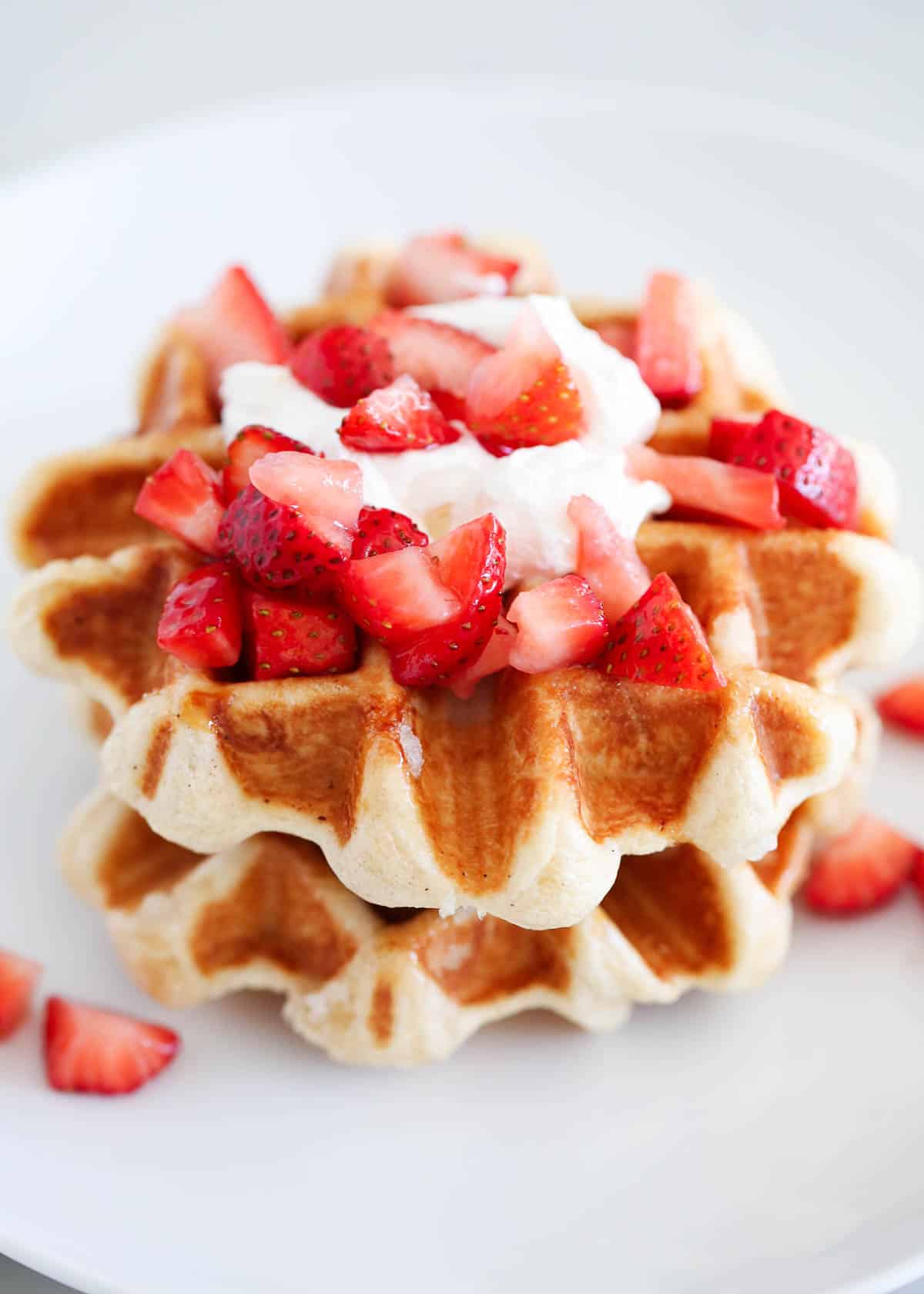 More Brunch Recipes
HUNGRY FOR MORE? Subscribe to my newsletter and follow on Facebook, Pinterest and Instagram for all the newest recipes!
Liege Waffles Recipe
Indulge in this irresistible homemade Liege waffle recipe with our tried and true recipe. Discover the secrets to creating golden, caramelized waffles that are crispy on the outside and soft and chewy on the inside.
Ingredients
¾ cup whole milk , warmed (15 to 20 seconds in a microwave)
2 ½ teaspoons active dry yeast
2 Tablespoons granulated sugar
3 ½ cups (455 grams) all-purpose flour , plus more as needed
2 sticks (8 ounces) unsalted butter , softened
2 large eggs
1 teaspoon pure vanilla extract
½ teaspoon ground cinnamon
½ teaspoon table or fine sea salt
¾ cup Belgian pearl sugar , divided, plus more if desired
For serving: Strawberries and Whipped cream
Instructions
In a 2-cup measuring glass, stir together the milk, yeast, and sugar. Let sit 5 minutes, or until foamy.

Preheat the oven to 100℉ or "bread-proof" setting. Place a rack in the center position.

In the bowl of a stand mixer fitted with a bread hook (or dough hook), mix together the milk-yeast mixture, flour, butter, eggs, vanilla, cinnamon, salt, and 1/4 cup pearl sugar on medium-low speed until well combined.

Cover with foil and place in oven to proof 30 minutes, or until doubled in size.

Preheat a waffle iron.

On a well-floured surface, add the dough and make a slight depression in the center. In stages, add some of the the remaining 1/2 cup pearl sugar to the center of the dough. Using your hands or a dough scraper, fold the edges of the dough over the sugar. Repeat until combined and no sugar remains.

Using a dough scraper, divide the dough into 4 pieces. Divide those 4 pieces into 3 pieces, for a total of 12 pieces. Using a kitchen scape, portion each piece to weigh 3 ounces.

Add 1 piece of dough to the waffle iron and cook 3 minutes 15 seconds, or until golden brown. Place on a pan in the oven to keep warm while cooking the remaining dough.

Top waffles with strawberries and whipped cream to serve. Enjoy!
---
Notes
Belgian pearl sugar: Made of larger fragments of sugar, pearl sugar is often used to add sweetness and crunch to the interior of baked goods. It can be found online or in a gourmet cooking store. Storage: Keep any leftovers in an airtight container on the counter or in the fridge up to 3 days.
Nutrition
Calories: 340kcal | Carbohydrates: 71g | Protein: 9g | Fat: 2g | Saturated Fat: 1g | Polyunsaturated Fat: 0.5g | Monounsaturated Fat: 1g | Trans Fat: 0.01g | Cholesterol: 33mg | Sodium: 116mg | Potassium: 115mg | Fiber: 2g | Sugar: 18g | Vitamin A: 74IU | Vitamin C: 0.01mg | Calcium: 35mg | Iron: 3mg
Nutrition provided is an estimate. It will vary based on specific ingredients used.
Did you make this recipe? Don't forget to give it a star rating below!