Jump to Recipe⌄
Milky way cookies
Thanks for stopping by! To get the newest recipes subscribe or join us on facebook or pinterest.
Milky way cookies. WOWZA! Have you tried these?  My mom makes these milky way cookies all the time and they are delicious!! She brought some over a few weeks ago and I had to snap a picture real fast before they all disappeared. I knew you'd want me to share them with you. ;) These cookies really are AMAZING! They are super soft with loads of milky ways! The chocolate caramel combination is my absolute favorite.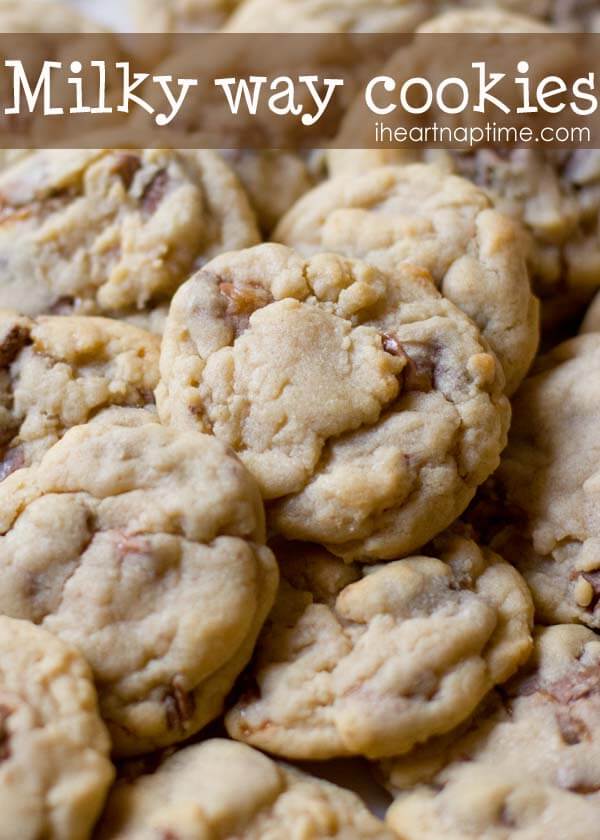 Milky way cookies
Ingredients:
2 sticks butter, softened
¾ Cup sugar
¾ Cup brown sugar
2 eggs
1 teaspoon vanilla
2 ¾ Cups flour
1 teaspoon baking soda
½ teaspoon salt
35 mini milky ways, coarsely chopped
Directions:
1. Preheat oven to 350 degrees F. In a large bowl cream the butter and sugars with a mixer. Beat in eggs and vanilla until well combined. In a separate bowl combine the flour, baking soda and salt. Slowly add the flour mixture to the wet ingredients along with the chopped milky ways.
2. Scoop cookies onto a lined baking sheet. Bake for 8-10 minutes. Let cool for 2 minutes on baking sheet then transfer to a cooling rack.
Enjoy!
If you liked this recipe, you'll love these too:

white chocolate butterscotch cookies