Easy to make chocolate caramel brownies that are loaded with chocolate chips and layers of gooey caramel. Rich, chewy, and simply amazing!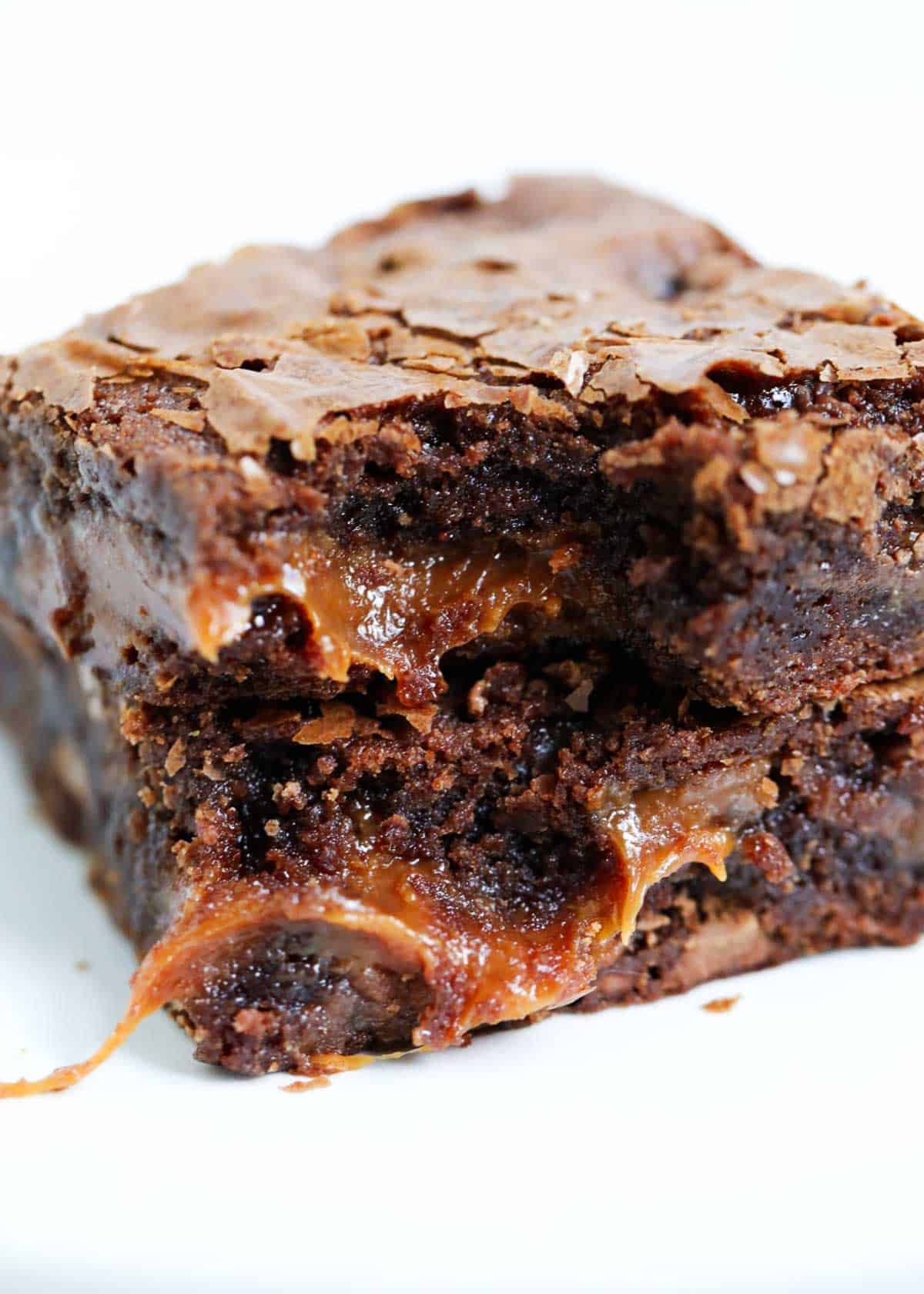 Homemade Chocolate Caramel Brownies
This recipe is an oldie but a goodie! Instead of making homemade brownies from scratch, it starts with a box of brownie mix. Then the secret is mixing in extra chocolate chips and then adding a layer of caramel in between. So rich and decadent!
It is a family tradition to bake a treat on Sundays and these caramel brownies make an appearance quite often along with this brownie mix cookie recipe. They are quick, easy, and taste amazing. They are super rich and fudgy, with gooey caramel oozing out. I love the perfect touch that the sweetened condensed milk adds plus studded with chocolate chips, every bite is perfect.
You are going to LOVE them if you are a chocolate lover like me. I love anything with the words chocolate and caramel, like this toffee recipe, only these brownies are much easier than making candy on a whim.
Ingredients
What makes this recipe so simple is that you simply just doctor up a box of fudge brownie mix! The chocolate chips, sweetened condensed milk and caramel add the perfect dimension and take these chocolate caramel brownies over the top.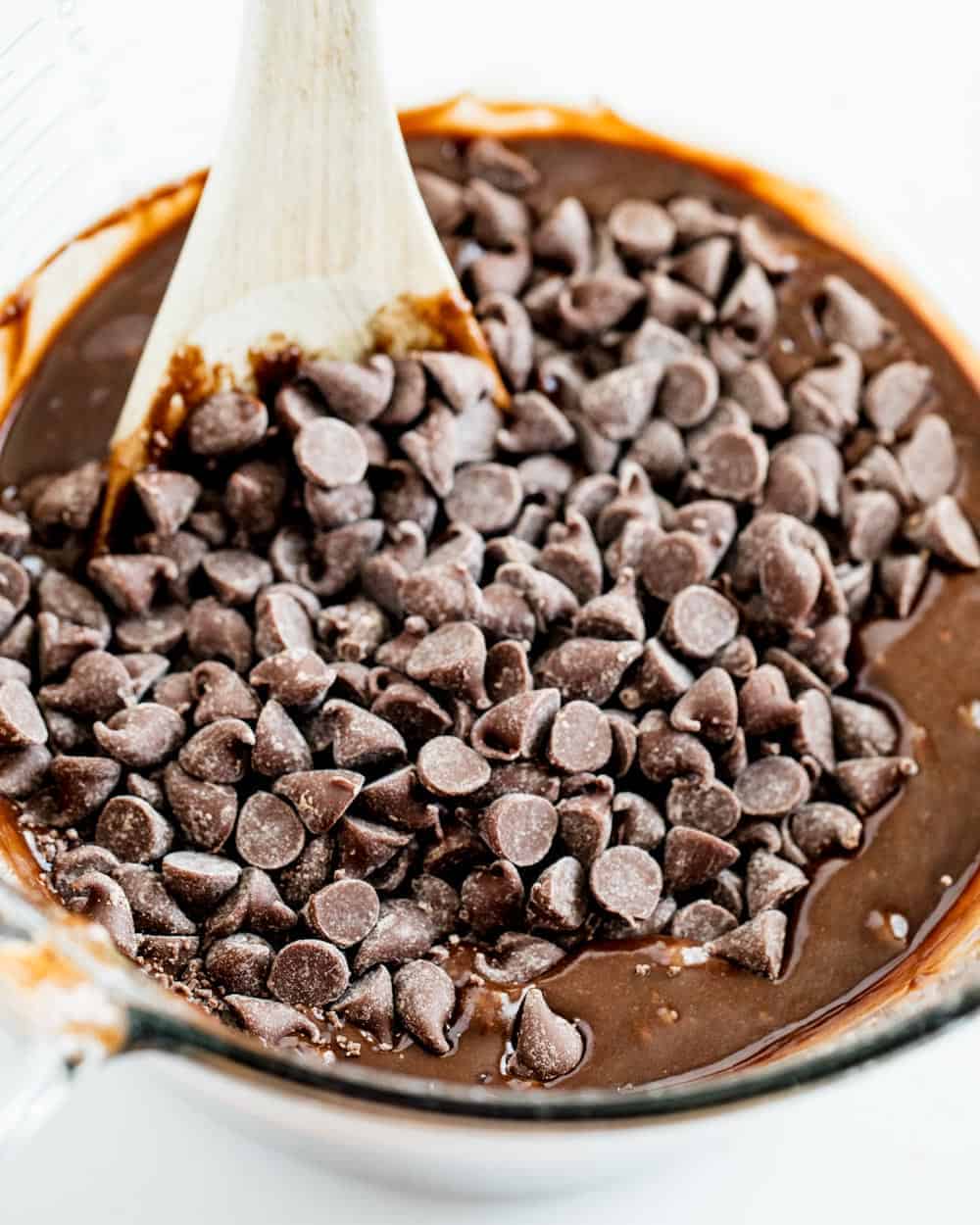 Find the full printable recipe with specific measurements below.
Box of fudge brownie mix: I used Duncan Hines, but feel free to use your favorite brand of choice. This makes it simple and delicious all at once!
Vegetable oil: This helps to make the brownies super moist and soft. You can also use canola oil if needed as a substitute.
Eggs: You'll need two large eggs. When baking, I like to leave them on the countertop at room temperature before adding them to the mixture.
Sweetened condensed milk: Don't skip this! It gives the brownies the perfect sweetness.
Chocolate chips: The more chocolate, the better! If you are a chocolate lover then these caramel brownies are just for you. Try it with semi-sweet chocolate chips or milk chocolate chips depending on your preference.
Caramel: You can use either caramel bits or wrapped caramels. Both give that ooey gooey caramel texture! If you use homemade caramel sauce, it may be too thin and will spill out.
How to Make Caramel Brownies
Making this homemade caramel brownies recipe just got easier! Start with the brownie batter and combine the ingredients together making this a crowd-pleaser. Sprinkle flaky sea salt over top for a decadent dessert everyone is going to love!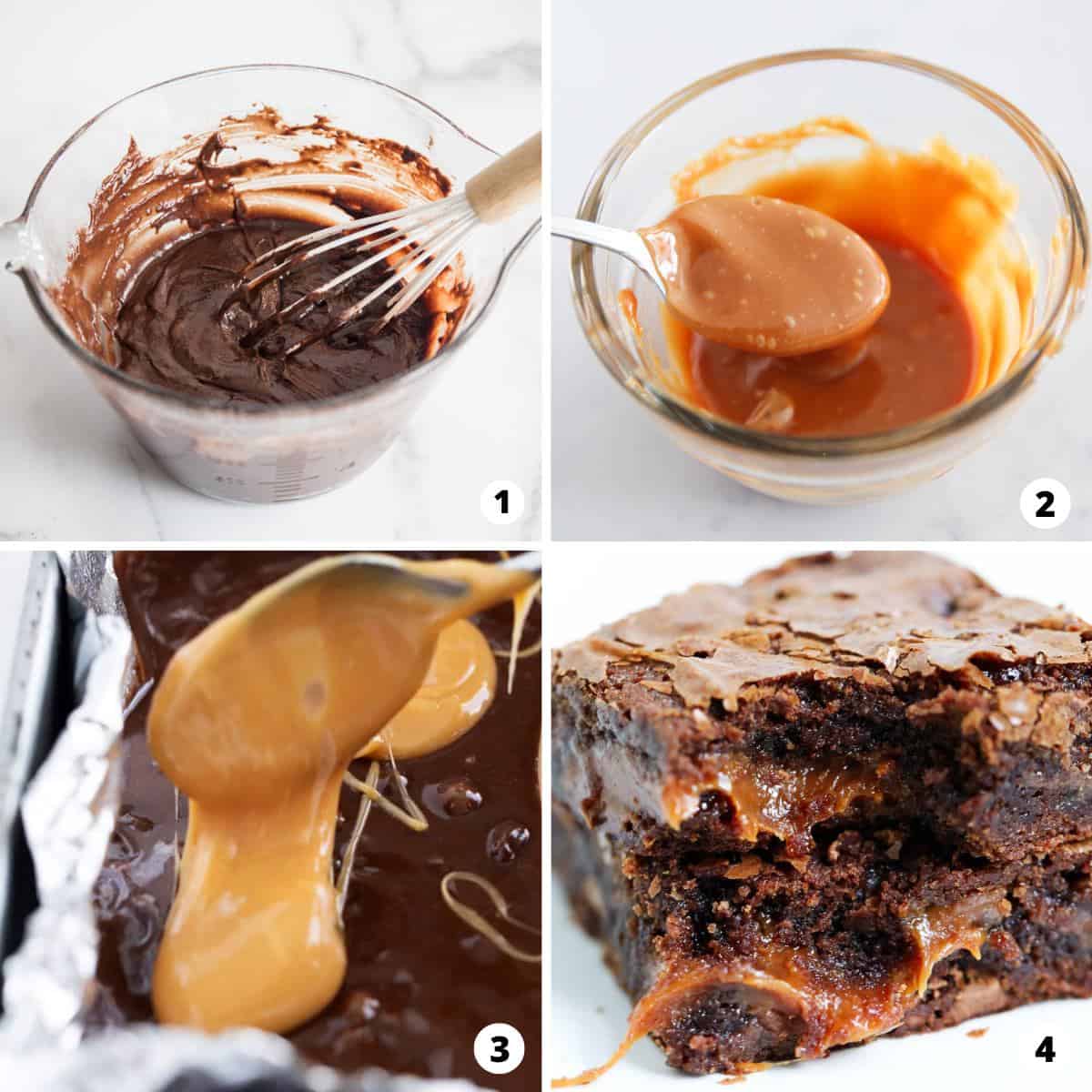 Mix batter. In a large bowl, combine brownie mix, water, vegetable oil, and eggs. Then mix in two tablespoons of sweetened condensed milk and fold in the chocolate chips.
Make caramel mixture. Combine caramels and sweetened condensed milk in a microwave-safe bowl. Microwave for one minute. Stir and add another 15 to 30 seconds if needed.
Layer. Pour half of the batter into a greased 9×9″ pan, then pour the caramel over top. Add the remaining batter on top of the caramel and evenly spread.
Bake. Bake at 350°F for about 35 minutes, until a toothpick comes out clean.
Let cool. Remove pan from oven and let cool. Then use a knife to cut the brownies into squares.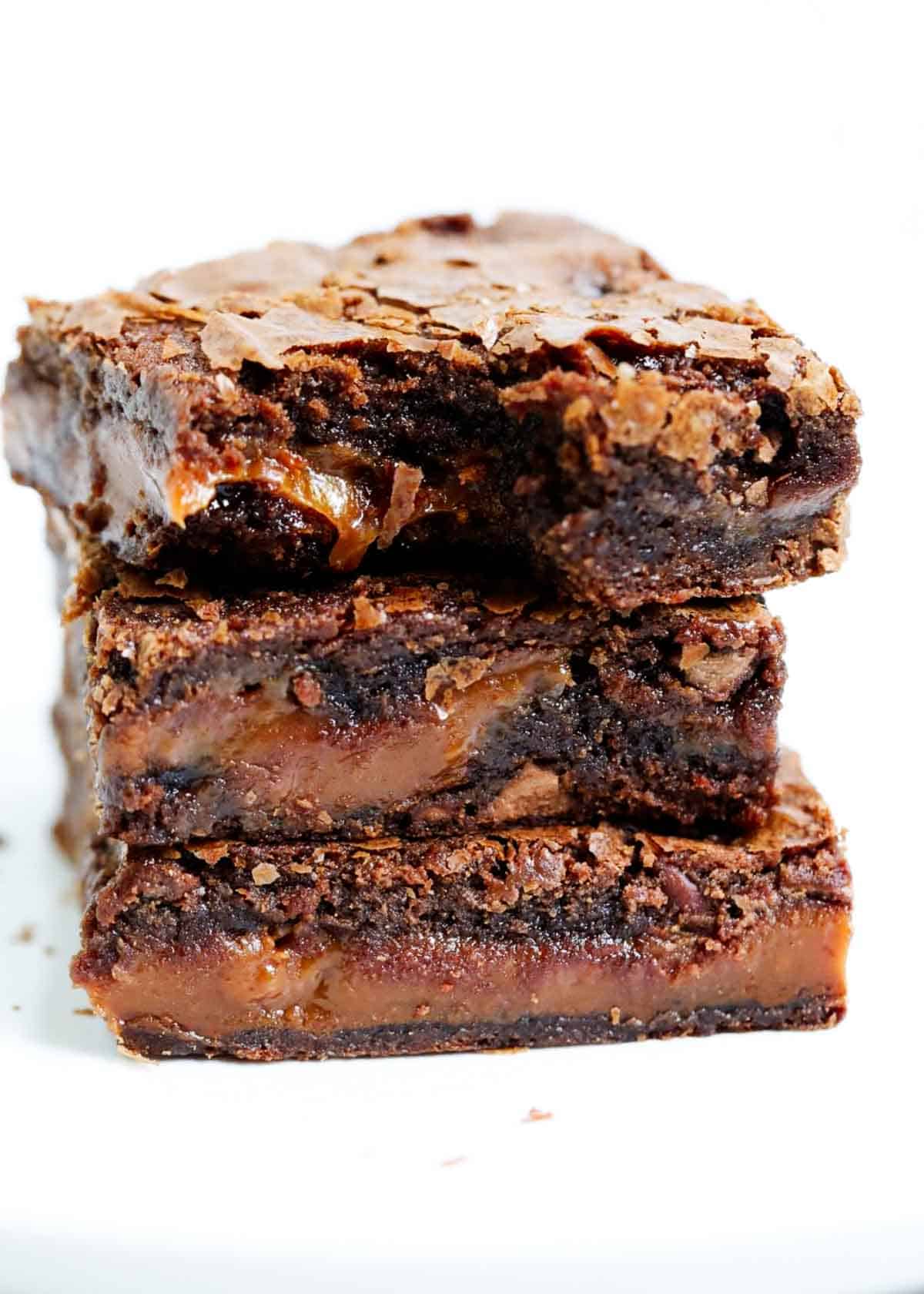 Baking Tips
Make the perfect caramel brownies every time with these quick tips! These helpful ideas can make this dessert even easier when mixing the batter. Learn all the right ways to make these caramel brownies by knowing the caramel, texture, and even how to slice them!
Line your pan. Press foil or parchment paper into the pan for easy clean-up and removal. I like to leave enough hanging over the edges so that I can easily lift the brownies out of the pan once they've cooled.
Batter. The box mix definitely makes this recipe easier, but feel free to make homemade brownies from scratch if you would prefer.
Double caramel. If you are a caramel lover, you can double the caramel layer. A reader did this and said it turned out amazing!
Texture. These brownies are super fudgy and gooey. Cook them a little longer if you are not a fan of gooey brownies.
Nuts. Add in walnuts or pecans for another crunchy texture. This gives it a sweet and salty flavor!
Let cool. As tempting as it is, don't cut into them as soon as they come out of the oven. They need time to set so that they won't fall apart.
Slicing. Use a plastic knife to easily cut the brownies without them falling apart.
Topping: Top it off with homemade vanilla ice cream for the perfect party dessert!
Recipe FAQs
What are the three types of brownies?
All brownies are delicious but they do come in different textures and forms. There are fudgy, cakey, and chewy types of brownies. All have great qualities and taste amazing in every bite!
What makes a brownie more fudgy?
The difference between the types of brownies is their texture. Because the texture is different means that each type of brownie also has a variety of ingredients in the recipe. The oil and flour ratio will change the consistency of the brownies leaving them either cakey, fudgy, or chewy.
How do you keep brownies soft?
The best way to keep caramel brownies soft is to use parchment paper to layer the brownies into an airtight container. Store them at room temperature and enjoy them within a few days for best results.
What are brownies classified as?
Brownies are very much a dessert but to subcategory them they are not considered cakes or cookies. Brownies are more like a cookie bar that can be enjoyed by hand or using a fork.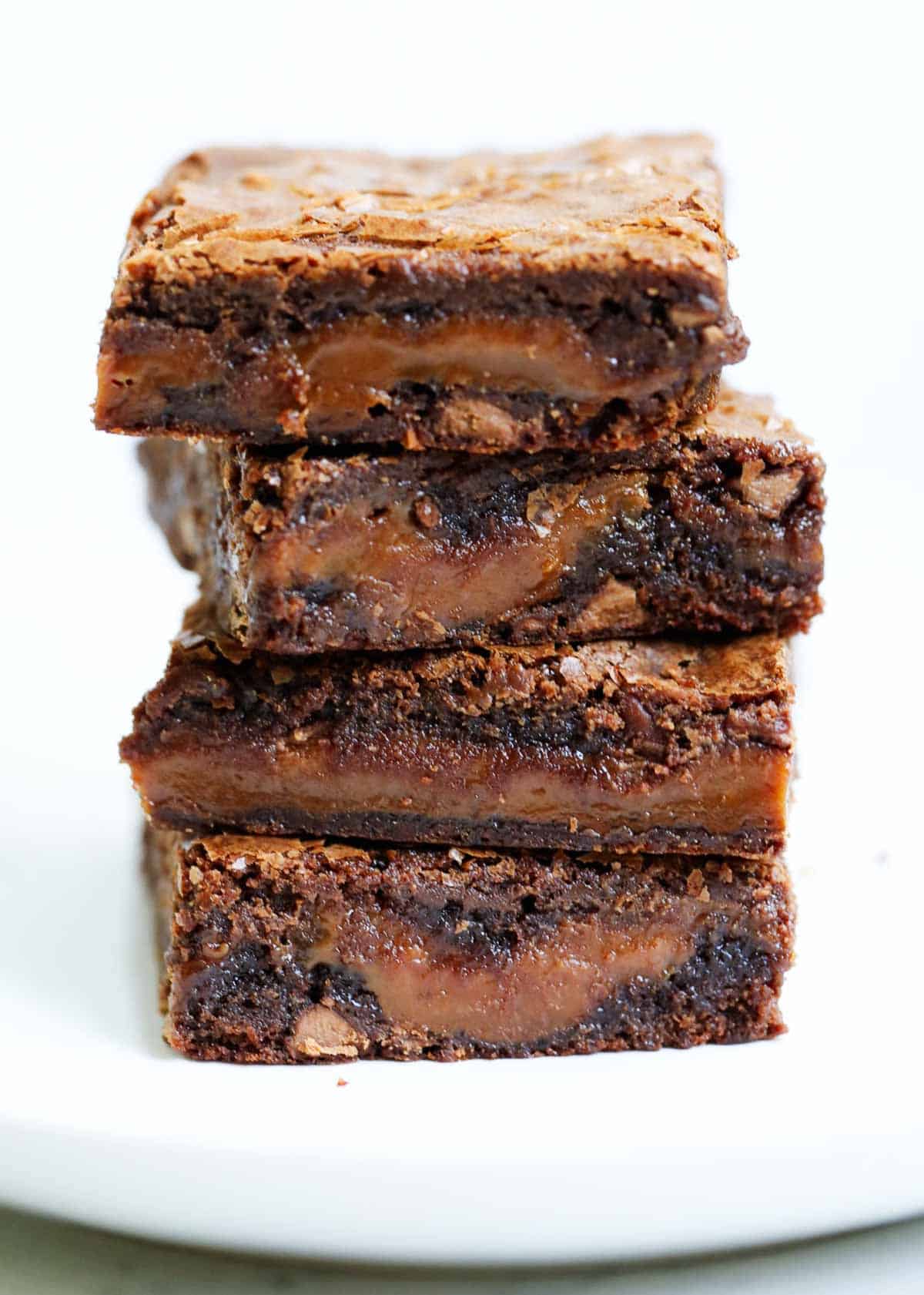 5 star review
"Love these! Sweetened condensed milk makes them so yummy!"

-Paula
How to Store Easy Caramel Brownies
Trying to keep these homemade caramel brownies to last more than a day is usually hard to do! Whenever we make these brownies with caramel they are gone in one sitting. If you are lucky and can keep store them you can either store them in the fridge or freezer.
Storing. Keep the caramel brownies in an airtight container for five to seven days. Store them either in the refrigerator or on the countertop at room temperature.
Freezing. Once the caramel brownies have cooled completely, simply wrap them tightly with plastic wrap and then again with foil. Then place in the freezer. To thaw, let sit at room temperature until no longer frozen.
More Easy Brownie Recipes
HUNGRY FOR MORE? Subscribe to my newsletter and follow on Facebook, Pinterest and Instagram for all the newest recipes!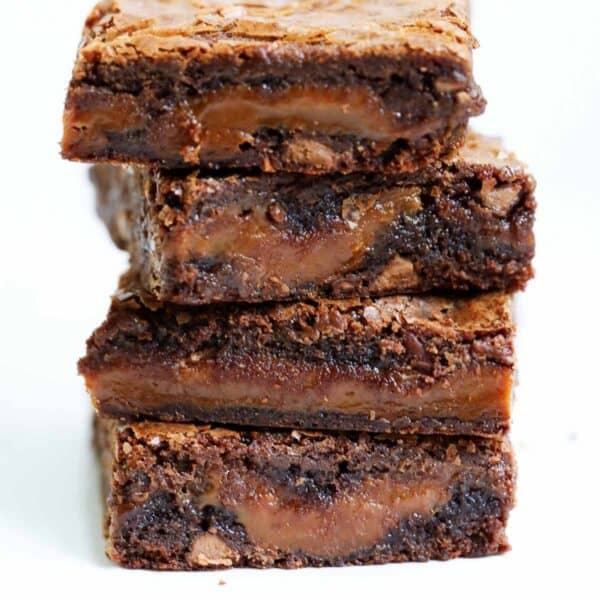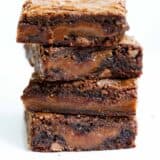 Chocolate Caramel Brownies
Easy to make chocolate caramel brownies that are loaded with chocolate chips and layers of gooey caramel. Rich, chewy and simply amazing!
Instructions
Preheat the oven to 350°F. Line a 9×9-inch baking dish with foil and spray with nonstick spray.

In a large bowl, whisk together the brownie mix, water, oil, and eggs until combined. Add 2 Tablespoons condensed milk and 1/2 – 1 cup chocolate chips, if using.

In a microwave-safe bowl, combine caramel bits and remaining 1/2 cup condensed milk. Microwave 1 minute. Stir. Microwave 15 to 30 more, if needed, until caramel is melted and sauce is smooth.

Spread 1/2 the batter into the baking dish. Pour the caramel sauce evenly over the top. Add the remaining batter and spread out evenly. Bake 30 to 40 minutes, or until a toothpick inserted into the center comes out clean.

Let cool in baking dish before removing for easier cutting.
---
Notes
Wrapped caramels: I highly recommend finding or ordering caramel bits to make this recipe, as it saves time and the bits provide a softer texture to the caramel layer than the wrapped caramels.
Brownies: If you want to make brownies from scratch, use my favorite homemade brownie recipe.
Nutrition
Calories: 285kcal | Carbohydrates: 40g | Protein: 3g | Fat: 13g | Saturated Fat: 3g | Polyunsaturated Fat: 5g | Monounsaturated Fat: 4g | Trans Fat: 0.05g | Cholesterol: 25mg | Sodium: 150mg | Potassium: 52mg | Sugar: 29g | Vitamin A: 43IU | Vitamin C: 0.1mg | Calcium: 32mg | Iron: 1mg
Nutrition provided is an estimate. It will vary based on specific ingredients used.
Did you make this recipe? Don't forget to give it a star rating below!