Jump to Recipe⌄
Nuts about berries salad
Nuts about berries salad – a spin off from Zupas famous salad. Delicious, healthy and easy to make!
One of my all time favorite salads is the Nuts about berries salad from Zupas. I love their soup and salad combo! Now that I live about a thousand miles away, I decided it was time to make my own version. I love how it turned out! So much that I ate it for lunch 3 days in a row! This salad is chock full of colors, textures and tastes. But what really makes this salad is the poppyseed dressing and cinnamon sugared almonds. Seriously so good. I can't wait to make it again this week!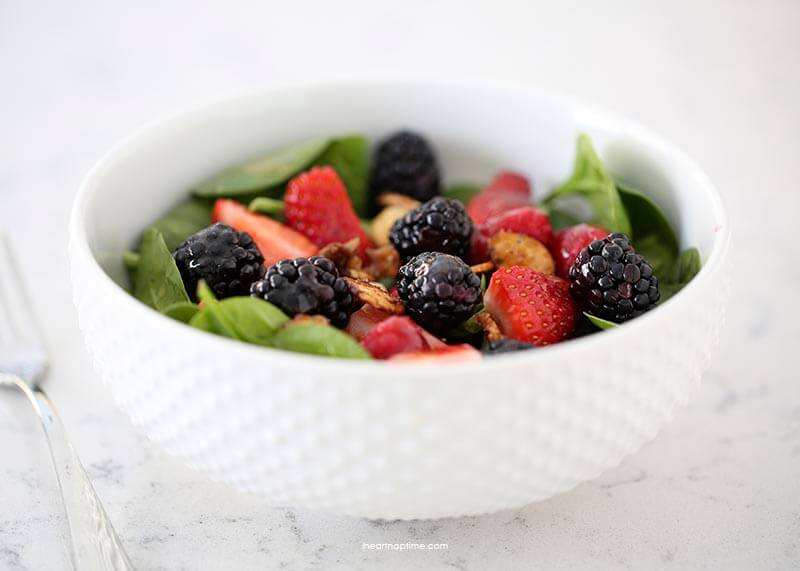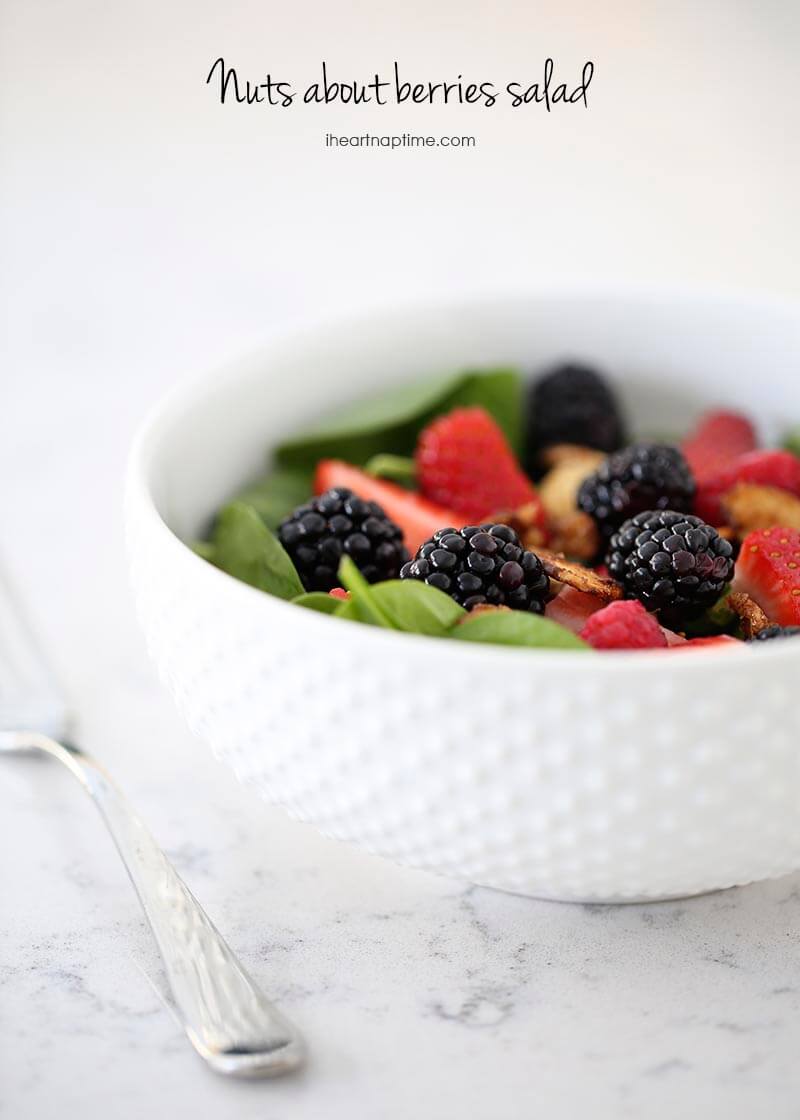 MY OTHER RECIPES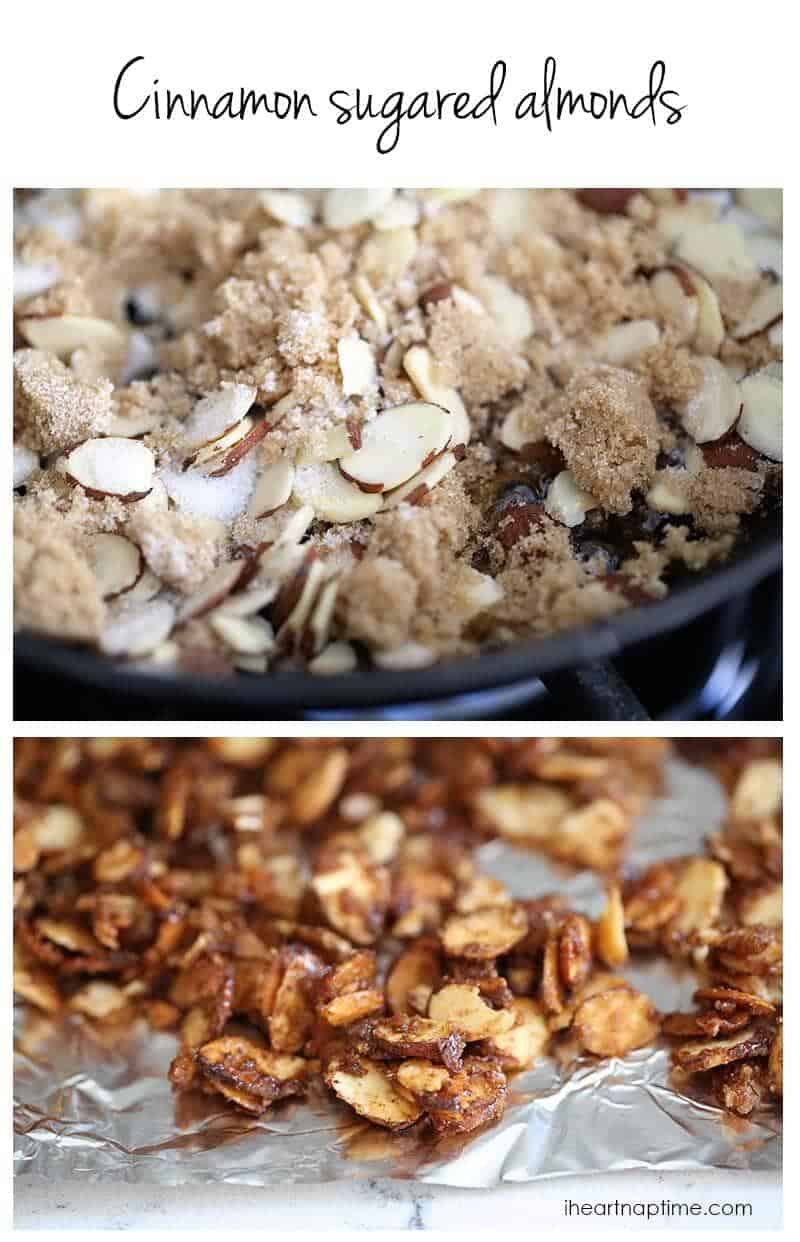 I like to make a big batch and then store the almonds in a container. They'll stay fresh for a month or two, so you can use them in lots of salads.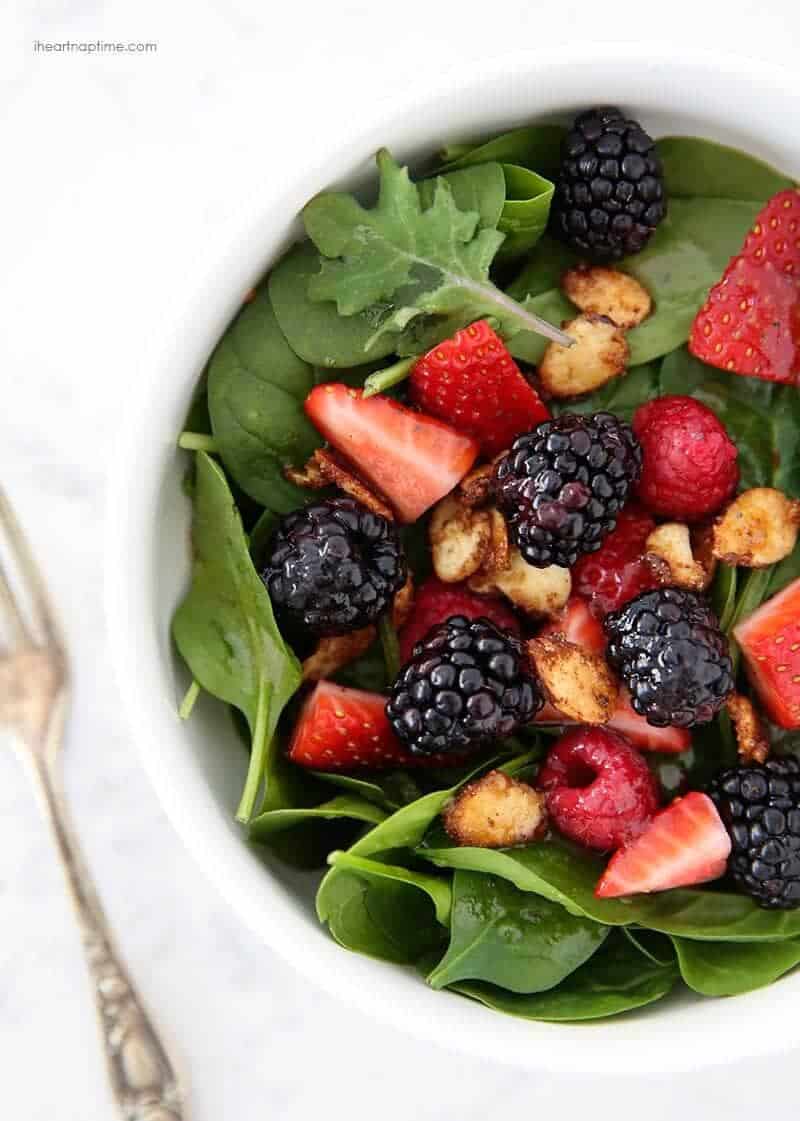 Enjoy!!
Looking for more salad recipes? You'll love these too: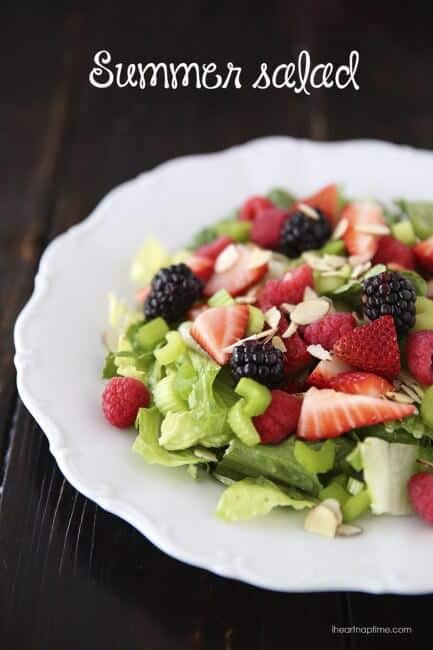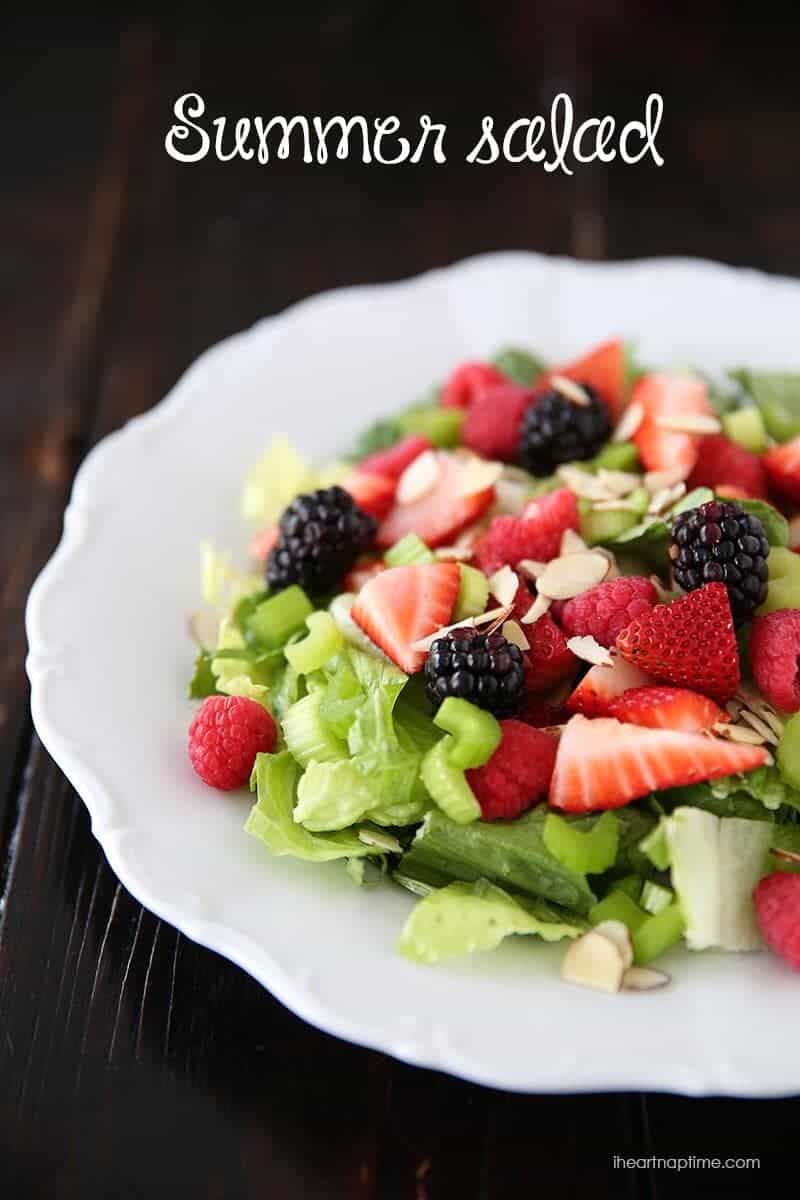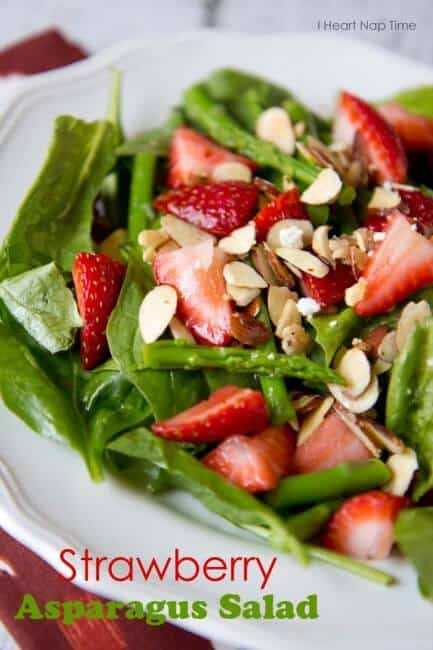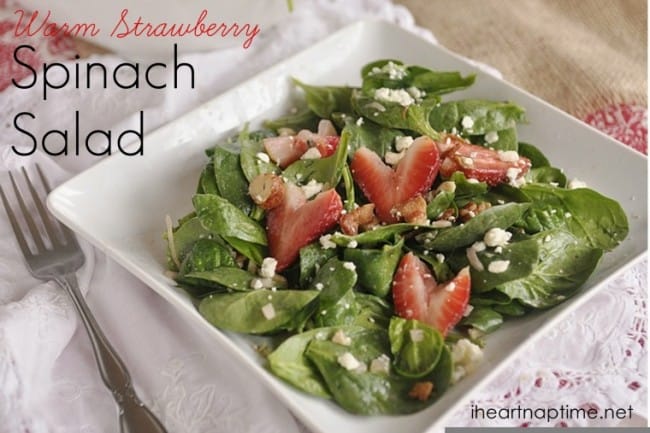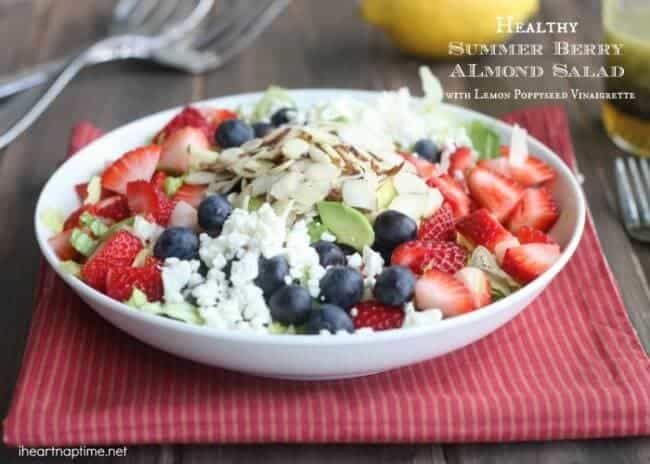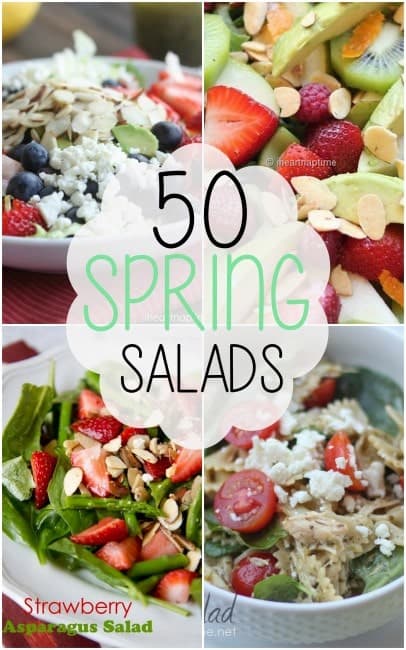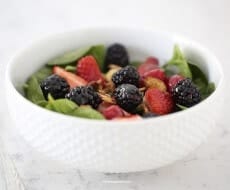 Nuts about berries salad
Nuts about berries salad - a spin off from Zupas famous salad. Delicious, healthy and easy to make!
Print
Ingredients
Fresh spinach
Fresh mixed berries
*Cinnamon sugared almonds:*
1/2 cup sliced almonds
2 tablespoons sugar
2 tablespoons brown sugar
1 teaspoon cinnamon
*Poppyseed dressing:*
11/8 cup olive oil
1/3 cup red wine vinegar
1/2 cup sugar
3/4 tsp dry mustard
3/4 teaspoon salt
1 teaspoon poppyseed
Instructions
Wash your salad and berries and set aside.

*Almonds:*

In a small frying pan, combine your almonds and sugar. Cook on medium/low heat and watch closely. Keep stirring as the sugar begins to melt, to keep it from burning. Once sugar has coated the nuts, sprinkle with cinnamon and remove from heat and place on foil to cool.

*Dressing:*

Combine all of the ingredients in a blender or mason jar and mix until combined. Store in the refrigerator until ready to serve. Shake just before serving.

For the salad, layer the spinach, berries and nuts and top with dressing.
Nutrition Facts
Nuts about berries salad
Amount Per Serving
Calories 199 Calories from Fat 81
% Daily Value*
Total Fat 9g 14%
Saturated Fat 1g 5%
Sodium 293mg 12%
Potassium 63mg 2%
Total Carbohydrates 26g 9%
Dietary Fiber 1g 4%
Sugars 24g
Protein 2g 4%
Calcium 4%
Iron 2.8%
* Percent Daily Values are based on a 2000 calorie diet.