This fall salad is filled with chopped greens, apples, dried cranberries, pumpkin seeds and roasted butternut squash. Then topped with a maple Dijon vinaigrette that brings out the delicious fall flavors!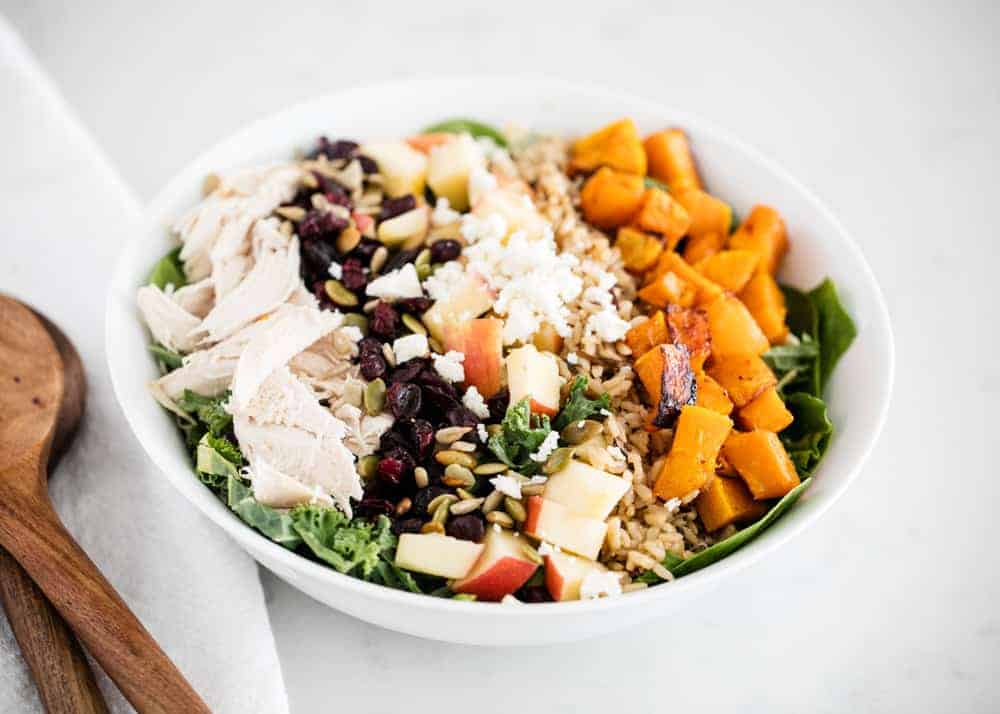 Favorite Fall Harvest Salad
With seasonal produce, this fall salad is the perfect way to enjoy the flavors of the season. It's super delicious, very filling and comes together quickly!
With ingredients like crisp apples, butternut squash and cranberries, this salad is a medley of flavors and textures celebrating the autumn harvest. It's loaded with both sweet and savory flavors, and has just the right amount of crunch.
The homemade maple Dijon vinaigrette is the perfect finishing touch and really takes this salad over the top.
It also makes the perfect side dish for Thanksgiving or any fall meal. If I'm serving it alongside an oven roasted turkey, I usually will just keep it simple. It's definitely a real show stopper!
Why We Love This Recipe
Side or main. Keep it simple or bulk it up, this fall salad recipe can be served as either an easy side dish or main course.
Healthy. Made with good-for-you ingredients full of antioxidants, healthy fats, protein and more.
Quick. Ready in just 20 minutes and not much prep time needed.
Seasonal ingredients. The perfect way to showcase fresh fall produce like butternut squash and apples. Another way is with this recipe for butternut squash soup!
Customizable. There are so many ways to make this recipe your own. Keep it vegetarian, add meat or toss in any of your other favorite ingredients. You really can't go wrong!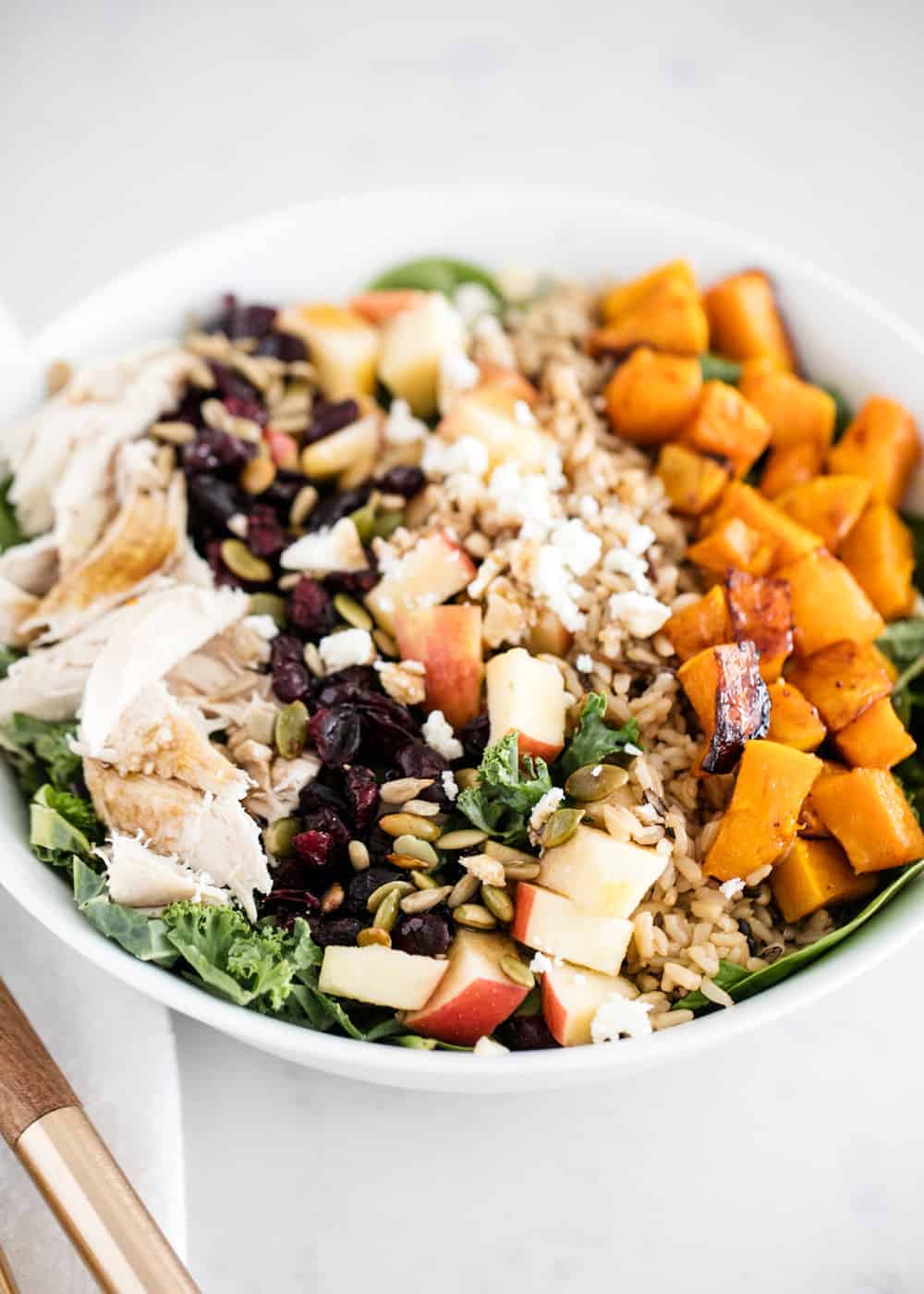 Base Ingredients
Butternut squash: It's peak season is in the fall, making it the perfect flavorful addition to this fall harvest salad. You can either roast it on the stove or make oven roasted butternut squash. Both ways are delicious!
Greens: Use a mix of your favorite greens. Baby spinach, kale, arugula, leaf lettuce and bibb lettuce are all great options.
Apple: Freshly sliced apples add a nice sweetness and crunch. I love using honeycrisp apples when they are in season in the fall.
Dried cranberries: Another sweet element that add a tart, bright flavor.
Pumpkin seeds: Also known as pepitas. They add crunch and are loaded with healthy fats and protein. You can add them raw or make roasted pumpkin seeds for a bit more flavor.
Cheese: Feta cheese or goat cheese are my favorites for this fall salad. The tangy and salty flavor pairs great with the sweetness from the apples and cranberries.
Additional Mix-in Ideas
Keep it simple with the above ingredients or add a few more of your favorite mix-in's to bulk it up a little more. This butternut squash salad is so easy to customize to meet your needs!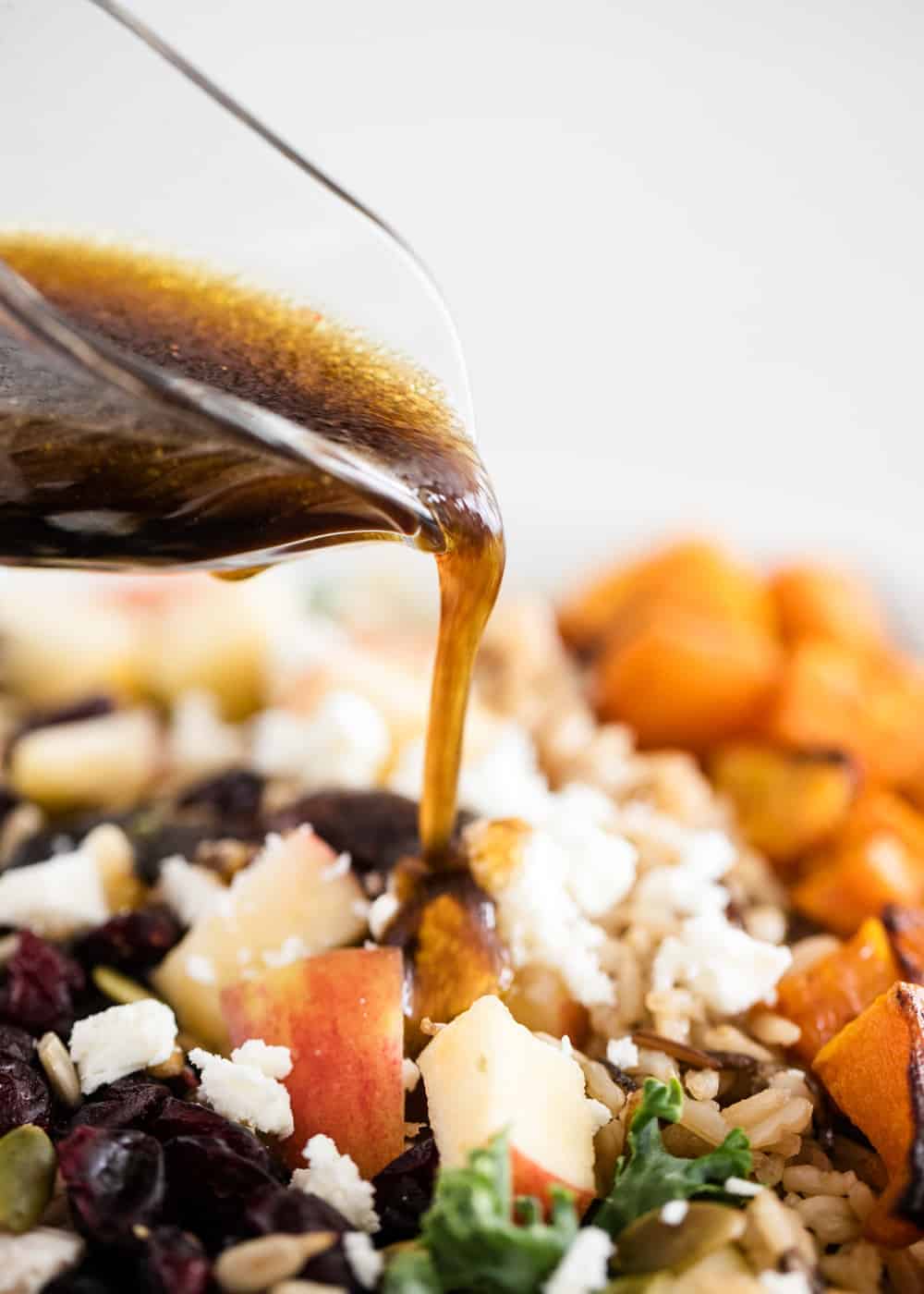 How to Make This Easy Fall Salad
Roast the squash. Heat the olive oil in a small skillet, then add the cubed butternut squash, season with salt and black pepper and cook until roasted and tender. Make sure to flip every so often so that they get golden and caramelized on all sides.
Chop the greens. Use a knife to chop the greens extra fine and place in a large bowl. I used mixed greens, but feel free to use your favorite greens of choice.
Assemble. Line the apples, cranberries and pumpkin seeds on top of the chopped greens. Then sprinkle the cheese and roasted butternut squash over the top. If desired, add in extra mix-in's like chicken and/or rice (more ideas above).
Toss with dressing. Just before serving, drizzle the maple vinaigrette over the top and then toss with salad tongs. Serve immediately!
Recipe FAQs
Do you peel butternut squash before you use it?
Yes, the skin on butternut squash is tough, so I recommend peeling it off prior to roasting. Check out my tips on how to cut butternut squash, which includes a quick tip for how to peel the skin off even easier.
Can you make this salad ahead of time?
This salad tastes best eaten immediately after being tossed, although there are a few things you can prep in advance to make the assembly easier when ready to serve.

The dressing can be made a few days ahead of time if needed. You may also roast the squash in advance if you prefer, however I recommend heating it back up on the stove or oven before serving so that it stays crispy.
5 star review
"This is the best salad I've ever made! The dressing is fabulous! I made my salad with all the extras including: a creamy goat cheese, honey crisp apples, pumpkin seeds, shaved Brussels mixed with organic greens, dried cranberries, wild rice, roasted chicken, and roasted butternut squash. Love, love, love!!!"

– Ruth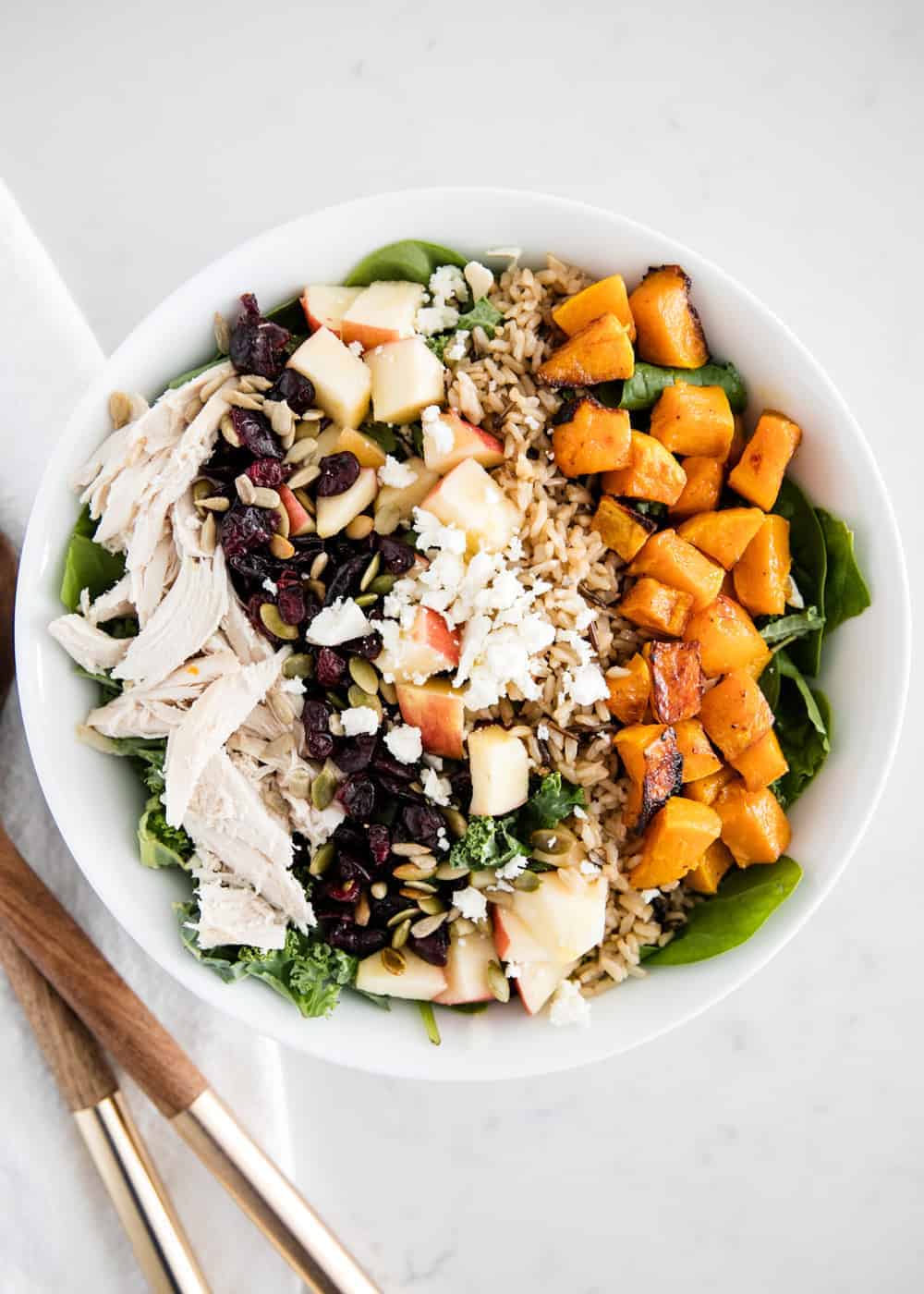 HUNGRY FOR MORE? Subscribe to my newsletter and follow on Facebook, Pinterest and Instagram for all the newest recipes!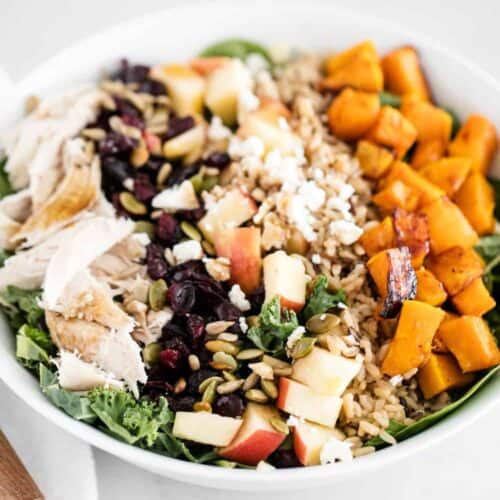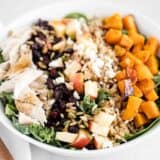 Fall Salad
This easy fall salad is filled with chopped greens, apples, dried cranberries, pumpkin seeds and roasted butternut squash. Then topped with a maple balsamic dressing that brings out the delicious fall flavors!
Ingredients
1 Tablespoon extra virgin olive oil
1 cup diced butternut squash
8 cups mixed greens , chopped fine
1 apple ,chopped
¼ cup dried cranberries , more if desired
¼ – ½ cup pumpkin seeds (could sub for pecans)
2-3 Tablespoons feta or goat cheese
Maple Dijon Vinaigrette:
¼ cup virgin olive oil
2 Tablespoons balsamic vinegar
2 Tablespoons 100% maple syrup
1 teaspoon dijon mustard
¼ cup mayo or greek yogurt (optional for a creamier dressing)
Optional mix-ins: shredded chicken, turkey, wild rice, extra veggies, sliced red onion
Instructions
Spray a little olive oil onto a small skillet. Add the diced butternut squash and cook over medium heat. Cook a couple of minutes and then flip. Cook until the edges are slightly golden and roasted.

Chop the greens extra fine and place in a large bowl. Line the apples, cranberries and pumpkin seeds on top. Sprinkle the cheese and roasted butternut squash over top. Add chicken, rice or any extra mix-in's as desired.

If making the homemade dressing, whisk together the ingredients. Add the mayo or greek yogurt if you'd like a thicker and creamier dressing.

Drizzle the dressing over top just before serving and then toss with salad tongs. Serve immediately.
---
Notes
Extra (optional) mix-ins:
Nutrition
Calories: 445kcal | Carbohydrates: 29g | Protein: 7g | Fat: 35g | Saturated Fat: 6g | Polyunsaturated Fat: 11g | Monounsaturated Fat: 17g | Trans Fat: 0.03g | Cholesterol: 13mg | Sodium: 227mg | Potassium: 452mg | Fiber: 3g | Sugar: 18g | Vitamin A: 4702IU | Vitamin C: 28mg | Calcium: 93mg | Iron: 2mg
Nutrition provided is an estimate. It will vary based on specific ingredients used.
Did you make this recipe? Don't forget to give it a star rating below!