These parmesan roasted carrots are savory, sweet and completely addicting! A quick and easy side dish that's baked to perfection and full of flavor.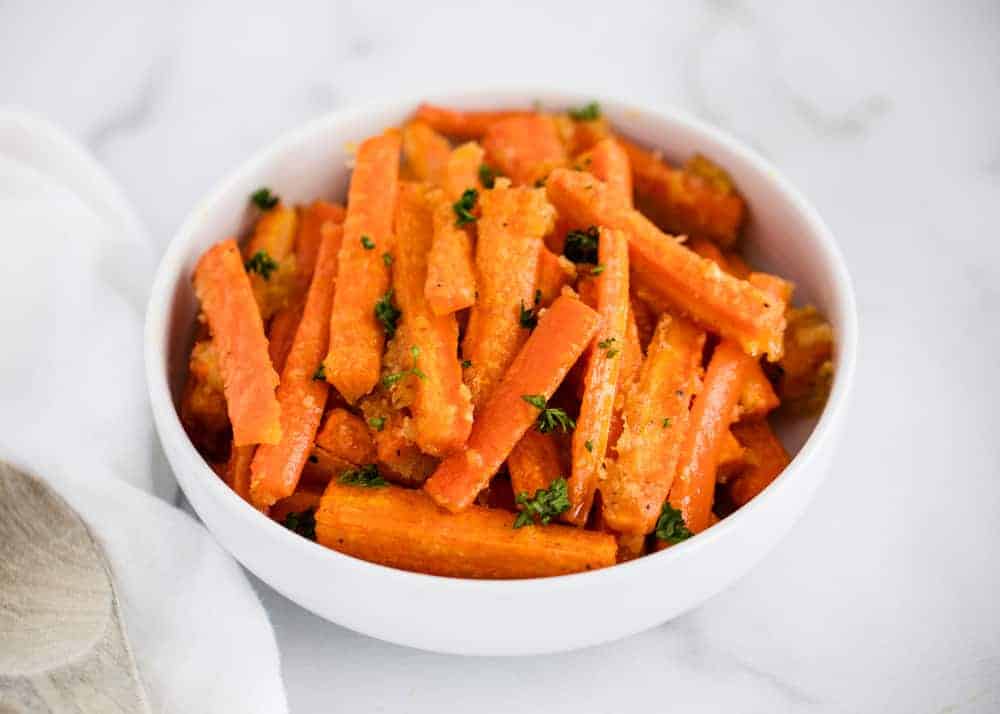 Easy Roasted Carrots
Roasted veggies are a family favorite and are on our menu pretty much every week. We love this recipe, as well as parmesan broccoli, roasted mixed veggies and bacon wrapped asparagus.
This roasted carrots recipe is one of my favorite ways to eat carrots. Roasting them with the olive oil, parmesan, and garlic turns an ordinary carrot into something extraordinary. You can turn any carrot-haters into carrot-lovers with this recipe.
Whenever I make a batch of them, I find myself snacking on them the rest of the night. I'm telling you… if you haven't ever tried parmesan roasted carrots, you need to. My kids gobble them right up.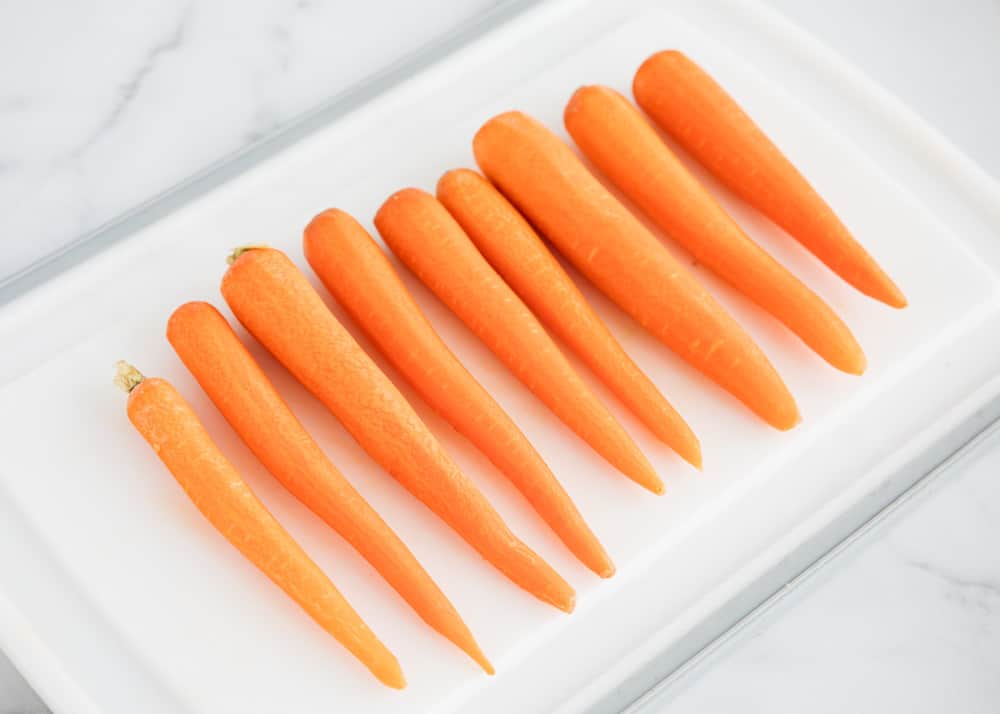 How Do you Cut Carrots for Roasting?
I prefer to use whole carrots and cut them into sticks. Start by washing and peeling them, then place on your cutting board. Cut the stem off, then cut each carrot in half. Cut each half into half again vertically, so that you're left with a stick shape similar to the below picture. You may need to cut the thicker pieces in half again depending on their size.
Alternatively, you can use baby carrots instead which require no cutting. They're a little thicker, so it may take a tad longer for them to get tender and carmelized.
Do you Need to Boil Them Before Roasting?
No, they don't require boiling before roasting. That's the beauty of this recipe…you only need 1 pan and the carrots roast perfectly in the oven! Tender on the inside but crispy on the outside. So delicious!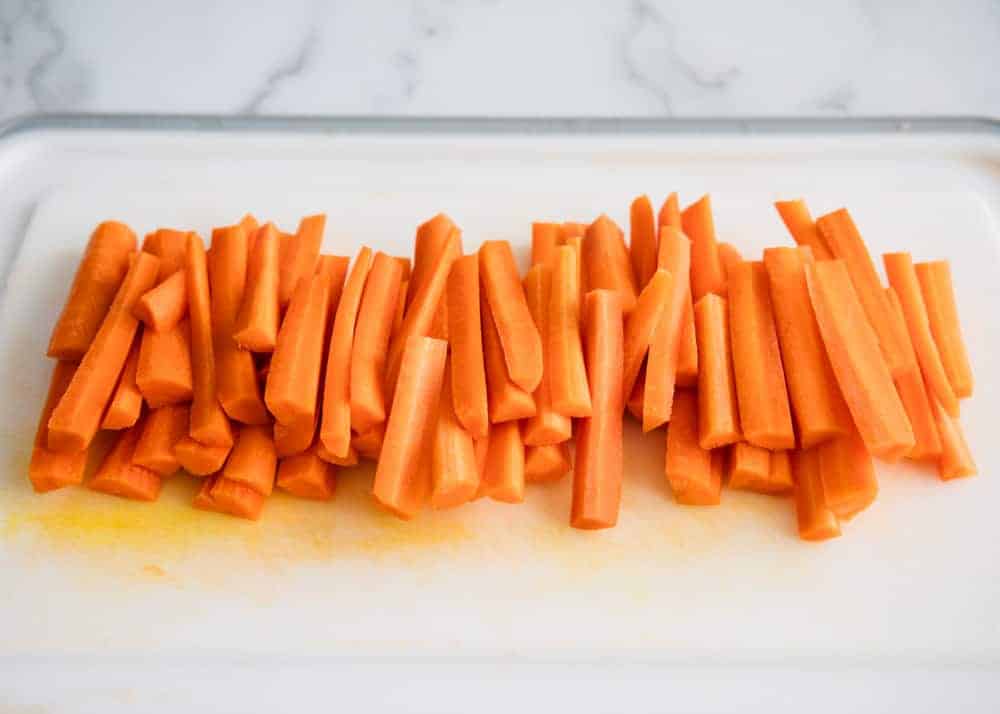 How to Roast Carrots
SEASON. Add seasonings in a zip top bag, then add in sliced carrots. Shake until the carrots are well coated. Then spread them out on a lined baking sheet sprayed with nonstick spray.
BAKE. Bake until tender, about 20 to 25 minutes. Make sure to toss the carrots about halfway through to ensure all sides are cooking evenly and there's no burning.
SERVE. Remove from oven and top with fresh parsley if desired. Enjoy!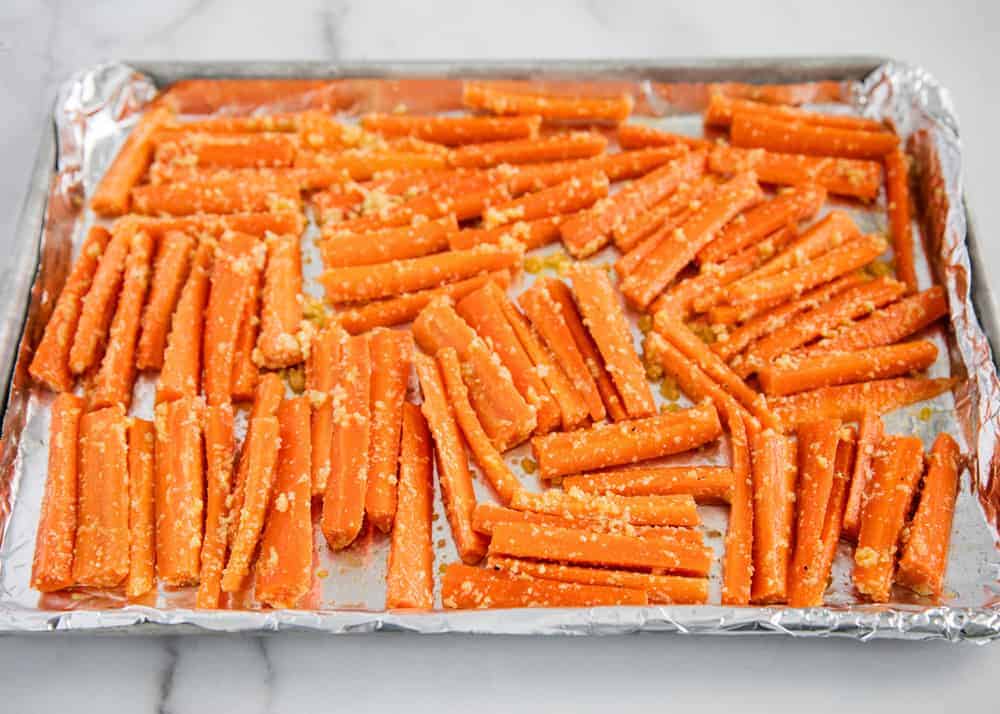 Can They be Made Ahead of Time?
Sure! If making in advance, I'll typically add my sliced carrots to a zip top bag and add the oil, garlic, salt and pepper. Then I'll place the bag in the fridge and let the flavors marinate until I'm ready to bake. Before baking, I'll add the parmesan and breadcrumbs to the bag and shake until coated. Then I'll stick the carrots in the oven and roast. Very easy!
Seasoning
There are many different ways to season carrots prior to roasting. Add a sprinkle of fresh thyme or make these delicious balsamic roasted carrots. You can't go wrong with any of the variations below!
Honey: Olive oil, honey, salt and pepper
Soy: Soy sauce, honey and olive oil
Balsamic: Olive oil, balsamic (or balsamic glaze) and brown sugar
Thyme: Thyme, olive oil, salt and pepper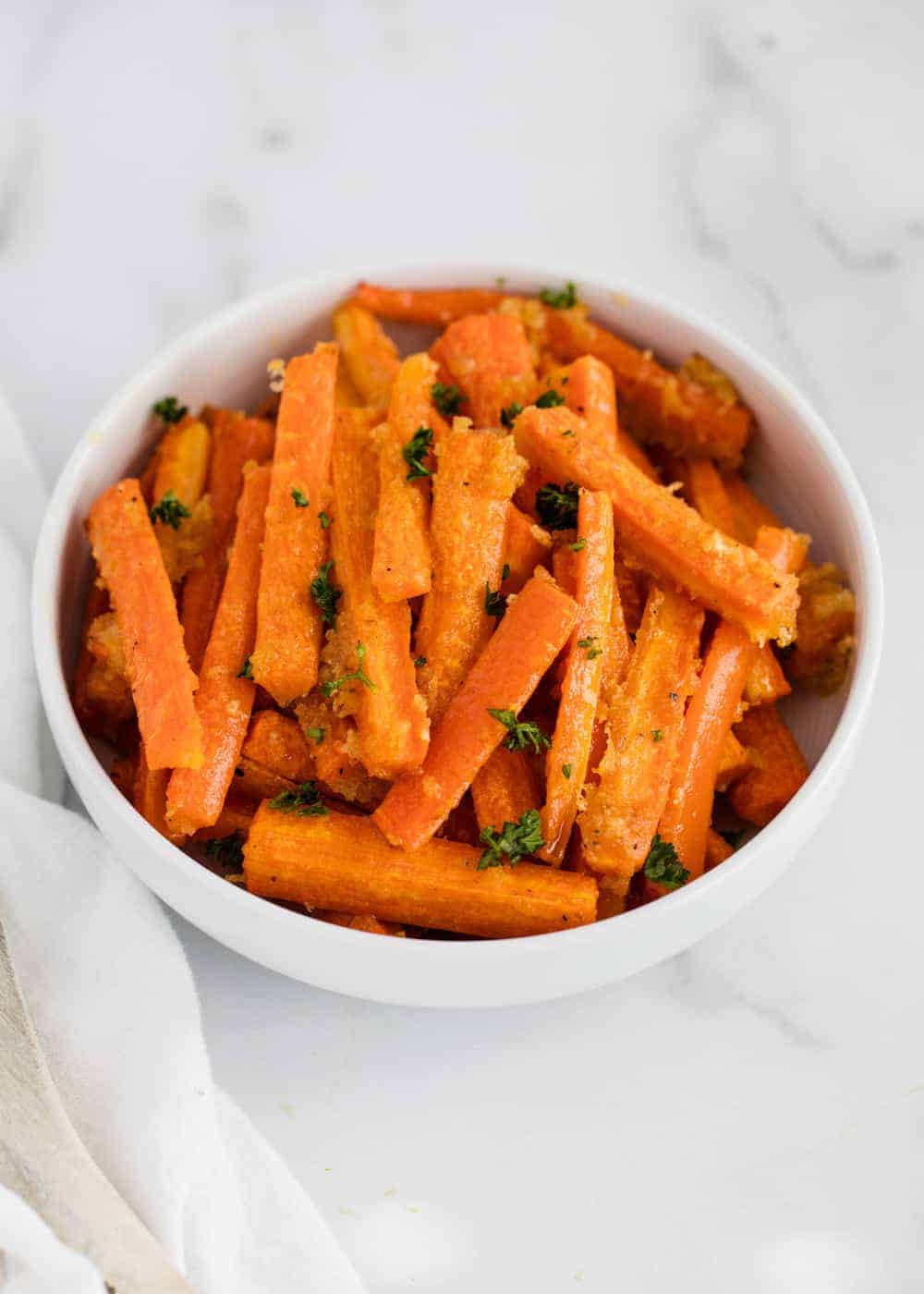 More Vegetable Recipes
HUNGRY FOR MORE? Subscribe to my newsletter and follow on Facebook, Pinterest and Instagram for all the newest recipes!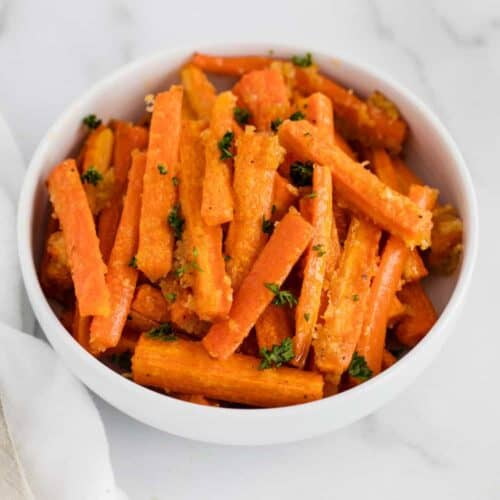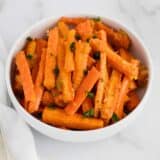 Parmesan Roasted Carrots Recipe
These parmesan roasted carrots are savory, sweet and completely addicting! A quick and easy side dish that's baked to perfection and full of flavor.
Ingredients
¼ cup olive oil
4 cloves minced garlic (2 teaspoons)
3 Tablespoons grated parmesan cheese
1-2 Tablespoons panko bread crumbs (optional)
¾ teaspoon Kosher salt (more to taste)
¼ teaspoon ground black pepper (more to taste)
4-5 cups carrots (peeled and sliced, or baby carrots)
chopped parsley (optional)
Instructions
Preheat oven to 400°F and line a baking sheet with parchment paper or foil. Spray with non-stick cooking spray. Slice carrots about 1/4" thick.

Place the olive oil, garlic, parmesan, bread crumbs, salt and pepper in a large bowl or zip top bag. Add the carrots and shake until they are well coated. Then spread out onto the prepared baking sheet.

Bake for 30 minutes, or until tender. Toss with a spatula half way through. Remove from oven and serve immediately. Top with fresh parsley if desired.
---
Nutrition
Calories: 101kcal | Carbohydrates: 7g | Protein: 1g | Fat: 7g | Saturated Fat: 1g | Cholesterol: 1mg | Sodium: 300mg | Potassium: 210mg | Fiber: 1g | Sugar: 3g | Vitamin A: 10710IU | Vitamin C: 4.2mg | Calcium: 47mg | Iron: 0.3mg
Nutrition provided is an estimate. It will vary based on specific ingredients used.
Did you make this recipe? Don't forget to give it a star rating below!