These baked zucchini fries are loaded with flavor and a crispy parmesan topping. They make the perfect side dish for any meal. Plus, they're healthy too!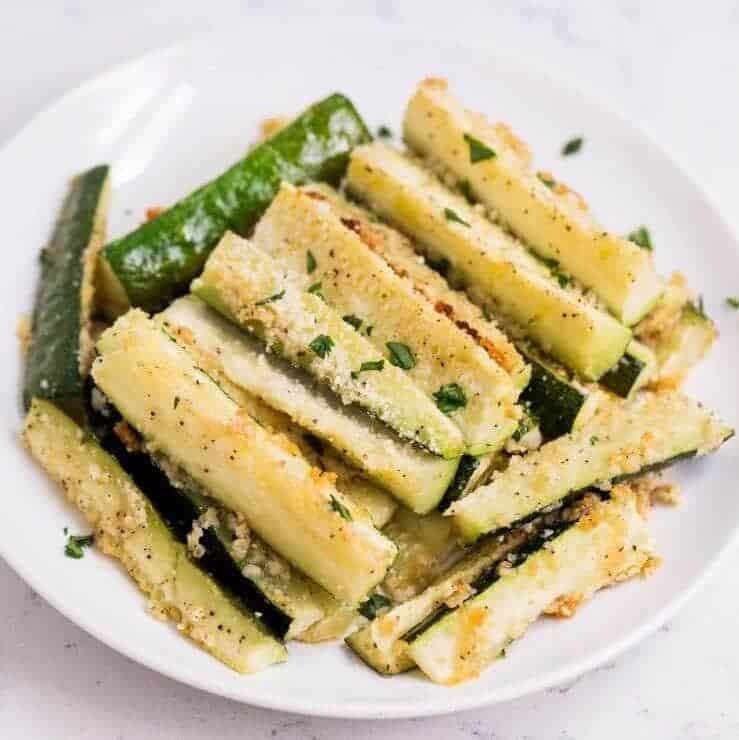 Crispy Baked Zucchini Fries
We eat tons of baked veggies in our house. Not only do my kids love them, but they're super easy to make. This recipe is a family favorite, along with roasted asparagus, broccoli and carrots.
These baked parmesan zucchini fries are the perfect way to use up your zucchini from the garden and sneak in some extra veggies. I didn't grow any this year, but my friend gave me some the other day at a playdate and this recipe was the perfect way to use them up. We also made a batch of chocolate chip zucchini muffins and zucchini bread, because I can't go a summer without those. So so good.
I adapted this recipe from my baked parmesan fries and they turned out so yummy. They are more of a wedge (you can also slice them), but if I call them fries, my kids seem to eat them more. Funny how that works.
I don't ever remember eating zucchini growing up, so it wasn't until a few years ago when I really started to love it. Now these baked zucchini fries are one of my favorite side dishes along with this recipe for grilled zucchini. I love making them for lunch or a snack sometimes as well. They taste amazing dipped in ranch dressing or a creamy garlic aioli.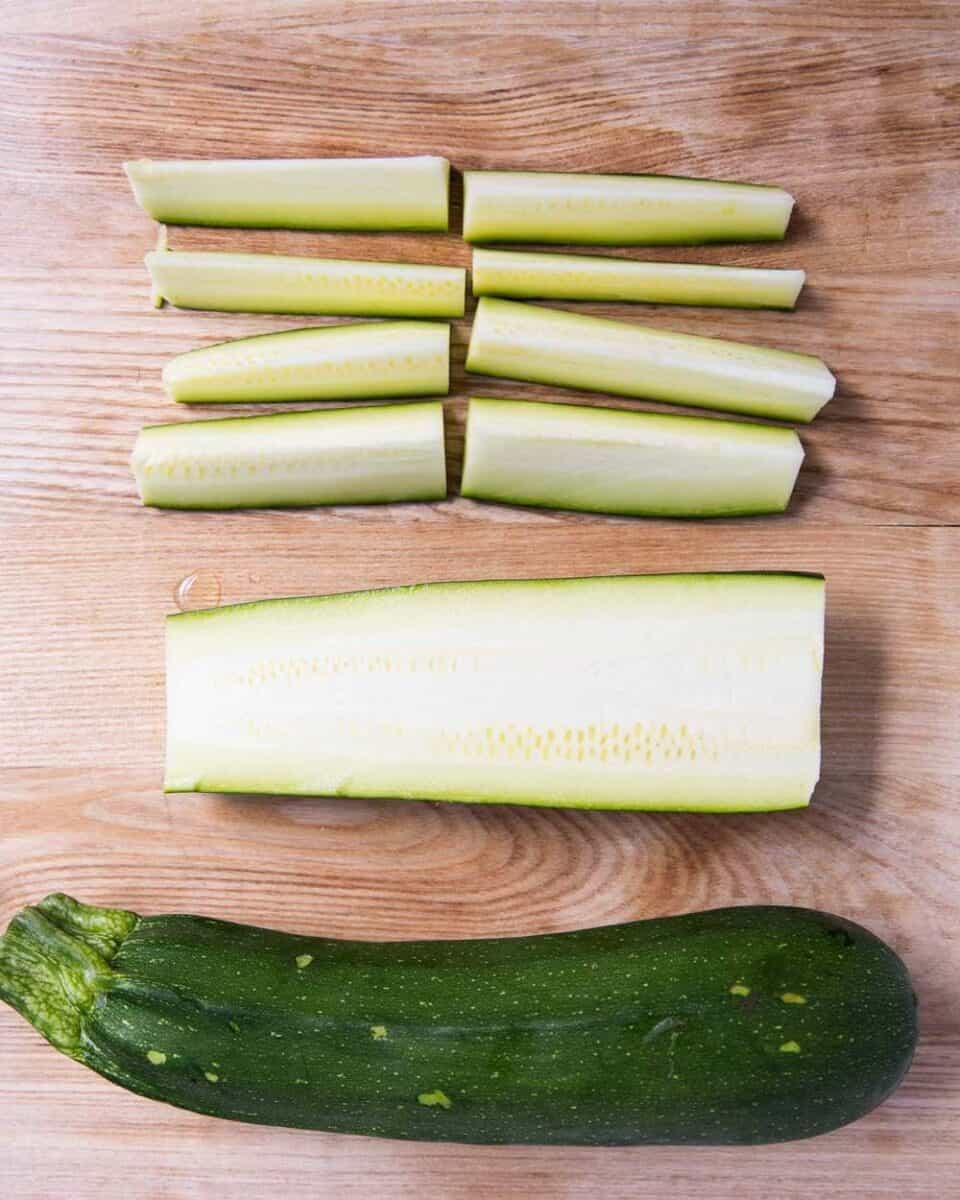 How do you Cut Zucchini into Sticks?
This part is super simple and even easier than shredding it for my favorite zucchini muffins recipe! Use this method for equally sized zucchini sticks every time. It's important for them to be the same size so that they all cook evenly in the oven. For a visual, check out the video below.
Cut the ends of the zucchini off.
Slice in half vertically, so that you have two long pieces.
Slice the the first half into 4-5 sticks. Then repeat with the other half.
Seasoning
For the seasoning, I used a mix of the ingredients below. Feel free to add in any extra spices that you prefer, such an oregano, paprika, cumin or Italian seasoning.
Grated parmesan cheese
Salt
Pepper
Garlic powder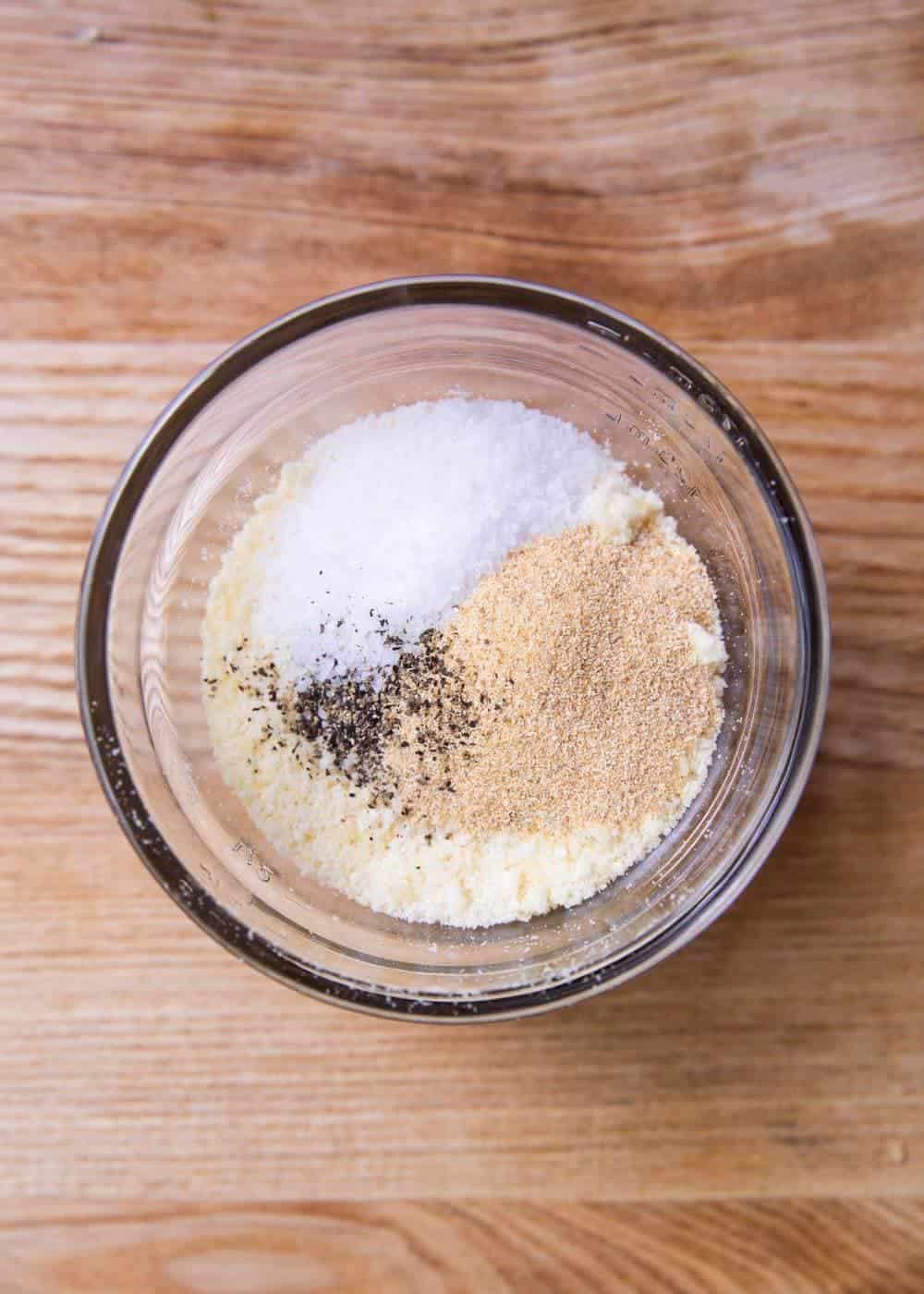 How do you Make Zucchini Fries?
This recipe is a staple at my house and is one of the easiest ways to cook veggies! Just follow these simple steps to get started.
Slice the zucchini into wedges (instructions above).
Place onto the baking sheet close together and then drizzle the olive oil over the top of the zucchini fries with seasonings.
Bake at 400°F for about 15-20 minutes, until golden brown.
The Key to Crispy Zucchini Fries
My main trick for making extra crispy zucchini fries is sticking them in the broiler for about 3 minutes after baking. This helps the parmesan to get golden and have a nice crunch.
I also flip them about halfway through baking, so that all sides of the fries cook evenly and get extra crispy. So yummy!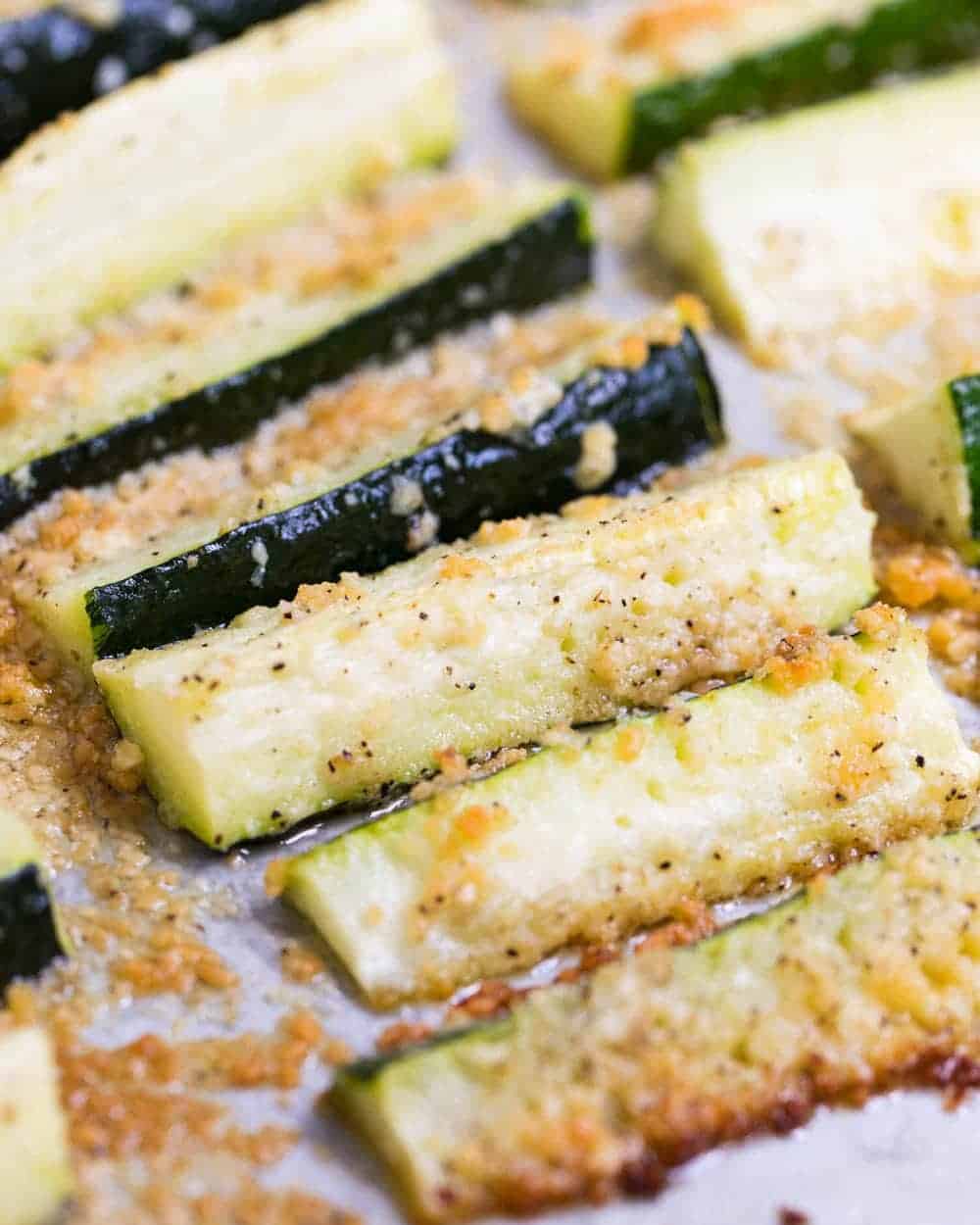 Quick Tips
Feel free to cut the recipe in half for a smaller batch.
You could also cut the zucchini into rounds if you prefer. The baking time may be a little shorter.
Make sure to flip them halfway through, so all sides of the fries bake evenly.
Don't skip the broiler! This helps them get extra crispy. :)
They do taste best the first day when they come hot out of the oven. If you have leftovers, I recommend reheating them in the oven vs. a microwave.
More Roasted Veggies
HUNGRY FOR MORE? Subscribe to my newsletter and follow on Facebook, Pinterest and Instagram for all the newest recipes!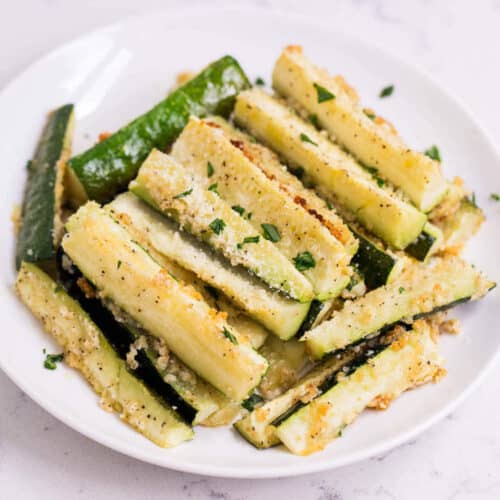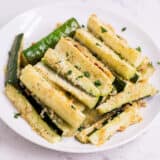 Baked Zucchini Fries Recipe
These baked zucchini fries are loaded with flavor and a crispy parmesan topping. They make the perfect side dish for any meal. Plus, they're healthy too!
Ingredients
2 medium zucchinis (unpeeled, washed and dried)
3 Tablespoons olive oil
⅓ cup grated parmesan cheese
1 teaspoon garlic powder
1 teaspoon Kosher salt (more to taste)
¼ teaspoon ground black pepper (more to taste)
Optional: ranch, for dipping
Instructions
Preheat the oven to 400°F. Line a large rimmed baking sheet with foil for easy clean up and spray with non-stick spray.

Remove the ends of the zucchini and then slice in half. Then slice each half into 4-5 wedges. Place onto the baking sheet close together. Drizzle the olive oil over the top. Next mix the parmesan cheese, salt, garlic powder and pepper into a small bowl. Sprinkle over top of the zucchini. Bake for 15 to 20 minutes or until tender, flipping half way through. When you check on them, use a paper towel to absorb any extra liquid in the pan if needed. Broil for 3 minutes or until golden and crisp.

Remove wedges from oven and season with more parmesan, herbs salt and pepper if desired. Enjoy them while they're hot! These are best served immediately.
---
Nutrition
Calories: 98kcal | Carbohydrates: 2g | Protein: 3g | Fat: 8g | Saturated Fat: 1g | Cholesterol: 4mg | Sodium: 478mg | Potassium: 183mg | Sugar: 1g | Vitamin A: 180IU | Vitamin C: 11.7mg | Calcium: 72mg | Iron: 0.3mg
Nutrition provided is an estimate. It will vary based on specific ingredients used.
Did you make this recipe? Don't forget to give it a star rating below!