Pork Tenderloin with Rosemary Apricot Sauce comes together in in no time. Even better it uses one skillet, and ingredients you probably already have in the fridge.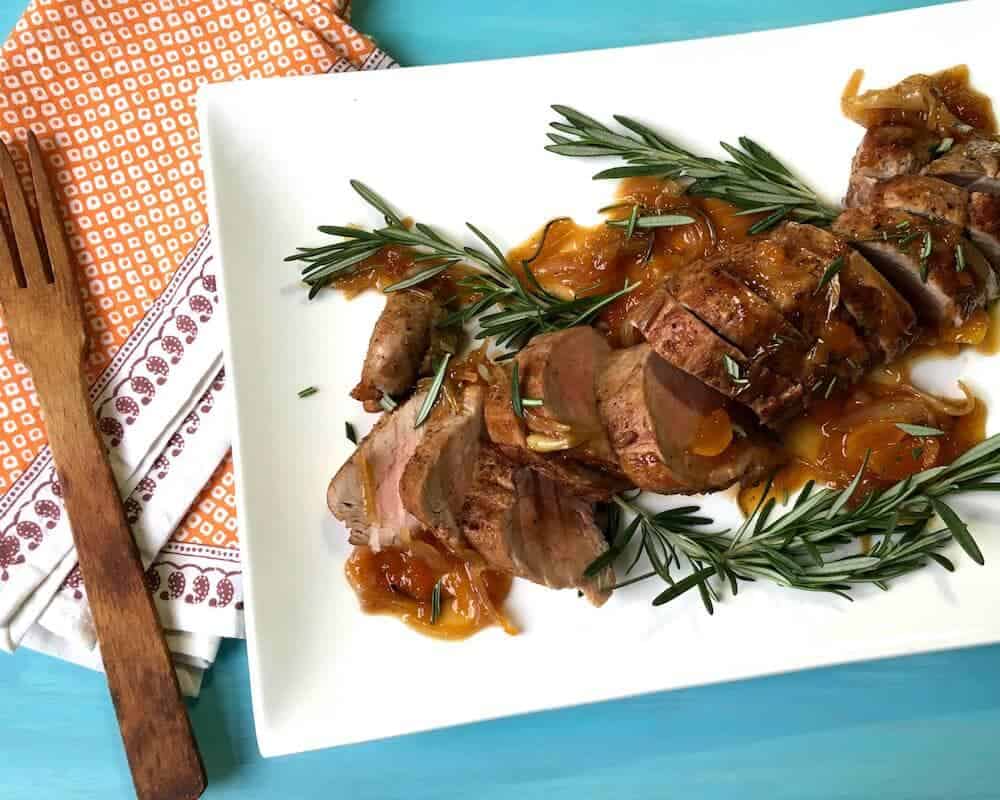 I've created recipes for hundreds of magazines and cookbooks over the years, and one of my favorite things about my job as a food editor is the research I am privy to. About every two years there are large studies done on how America eats, what people like to cook, what they are willing to cook and so forth. And every two years studies reveal that people want easy dinners. No kidding!
You'll find a lot of these easy dinner recipes on my blog Tara Teaspoon, but this is the first time my Pork Tenderloin with Rosemary Apricot Sauce is being published. It's one of those staple dinners at my house. I made it at a family gathering once, and now it's one of my sister-in-law's staple dinners. It's seriously simple, uses lots of basic cooking techniques I'm excited to talk about, and quite a family-pleaser (if I do say so).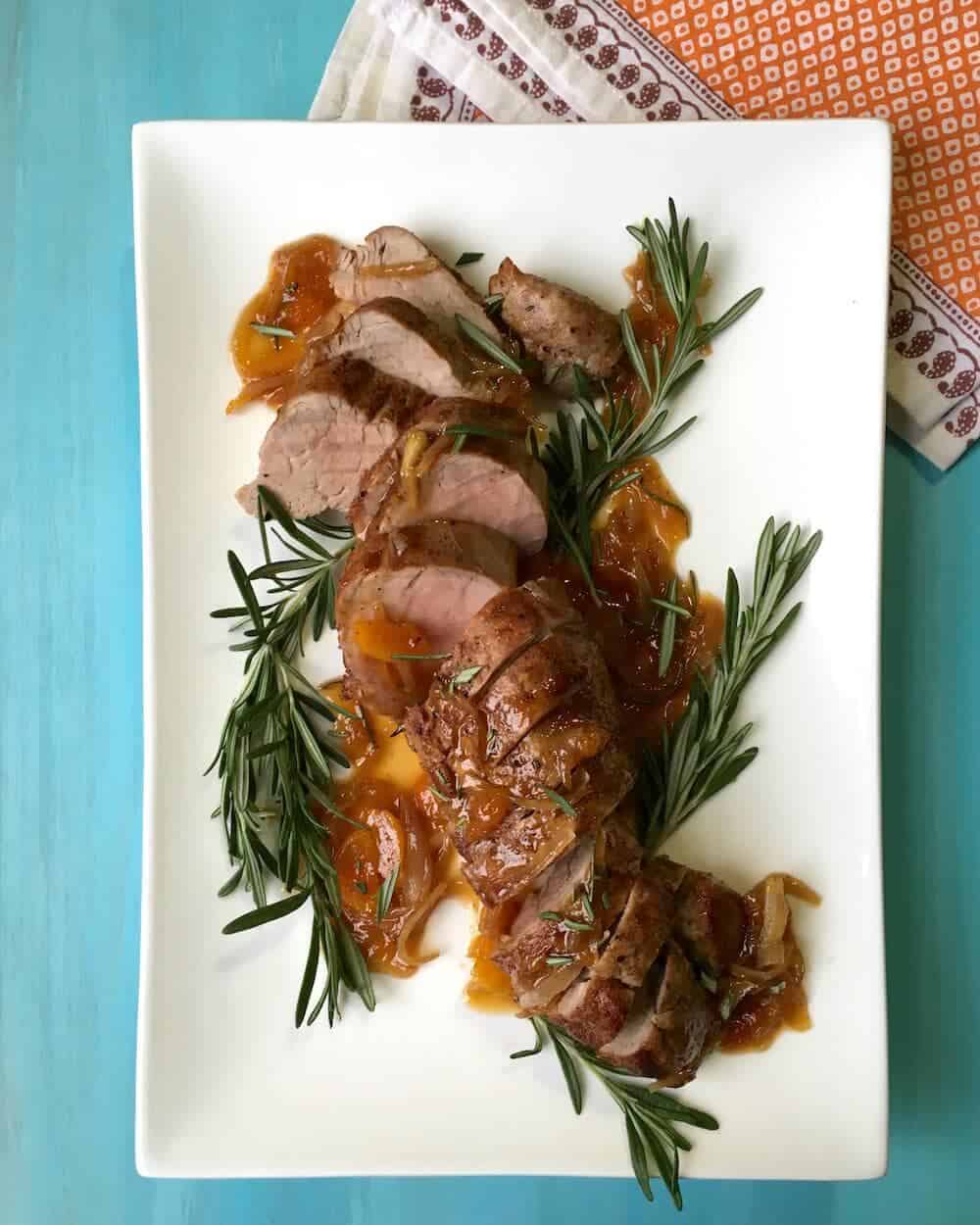 Pork tenderloin recipe
The pork tenderloin is a small, usually 1 to 1 1/2 lb cut. Don't confuse it with the loin. The loin is a bigger cut. Pork also shouldn't be overcooked. Guidelines changed a few years ago and it is ok to cook pork to a lower temperature. For tenderloin this is key, and the trick to not overcooking is to have a meat thermometer on hand. I cook my tenderloin to an internal temperature of 130ºF. The temperature rises as it rests, but the inside is still slightly pink and tender, while being completely cooked through!
I love using shallots. Put simply, the flavor of shallots is a mix between an onion and garlic. Not as strong as garlic, but a bit more sophisticated than an onion. And they look pretty! I cut the root and the tip off and then slice them root to tip. If you cut your shallots, or your onions crosswise, you'll end up with long worm-like strings. But slicing them root to tip as we say, results in beautiful little slices that hold their shape.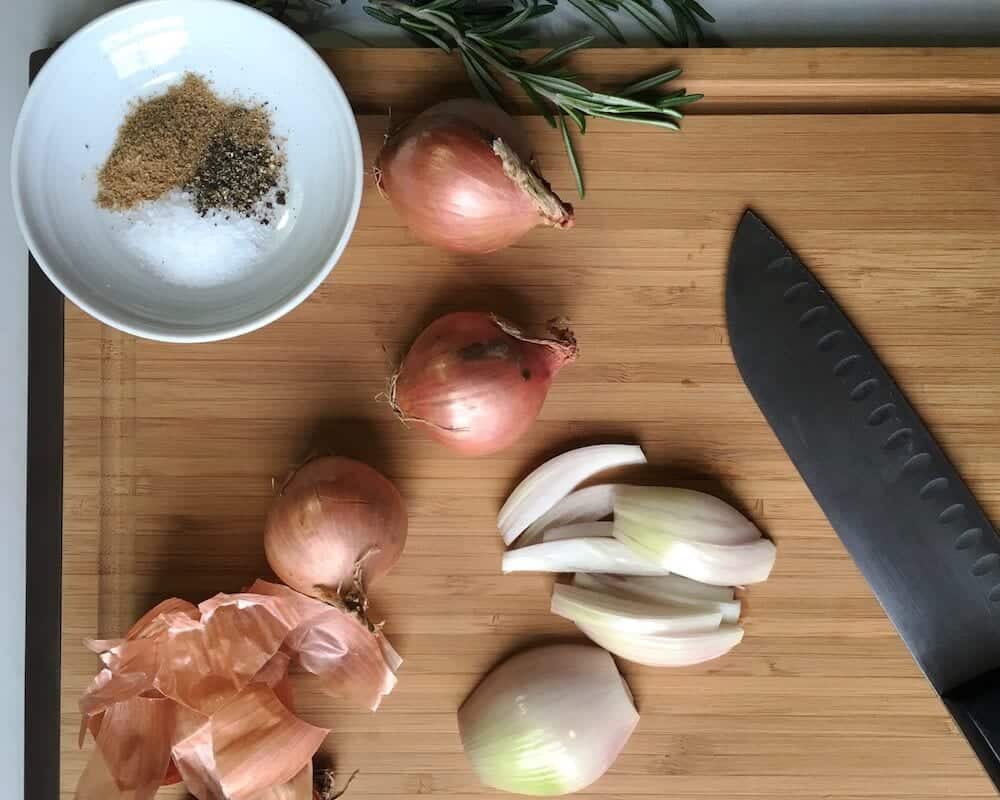 You could simply salt your tenderloin, but I give it a little more depth of flavor by adding some coriander and pepper to the salt. If you let this rub sit on the pork for 5 or 10 minutes before cooking it gives the salt time to soften and really flavor the meat.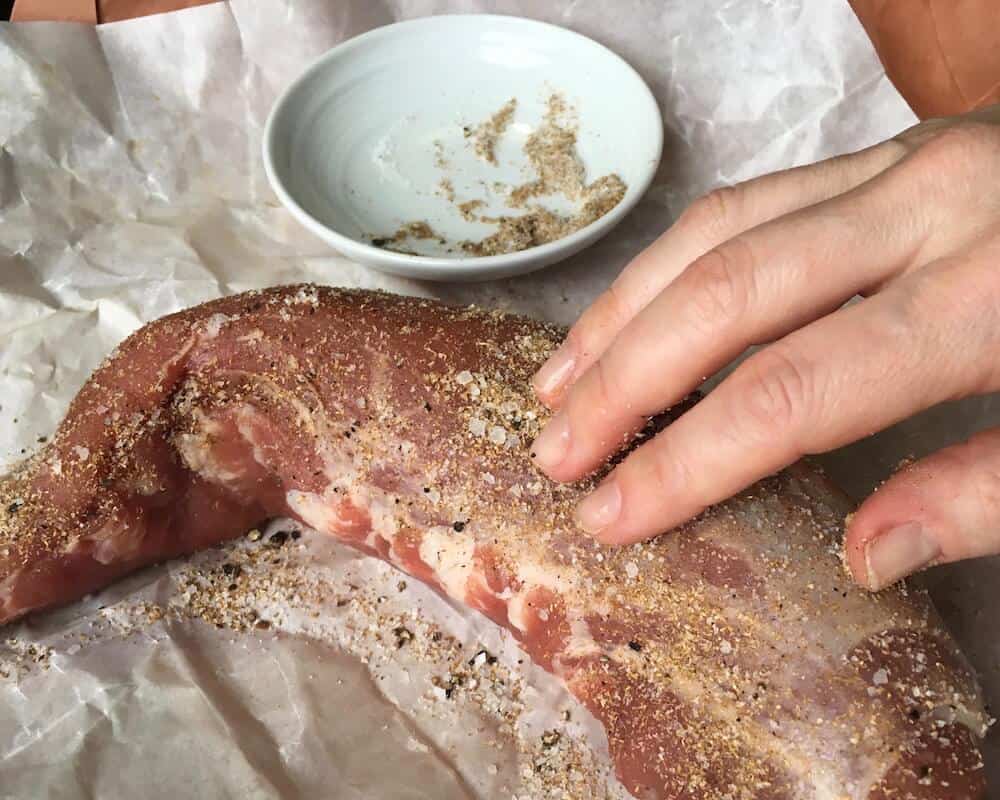 How to cook pork tenderloin
Brown and caramelize your meat in a pan over medium-high heat. Don't be afraid of little brown bits in the pan, these will add flavor to the sauce. Do be afraid of black char in your pan! That means your heat is too high and everything is cooking too fast!
The method for this recipe is one of my favorites; browning the meat on the stove and then finishing it in the oven (in the same pan!). Most pans are oven-proof if they don't have a plastic handle. Even a silicone handle is ok for the oven. Browning the meat makes it beautiful for starters, but it also creates flavor. Don't rush this part. I cook my tenderloin on 3 or 4 sides, 2 to 3 minutes per side over medium-high heat, before I put it in the oven to cook all the way through.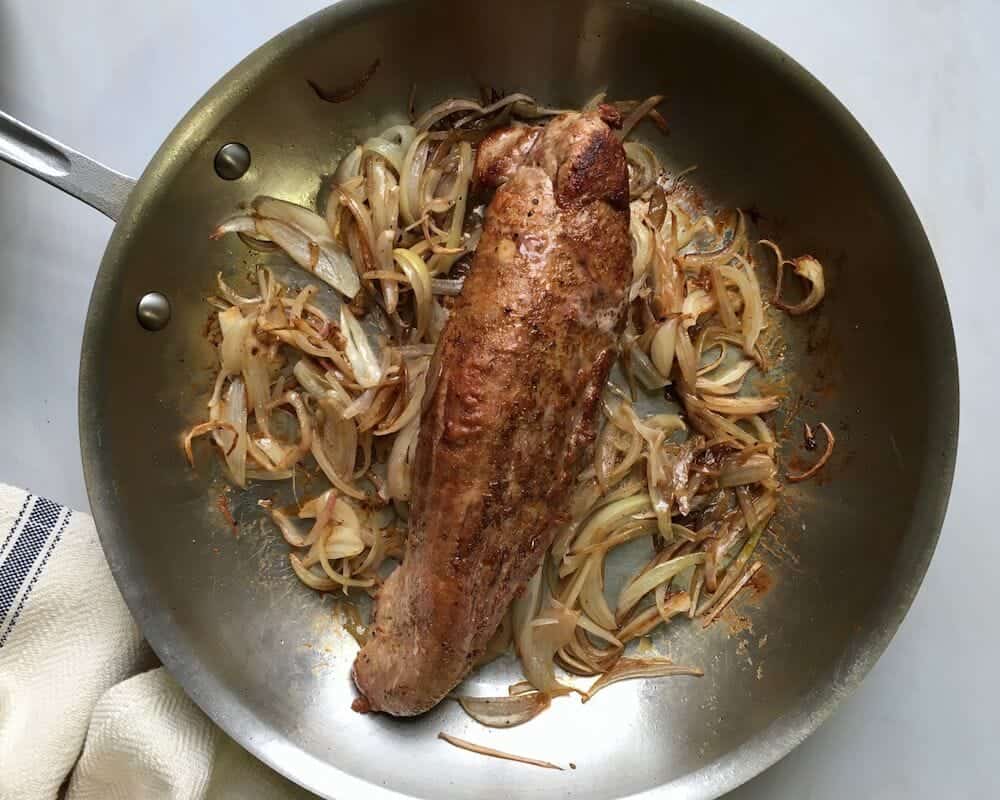 Follow the recipe for the pan sauce, and you're done in just over 30 minutes. And you're not even cooking that entire time—I unloaded my dishwasher while the pork tenderloin was browning, and made the sides, sliced the bread and set the table while it was in the oven. That's a How America Cooks study-worthy dinner if I do say so myself.

You'll love my other easy dinners like Spaghetti Squash and Meatballs or Chicken in Paper, yes, Paper! Visit Tara Teaspoon to find meals, desserts and other great cooking tips.
Thanks, Tara! If you love this easy, delicious dinner idea, you'll love these too!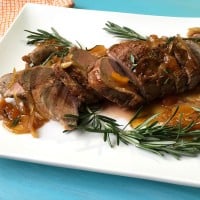 Pork Tenderloin With Rosemary Apricot Sauce
Pork tenderloin gets cooked in a skillet and finished in the oven. Shallots, apricot jam and herby rosemary are simmered together for an easy pan sauce that makes this dinner sweet and savory.
Ingredients
1

teaspoon

kosher salt

1/2

teaspoon

ground coriander

1/4

teaspoon

ground black pepper

1.5

pound

pork tenderloin

silverskin removed

2

tablespoons

canola oil

4

small shallots

3/4

cup

chicken broth

1/2

cup

apricot jam

2

sprigs rosemary

plus more for garnish
Instructions
Heat oven to 400ºF. Combine salt, coriander and black pepper. Rub all over tenderloin and let sit for a few minutes.

Heat in an oven-proof skillet over medium-high heat. Add tenderloin and cook, turning occasionally, until golden brown all over, about 8 minutes total. Add shallots and stir to coat with any oil in the pan. Transfer pan to the oven and cook until the internal temperature of the pork is 130ºF. Remove from oven, being careful of the hot pan handle. Transfer tenderloin to a cutting board and tent with foil.

Meanwhile over medium heat, add the chicken broth, apricot jam and rosemary to the shallots. Simmer until shallots are soft and mixture is saucy, 4 to 6 minutes. Slice tenderloin and serve with sauce. Garnish with rosemary if desired.
Nutrition
Calories:
290
kcal
|
Carbohydrates:
5
g
|
Protein:
35
g
|
Fat:
13
g
|
Saturated Fat:
2
g
|
Cholesterol:
110
mg
|
Sodium:
834
mg
|
Potassium:
787
mg
|
Sugar:
2
g
|
Vitamin C:
5.1
mg
|
Calcium:
22
mg
|
Iron:
2
mg
PIN THIS RECIPE