Rolo Pretzel Reindeer – these tasty treats are perfect for the holiday season and so easy to make!
I have such a cute and fun treat to share with you today! These Rolo pretzel reindeer are adorable, fun, and festive, and perfect for the holiday season!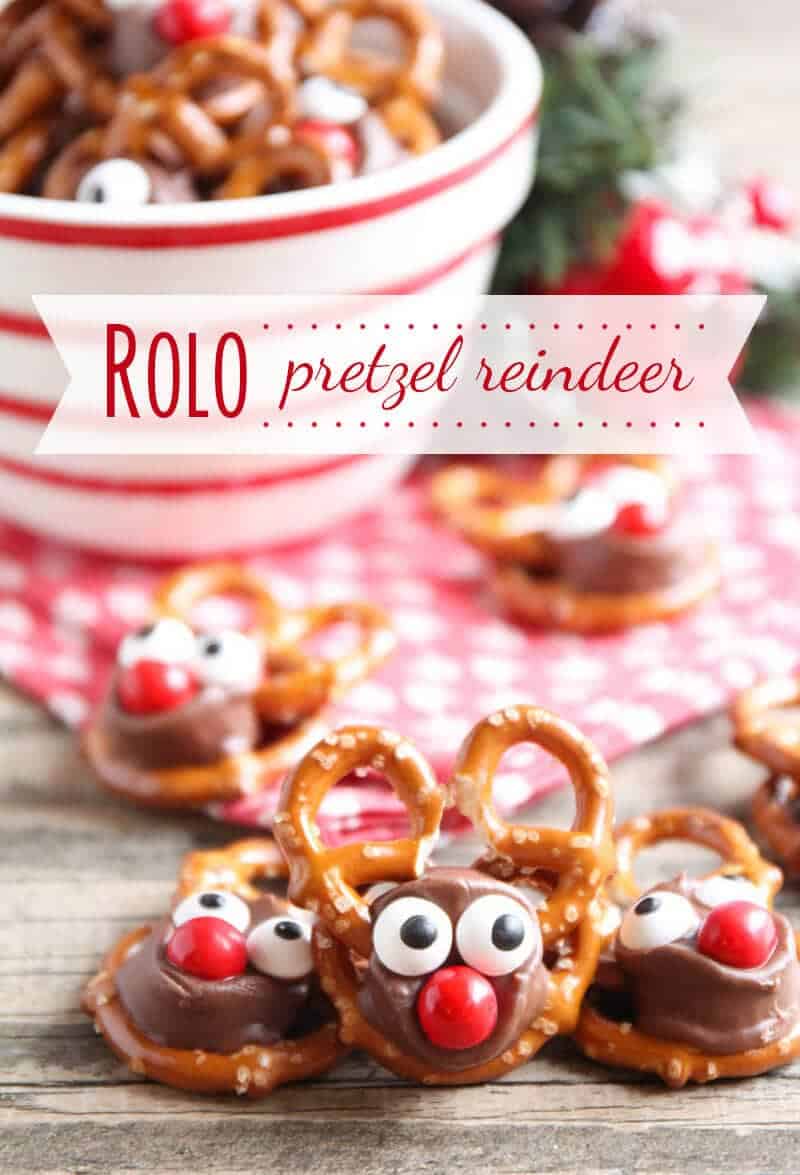 They're quick and easy to make, with just four ingredients, and so simple the kids can help too. You'll start with a bag of Rolo candies, some small pretzels, red candy noses, and candy eyes. My girls love any excuse to bake with candy eyes, so they were pretty thrilled to make these reindeer!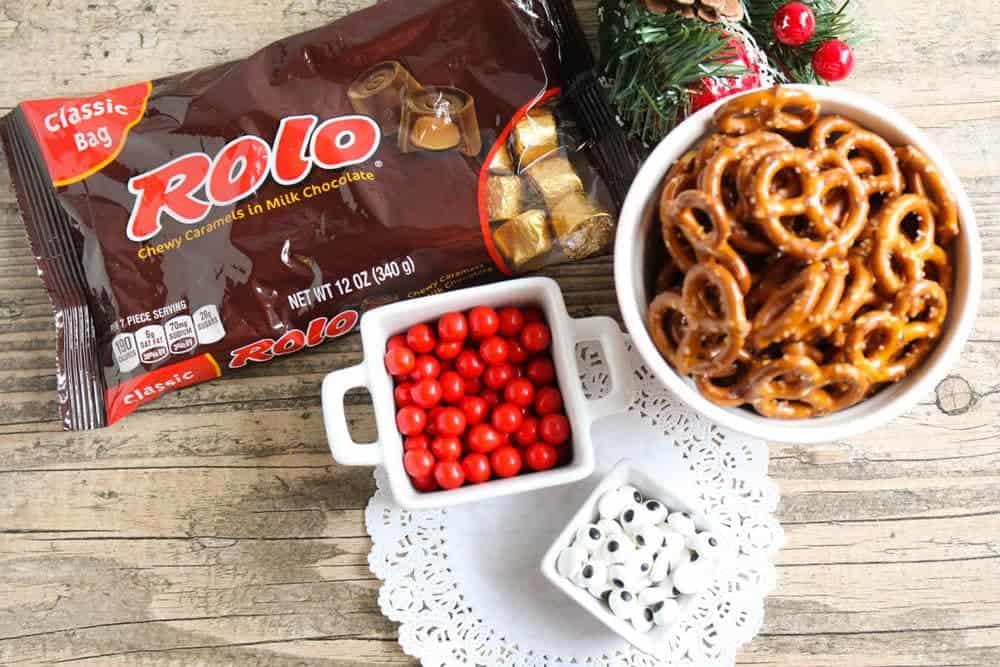 The concept is pretty simple, but the end result is so cute! For sure, the trickiest part is cutting the pretzels in half for the antlers. I found it worked best to just be gentle and use a sharp knife. We still had a few pretzel casualties, but my four year old was happy to take care of those for me. :)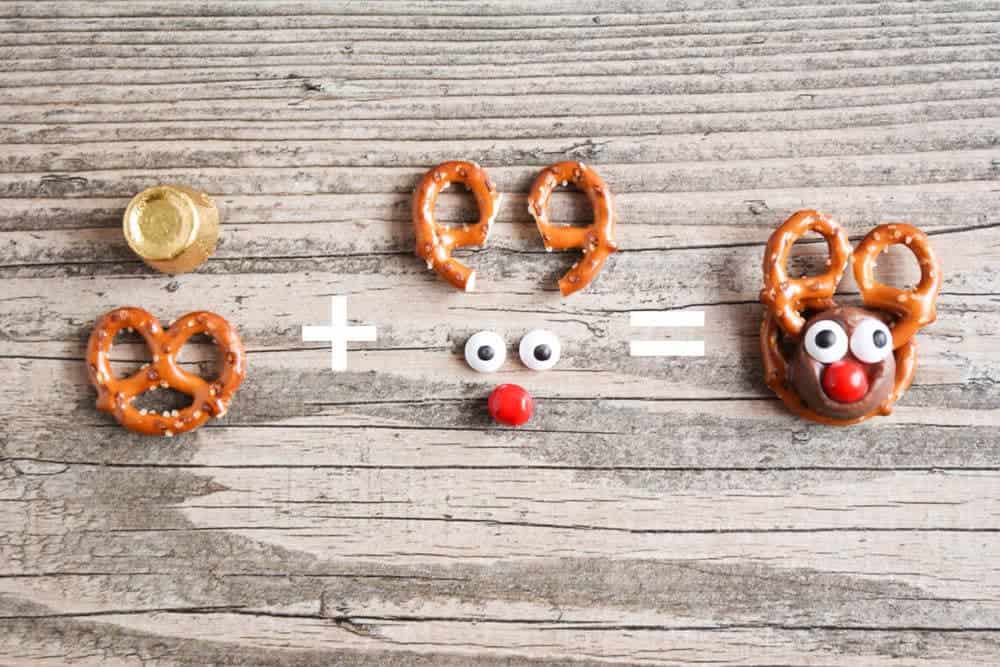 After a few minutes in the oven, we were ready to assemble our reindeer. I did all of the assembling since the pan was still very warm from the oven. I found that it worked best to add the eyes, then the nose, then the antlers. It's important to work fast so the chocolate doesn't have time to firm up before you've finished decorating all your cute reindeer.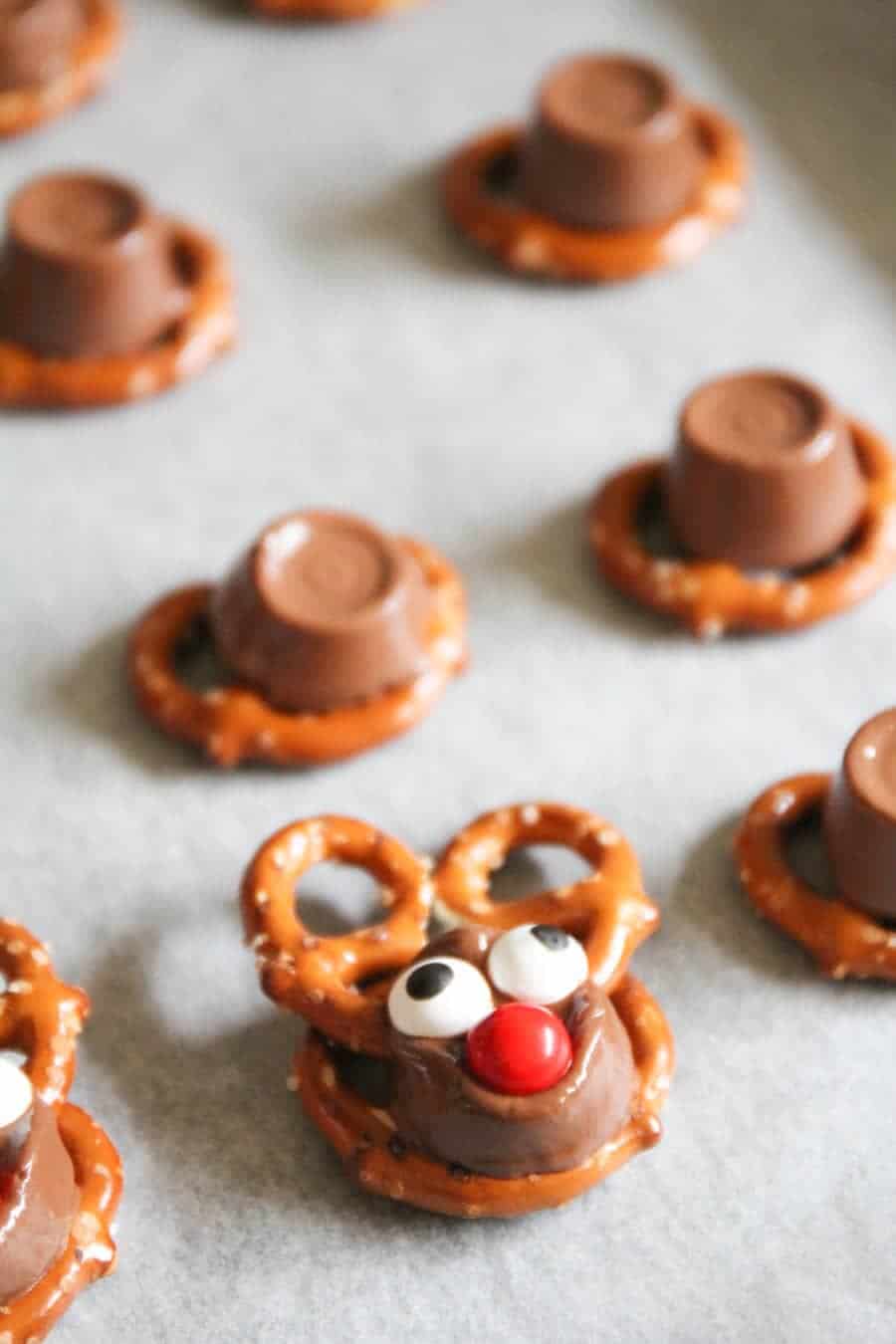 And voila! Adorable reindeer treats that are perfect for sharing with friends this holiday season! I love that each bite is such a tasty combination of chewy caramel and crunchy pretzel. These Rolo pretzel reindeer are as delicious as they are cute!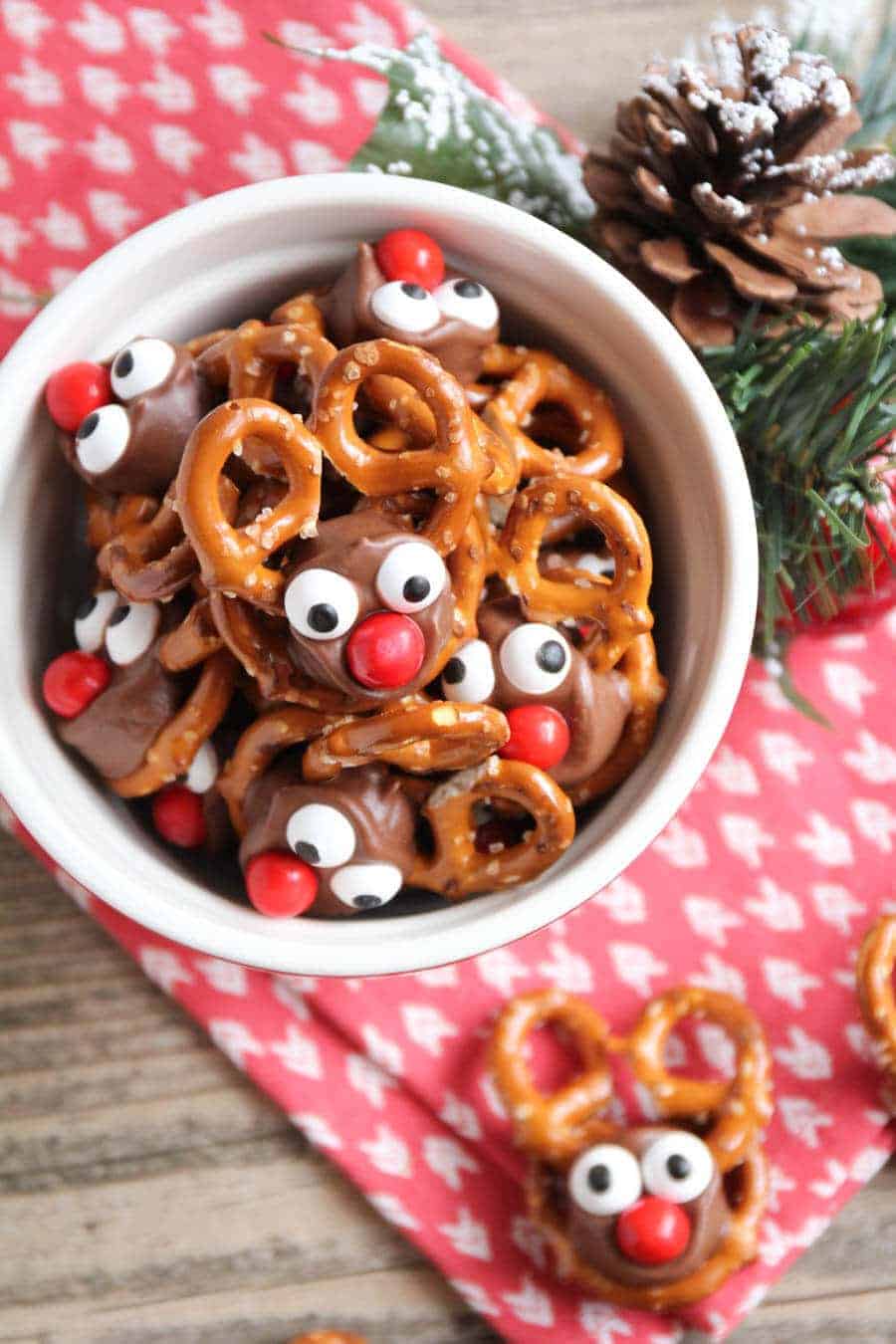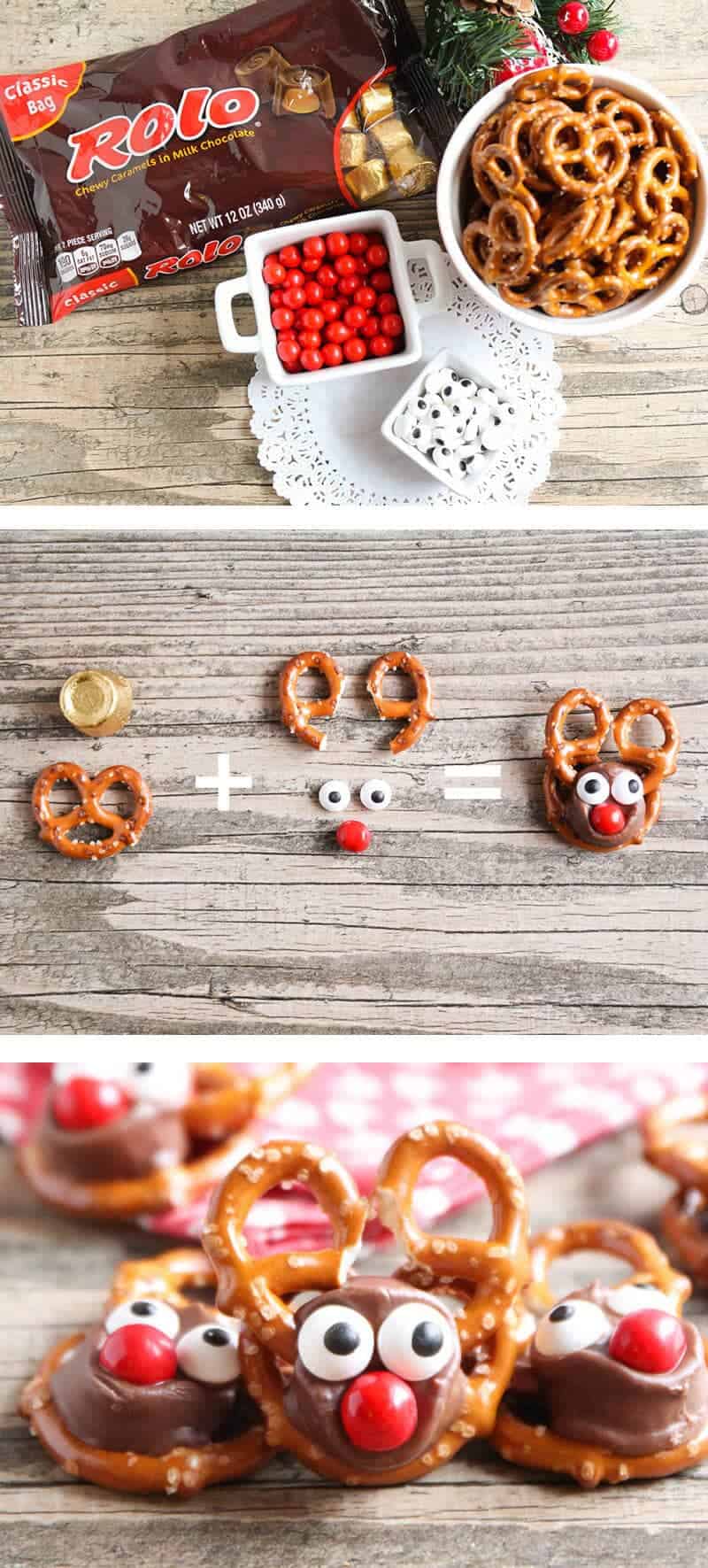 This post is brought to you by HERSHEY'S. @Hersheys #spon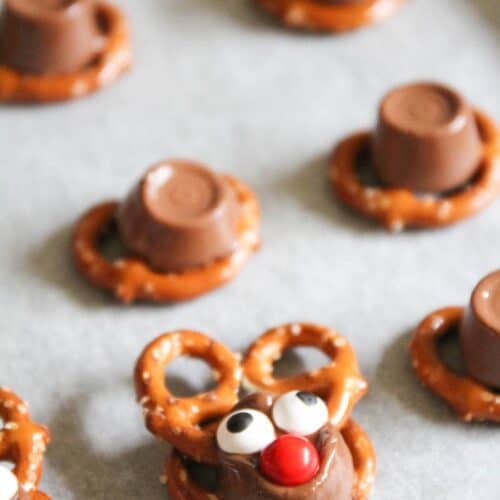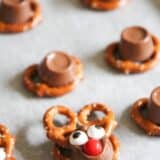 Rolo Pretzel Reindeer
Rolo Pretzel Reindeer - these tasty treats are perfect for the holiday season and so easy to make!
Ingredients
40 small pretzels divided
20 ROLO'S
40 candy eyes
20 small round red candies any variety
Instructions
Preheat the oven to 250. Place 20 of the pretzels on a baking sheet lined with parchment or foil and top each pretzel with a Rolo candy.

Carefully cut the remaining pretzels in half to form antlers.

Place the baking sheet with the pretzels and Rolos in the oven and bake 3 minutes, or until the candies are softened.

Remove the baking sheet from the oven and add eyes, nose, and antlers to each reindeer. Work quickly before the chocolate cools and hardens.

Allow the reindeer to cool completely before serving.
---
Calories: 40kcal | Carbohydrates: 7g | Fat: 1g | Cholesterol: 1mg | Sodium: 29mg | Potassium: 2mg | Sugar: 5g | Calcium: 9mg | Iron: 0.1mg