Only 3 ingredients to make and the perfect blend of salty and sweet, crunchy and chewy, and all around delicious! These Rolo pretzels are the easiest holiday treat and are so fun and festive.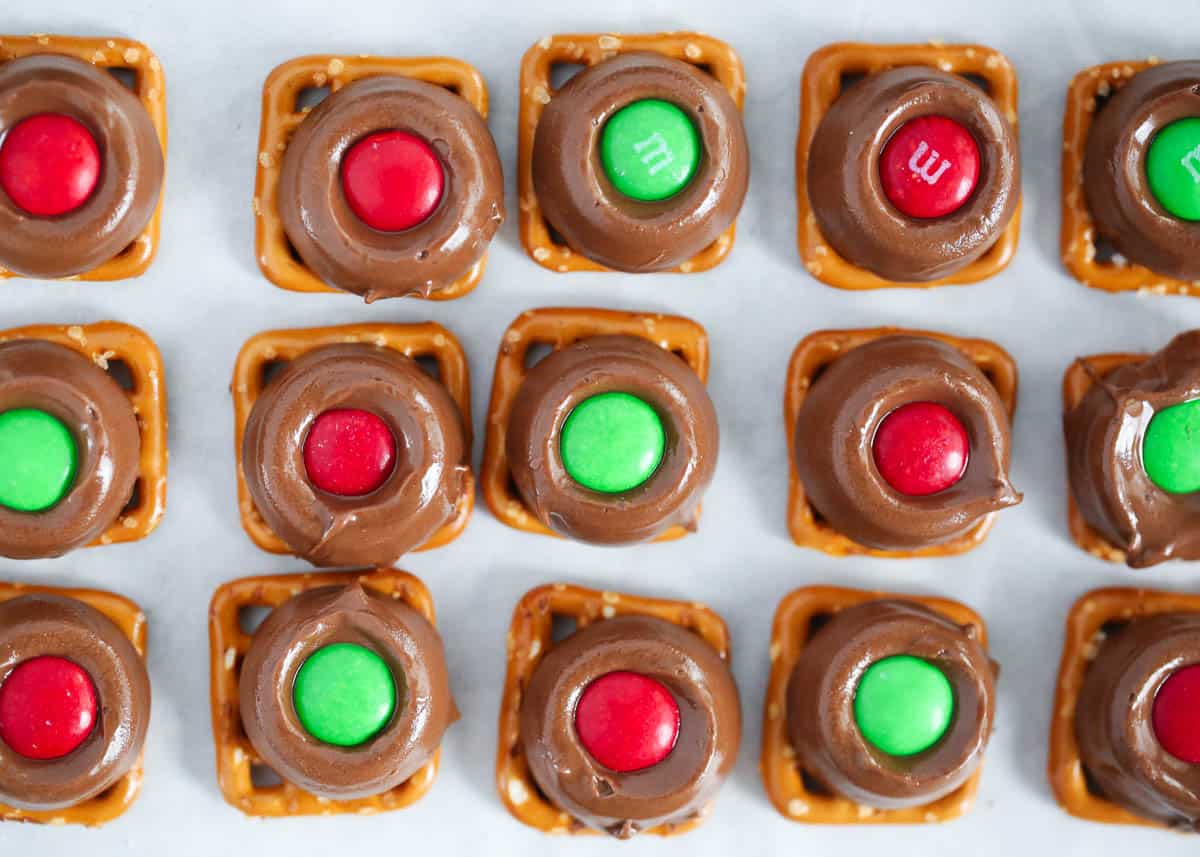 Easy Rolo Pretzel Bites
Rolo pretzel bites are one of our favorite holiday desserts! They're the perfect addition to any Christmas platter and look great alongside Christmas cookies, toffee, fudge and peppermint bark. You could even make them year round by using the classic rainbow M&M's.
They are the most addicting treat you will make this holiday season and require only three simple ingredients. They are so easy to make that the kids can help too! I let my girls help me with unwrapping the Rolo's and placing them on top of the pretzels, and they did a fantastic job!
They really do have everything – chewy caramel, crunchy pretzels, smooth chocolate, and colorful M&M's! You'll definitely want to double the batch, because these little treats disappear fast! Super cute and simple right? They would make the perfect addition to your holiday plate!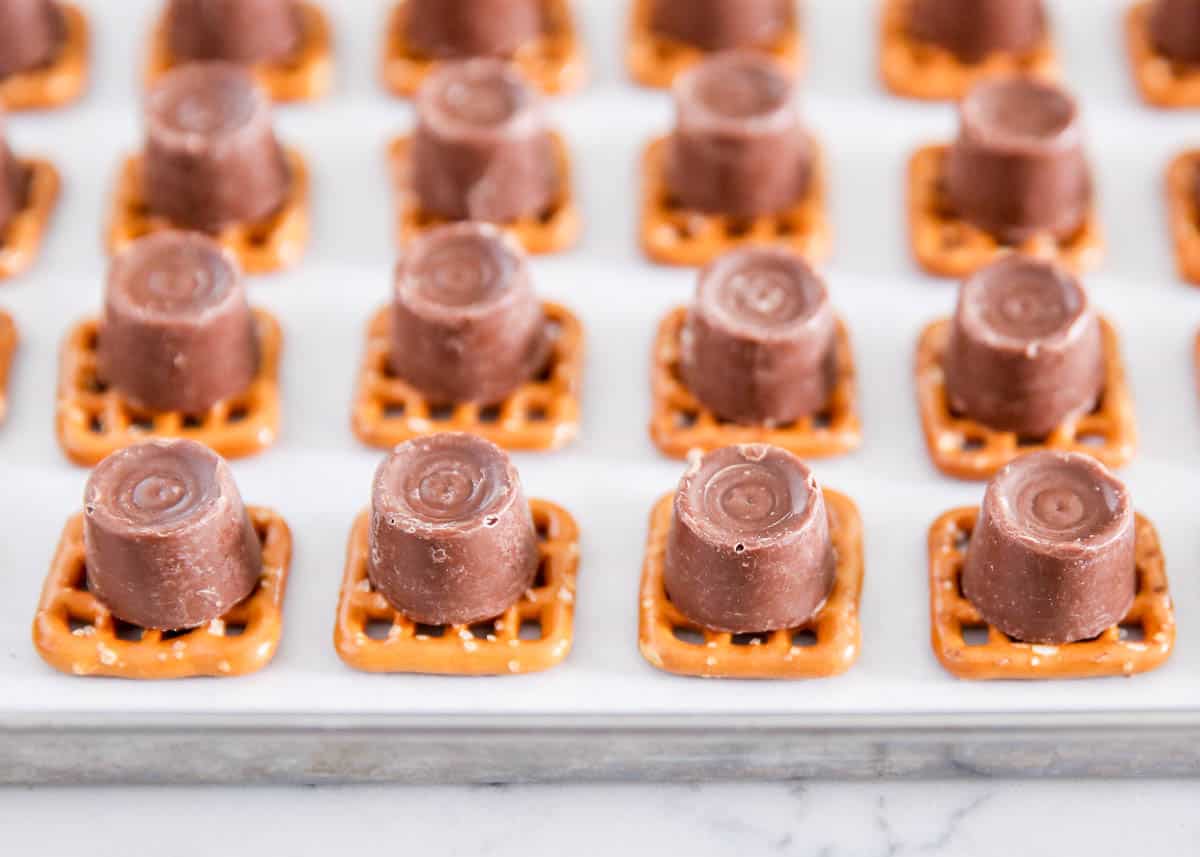 Only 3 Ingredients
You only need 3 simple ingredients to make these Rolo pretzels. This is literally one of the easiest recipes ever!
Pretzels: Use the square pretzel snaps instead of the twists, so that the melted chocolate doesn't seep through.
Rolo's: These candies have caramel on the inside, with a chocolate exterior. They melt on top of the pretzels and taste delicious!
M&M's: A colorful red or green M&M on top is the finishing touch to these delicious treats. Make sure to add the M&M's right when you take the pretzels out of the oven while the Rolo's are still warm and melty.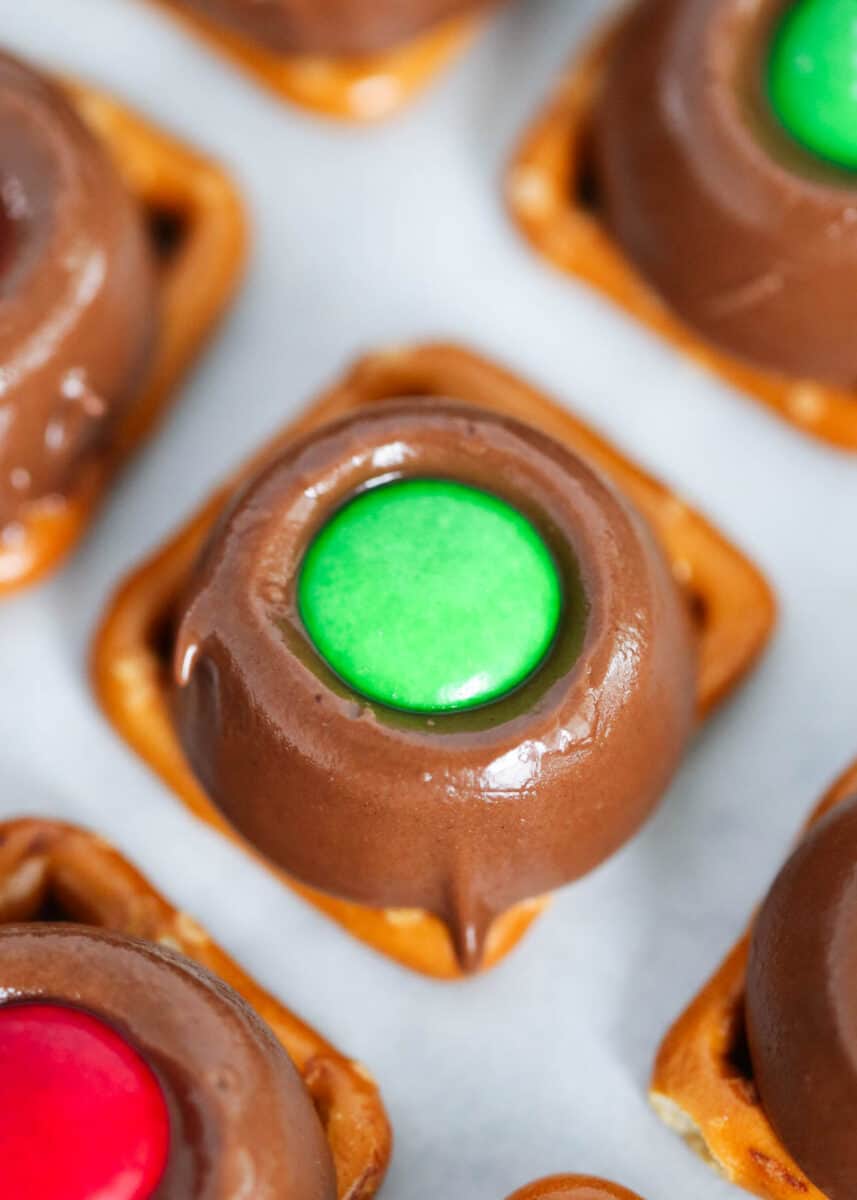 Helpful Tips
The pretzels don't need to be in the oven for long, just long enough so that the Rolo's begin to soften (usually about 3 minutes). If you keep them in any longer, the candy will melt completely and lose it's shape.
Press the M&M's on top immediately after you remove the pretzels from the oven so that it will sink down into the melted chocolate.
Feel free to add holiday sprinkles on top, or use different colored M&M's depending on the occasion.
Let them cool for several hours before storing in an airtight container. Once the chocolate has hardened again, they are ready to store.
How to Store Rolo Pretzels
These Rolo pretzel cookies will last for up to 2 weeks if stored at room temperature in an air tight container. You can also store in the fridge in a container with a lid and take them out about an hour before serving. If stored in the fridge, these pretzel bites should last for a couple more days.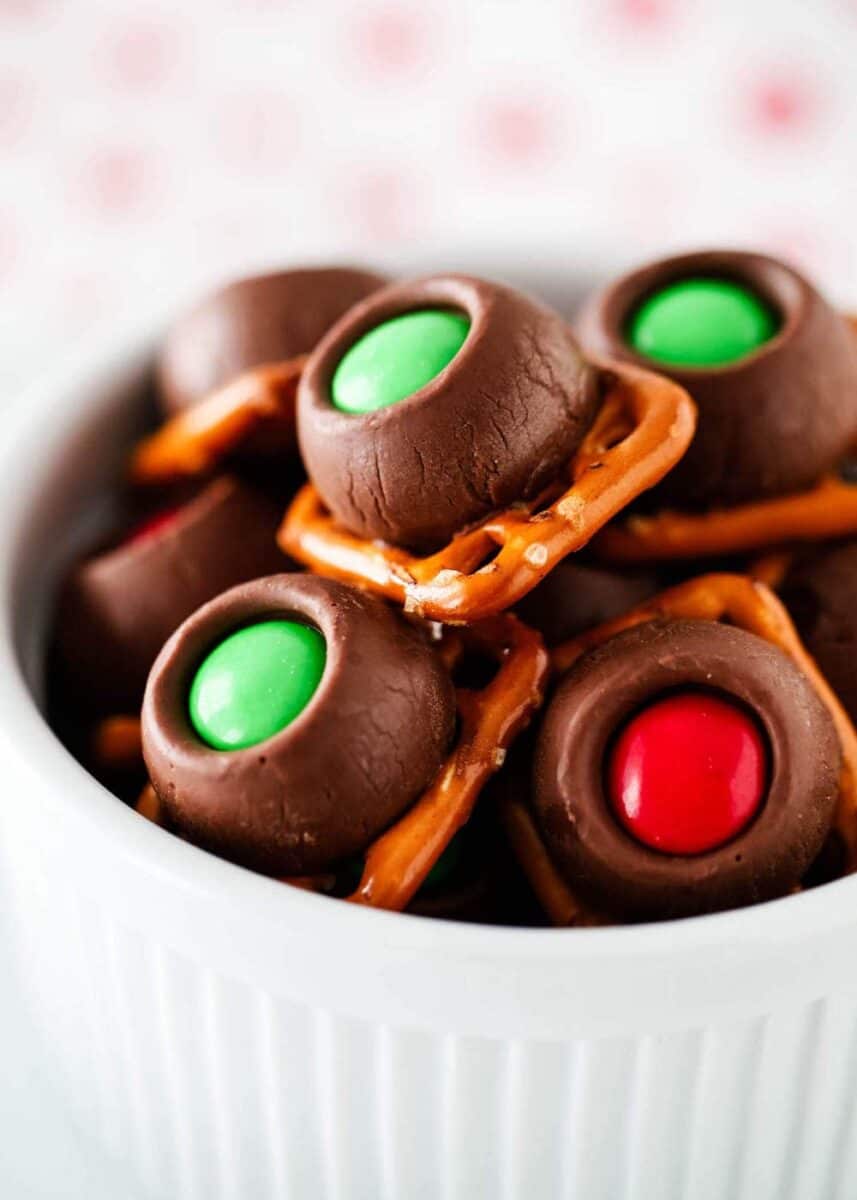 Rolo Pretzel Sandwich
This is another fun variation that tastes just as delicious. Instead of pressing M&M's over the softened Rolo's, you can add another pretzel snap on top to make a Rolo pretzel sandwich.
To decorate them even more, dip half of the pretzel sandwich in melted white chocolate and then top with festive holiday sprinkles. The white chocolate not only adds an extra hint of sweetness, but a fun pop of color.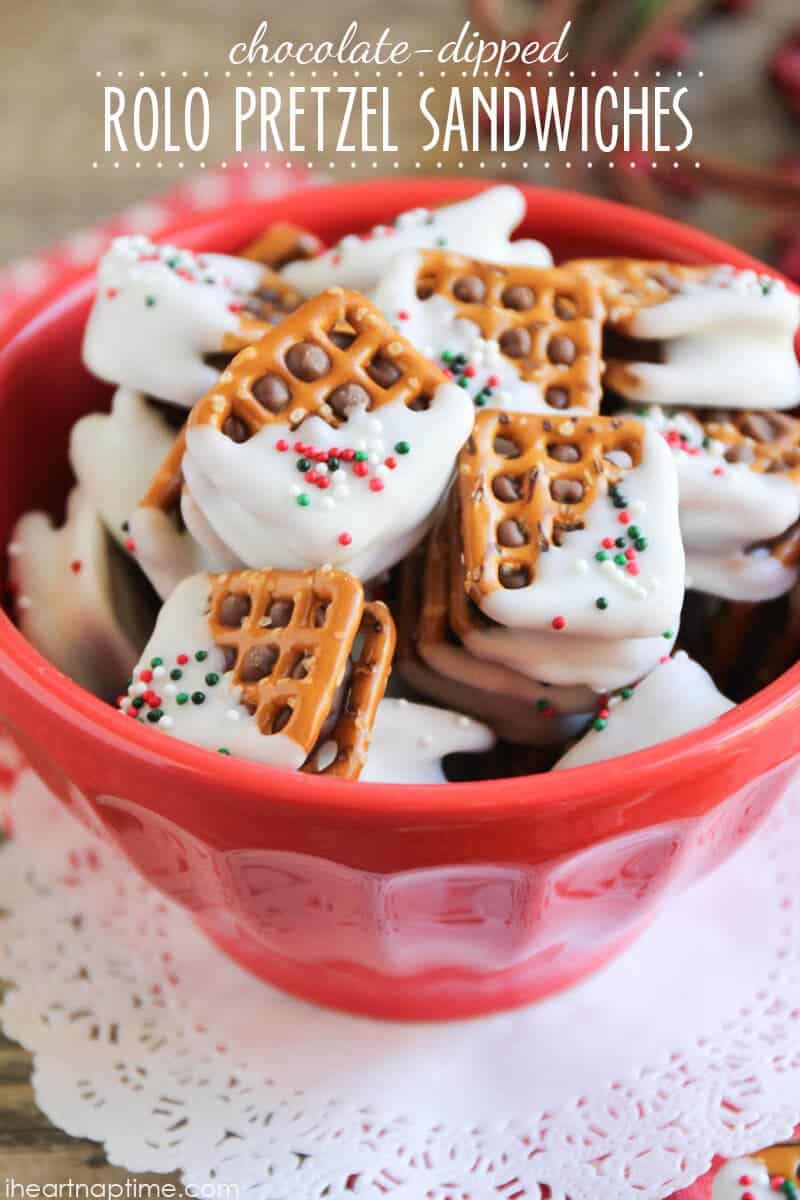 More Easy Holiday Treats:
HUNGRY FOR MORE? Subscribe to my newsletter and follow on Facebook, Pinterest and Instagram for all the newest recipes!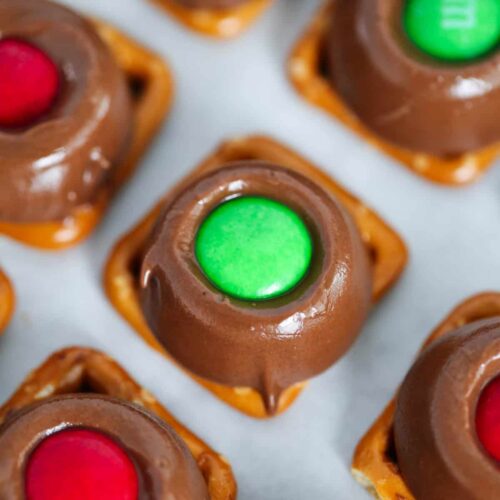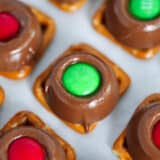 Rolo Pretzels
Only 3 ingredients to make and the perfect blend of salty and sweet, crunchy and chewy, and all around delicious! These Rolo pretzels are the easiest holiday treat and are so fun and festive
Instructions
Preheat the oven to 250°F. Place the square pretzels on a baking sheet lined with parchment or foil. Place one Rolo candy on top of each pretzel.

Place the baking sheet in the preheated oven and bake for 3 minutes, until the Rolo's have softened. Remove from the oven and press a M&M on top (or use a pecan instead if desired). Let cool completely.
---
Notes
Rolo pretzel sandwich: Instead of adding M&M's, place a square pretzel on top of each Rolo to form a sandwich. Let cool completely. For more decoration, you may dip half of the pretzel sandwich into melted white chocolate, then sprinkle with holiday sprinkles. Storage: Store in a covered container up to 2 weeks. Store in the freezer for up to 3 months.
Nutrition
Calories: 31kcal | Carbohydrates: 4g | Protein: 1g | Fat: 2g | Saturated Fat: 1g | Polyunsaturated Fat: 1g | Monounsaturated Fat: 1g | Trans Fat: 1g | Cholesterol: 1mg | Sodium: 17mg | Potassium: 1mg | Fiber: 1g | Sugar: 3g | Vitamin A: 2IU | Vitamin C: 1mg | Calcium: 10mg | Iron: 1mg
Nutrition provided is an estimate. It will vary based on specific ingredients used.
Did you make this recipe? Don't forget to give it a star rating below!