Asian stuffed mushrooms are the perfect side dish or appetizer. This recipe is filled with flavor thanks to a simple creamy stuffing and a 2-ingredient drizzle sauce.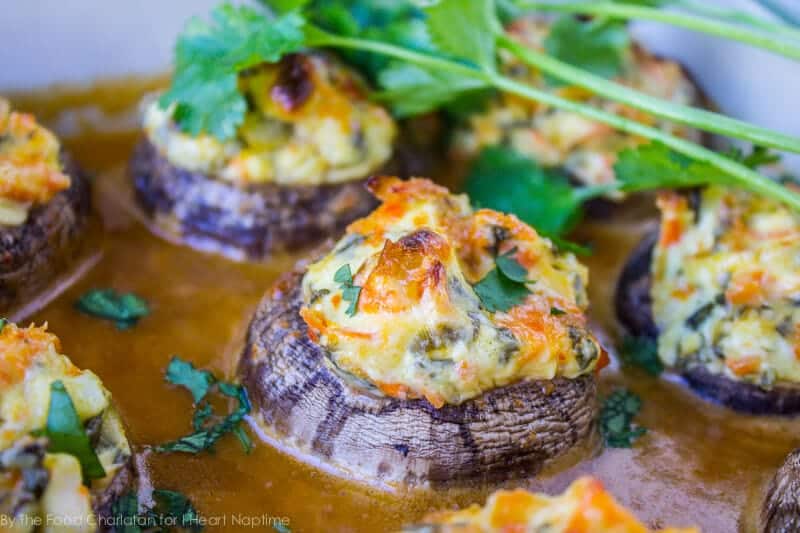 Baked Asian Stuffed Mushrooms
If you are looking for other tasty ways to use mushrooms, try this healthy mini egg frittata recipe, my favorite easy grilled veggies, or use them as a topping for this healthy whole wheat crust.
These mushrooms are hallowed out, then filled with a mixture of cream cheese with an Asian twist. They are drizzled with a sauce made of cooling coconut milk and a sweet and spicy chili sauce, then baked and devoured.
This recipe makes repeat appearances in our home and is a go-to for parties. It's fantastic! Plus, it only takes 20 minutes to put together before baking.
These easy stuffed mushrooms are also one of our go-to party dishes. We make them for our own events at home such as dinner parties and holidays, but we also bring them frequently to parties.
This recipe is unique enough that you are practically guaranteed to be the only one making anything like it, while also having mass appeal. I like to bring this to football watch parties so a vegetable can make a rare appearance at the table. :)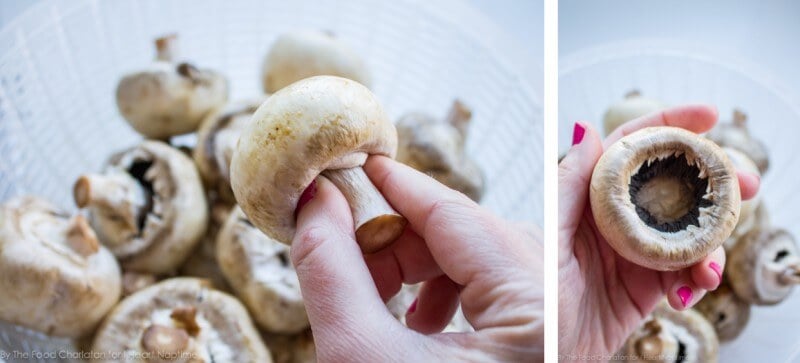 How to Wash Mushrooms
Before getting started, it's important that the mushrooms are properly washed. As they grow low to the ground, chances are they will be covered with dirt when you bring them home from the grocery store.
After you have removed the mushroom stem, use a spoon to scoop any dirt inside the mushroom out. The easiest way is to run the edge of a spoon along the inside of the mushroom 1-2 times.
Then, use a wet paper towel to rub the top and the sides of the mushroom. They are very porous, so you don't want to soak them in water for too long. You can also clean them with a mushroom cleaning brush – just be light-handed.
Removing Mushroom Stems
You'll need to remove the stem before adding the filling. To do so, grasp both sides of the stem with your index finger and thumb. You want your fingers to be up into the cavity of the mushroom, not down low at the bottom of the stem.
Use your other hand to hold the top of the mushroom, then gently wiggle the stem back and forth with your fingers while twisting slightly. It will pop right out!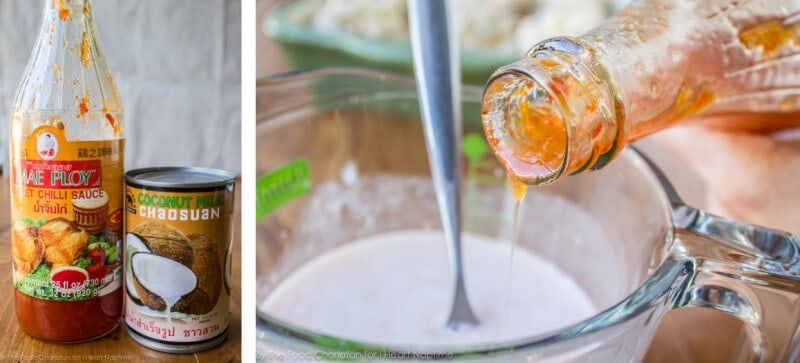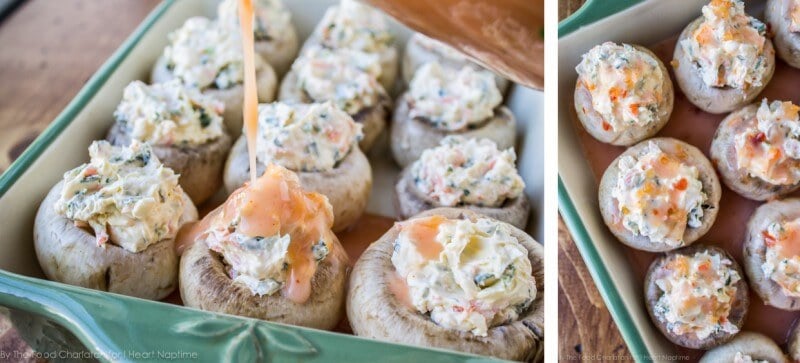 How to Make Stuffed Mushrooms
It couldn't be simpler to put together these easy stuffed mushrooms.
Make the stuffing. Combine the ingredients to make the cream cheese stuffing, and mix well.
Remove the stems and clean your mushrooms. Pat dry and lay them top down in a baking dish.
Fill the mushrooms. Use a spoon to fill each with the cream cheese mixture.
Create the sauce. You can play with ratios to make it more or less spicy.
Drizzle the sauce over the cream cheese stuffed mushrooms.
Bake then serve hot. You can garnish them with cilantro and lime right before serving.
How to Make Ahead
If you want to work ahead of time to get your stuffed mushrooms ready, here's an easy trick. You can prepare the cream cheese mixture and leave it refrigerated for several days. Then, stuff and bake when you are ready to eat them.
What Goes Good with Stuffed Mushrooms?
This recipe can easily serve as an appetizer before almost any type of dish, but because these are Asian mushrooms, I particularly like to serve it before a meal of steamed or fried rice along with General Tso's chicken or stir-fried beef and broccoli.
I also have served them as a side dish to several entrees such as baked chicken or grilled chicken skewers.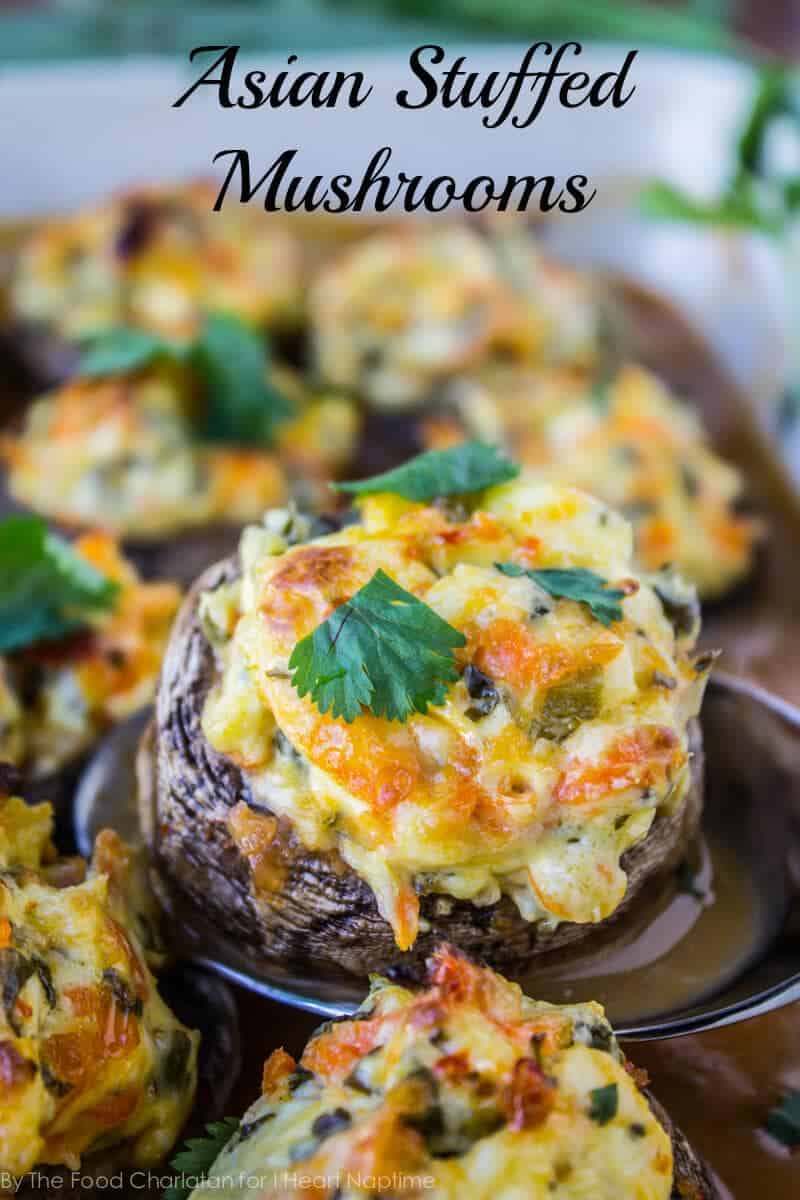 HUNGRY FOR MORE? Subscribe to my newsletter and follow on Facebook, Pinterest and Instagram for all the newest recipes!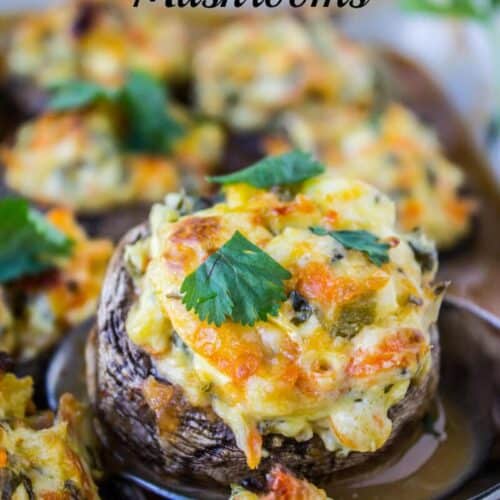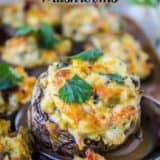 Asian Stuffed Mushrooms
Asian stuffed mushrooms are the perfect side dish or appetizer. This recipe is filled with flavor thanks to a simple creamy stuffing and a 2-ingredient drizzle sauce.
Ingredients
8 ounces cream cheese , softened
1 egg yolk
1 large green onion , chopped (1/4 cup)
1 clove garlic , minced
1 medium carrot , shredded (heaping 1/3 cup)
¼ cup cilantro , chopped
1-2 teaspoons ginger , minced
1 Tablespoon lime juice (juice from half a lime)
¼ teaspoon salt
12 large mushrooms
½ cup sweet chili sauce
½ cup coconut milk*
Lime wedges and chopped cilantro to garnish
Instructions
Preheat your oven to 375°F.

In a medium bowl, combine cream cheese, egg yolk, green onion, garlic, shredded carrot, cilantro, ginger, lime juice and salt. Stir until creamy. Set aside.

Clean the mushrooms thoroughly by washing or brushing them. Remove the stems from the mushrooms and discard. (See photos for stem removal tips).

Place the mushrooms top down in a 2-quart baking dish. Use a spoon to fill each mushroom with the cream cheese mixture.

In a glass measuring cup, add about 1/2 cup sweet chili sauce and about 1/2 cup coconut milk. (Taste it to see what ratio you like.)

Drizzle the sauce over the mushrooms. Bake uncovered for 20-25 minutes, or until the tops have started to brown.

Serve hot. Garnish with lime and cilantro.
---
Notes
*Low fat cream cheese and/or light coconut milk also tastes great. The cream cheese filling mixture can be prepared ahead of time and refrigerated for several days.
Nutrition
Serving: 1mushroom | Calories: 119kcal | Carbohydrates: 8g | Protein: 2g | Fat: 9g | Saturated Fat: 6g | Cholesterol: 37mg | Sodium: 223mg | Potassium: 142mg | Fiber: 1g | Sugar: 6g | Vitamin A: 1168IU | Vitamin C: 2mg | Calcium: 25mg | Iron: 1mg
Nutrition provided is an estimate. It will vary based on specific ingredients used.
Did you make this recipe? Don't forget to give it a star rating below!
Originally written by Karen from The Food Charlatan.