Enjoy this popular sweet, spicy, and creamy bang bang shrimp pasta, and save room for seconds! This simple copycat recipe is made with al dente fettuccine, pan-seared shrimp in a creamy sriracha and chili sauce!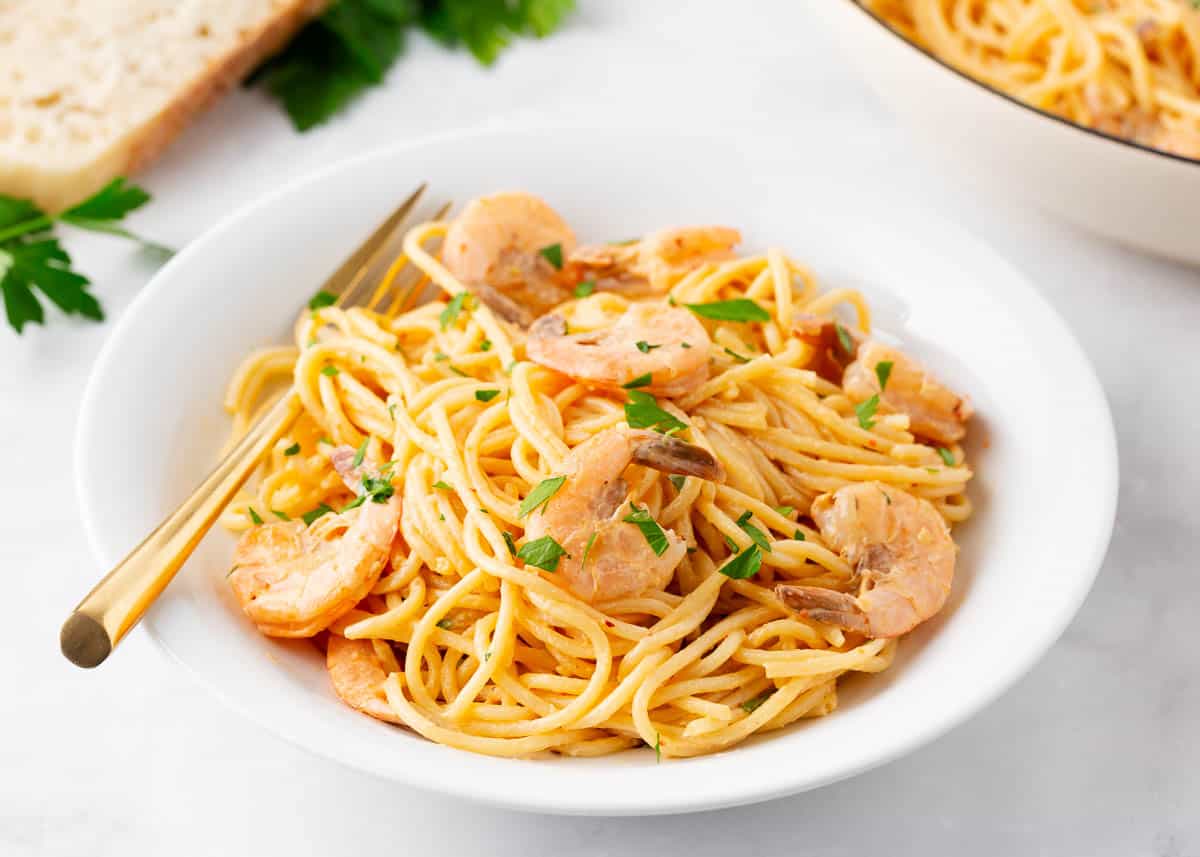 Creamy Spicy and Bang On!
Bang bang shrimp is a copycat appetizer that originates from the popular Bonefish Grill chain of restaurants, but when you make it bang bang shrimp and pasta it becomes an entire meal perfect for any day of the week! Add some homemade egg rolls and you have a complete meal!

The shrimp is plump and juicy and cooked until crispy then it's smothered in a creamy spicy sauce that coats every bit of the shrimp and noodles. It's not the kind of creamy you'd find in creamy rigatoni pasta or creamy chicken pasta, for example, because in this recipe, the creaminess comes from mayo!
If you've ever had the bang bang shrimp, you'll know that there's no getting away with just making that. This bang bang shrimp taco recipe and bang bang shrimp pasta are always trailing behind on the weekly menu. The sauce is so addicting, you'll be looking for more ways to use it!
If you're a fan of spicy shrimp, you've got to try my kung pao shrimp recipe too!
Why This Recipe Works
Quick and easy. It's a quick 25-minute dish that comes together with cooked shrimp, cooked pasta, and a deliciously flavorful sauce that delivers immense flavor!
So much flavor. Thai sweet chili sauce is the best. It's almost like a spicy sweet and sour sauce, but better. Along with the sriracha, creamy mayo, and lime juice the layers of flavors are out of this world.
Better than takeout. Turning a copycat appetizer into a bowl of hearty pasta is much better homemade! It's budget-friendly, and a great way to use up the shrimp I always have on hand.
Recipe Ingredients
Find the full printable recipe with specific measurements below.
Pasta: Any long noodle will work. Fettuccine is what I prefer but you could also use spaghetti noodles or angel hair pasta. I have some extra tips on how to cook pasta which gives you a bit more insight than the directions on the box.
Shrimp: Fresh or thawed from frozen medium-sized shrimp. Peeled and deveined beforehand.
Garlic & ginger: Together these two are widely used in Thai cuisine, so since we're making a sauce that uses other Thai-inspired ingredients like coconut, lime, and Thai chili sauce, these aromatics are a must!
Mayonnaise: This is the key ingredient to making the sauce thick and creamy. You can swap with heavy whipping cream if you'd prefer.
Thai sweet chili sauce: This can be found at your local grocery store (or homemade if you know how). It looks a bit like the sweet "red sauce" you get at Chinese restaurants, however, there are noticeable red pepper flakes in it, which give it spiciness.
Sriracha sauce: Another red spicy sauce! This one has a more intense heat from red peppers. It's also a thicker and deeper red color.
Lime juice: Love the bright zip this adds to the cream sauce. Lime always pairs well with seafood, where in a sauce, or used in a ceviche kind of way!
For serving: Optional garnishes can include crushed peanuts, toasted coconut, green onions, and/or parsley. Cilantro is another popular finish to this dish.
Variations
Make the sauce a bit sweeter by adding 1 teaspoon of honey or maple syrup.
You can also add more spice by sprinkling in some cayenne pepper or your favorite hot sauce.
Instead of mayonnaise, you could use coconut milk instead. It'll add another layer of Thai-inspired flavor and, of course, pair well with toasted coconut as a garnish.
Other ways to substitute the mayonnaise is to use cream cheese or sour cream instead.
If you want to make this bang bang shrimp recipe a bit more garlicky you can use more cloves of garlic.
Not a shrimp fan? You could try scallops instead.
How to Make Bang Bang Pasta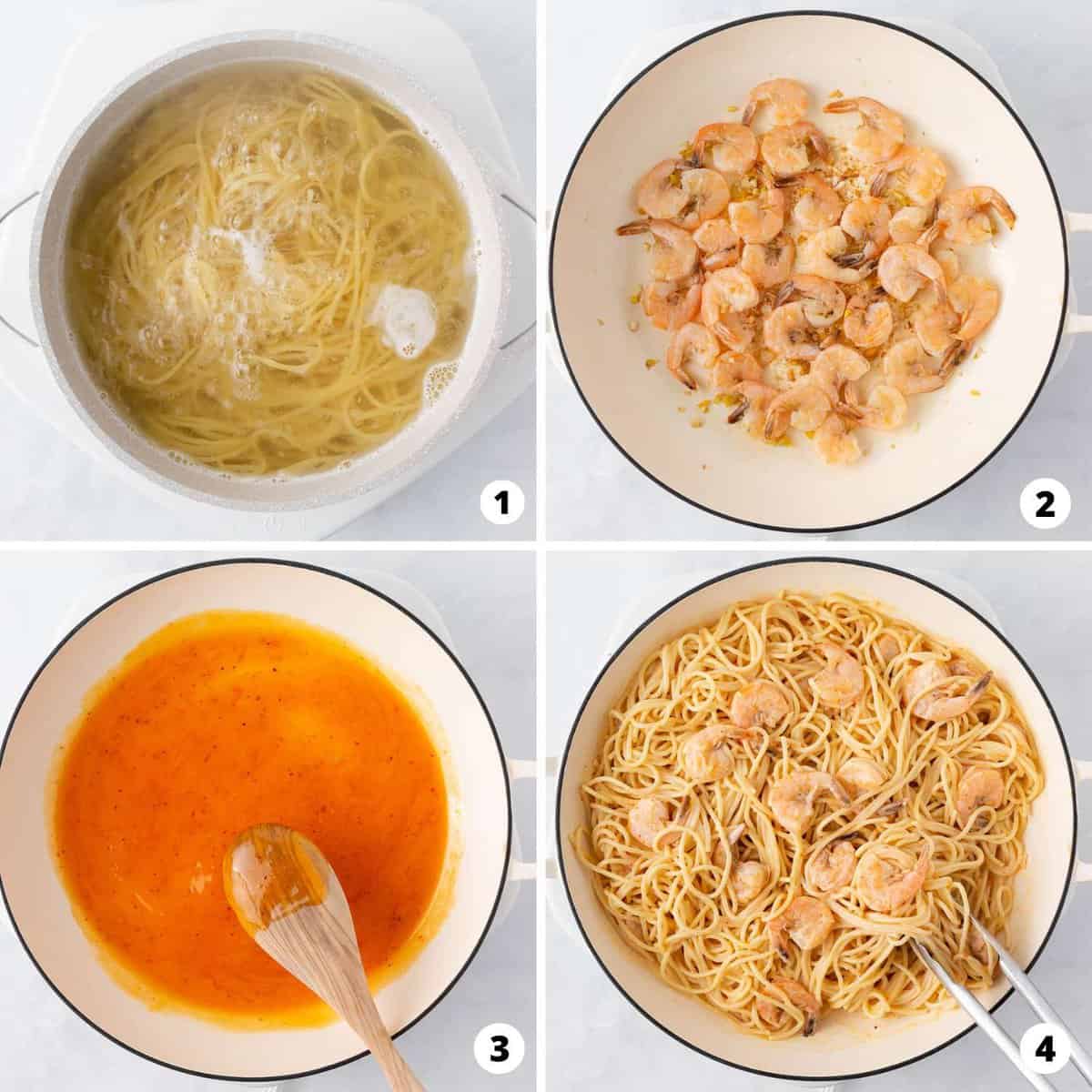 Cook pasta to al dente. In a large pot, add water and a generous amount of salt. Bring to a boil and cook the fettuccine for 12 minutes, or until al dente. The salted water will add flavor to the pasta. Plus, salt water boils faster!
Saute the shrimp. In a large skillet over medium heat, cook the garlic and ginger for 1 minute until fragrant. Stir them to avoid burning. Both cook quickly. Then add the shrimp and cook for 1-2 minutes per side, until pink and no longer translucent. Transfer the shrimp to a plate.
Make the sauce. Add the mayo, chili sauce, sriracha, lime juice, and salt to the skillet and whisk until combined. Bring it to a boil and then reduce the heat to a simmer. Simmer on low for 5 minutes until the sauce is thick enough to coat the back of a spoon.
Toss to combine. Drain the fettuccine and add it to the sauce along with the shrimp. Grab a pair of tongs and toss everything to make sure it's all coated in the sauce. Serve with your choice of garnish. Enjoy!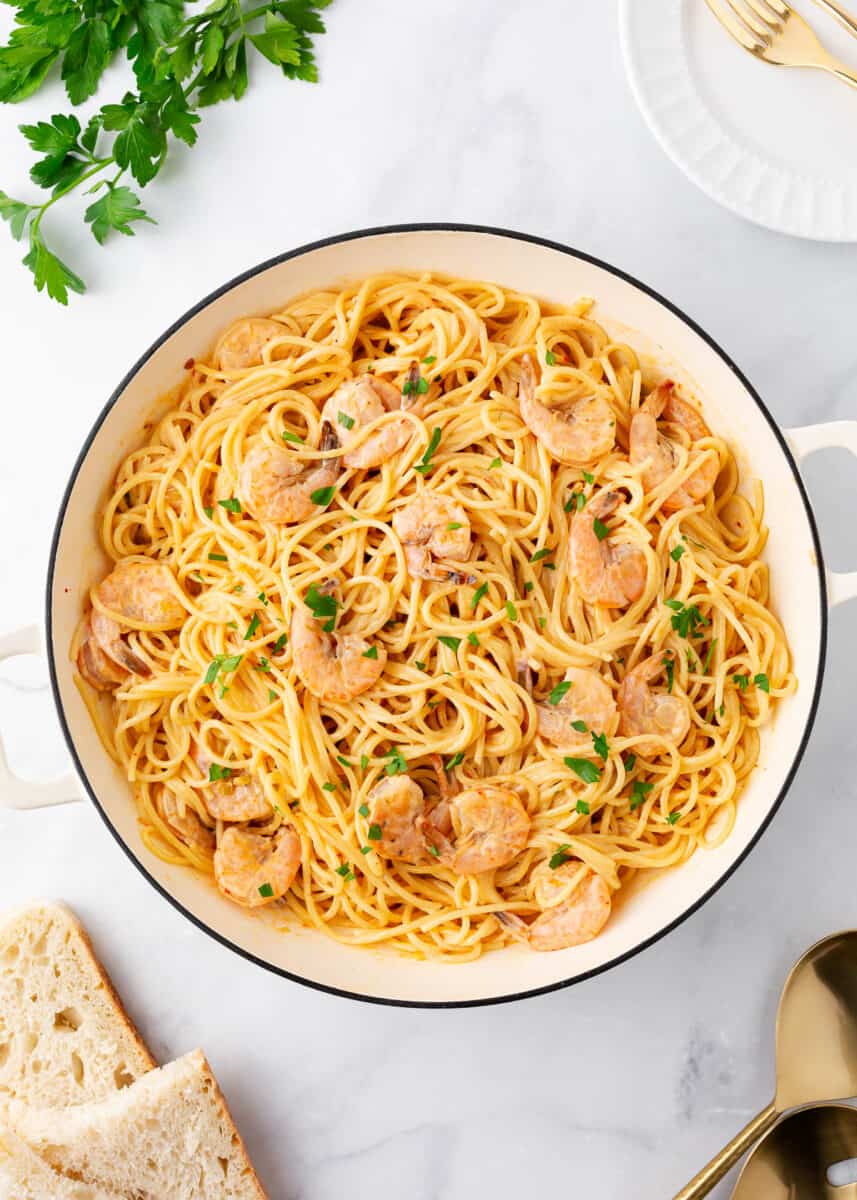 Expert Tips
To add extra crispy shrimp to this pasta dish, feel free to coat the shrimp in cornstarch before adding them to the skillet to saute.
Adjust the spice level (how much sriracha you use) according to your tastes.
If using frozen shrimp, make sure they're thawed and drained first.
Double the amount of shrimp and sauce then portion it out before adding the pasta. Use it to get ahead on those bang bang shrimp tacos!
Recipe FAQs
What goes well with bang bang shrimp pasta?
As with most pasta dishes, a side salad and a basket of artisan bread on the table are all it needs!

You could always set some extra garnishes on the table for people to add to their plates.
Is bang bang sauce the same as yum yum sauce?
They are similar in texture because they're both creamy with a kick, however, bang bang sauce has a sweet component to it, whereas yum yum sauce has more of a savory tomato flavor.
How to store leftovers?
Keep leftover pasta stored in an airtight container in the fridge for up to 3 days. I don't suggest freezing it. Not to worry though, it'll all be gone by then!
How spicy is bang bang shrimp pasta?
In the end, it's as spicy as you make it. It you prefer it mild, use less sriracha. If you prefer some extra heat, add more sriracha, or as mentioned above some cayenne, or extra red pepper flakes.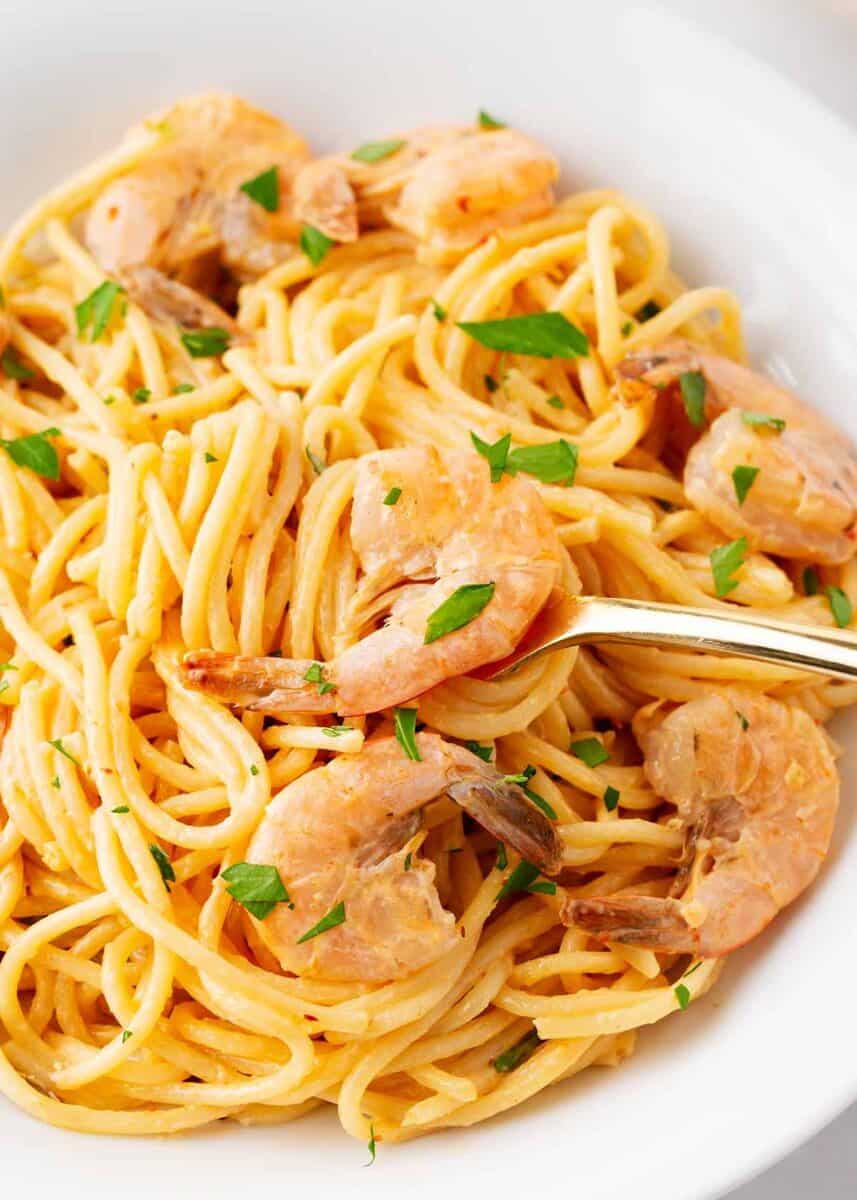 HUNGRY FOR MORE? Subscribe to my newsletter and follow on Facebook, Pinterest and Instagram for all the newest recipes!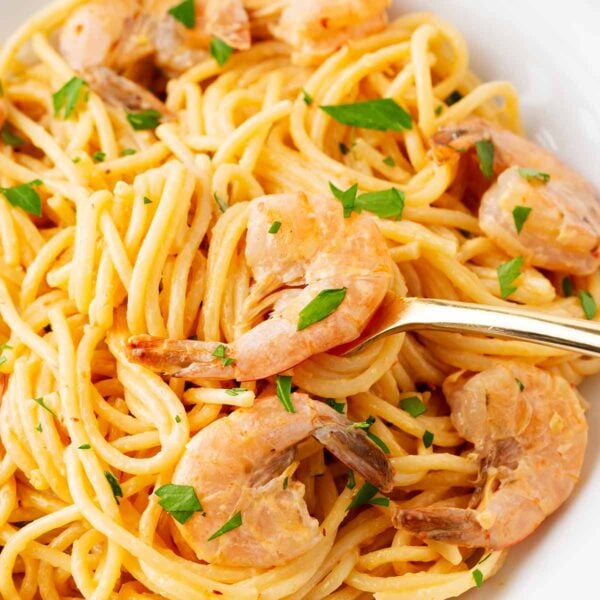 Bang Bang Shrimp Pasta
Enjoy this popular sweet, spicy, and creamy bang bang shrimp pasta, and save room for seconds! This simple copycat recipe is made with al dente fettuccine, pan-seared shrimp in a creamy sriracha and chili sauce!
Ingredients
1 pound fettucine or spaghetti pasta
1 Tablespoon olive oil , or coconut oil
½ Tablespoon minced garlic
½ Tablespoon minced ginger
½ pound medium shrimp , peeled and deveined
¾ cup mayonnaise , or heavy whipping cream
¾ cup Thai sweet chili sauce
Sriracha sauce , to taste
½ Tablespoon lime juice
Kosher salt , to taste
Optional for serving: Crushed peanuts, Toasted coconut, Green onions, Parsley
Instructions
In a large stockpot filled with boiling, salted water, add fettucine and cook 12 minutes, or until al dente.

In a large, deep skillet, heat oil over medium heat. Add garlic and ginger and cook 1 minute, or until fragrant. Add shrimp and sauté 1 to 2 minutes per side, or until pink and cooked through. Transfer to a plate.

Add the mayonnaise, chili sauce, Sriracha, lime juice, and salt to the skillet and whisk until fully combined. Bring to a boil and reduce heat to low. Simmer 5 minutes, or until the sauce is thick enough to coat the back of a spoon.

Add the fettucine and shrimp and toss using tongs to coat. Top with peanuts, coconut, green onions, or parsley, if desired, to serve.
---
Notes
Variations:
To make the sauce a little sweeter, add 1 teaspoon honey or maple syrup.
For extra spice, add some cayenne or hot sauce.
Try swapping the mayonnaise for coconut milk to add another layer of flavor.
Storage: Store in an airtight container in the refrigerator up to 3 days.
Nutrition
Calories: 601kcal | Carbohydrates: 70g | Protein: 19g | Fat: 27g | Saturated Fat: 5g | Polyunsaturated Fat: 14g | Monounsaturated Fat: 7g | Trans Fat: 0.1g | Cholesterol: 136mg | Sodium: 558mg | Potassium: 296mg | Fiber: 3g | Sugar: 17g | Vitamin A: 66IU | Vitamin C: 1mg | Calcium: 54mg | Iron: 2mg
Nutrition provided is an estimate. It will vary based on specific ingredients used.
Did you make this recipe? Don't forget to give it a star rating below!