Enjoy the fresh, flavorful, and simple dish that is classic pasta carbonara. In under 30 minutes using spaghetti, eggs, guanciale (or bacon), pepper, and a few extras, you can enjoy this traditional, creamy, restaurant-quality recipe right at home!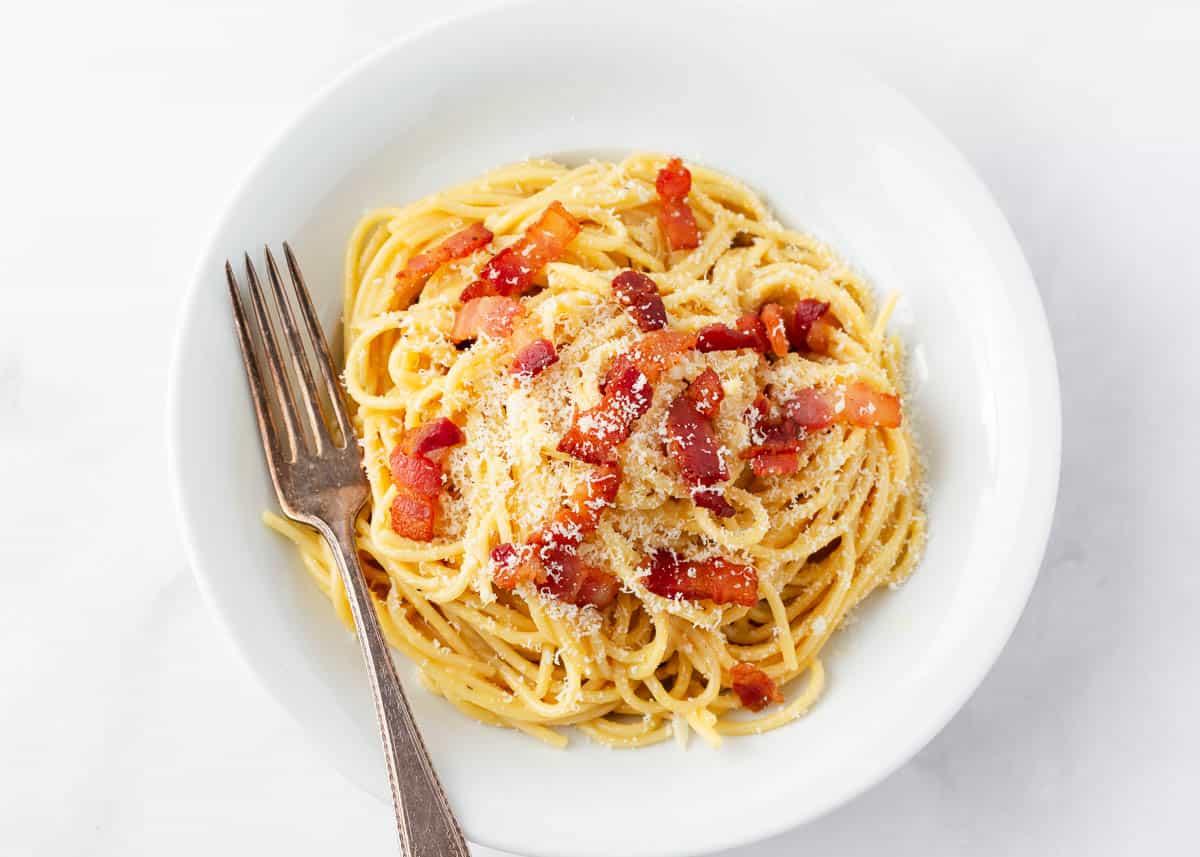 Easy, Tasty, & Timeless
Spaghetti Alla carbonara sometimes referred to as spaghetti carbonara or pasta carbonara is one of the most simple, unique, and tasty pasta recipes to ever come out of Italian cuisine!
Kids sometimes call it pasta with bacon and eggs, but it's so much more than that. We're taking al dente pasta and combining it with a carbonara sauce made from reserved salted water, eggs, egg yolk, pecorino cheese, and salty savory guanciale (or pancetta, or bacon).
The result is a sauce so creamy without the use of any heavy cream. This isn't alfredo pasta after all!
Flavorful pasta dishes like pasta carbonara, easy chicken tetrazzini and spaghetti pesto rely on simple fresh ingredients which is what makes them so yummy!
Serve it with Olive Garden breadsticks or easy garlic bread for a quick and easy dinner that will rival your favorite Italian restaurant any day!
Why This Recipe Works
Easy. In less than 30 minutes with a handful of simple ingredients, this pasta carbonara recipe is easy enough for anyone to make.
Elegant, yet simple. It's perfect for everything from a quick weeknight dinner to a fancy dinner party for guests.
So much flavor. It's a simple concept, with simple instructions, but the flavors are so complex and layered. You've got creamy, salty, savory elements with sharpness from the cheese. So good!
Recipe Ingredients
Listed below are the key ingredients that go into any authentic pasta carbonara. We're also adding a few extras to our Italian-inspired dish, with suggestions for possible substitutions or additions.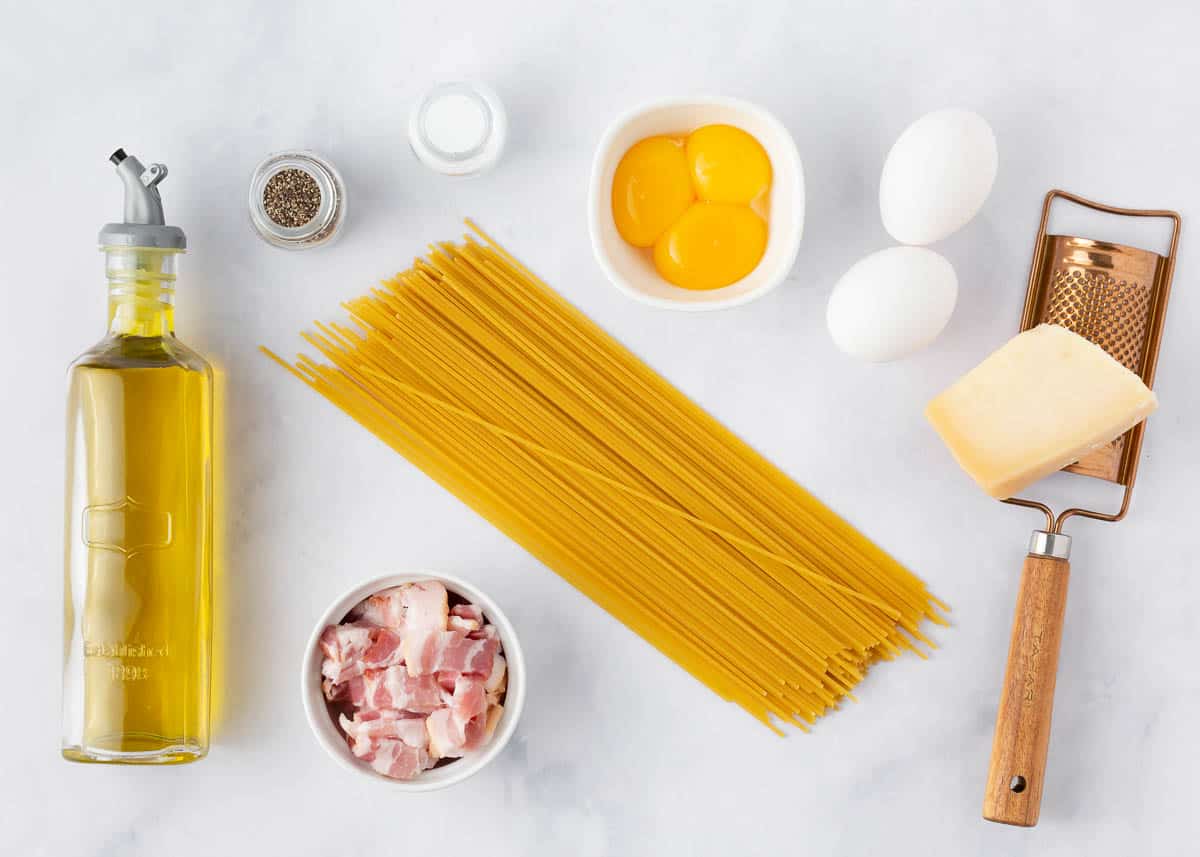 Find the full printable recipe with specific measurements below.
Eggs & egg yolks: When combined at just the right time with the hot spaghetti and salted water, rather than scrambling the eggs, they are blended into a creamy sauce along with the melted cheese.
Pecorino romano: This is an aged, salty, and hard cheese made from sheep's milk. Used interchangeably with Parmigiano Reggiano (or more widely known in the US, Parmesan cheese which isn't always authentic).
Black pepper: In pasta carbonara, black pepper takes a front seat. It's used as a predominant part of the list of ingredients because of how much flavor it delivers.
Guanciale: This is a type of cured pork. Much like pancetta and bacon, it gives us that deliciously salty, slightly sweet element and provides us with rendered fat. Guanciale is made from pork jowl, which is the cheek, while pancetta is from pork belly, but both are melt-in-your-mouth delicious. Use what you've got, bacon included!
Pasta: We're using the classic spaghetti because, why not! Check out my tips on how to cook the pasta before you get started.
Variations
The following additions aren't traditional but they sure are tasty!
Add 1/2 cup of diced onions while cooking the bacon. Even diced onions or bell peppers would be delicious.
For some green veggies, toss in 1/2 cup of cooked peas or some baby spinach at the end and allow it to wilt in the heat.
For a bit of a kick, add a pinch of red pepper flakes.
How to Make Pasta Carbonara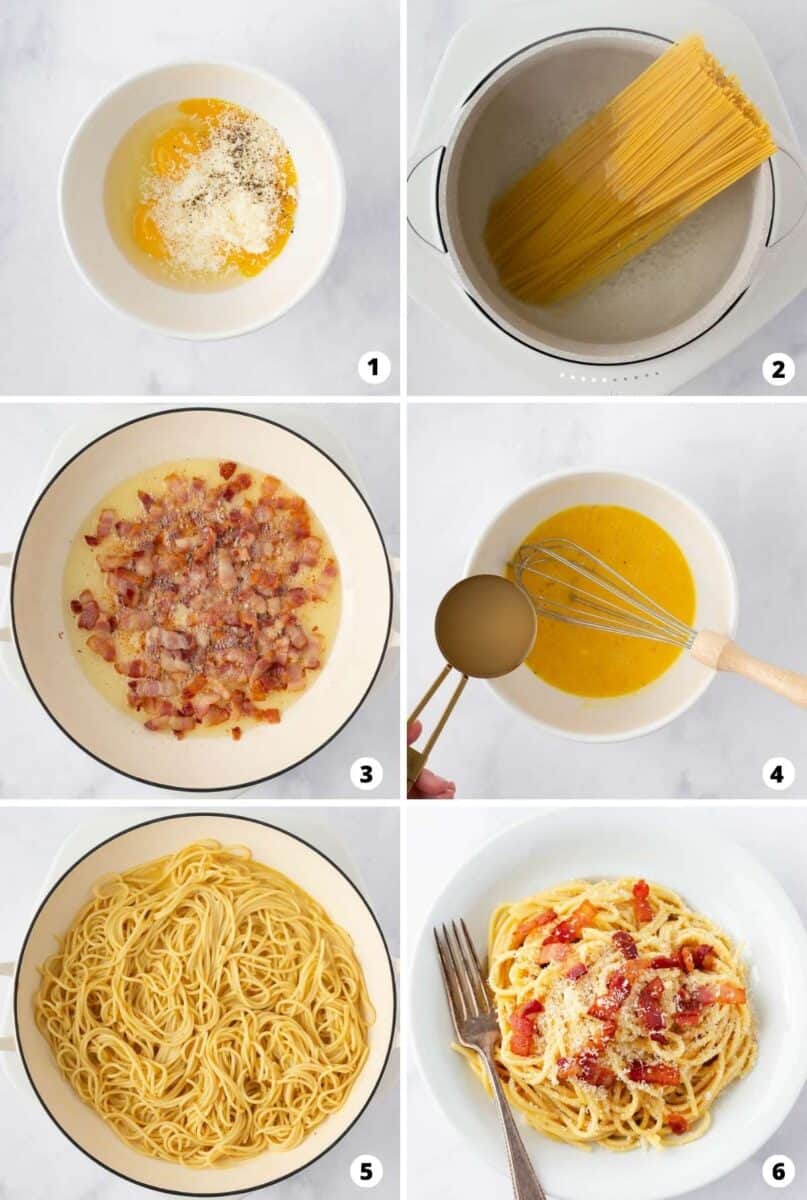 Combine the egg mixture. In a large bowl, whisk together the eggs, yolks, pecorino, pepper, and a pinch of salt until combined.
Cook pasta. Bring a large pot of salted water to boil over high heat and cook spaghetti until almost al dente.
Render the guanciale. In a large skillet or sauté pan cook the bacon for 5 minutes until the fat just renders and the edges are starting to slightly crisp. Add the garlic for the last minute of cooking. Use a slotted spoon to transfer the cooked bits to a plate lined with a paper towel. Discard the bacon grease but leave about 3 Tablespoons of drippings. You may not need to discard any of it.
Add reserved water to the egg mixture. Once the spaghetti is done cooking, reserve 1 cup of the water and drain the rest. Immediately whisk 1/2 cup of the hot pasta water into the egg mixture and stir until smooth.
Combine pasta and sauce. Heat the skillet with the remaining fat over medium heat and add the drained noodles. Toss for 30 seconds then pour in the egg mixture and continue tossing until it's well coated.
Adjust sauce consistency and serve. Add any remaining pasta water 1 Tablespoon at a time to thin out the sauce, as needed. Serve with guanciale and pecorino on top along with a sprinkling of fresh black pepper and parsley. Enjoy!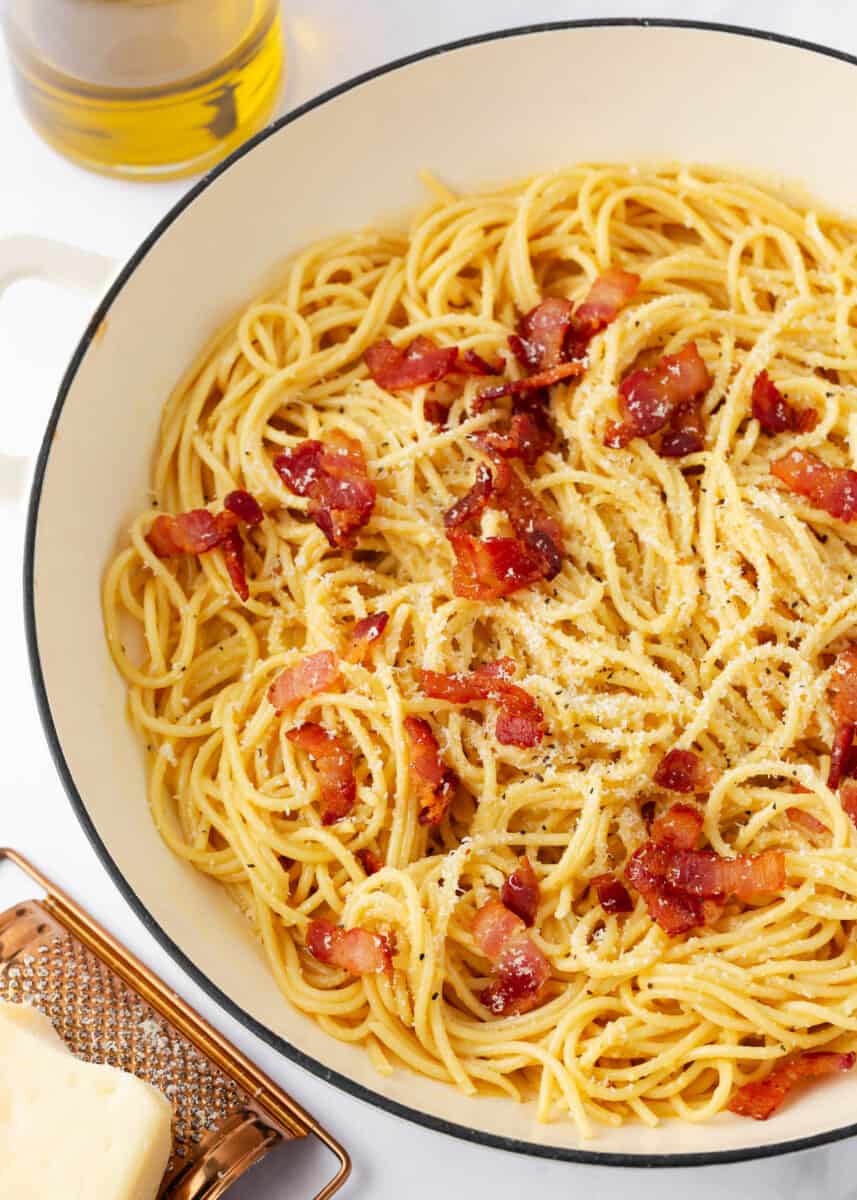 Expert Tips
Use quality ingredients. Pasta dishes with so few ingredients turn out the best when you use good quality ingredients to showcase their flavors. Use freshly grated pecorino or Parmigiano Reggiano if possible. It melts nicely into the sauce, it tastes wonderful and doesn't come with the preservatives that imitation Parmesan comes with from the shakers.
If not using guanciale or pancetta, be sure to use good-quality bacon. Try not to overcook it even if you're used to crispy bacon. It won't taste the same! Use any leftover bacon to make bacon and chive macaroni and cheese the next day.
Best eaten day of. Leftovers of pasta carbonara can be kept stored, but this type of dish is best enjoyed immediately.
Room temperature eggs. Bring them out ahead of time. Cold eggs and hot water won't blend into a creamy mix as nicely.
Be ready. The heat from the spaghetti is what helps to cook the eggs, so you'll want to make sure the egg mixture is ready to go as soon as it is done cooking.
Do not rinse off the starch. When you drain the pasta, don't rinse it off. You want to keep the starch on and the pasta hot. The starch will help the sauce to coat the spaghetti.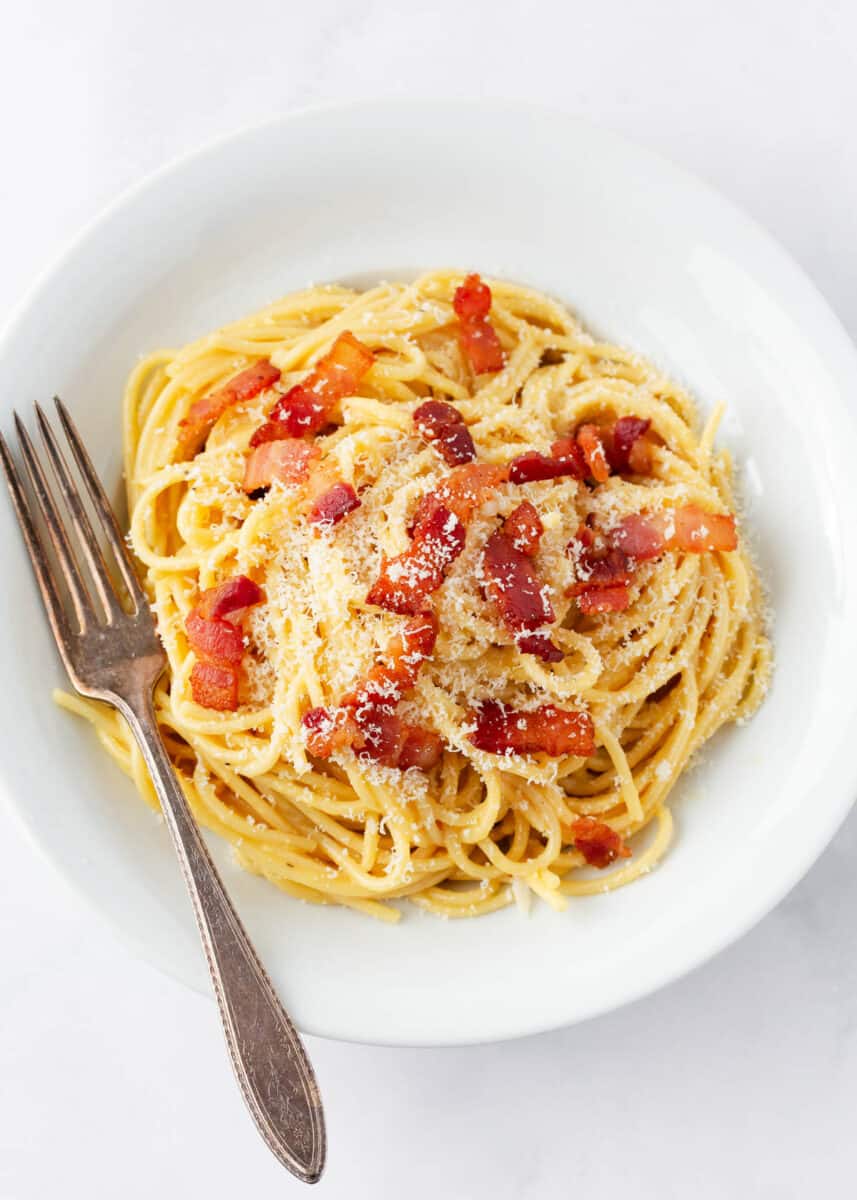 Recipe FAQs
Can you make pasta carbonara with different pasta?
While spaghetti is traditional, you can use others like angel hair pasta, linguine, fettuccine, or even medium pasta noodles like penne.
How do you know when eggs are cooked in pasta carbonara?
If you work quickly and add the piping hot spaghetti water to the egg mixture along with the hot spaghetti immediately after draining, you shouldn't have a problem.

Eggs don't take long to cook at all, and with hot water, hot noodles, and a hot skillet, it'll be ready to enjoy by the time you take a bite.
Why is my pasta carbonara not creamy?
It could be because the ratio of egg white to egg yolks is off. You want more yolk than white for a creamy consistency. Make sure to whisk the egg whites into the yolks completely as well as, again, making sure to add the hot water immediately.
Can I use a different type of cheese in the sauce?
Any hard Italian cheese such as Pecorino Romano, Parmesan or if you can find Grana Padano all work. You could also use a blend of cheeses.
Storing
This recipe for pasta carbonara is best enjoyed right away. However, you can store leftovers for up to 4 days in an airtight container in the fridge if you have any!
Reheat on the stove. You may find the sauce is thick and has dried up, and because you don't have any reserved hot water, you can use a bit of olive oil and add it to the dish as it heats.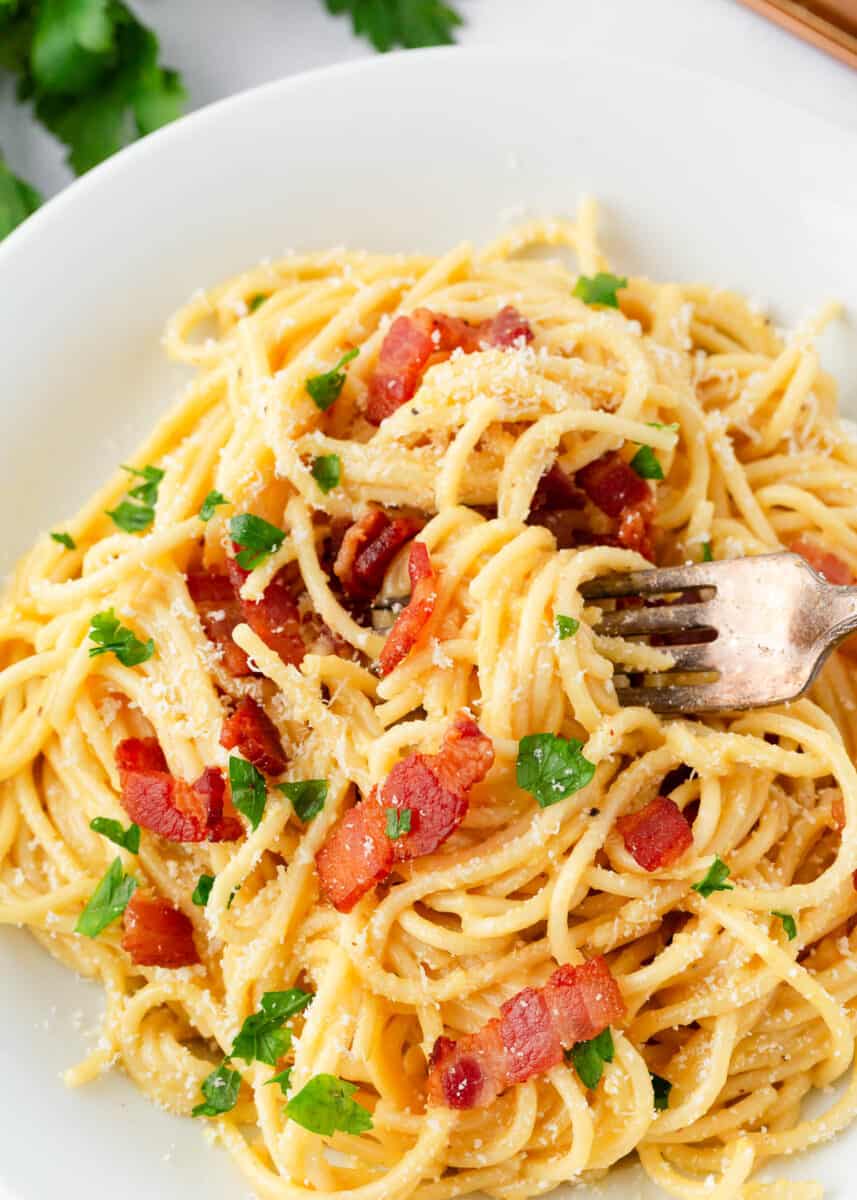 HUNGRY FOR MORE? Subscribe to my newsletter and follow on Facebook, Pinterest and Instagram for all the newest recipes!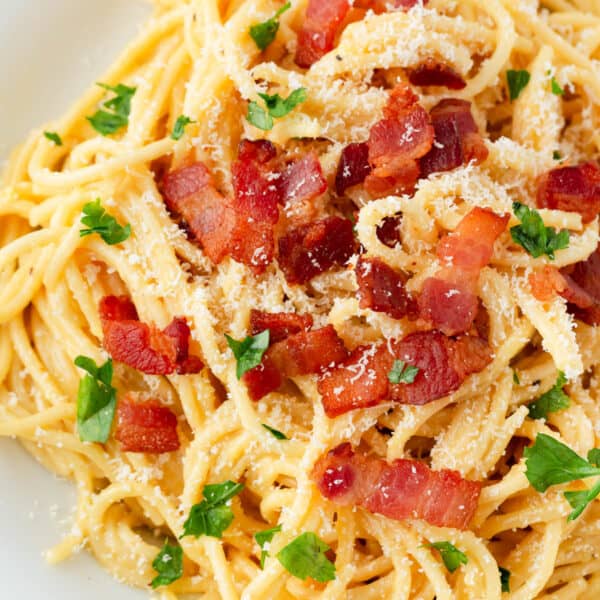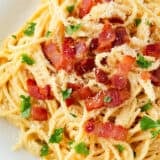 Pasta Carbonara
Enjoy the fresh, flavorful, and simple dish that is classic pasta carbonara. In under 30 minutes using spaghetti, eggs, guanciale (or bacon), pepper, and a few extras, you can enjoy this traditional, creamy, restaurant-quality recipe right at home!
Ingredients
1 Tablespoon salt , for pasta water, plus 1 pinch for egg mixture
2 large eggs , at room temperature
3 large egg yolks , at room temperature
2 ounces pecorino Romano or parmesan cheese , grated (about 1/3 cup) , plus more for serving
Coarsely ground black pepper , plus more for serving
2 Tablespoons olive oil
4 ounces guanciale, pancetta, or bacon , sliced into 1/4-inch x 1/2-inch pieces
2-3 cloves garlic , minced (optional)
12 ounces spaghetti (about 3/4 box)
Optional garnish: Chopped fresh parsley
Instructions
In a large pot filled with water, add salt and bring to a boil over high heat.

In a large bowl, whisk together the eggs, yolks, pecorino, pepper, and a pinch of salt until well combined.

In a large skillet over medium heat, heat the oil. Add the guanciale (pancetta or bacon) and sauté 5 minutes, or until the fat just renders and the edges are crispy but not hard. Add the garlic the last minute of cooking (if adding). Using a slotted spoon, transfer to a paper towel-lined plate. Leave about 3 Tablespoons fat in the skillet.

Add pasta to the boiling water and cook until just a just almost al dente. Reserve 1 cup pasta water and drain pasta.

Whisk 1/2 cup pasta water into egg mixture until smooth.

Heat fat in skillet over medium heat. Add pasta and gently toss 30 seconds. Add the egg mixture and toss together until well coated. Add 1 Tablespoon pasta water, as needed, to turn thin the sauce.

Plate the pasta and sprinkle guanciale, pecorino, pepper, and parsley, if using, over the top to serve.
---
Notes
Variations: While these would take away from a traditional carbonara, they would be delicious additions to boost the flavor.
Add in 1/2 cup diced onions while cooking the bacon. You could even add some bell peppers or diced mushrooms as well.
To add in some green veggies, you could add in 1/2 cup cooked peas or toss in some baby spinach the last minute of cooking.
Add a pinch of red pepper flakes to add a little kick.
Recipe credit: Recipe slightly adapted from Ian Fisher.
Nutrition
Calories: 476kcal | Carbohydrates: 43g | Protein: 16g | Fat: 26g | Saturated Fat: 9g | Polyunsaturated Fat: 2g | Monounsaturated Fat: 6g | Trans Fat: 0.01g | Cholesterol: 184mg | Sodium: 1470mg | Potassium: 171mg | Fiber: 2g | Sugar: 2g | Vitamin A: 252IU | Vitamin C: 0.3mg | Calcium: 135mg | Iron: 1mg
Nutrition provided is an estimate. It will vary based on specific ingredients used.
Did you make this recipe? Don't forget to give it a star rating below!