Make your own takeout at home in just 20-minutes with this easy recipe for Kung Pao shrimp. Juicy shrimp and crisp veggies are cooked in a sweet and spicy sauce with maximum flavor. Turn your kitchen into a Chinese restaurant tonight!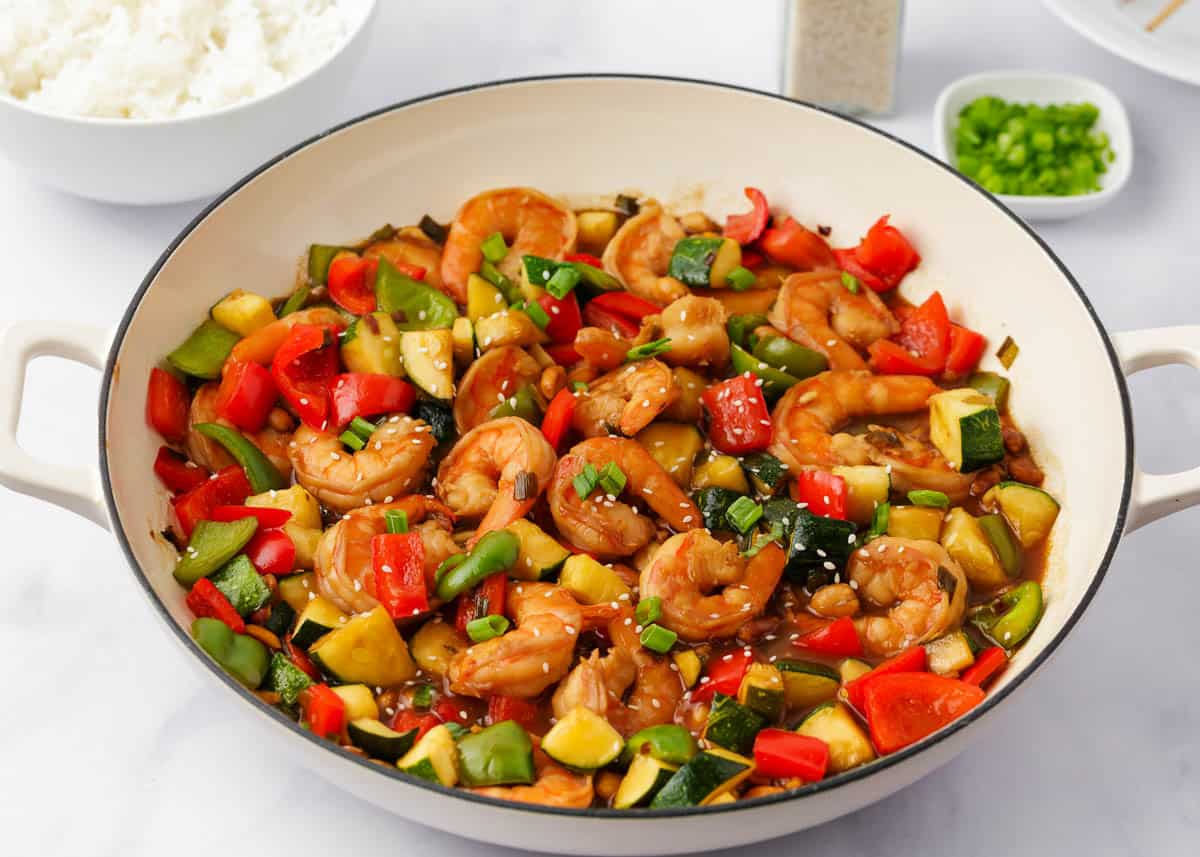 Better Than Takeout
I've been making my own version of Kung Pao chicken for a while and I love how easy it is to prepare and also how versatile it is. Stir fries are a fantastic way to get dinner on the table quickly and a bonus is my kids love eating them, which means they're eating their vegetables!
I wanted to try something a little bit different than a classic chicken and vegetable stir fry with teriyaki sauce and that's when this Kung Pao shrimp recipe was born. It's sweet, spicy, saucy and is loaded with veggies and protein.
My family loved this shrimp recipe second only to this bang bang shrimp recipe!
What is Kung Pao Shrimp?
This easy Kung Pao shrimp recipe is full of plump juicy shrimp and crisp bell peppers and zucchini. Everything gets tossed together in a fragrant sweet and spicy kung pao sauce and is finished off with some crunchy peanuts. Your tastebuds will thank you!
If you love Chinese take-out as much as we do, you've probably heard of Kung Pao. The most popular versions of this dish are made with either shrimp or chicken.
This version of the classic dish is ready in about 20 minutes which makes it great for busy weeknights. You can also prep the ingredients ahead and stash them in the fridge to cook the next day, so you can easily make an amazing dinner with very little effort.
Recipe Ingredients
Don't be intimidated by the long list of ingredients in this recipe. Most of the marinade and sauce ingredients are pantry items that you can store and use in lots of other recipes!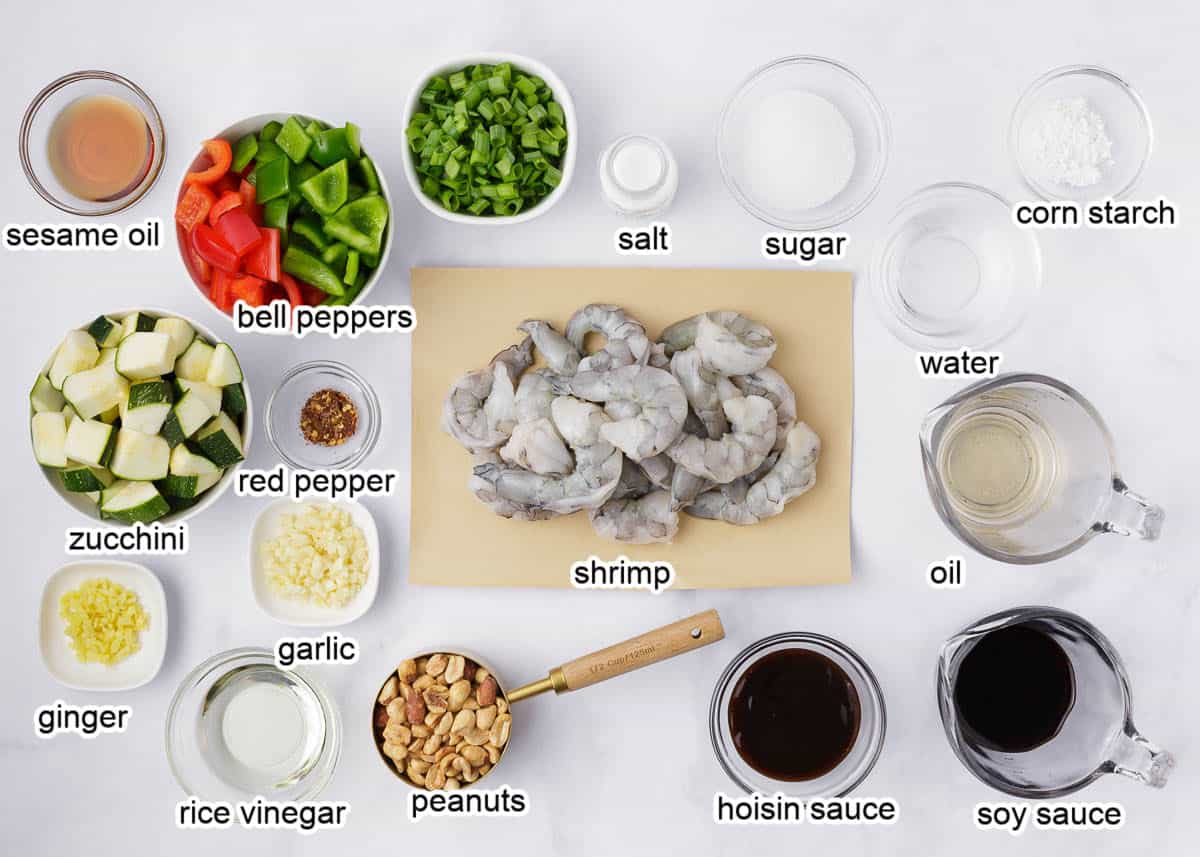 Find the full printable recipe with specific measurements below.
Shrimp: The real hero of the dish! Use medium-sized shrimp that have been peeled and deveined.
Rice vinegar: This vinegar is made from fermented rice and is frequently used in East Asian dishes. If you can't find rice vinegar, white wine vinegar or apple cider vinegar are good alternatives.
Hoisin sauce: This is a dark brown sauce with a salty and tangy flavor. You can usually find it near the soy sauce in most grocery stores.
Garlic and ginger: The recipe calls for fresh minced garlic and minced ginger, but if you don't have any on hand, you can substitute 1 teaspoon of ground garlic and 1 teaspoon of ground ginger instead.
Cornstarch: Used to thicken the sauce. Make sure there are no lumps in the cornstarch before you add the sauce to the skillet.
Veggies: I used a blend of green and red bell peppers, zucchini, and green onions, but feel free to mix it up.
Oil: Vegetable or peanut oils are the best for stir-fries because of their high smoking point, meaning you can turn the heat up without burning the oil and filling your kitchen with smoke.
How to Make Kung Pao Shrimp
Stir fries come together really quickly, so to make everything go smoothly, prep all the ingredients ahead of time.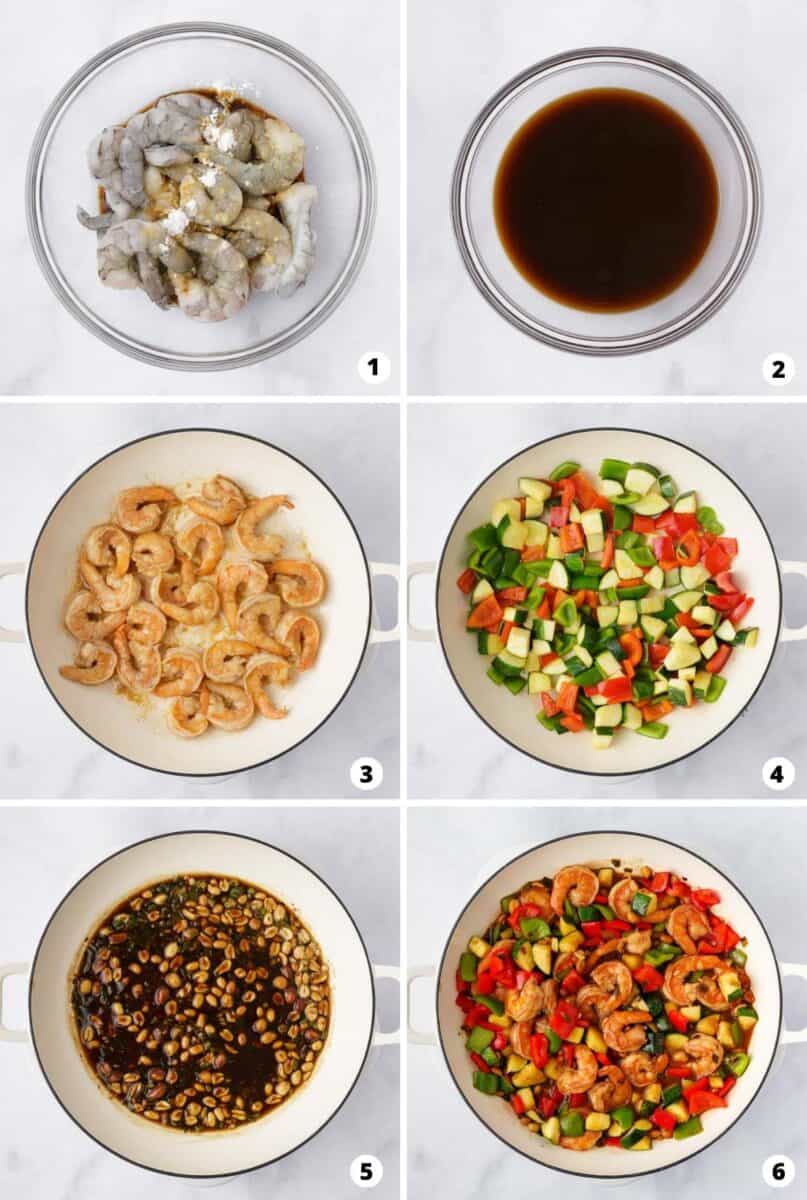 Marinate. Combine soy sauce, salt and cornstarch in a large bowl and stir together. Add the shrimp, stir, and leave to marinate for 10 minutes.
Make sauce. Combine the sauce ingredients in a small bowl and mix until smooth. Make sure there are no lumps of cornstarch.
Cook shrimp. Stir-fry shrimp in a wok or skillet over medium-high heat for 2 – 3 minutes until they turn pink. Remove them from the wok.
Add veggies. Stir-fry the veggies for 1 – 2 minutes. Make sure to stir them constantly while cooking. Remove them from the wok and place them with the shrimp.
Simmer. Add aromatics and seasoning and stir for 1 minute. Pour the Kung Pao sauce into the wok and let it simmer until it has thickened.
Finish. Add the shrimp and veggies to the wok and simmer for 1 minute.
Expert Tips
Chop evenly. Try to cut the bell peppers and zucchini the same size so that they cook evenly. If you're adding other vegetables, the same goes for them.
Prep first. The process of making a stir fry is quick, so it's important to have all your ingredients prepped and ready to go before you start cooking.
Watch the shrimp. Shrimp cooks quickly and can easily become overcooked if you leave it in the wok for too long. To avoid rubbery shrimp, keep it moving in the pan and cook only until it has just turned pink. Then remove skillet from the heat.
Shortcuts. Short on time? Use pre chopped veggies and half a cup of premade Kung Pao or stir fry sauce.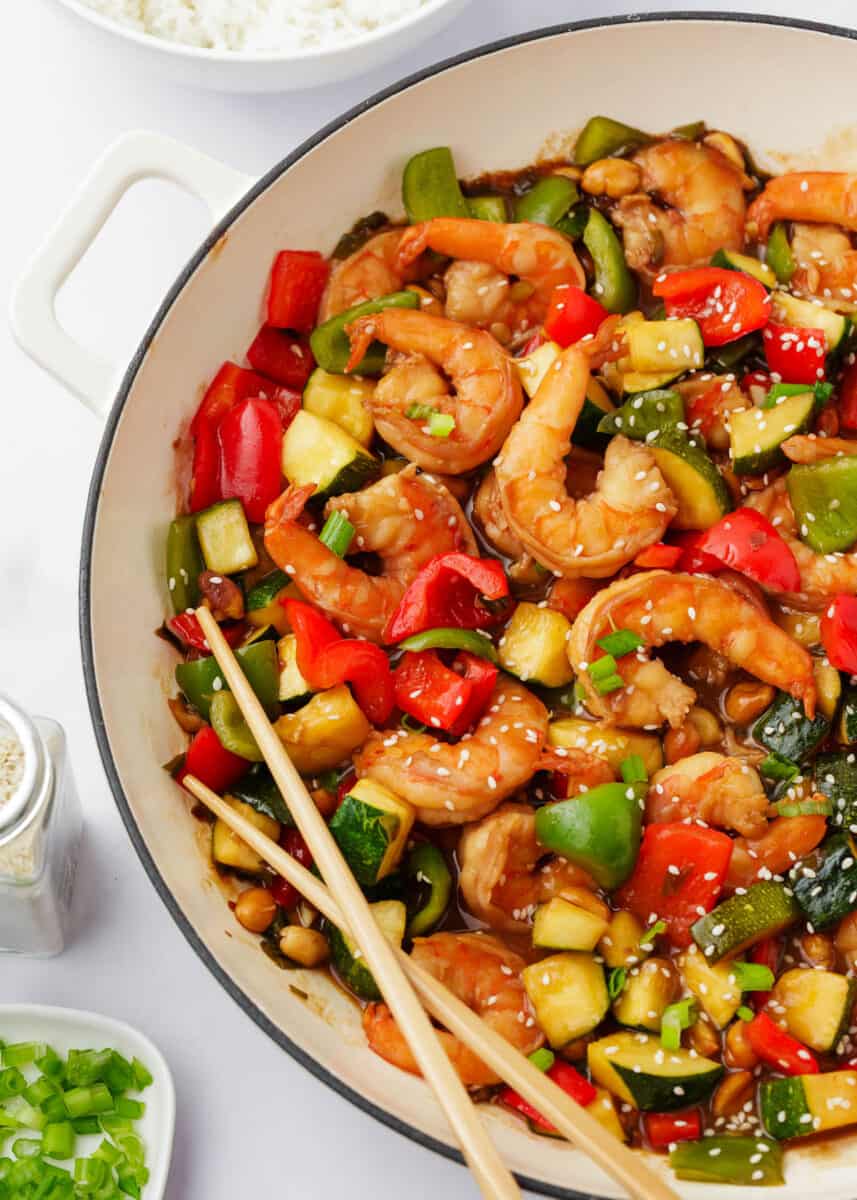 Serving Suggestions
I like to serve this Kung Pao shrimp with lots of rice on the side to soak up the delicious sauce. I usually serve it with some long-grain white rice on the stove, coconut rice or homemade fried rice.
Another popular option is to serve this stir fry with rice noodles. These quick-cooking noodles are made with rice flour and water. To cook, soak the noodles in boiled water off the heat for 6 – 8 minutes until they've reached the desired doneness.
Recipe FAQs
Is Kung Pao shrimp sauce spicy?
This sauce has just a little heat to it but has mainly sweet and savory flavors. If you like it a bit spicier, you can add more red pepper flakes.
What's the best oil for stir fry?
Choose a neutral-tasting oil that has a high smoke point, which means you can turn the heat up without the oil burning. Good options include vegetable, canola, avocado or peanut oils.
What other veggies go well with it?
That great thing about stir fry is you can use whatever veggies you have on hand. Broccoli, carrots, green beans, baby corn, or other crunchy veggies all work!
Can you make stir fry in advance?
It's easy to prep your ingredients in advance and store them in the fridge for when you're ready to cook the stir fry. This includes whisking together the sauce and chopping the veggies. Use the ingredients within the next 48 hours.
Storing and Reheating
In the refrigerator: Store leftovers in a covered container for up to 3 days.
How to reheat: The best way to reheat stir fry is to use the same method in which we cooked it – in a wok or skillet. Heat a splash of oil in your wok over medium-high heat and then add the leftovers. Heat for 2 – 3 minutes, stirring continuously until heated through.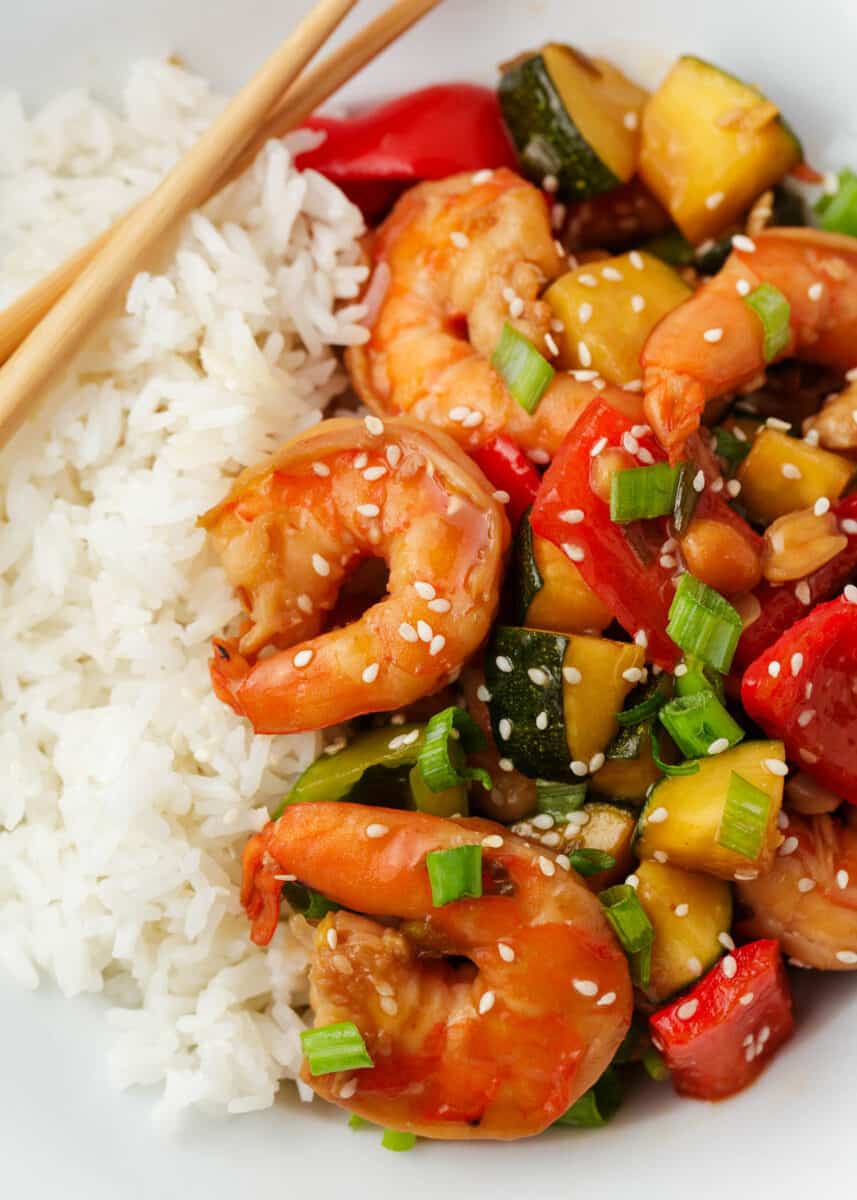 HUNGRY FOR MORE? Subscribe to my newsletter and follow on Facebook, Pinterest and Instagram for all the newest recipes!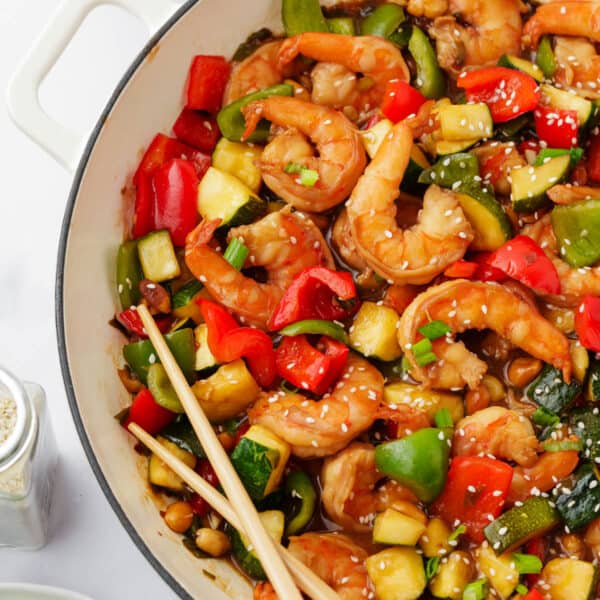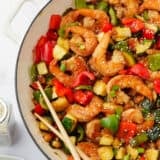 Kung Pao Shrimp
Make your own takeout at home in just 20-minutes with this easy recipe for Kung Pao shrimp. Juicy shrimp and crisp veggies are cooked in a sweet and spicy sauce with maximum flavor. Turn your kitchen into a Chinese restaurant tonight!
Ingredients
Marinade
1 pound shrimp , peeled and deveined
2 Tablespoons low sodium soy sauce
1 teaspoon Kosher salt
1 teaspoon cornstarch
Kung Pao Sauce
¼ cup low sodium soy sauce
¼ cup rice vinegar
2 Tablespoons hoisin sauce
1 to 2 Tablespoons granulated sugar
2 Tablespoons water
1 teaspoon cornstarch
Stir-fry
2 to 3 Tablespoons oil (vegetable, peanut, or olive)
2 bell peppers , sliced into bite-sized pieces
1 small zucchini , cut unto bite-sized pieces
1 Tablespoon sesame oil , can sub for another oil if needed, optional
1 bunch green onions , sliced thin
1 Tablespoon minced garlic (about 4 cloves)
½ Tablespoon minced ginger
½ cup dry roasted peanuts
Red pepper flakes , to taste
8 dried chili peppers , optional
For serving (optional): Rice or Noodles
Instructions
Marinade
In a large bowl, stir together the shrimp, soy sauce, salt, and corn starch. Marinate 10 minutes.
Kung Pao Sauce
In a small bowl, whisk the soy sauce, rice vinegar, hoisin sauce, sugar, water, and cornstarch until smooth.
Stir-fry
Heat a large skillet or wok over medium-high heat. Add 2 Tablespoons oil and heat 30 seconds. Add the shrimp and stir-fry 2 to 3 minutes, or until the shrimp turn pink. Transfer to a large plate. Quickly run the pan under hot water and carefully wipe down with a paper towel.

Add 1 Tablespoon oil to the skillet. Cook the bell peppers and zucchini over medium-high heat 3 to 4 minutes, or until tender. Transfer to the plate with the shrimp.

Add sesame oil to the skillet, if needed. Add the green onions, garlic, ginger, peanuts, red pepper flakes (I start with about 1/2 teaspoon), and chili peppers, if using. Stir-fry 1 to 2 minutes, or until fragrant. Pour in the Kung Pao Sauce and simmer until thickened.

Return the shrimp and vegetables to the skillet. Toss until combined and simmer 1 minute until shrimp is cooked through. Add salt and red pepper flakes, to taste. Serve while hot with rice or noodles.
---
Notes
Shortcuts: If you're looking to save time, you can use one or more of these shortcuts.
Use 1/2 cup of a pre-made Kung Pao or Stir Fry Sauce.
You could also use pre-chopped, stir-fry vegetables.
If you don't have fresh garlic or ginger, you can use 1 teaspoon ground of each.
Storage: Store leftovers in a covered container in the refrigerator up to 3 days.
Nutrition
Calories: 189kcal | Carbohydrates: 13g | Protein: 6g | Fat: 14g | Saturated Fat: 2g | Polyunsaturated Fat: 4g | Monounsaturated Fat: 7g | Trans Fat: 0.02g | Cholesterol: 0.2mg | Sodium: 1106mg | Potassium: 337mg | Fiber: 3g | Sugar: 7g | Vitamin A: 1504IU | Vitamin C: 58mg | Calcium: 27mg | Iron: 1mg
Nutrition provided is an estimate. It will vary based on specific ingredients used.
Did you make this recipe? Don't forget to give it a star rating below!