Shrimp cocktail. Bang Bang shrimp. Shrimp scampi. So many easy shrimp recipes to love that take so little time to make. Why choose just one?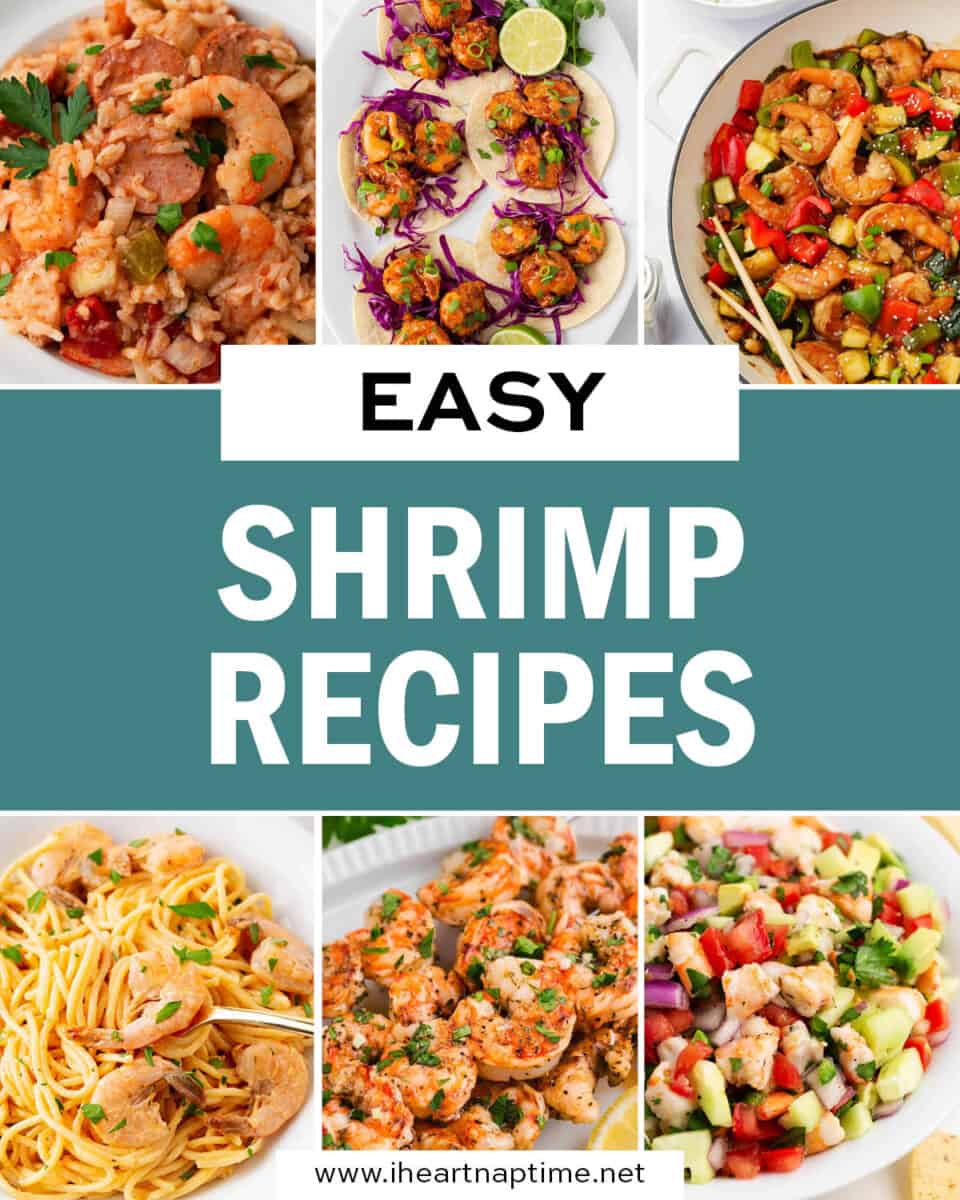 For the Love of Shrimp
For those of you who love shrimp, may not always think of it when planning a menu. That is about to change. Thanks to these easy shrimp recipes that cover a range of different flavors and can be served at everything from game day to a dinner party.
Shrimp cooks in a matter of minutes, making it is the perfect protein for a busy weeknight. It can be roasted, grilled, boiled, or sauteed with ease, and it tastes great in pastas, soups, rice, or simply on its own with a cocktail sauce. What's not to love?
How to Buy Shrimp
Buying shrimp can be a little confusing, but have no fear. There are some simple things to keep in mind when shopping.
Fresh: Most would typically think fresh is better than frozen, but that's not always the case. Most fresh shrimp that you see in the seafood counter have more than likely been frozen (exactly like those in the freezer section) and then thawed to sell. A good rule of thumb is to always ask to see and smell the shrimp before buying. If they smell of ammonia or the shells look slimy, skip them and go with frozen.
Frozen: Most frozen shrimp has been on ice since it was caught, and therefore is as close to fresh as you can get without buying directly from the fisherman.
Size: Shrimp come in different sizes (small, medium, large, and so on) and you have probably seen an accompany number along with the size. Since size isn't a standard, pay attention to the number. This is how many shrimp are in a pound, so the higher the number, the smaller the shrimp; the smaller the number, the larger the shrimp. For example, here are a few sizes and numbers you will see:

Extra jumbo: 16/20
Jumbo: 21/25

Large: 31/35
Medium: 41/50
Small: 51/60

Farm vs. wild: Wild caught shrimp typically have a more robust flavor and taste better overall, but you can find farmed shrimp that will work great. Just look for sustainably and ethically raised shrimp for a better quality protein.
Peeled and/or deveined: This really depends on your recipe and time. Cooking shrimp with the shells on can impart a great flavor, but may not be necessary for what you are cooking. Peeled shrimp will come without the legs and shell, but may still have the tail. Deveined shrimp means that the digestive tract running along its back will be removed. If you are in a hurry, it can save time to buy shrimp that are already peeled and deveined.
Cleaning Shrimp 101
Something that is sometimes overlooked but is absolutely crucial to successful shrimp dishes is cleaning (removing the shell, legs, and the dark vein) the shrimp before cooking.
Remove the shell. This requires removing all of the legs first with your fingers and then pulling the shell off like you would remove a jacket. You can leave the tail on or remove it with a quick twist.
Remove the vein. The dark vein running along a shrimp's back is actually its digestive tract, and while it isn't harmful to eat it isn't the most appetizing. You may not have to remove it from small shrimp, but definitely do remove it if you can see it. Using a paring knife, make a shallow slice along the back to expose the vein. Take the tip of the knife and gently lift the vein up and out. Rinse the shrimp.
Easy Shrimp Appetizers
Shrimp was made for appetizers. From the classic shrimp cocktail to the ever-addictive shrimp dip, these shrimp recipes are the perfect way to start a meal or kick off a party.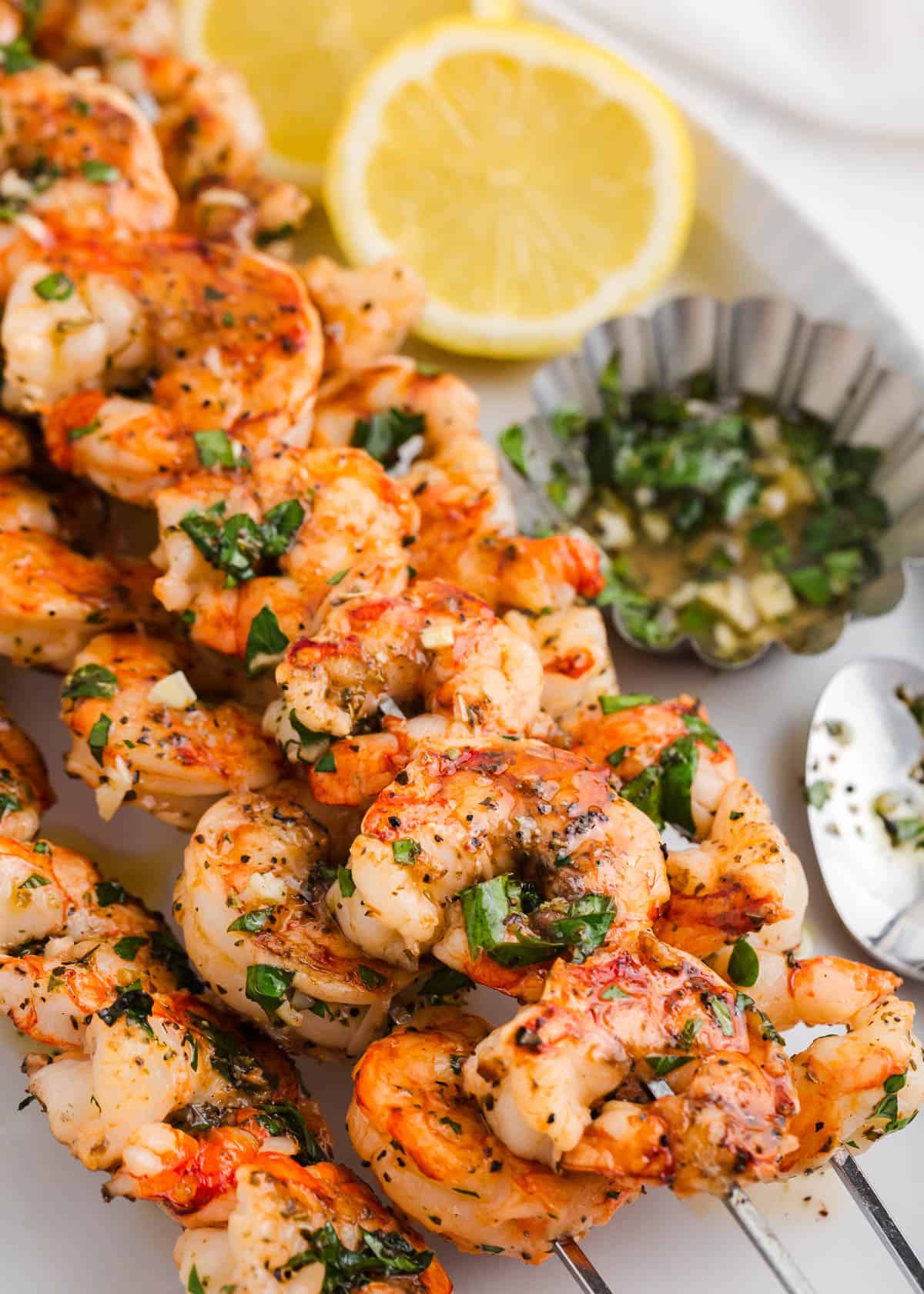 Shrimp Recipes with Pasta or Rice
There is something so refreshing about pairing shrimp with pasta or rice. These shrimp recipes are proof that it may be time to give chicken a break and check out the seafood section.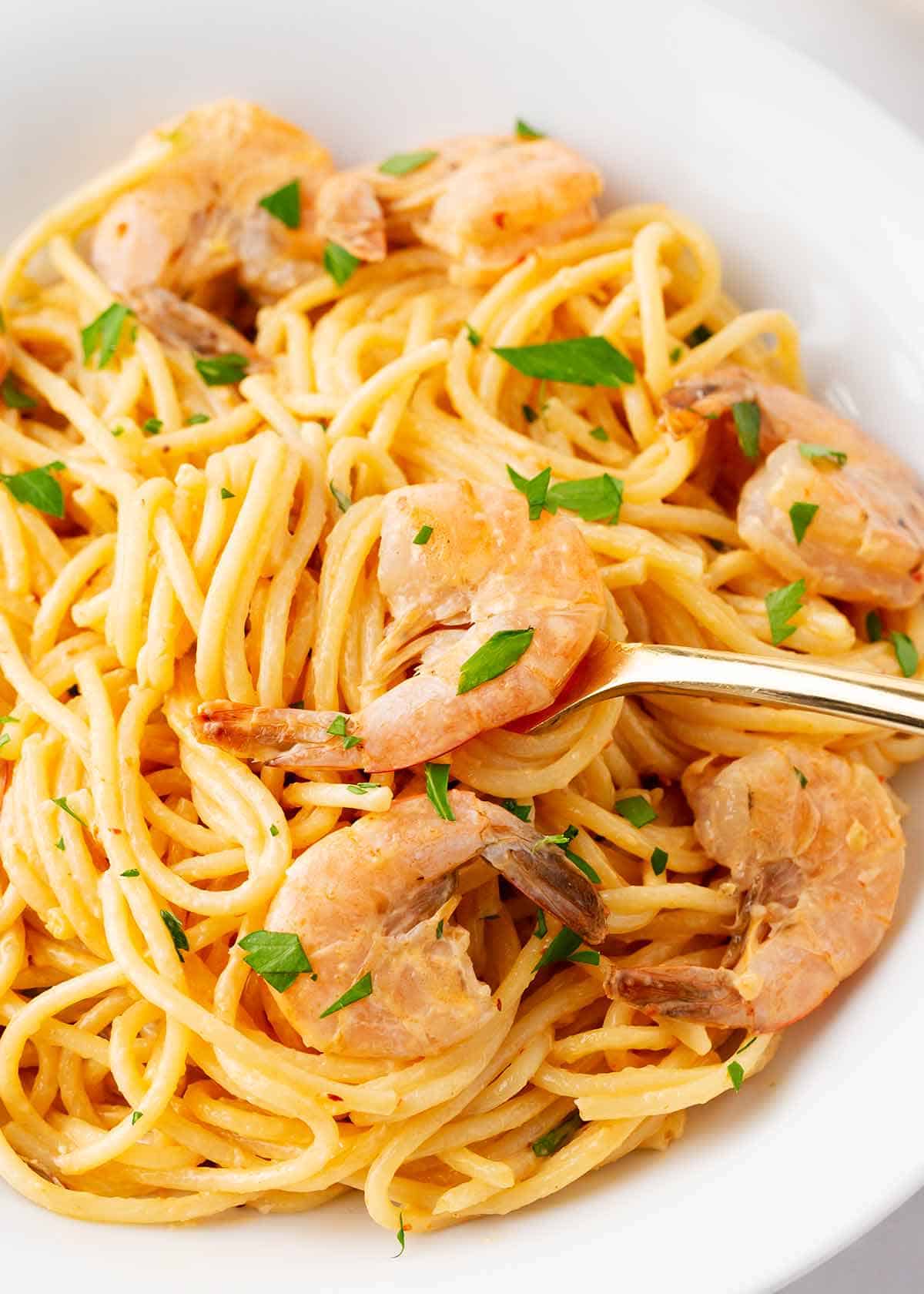 Shrimp Dishes Cooked on the Stovetop
I love a recipe that can be made in one pan and in a matter of minutes. These easy shrimp recipes are ideal for those nights when you don't have a lot of time to cook or clean.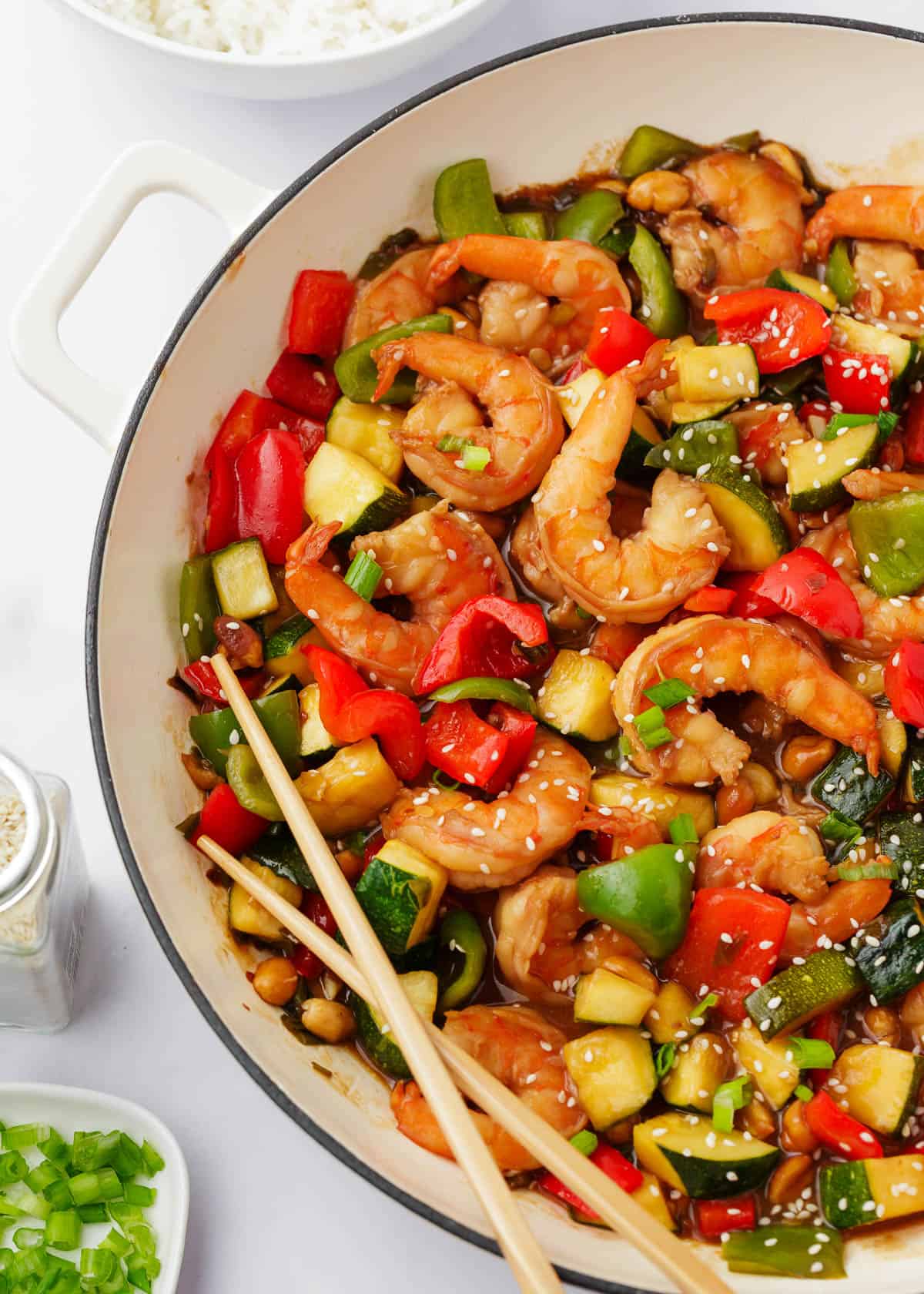 Kung Pao Shrimp. This 20-minute meal is made with juicy shrimp and crisp veggies cooked in a sweet and spicy sauce.
Bang Bang Shrimp. Shrimp are marinated in a flavorful buttermilk coating, fried, then drizzled with a sweet and spicy bang bang sauce.
Shrimp Fajitas. Move over beef or chicken, shrimp is the star of this quick and delicious dinner.
Bang Bang Shrimp Tacos. These sweet and spicy shrimp take Taco Tuesday to a new level.
Shrimp Lettuce Wraps. This refreshing low-carb dish is served with a spicy peanut sauce and comes together in less than 20 minutes.
20 Minute Honey Garlic Shrimp. Quick and simple, this recipe is on rotation in my house.
Shrimp Fajitas. A quick 10 minute marinade makes this shrimp recipe so flavorful! Made in one pan it's ready in only 22 minutes.
Shrimp Dinner Ideas in a Crockpot or Air Fryer
As I mentioned above, shrimp can be cooked in a variety of ways. These shrimp recipes can either be cooked low and slow in a crockpot or get super crispy quickly in an air fryer.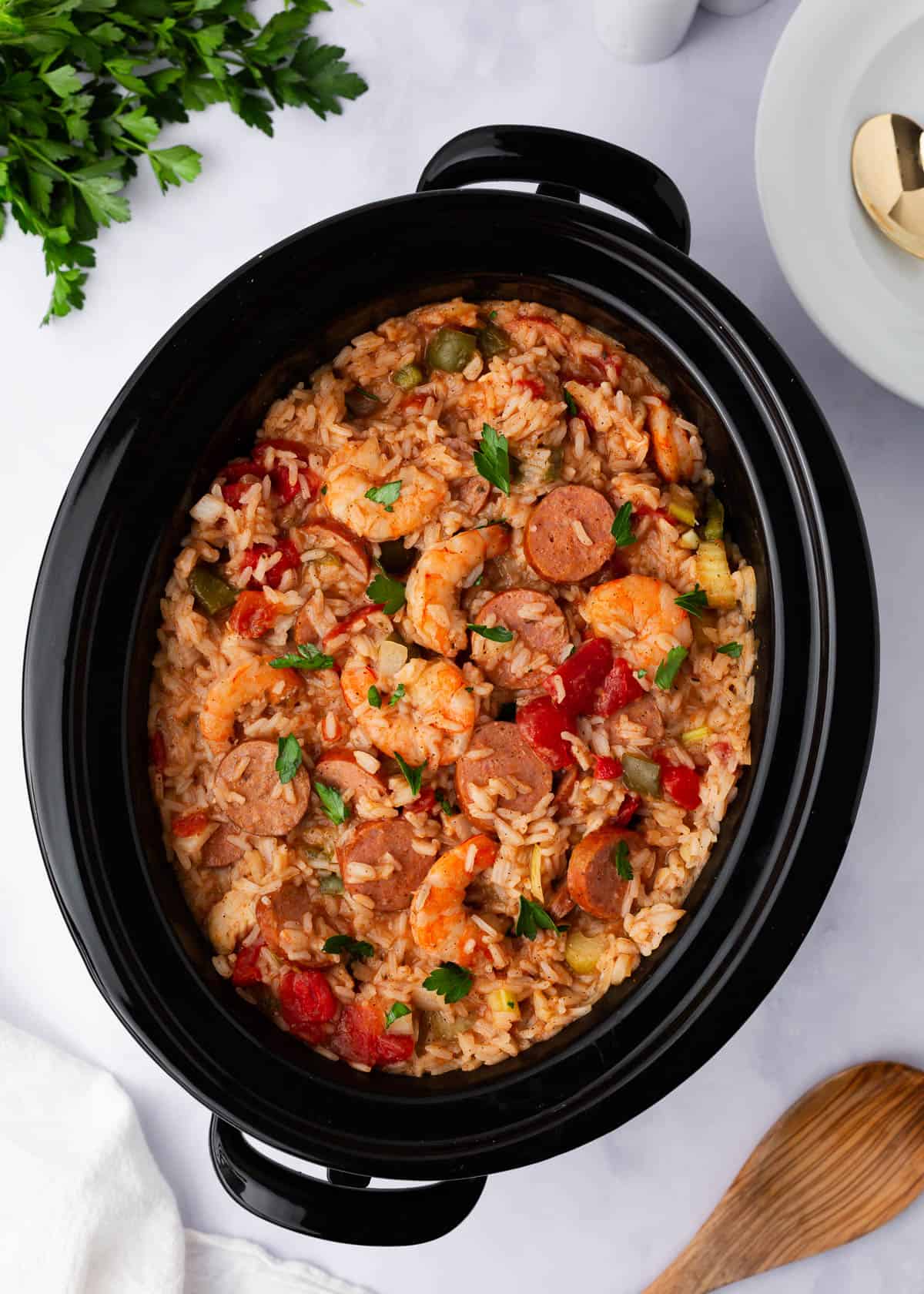 HUNGRY FOR MORE? Subscribe to my newsletter and follow on Facebook, Pinterest and Instagram for all the newest recipes!
The Full List of Easy Shrimp Recipes
Click on the links below to find the recipes for all of the delicious shrimp recipes mentioned above.