Learn how to cook your favorite varieties of pasta with these easy instructions. All my best tips and tricks for cooking pasta to perfection every time!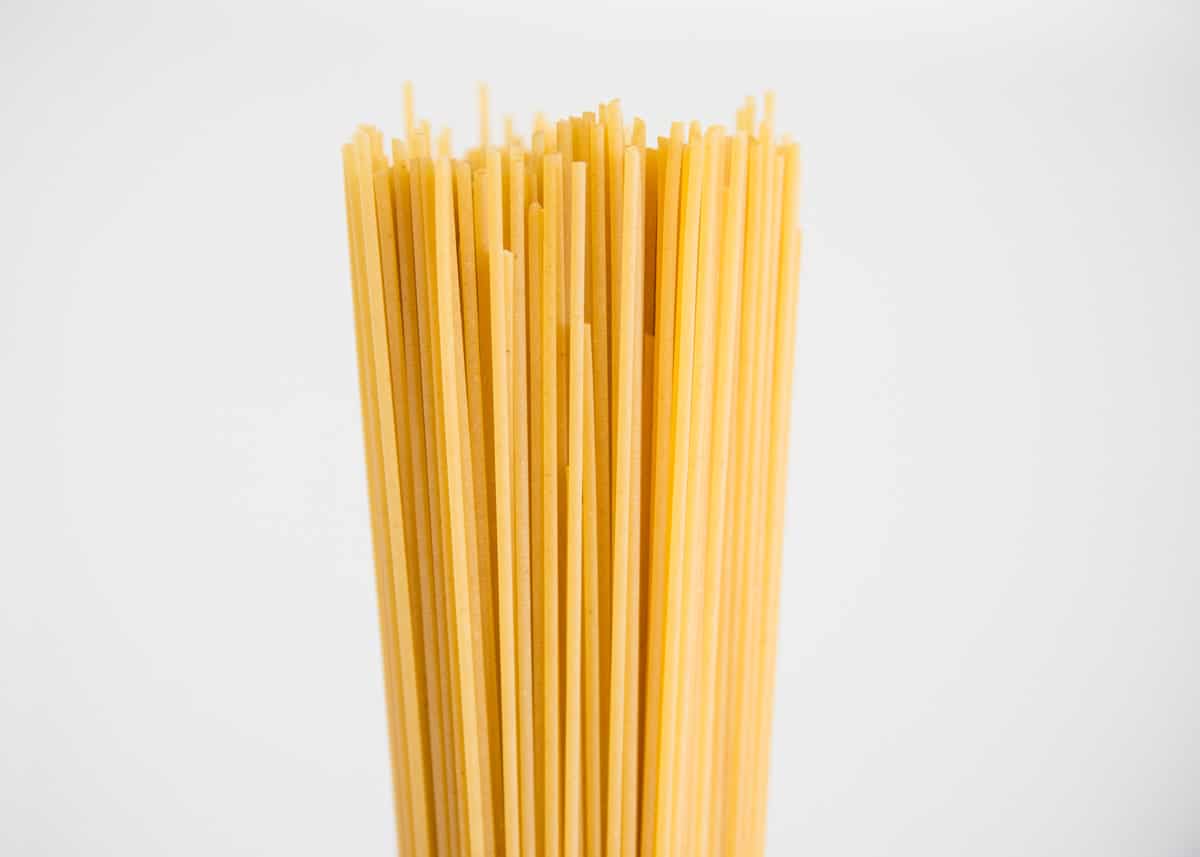 The Perfect Pasta Every Time!
Is there anything better than cooking up a big bowl of pasta? It is one dish that my whole family can all agree on. It's one of those comfort meals I love to make on Sundays with some homemade meatballs or my easy spaghetti recipe and some garlic bread. Seriously so delicious!
There's so many variations of pastas, so I've created a list for how long to cook the most popular varieties. The cooking time definitely differs depending on the noodle type, so it's nice to have everything laid out in one place. I'm also sharing a few of my top tips for cooking pasta that I've learned throughout the years. Check them out below.
Supplies Needed to Get Started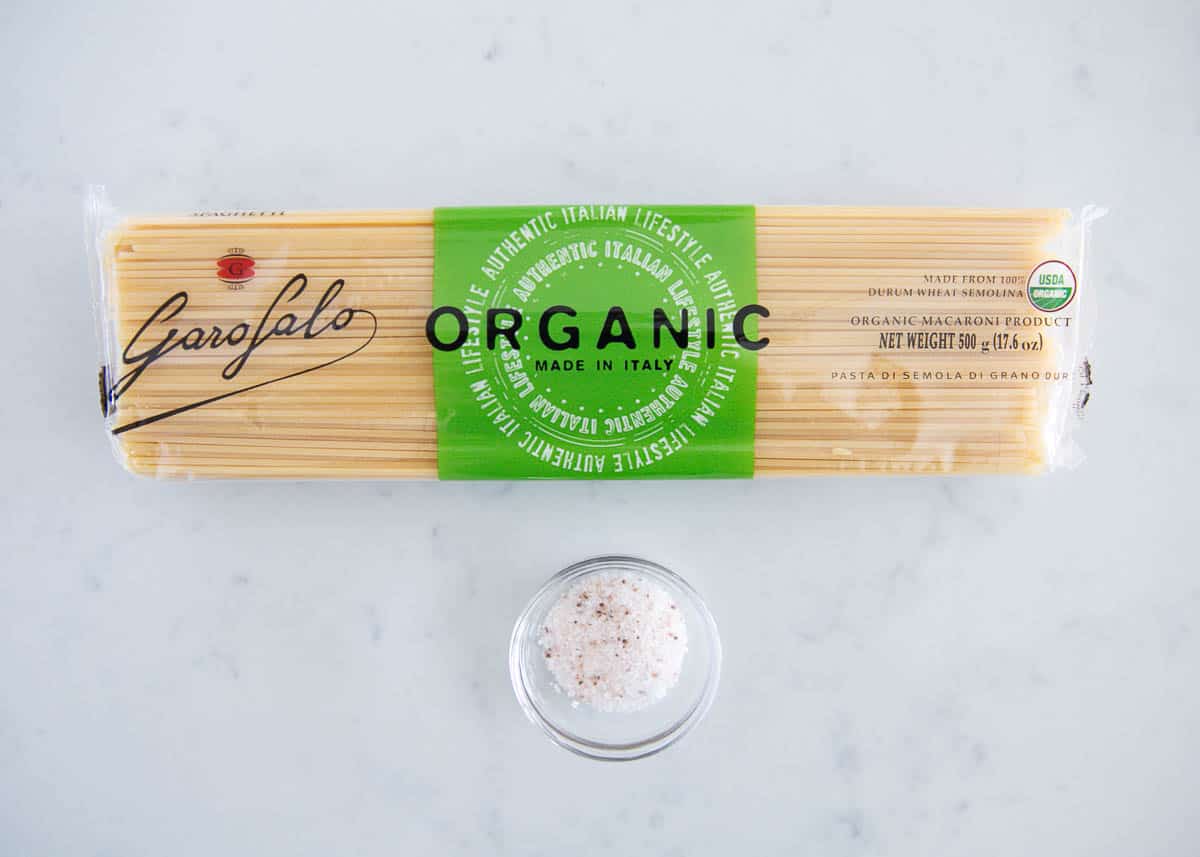 Noodles, water and salt…no other fancy ingredients needed! Of course you'll need a pot and some other kitchen supplies, which I'll cover below.
Large pot: I recommend using a larger pot that's about 8 to 12 quarts in size. This is big enough to hold most 1 pound packages of pasta without any issues. If you're cooking a smaller amount, you could always use a smaller pot.
Colander: For draining the pasta once cooked.
Measuring cup: You may not need it, but a measuring cup comes in handy if you're cooking a specific amount of pasta (and not the whole package).
Pasta: Choose your favorite variety or use the specific type that's listed in the recipe instructions.
Salt: Used to help flavor the pasta. This is optional, although I highly recommend it!
Water: Use the amount listed on the package. For 1 pound of pasta, I fill my pot up about 2/3 of the way full, which is about 5-6 quarts of water.
Expert Tips for Cooking Pasta Perfectly
Here are a few basic tips before getting started.
Make sure to use a large pot (such as a 8 or 12 qt pot). You don't want to overcrowd the noodles while they cook.
Add enough water to the pot (about 5 to 6 quarts). I like to fill mine about 2/3 the way full.
Salt the water while it's warming up. I always add about 1 Tablespoon of kosher salt or sea salt. You can use up to 2 Tablespoons per pound. This will help boost the flavor.
Bring the water to a full boil before adding the noodles to the water.
Add the dried pasta to the pot without breaking. With spaghetti, you'll be able to fold it about a minute after adding to the pan.
Stir the pasta every couple minutes to prevent it from sticking to the bottom of the pan. I like to use a wooden spoon or slotted spoon when stirring.
Taste the pasta about 1-2 minutes before the recommended time. Allow it to cool slightly and bite into it to check. Add a minute or two more if needed, but do not overcook.
Reserve a cup of pasta water and then drain the noodles in a colander in the sink and then add back to the pot. Add the sauce right away and use the reserve pasta water if needed to thin it out.
How Long to Cook Pasta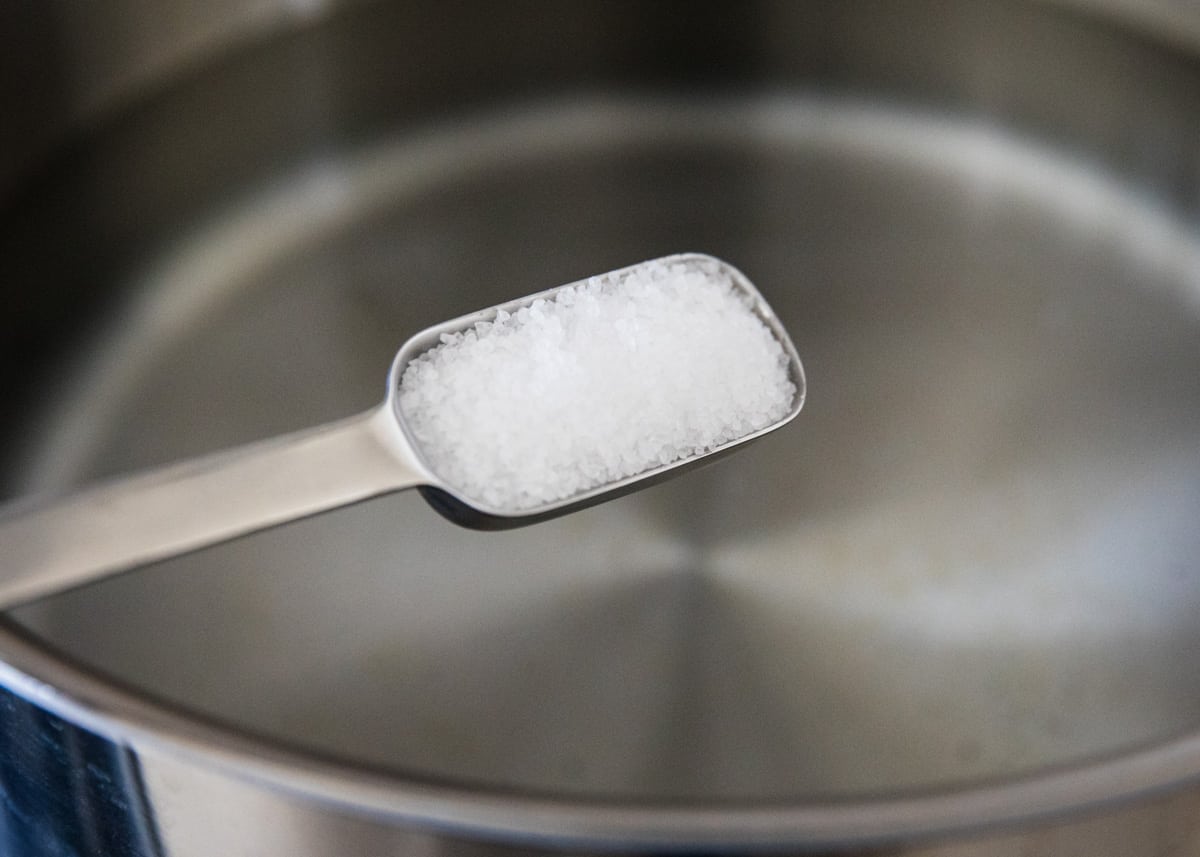 The cooking time will vary greatly, depending on the type of noodle you are cooking and what you are using it for. Here are some popular varieties and the cooking times for each.
Egg noodles: 8-10 minutes
Elbow macaroni: 8-10 minutes
Farfalle: 13-15 minutes
Fettuccini: 11-13 minutes
Fusilli: 11-13 minutes
Lasagna noodles: 12-15 minutes
Linguine: 9-13 minutes
Manicotti: 10-12 minutes
Mostaccioli: 12-14 minutes
Penne: 9-13 minutes
Rigatoni: 12-15 minutes
Orzo: 7-10 minutes
Rotini: 9-10 minutes
Shells (jumbo): 12-15 minutes
Spaghetti: 8-10 minutes
Ziti: 14-15 minutes
Reheating? Cook Al Dente
If you're meal prepping pasta ahead of time with the intent of reheating it later, I'd recommend cooking it al dente (tender but a tad chewy). This way the next time you heat it up, it won't get overcooked or too mushy. More tips on reheating pasta below!
FAQs
Do you boil water before adding pasta?
Yes, it should be at a rolling boil before adding in the pasta. If you add the noodles before the cooking water is boiling, there's a good chance that your pasta have a mushy texture.
Do you cook pasta with the top on or off?
No lid needed when cooking pasta! Keep the lid off so that it doesn't overflow or boil over.
What is al dente?
Al dente means "to the tooth" in Italian. When you cook pasta al dente, that means the noodles will still be a bit chewy and firm.

I typically cook the noodles al dente in a pasta dish where I want them to hold their shape. A cold pasta salad or recipes such as baked ziti where the precooked pasta will cook again in the oven are good examples. No mushy or overcooked pasta here!
How to Store Cooked Pasta
Leftover pasta is great for another easy lunch or dinner. We especially love to make leftover spaghetti boats. For storage instructions, simply follow these simple steps:
Drain the noodles in a colander.
Let cool, then add to a zip top bag or container with lid.
Toss with a drizzle of olive oil to prevent the noodles from sticking together.
Store in the fridge for up to 5 days.
Best Way to Reheat
Reheating leftover noodles in the fridge is easy! You can either warm back up in the microwave or in a pot of boiling water.
Favorite Sauces to Serve with Cooked Pasta
Any of the below would taste delicious! Don't forget to reserve a little bit of pasta water to add into your pasta sauce. The starches from the water will help thicken the consistency.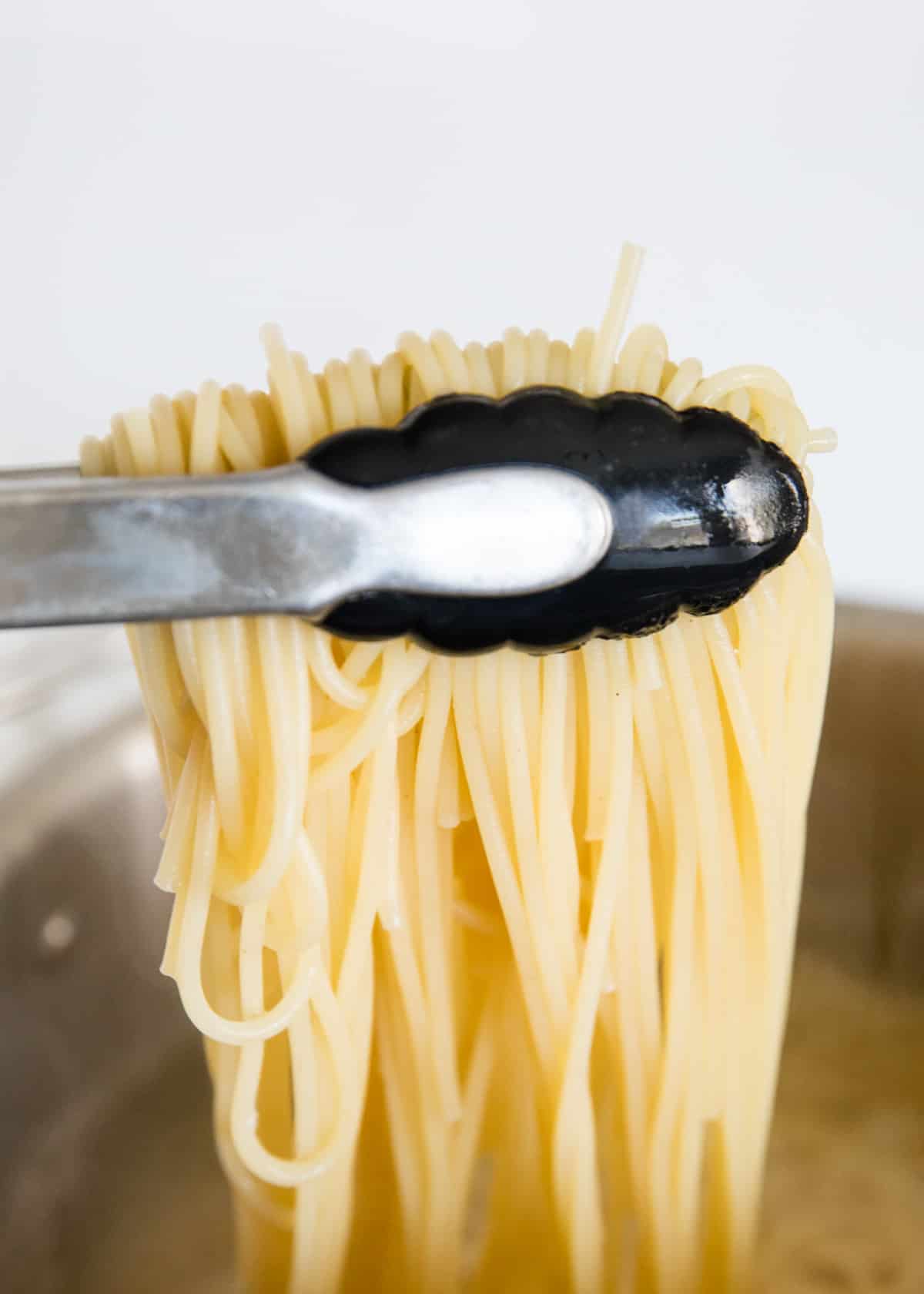 Want to explore more cooking techniques in the kitchen? You may also love this cheese fondue recipe!
HUNGRY FOR MORE? Subscribe to my newsletter and follow on Facebook, Pinterest and Instagram for all the newest recipes!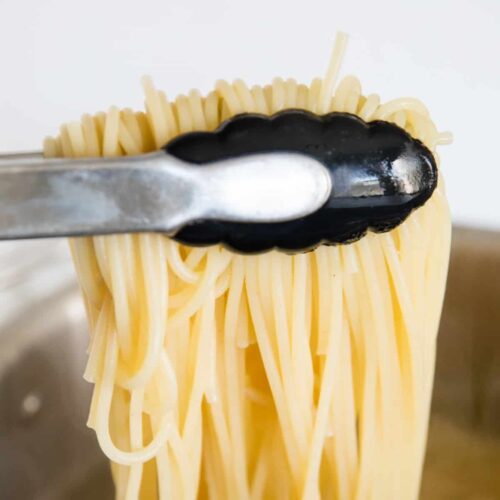 How to Cook Pasta
Learn how to cook your favorite varieties of pasta with these easy instructions. All my best tips and tricks for cooking pasta to perfection every time.
Equipment
Large 8-12 quart pot

Colander

Measuring cup
Ingredients
1 pound pasta
1 Tablespoon Kosher salt , more to taste
5-6 quarts water
Instructions
Fill a large pot about 2/3 the way full with water. Add in 1 Tablespoon kosher salt.

Bring water to a boil over medium-high heat.

Add the pasta to the pot (without breaking the noodles) and cook for the recommended time according to package directions. Stir every couple of minutes to prevent sticking to the bottom of the pan.

Test the pasta about 1-2 minutes before recommended time. Cook for 1-2 more minutes if needed, but do not over cook.

Reserve a cup of pasta water and then drain the noodles in a colander and add back to the pot. Immediately pour the sauce in and thin out with the reserved pasta water as needed.
---
Notes
Storing: Use a colander to drain the noodles. Allow to cool, then transfer to a zip top bag or container with lid. Add a drizzle of olive oil and toss the noodles in the bag or container to prevent them from sticking together. Store in the refrigerator for up to 5 days.
Reheating cooked pasta: Reheat in the microwave until warm, or heat back up in a pot of boiling water.
Sauce: We love serving cooked noodles with our favorite homemade spaghetti sauce or this easy alfredo sauce.
Nutrition
Calories: 210kcal | Carbohydrates: 42g | Protein: 7g | Fat: 1g | Saturated Fat: 0.2g | Polyunsaturated Fat: 0.3g | Monounsaturated Fat: 0.1g | Sodium: 905mg | Potassium: 127mg | Fiber: 2g | Sugar: 2g | Calcium: 30mg | Iron: 1mg
Nutrition provided is an estimate. It will vary based on specific ingredients used.
Did you make this recipe? Don't forget to give it a star rating below!