Buddha bowls make eating the rainbow so much easier! All the healthy and delicious things coming together in minutes makes this the perfect healthy lunch or dinner idea!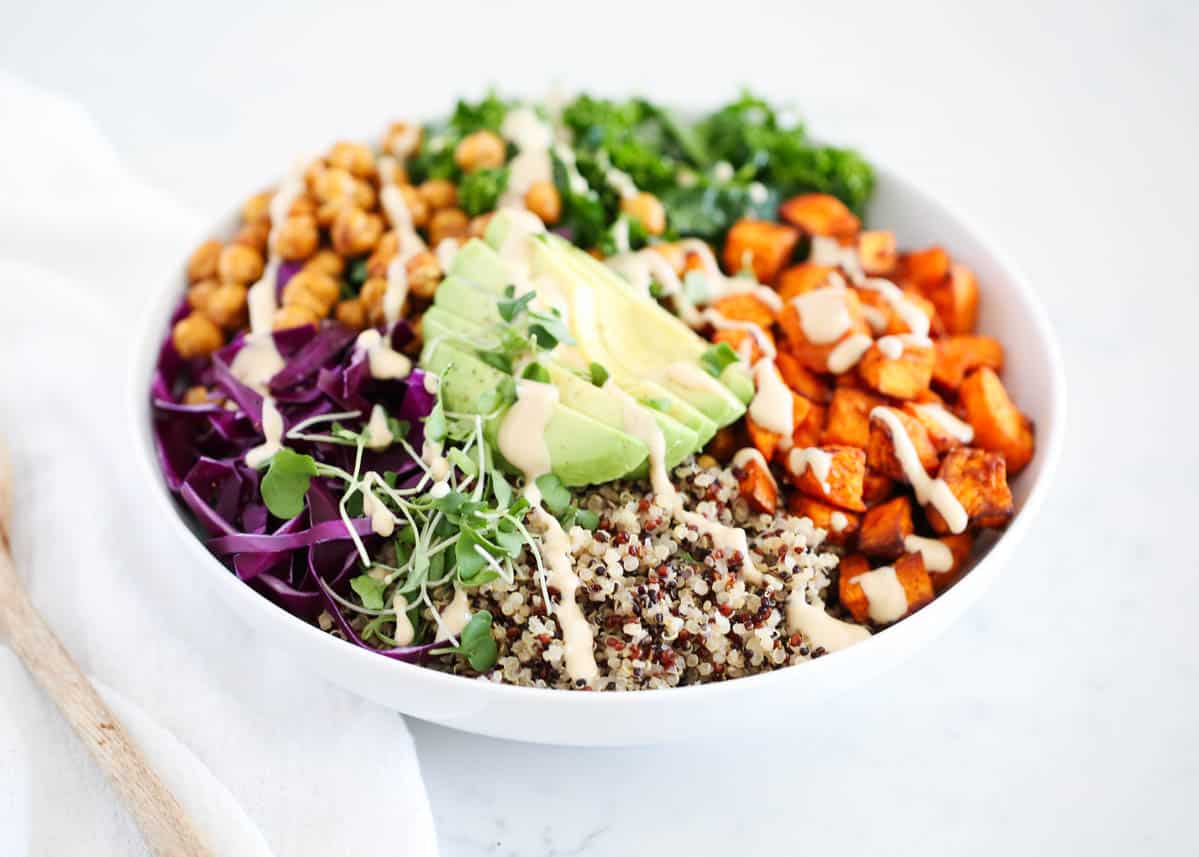 Sweet Potato Buddha Bowl
Buddha bowls are one of my favorite types of healthy dinner ideas! They're no fuss, super nutritious, and flexible enough to add whatever ingredients, or extras you want!
This is a vegan buddha bowl, which makes it plant-based, but even if you're not vegan or vegetarian, you'll still find easy buddha bowls incredibly fresh and flavorful and so fun to eat.
I love the warm elements balanced with the cool, the crunchy balanced with the soft, and salty with the savory and zesty. It's a simple bowl full of all my favorite things like roasted sweet potatoes and crunchy air fryer chickpeas, red cabbage, kale, and of course creamy sliced avocado!
I top mine with a zesty lemon tahini dressing but you can choose what you like!
What is a Buddha Bowl?
It's a cute story! It's said to be named after the story of Buddha who carried around a bowl while he traveled. Food donations were gathered along his journey and at the end of each day, he would enjoy what was provided for him.
This delicious buddha bowl is a representation of a mix of things coming together that provide us with nourishment and that is something to be grateful for. So, let's all enjoy ours, shall we?
Why We Love Easy Buddha Bowls
Healthy. You've heard the expression, eat the rainbow? This is what they mean! This beautiful, colorful combination of whole grains and vegetables is high in vitamins, minerals, antioxidants, fiber, protein, and so much more!
Flexible. I use a base of quinoa, but you can use brown rice instead. If you're looking for low-carb, skip the grains altogether and load it up with even more kale and veggies.
Meal prep. Prepping the individual ingredients ahead of time in larger batches makes putting together a bowl a no-brainer! I love being able to have quick access to everything prepared already.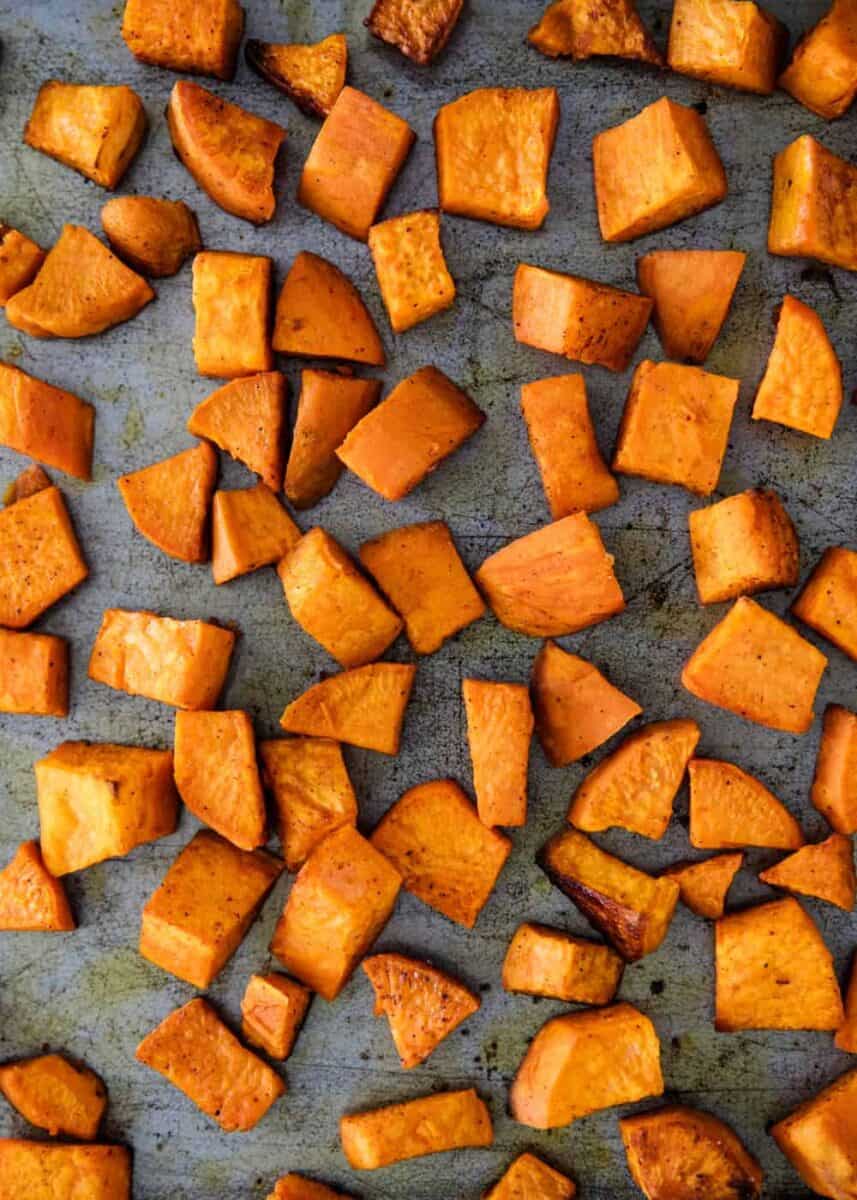 Ingredients for this Buddha Bowl Recipe
Roasted sweet potatoes: I LOVE roasting sweet potatoes. They caramelize beautifully with a slightly crispy edge and are nice and soft on the inside. Yum! See below for instructions on how to roast sweet potatoes or make air fryer sweet potato cubes just as easily. You'll love the simplicity of it!
Kale: Check out the tips on how to massage the kale. It's important to tenderize it as it's can be quite fibrous.
Olive oil: Needed for roasting the sweet potatoes and helping to adhere to the seasoning.
Cooked quinoa: Unsure how to cook quinoa? Don't worry I've got you covered. It's easy!
Crispy chickpeas: Adding the crunch of air fryer chickpeas delivers another textural element that I love. Toasting them or roasting them at home is super simple, but you can also use store-bought if preferred. Canned, drained, and rinsed chickpeas are also a great option.
Chopped red cabbage: Red adds a pop of color that I think looks so good, but you can use any type of cabbage you want. You can add any veggies you want! See below for inspiration.
Sliced avocado: This buddha bowl wouldn't be complete without it!
Lemon tahini dressing: It's just one of many options, that happens to be one of my faves. You can also use homemade hummus if you'd like.
Microgreens: These are just past the sprouting stage of young vegetables and are highly concentrated with nutrients. They're a great way to add more nutrients to soups, salads, and sandwiches. Some of the ones I use are fennel, arugula, and watercress.
Salt and pepper: To taste!
How to Roast Sweet Potatoes
Peel and chop sweet potatoes into bite-sized cubes, about 1 inch.
Arrange them in a single layer on a nonstick baking sheet that's been sprayed with cooking spray.
Drizzle with olive oil and sprinkle with salt, pepper, and a bit of chili powder.
Bake in a preheated 425-degree oven for 30 minutes, flipping halfway.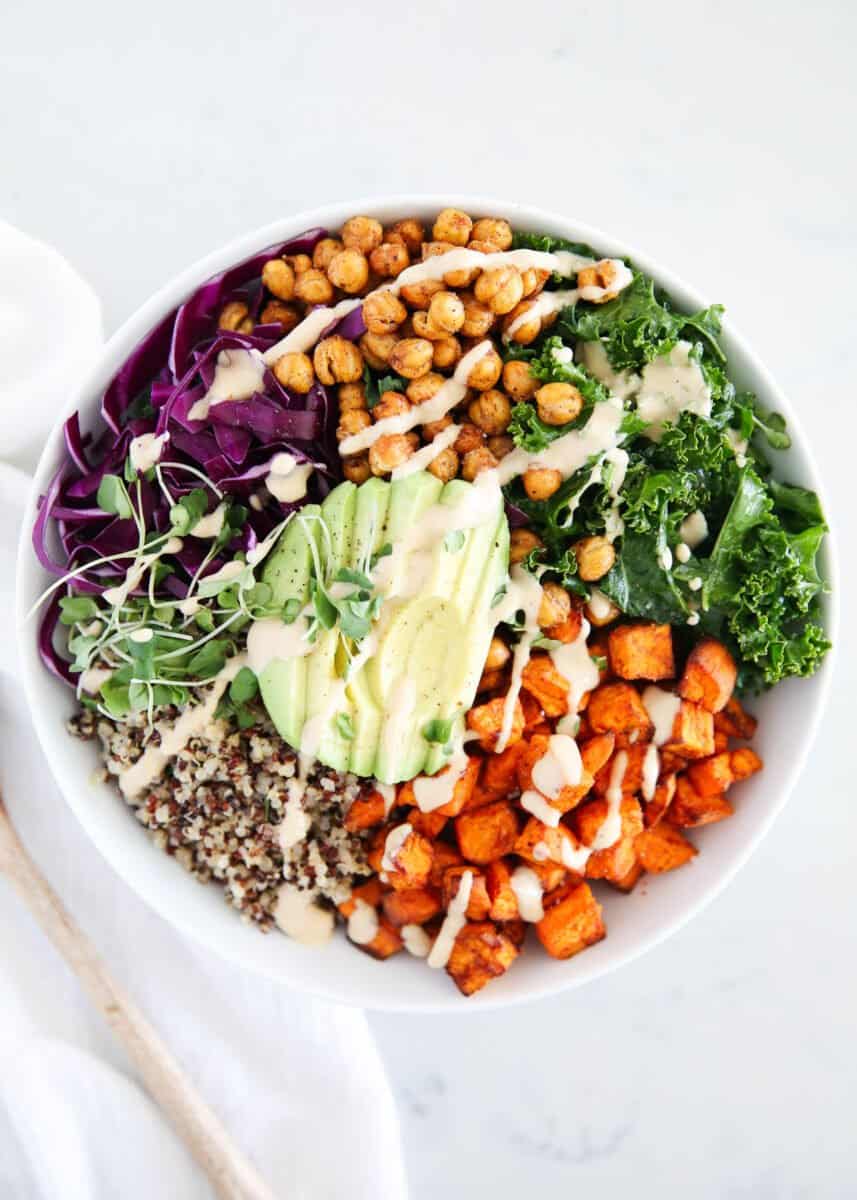 Massaging Kale
Wash your kale leaves and remove the bulky part of the stem. Chop or break up the leaves into small pieces and place them into a large bowl. Drizzle with olive oil and use your hands to massage them for 1-2 minutes. Some people like to add a little lemon juice to help this process. You can find all the details on how to massage kale here.
How to Assemble Your Buddha Bowls
Start with the base. Grab 4 serving bowls and add 1/2 cup of cooked quinoa to each.
Keep layering. Then, add the kale, followed by the roasted sweet potatoes. Add the red cabbage and crispy chickpeas next.
Just before serving, add any microgreens or sliced avocado on top of the buddha bowls. Sprinkle with salt and pepper to taste then dress it with your favorite dressing or even just a squirt of lemon or lime juice or peanut sauce.
Substitutions & Variations
Meatless protein – Throw on some tofu or tempeh for a tasty addition. Quinoa and chickpeas both provide a lot of protein, but if you'd like more this is a great way to do that while keeping it vegetarian.
Meat protein – Although Buddha bowls are traditional without meat, you do you! Add some shredded chicken, pulled pork, bacon bits, ground beef, flank steak, shrimp, grilled salmon, or tuna!
A different base – Swap the quinoa for brown rice or white rice. You can even opt-out of either and just ramp up the kale and add more veggies.
Other veggies – Broccoli, spinach, red bell pepper, brussels sprouts, slivered carrots, to name a few.
Add-ons – Sesame seeds, sunflower seeds, chia or flax seeds, and hemp hearts.
More Dressings to Use
Below are a few more dressing options that would taste delicious on top!
FAQs
What can I use in my Buddha bowls instead of chickpeas?
Black beans or pinto beans would be great. Kind of like a burrito bowl!
What if I don't have any sweet potatoes?
Pumpkin or roasted butternut squash are great substitutions that would both taste amazing!
What's another name for Buddha bowls?
They're also known as nourish bowls. Not to be confused with poke bowls, which are also delicious and highly nutritious, but poke bowls center on fish as their main focus.
Is this Buddha bowl recipe gluten-free?

The entire recipe as written is gluten-free. If you decide to use a dressing just watch out for any hidden gluten, especially if you use a store-bought dressing.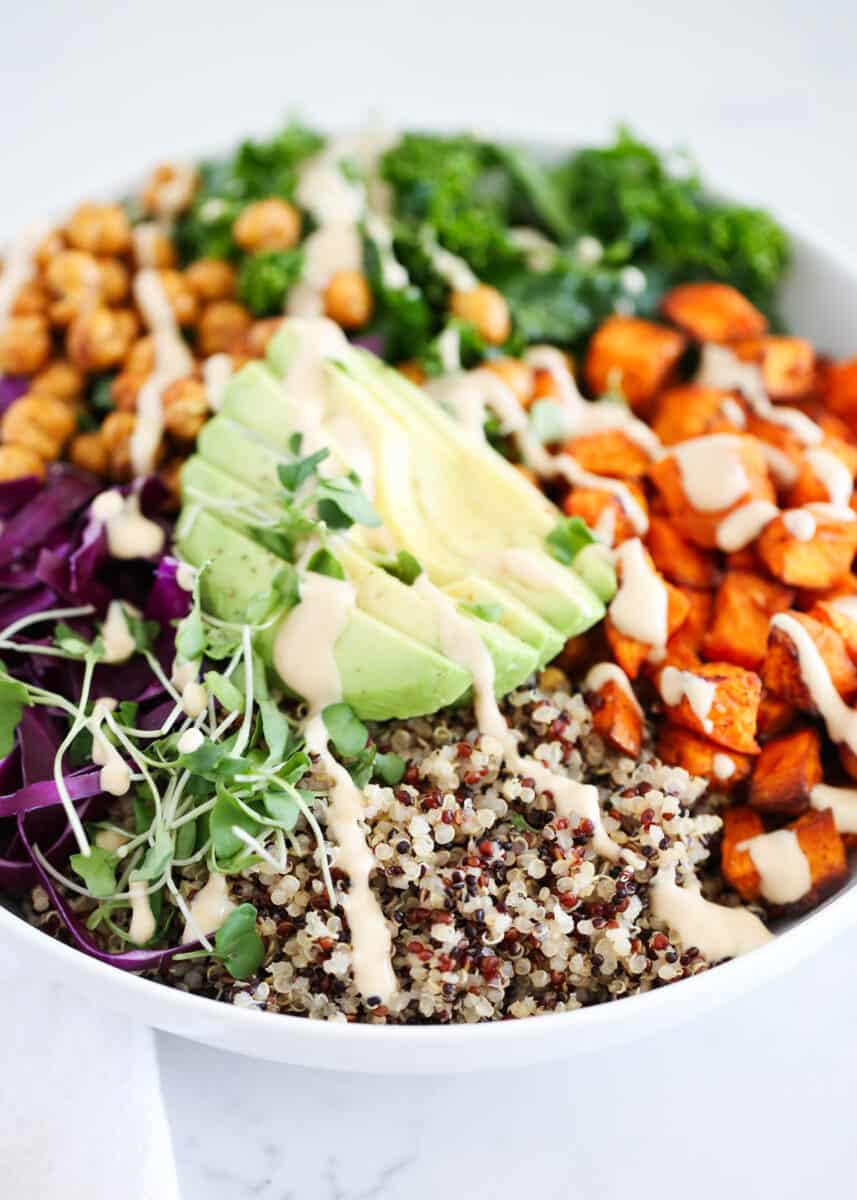 More Healthy Dinner Ideas
HUNGRY FOR MORE? Subscribe to my newsletter and follow on Facebook, Pinterest and Instagram for all the newest recipes!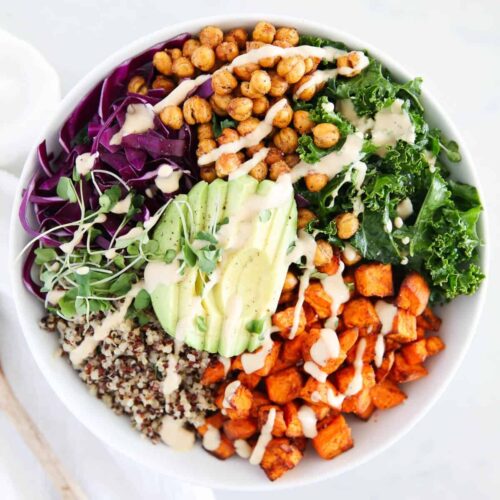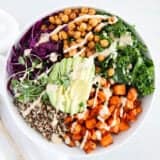 Buddha Bowls
Buddha bowls make eating the rainbow so much easier! All the healthy and delicious things coming together in minutes makes this the perfect healthy lunch or dinner idea!
Ingredients
Roasted Sweet Potatoes
2 sweet potatoes , peeled and cubed (4 cups)
1 Tablespoon olive oil
½ teaspoon fine sea salt , more to taste
¼ teaspoon freshly ground black pepper , more to taste
¼ teaspoon chili powder , more to taste
Bowls
4 cups kale , stems removed
½ Tablespoon olive oil
2 cups cooked quinoa
1 cup crispy chickpeas , see notes
1 cup chopped red cabbage
1 avocado , sliced
Lemon tahini dressing , see notes
Microgreens , optional
Salt and Pepper
Instructions
Roasted Sweet Potatoes
Preheat oven to 425°F. Spray a baking sheet with non-stick spray.

Place the cubed sweet potatoes on the baking sheet. Drizzle with olive oil. Then sprinkle with salt, pepper and chili powder.

Bake for 30 minutes, tossing half way through. Add more seasonings to taste.
Buddha Bowls
Break the kale into small pieces. Then massage with the olive oil for 1-2 minutes.

Place 1/2 cup quinoa inside each bowl. Then divide the kale among the 4 bowls. Once the sweet potatoes are cooked, add those on top. Add red cabbage and crispy chick peas if desired.

Place the avocado and micro greens (if desired) on top just before serving. Salt and pepper to taste. Drizzle with your favorite dressing.
---
Notes
Chickpeas: Try out my air fryer chickpeas for a crispy crunch. You can also buy them store bought or use regular chickpeas (drained and rinsed).
Kale: Make sure the stems are removed and that you properly massage the kale. This will help break it down and have better flavor.
Dressing: I love to drizzle this lemon tahini dressing on top, however if you aren't a fan of tahini, you could also add a traditional hummus.
Nutrition
Calories: 426kcal | Carbohydrates: 61g | Protein: 12g | Fat: 17g | Saturated Fat: 2g | Polyunsaturated Fat: 3g | Monounsaturated Fat: 10g | Sodium: 403mg | Potassium: 1140mg | Fiber: 15g | Sugar: 8g | Vitamin A: 22851IU | Vitamin C: 71mg | Calcium: 247mg | Iron: 5mg
Nutrition provided is an estimate. It will vary based on specific ingredients used.
Did you make this recipe? Don't forget to give it a star rating below!